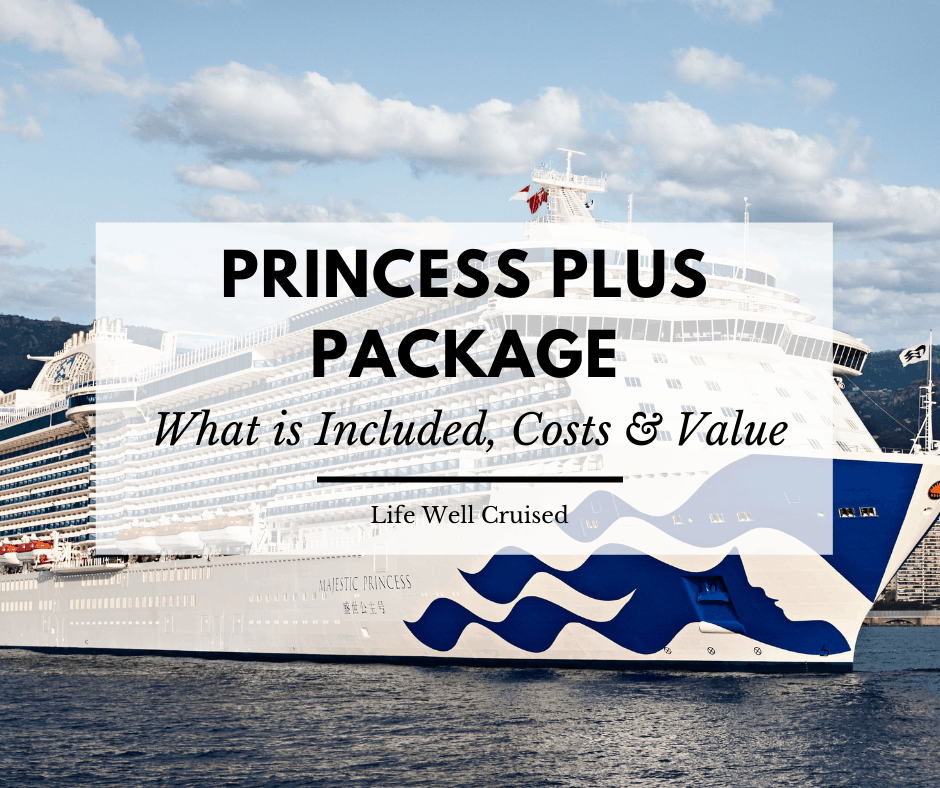 Are you planning a Princess Cruise and wondering how Princess Plus works and if it's worth it? In this post, I'll be going over the details of what's included in the Princess Plus package, as well as the cost and value.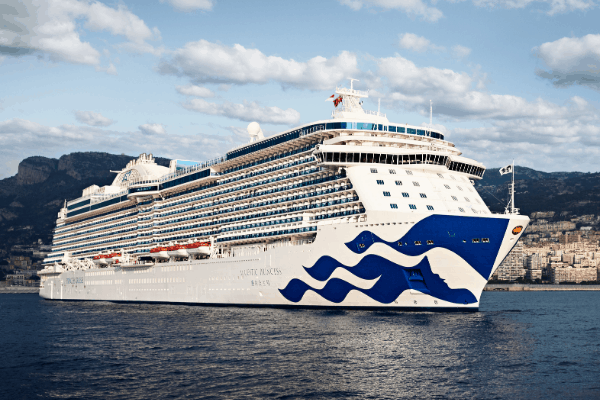 Princess Plus Replaces "Best Sale Ever" promo
Over the last few years, one of the most popular promotions for many cruise lines are those with extra "perks". These perks, including a beverage package, gratuities and/or wifi, give cruisers a taste of a more "all-inclusive" type cruise experience, without the cost of a luxury cruise.
Due to it's popularity and good value, Princess Cruises replaced the time-limited "Best Sale Ever" promotion with the Princess Plus package, which is now available all the time.
It has some similarities to Celebrity Cruises, Always Included, however a key difference is that Princess cruisers do still have an option to book without perks as well.
What is the Princess Cruises Princess Plus Package or Promotion?
Princess Plus isn't a limited time promotion or sale, but rather a new more inclusive fare type. With Princess Plus, you'll get these 3 inclusions:
While Princess Plus is a very good value, if you prefer a lower rate (without perks), this is still available. The "no extras" rate is now called Princess Savers.
If you're wondering if Princess Plus is worth it, I'll provide a cost comparison below where you can see if the value is there, for you.
Now, let's look at the details of the 3 inclusions: the premier beverage package, unlimited wifi and free gratuities.
Princess Cruises Premier Beverage Package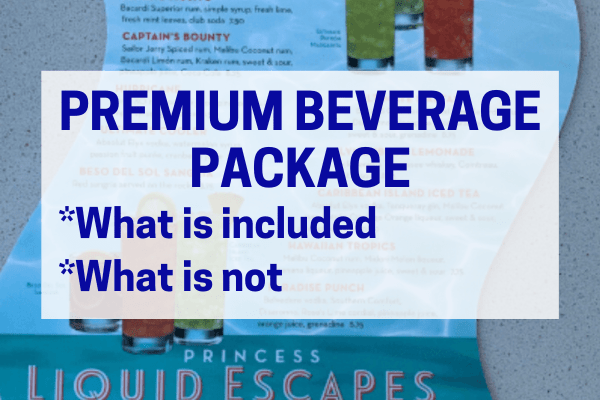 What's included in the Premier Beverage Package?
Princess Cruises Premier Beverage Package includes beer, spirits, wine by the glass and cocktails up to $12 each. It also includes many non-alcoholic drinks including bottled water, fountain soda, freshly squeezed juice, specialty coffees and teas, frappe's and milkshakes and energy drinks.
There is a limit of 15 alcoholic drinks per person, per day.
The normal cost is $59.00 per person, per day, plus an 18% service charge. Therefore the actual cost, if you were to purchase the drink package on it's own, is $70.79 USD.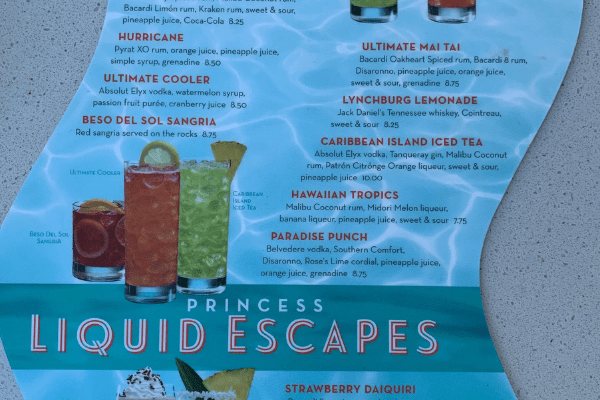 Important to note
The 18% service charge is included with Princess Plus. You won't be charged extra "gratuities" when you book, or when you order a drink. However, crew will still be receiving the gratuities from Princess Cruises.
More information about all the Princess Drink Packages Packages can be found here. I've included details of the 4 drink packages, as well as photos of drinks and Princess bar menus.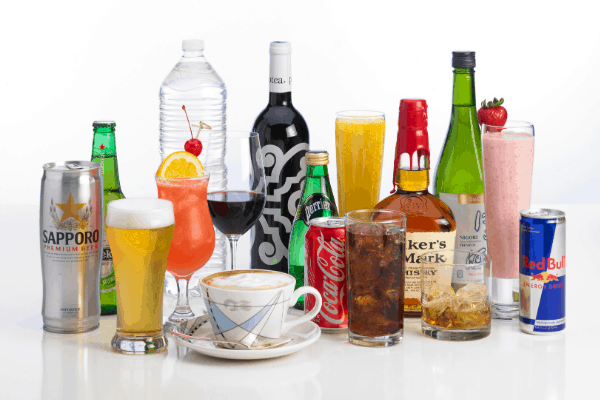 What's not included in the Premier beverage package
The Premier Beverage Package does not include wine bottles, one litre bottles of water, canned soda and juice bottles. However if you do wish to purchase any of these a 25% discount will be applied.
Also not included are souvenir glasses, room service and mini bar items.
Who can get the Premium Beverage Package?
All passengers in the cabin can get the Premier Beverage Package, including third and fourth passengers. If those passengers are under 21 they will get the Premium Coffee and Soda package.
This non-alcoholic drink package includes all drinks in the Premier Beverage Package, besides the alcohol. Mocktails are included.
Unlimited Wifi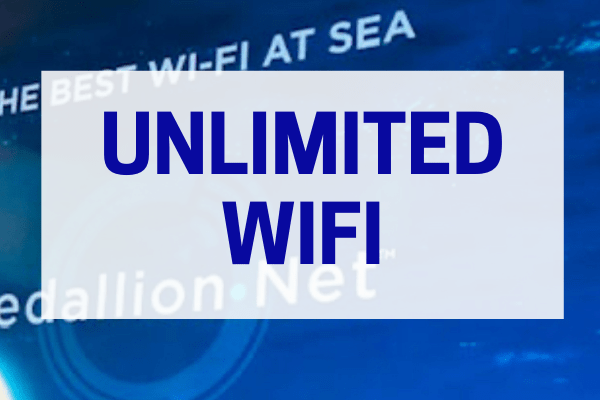 Princess cruise ships are equipped with Ocean Medallion technology, which includes MedallionNet, fast and reasonably priced wifi/internet. In recent news, Princess has said that it will be updating the entire fleet to Medallion Class, which will even have some new Ocean Medallion features.
You can use the Wi-Fi to check emails go on social watch YouTube videos stream shows and video chat with loved ones back home.
The normal cost of MedallionNet is $9.99 per person, per day.
Suggested:
Free Gratuities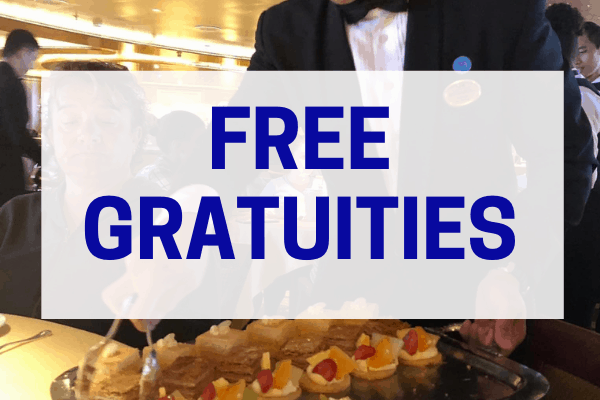 Princess Plus includes the gratuities for those that serve you during your cruise. This includes your cabin steward, waiters, assistant waiters and Maître D.
A service charge (or gratuities) is normally charged daily to your shipboard account.
$14.50 USD per person per day if you're cruising in an inside, ocean view, or balcony stateroom
$15.50 USD per day if you're sailing in a mini suite or club class state room
$16.50 USD per person per day if you're sailing in a suite
How much does Princess Plus cost and is it worth it?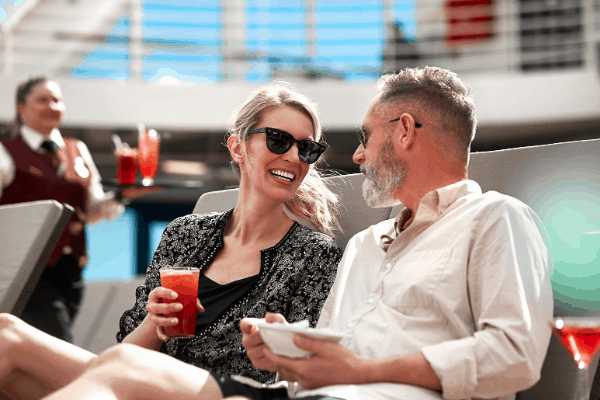 Since Princess gives passengers a choice between a lower cruise only fare and one with "perks", Princess Plus will be more expensive. However, for many passengers, the Princess Plus value is worth the additional cost.
Currently, the cost of Princess Plus is an additional $40 USD per person, per day. The value of the Princess Plus package is a total of $95.28 USD per per person, per day.
Cost breakdown if you were to purchase each item separately:
Premier beverage package – $70.79 USD per person, per day (including 18% service charge)
Unlimited Wifi – $9.99 USD per person, per day
Prepaid gratuities – $14.50, $15.50 or $16.50 USD per person, per day (depends on cabin type)
TOTAL VALUE of PRINCESS PLUS = $95.28 USD per person, per day (minimum)
*For those not drinking alcohol, the value of the premium or coffee and soda package is $19.99 USD per person, per day, plus an 18% service charge. The total value is $23.59 USD.
Planning a cruise? Suggested post: 25 Most Popular Cruise Essentials (recommended by avid cruisers)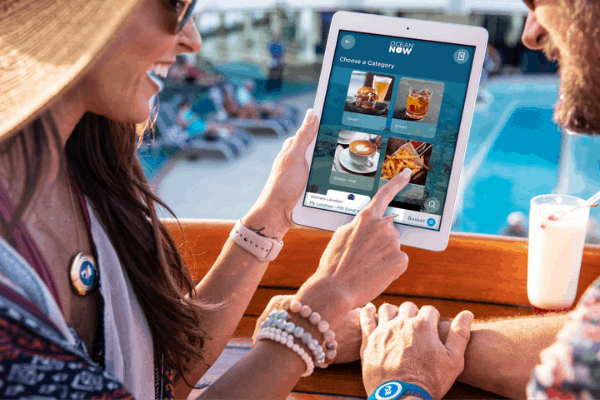 Is Princess Plus Worth it?
If you drink 2 drinks or more per day and/or will purchase a wifi package, Princess Plus is most definitely worth it.
Princess Plus Versus Princess Savers Rate – A Cost Comparison
To compare the cost of Princess Plus versus the Princess Savers rate, let's look at a seven day cruise as an example.
Gratuities for anyone in an inside, ocean view, or balcony cabin are $14.50 USD per person. per day. This adds up to $101.50 USD in tips for the cruise.
At $40 USD per person, per day, Princess Plus would be $280 USD per person for the seven days. The remaining balance would be $178.50 per person, or $25.50 a day.
To know if Princess Plus is a good value for you, consider if you'll be buying any drinks or wifi which would add up to $25.50 or more, per day.
For reference, Most drinks on Princess average $9-12, plus gratuity. With the price of wifi at $9.99 a aday, the value is definitely there.
Important – Always price out your options as pricing is subject to change.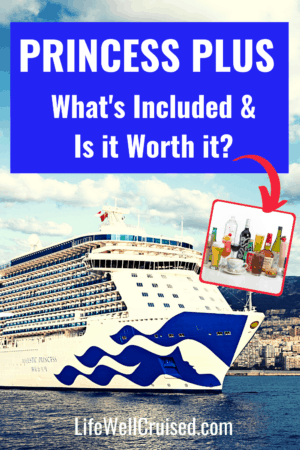 Other Princess Promotions
Princess Plus is combinable with many other promotions. Always check with the cruise line or your travel agent.
There are sales or promotions where added benefits, such as a specialty dining restaurant and cabin upgrade are included.
Princess Plus Value for Captain's Circle Members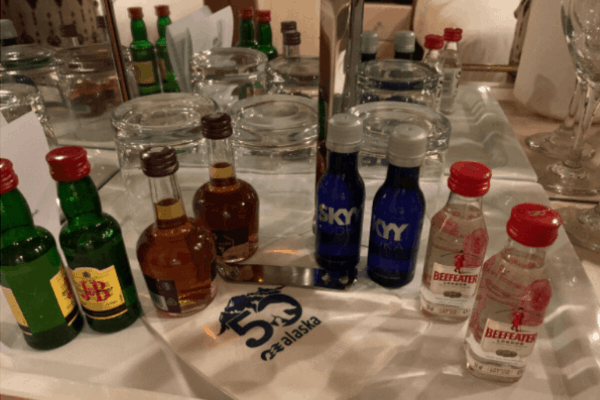 Is Princess Plus worth it for higher level Captain's Circle members? This is a question many past passengers ask.
The loyalty program on Princess Cruises is pretty fantastic, making it one of the best reasons to keep cruising with Princess.
Captain Circle members who benefit from free Internet minutes and a free mini bar set up, have a decision to make. Light drinkers and those that don't use much internet, may find that the cost savings is better with the lowest rate option.
However, if you prefer a more carefree vacation where you don't need to think about the cost of drinks or using internet, Princess Plus will likely be your best option.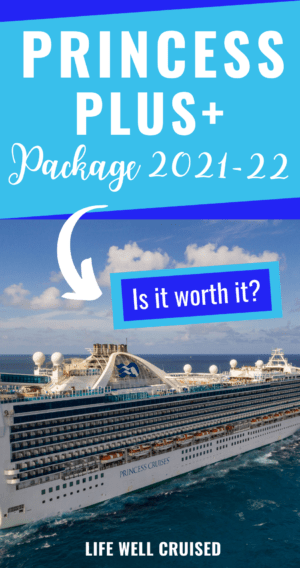 Going on a Princess Cruise?
Read these posts next:
You may also want to check out our cruise vlogs, cruise news and cruise tips on our YouTube channel. We love cruising with Princess, and share as much helpful info as we can!
Final Thoughts: Princess Plus – What's Included and Is it worth it?
In this post we've gone over what's included with Princess Plus, how it works, how much it costs, as well as it's value. While the question, "is Princess Plus worth it?" is a subjective one, based on all that's included with the Princess Plus package, it will be for most.
I hope that this information was helpful, as you are getting ready for your future Princess Cruise.
Have you cruised with princess before and do you like the idea of the drink package,Wi-Fi and gratuities being included? Please let me know in the comments below.
Happy Cruising!
Ilana xoxo
P.S. If you found this helpful, please pass it along to other who love cruising too! Please share on Facebook, Twitter or PIN to your favorite Pinterest board (share buttons at the top). Thanks so much!
Let's connect:
Follow me on Facebook at Life Well Cruised
Follow me on YouTube at Life Well Cruised
Follow me on Pinterest at Life Well Cruised
Follow me on Instagram at Life Well Cruised