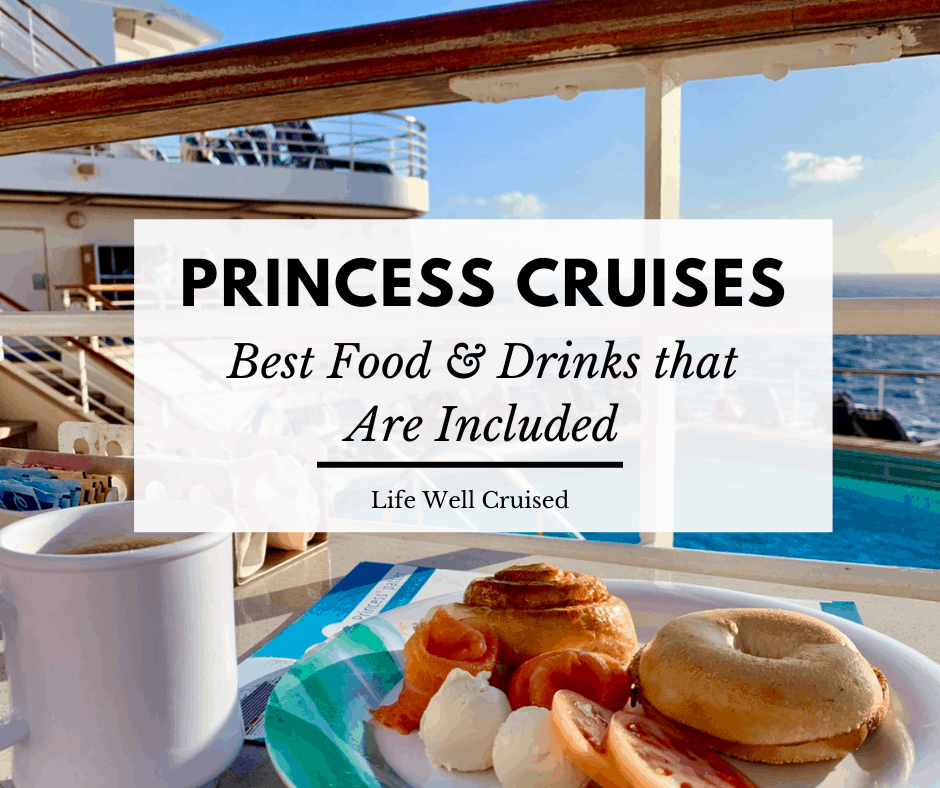 If you're planning a Princess Cruise, you might be wondering which food is included or "free", what drinks are included, and what extra charges you can expect at specialty restaurants.
While most meals and snacks are included on Princess Cruises, there are also few extras to be aware of. That said, the specialty restaurant options are quite good, and you might enjoy the experience and find the extra cost worth it.
In this post, I'll share the Princess dining options that you'll definitely want to be aware of!
What Food is Included on Princess Cruise Ships?
Out of all the mainstream cruise lines, Princess Cruises has some of the best choices of food available, for "free" or included. Most meals and snacks are included on Princess. As well, there are some drinks included with your cruise fare.
In this post you'll find:
Restaurant choices – fine dining and casual options
Special food "events"
Specialty Dining (not included)
Free drinks available
Please note that restaurant and food venues can vary from one cruise ship to another, as well as by itinerary.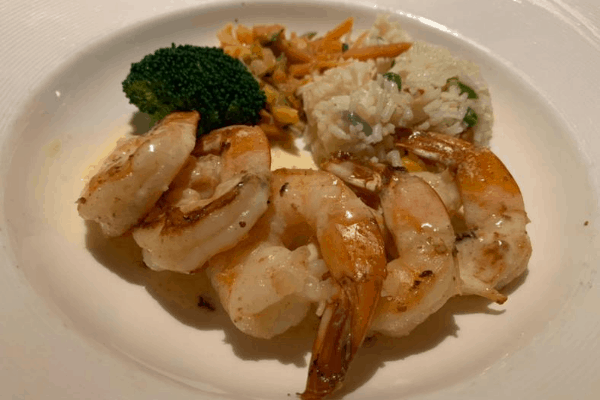 Princess Dining Options – Our Experience
It's no secret that my husband and I are Princess Cruises fans. We've had some amazing cruise experiences both as a couple, as a family with children and even on a large multi generational cruise.
One of our favorite parts about cruising is the cruise food! We love trying different meals and appetizers in the dining room, enjoying dessert at the International Cafe, and even ordering the free room service on occasion.
Princess Cruises is one of our favorite cruise lines, in part because the "free food" is really so good and the choices are plentiful.
While we occasionally go a specialty restaurant, we know most of our breakfasts, lunches, dinner and snacks will be the restaurants that are included.
We definitely have our favorite meals and dishes, and look forward to having them on every cruise!
I hope you'll find this list of restaurants and foods which are included on a Princess Cruise helpful, as you plan your own cruise vacation.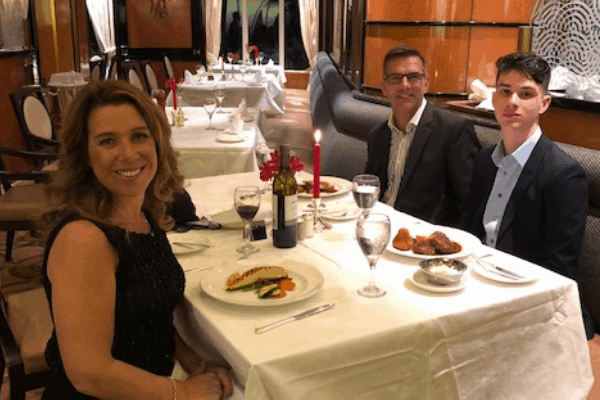 Princess Cruises Dining – What's Included
Main Dining Room – Fine Dining
On Princess ships, you'll have a choice of both traditional seating (early or late) or Anytime Dining, a flexible open dining option. The main dining room serves a 4 course meal each evening between about 5 and 9 pm.
You'll have a choice of several menu items that change nightly – appetizers, soups and salads, main dishes and desserts. There's always a "heathier" option available as well as a vegetarian dish.
In addition to the nightly menu, you'll find a few "Princess favorites" which are available each night.
Some Princess classics include the famous Fettuccine Alfredo, which can be ordered as a main meal or appetizer portion, Ceaser salad, and delicious broiled salmon.
Pro tip – If more than one option appeals to you, feel free to order more than one meal, appetizer or dessert. You may even want to order an item to share with your table.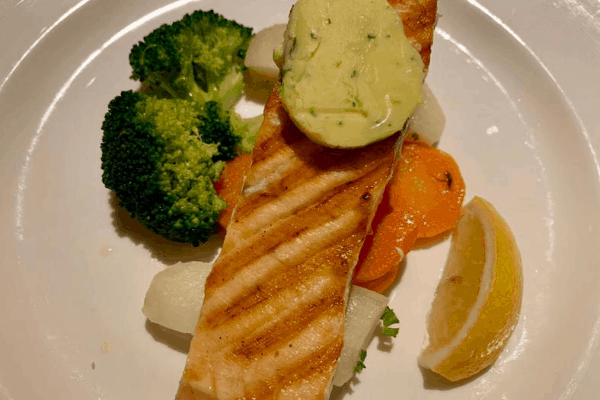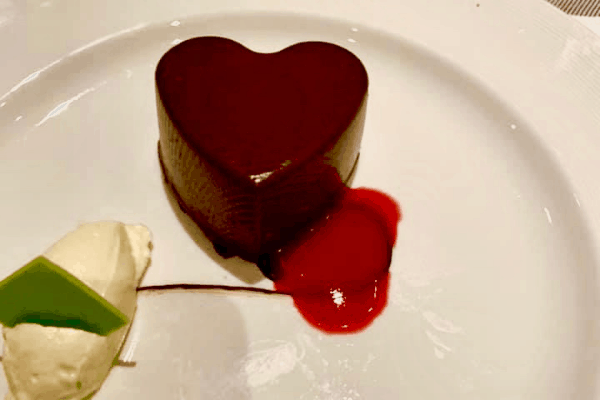 Main Dining Room Lunch
If you enjoy a more leisurely midday meal, lunch is served in the main dining room on sea days. In contrast to the dining room in the evening, there isn't a dress code, and resort casual is perfect.
Pro tip – Avoid the buffet on embarkation day, and instead, head to the Main Dining Room (MDR) for a more relaxing and delicious first day lunch.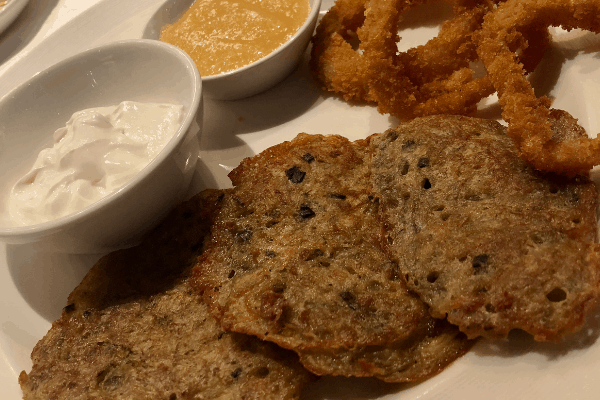 The main dining room is open for a sit down breakfast. If you enjoy being served and taking your time, I think you'll appreciate breakfast in the MDR (cruise lingo acronym).
Menu items include tradional American breakfast items like pancakes, omelets, and my favorites eggs benedict and bagels and smoked salmon or lox. As well, fresh fruit, cereals, yogurt and pastries are available.
Would you like to join my email list?
International Cafe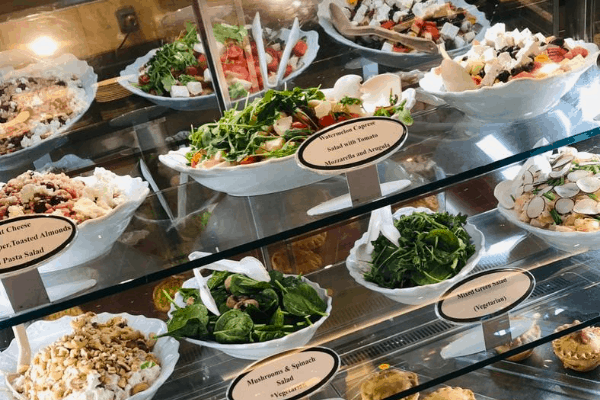 The International Cafe is located in the Piazza, the beautiful Atrium and central hub on Princess Cruise ships. It's an absolute favorite for for Princess cruisers!
Open 24 hours a day (yes, perfect for night owls and early risers), the International Cafe serves some of the most delicious casual food at sea.
In the morning you'll find pastries and other baked goods, hot egg sandwiches, yogurt parfaits and fresh fruit bowls.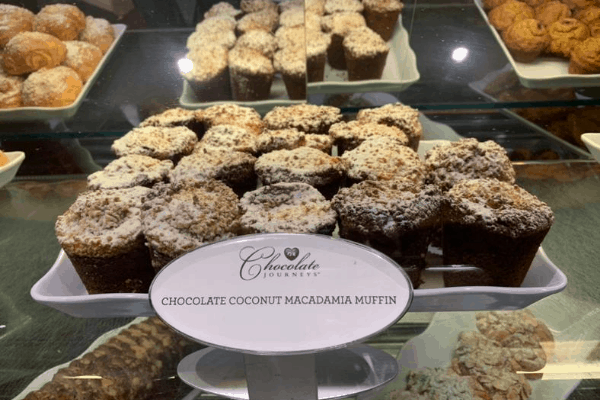 Don't miss the "Chocolate Journeys" pastries by Norman Love.
My favorite? The nutella donuts!! While unfortunately not available every day, they are worth every single calorie!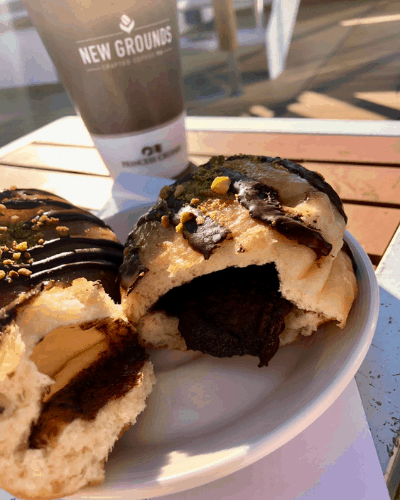 At lunch, there is an excellent choice of salads, such as shrimp with fennel, greek salad, waldorf chicken salad, watermelon and goat cheese and more. As well, you can grab a sandwich or delicious grilled panini, just like at a cafe at home, except you won't be charged!
Don't you love that feeling?
Of course, there are also desserts and treats served through the day and evening.
Almost everything at the International Cafe is free, so no need to pay extra.
Exceptions
The exception is that there is Gelato available for a small charge as well as chocolate covered strawberries – so these items aren't included with the cruise fare.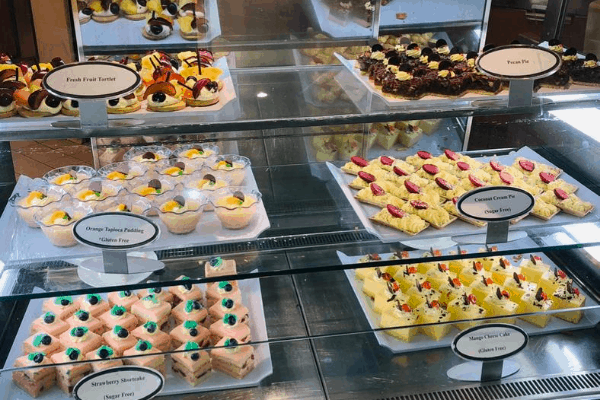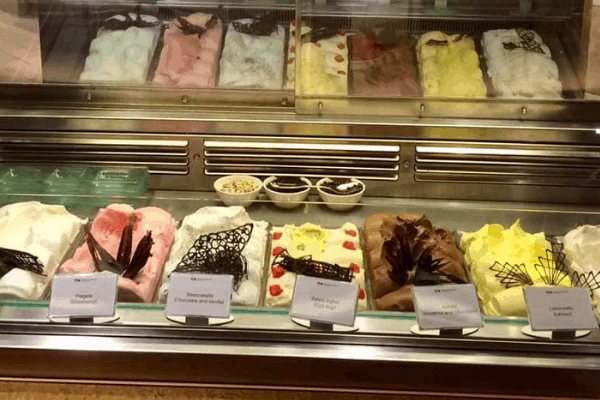 International Cafe – Beverages
While coffee and tea is available free of charge in the buffet, the main dining room and even in room service, the specialty and brewed coffee at the International Cafe has an additional charge.
If you're a coffee lover, I highly suggest buying a New Grounds Coffee Package. The package includes a limited amount of specialty coffees or teas, and unlimited brewed coffee throughout your cruise vacation.
If you love fresh brewed coffee, this is well worth it!
Recommended: Princess Cruises Drink Packages (with bar menus and drink photos)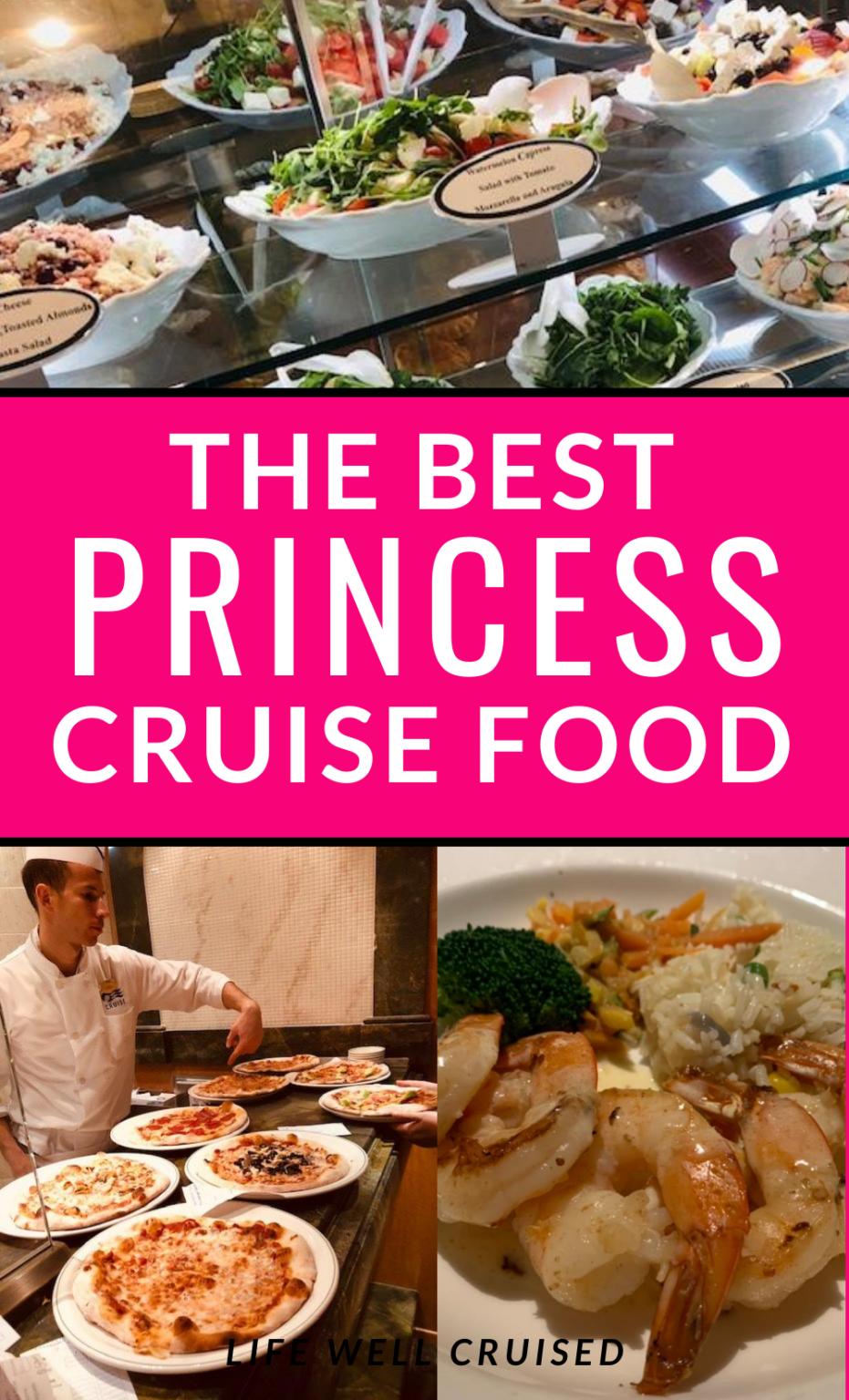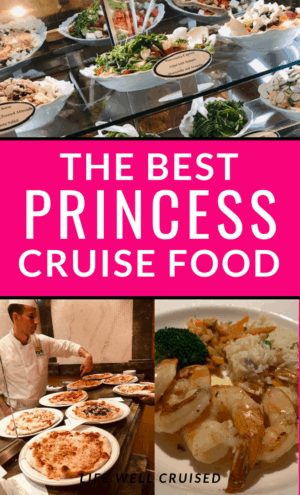 The Buffet: Horizon Court/World Fresh Marketplace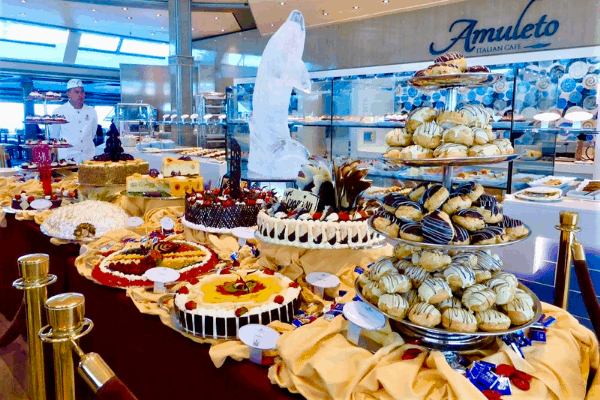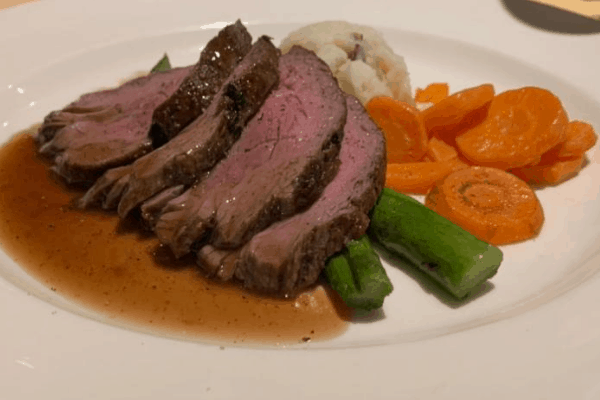 On Princess cruise ships, you'll have a large choice of food available at the buffet. Depending on the ship, the buffet may be called Horizon Court Buffet, Caribe Cafe or World Fresh Marketplace.
There's a large choice of food available at breakfast, lunch, dinner, daytime and late night snacks. Desserts including ice cream and pastries are also available.
Breakfast
The choices at the buffet are plentiful for breakfast, and include an omelet station, bagels with cream cheese and smoked salmon, pancakes, french toast and bacon, fruits, cereals, and yogurts.
You can also find vegetarian choices as well as gluten-free options.
Lunch and Dinner
Lunch and dinner will have hot food choices including roast meats, fish, pasta and other side dishes, pizza and a good size salad bar. Often, there will be an Italian or German theme, with regional food specialties.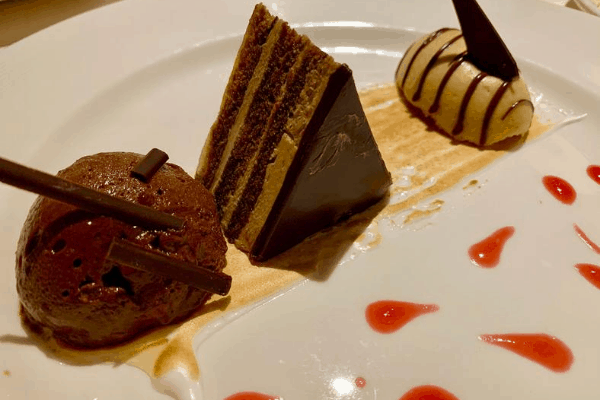 24 hour Free Room Service
Princess Cruises FREE room service is really worth noting. While many mainstream cruise lines have started charging a fee for room service, this is still included on a Princess Cruise.
In your cruise cabin, you'll find a menu of breakfast, lunch, dinner and snack options. You can also order from your Ocean Medallion app right from your phone.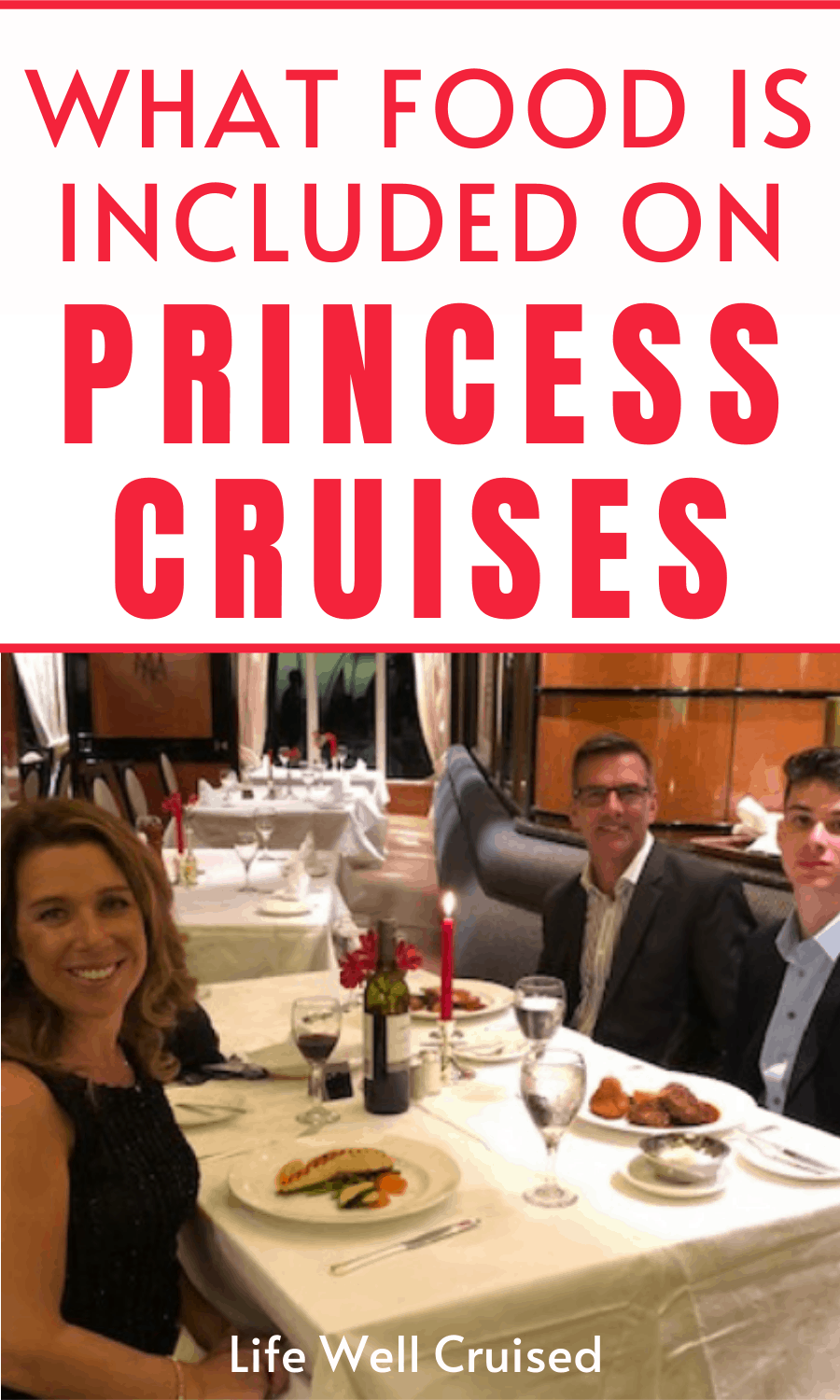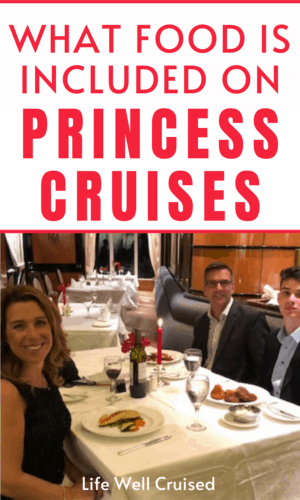 Poolside Grill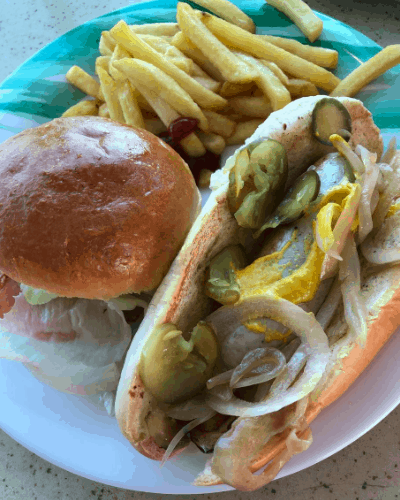 The poolside grill offers fresh "fast food" like hamburgers, hot dogs, sausages, veggie burgers, chicken burgers, nachos and chili fries. It's a very popular place for casual food from noon through evening.
Pizzeria (by the Pool)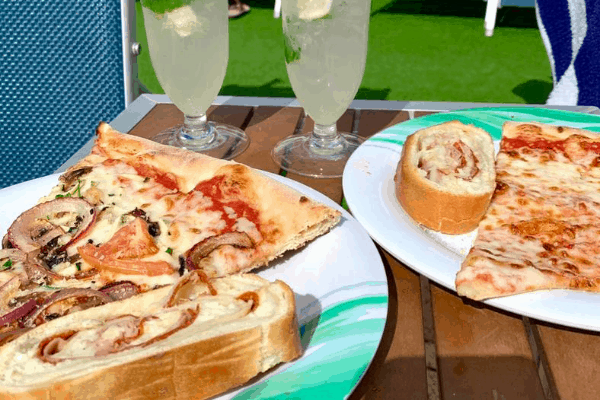 Princess Pizza has been voted the "best pizza at sea" by USA Today, and more importantly (in my opinion), by many real Princess Cruisers!
Each day, the poolside pizzeria serves amazing freshly made pizza.
On a recent cruise, they also had stromboli, california flatbreads and meatballs, so do take a look for what's new on the menu.
Soft Serve Ice Cream
Also by the pool, soft serve ice cream in vanilla, chocolate and twist is available free of charge.
However, milkshakes are not included in your cruise fare. Consider one of Princess' beverage packages, where this is included.
Alfredo's Pizzeria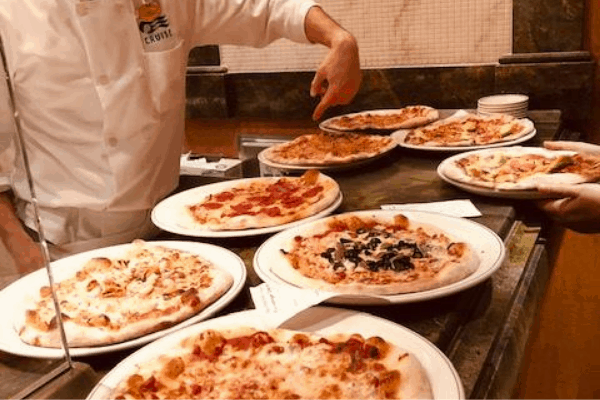 Alfredo's Pizzeria is one of our all-time favorite cruise ship restaurants. Beyond pizza, Alfredo's has a delicious menu which includes a caprese salad, veal stuffed baked ravioli, a very flavorful calzone, tiramisu and more!
Alfredo's isn't available on all Princess Cruise ships, but we were fortunate to have one on Regal Princess.
If you are going on Regal Princess or another ship with an Alfredo's, I highly suggest reading my review here for tips you can use.
Afternoon Tea on Sea Days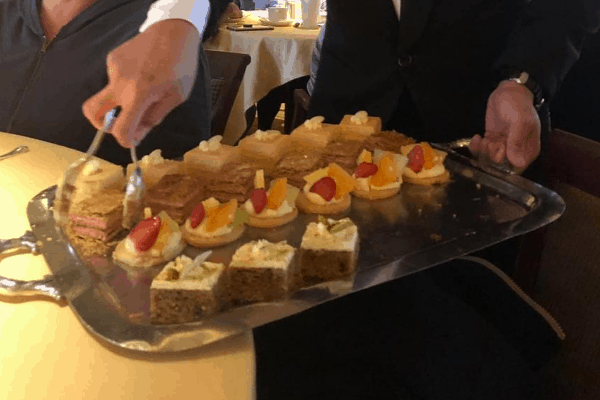 Have you ever wanted to have afternoon tea in the main dining room during your cruise? We had for several years, but somehow we were always busy on sea days.
Finally, on a Back to Back cruise on Regal Princess, we tried it.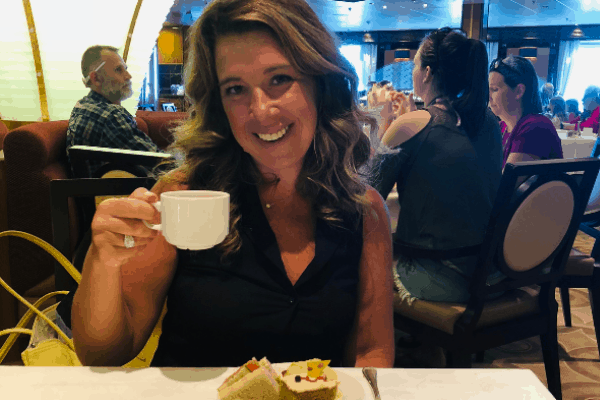 We were so glad we did!
During afternoon tea, small tea sandwiches were served, along with scones and cream and jam, as well as petites fours and small pastries.
It was really lovely and worth going.
To note, for an even more "special" experience, you may want to reserve a more intimate afternoon tea option. While there's an extra charge, it was definitely more "fancy". There was an option for champagne included, which was a nice touch.
Read our Regal Princess cruise review HERE
Princess Cruise Video
Here's a video where I share 10 things we love about Princess Cruises, including the cruise food. If you enjoy cruise related content, please consider subscribing to the Life Well Cruised channel.
British Pub Lunch on Sea Days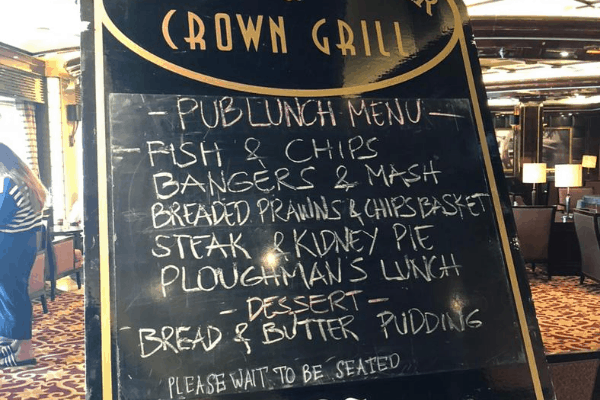 It seems not many people know about this. On sea days, Princess cruise ships have a British Pub Lunch which is often served in the Wheelhouse Bar.
Some of the menu items include fish and chips, prawns and chips (this is breaded shrimp and french fries), bangers and mash and some other traditional British Pub food.
It's a nice change from the buffet and poolside grill, and is a fun casual food option that we've only found on Princess.
Pro tip – Make sure to check your Princess Patter and arrive a few minutes early, as there will be a line up.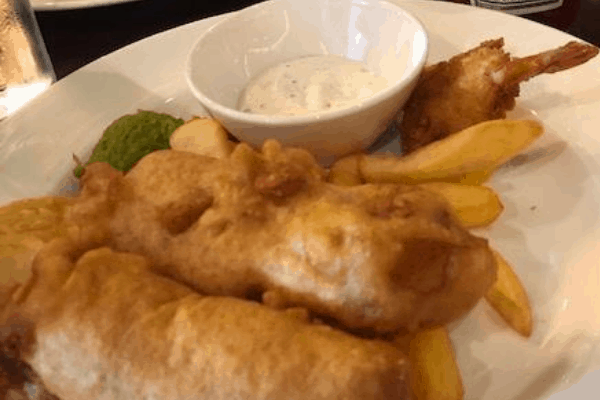 Vines Sushi and Tapas
While not officially a free food option, Vines Wine Bar does offer complimentary sushi and tapas with a wine purchase. It has a wonderful atmosphere and a great place for a pre-dinner stop.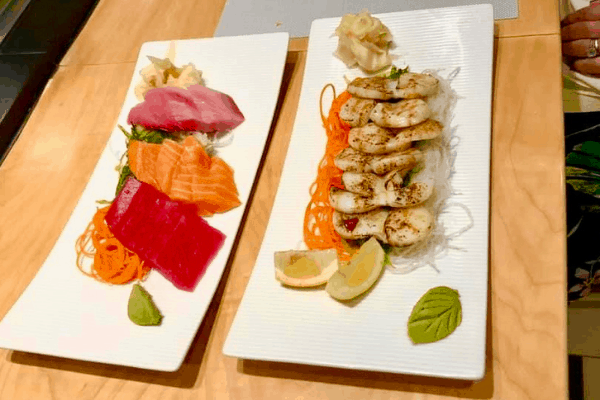 Princess Cruises Specialty Dining – Not Included in the Cruise Fare
While specialty restaurants aren't included in your Princess cruise fare, these options might be worth splurging on during your cruise. If you're celebrating a special occasion or simply want a romantic dining experience, I think you'll enjoy these options.
Here are some favorite Princess Cruises restaurants and food options that have an extra charge:
Sabatinis
Sabatinis is an elegant restaurant with a delicious menu of traditional Italian dishes; antipasti, fresh pasta dishes, meat and fish dishes, and decadent dessert. It's a favorite for special occasions.
Price: $29 USD per person, $14.50 per child ages 3-12.
Crown Grill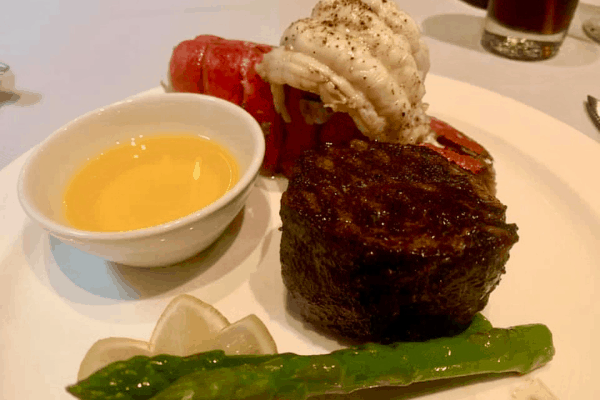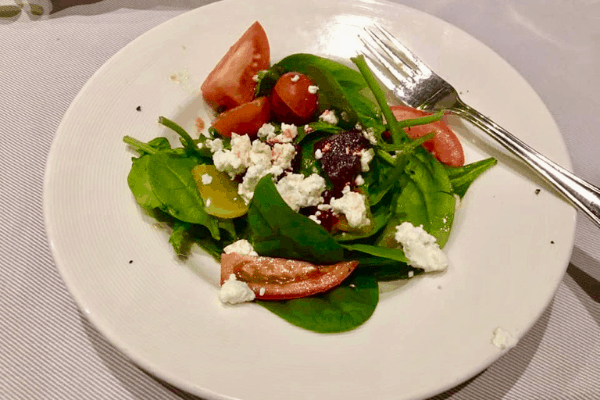 A favorite cruise ship steakhouse, Crown Grill serves the best cuts of steak, chops and seafood. The side dishes, soups, salads and desserts are also delicious.
When dining at Crown Grill, you'll also have a choice of sea salt blends to complement your steak or main meal.
Price: $29 USD per person, $14.50 per child ages 3-12.
*Menus will be at the bottom of this post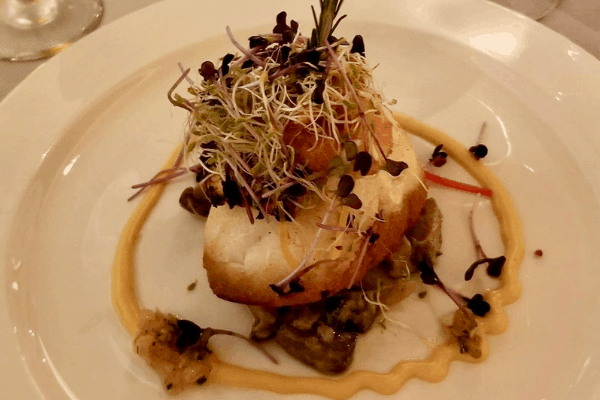 Share by Curtis Stone
The Curtis Stone restaurant on Princess Cruises, SHARE, serves a 6 course meal with a "fresh approach to fine dining". Not available on all Princess Cruise ships, Curtis Stone dishes are available, for free, on the main dining room menu nightly.
Price: 29$ USD per person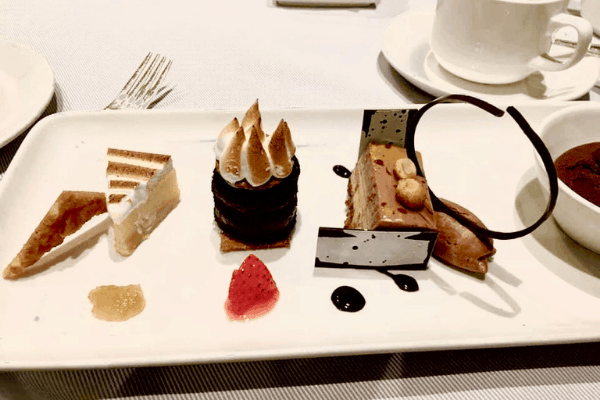 Ultimate Balcony Dining (Breakfast & Dinner)
Ultimate Balcony Dining is a very special experience on Princess Cruises! This upgraded room service experience is available for both breakfast and dinner and is perfect for a romantic couples cruise.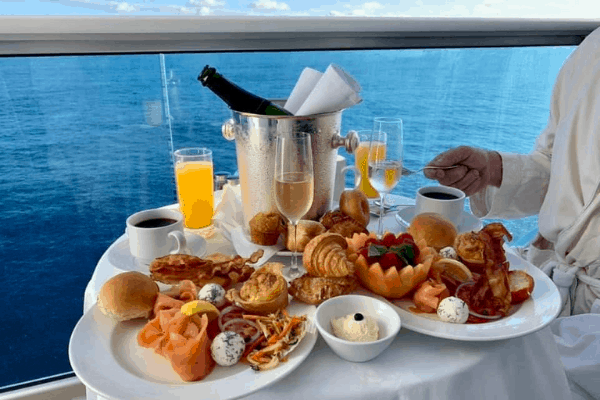 Ultimate Balcony Dining Dinner
The Ultimate Balcony Dinner includes a gourmet 4 course meal, served elegantly on your private balcony by your very own waiter. The dinner menu includes steak and lobster dishes, although menu options can be substituted for preference and dietary restrictions.
Also included, is a glass of champagne or wine to start, and a decadent dessert to finish the meal. You'll even have some fresh flowers to set the mood.
Price: $100 USD per couple
Ultimate Balcony Breakfast
Although continental breakfast is available for free on Princess, the Ultimate Balcony Breakfast is a little bit of extra luxury!
You'll be served an expanded menu of pastries, fresh fruit, smoked salmon and quiche, as well as a half bottle of chilled champagne.
Price: $45 USD per couple
Princess Cruises Chef's Table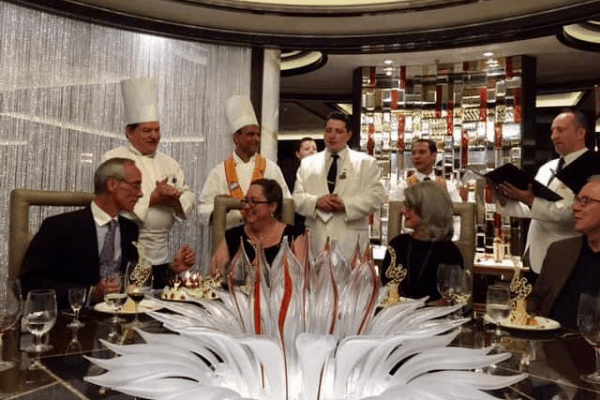 For a very special experience, consider signing up for the Chef's Table Lumiere.
You'll visit the ship's galley for an exclusive behind-the-scenes tour, and enjoy a multi-course dinner hosted by the executive chef. Guests rave about this!!
The Chef's Table experience is limited capacity at 12 people per seating, so sign up early if you'd like to be partake.
*Price: $90-$110 USD p/p
*Price with wine/alcohol: $110-125 USD p/p
*The price may vary depending on the cruise ship
Crab Shack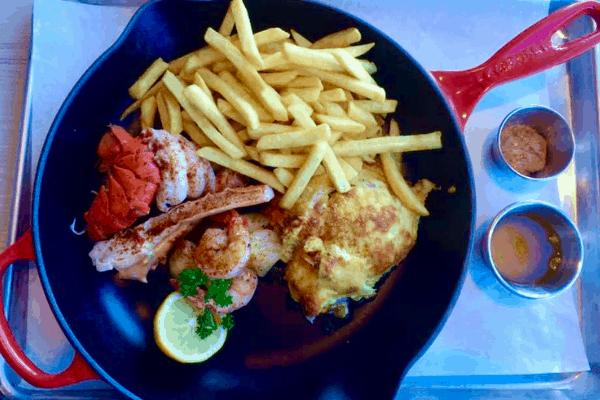 Crab Shack is a pop up restaurant of sorts that is usually located in the Horizon Court Buffet. It features a wide selection of seafood, including clams, shrimp, crab legs and more!
Crab Shack will be offered on select nights of your sailing, so check once you board to reserve a place.
Price: $29 USD per person
Free Drinks on Princess Cruises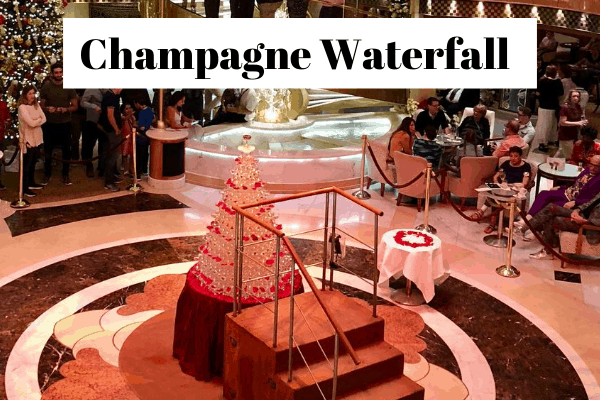 Many people ask what drinks are included on Princess Cruise ships.
Coffee, tea, unsweetened ice tea, lemonade and water (not bottled) are included on Princess Cruises. As well, milk and fruit juice is available in the morning in the buffet.
Soft drinks, all alcohol including wine, beer and cocktails, milkshakes, bottled water, and specialty coffees are not included on Princess Cruises.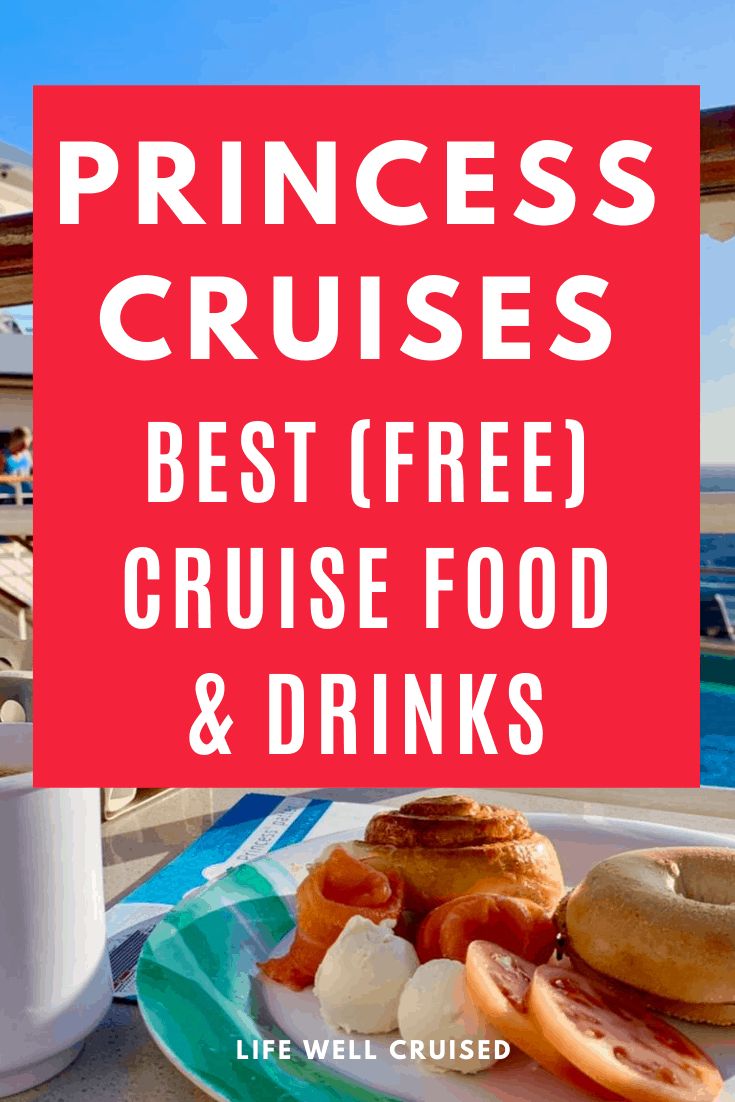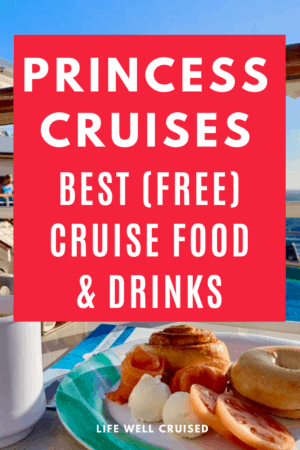 Please be aware that brewed, as well as specialty coffee and tea served in the International Cafe is not included, and has an additional charge.
Princess does have several drink packages available to suit your preferences.
I highly recommended reading this post for more info: What's Included in Princess Cruises Drink Packages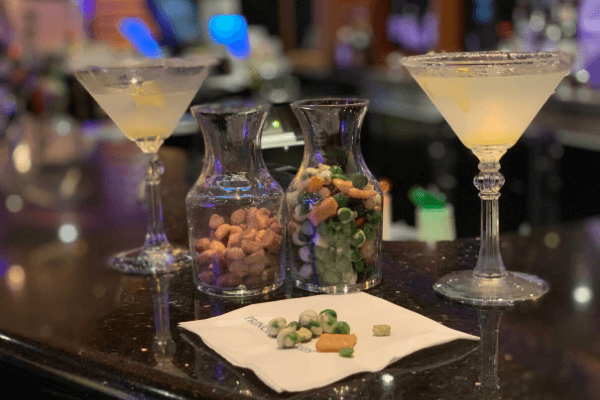 Bringing Wine Onboard
Princess cruises allows you to bring your own wine onboard. While you can bring 1 bottle per adult in your carry on bag on embarkation day, Princess actually will allow you to bring additional bottles, and will simply charge a $15 corkage fee as you board.
A corkage fee may be applied if you bring your wine bottle to the main dining room or any restaurants.
Bringing water bottles and soft drinks is permitted. Bringing hard alcohol (liqueur and spirits) is not allowed and can be confiscated if you do.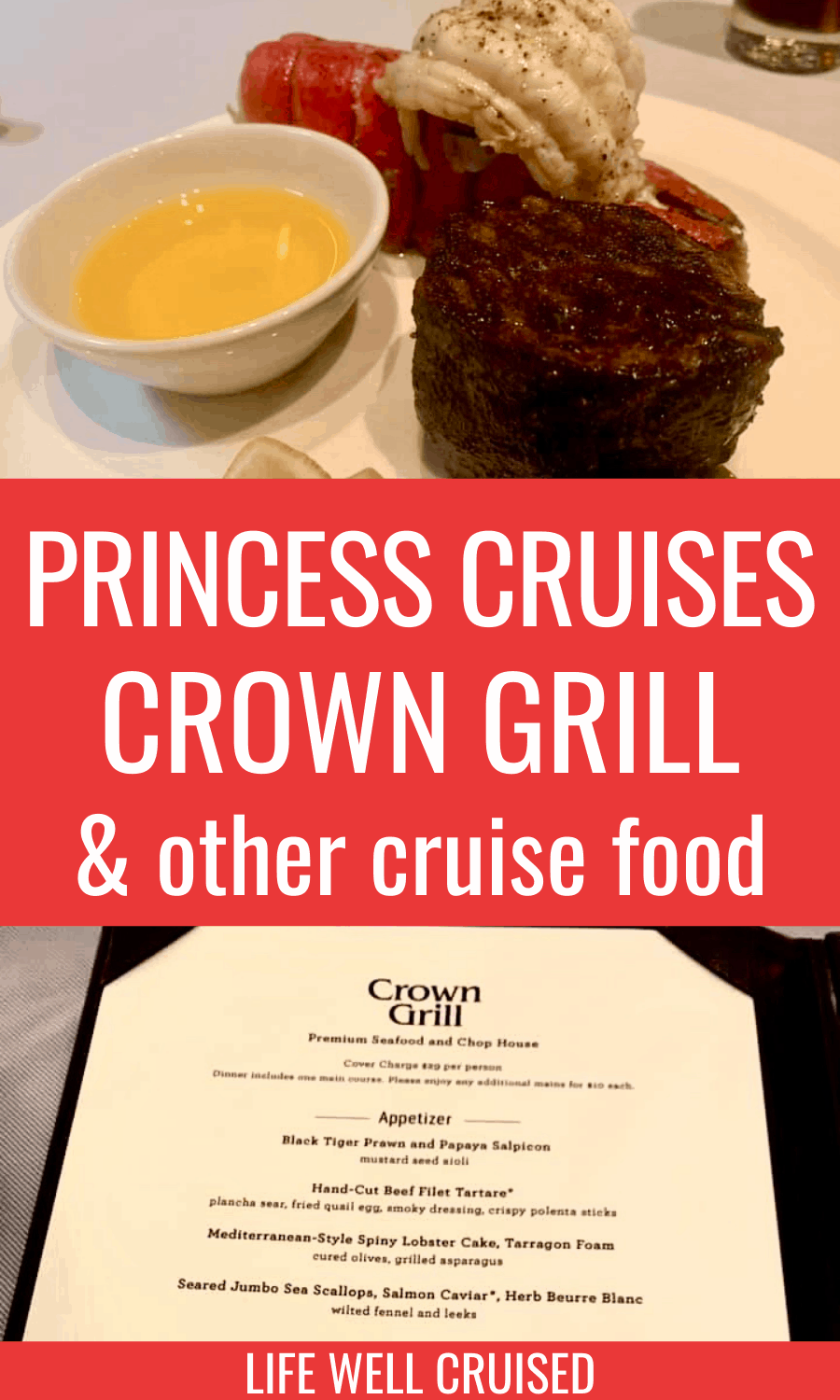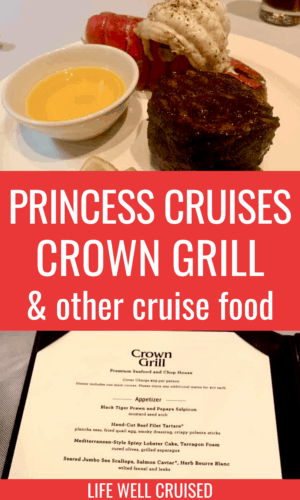 Are there any "free drinks" on Princess?
Complimentary cocktails and sparkling wine are served at Captain's Club parties (invite only). You can also head to an art auction where sparkling wine is often served. On a formal night, you'll find the Champagne Waterfall in the Piazza and sparkling wine is often served as well.
Always check your Ocean Medallion app or Princess Patter for activity details and so you don't miss a thing!
If you're going on a Princess Cruise, check out this blog post or YouTube video with the Best Princess Tips & Secrets.
A BIG thank you to members of the Princess Cruise Lovers Facebook Group and Life Well Cruised Community who contributed some wonderful and delicious looking photos!
Recap: What Foods are included on Princess Cruises?
In this this post I shared food and restaurant options that are free or included on Princess Cruise ships. Beyond the main dining room and buffet, there are many great options for breakfast, lunch and dinner – and snacks!
The 24 hour International Cafe has something delicious to eat literally all day and night! Plus, don't forget to try the afternoon tea or British Pub Lunch.
In addition to the food options that are included, Princess has some amazing specialty restaurants and experiences that have an additional charge. These specialty dining options offer a more romantic experience, and are perfect for celebrating a special occasion.
Related Princess Cruises posts to read next:
Princess Cruises: 15 Tips, Tricks and Insider Secrets
21 Things You Need to Know About Ocean Medallion
Princess Cruises Ocean Medallion: Updates & New Features
12 Top Reasons to Cruise with Princess Cruises
Princess Cruises Drink Packages (with bar menus and drink photos)
Princess Plus: What's Included and Is it Worth it?
Have you cruised with Princess before? What's one of your favorite restaurants or food options on board? If you have any questions, please let me know in the comments below.
*Please see below for sample menus (more added over time so please check back)
Happy cruising!
Ilana xoxo
P.S. If you've enjoyed this, please don't keep it to yourself ;-)! Please share it with a friend, on Facebook or save for later on Pinterest. Thanks so much!
Let's connect:
Follow me on YouTube at Life Well Cruised
Follow me on Facebook at Life Well Cruised
Follow me on Pinterest at Life Well Cruised
Follow me on Instagram at Life Well Cruised
Princess Cruises Crown Grill Menu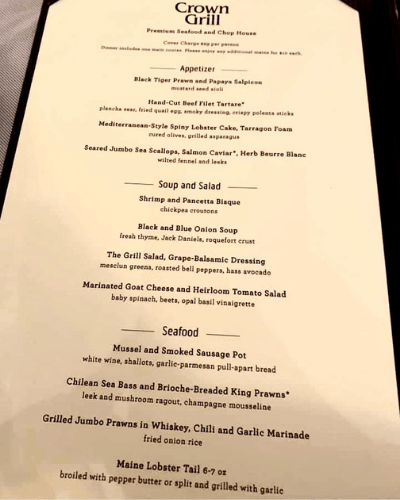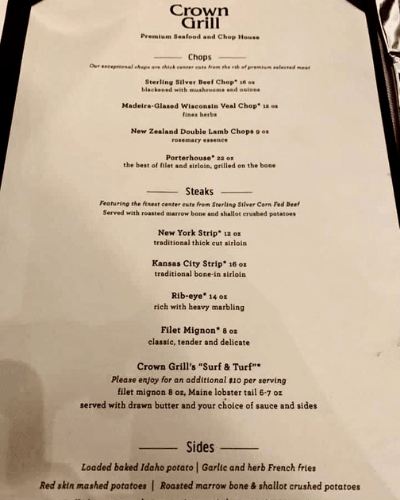 Would you like to join my email list?