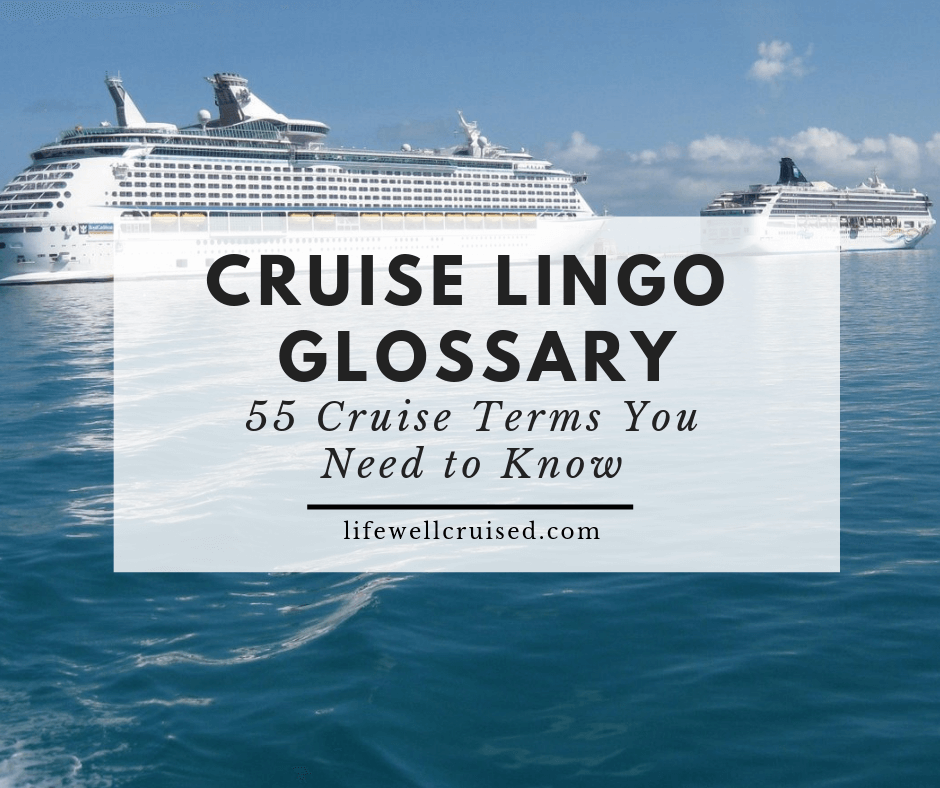 Cruise vocabulary, jargon or lingo – if you're going on a cruise, you'll want to be familiar with the cruise terminology!
Are you getting ready for your first cruise? You may have noticed that there is a whole world of cruise vocabulary or cruise lingo. There really is, so it's very handy to have a bit of a glossary for the common cruise phrases and words you'll be hearing as you plan your cruise, as well as when you're on your cruise ship.
Tip: Cruisers might have different opinions about which cruise lines are the best, cruise line dress codes, and the do's and don'ts of gratuities (and oh my, this is a contentious one!), but there's one thing all cruisers agree on.
Don't call a Cruise Ship a boat! Just don't, really ;-)!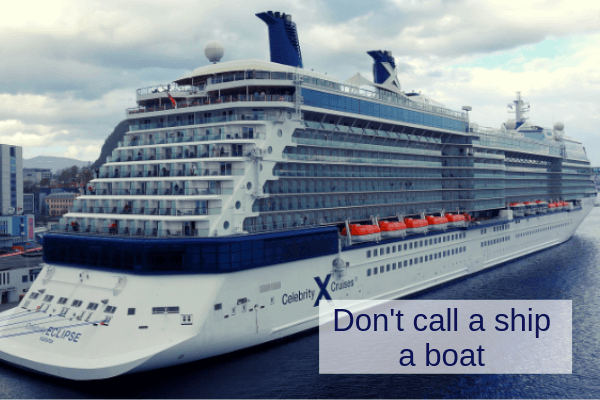 About Cruise Lingo and Cruise Lifestyle
Cruising is a bit of a lifestyle unto it's own, and cruisers really have their own lingo and cruise terminology. Non-cruisers (or future cruisers) can be left scratching their heads.
Words and acronyms such as Aft, Muster drill, Starboard, OBC and MDR, may seem like a mysterious cruise language. However, in this cruise lingo glossary, I'll go over all the cruise jargon need to know. And you'll be chatting like an avid cruiser in no time!
Cruise and ship vocabulary
1. Ship
You are on a ship, not a boat. A boat fits inside a ship, and not the other way around. Try and get used to this one quickly, just trust me.
Below you can hear popular Cruise Ship Captain Kate, explaining this in her navigational report.
2. Cabin
Your room is called a cabin. While hotels have rooms, ships have cabins.
3. Stateroom
Sometimes a cruise cabin will be referred to as a stateroom.
4. Deck
Your cruise ship will have many decks. While hotels refer to floors, cruise-ships refer to decks.
5. The Bridge
The bridge is the navigational hub of the ship.
6. Captain
The person in command of the ship.
7. Cruise Director
Think Julie McCoy :-). Your cruise director, among other duties, will act as Emcee, heading up most major entertainment events on the ship. On larger ships you'll see assistant cruise directors and other activities staff also leading main activities.
8. Itinerary
You're cruise itinerary refers to each destination/ cruise port of call you'll be visiting.
9. Port of departure
This is the port from which your cruise will depart (ie. Miami, Fort Lauderdale, Vancouver, Barcelona etc.)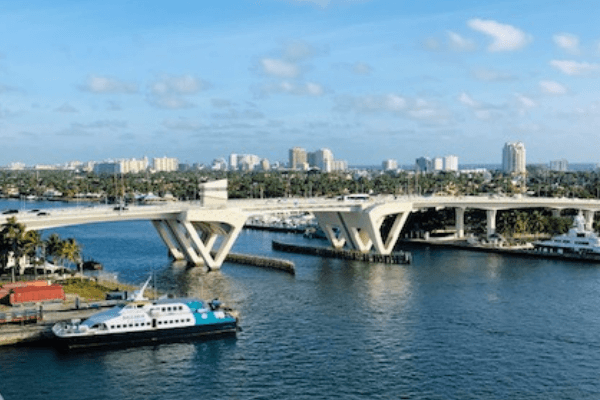 10. Ports of call
You probably remember this one from the Love Boat, I know I do! This is individual destination where you will stop at for the day. Examples of cruise ports of cruise ports of call on a Caribbean cruise include Cozumel, St. Thomas, Grand Cayman and so on.
11. Shore excursion
This is am organized activity you may choose to do when in a port. You can book these with your cruise line or on your own by doing some research online. Examples include a snorkeling or sightseeing excursion.
12. Dock
A cruise ship will arrive at a large dock when it arrives at the cruise port.
13. Tender: There are some cruise ports where cruise ships cannot access the land directly and dock, due to coral reefs and other reasons. In these cases your ship will tender a few minutes away from the port, and shuttle passengers in by tender boats.
As an example, Grand Cayman is a tender port at this time, but it looks like a new dock will be built in a couple years.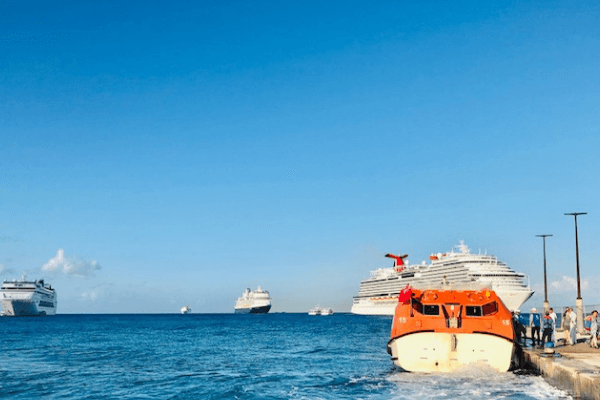 14. Stabilizers
Modern cruise ships have stabilizers to keep motion to a minimum.
15. Galley
The super large kitchen where literally tons of food is cooked and prepared. You can actually do a galley tour while on your cruise if you're interested.
Cruise Ship terminology – understanding common areas of the cruise ship
16. Atrium
Large central public area usually spanning 3 or more decks. Often very beautiful, it will be the central hub of the ship's interior.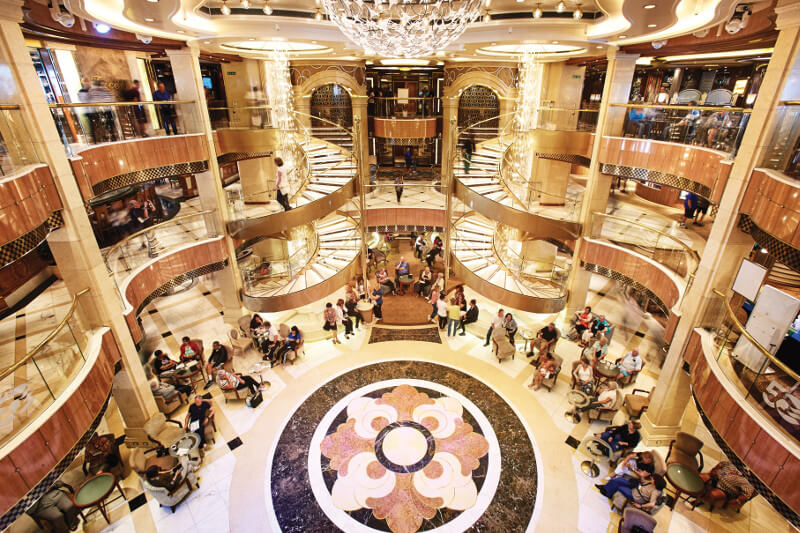 17. Port side
The left side of the ship is referred to as port side.
Tip: An easy way to remember – LEFT has 4 letters and so does PORT
18. Starboard side
The right side of the ship.
19. Forward
The front section of the ship.
20. Aft
The back section of the ship. Often the view from here is savored by cruise passengers.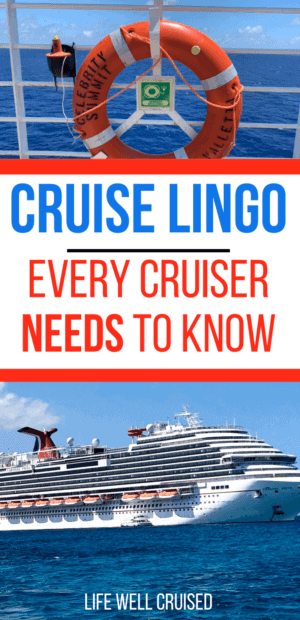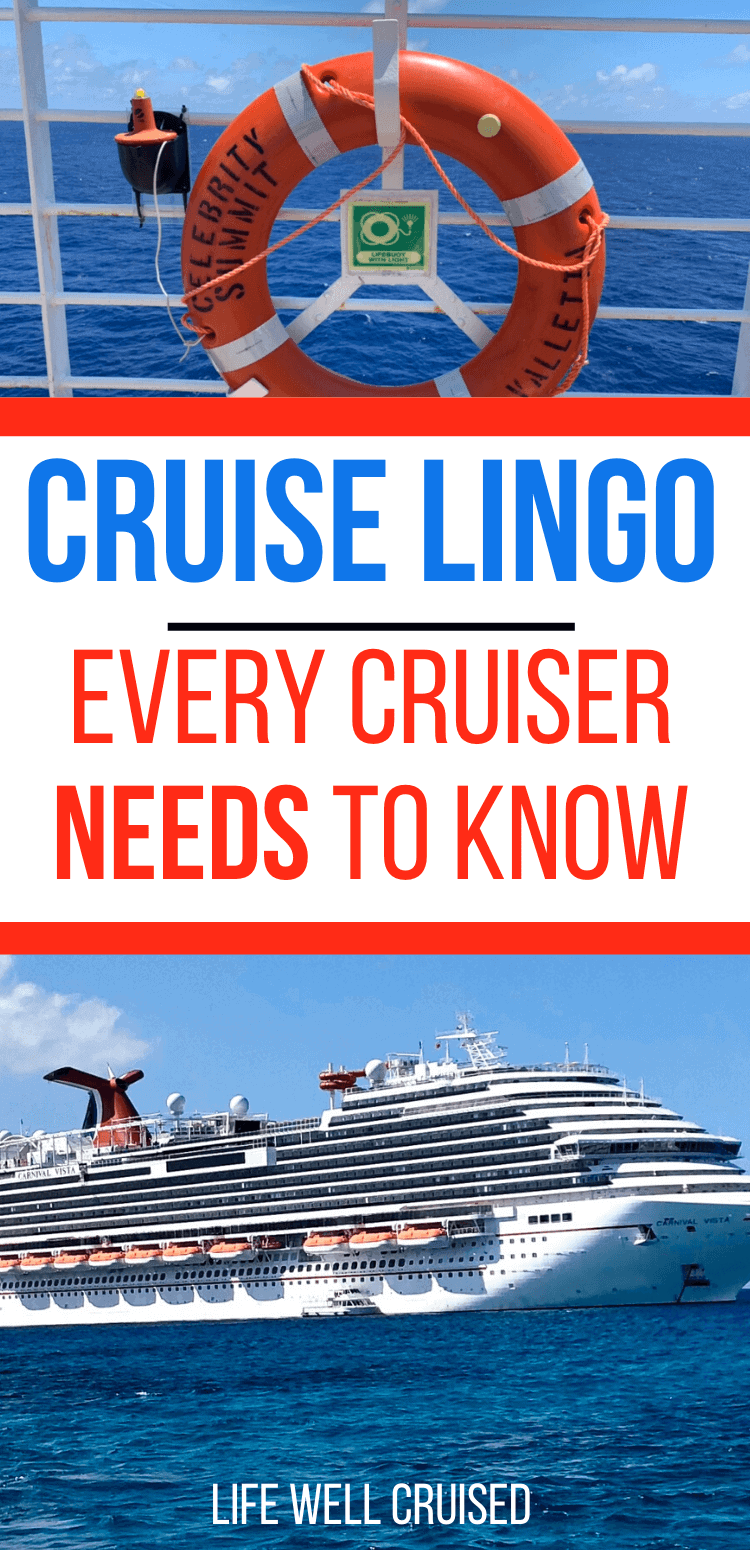 21. Mid-ship
Generally said in reference to the preferred cabin location. Most cruise passengers will prefer a mid-ship cabin, rather than one that is forward or aft. This area has an advantage of having more stability in general.
22. Guarantee cabin (GTY)
This refers to an unassigned cabin any type of cabin (inside, oveanview, balcony) . The cruise line will assign the cabin at any point before the cruise.
Often, guarantee cabins will be discounted, so this can be a great value if you're not picky about the location of your cabin.
23. Pullman bed
If you have more than 2 passengers in your cabin, you may have pullman beds for 3rd and 4th passengers. They are like bunk beds that come out of the wall or ceiling. They will be tucked back into the ceiling or wall during the day if you like.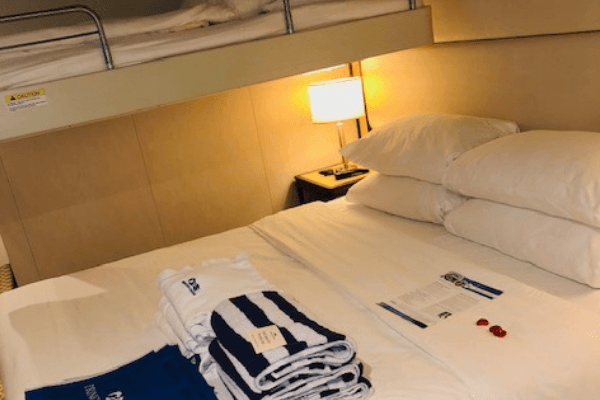 24. Deck plan
A map of all the cruiseship decks.
25. Lido deck
Pool deck where there may be more than one pool, hot tubs and outdoor seating.
26. Gangway
An elevated walkway you will use to board your ship, usually covered, but not always.
27. Bow
The very front of the ship.
28. Stern
The very back of the ship.
29. Wake
The beautiful white trail of waves visible at the very back of the ship. My favorite spot on the ship to take it all in.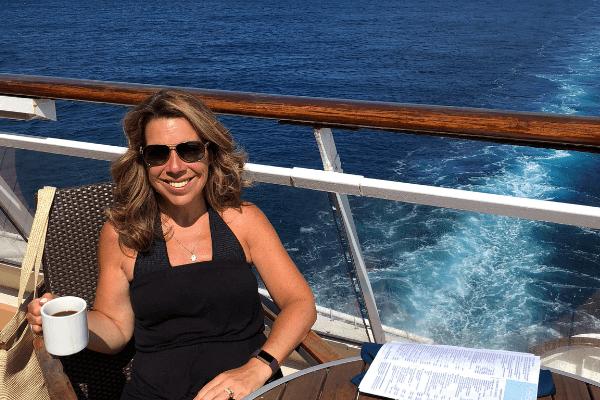 Cruise Lingo you need to know for the first day of your cruise and beyond
30. Embarkation day
The first day of your cruise and the best day in a cruiser's life 😉
Recommended reading to prepare for your cruise embarkation day – 15 Cruise Embarkation Day Tips Straight from the Pros
31. Muster drill
General Mandatory Safety Drill which is done prior to sailing. Note, its not "mustard" drill as you just may hear.
32. Muster station
Your assigned emergency meeting location (it will be on your cruise card). You'll likely meet here for your muster drill, but don't worry, cruise ship crew will help to guide you.
33. Daily planner
Different cruise lines use different terms for their daily newsletter of information scheduled activities (Cruise Compass, Princess Patters, Today, Freestyle Daily)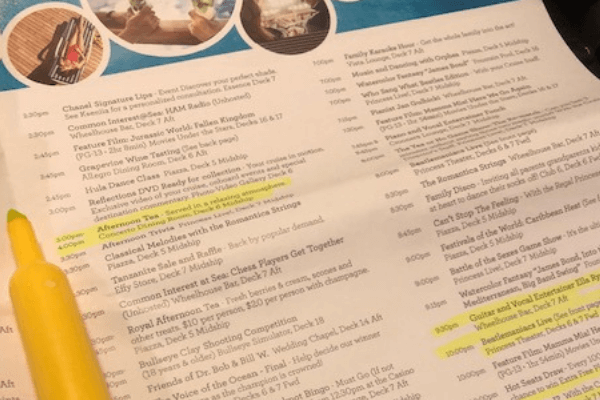 34. Sailaway
The period of time that your Cruise Ship actually sails away from the shore. Often there will be a Sailaway party on the top deck, however some cruisers enjoy it from their own balcony.
35. Sailaway Party
Check your daily planner for information. Generally it will be at the main pool and will include some drinks, a DJ or band playing and some dancing.
36. Sea day
A day when your ship is out at sea and not visiting a port. There will be plenty of activities to choose from if you don't want to simply relax by a pool.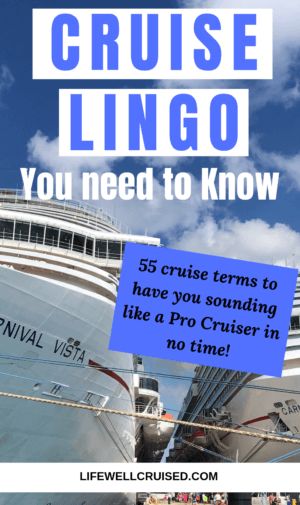 37. Cruise Card
You will be given a cruise card which will act as your room key, ID and your method of payment when on your cruise.
38. Ocean Medallion
Ocean Medallion is a new cruise ship technology available on Princess Cruises. Instead of a cruise card, the medallion serves like a cruise card, but also does much more. You can read about our recent Ocean Medallion experience here.
39. Room steward or cabin attendant
Sometimes mistakenly called a room "stuart", the person who cleans your room twice a day (amazing!) and really takes care of you and your cabin mates is called a room steward or a cabin attendant.
40. Early dining and late dining
Early and late dining are basically a first and second seating, which some cruise lines with an option of assigned dining will have. This is for a main dining room and not a buffet.
41. Open dining: Refers to a more open dining time which is offered on some ships. Some cruise lines offer both open and set dining. It can go by different terminology including Anytime Dining on Princess, My Time Dining on Royal Caribbean, Select Dining on Celebrity.
To note, some cruise lines offer only open dining, such as Norwegian Cruise Line which is Freestyle dining.
42. Specialty restaurants
This usually refers to the dining in an alternative restaurant that is not included in your cruise fare and is often a more intimate or higher culinary experience. An example of this would be Celebrity Cruises Tuscan Grille.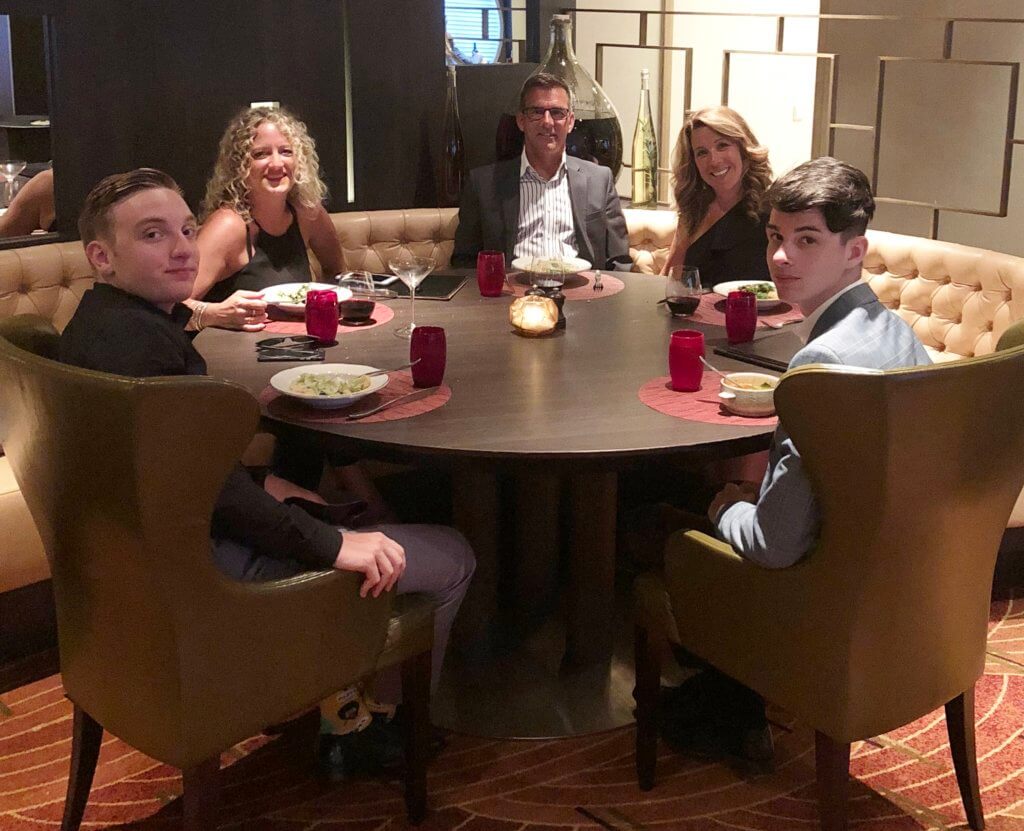 43. All Aboard
The ship will leave your ports of call promptly. All aboard time is generally set for 30 minutes before your cruise is scheduled to leave the port of call. Do verify before leaving your ship.
Seriously, there are people left at port every year!
44. Towel animals
Yes, you just may find these in your cabin. They are the super cute towel creations made by your room stewards on some cruise lines (usually family orientated ones). We've had many years of enjoyment with these and even miss them a little bit when we don't have them.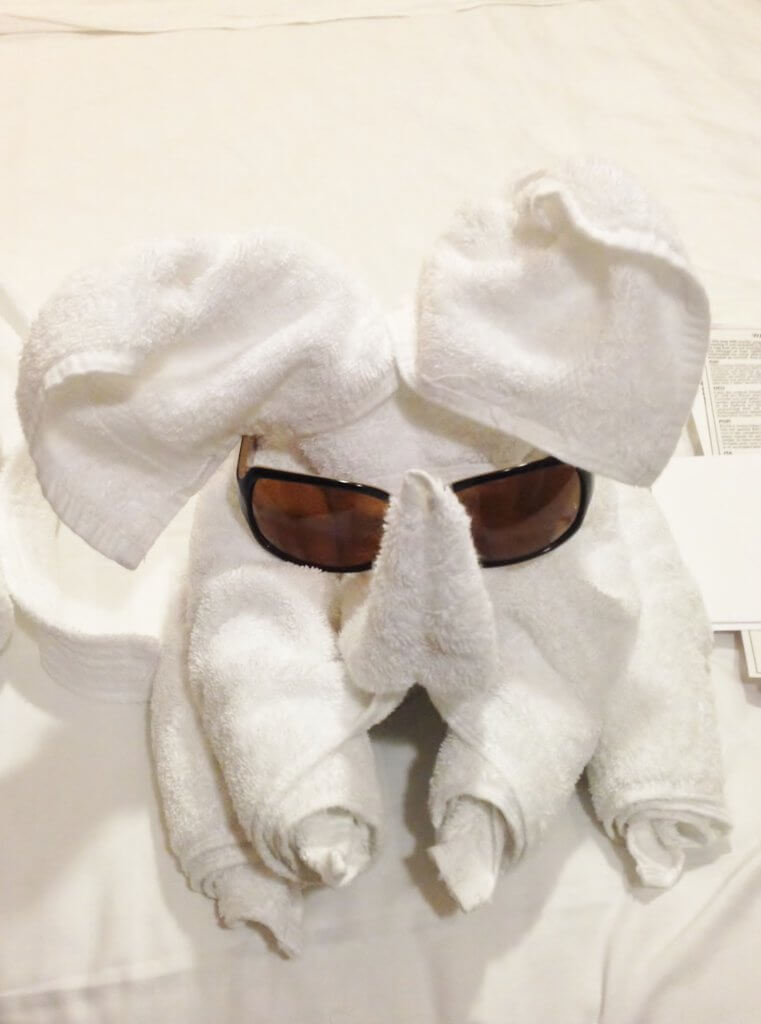 45. Pier runners: This is an unofficial name given to those (who may have had too many libations) who can be seen running in the last few minutes hoping not to miss the ship's departure. It is quite entertaining!
46. Disembarkation
The saddest day in a cruiser's life is the day that you need to disembark and the cruise is over.
47. Post-cruise depression
Omg this is real and it absolutely sets in post-cruise. A remedy could be booking another cruise when onboard.
Recommended reading: Do you suffer from Post-Cruise Depression? How To Know if You Have Post-Cruise Depression (a fun read)
48. Onboard booking
Booking your next cruise on board can give you some awesome benefits and is one of the best kept secrets for saving money while booking a cruise. For those that book with travel agents, don't worry, the future cruise consultant will transfer it to the agency (request if they don't offer).
Tip: Check to make sure about the terms and conditions and find out if future cruise deposits are refundable if that's important to you.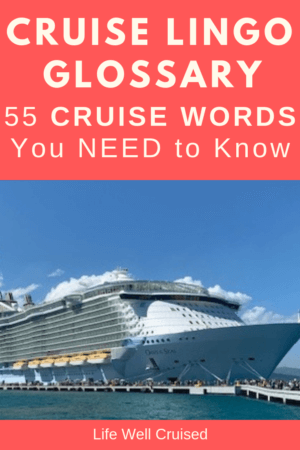 Cruise Lingo Acronyms
It will be very common to hear people who cruise a lot speak with these acronyms and more. You may even see these abbreviations in some cruise facebook groups and pages. Here is what they mean, so you'll be fluent in cruise lingo or all sorts.
49. MDR
Main Dining Room
50. OBC
On board credit – extra cash credit on your cruise account that you can use on the ship for most purchases. Sometimes this is added as a promotion by the cruise line or your travel agent.
51. FCC
Future Cruise Credit – when booking a future cruise onboard
52. B2B
This refers to a back to back cruise, meaning one cruise and then another cruise one after the other. Some cruisers may even do a B2B2B (3 cruises in a row)
53. GTY
The abbreviation for a guarantee cabin (see above in cruise lingo glossary)
Avid cruiser lingo
54. Cruisebug
After a first cruiser, it's not uncommon for a new cruiser to love it so much that they feel an immediate calling to book again and cruise more often. Often, this is reffered to as catching the cruisebug.
55. Cruise addict
It's said that cruising is the healthiest addiction an a vice many are happy to have! If you've cruised and now you're constantly on the lookout for all the cruise info you can find and really just want to book cruises, congrats! You are now a cruise addict!
Recap: Cruise Lingo Glossary – 55 words cruisers need to know
In this post, we can see 55 common cruise vocabulary words that are very common. This list should help to navigate the world of cruise language.
If you're a new cruiser I hope the information has been helpful. If you're a seasoned cruiser, I hope it was a fun read.
However, I know that experienced (and maybe new) cruisers will be able to add to this conversation. Please leave a comment below of any cruise phrase, slang or word that must be added.
Happy cruising!
Ilana xoxo
If you've enjoyed this and are preparing for an upcoming cruise, you may enjoy reading about what you need to prepare for your cruise carry-on or cruise cabin hacks.
P.S. If you've found this post helpful, please share on Facebook or save for later on Pinterest. Share buttons at the top. Thanks so much!
Let's connect:
Follow me on Facebook at Life Well Cruised
Follow me on Pinterest at Life Well Cruised
Follow me on Instagram at Life Well Cruised