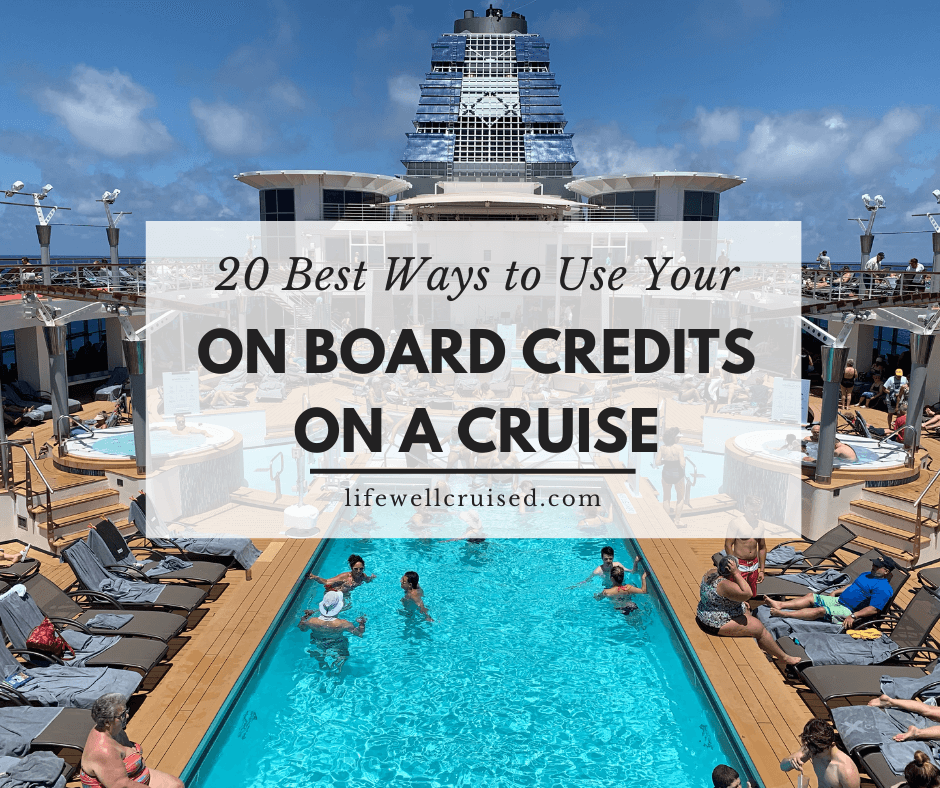 If you've booked a cruise, you may have been given onboard credits by the cruise line or your travel agent. In fact, may people accumulate a fair amount of onboard cash credits, and wonder what to do with them.
In this post, I share how to get and use your onboard credits (OBCs for short), and answer some questions that you may have.
What is On Board Credit or OBC?
Onboard credits are a nice extra that you can use to enhance your cruise vacation! Onboard credits work just like a cash credit that you can use onboard your cruise ship. Often, you can use your onboard credits, or OBCs as they are often called, to make online purchases like excursions, before your cruise.
OBC is an acronym for on board credit, part of the "cruise lingo" you'll want to know before you cruise.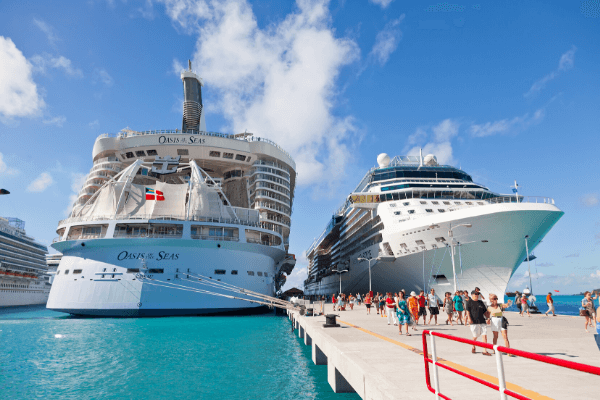 How to Get On Board Credits
There are several ways to get onboard credits to use on your cruise. Onboard credits may be given as a part of a promotion when you book your cruise
Booking Incentives with Cruise Lines & Travel Agents
Cruise lines will run different promotions throughout the year, and onboard credits are offered as a booking incentive. The amount of onboard credit can vary by cruise line, cabin type and length of cruise. However, the most common amounts of onboard credits offered are $25-$100 per cabin.
In addition to the cruise line promotion, travel agents and cruise booking websites may offer an onboard credit as a gift or booking incentive.
Related: Best Way to Book a Cruise: Travel Agent or Direct with the Cruise Line?
Shareholder Credits
Seasoned and frequent cruisers often use this cruise hack to get cruise ship onboard credits. If you own 100 shares of a cruise line stock, you will be entitled to a shareholder benefit that can range from $50 to $300 per cruise, per cabin.
Loyalty Promotion
If you're loyal to a cruise line, this can have some benefits. Keep an eye on your emails, as past passenger offers, including onboard credits might be sent to you.
On a recent cruise, we got a $50 onboard credit with a coupon code for past passengers, sent to us in an email.
Refer a Friend
Princess Cruises has a referral program where you can earn onboard credit. The Princess Cruises Refer a Friend program works like this. As a past guest of Princess, when you refer a friend who has never sailed with Princess, you'll each get a $25 onboard credit.
There are some terms and conditions, however you can refer as many people as you want, and earn a good amount on onboard credits.
Book On Board
One of the best reasons to book your next cruise onboard this one, is to get onboard credits. By putting a deposit down on a future cruise, you can take advantage of lower deposits and onboard credit offers.
Conditions and offers will vary by cruise line, but typically range from $50-300 per cabin. Depending on the cruise line, you may get onboard credits to use on this cruise, to use towards any purchases on your onboard account. You may also be able get onboard credits to use on your next cruise.
Good Will Gesture
One way that cruise lines may compensate cruise passengers for issues or complaints, is with a good will gesture of an onboard credit. If you do have a complaint on a cruise, always bring it up politely with guest services and allow them the opportunity to work on a solution.
Gift
Onboard credits make great gifts for people going on a cruise. You can purchase onboard credits for family or friends going on a cruise by calling the cruise line or travel agency. You can even gift yourself onboard credits, by purchasing them before your cruise.
Related: 65+ Best Gifts for Cruisers that Are Useful
25 Gift Bag Ideas for Cruisers
Get The Ultimate Cruise Planner
Regular price: $27 Now just $17!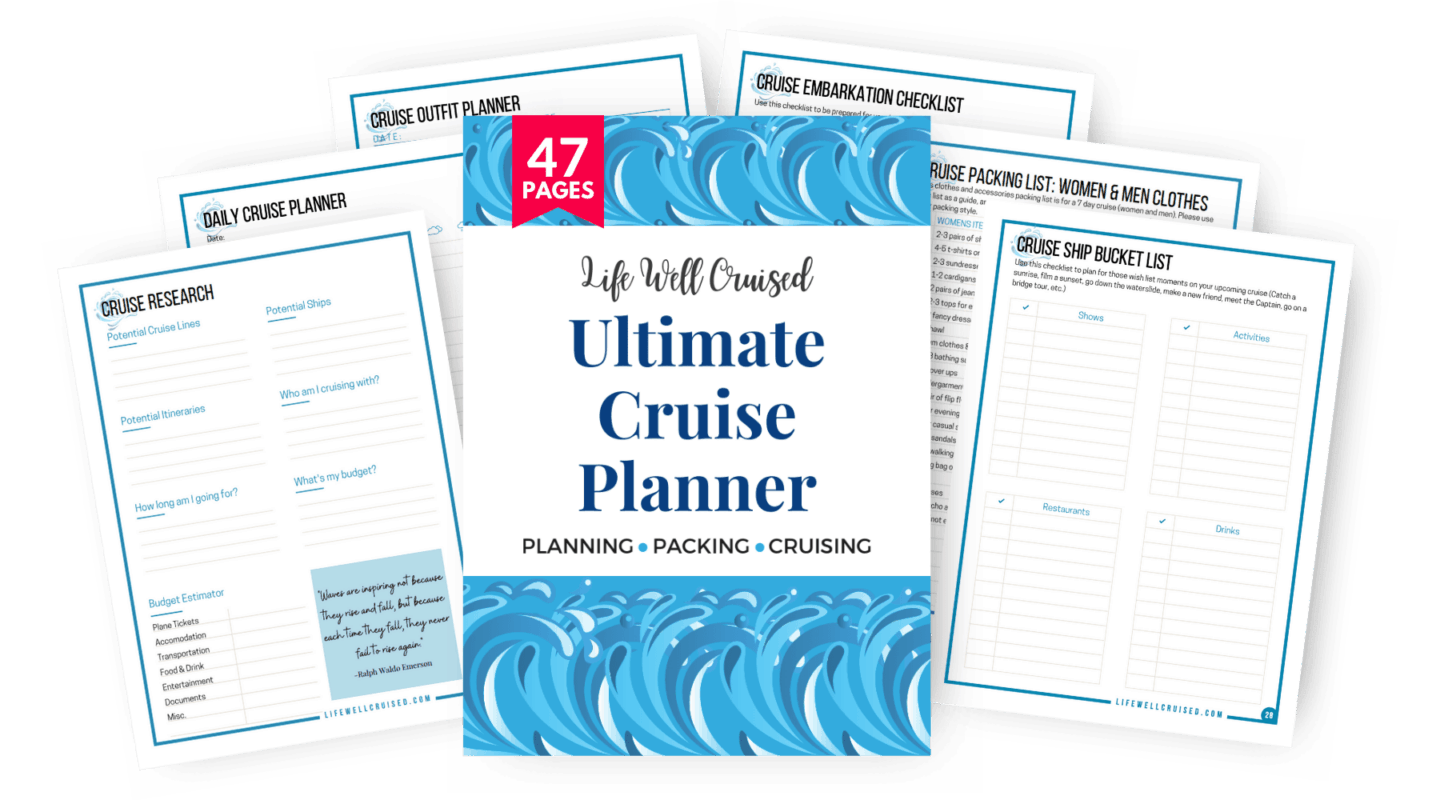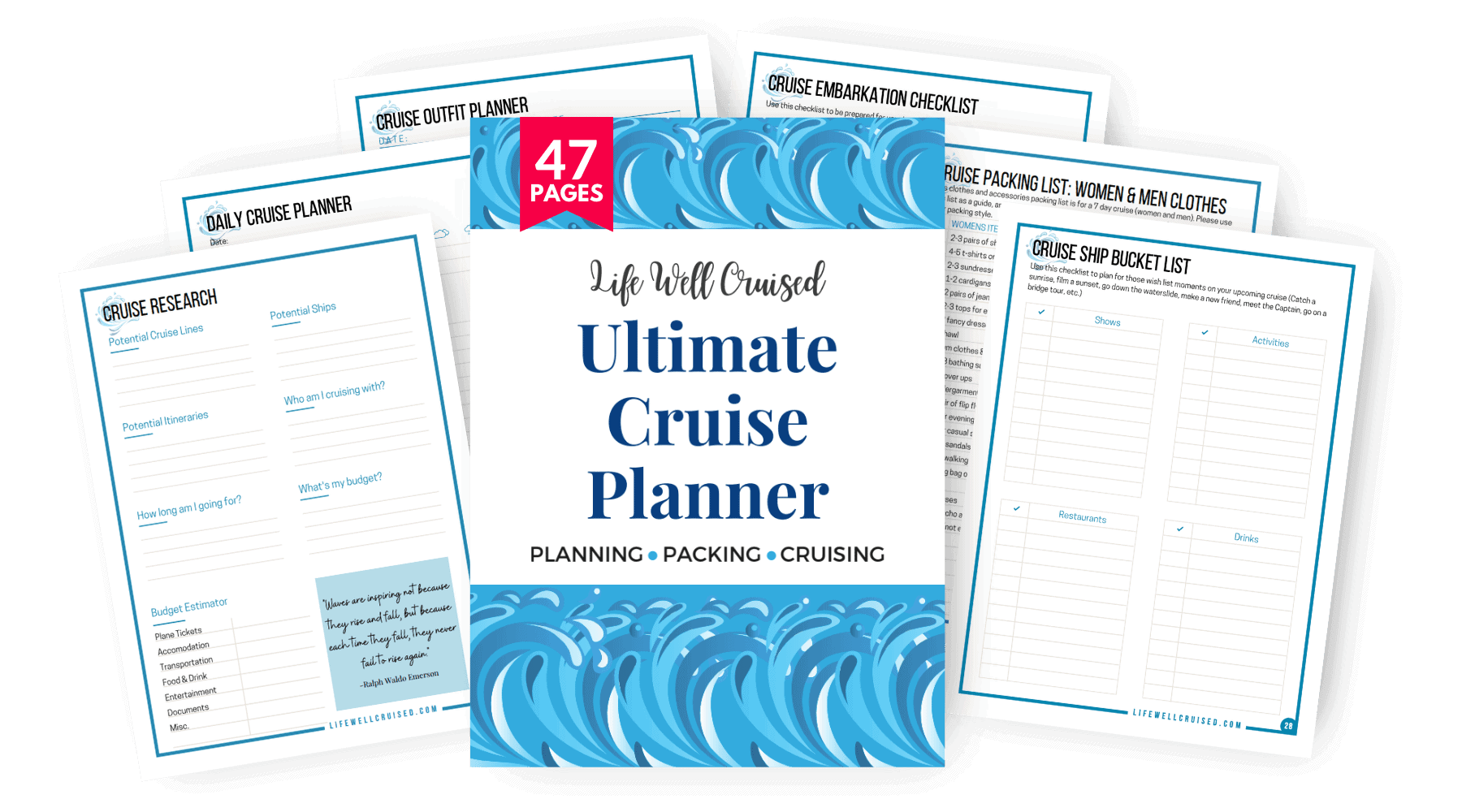 How to Use Onboard Credits on a Cruise
These days, onboard credits can often be used both on the cruise ship and to purchase online packages and excursions before your cruise. While this depends on the cruise line, you will usually be able to see your onboard credit balance on your reservation in the cruise planner and plan accordingly.
When make online purchases, like drink packages or wifi, you can use your onboard credits or your credit card. The balance remaining can be used when you're on your cruise.
Can You Use On Board Credits for Excursions?
Onboard credits can be used for cruise line shore excursions. These days, most cruise lines allow you to pre-book shore excursions online using your onboard credit, rather than waiting to book once you board your cruise ship.
What Happens if You Don't Use All Your Onboard Credit?
Since OBCs are non-transferable and non-refundable (in most circumstances), they must be used during your cruise. There are so many ways to use your onboard credits, even if you have a lot!
Don't let them go to waste. Book excursions, pay gratuities, go to the spa or salon, or buy something special for yourself or someone you love in the duty-free cruise ship boutiques.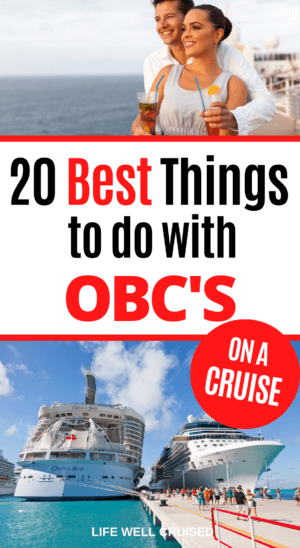 20 Great Ways to Use Your Onboard Credits on a Cruise
On board credits are amazing! It really is like having extra money for your cruise.
This is why it's important when deciding on booking a cruise, to look beyond the price of the cruise to see if any extras are included. A slightly higher priced cruise may include a specialty dining package, free gratuities, or a good amount of on board credits.
We love having an on board credits on our cruises! It allows us to book and pay for some "extras" that perhaps we wouldn't have purchased otherwise as well as any practical purchases.
Here are a few ideas of how to use your onboard credits on a cruise: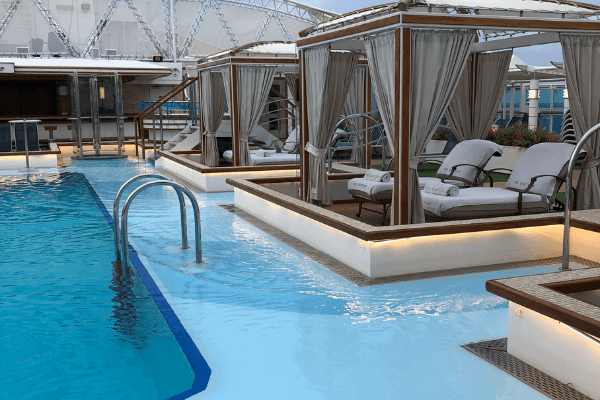 1. Gratuities
Since gratuities will appear as a daily charge on your ship board account, you can use your OBC's to pay for this.
2. Shore Excursions
Don't underestimate how great a shore excursion can be. While not necessary in every cruise port, taking a tour or doing an activity you've always wanted to do, such as swimming with dolphins, could be well worth it.
3. Drinks
Drinks can really add up on a cruise, and OBC's are perfect to offset the cost.
4. Drink packages
It may be worth it to purchase a drink package, which may be alcoholic or non-alcoholic.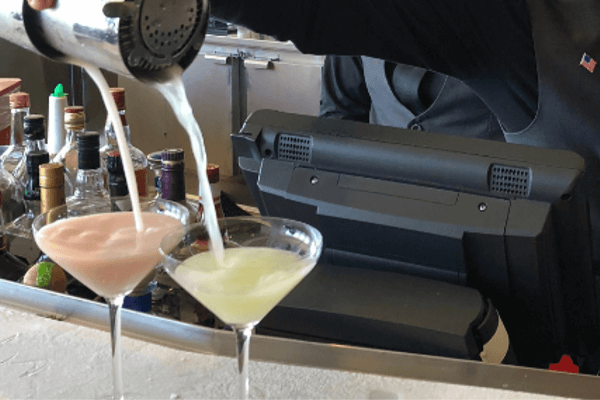 5. Specialty Restaurants
Some of our best dinners have been in the cruise specialty restaurants. Consider splurging on the steakhouse or another specialty dining experience.
6. Shopping On Board
The duty-free shopping is actually pretty good on most cruise ships. You'll convenience store items, logo wear, brand name luxury goods, high end jewelry and watches, a souvenir shop, and your favorite cruise line swag.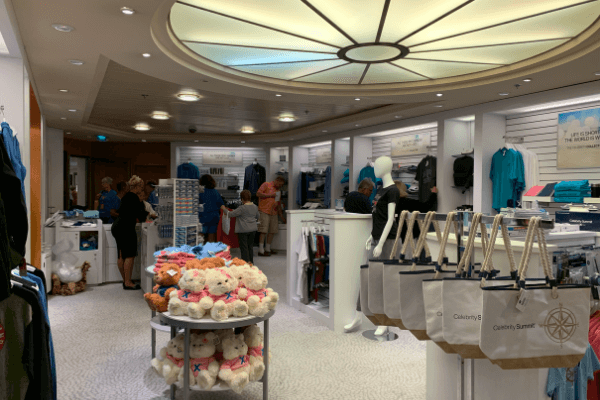 7. Spa Treatments
Pamper yourself with a massage or other spa treatment. As a tip, look our for first day specials and port day promotions.
8. Hair and Nail Salon
Would it feel amazing to get your hair done for formal night? You can even treat yourself to a manicure or pedicure on a sea day.
9. Fitness Centre Classes
While the gym on a cruise ship is included, and there are some free classes, there are also some that have an extra fee. If you vowed to keep fit on your cruise, check out the Pilates and other classes available.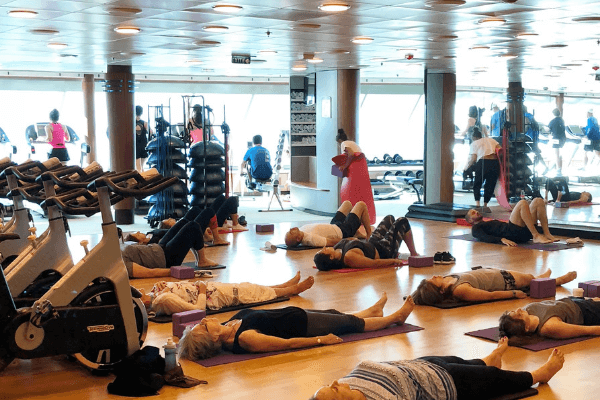 10. Chef's Table
There are some really special dining experiences on a cruise. The Chef's Table, at around $75 per person, is a 5 course meal with wine pairings that are pretty exclusive. They often only serve about 12 people a night so sign up early.
11. Behind the Scenes Ship and Bridge Tour
Sign up quick for bridge tours, as they are very popular!
12. Professional Photos
If you're on a family cruise or a romantic cruise and want to do something special to bring home the memories, get some photos taken by the ship's photographer. You can even opt for a photo package. Make sure to sign up online to see if there are any pre-cruise discounts.
13. Specialty Coffee
You can purchase specialty coffees individually or get a coffee package
14. Wifi Package
Cruise ship internet is a bit pricey. If you need to work or simply want to keep in touch, consider using your OBC's to purchase a wifi package.
15. Bingo
If you love Bingo, why not play? Bingo cards are available once on the cruise ship.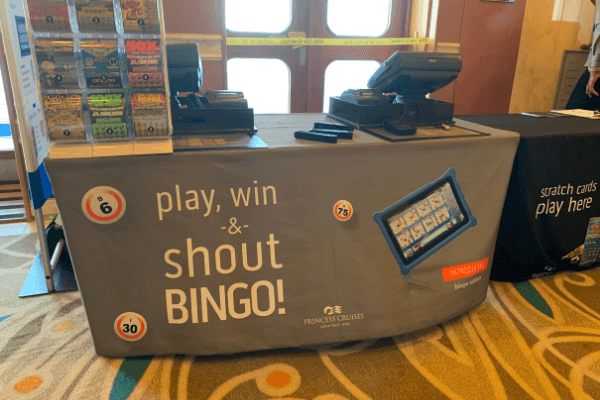 16. Art Auction
Attending an art auction is free, however you may fall in love with a work or art and want to buy it and bring it home. Your OBCs can be used towards a print or other items.
17. Arcade
Let the kids have a small allowance to use at the ships arcade or the candy store
18. Onboard Activities (where there's an extra fee)
While there's a lot included with the price of your cruise, there may be some additional fees for certain cruise ship activities. Some examples are the race cars on Norwegian Joy or the North Star on Royal Caribbean's Ovation of the Seas.
19. Acupuncture
Did you know you can have an acupuncture treatment on many cruise ships? In some cases you can also see a chiropractor. There are many services available on a cruise to help you rejuvenate and feel better.
20. Private Adult Area
If you're in the need of a little R & R (rest and relaxation), it can be worth it to purchase a daily or weekly pass to the ship's exclusive adult area. Check these out to see if your cruise ship has one, and what it includes.
Things you wouldn't think of – The truth is there's so much available to do, see, and experience on a cruise vacation, that it's impossible to think of them all. However, in most cases, if there's an additional cost on your cruise, you can use your OBC to pay for it.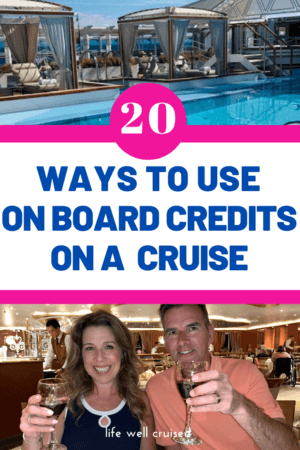 When Can You Not Use Cruise On Board Credits?
An onboard credit is almost as good as cash, but it does have it's limitations. These are the things that you aren't able to buy with your OBC.
future cruise deposit
flights
ship's medical services
items off the cruise ship
How Can You Get More Onboard Credits?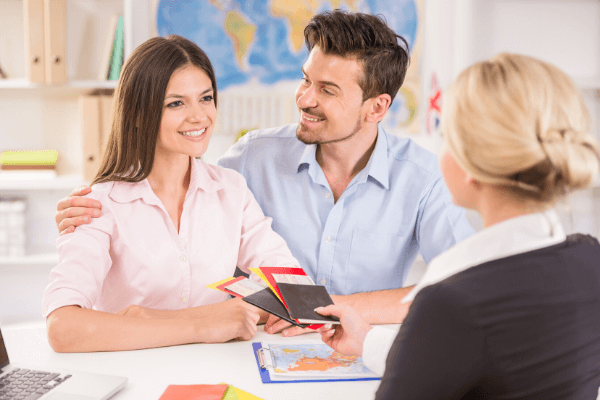 Onboard credits are often given by the cruise line and/or a travel agent as a promotion when you book a cruise. In some cases, cruise lines have referral credits, like Princess cruises.
One of the cruise hacks many seasoned cruisers use to get more on board credits, is to book their next cruise onboard. When booking a future cruise onboard, you'll receive on board credits that you can either use for this cruise or on your next cruise.
Other ways to get more OBCs include military benefits, past passenger promos, shareholder credits, regional promotions. It always pays to ask your travel agent about this.
Finally, OBC's are sometimes given as good will gestures, such as a compensation for an issue onboard a cruise ship or even as a resolution to a complaint you may have made.
Suggested: How to Handle a Complaint on a Cruise and Actually Get Results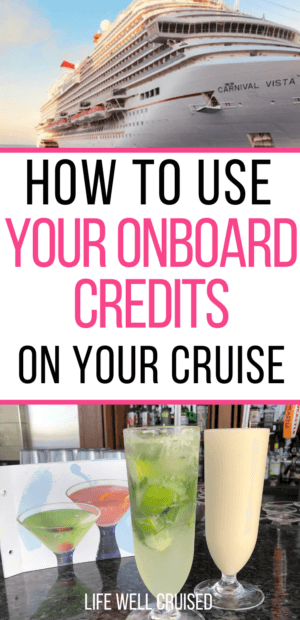 Popular and Related Posts:
50 Cruise Essentials Most Popular on Amazon
27 Cruise Packing Mistakes You Might be Making
Cruise Line Stocks Shareholder Benefits for Cruisers (FREE onboard credit)
21 Things People Forget to Pack for a Cruise (and regret)
30 Cruise Cabin Hacks Every Cruiser Needs to Know
27 Awesome Things To Do on a Cruise on Sea Days
Get The Ultimate Cruise Planner
Regular price: $27 Now just $17!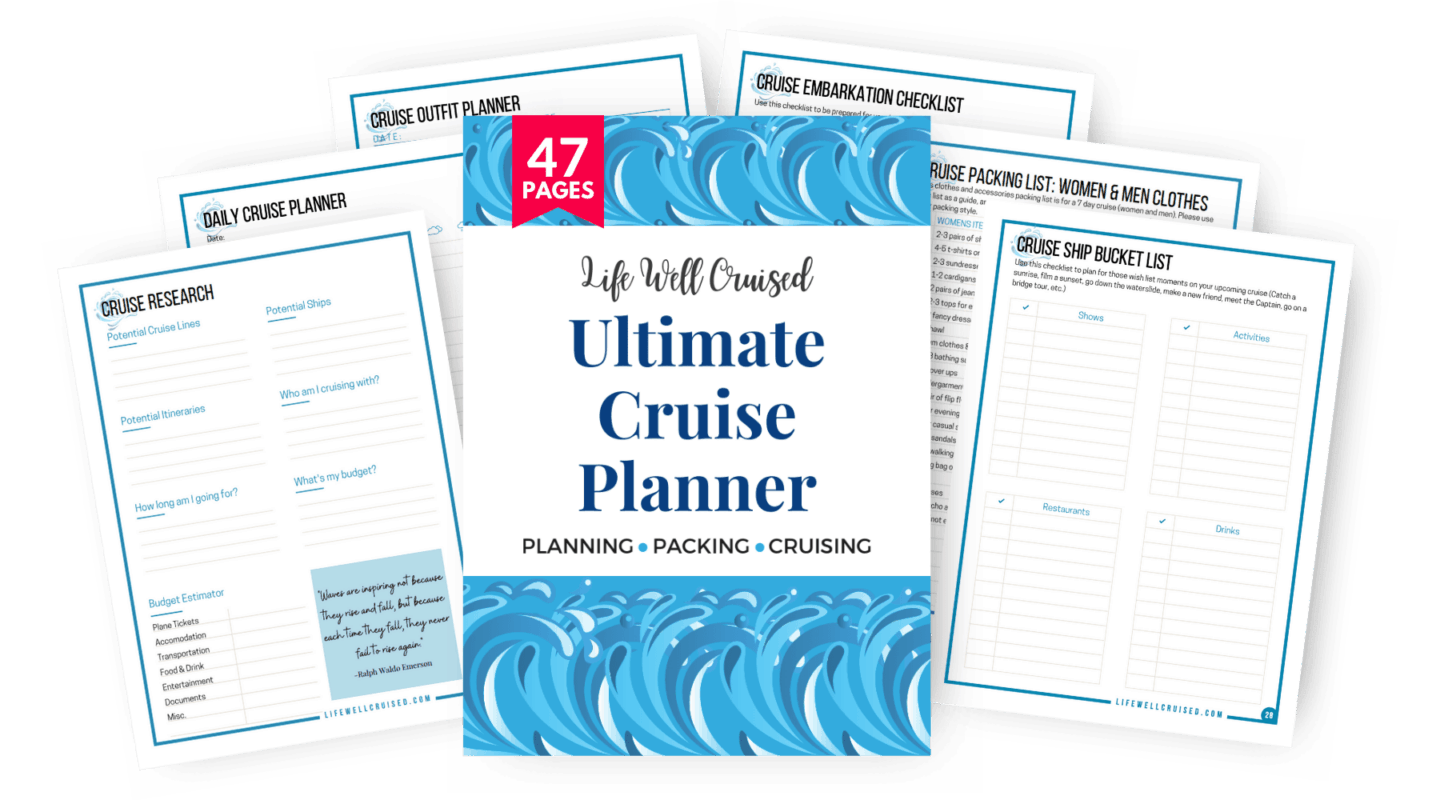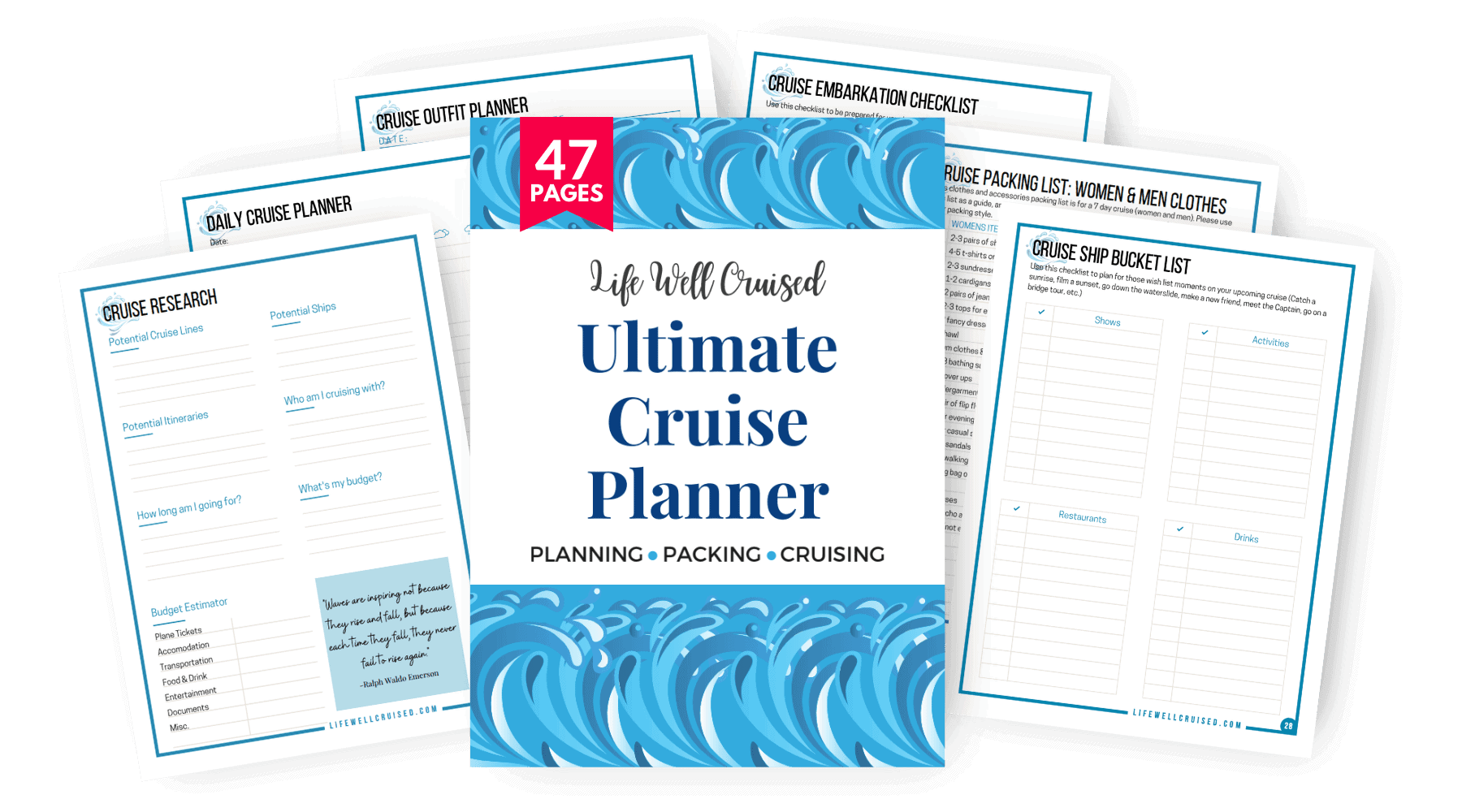 Final thoughts on How to Get and Use Onboard Credits on a Cruise
Onboard credits are just as good as cash on a cruise, and can actually be a great way to get even more enjoyment out of your cruise vacation! You can use OBC' on things you may have bought anyway, or to treat yourself to a special activity, onboard experience or even a gift from the cruise ship boutiques.
I hope I've answered your questions about on board credits and how they work. If you do need more information, please leave a question in the comments below.
Have you had onboard credits on a past cruise? If so, how do you like to use them?
Happy cruising!
Ilana
P.S. If you found this helpful, please don't keep it to yourself ;-). Please share on Facebook or PIN to your favorite Pinterest board (share buttons at the top). Thanks so much!
Let's connect:
Follow me on Facebook at Life Well Cruised
Follow me onYouTube at Life Well Cruised (Vlogs and cruise tips)
Follow me on Pinterest at Life Well Cruised
Follow me on Instagram at Life Well Cruised