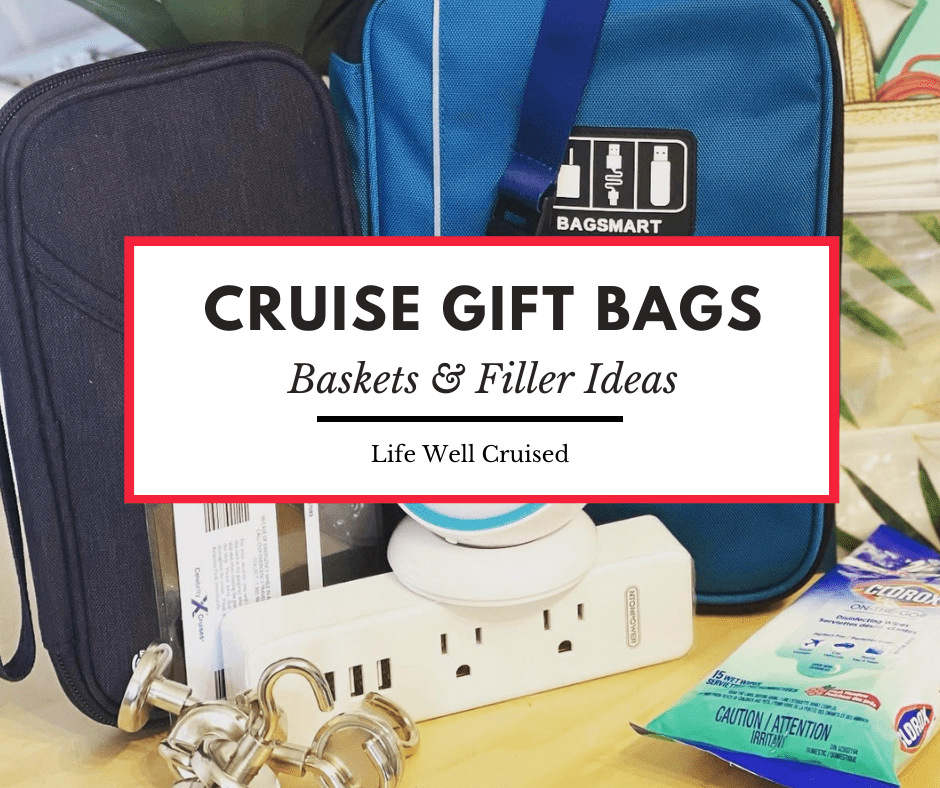 Are you looking a unique gift idea for cruisers? Surprising someone with a cruise gift bag full of useful cruise essentials is a great idea!
Cruise gift bags can also be nice to give if you've planned a group cruise for friends and family. If you're getting married or renewing your vows on a cruise, a cruise gift basket placed in everyone's cabin will be so appreciated!
In this post I share some ideas for what to put in a cruise gift bag, as well as how to surprise someone with the gift of a cruise.
This post contains affiliate links which means if you click and buy that I may make a commission, at no cost to you. Please see my disclosure policy for details.
As an Amazon Associate I earn from qualifying purchases.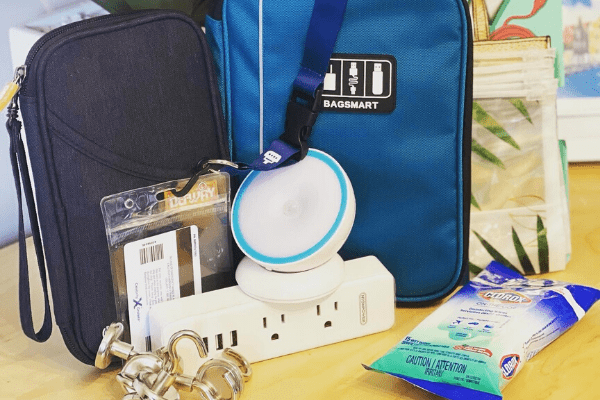 How to Gift a Cruise
If you want to surprise someone with a gift of a cruise, there are some fun ways to do this.
Print out a personalized cruise ticket
Purchase a cruise ship ornament for the Christmas tree & surprise the family
Create a cruise scavenger hunt where the last cruise reveals a cruise
Give a cruise related gift such as snorkel gear with a cruise gift card
Gift a fun cruise theme t-shirt ie. "Jones Family Cruise 2022"
Give a cruise book as a gift, with a "cruise ticket" printed out
Buy a cruise line gift card
If presenting a gift card or cruise as a gift, these "Oh Ship" cruise themed cards are a must!
What to Put in a Cruise Gift Bag or Basket
While nothing is better than the gift of a cruise, getting cruise items in a cruise gift basket comes pretty close. While I mention gift baskets, you can be creative and create a cruise gift bag that will be practical and fun!
Personally, I like the idea of a using cruise tote bag or backpack, which can be used both on the cruise for shore excursions and port days.
Looking for Gifts for Cruisers? I've put together a list to help: 65+ Best Gifts for Cruisers
Cruise Gift Bags – Beach & Tote Bags
Here are 3 great beach and tote bags that will make a great base for a cruise gift bag.
Mesh Beach Bag
This mesh beach bag is perfect to fill with flip flops, reef friendly sunscreen, aloe vera, a waterproof phone case and more!
Recommended: Mesh beach bag (see several color options on Amazon here)
Nautical Anchor Tote Bag
This nautical tote bag with zipper is great to go from shopping to beach on a port day! Fill it with some favorite cruise cabin essentials and more.
Recommended: Nautical beach tote bag (check over 2000 Amazon reviews here)
Mesh Beach Backpack
For those that like a backpack, this mesh backpack with a turtle design is perfect. It also folds up into a small pouch – a space saver for cruise travelers!
Recommended: Mesh beach backpack (check price & designs and colors on Amazon)
Cruise Gift Bag Filler Ideas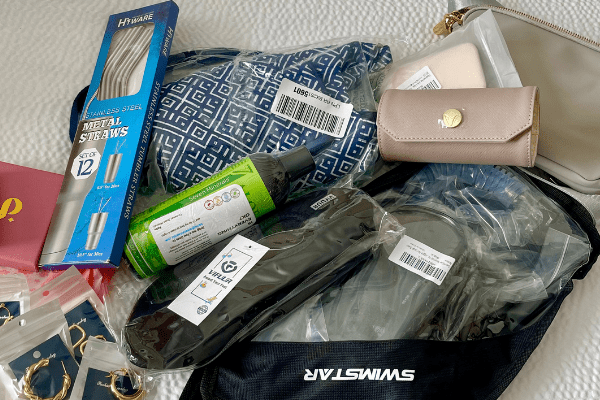 Here are a few unique items that make great filler ideas for cruise gift bags. This list of consists of packing essentials and other cruise and travel items.
2. Flip Flops
4. Cruise Compliant Power Strip with USBs
5. Magnet Hooks
6. Magnet Clips
8. Towel Bands
10. Seabands
12. Aloe Vera Gel
14. Waterproof Phone Case & Lanyards
16. Tide to go
18. Travel Size Laundry Packets
Get The Ultimate Cruise Planner
Regular price: $27 Now just $17!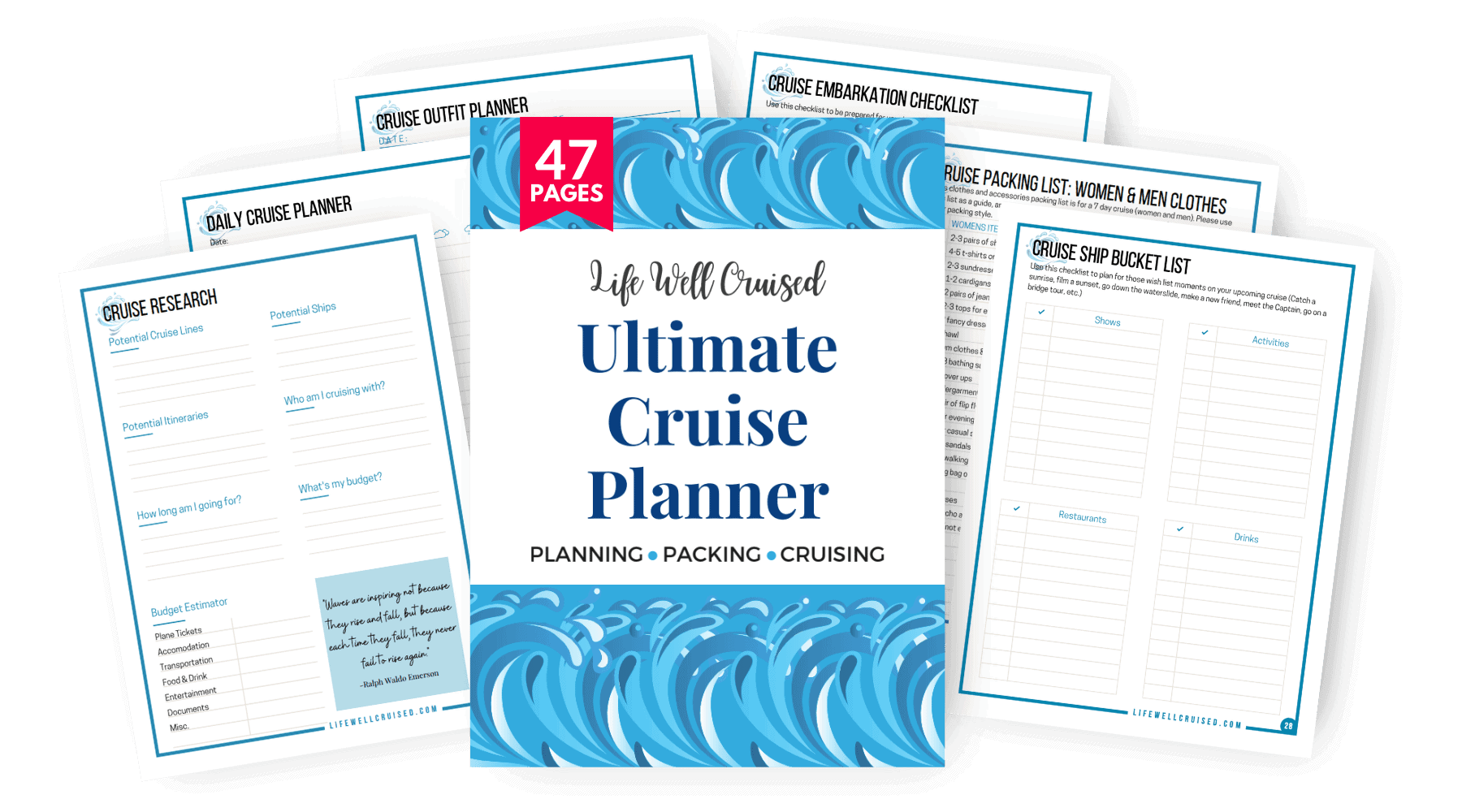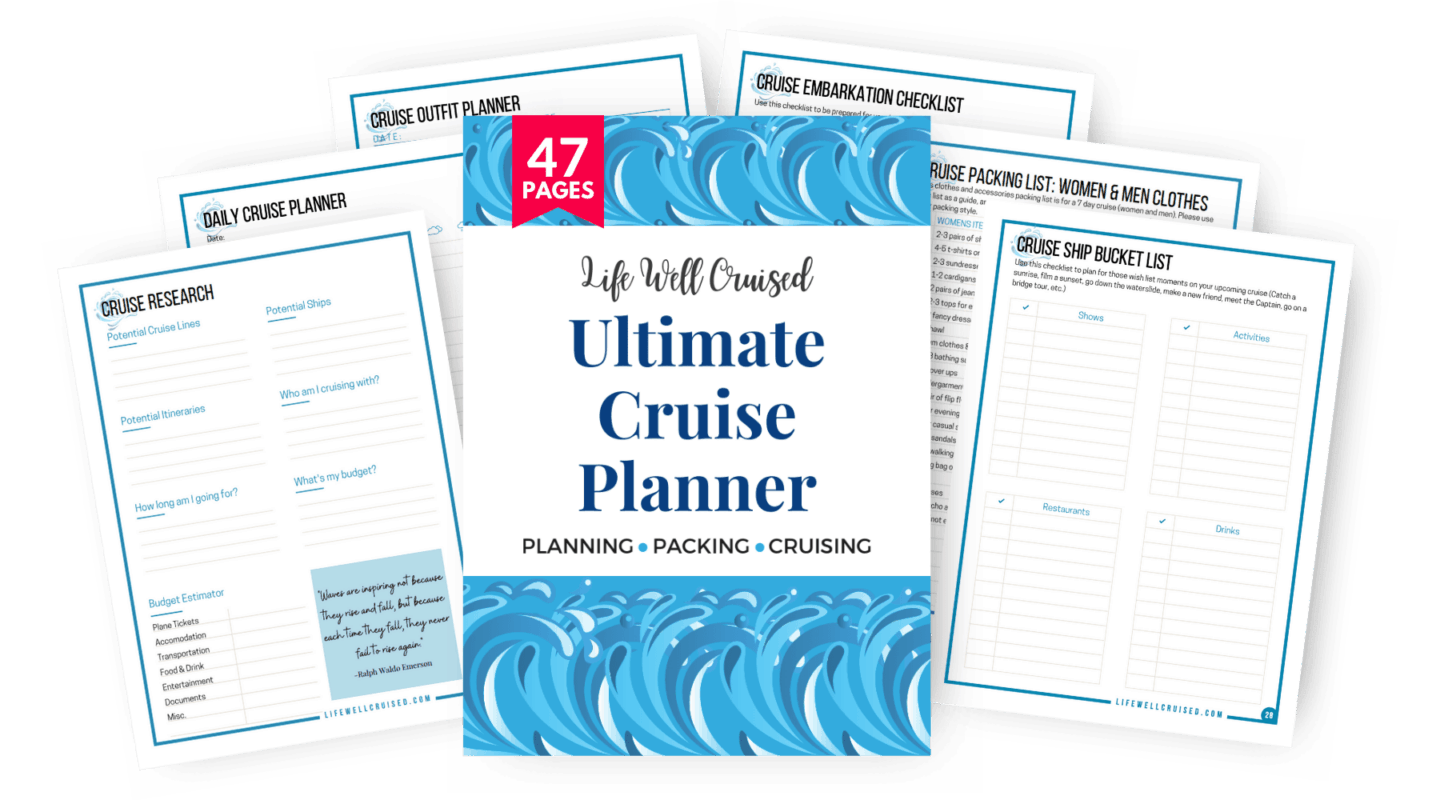 20. Reusable Straws
23. Cruise T-shirt
24. Water Shoes
26. Highlighters
27. Snorkle Mask
Cruise Gift Bag Tips
If you're making several gift baskets or bags, don't feel like they need to all be the same
You may want to include travel size versions of some products
Balance pricier items with less expensive items
For holiday cruises, include a Santa hat or other holiday theme gift
Get The Ultimate Cruise Planner
Regular price: $27 Now just $17!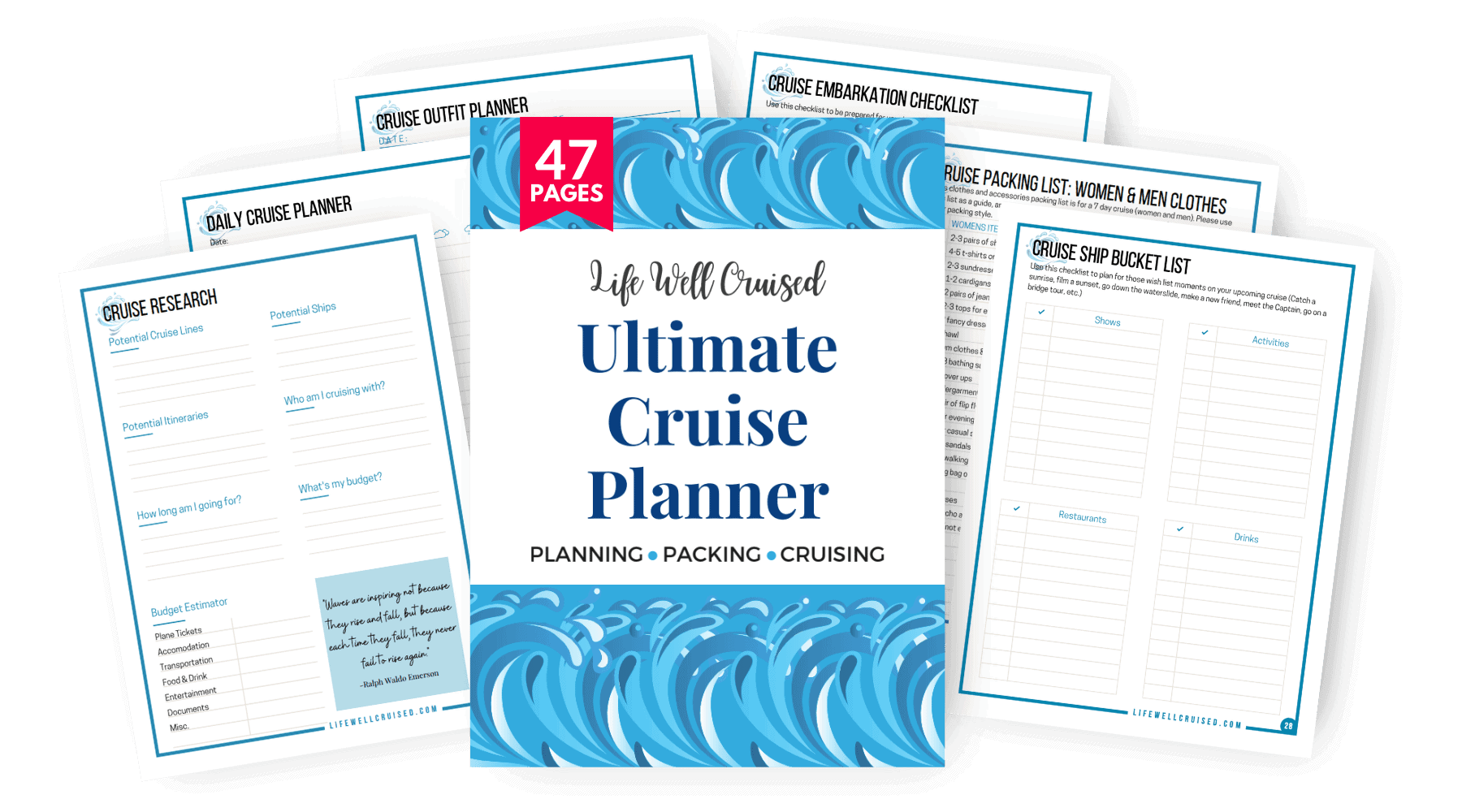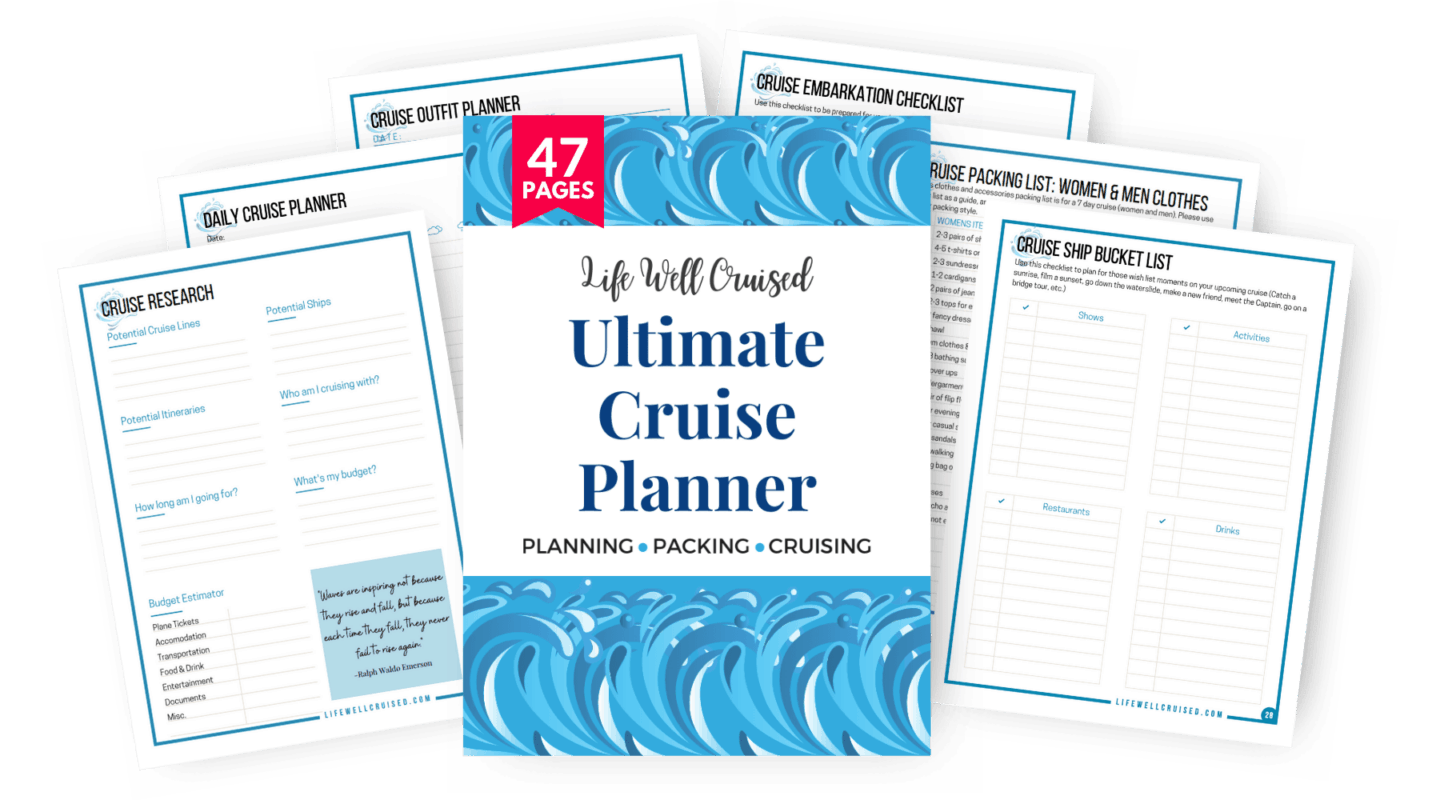 Related & Popular Posts: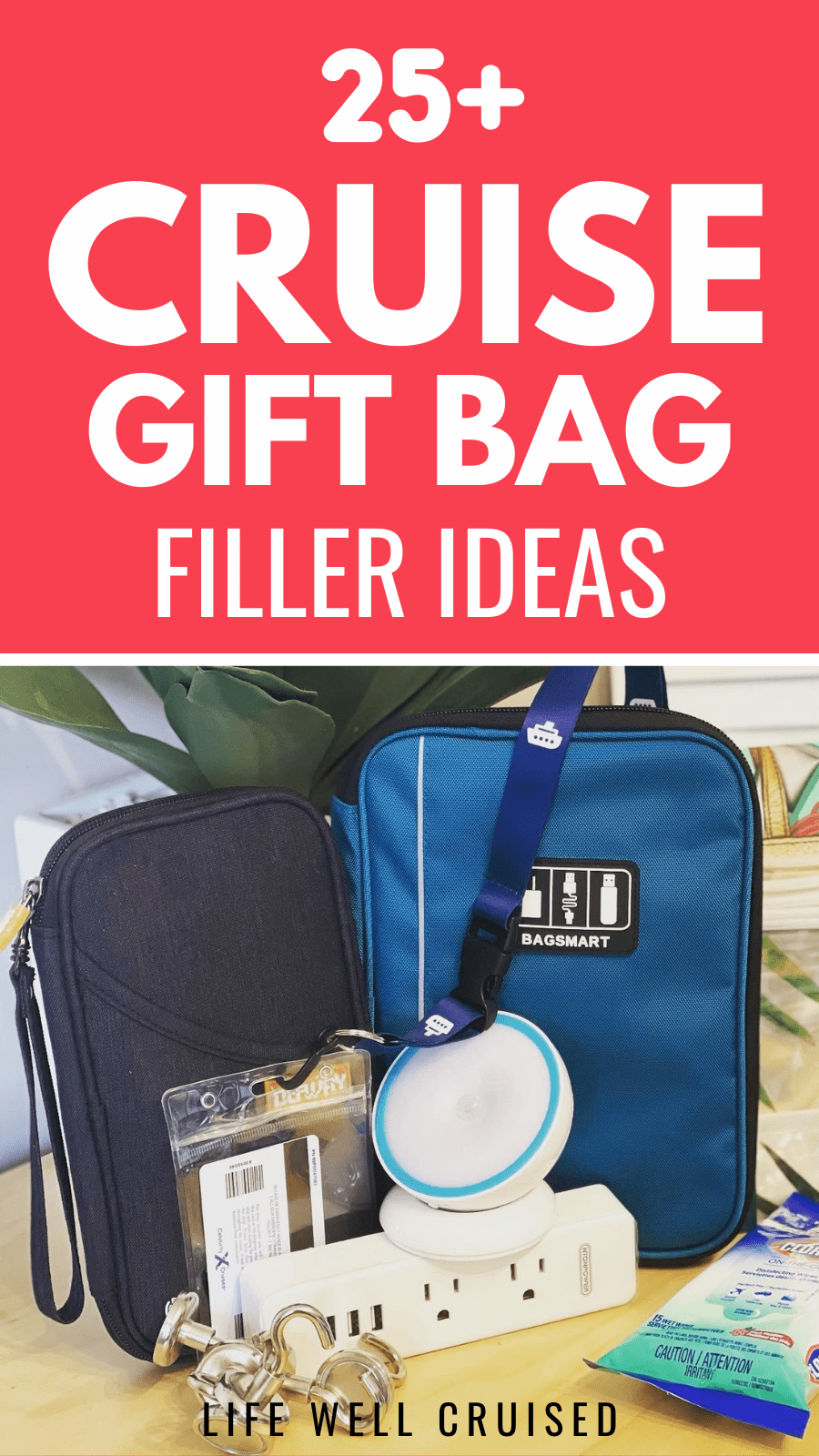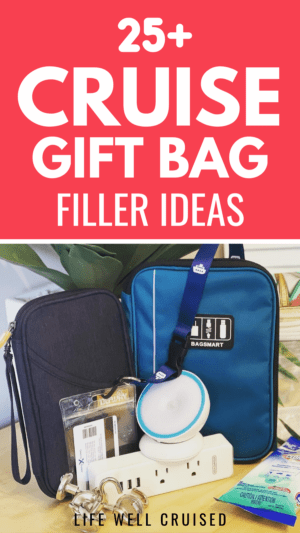 Final Thoughts on Cruise Gift Baskets & Bags
Cruise gift bags are such fun and practical gifts to give cruise travelers! Whether you want to surprise someone with the gift of a cruise or create a cruise themed gift basket, there are many items in this post that cruisers will love.
Have you ever surprised someone with a cruise or given cruise themed items as a gift? Please let me know in the comments below.
Happy Cruising!
Ilana
If you found this post helpful, please don't keep it to yourself ;-). Share it on Facebook or Save for later Pinterest (share buttons at the top). Thanks so much!
Let's connect:
Follow me on Facebook at Life Well Cruised
Follow me on Pinterest at Life Well Cruised
Follow me on Instagram at Life Well Cruised