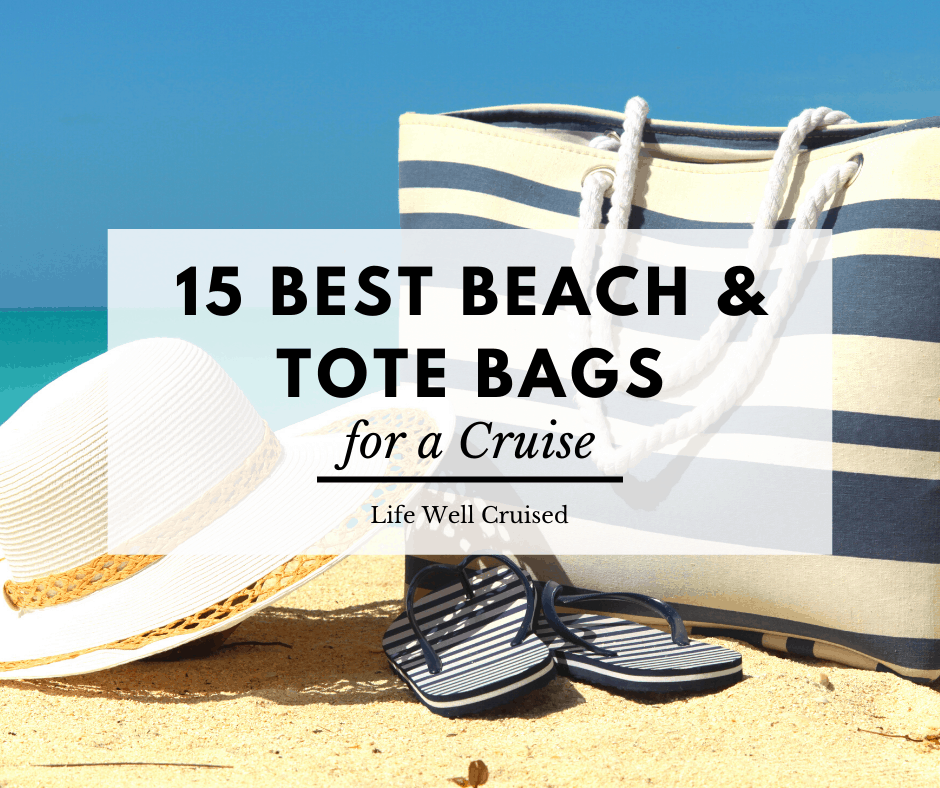 If you're getting ready for your cruise, you're probably thinking about what to pack and what luggage you'll need. If you're planning on heading to the beach or pool, you'll need a good beach bag for your cruise.
What makes a great beach bag for a cruise? The best beach or tote bags for a cruise should be large enough to fit your essential items, have zippered compartments and be water resistant.
In this post, I share 15 affordable beach and tote bags that will be perfect for your cruise. Styles include nautical designs, extra large bags for families and the best day bags for cruise shore excursions.
I've also included a few inexpensive beach bags that I'm loving right now!
20 Beach Bags and Totes for a Cruise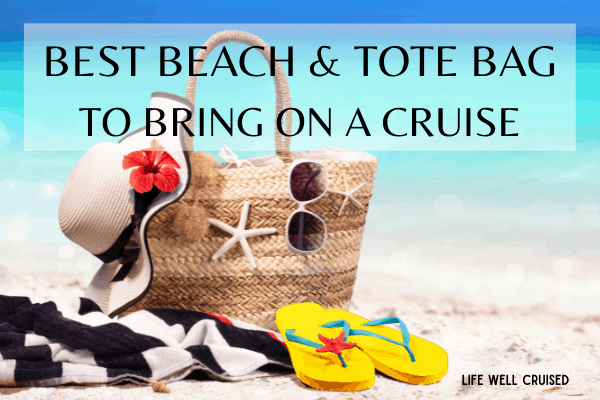 This post contains affiliate links which means if you click and buy that I may make a commission, at no cost to you. Please see my disclosure policy for details.
As an Amazon Associate I earn from qualifying purchases.
Stylish Beach Tote Bags
1. Nautical Beach Tote Bag
This anchor design tote bag is stylish, practical and so affordable. With it's zippered closure, this tote bag is perfect on the beach, for shore excursions and even when you're hanging around the pool on sea days.
Recommended: Nautical tote bag (check pricing here)
2. Flamingo Beach Bag
Even though this flamingo beach and pool bag is adorable, it's also a great size and will be perfect for a cruise vacation! It has a zipper, which is so important both on the ship and off.
Recommended: Flamingo beach bag zippered tote (see 4.5* Amazon reviews & details)
3. Stylish Straw Bag
Straw bags are especially stylish these days, and can be worn to the beach, when sightseeing or when hanging out on the lido deck!
This inexpensive tote bag looks great with summer dresses & held up so well during a recent cruise & Florida vacation.
Recommended: Large straw shoulder bag with zipper (check price & 2 styles on Amazon here)
4. Straw Woven Tote Bag
Finding a cute straw woven tote bag with a zipper is near impossible! I was so glad to find this stylish tote bag that's perfect on the lido deck, the beach and even for day trips!
Recommended: Straw woven tote bag (see amazing amazon reviews & different styles here)
5. "Beach Please" Beach Bag
Does anything say "beach day" better than this fun beach bag? This waterproof beach bag is made of 100% cotton canvas and is both waterproof and sandproof.
Recommended: "Beach Please" beach bag tote (see details on Amazon here)
Get The Ultimate Cruise Planner
Regular price: $27 Now just $17!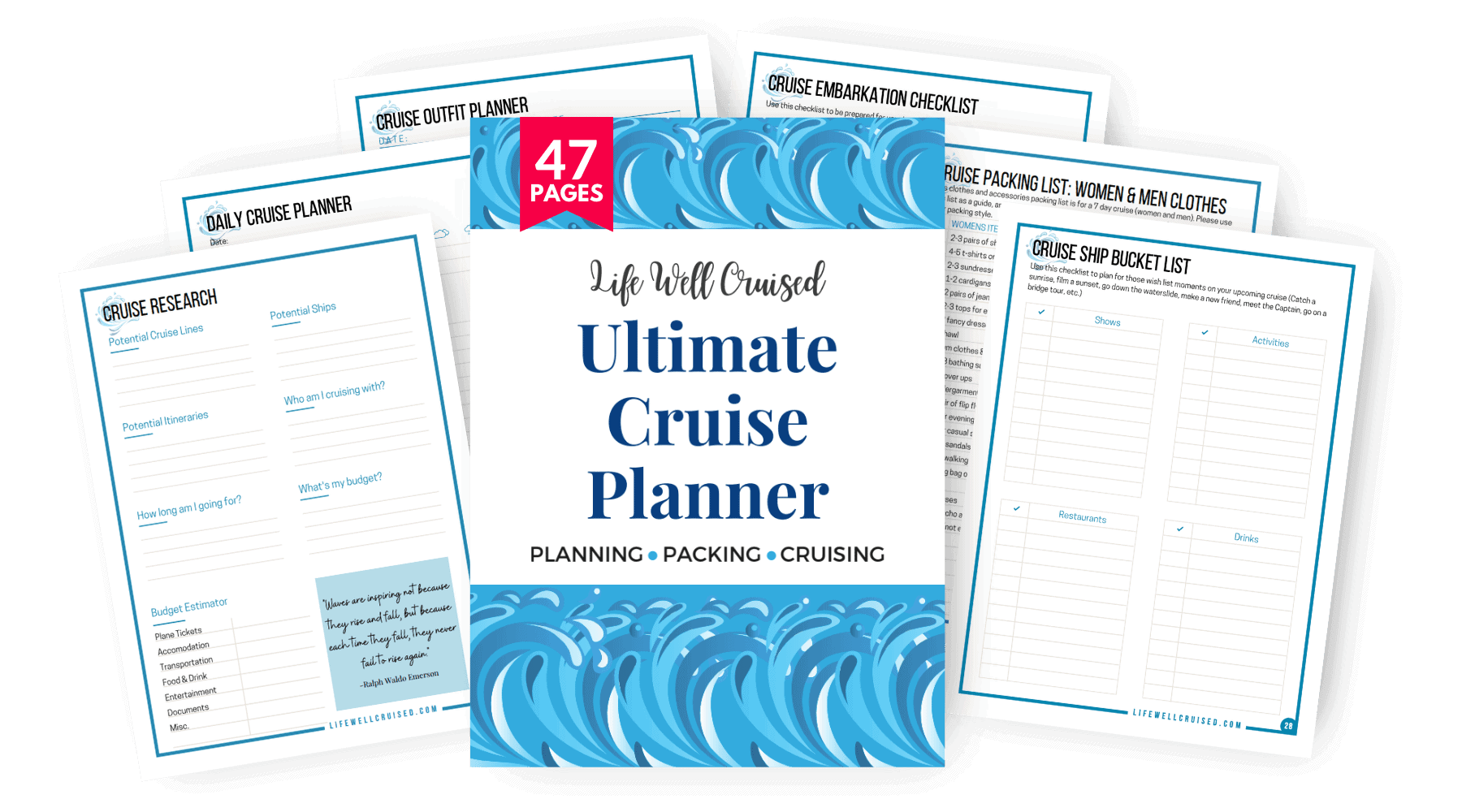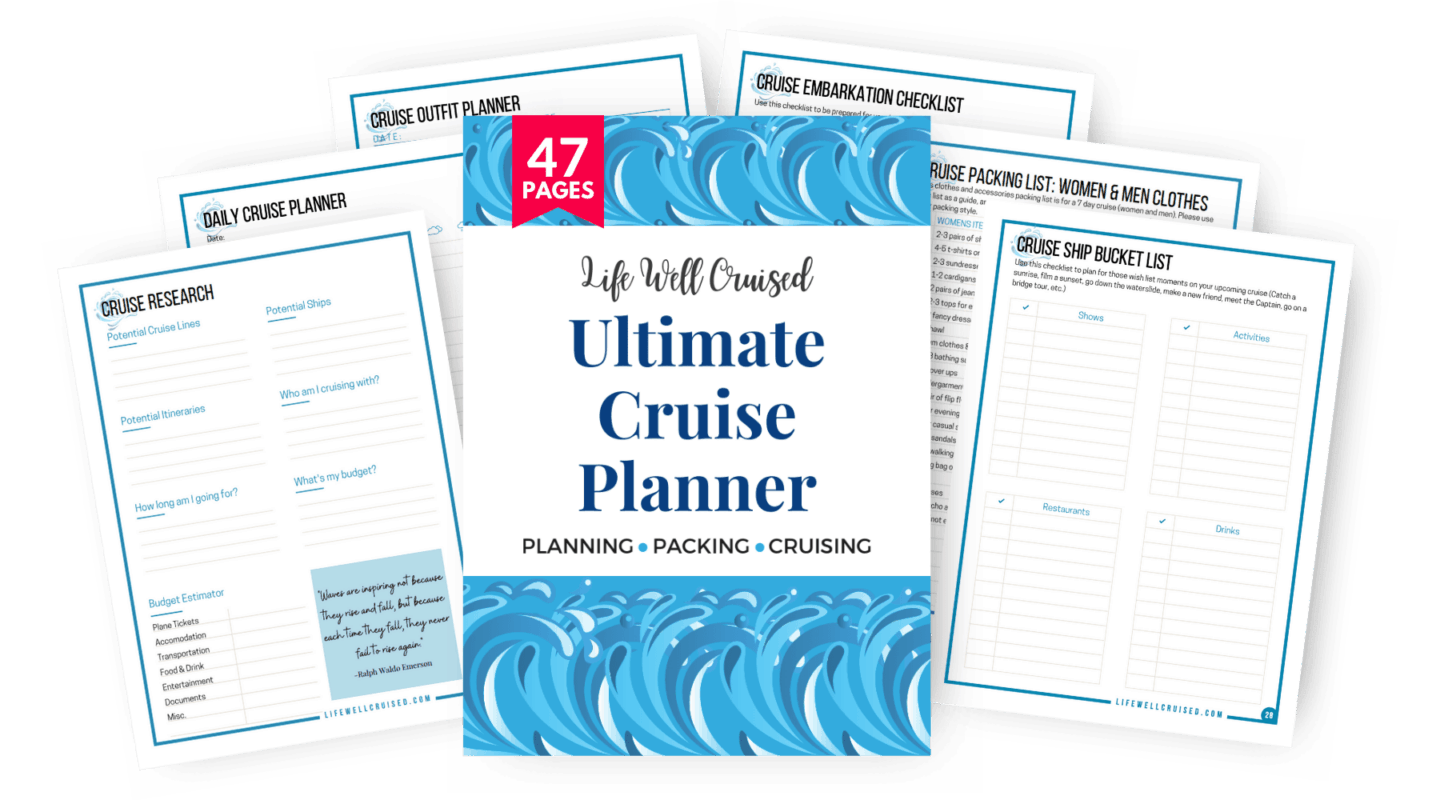 6. BOGG BAG (original)
The BOGG BAG is one of the more expensive beach bags you can find. However, Bogg Bags are so well loved, I had to include it!
The original BOGG BAG is a great quality extra-large waterproof beach bag (can be used for the pool on a cruise too!). This is a fantastic bag for moms & families toting lots of kiddie items, towels etc. Plus, it's stylish and comes in several great colors.
While not inexpensive, the Bogg Bag makes a great gift for cruise travelers!
Recommended: Bogg Bag (check price & 5000+ 5* Amazon reviews here)
Related: What to Pack for Kids on a Cruise (children's packing list)
7. Extra Large Rubber Beach Bag
Similar to the large original Bogg Bag, this cute rubber beach bag is a great less expensive alternative. Cruisers love the extra large size & the fact that it stands up (leaving sand out!) on it's own.
Recommended: Extra Large Rubber Beach Bag (check price & colors on Amazon here)
8. Extra Large Mesh Beach Bag
This lightweight extra large mesh beach bag is great for families on a cruise. It's oversized, so it can fit loads of towels, flip flops, water shoes, sunscreen and more. Plus it's foldable, and can also be cleaned and packed away quite easily.
Recommended: Extra large mesh beach bag (great family bag)
9. Extra Large Beach Bag (waterproof)
I have this extra large waterproof beach bag and love how roomy and practical it is. Plus, the blue nautical stripe is perfect for cruising. As an FYI, it can fit 4 cruise line pool towels, plus sunscreen and all your other beach day essentials.
Recommended: Extra Large Beach Bag with Nautical Stripe (see details on Amazon here)
10. Beach Bag with "Wet" Compartment
This gorgeous beach tote bag is sandproof and has handy compartments, including one for wet items. It also comes in several fun beachy designs.
Recommended: Large practical beach bag (see other designs here)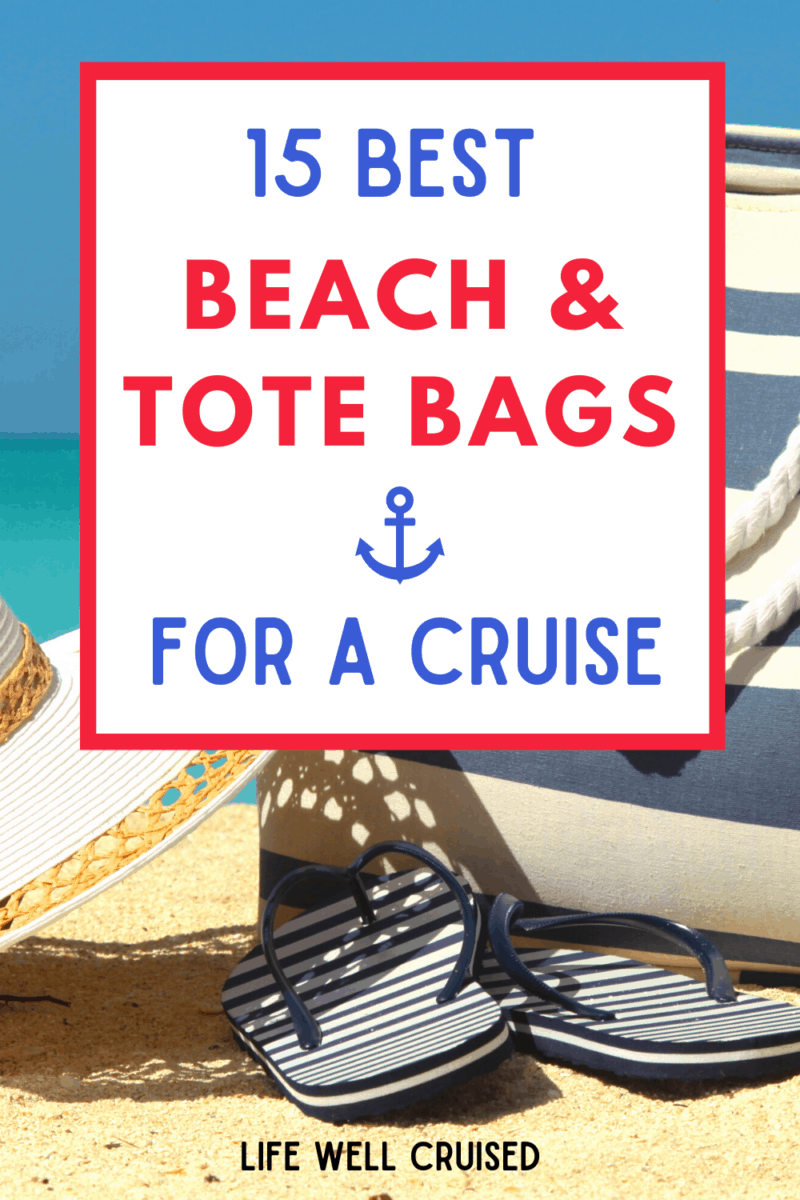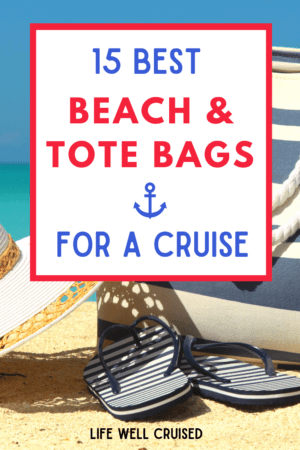 Oversized Tote Bag for Pool and Beach
11. Extra Large Canvas Beach Bag
This waterproof large canvas beach bag is a new favorite! This beach bag was perfect for my recent Virgin Voyages cruise.
I like to bring a good tote bag to the pool on a cruise, and this one is perfect for all your cruise essentials. It's a nice large size and is cute, practical and affordable.
Recommended: Large water resistant beach bag tote (see other styles here)
Best Beach Bags for Families and Kids
Cruising with kids? These extra large beach bags have some features that you'll love!
12. Durable Mesh Beach Bag
I love this mesh beach bag with a detachable cooler not only for a cruise, but for beach days as well. In fact, if you go to a community pool or have outings to the park, this bag is amazing.
The bottom portion is actually an insulated cooler, which can detach if you don't need it. However, it's so handy for water bottles and even a few snacks that are best off when kept cool. This beach bag is a very good size, with zippered side pockets.
Recommended: Mesh beach bag with a detachable cooler (see 1400+ Amazon reviews)
13. XXL Mesh Beach Bag Tote
This XX large beach zippered tote bag is a perfect carry all for all of your families' beach essentials. The mesh beach bag is also easily washable and can be folded up in your luggage when packing before or after your cruise.
Recommended: XXL Mesh Beach Bag (verify pricing on Amazon here)
14. XL Family Beach Bag
Considered the perfect beach bag for families with young children, this lightweight mesh bag can accommodate several beach towels, swim diapers, extra kid's clothing and more. The mesh fabric and zippered compartments make this beach bag a family cruise favorite.
Recommended: XL Mesh beach bag (for families & children)
15. Sand Toy Set in Mesh Bag
If you're going on a family cruise, make sure to add sand toys to your Caribbean cruise packing list. This set of 18 sand toys comes with it's own mesh backpack. It would be a perfect fun cruise gift for children as well!
Recommended: Set of sand toys (check pricing & Amazon reviews here)
Great Tote Bags for Travel
16. Tote bag, purse, wallet and change purse set
This tote bag set is a perfect for travelling to your cruise and as well as pre and post cruise travel. I love this set, which comes in this gorgeous tan color as well as several others (the pale pink is so cute for summer!). It has over 14,000 excellent ratings on Amazon and is very affordable.
Recommended: Tan tote bag set with wallet and change purse (check pricing here)
17. Mesh Tote Bag
I recently bought this cute mesh tote bag for an upcoming cruise, and I'm loving it! It's super cute worn with a swimsuit and cover up, and can hold the necessities like sunscreen, sunglasses and a book.
Recommended: Mesh tote bag ( see reviews with photos on Amazon here)
18. Striped Beach Bag Tote
This striped tote bag is perfect to bring on a Caribbean cruise. Not too big and not to small, this zippered tote bag can go from the lido deck to the beach. It does have a waterproof lining as well.
Recommended: Striped zippered beach bag tote (see 1000+ amazing Amazon reviews)
Shore Excursion Bag
19. Dry Bag
Are you planning a snorkeling, kayaking shore excursion or any other water based activity on your cruise port days? This dry bag is very useful to keep your clothing, wallet, cell phone and more from getting wet.
Recommended: Dry bag (see color options & Amazon ratings here)
20. Mesh Beach Backpack
If you prefer to be hands free, a mesh backpack is a great alternative to a beach bag. This 40L backpack is large, has zippered compartments and the mesh venting is perfect for beach & water excursions.
Recommended: Mesh backpack (check price & over 11,000 great Amazon reviews here)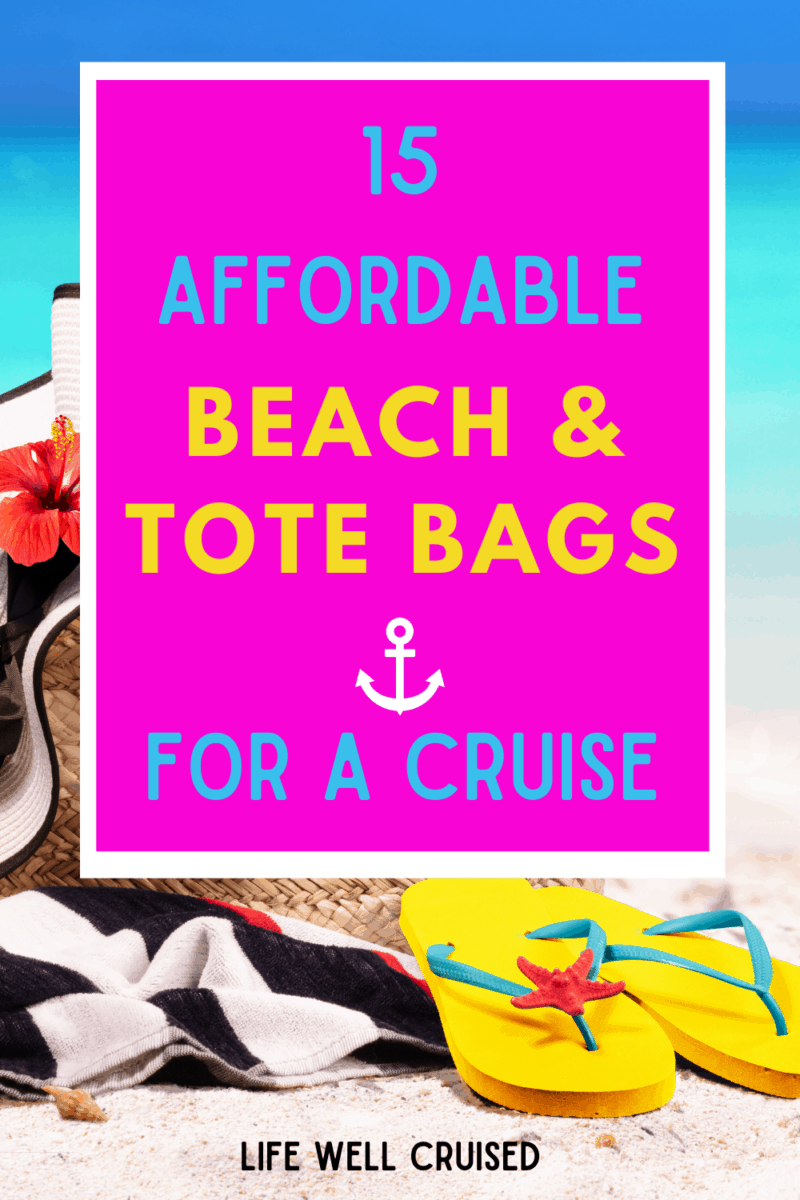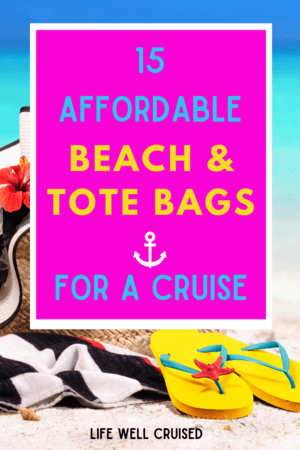 Related and Popular Posts:
Get The Ultimate Cruise Planner
Regular price: $27 Now just $17!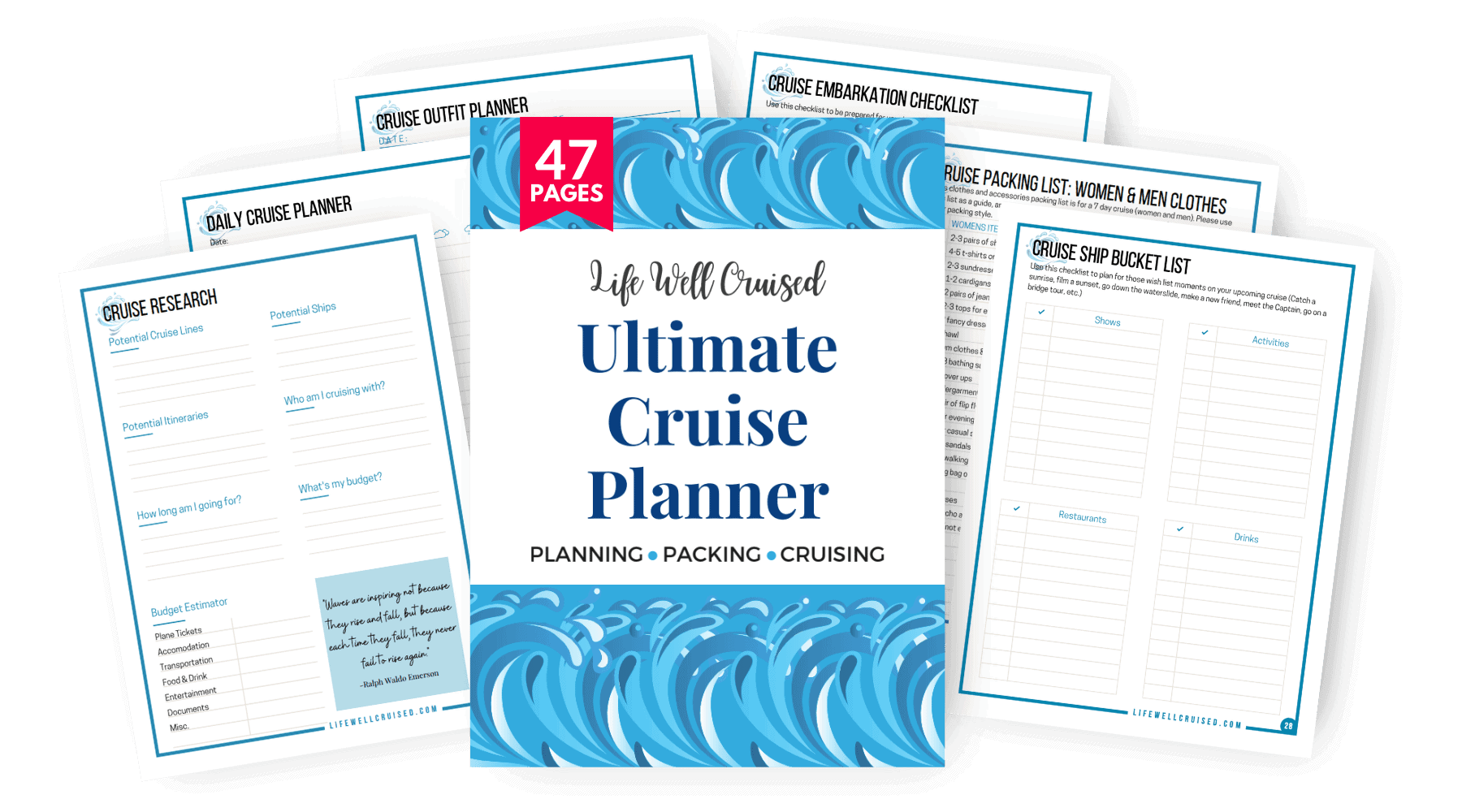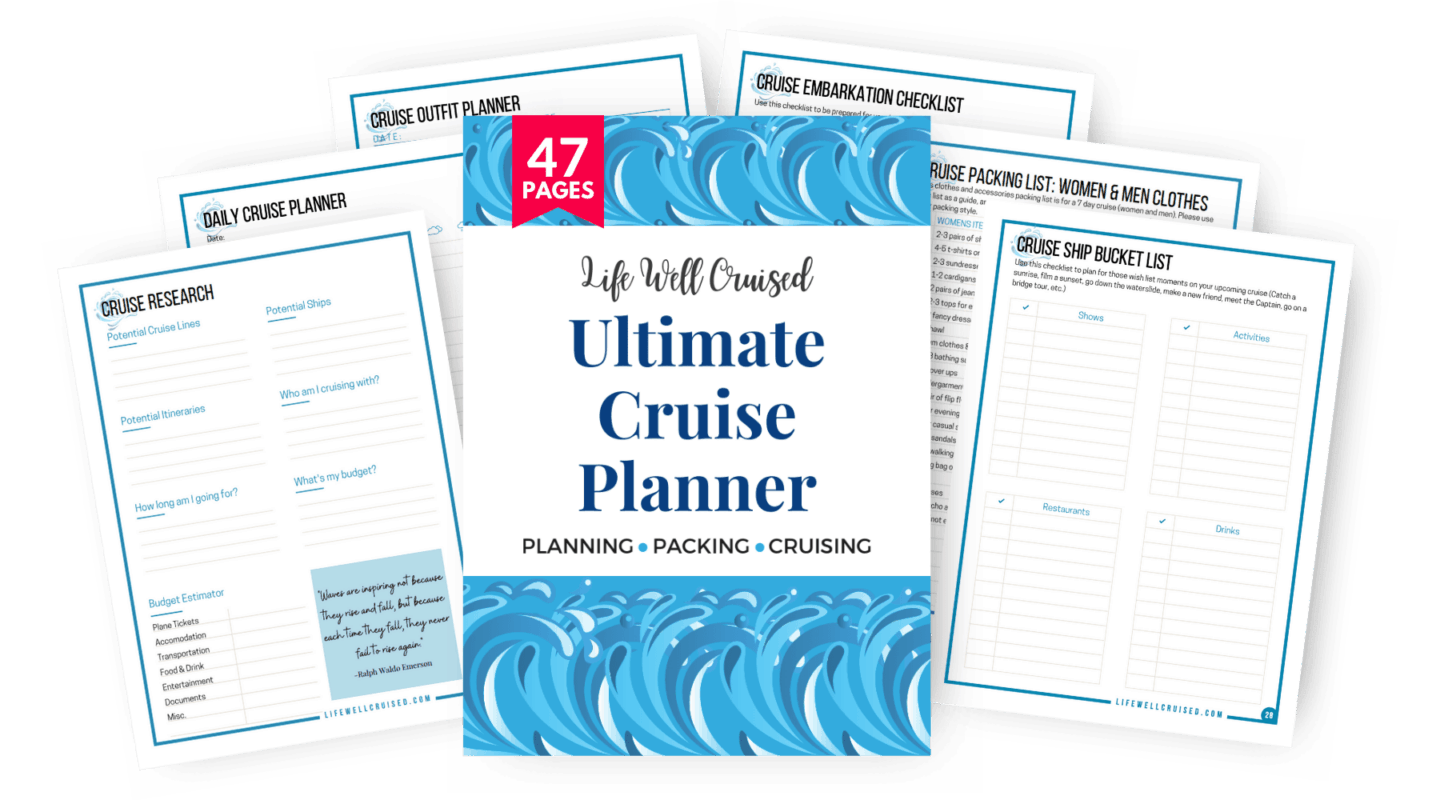 Final Thoughts: Beach Beach Bags for a Cruise
Shore excursions and cruise sea days are some of the best parts of a cruise. I hope you've been able to find the perfect beach or tote bag to bring along!
What do you look for in a cruise tote bag? Do you prefer large or smaller bags, or a backpack? Please let me know your favorites in the comments below.
Happy cruising!
Ilana
If you found this post helpful, please don't keep it to yourself ;-). Share it on Facebook or Save for later Pinterest (share buttons at the top). Thanks so much!