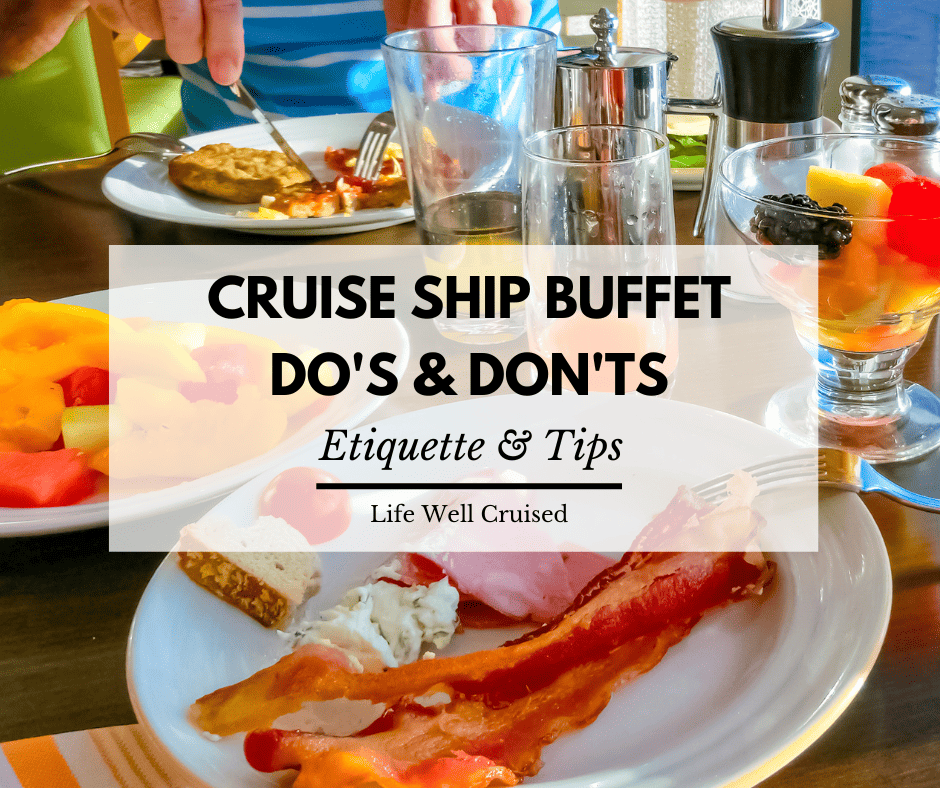 Cruise ship buffets are a popular dining option for many passengers, offering a wide variety of food choices and convenience. However, there are common mistakes that passengers can make when dining at a cruise ship buffet that can lead to a less enjoyable dining experience.
From avoiding hygiene pitfalls to dressing appropriately, understanding the do's and don'ts of cruise ship dining can enhance your overall experience.
In this article, we'll go over 10 common cruise buffet mistakes to avoid and provide essential cruise etiquette tips.
This post contains affiliate links which means if you click and buy that I may make a commission, at no cost to you. Please see my disclosure policy for details.
As an Amazon Associate I earn from qualifying purchases.
Cruise Ship Buffet Mistakes (Do's & Don'ts)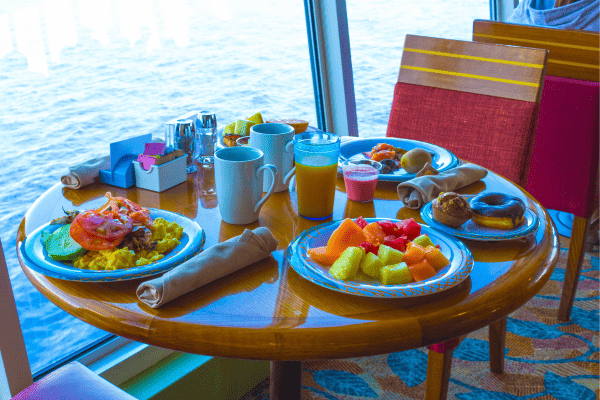 1. Rushing to the Buffet on Embarkation Day
Going to the buffet as soon as you board your cruise on embarkation day can be a common mistake, as you'll likely have long lines and crowded dining areas. Many passengers are eager to explore the ship and start their vacation, and the buffet can seem like a convenient option for a quick meal.
However, it's important to remember that the buffet is not the only dining option available on the ship. Many cruise lines offer a variety of dining options, including the main dining room, poolside grills and cafes, that may have shorter wait times and less crowded dining areas.
As an alternative, some cruise lines may offer alternative embarkation day dining options, such as a welcome lunch in a designated dining area or a special meal for guests with priority boarding.
By taking the time to explore your dining options and avoiding the rush to the buffet on embarkation day, you can help ensure a more enjoyable dining experience and start your cruise off on the right foot.
You can also use this time to familiarize yourself with the cruise ship and its amenities, making the most of your vacation from the very beginning!
2. Piling Too Much Food on Your Plate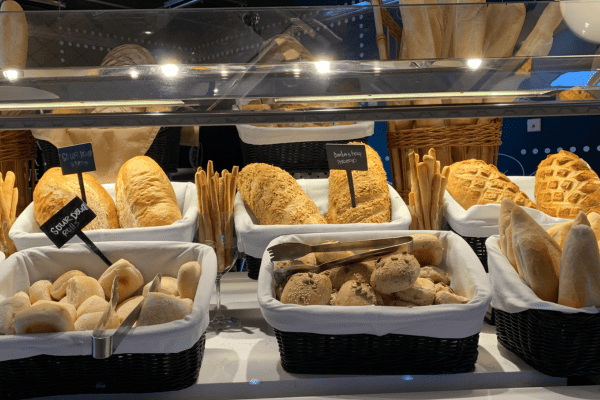 It's easy to get carried away when you're faced with an abundance of food options. However, overloading your plate at the cruise ship buffet can lead to several issues.
Firstly, it can lead to food waste. If you take more than you can eat, you're not only wasting food, but you're also contributing to the environmental impact of the cruise ship industry. This is a big topic in the cruise industry at the moment as cruise lines focus on being more sustainable.
However, piling your plate high with food can also lead to overeating, discomfort and feeling bloated. We've all been there, and this just isn't a great feeling!
Remember that you can always go back for seconds or thirds if you're still hungry. Plus, taking smaller portions allows you to try a wider variety of foods without feeling guilty or overstuffed.
Something to note is that cruise ship buffets offer food options throughout the day. So, there's no need to try to eat everything at once. Take your time, pace yourself, and enjoy the cruise food!
3. Ignoring Hygiene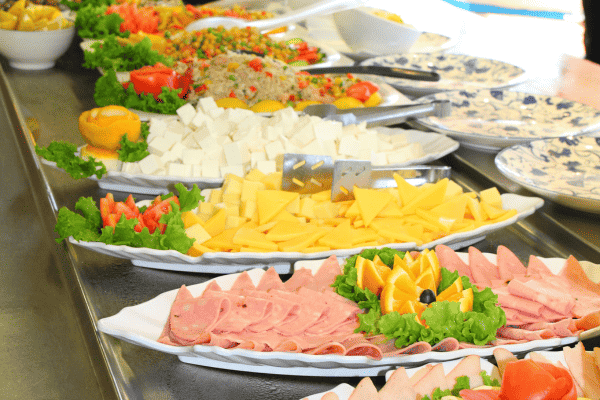 With so many people sharing the same buffet area, hygiene is very important. Unfortunately, some people may not take proper precautions when in the buffet lines. This can lead to the spread of germs and illness.
To avoid becoming sick on a cruise, it's important to take hygiene seriously when using the buffet. Here are some tips:
Hygiene Tips for the Cruise Ship Buffet
Always wash your hands before and after using the buffet. Cruise ships provide hand sanitizer stations throughout the ship, so make use of them frequently. These days many cruise ships also have hand washing stations are the entrances to dining areas.
Avoid touching your face or hair when using the buffet. This can transfer germs to the food you're about to eat.
Use serving utensils provided at the buffet, and avoid using your hands or personal utensils to serve yourself.
Don't double dip! This means not reusing a utensil that has already touched your mouth to serve yourself from the communal dish.
Keep an eye out for any food that appears undercooked, expired, or has been sitting out for too long. If you notice any of these issues, tell a crew member immediately.
If you're feeling unwell, avoid using the buffet until you're feeling better. This is not only for your own health but also for the health and safety of other guests.
By following these tips, you can help prevent the spread of germs and illness and ensure that everyone on the ship has a healthy and enjoyable vacation.
4. Not Exploring All Options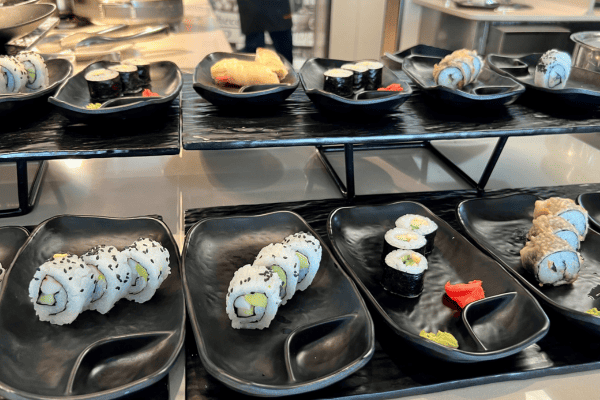 One of the biggest mistakes people make when using the cruise ship buffet is not exploring all the food options available. With so many different dishes to choose from, it's easy to overlook some hidden gems.
To avoid missing out on some of the best food options, take your time to walk around the entire buffet before you start loading up your plate. This allows you to see all the options available and decide what you want to try.
Also, don't be afraid to try new things. Cruise ship buffets often offer regional and international cuisine, providing you with a chance to sample dishes that you might not find at home. Don't limit yourself to the familiar or the dishes you know you like. Trying something new can be a fun and delicious experience.
If you're the type of person who sticks to what you know, it's time to broaden your horizons. The buffet is a great opportunity to try new foods and flavors, so don't be afraid to explore all the options. Who knows, you may discover a new favorite dish!
5. Not Taking Food Allergies Seriously
Food allergies can be life-threatening, and cruise lines take them seriously. If you have a food allergy, it's important to let the cruise line know and have this noted on your cruise reservation.
The cruise line will be helpful when it comes to food options and menus in the main dining room. Many cruise lines offer allergen-free menus or can provide options that are safe for those with food allergies.
When it comes to the buffet, it's important to inform the staff at the buffet so that they can take necessary precautions to prevent cross-contamination.
That said, you know your own health requirements, so it's to communicate your needs when it comes to food allergies and preparation.
Food Allergy Tips
If you have a food allergy, take the following steps to ensure a safe and enjoyable dining experience:
Inform the staff at the buffet about your food allergy.
Ask about ingredients and preparation methods for dishes that you're interested in.
If necessary, ask to speak with a chef to discuss your dietary needs.
If you're not confident in the staff's ability to accommodate your needs, consider dining at a specialty restaurant where chefs are often better equipped to handle dietary restrictions.
Always carry your own emergency medication, such as an EpiPen, in case of accidental exposure.
Always be sure to inform the staff of any allergies or dietary restrictions and ask for assistance in identifying safe options. Many cruise lines also offer specialized menus for guests with dietary restrictions, so be sure to inquire about this option.
Get The Ultimate Cruise Planner
Regular price: $27 Now just $17!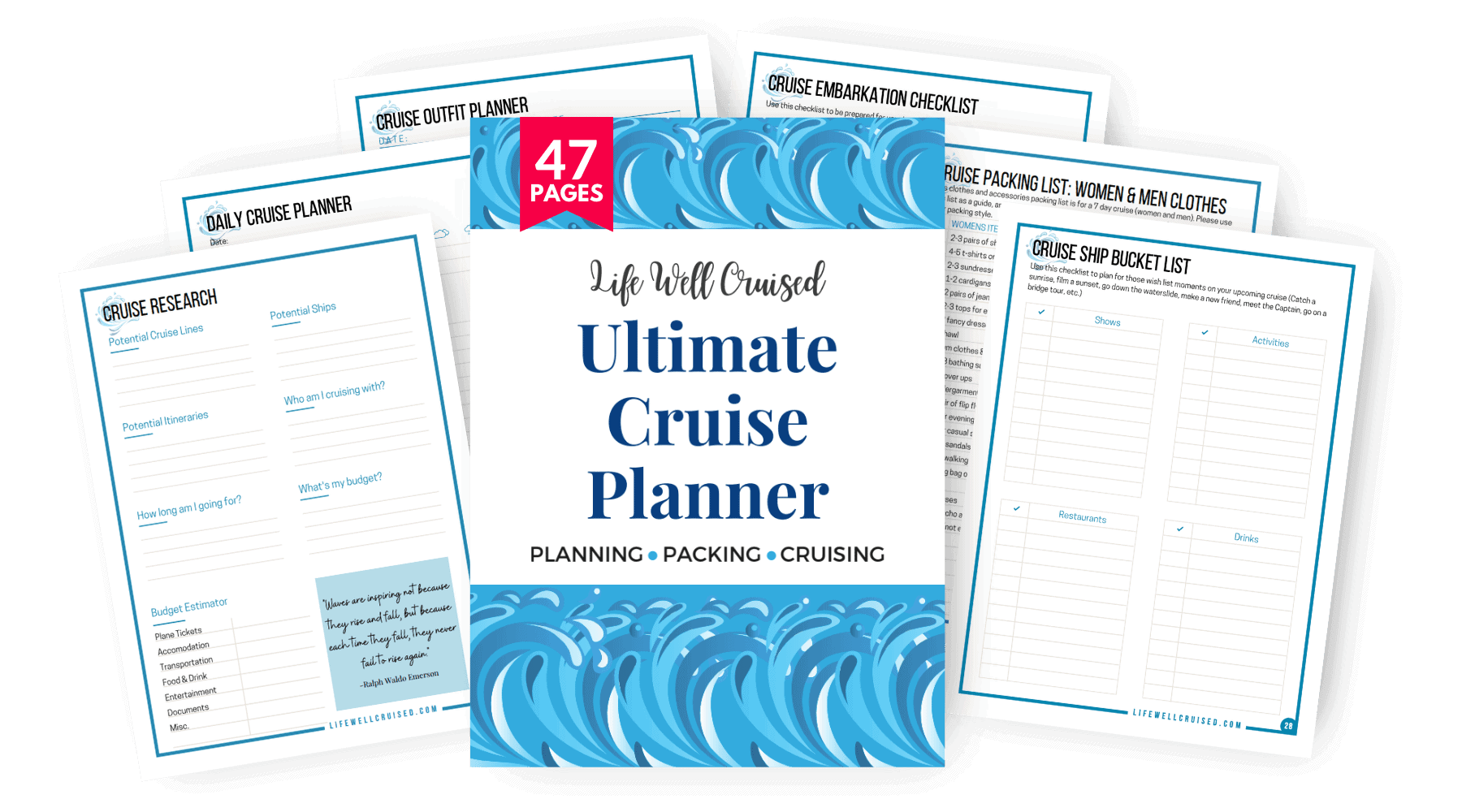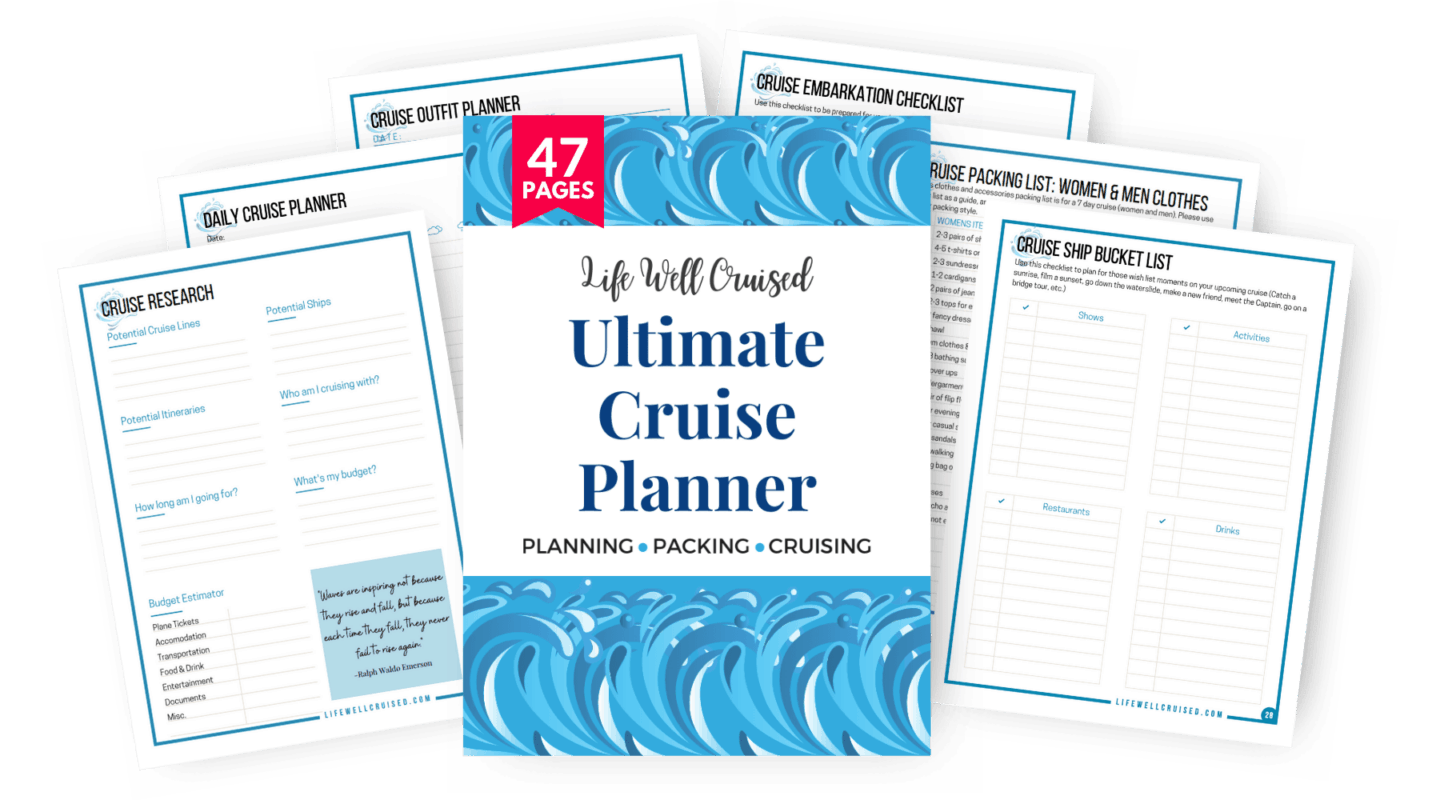 6. Not Considering Healthy Options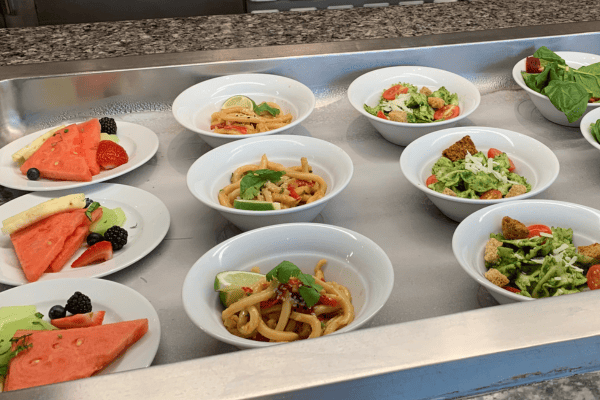 Cruise ship buffets get a bad wrap. Yes, there are delicious meat dishes, burgers, pizza and pasta dishes, but don't forget to consider healthier options as well. Many cruise lines offer a variety of fresh fruits and vegetables, grilled meats, and whole grains.
Not only are these options good for your health, but they can also be delicious! So, don't be afraid to mix and match and create a balanced plate.
These days many cruise lines offer healthier eating options and menus for guests looking to maintain their healthy eating habits while on a cruise.
These programs often include lighter meal options, fitness classes, and wellness seminars. So, be sure to inquire about these options before you set sail.
7. Cruise Buffet Etiquette Mistakes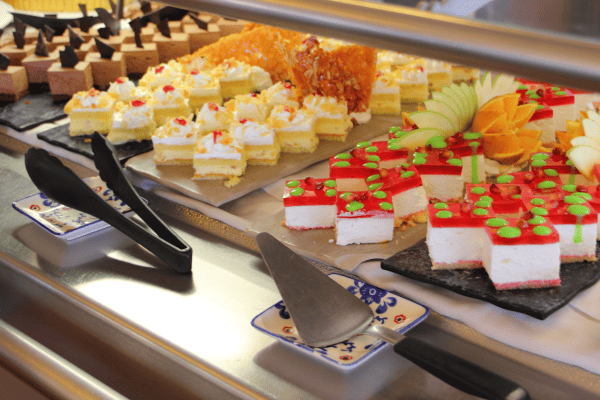 When it comes to cruising and enjoying the buffet, it's all about having a good time while being mindful of others. Here are a few cruise buffet etiquette tips cruise passengers should know.
Prevent Cross Contamination
To maintain hygiene and prevent cross-contamination, always use the provided utensils when serving yourself. Avoid using your hands to pick up food items directly from the buffet, as it can compromise the cleanliness and hygiene of the food for others.
Waiting in Line
Buffets can also get busy, especially during peak dining hours. Avoid holding up the line by taking your time to decide on your food choices or engaging in prolonged conversations with the staff. Be mindful of others waiting behind you and maintain a reasonable pace.
Table Manners
While it's enjoyable to relax and savor your meal, be considerate of others waiting for a table. Avoid lingering for an extended period at the dining table, especially during busy times, to allow other guests the opportunity to enjoy their meal.
Related: 12 Things to Do as Soon as You Get Into Your Cruise Cabin
8. Going During the Busiest Times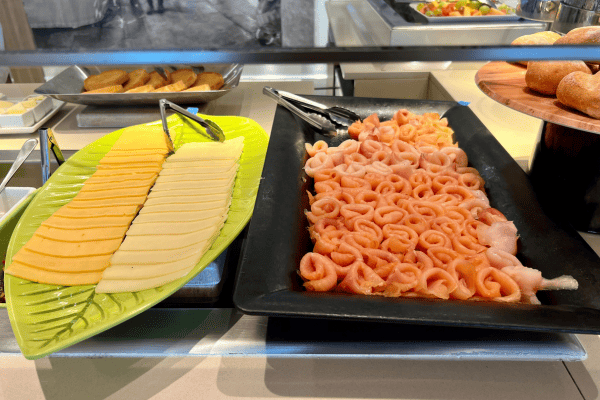 The cruise ship buffet can get extremely busy, especially during peak meal times, such as breakfast, lunch, and dinner. Going during the busiest times can lead to long lines, crowded spaces, and a stressful dining experience.
To avoid the crowds, consider going to the buffet during off-peak hours. This not only allows you to avoid the long lines and crowded spaces but also gives you more time to explore all the food options available without feeling rushed.
Another way to avoid the crowds is to scout out alternative dining options on the ship. Many cruise ships offer a variety of dining venues, including sit-down restaurants, cafes, and bars, which can provide a more relaxed and intimate dining experience than the buffet.
If you do decide to go to the buffet during peak times, consider planning ahead and arriving early or late to beat the crowds. Arriving early or late can not only help you avoid the long lines but also ensure that you have plenty of time to enjoy your meal without feeling rushed.
By being mindful of the busiest times and planning ahead, you can enjoy a more relaxed and stress-free dining experience at the cruise ship buffet.
Related: 13 Ridiculous Time Wasters All Cruisers Must Avoid
9. Rushing Through Your Meal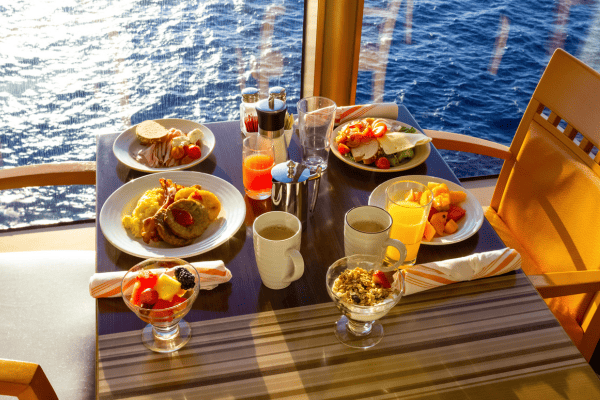 It can be tempting to rush through your meal at the cruise ship buffet so that you can get back to the other activities and entertainment on board. However, rushing through your meal can not only detract from the enjoyment of your dining experience but also lead to overeating and indigestion.
To avoid rushing the experience, take your time to savor each bite and enjoy the flavors and textures of the food. This not only allows you to fully appreciate the culinary experience but also gives your brain time to register when you're full, helping you avoid overeating.
Related: 15 Cruise WiFi Tips, Secrets & Mistakes to Avoid
10. Not Dressing Appropriately
While the atmosphere at a cruise ship buffet is generally casual and relaxed, it's still important to dress appropriately. The buffet area is a shared dining space, and there are certain etiquette and clothing guidelines to keep in mind.
When heading to the buffet, it's perfectly acceptable to wear casual attire, such as shorts, t-shirts, or sundresses.
However, there are a few key rules to follow:
Shoes are a must: It's essential to wear shoes when entering the buffet area for safety and hygiene reasons. Flip flops or sandals are perfectly acceptable, but going barefoot is not allowed.
Cover up from the pool: If you've been enjoying the pool or sunbathing, be sure to put on a shirt or cover-up before heading to the buffet. Wet swimwear is not considered appropriate in the dining area, as it can create discomfort for yourself and others.
Related: What Not to Wear on a Cruise; Rules and Guidelines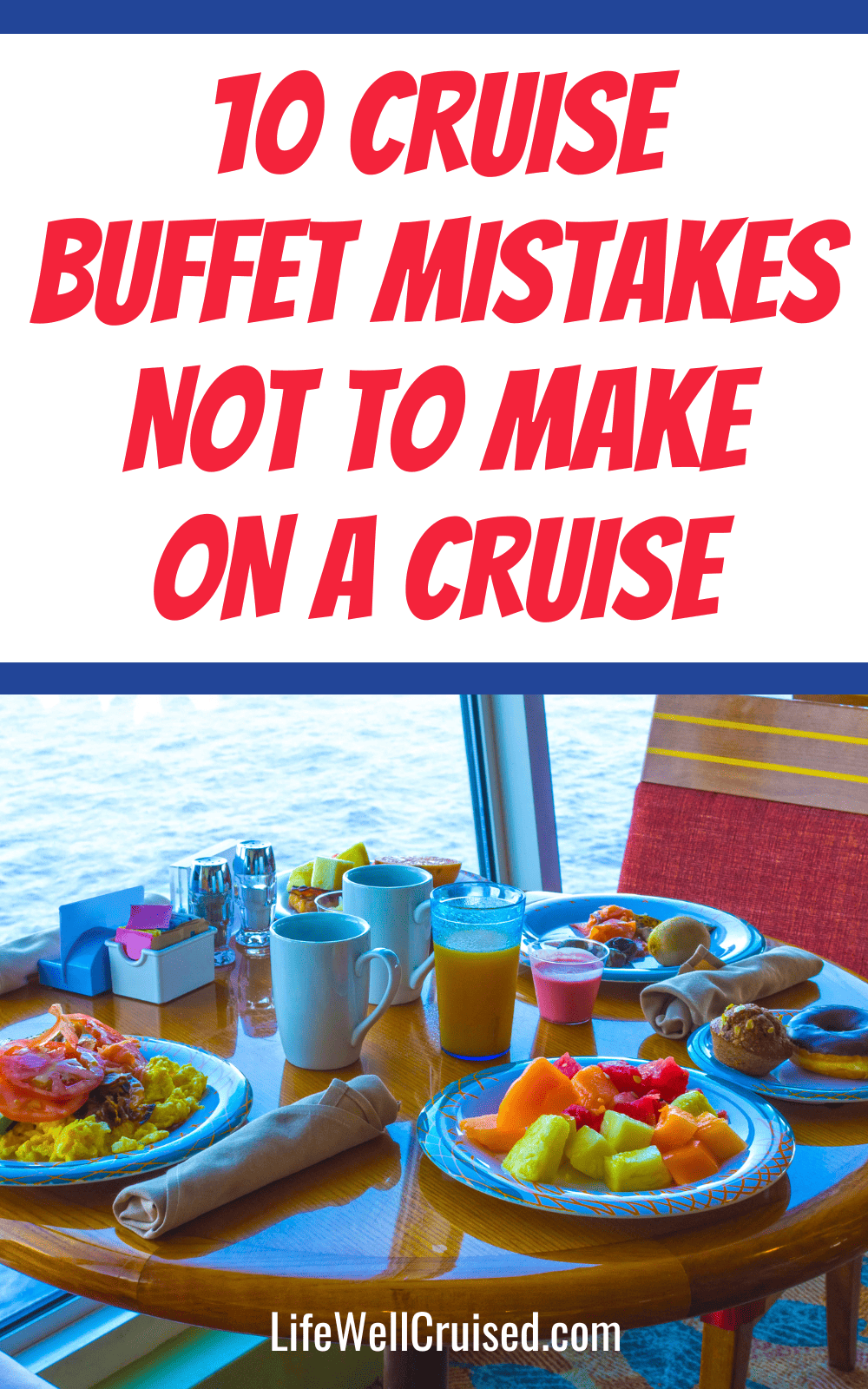 Related & Popular Posts
Get The Ultimate Cruise Planner
Regular price: $27 Now just $17!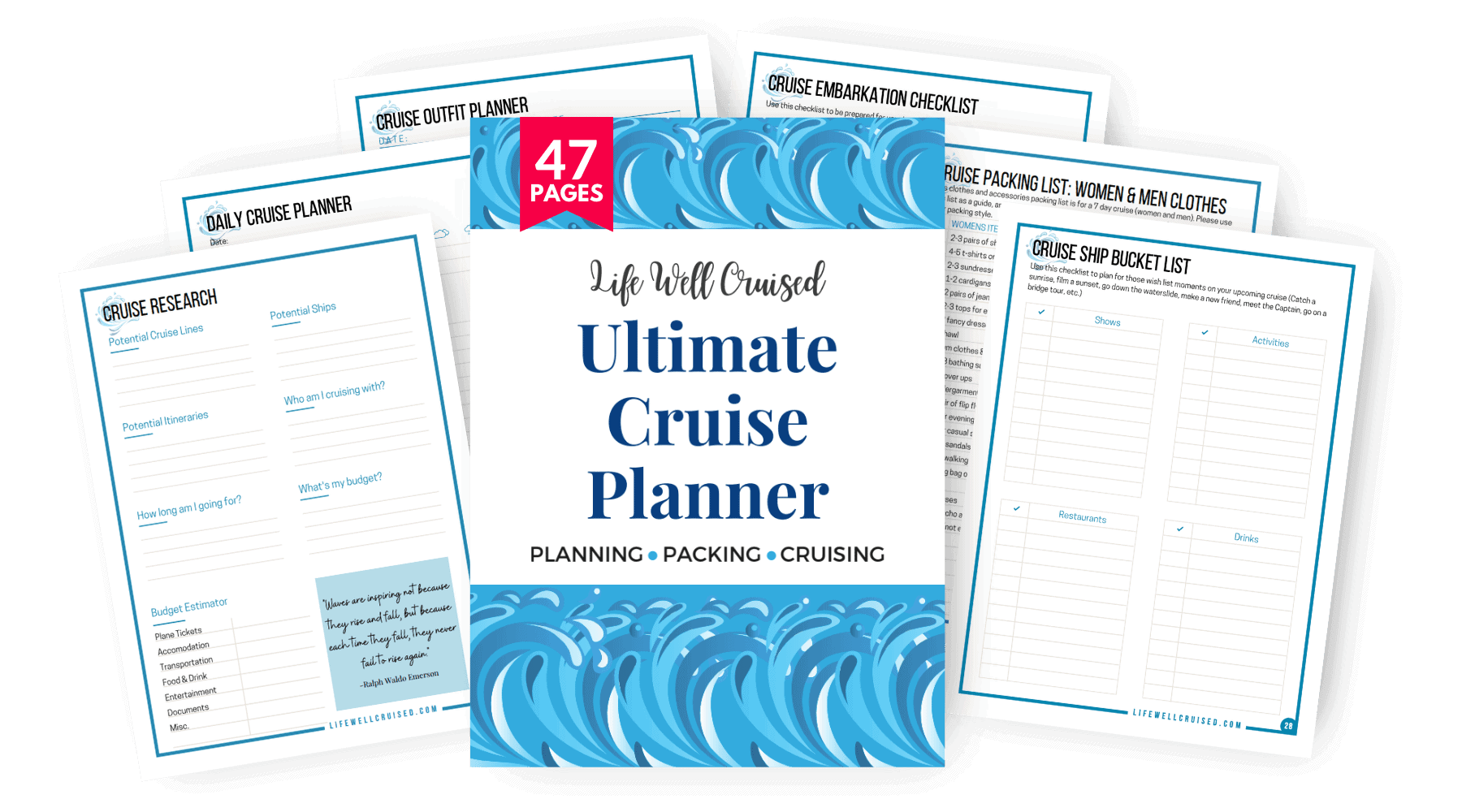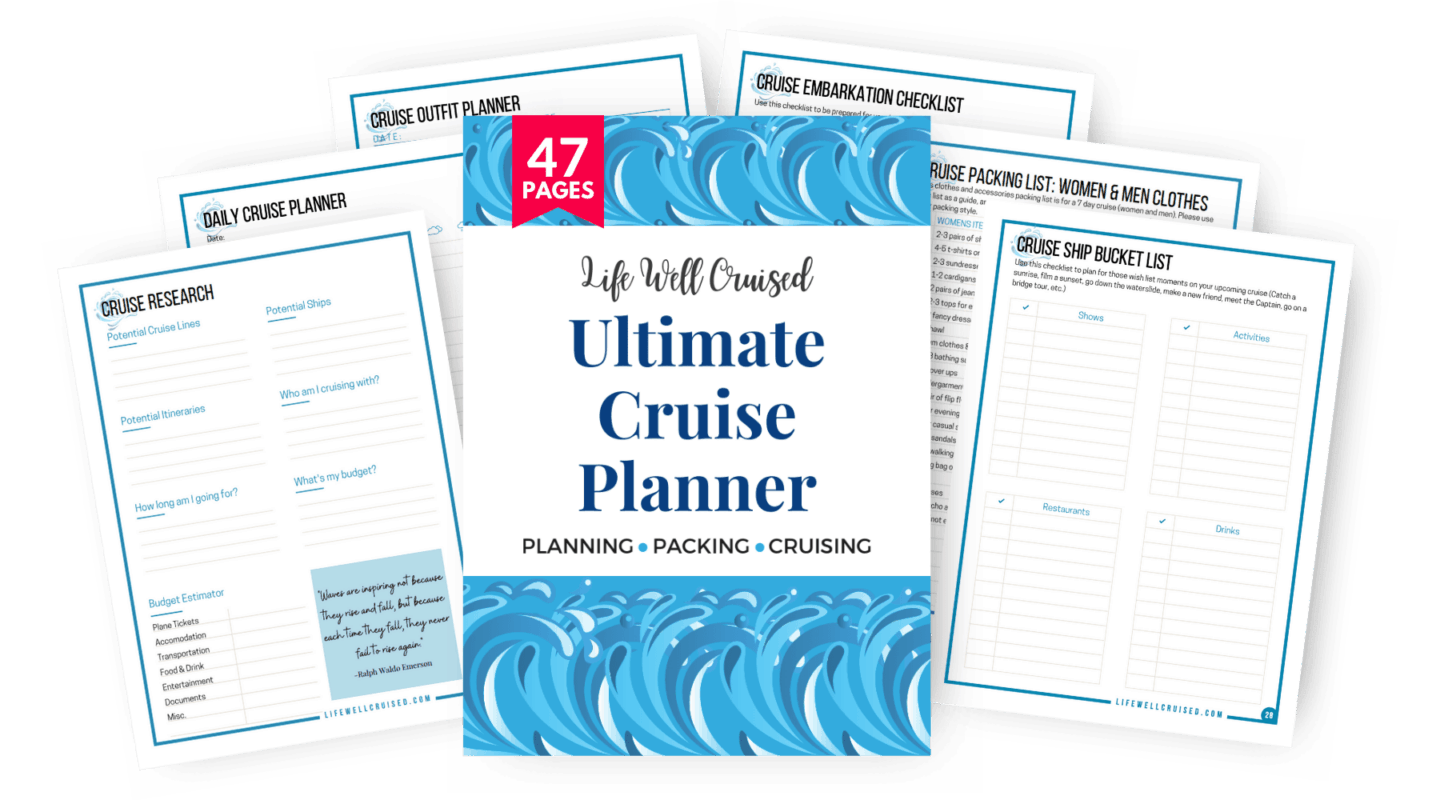 Final Thoughts on Cruise Buffet Mistakes Passengers Should Avoid
Buffet dining is a popular choice among cruise ship passengers, offering a wide variety of delicious food options. However, there are several common mistakes that can detract from the dining experience.
These mistakes include ignoring hygiene, not exploring all the options, disregarding food allergies, wasting food, rushing the experience, not practicing portion control, going during the busiest times, and visiting the buffet as soon as you board on embarkation day.
Avoid these common cruise buffet mistakes to have a better dining experience on your cruise vacation.
Do you enjoy eating in the buffet on a cruise? Please let me know your thoughts in the comments below.
Happy Cruising!
Ilana
If you enjoy this post please don't keep it to yourself ;-). Please feel free to share on Facebook or Pinterest (share buttons at the top). Thanks so much!