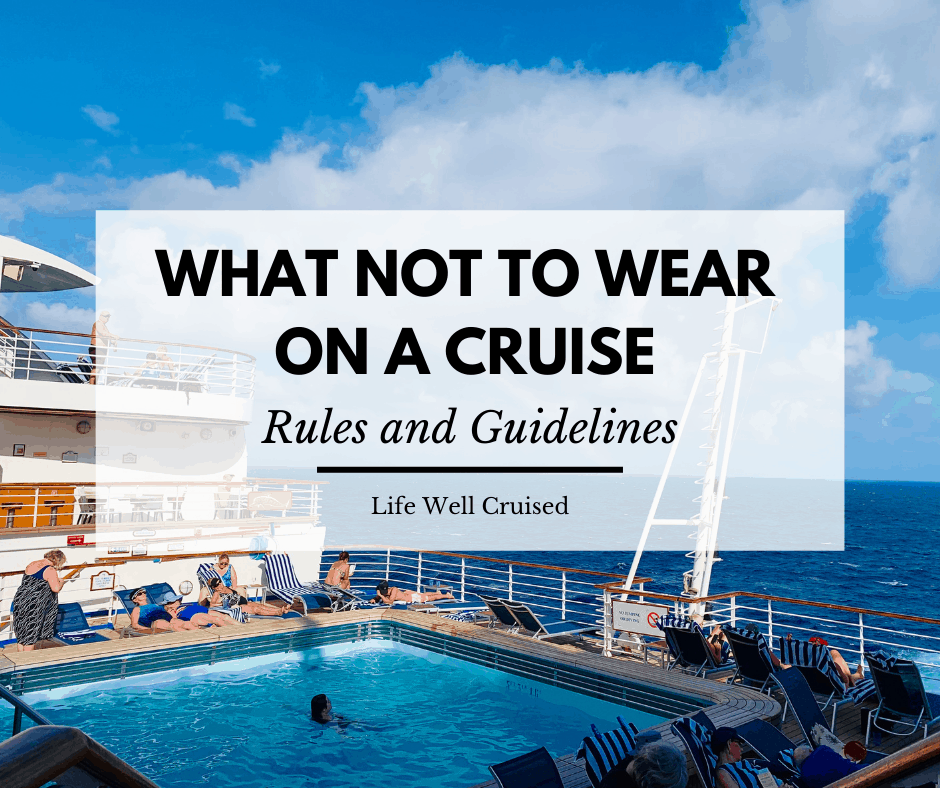 We often talk about cruise line dress codes and what to pack for a cruise, but have you ever wondered what not to wear on a cruise?
While each cruise line does have it's own dress code and vibe, there are some items of clothing that are universally frowned upon and best avoided.
In this post, I'll share the rules, guidelines and etiquette around what to what not to wear on a cruise ship. None of this is meant with personal judgment, however since you asked…
Don't Wear This on a Cruise – Cruise Fashion Mistakes to Avoid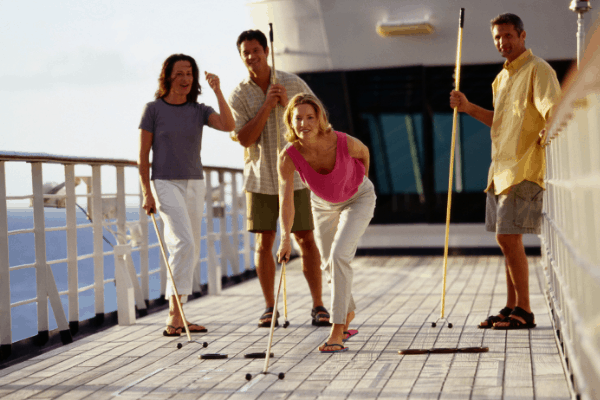 Flip flops and sleeveless shirts in restaurants
While most cruises are pretty casual during the day and by the pool, there is a dress code in the main dining room and restaurants. Even on casual dress nights, there are some things you shouldn't wear.
This includes beach flip flops and sleeveless shirts (for men), cut-off jeans, gym shorts and swim trunks. While some cruise lines allow "nice" shorts on casual evenings, other cruise lines, like Celebrity, have a strict no shorts rule.
Pajamas, slippers & robes
Don't wear pajamas, robes and slippers in the buffet or restaurants, or around the ship for that matter. If you're at the spa, a robe might pass. However, otherwise keep your sleepwear for your cabin.
Tiny speedos and thongs
There's no official rule on this, but probably best to avoid tiny speedos, thongs and teeny weeny bikinis on family cruise lines. Don't forget to bring a cover up on a cruise.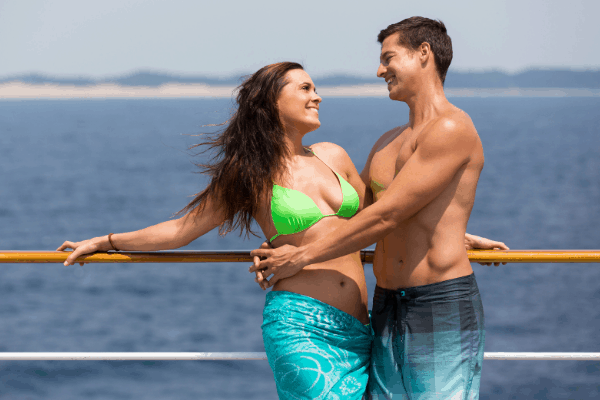 Going topless
While going topless or nude on a cruise isn't exactly a fashion mistake, it just isn't done on most cruise lines (especially American ones).
Unless you're on a nude cruise, you actually have to wear a bathing suit on a cruise. Contrary to the old days, there's no topless sundeck on cruise ships.
Heely's and footwear with wheels
While Heely's or rollerblades can be worn in cruise ports, they aren't permitted on cruise ships for safety reasons.
Baseball caps in the dining room
Most cruise lines don't allow baseball caps in the main dining room and restaurants in the evening. While this can be a hotly debated topic, if you want to follow cruise line dress codes and etiquette, best to keep the baseball cap for the buffet or poolside grill.
Swimwear (when not on the Lido)
Bathing suits are for the Lido deck, and not inside the cruise ship. Always put on a cover up or a T-shirt and shirts over a bathing suit. Footwear must always be worn in cruise ship restaurants and buffets, shops, elevators and hallways.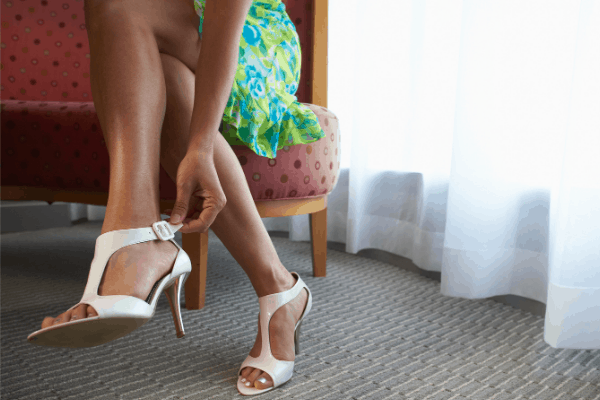 Uncomfortable shoes
Don't wear uncomfortable shoes. There's no rule against this, but you and I both know you'll regret it. Try on any new shoes at home and walk in them at least 30 minutes.
Camouflage clothing (some cruise ports)
There's no issue with wearing some stylish camouflage shorts or a top on your cruise, however wearing camouflage is actually illegal in certain cruise ports of call. Yes, wearing camouflage is one of the things never to do on a cruise stopping in Jamaica, Antigua or St. Lucia, as well as other Caribbean islands.
Read next: 63 Things NOT to Do on a Cruise Ship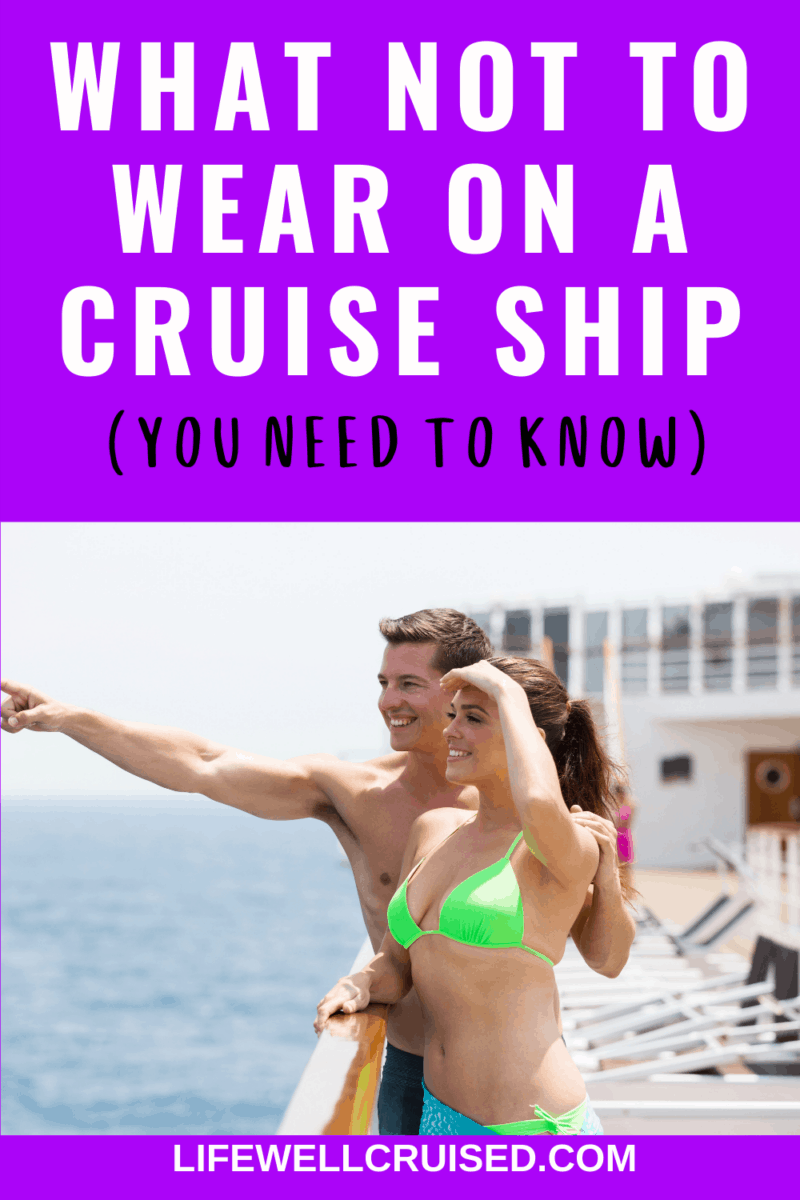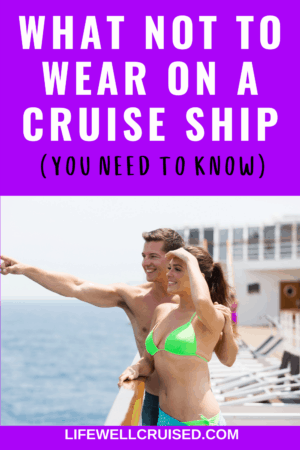 Cruise Dress Codes – Frequently Asked Questions
Can I NOT dress up on "formal night"?
There's no obligation to participate in your cruise's formal night. In fact, these days most cruise line formal nights are much more relaxed.
Observing the cruise line dress codes or suggestions for elegant or dressy nights are encouraged. However, there's no need to be dressed to the nines anymore.
That said, if you don't want to dress up at all, you can definitely skip formal night and head to the buffet or to an alternative casual restaurant.
Nowadays, there's a cruise line to suit every cruiser's preference and taste. When booking a cruise, be sure to check out the cruise line dress code and make it's the experience you want.
As an example, Norwegian Cruise Line is freestyle and has a fun, relaxed dress code. Cunard is quite opposite. The dress code is formal and traditional, and you'll feel like you've escaped to a bygone era. Then, there's a wide range of great cruises offering an experience somewhere in between.
Read this post next for more information about dress codes and what to wear on a cruise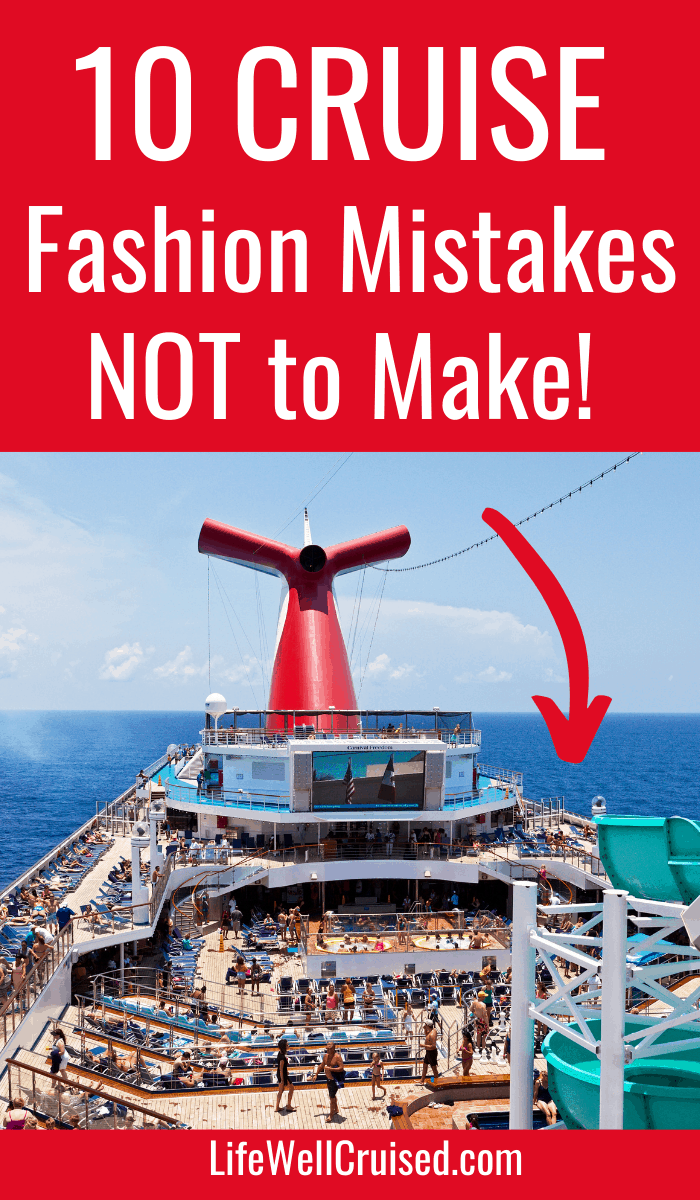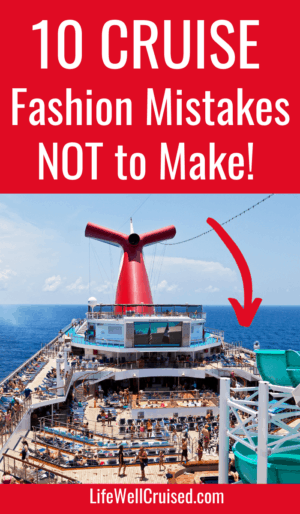 Can you wear jeans on a cruise?
Most cruise lines allow wearing clean, nice jeans in the main dining room and restaurants for casual and smart casual evenings. Jeans aren't appropriate for nights where a formal dress code is in place.
However, always check with your cruise line as dress codes are changing. As an example, clean dress jeans paired with a blouse, dress shirt or blazer are acceptable on Celebrity's Chic night.
If you're planning a cruise, here are some articles to check out next:
25+ Most Recommended Amazon Items to Bring on a cruise
What to Pack for a Caribbean Cruise
23 Must-haves to Pack in Your Cruise Carry-On Bag
21 Best Cruise Luggage and Packing Accessories
15 Best Beauty Essentials to Pack for a Cruise
How to Pack Light for a Cruise
Final Thoughts: What Not to Wear on a Cruise
Here's a recap of the main points we went over in this post. Cruise lines have rules and guidelines about what you cannot wear on a cruise ship. In some cases these rules are strictly enforced. However in other cases enforcing dress code rules is left to the discretion of dining room staff.
Did any of the things not to wear on a cruise surprise you? When it comes to cruise line dress codes, and do your prefer more formal or more casual cruises? Please let me know in the comments below.
Happy Cruising!
Ilana xoxo
P.S. If you found this helpful, please don't keep it to yourself ;-). Please share on Facebook or PIN to your favorite Pinterest board (share buttons at the top). Thanks so much!
Let's connect:
Follow me on Facebook at Life Well Cruised
Follow me on YouTube at Life Well Cruised
Follow me on Pinterest at Life Well Cruised
Follow me on Instagram at Life Well Cruised