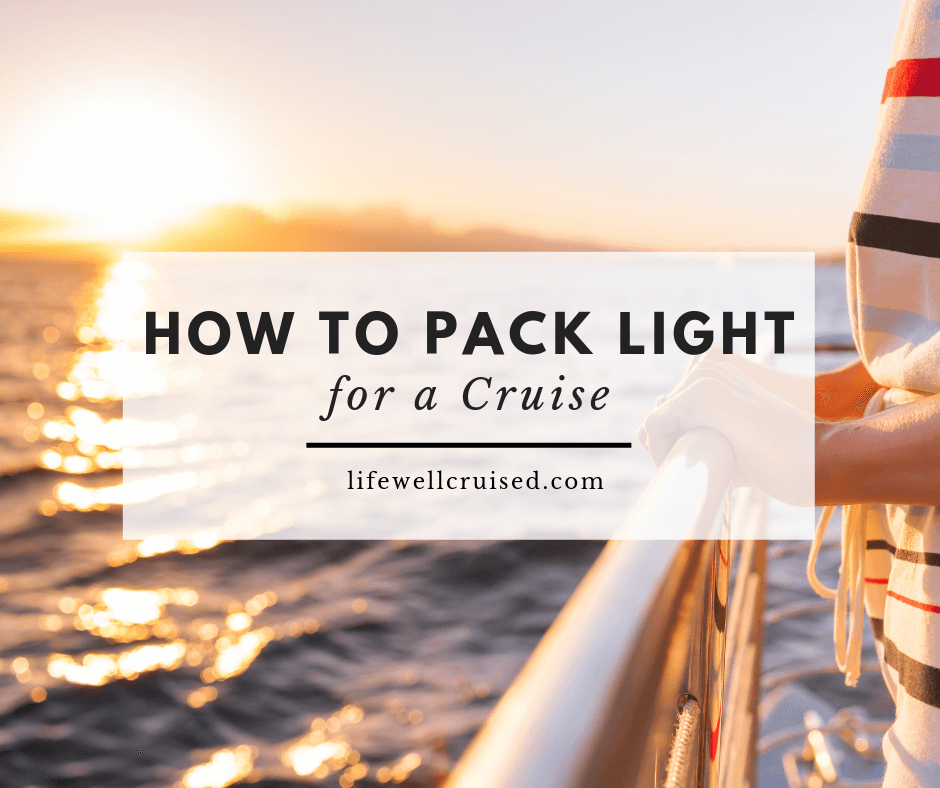 Practical Tips for Packing Light for your Cruise
Is packing light for a cruise even possible? How about cruising with a carry-on bag only? The reality is, by packing the right essentials, you can keep your packing list to a minimum, look great and still have what you need, even for a 7 night cruise (or longer).
There are a few reasons why minimalist packing for a cruise is a good idea.
Firstly, even though cruise lines are pretty relaxed about how much luggage you can bring, if you're flying to your cruise port, you'll have baggage limits imposed by the airline.
However, that's not the only reason to pack light for your cruise. The reality is having less stuff is easier. You'll be thankful you haven't brought too much when you're unpacking and putting your outfits away – or packing up when you need to disembark!
You won't be wasting any of that precious vacation time tending to this tedious task!
As well, when you have less luggage, it's so much easier to get on the ship for get on the ship for boarding and off the ship for debarkation. In fact, at the end of your cruise, if you opt for self-disembarkation (rather than traditional disembarkation), you'll be happy that your cruise luggage is lightweight!
I'm on a mission to bring less stuff that I don't need and don't wear, on my next cruise. So, how do we do it?
This post contains affiliate links which means if you click and buy that I may make a commission, at no cost to you. Please see my disclosure policy for details.
As an Amazon Associate I earn from qualifying purchases.
Tips for Packing Light on a Cruise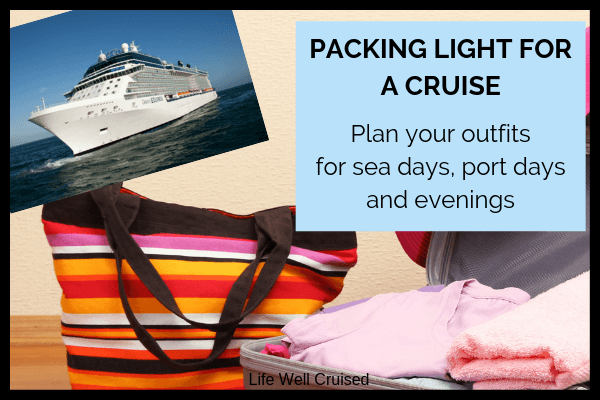 Get The Ultimate Cruise Planner
Regular price: $27 Now just $17!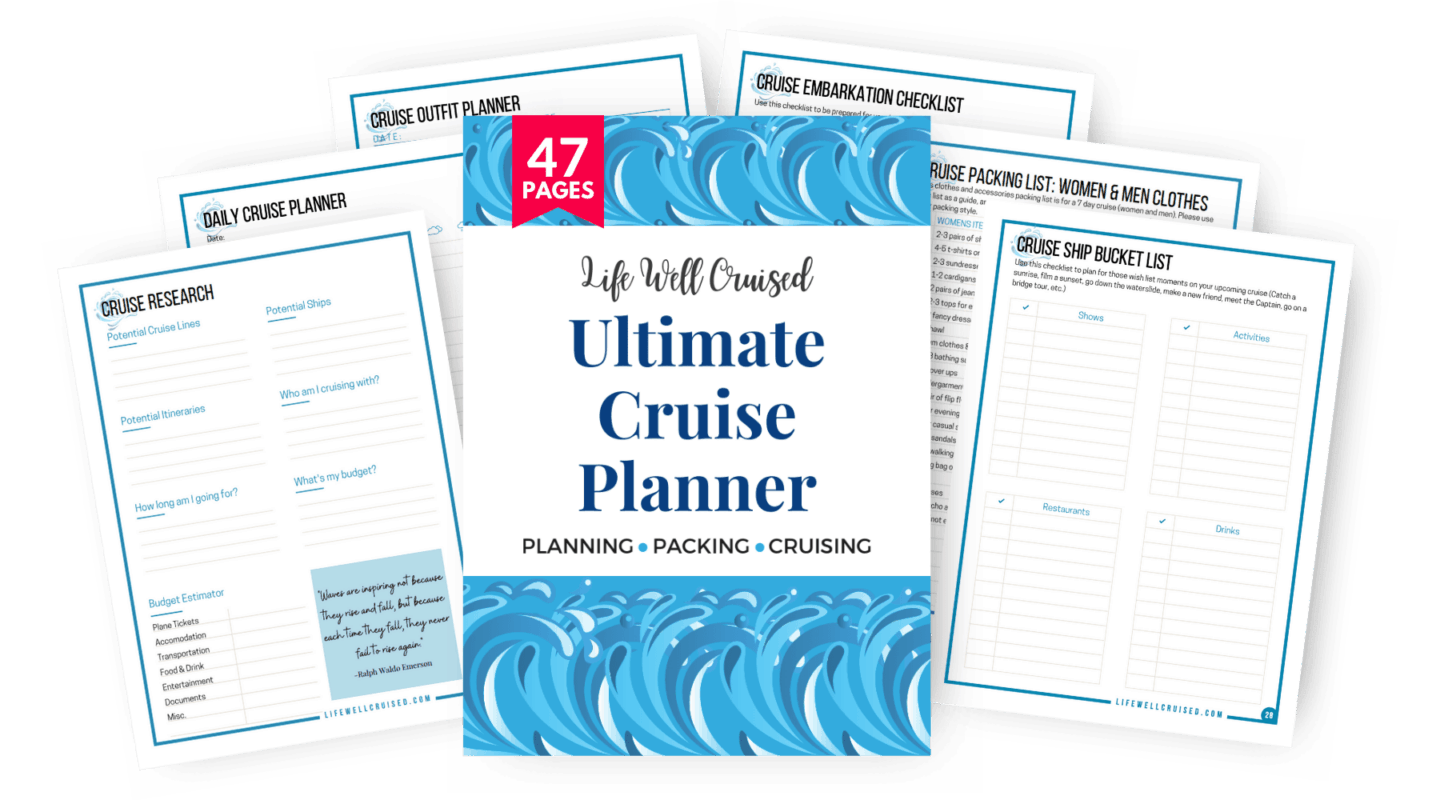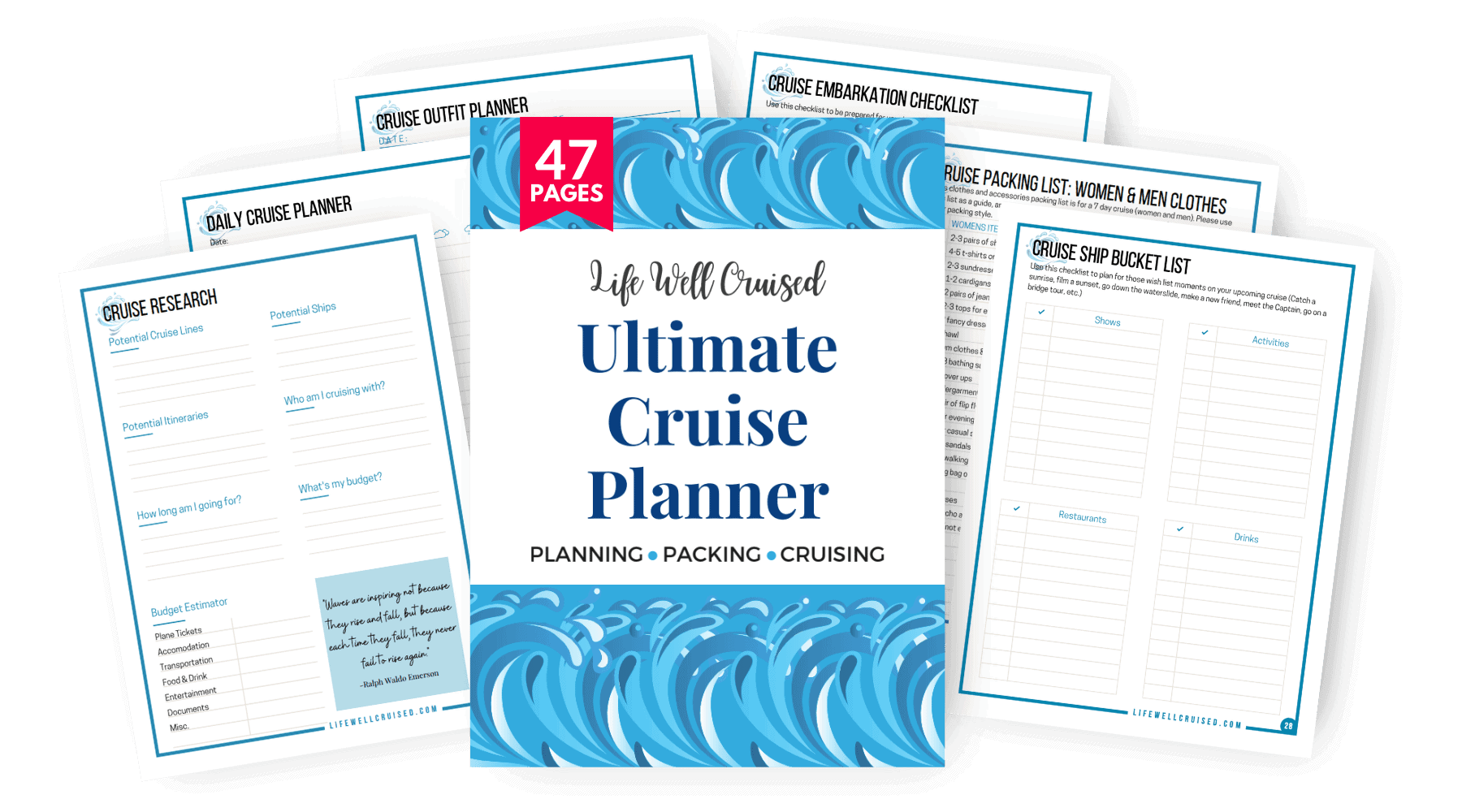 Organize Your Cruise Clothing and Outfits
Before we get into travel tips for packing light for your cruise, let's go over what outfits you might need.
Most cruise lines have become less formal over the years, so that definitely eases things up when choosing and bringing cruise outfits.
You'll want to plan for day wear, on and off the ship, and evening wear.
Sample Cruise Clothing Packing List for Women
Tailor this cruise outfit packing list to your own style and preferences (bring more or less of some items). If you'd like a full packing list and more advice on what to wear on a cruise, I'll leave a link at the bottom of this post.
2-4 Sundresses or casual dresses
2-3 pairs of shorts
3 tanks or t-shirts
1 Little Black Dress (or other color)
1 pair of jeans or capris
2-3 light tops or blouses
1 Cocktail dress (if you join in Formal or chic night)
2 sleepwear
undergarments and socks
flip flops or sandals (for pool and beach)
sneakers or walking/running shoes
Heels or dressy shoes for evening in black or neutral
Scarf or shawl
for airplane, evenings in dining room and on excursions
Cardigan or lightweight sweater – neutral color
2 bathing suits
1-2 cover ups
evening bag, clutch or wristlet (for evenings on the ship)
Tip: Consider the materials of your clothing when you pack or prepare for your cruise. The more outfits that are light in fabric and tend not to wrinkle, the better!
Know Your Cruise Line's Dress Code
Cruise line dress codes have relaxed over the years and overall, cruises are less dressy than a few years ago. However, there are still rules in place, so you do want to know what's expected.
Generally, cruise days are "resort casual", while dress codes apply to the Main Dining Room in the evening.
Firstly, check with your cruise line as they can be quite different from one cruise line to the other.
A example of this is Cunard (very formal and traditional) VS Norwegian Cruise Lines (Freestyle cruising).
In general through, most cruise lines have 2 "formal" or "chic" nights, and the other 5 are casual or smart casual. Most cruise lines now accept clean, nice jeans, although shorts may not be allowed in the dining room.
Remember no matter the cruise you're on, you don't have to participate in a formal night, if dressing up isn't your idea of a holiday. There's always a buffet (which is usually really good!), if you want to keep things super casual and be on your own clock.
If you need more information, THIS POST will give you more detailed information about What to Wear on a Cruise.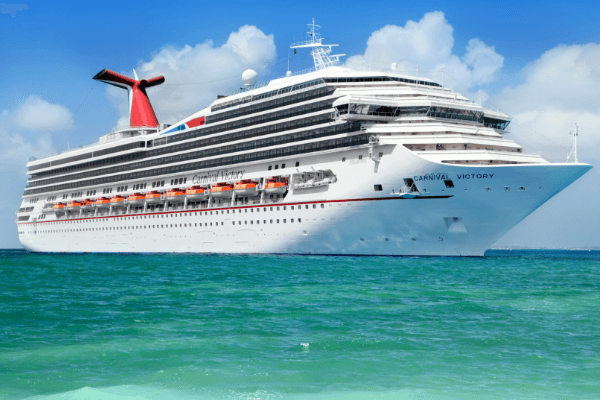 Cruise Outfits for Sea Days
If you're on a Caribbean or warm weather cruise, you really don't need a lot of outfits. If you hang out by the pool quite a bit, you can be in swimwear for much of the day.
2 bathing suits and 1-2 cover ups should be fine. This way you'll have one in use and one drying up.
I like to wear light sundresses that can be worn both on the ship, in a cruise port, or even dressed up in the evening with a pretty wedge shoe.
Related posts:
What to Bring on a Caribbean Cruise
Best Shoes to Bring on a Cruise Vacation
What to Wear on a Cruise Formal Night
What to Pack for a Shore Excursion
Cruise Outfits for Port Days
Before planning your outfits for port days, first do a little pre-cruise shore excursion planning. Whether you book an activity with the cruise line, a private local tour, or decide to explore on your own, this will determine what you will want to wear and bring.
On a Caribbean cruise, we often take a cab to a nearby beach or book a snorkeling excursion. If that's your plan for the day, your bathing suit and cover up, and possible light sundress will be all you need.
Other times, we may have some sightseeing in mind. A pair of shorts and tank top or a sundress works well for this. Don't forget comfortable shoes for walking.
However, remember that sometimes you will be going into churches or synagogues where covering your shoulders is preferred or even expected. You may even go into shops or museums that are air conditioned. For this reason, bring a light cardigan, shawl or scarf to cover your shoulders if need be.
Tip: Always keep a light neutral colored scarf or cardigan in your handbag. You'll find it so handy to have, from in an airplane when there's a chill. to religious buildings you come across and would like to visit.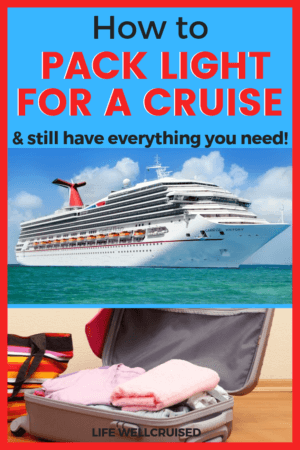 Tips and Tricks for Packing Light and Bringing Less on a Cruise
Have Outfits do Double Duty
Bring versatile clothing and mix and match. A loose sundress can be a cover up on a port day and also worn in the evening for dinner with a scarf. An off the shoulder top can be cute paired with shorts during the day and look fabulous with white capris or jeans another evening.
One "Little Black Dress" can be worn twice in different ways – plus, can be used again and again on future cruises. If you love more color, especially on a Caribbean cruise, opt for coral or another color. Simply throw on a light scarf and necklace to switch up the look.
Bring sparkly or even gold, silver or bronze flip flops. They'll be perfect for the pool, but will also look cute with a pretty dress.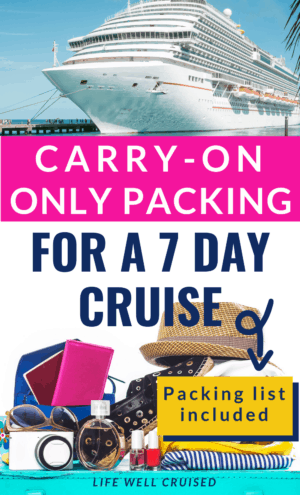 Shoes for Your Cruise
Having 3 pairs of shoes is probably necessary, and consider if you need 4.
When it comes to heels or "fancy" shoes, make sure that they're comfortable. Cruise ships are big, and you'll be walking and maybe even dancing.
Don't forget walking or running shoes for traveling as well as working out. Even if you don't normally go to the gym at home, you might enjoy morning walks on the jogging track or promenade deck. There's really something so soothing about being at sea.
Another reason to have sneakers or running shoes on your cruise packing list, is for ship activities. Many cruise lines require closed toe shoes for certain cruise ship activities (zip-lines, ropes course etc.).
Personally, I like changing my shoes up for comfort, so having a second pair of evening shoes, like a wedge works for me.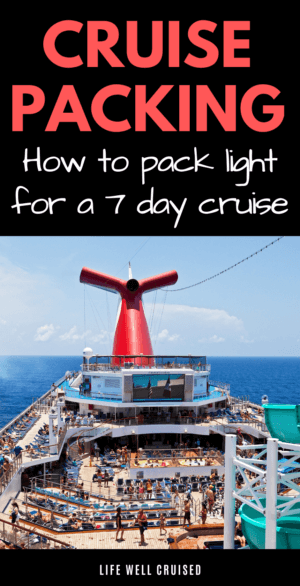 Tote Bag or Backpack
A good tote bag can be used as a cruise carry on bag, as well as a shore excursion bag. You may prefer a back pack.
On the cruise ship, you can use this to carry your sunscreen, sunglasses, book or kindle and any other important things you want with you during the day.
This nautical carry on bag is a new favorite of mine which I think is the perfect size for a cruise.
Recommended: Ladies canvas weekender bag (see reviews & color options on Amazon)
What to Put in Your Handbag
Remember that your hand bag can carry some stuff you might normally pack in your carry on or even your luggage. Some things that can be handy to keep close to you in your hand bag for your travels include:
Passports/government ID
wallet with at least one credit card
cash
Sunglasses
book
jewelry or valuables
portable phone charger
mini-make up bag and face creams
lip balm
Tip: Keep a few small bills handy for tips for porters at the cruise port, on ship excursions, etc.
Toiletries
Check with your cruise line to see what toiletries are provided, then pack accordingly. On recent cruises with Celebrity and Princess Cruises, shower gel, shampoo and conditioner were provided and pretty good quality.
This information isn't always easy to find on the cruise line website. So, join a cruise fan Facebook page where recent cruisers will be happy to share their knowledge and experiences.
Try and stock up ahead of time with small travel sizes of your favorite hair products such curl creams etc. Sometimes your favorite hair dresser may have some samples.
Recommended: Cruise Toiletry Packing List
Question – Do you need to pack a hair dryer for your cruise?
I see this question asked often, and the answer, is that it depends. Every cruise ship that we've ever been on, has had one. My husband and son use it and they are happy.
However, if you're used to your own hairdryer and like to style it a certain way, you may want to bring your own. They just aren't that powerful.
I travel with my hairdryer and curling wand (and hair products). Curly hair ladies get exactly why ;-).
Tip: This is my travel hairdryer that is small and powerful and does a great job. I bought it from my hairdresser, but see it on Amazon for way less than I paid – Baby Bliss Pro Travel Hairdryer (Amazon link)
Medications and Pharmaceutical Items
Pack only what you need, but don't skimp on this! Make sure you pack your everyday medications, plus a few emergency items just in case. Tailor your over the counter medication list to your needs. For instance, if you have family member prone to allergies, bring the meds.
You can even make up your own small first aid kit with your first-aid kit essentials. This small first-aid bag, sold on Amazon is a perfect size for a carry on, and can even be taken with you on excursions.
Recommended: Portable mini first-aid kit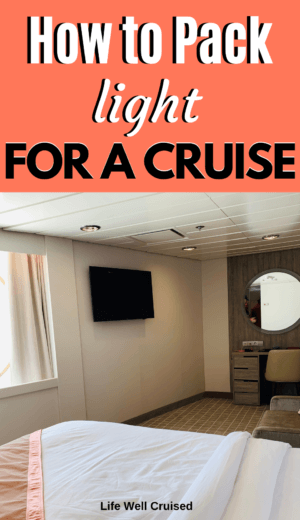 First-aid kit/Medicine Pack Items for a Cruise
Here's a basic list of essentials. Rather than bringing the larger sizes of each item, pack a small ziplock bag with each item for your mini-essentials pack.
Your preferred pain medications
Band-aids
Throat drops and cough candies
Antibiotic ointment – Polysporin
Seasickness Prevention on a Cruise
Even if you're packing light, don't forget to pack a couple of medications or other thins to help with seasickness symptoms.
While you might be able to go to the ship's medical center if you get really sick, you don't want it to come to that!
Pack the basics
1. Bonine or another preferred motion sickness medication. Do make sure that it is a non-drowsy formula.
2. Seabands (verify Amazon link for current price)
You don't even have to pack these. Simply put them on your wrists. They're great for boat and catamaran excursions too.
This is still my favorite natural remedy, along with green apples.
If you are particularly concerned about seasickness, please read this post: 10 Ways to Prevent and Avoid Seasickness on a Cruise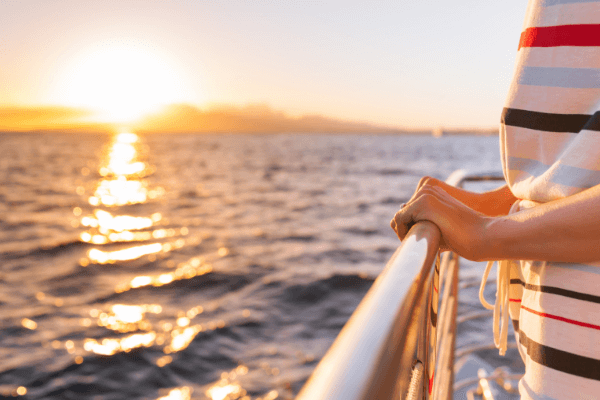 How to Prevent Wrinkled Clothes While on a Cruise Ship
One of the most common questions people have when going on a cruise, is how to keep clothes from wrinkling without using an iron. Since irons are a potential fire hazard, they won't be found in your stateroom, and, they are on a list of items you can't bring on a cruise ship.
Firstly, try and bring dresses and outfits that are less likely to wrinkle. I have a couple of cute dresses, that are very appropriate in the dining room, that scrunch up to nothing! You'd never know it, but some clothes look fabulous but are wrinkle resistant, which is of course, best for cruise travel.
Alternatively, you can also send clothes to be pressed by the cruise ship's laundry service (I do on occasion), or you may sometimes find an iron and ironing board available for use in a public or guest laundryroom. Laundrettes are not available on many cruise ships, so do check for your specific cruise ship.
However, I bring a couple of essential items to help prevent my cruise outfits from looking wrinkled and keep my clothes looking good.
1. Downy Wrinkle Release -1 travel size bottle is all you need. This works quite well to get wrinkles out of clothing without an iron.
2. Tide to go (mini) – one little stick of this is amazing for the small stains that sometimes happen, but don't really make your clothes "dirty"
3. Laundry detergent (amazon) – These small packets of laundry detergent are perfect to wash items either in the cruise ship's self service laundry room, if they have one, or even in your own washroom. Consider bringing a few clothes pegs to hang items on the clothesline in the shower.
Doing Laundry on a Cruise Ship
Not all cruise ships have a self serve laundromat. We've actually hardly ever been on one that's had this available, but sometimes it is, so check your specific cruise ship for your own information.
However, cruises do have a laundry service that's available which may be worth it for you. It's not cheap, but they do sometimes have a "fill your bag" special about mid-way through the cruise.
When we did a 12 day cruise in the Mediterranean a few years ago, we knew we'd need some "laundry help", if you know what I mean. After all, 1 day pre-cruise, 12 ship days, and 2 days post-cruise meant a lot of clothing needs!
We also use the service for pressing on occasion. My husband and son bring suits and shirts, and these items don't always travel well.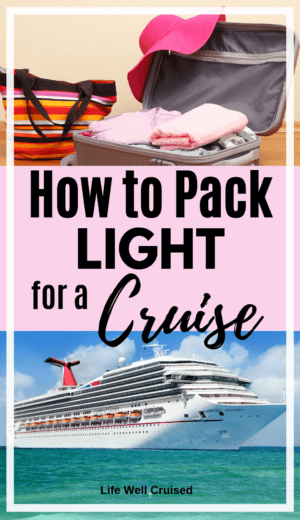 Can you pack all you need for a 7 day cruise in a small suitcase or carry-on bag?
Packing for a 7 day cruise in a small suitcase or carry on bag is definitely possible, and many people do it. Let's face it, airlines charge a lot for checked luggage, and waiting for it after a flight can be tedious.
During our 12 day Med cruise, we met a family where each member did all 12 days of the cruise, plus a day before and a day after the cruise, with 1 piece of carry-on luggage only! If they can do that, 7 days is a breeze!
Luggage and Packing Cubes – Accessories for Light Packing on a Cruise
The right lightweight luggage (to make travel easier) is a life saver, especially if you choose to self disembark at the end of your cruise. Packing cubes make it easy to almost not unpack. You can keep the cubes unzipped in your drawers, which makes things a lot easier, especially if you're more than 2 in the cabin.
Here are a couple of good options, that get great reviews on Amazon.
1. Lightweight Medium size luggage – this Samsonite hard shell suitcase is great if you are going to check your luggage on your flight. It's not too big, but a big bigger than carry-on only, if you don't want to stress out too much about not having enough room.
Recommended: Samsonite medium size luggage with spinner wheels (check awesome reviews on Amazon)
2. Carry-on Luggage with spinner wheels – If you decide to try to pack for your cruise with a carry-on only, this suitcase comes in 3 sizes, to fit your needs.
Recommended: Carry On Luggage with spinner wheels (great reviews on Amazon)
Packing Cubes (pack of 6) – You may need one set per person
Packing cubes can really help you to keep organized on your cruise, and even for any pre cruise travel. I find as I'm more organized, I'm less likely to overpack.
Recommended: Packing Cube – set of 6 (different colors available)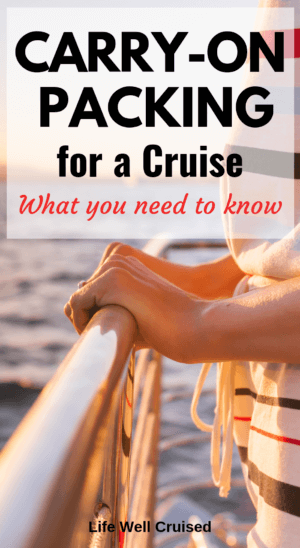 I recently tried 2 different brands of packing cubes while cruising and I go through the pros and cons in this post (which I think you'll find useful)
Video: How to Pack Carry-On Only for a Cruise
Get The Ultimate Cruise Planner
Regular price: $27 Now just $17!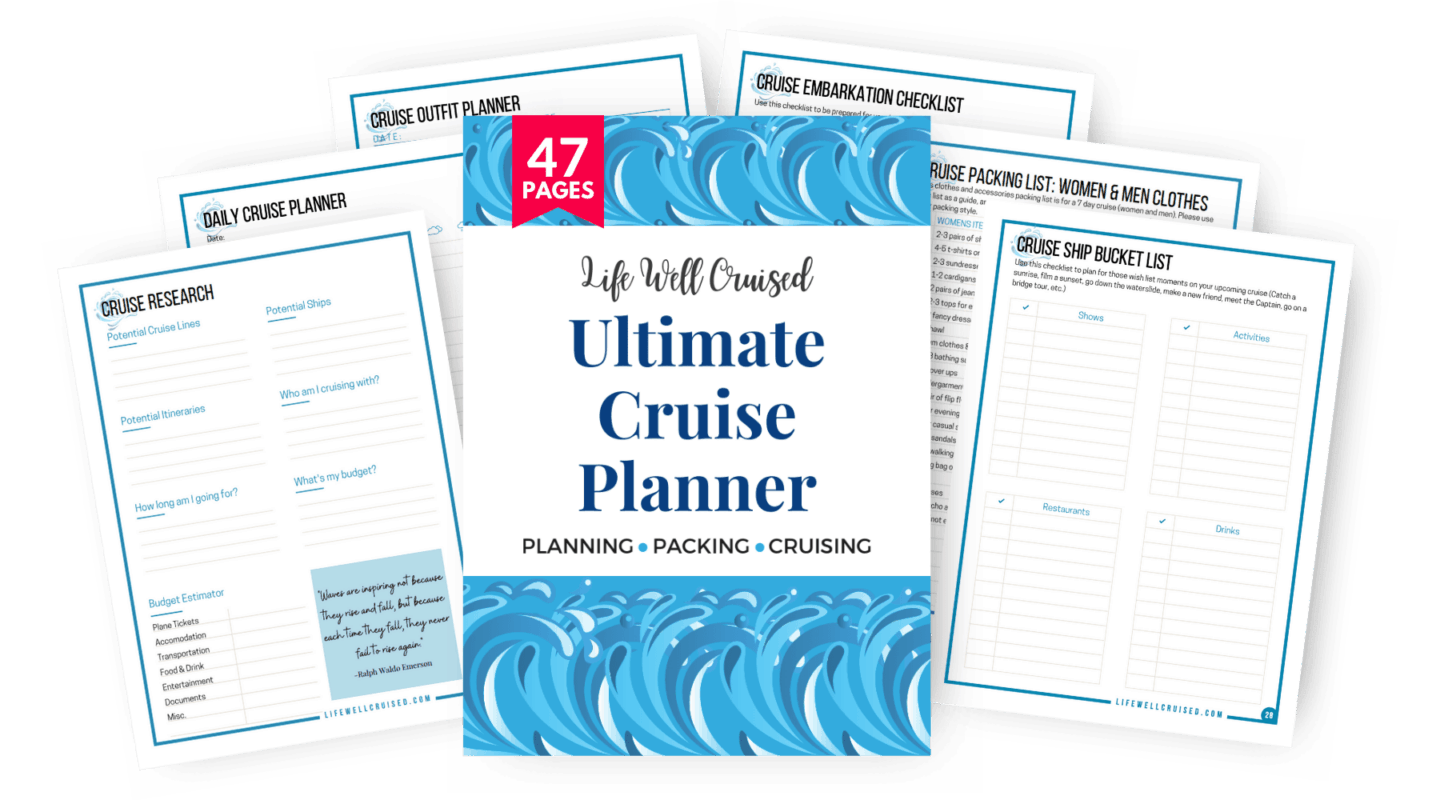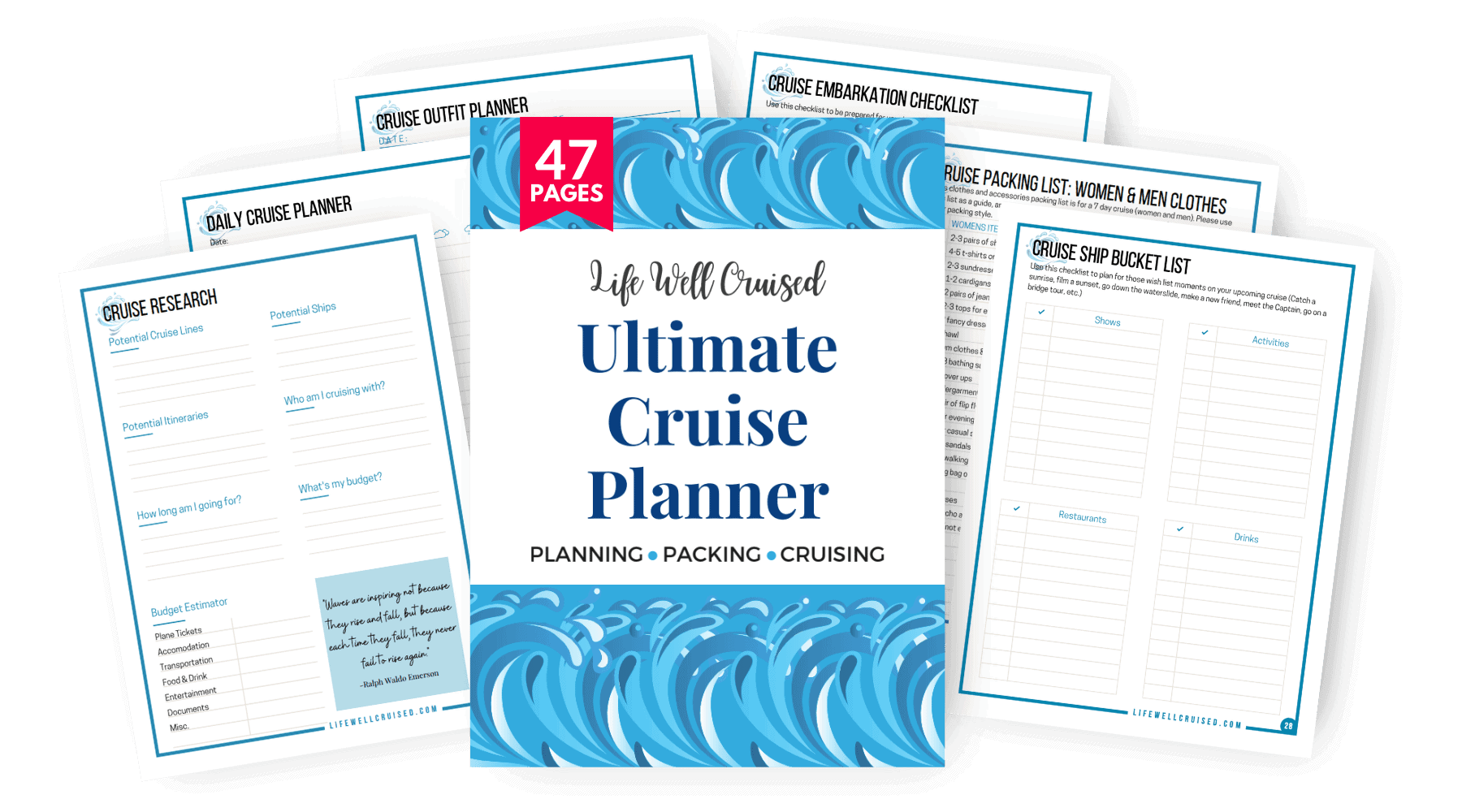 Related and Popular Posts:
25 Cruise Packing Tips All Cruisers Need to Know
33 Weird Things You Can't Bring on a Cruise
25 Cruise Embarkation Day Tips and Secrets You Need to Know
27 Awesome Things To Do on a Cruise on Sea Days
What to to Pack in Your Cruise Carry-On Bag
10 Things NOT to Pack for a Cruise
Note: Keep in mind that you cannot bring your own power bar from home, as it must be a cruise approved, non-surge protected power bar.
I recommend one with 2 USB outlets – click HERE to verify price on Amazon.
Recap: How to Pack Light for a Cruise
I hope this minimalist cruise packing list and guide has been helpful as you get ready for your cruise. We've gone through the most important items that you need for a cruise, as well as what luggage and packing items can be used for your cruise vacation.
By planning your outfits out in advance and mixing and matching clothes during your cruise, and bringing small quantities of your travel essentials, you'll stay organized and be able to pack light.
Have you packed with a small suitcase or carry on only for a cruise? What tip did you learn that you can share?
Happy Cruising!!
Ilana xoxo
P.S. If you found this helpful, please don't keep it to yourself ;-). Please share on Facebook or PIN to your favorite Pinterest board (share buttons at the top). Thanks so much!
Let's connect:
Follow me on Facebook at Life Well Cruised
Follow me onYouTube at Life Well Cruised
Follow me on Pinterest at Life Well Cruised
Follow me on Instagram at Life Well Cruised