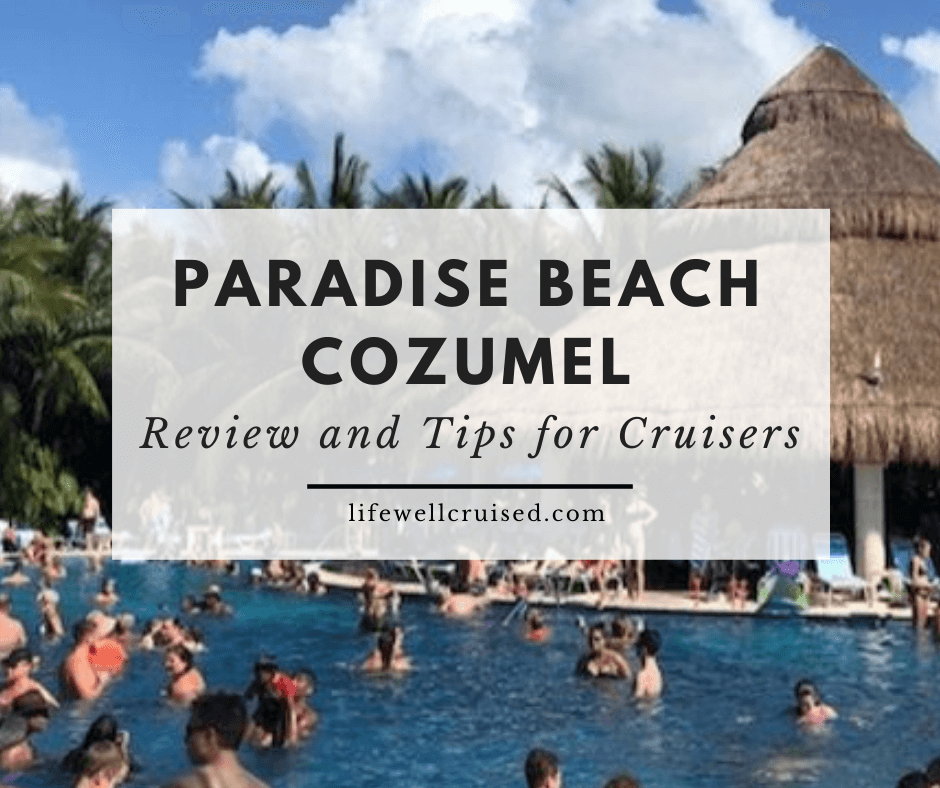 Paradise Beach, Cozumel – a Review and Tips for Cruisers
If you're going on a Caribbean Cruise and heading to Cozumel, Mexico, and looking for an easy beach excursion that's close to the cruise port, Paradise Beach is a great option.
We've been going to Paradise Beach for several years, and truly it's one of our favorite things to do in Cozumel. The nice thing about this excursion, is that you can easily go on your own. While cruise ship excursions are great, the expenses can really add up.
In this review of Paradise Beach, I'll go over some of the things we really like, some things to be aware of, as some of the questions you may have, as a cruise visitor.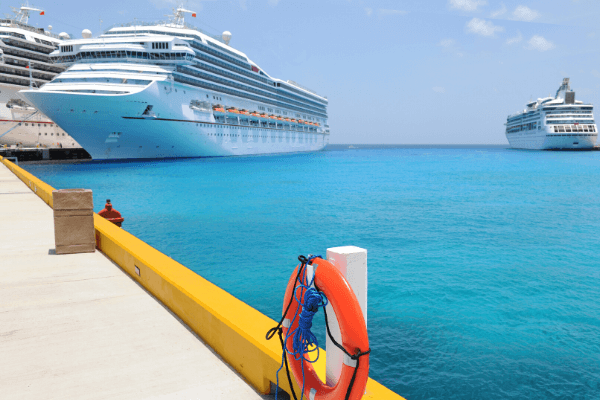 About Paradise Beach, Cozumel
Paradise Beach is one of Cozumel's most popular beach resorts. Located about 5 miles away from the cruise ports, and is easily accessible by cab or shuttle.
Paradise Beach is actually located along the same gorgeous stretch of white sand as Playa Mia and Mr. Sanchos, two other popular Cozumel beach resorts.
Paradise Beach has 2 options for cruise passengers, the original A La Carte option (pay as you go), and the newer All-Inclusive option.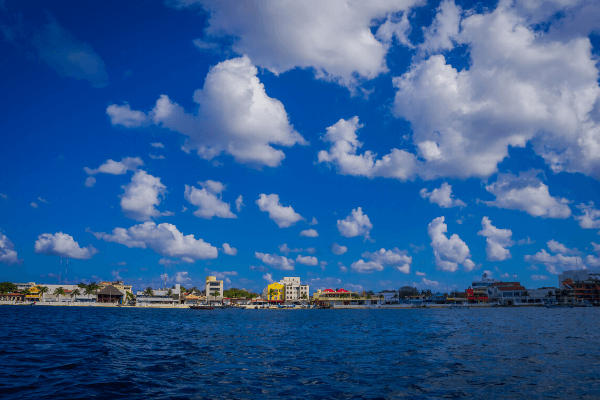 Paradise Beach Amenities
Beach front area with lounge chairs and unbrellas (included)
Choice of shade, sun and partial sun seating areas
Inflatable water park, kayaks (with a bracelet/extra charge)
Large heated vegas-style resort pool
Lounge chairs by the pool area (mostly full sun)
Full restaurant
Full bar with frozen drinks, virgin cocktails and beer
Food stand (tacos)
Bar Cart (mojitos)
Clean bathrooms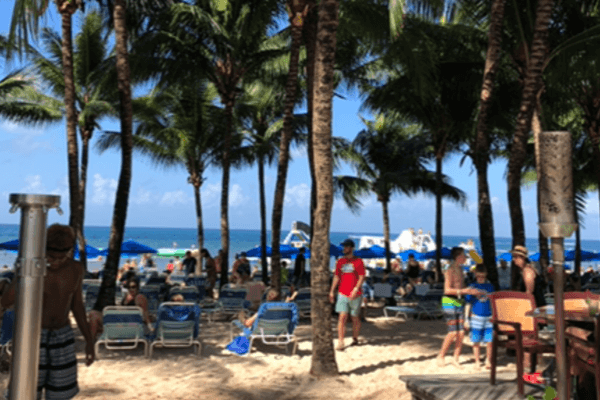 What we like about Paradise Beach for an excursion, for families and couples
We've been going to Paradise Beach on a cruise for many years, so we've seen this resort grow and evolve. One thing that remains throughout the years has been cleanliness. Despite being a pretty busy attraction, Paradise Beach is very well kept.
When we first went to Paradise beach, our children were young and we were drawn to the inflatables at the beach, which were available with a fun pass for a reasonable cost. They literally would spend hours climbing on the icebergs, slides and more. Also included with a fun pass is the use of kayaks, which was a quieter, but fun activity for our boys.
Now, our kids are older and we love to hang out by the large heated pool and have a drink. We also enjoy some of the food options to snack on while we're there.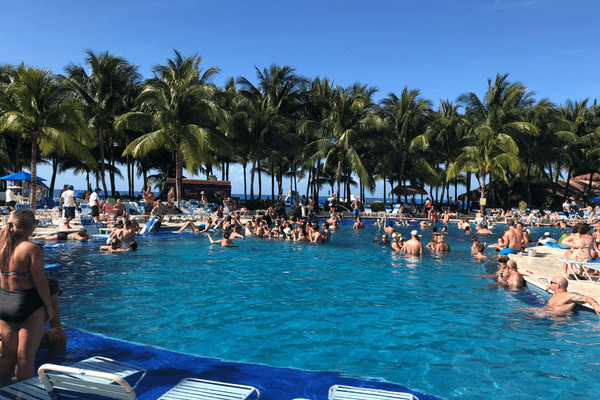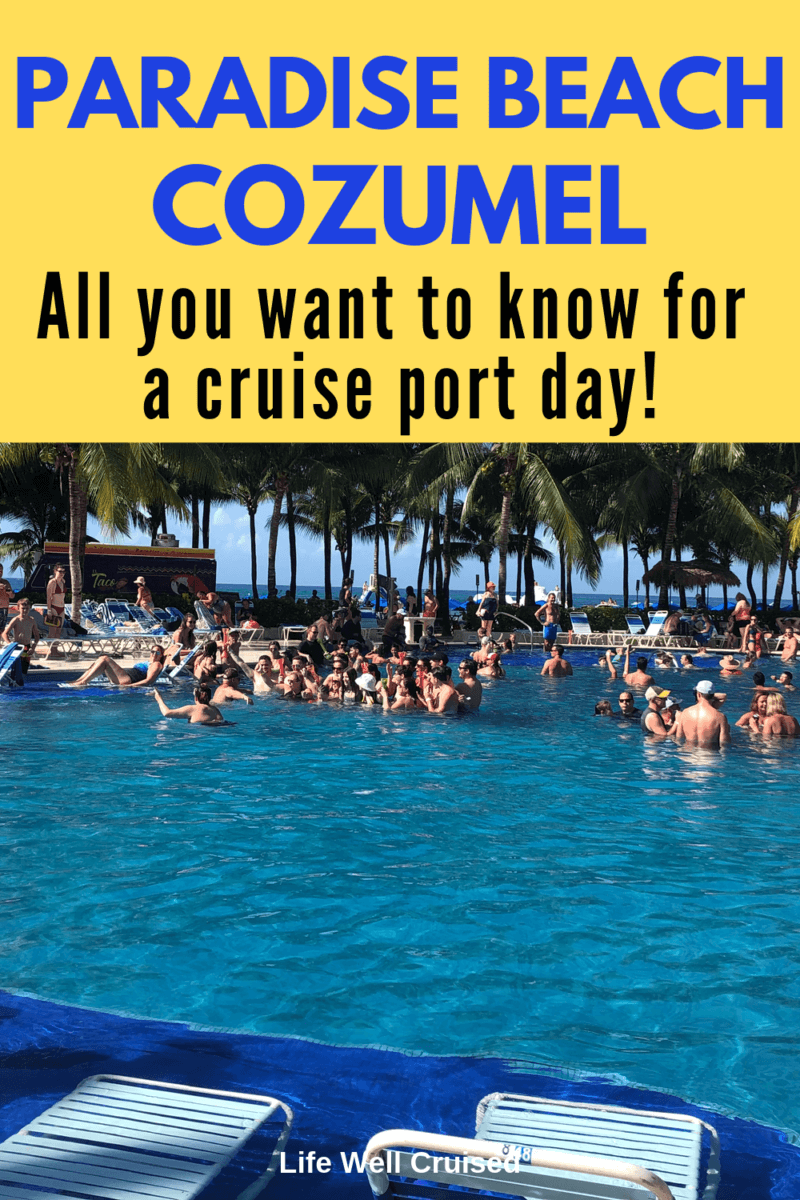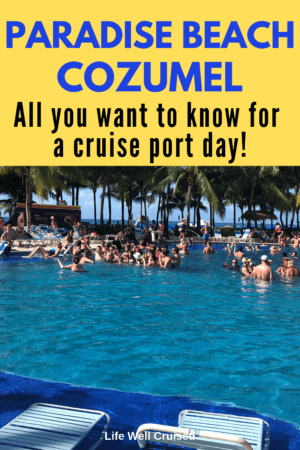 How much is the entrance fee at Paradise Beach?
Paradise Beach is probably the most reasonably priced beach resort in Cozumel, especially if you opt for the a la Carte option and don't plan on eating and drinking a lot.
Of course, things can add up faster than we think. So, for those who prefer to pay one price and forget about it, an all-inclusive option is now available.
When we went a few months ago, the entrance fee was $3 per person, which included a lounge chair. They also asked us to order food or drinks for at least $10 per person, which was no problem of course.
Since the all inclusive option was still pretty new, we didn't try it and ordered a la carte.
The beach and pool are included, however there is an extra charge for the inflatables and water activities. For those that are interested, you can find jet-skis down further along the beach.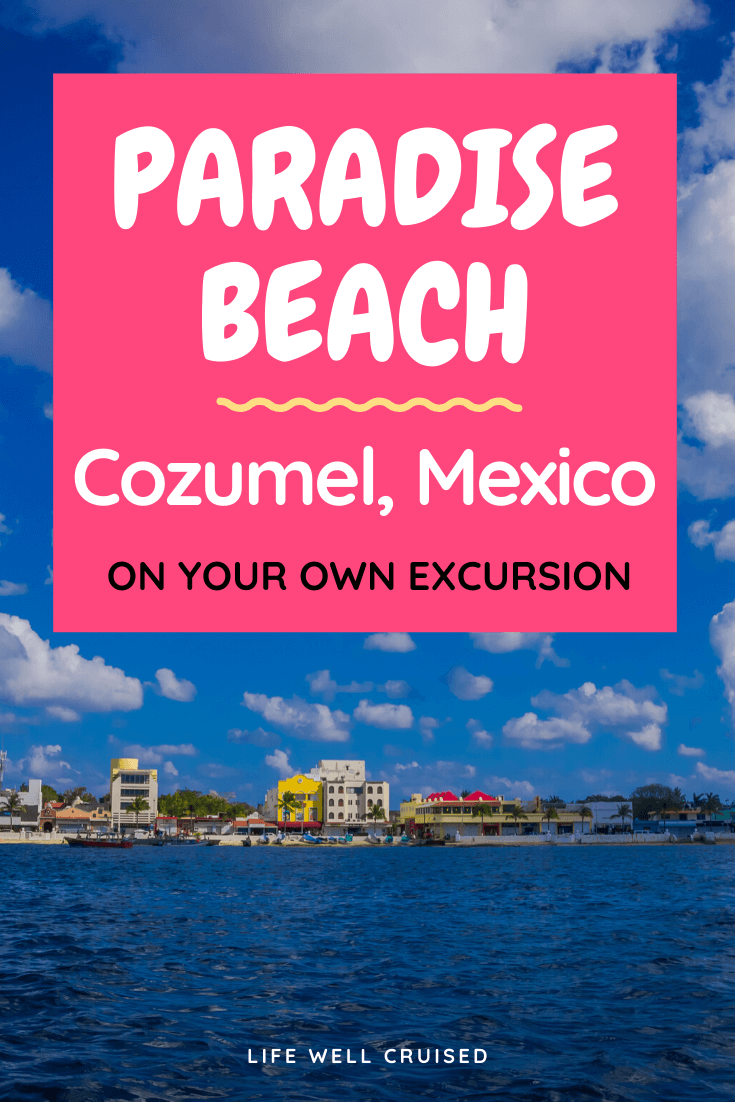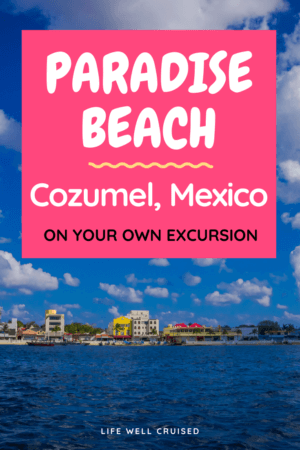 Paradise Beach all-inclusive option
The all inclusive option includes food from the restaurant and food truck (tacos), as well as most beverages. Frozen cocktails, beer, non-alcoholic drinks including soda and water bottles. Top shelf brands and drinks in novelty glasses are not included.
Cost is $63 per adult, $44 for ages 12-17, $35 for 11-5. Children under 5 are free.
How to go to Paradise Beach from the cruise port on your own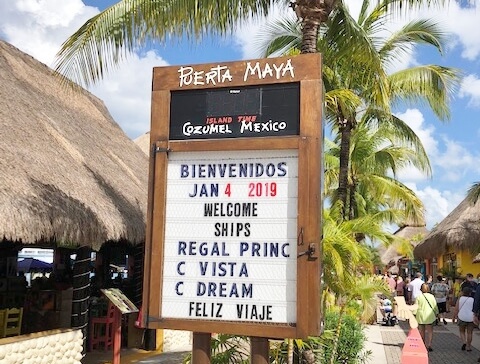 Cozumel is a good port to plan your own excursion, especially if you're looking for a great beach day. To get to Paradise Beach you'll simply take a cab or van (if you're a big group) from the cruise port taxi stand.
Rates are about $5 a person, a bit more or less depending on how many you are. As an example, our taxi ride was $16 per way for 3 people. There are taxi stands and rates are posted.
Note – US dollars are taken
Paradise Beach Inflatables and water activities – Fun pass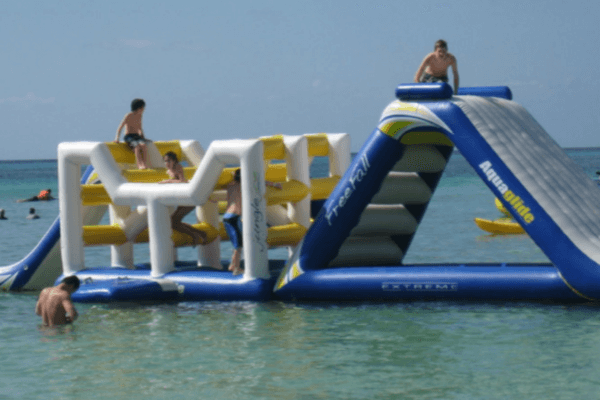 Paradise Beach has a large floating water park of inflatables, both large and small. They keep both younger and older kids and teens entertained.
With the purchase of a fun pass for $18, you'll get a bracelet/wristband that gives you access to the inflatables in the beach water park as well as kayaks.
Something to note is that not everyone in the group needs to buy this – just those that will be participating in the activities.
Paradise Beach Menu food and Drinks Menu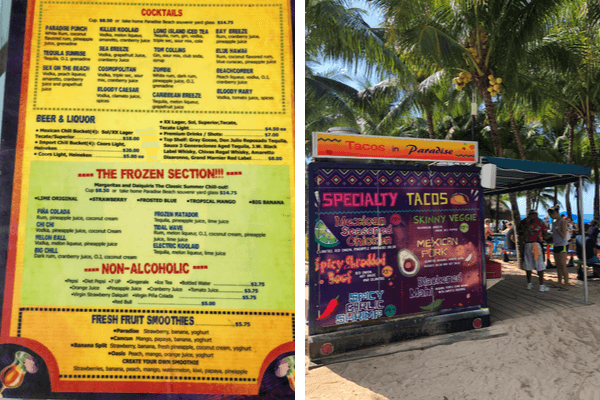 The menu is quite reasonable if you are ordering a la carte. Most "meals" are priced in the range of about $10-15 USD. There's a restaurant and beach taco stand.
Frozen drinks and cocktails were $8.50 for a good size cup or about $15 for a souvenir yard size glass.
We enjoyed a couple of nacho platters with melted cheese, refried beans and salsa – when in Mexico ;-).
We aren't super big eaters when we are off the ship, but do need something to go with drinks.
Paradise Beach Mojitos and other drinks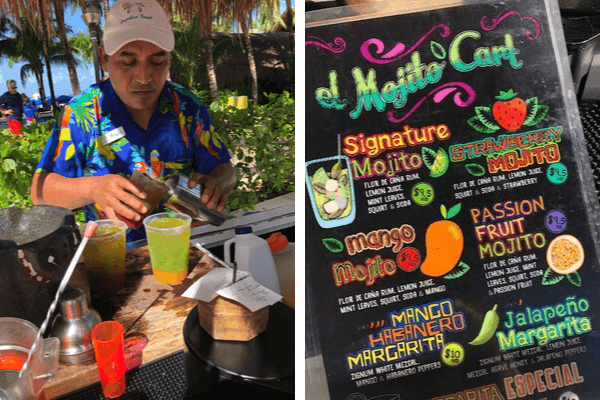 OMG! I cannot say enough about these mojitos.
They were made by Freddie at his Mojito cart and they were seriously so good. He muddled the mint along with fresh lime juice until it was almost ground and then put in the rest of the ingredients.There was a choice of flavors and we opted for Mango Mojitos.
Our son got a frozen Pina Colada from the bar and it was a good, beach bar drink.
In my opinion, if you want something a little bit special, go for a Mojito (Freddie will make it special)
What you may not like at Paradise Beach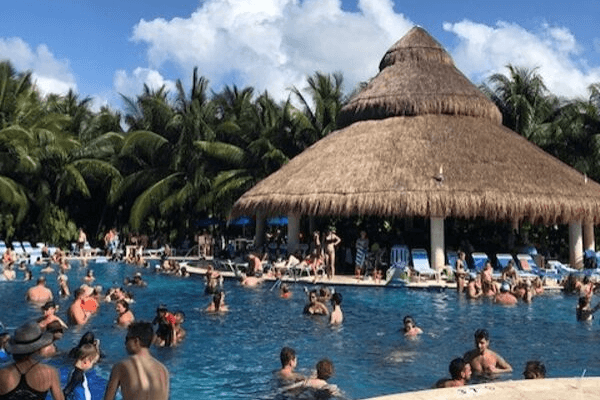 Paradise Beach is popular with cruisers and it does get a bit crowded. When we were there last, there were 7 cruise ships in port that day. That said, even on this day, we managed to find 3 lounge chairs without issue.
If you prefer a quieter beach or excursion, you may prefer an option where they limit the amount of people at the resort.
Do you need other ideas for shore excursions in Cozumel?
In the past, we've done a snorkeling excursion in Cozumel and enjoyed the colorful fish and turquoise waters. You may enjoy visiting the Mayan Ruins, or perhaps checking out one of the other popular beach resorts to see if they may be a better fit for you.
Recommended: 21 Best Things to Do in Cozumel for Cruise Passengers
Heading to Grand Cayman? Read this before you go:
21 Best Things to Do in Grand Cayman for Cruisers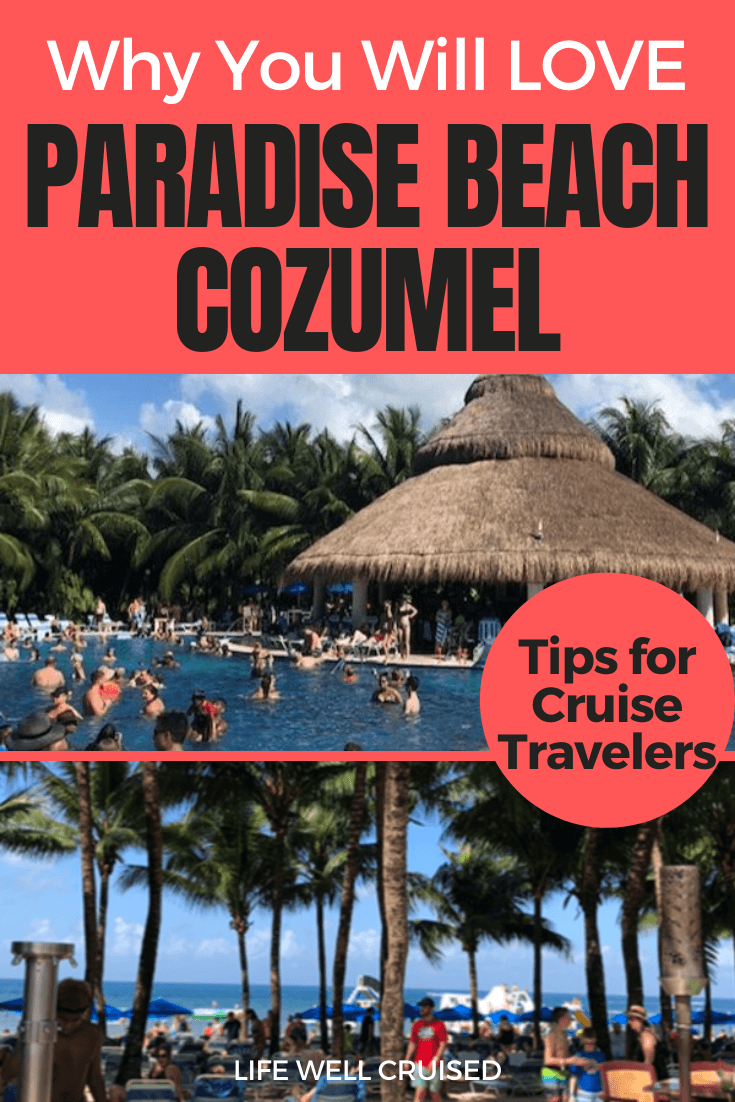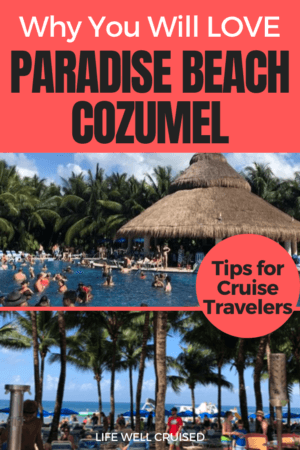 Recap: Paradise Beach Cozumel Review – information for cruise passengers
I hope this Paradise Beach review is helpful as you plan your day in port in Cozumel. Some of the reasons we love it and keep coming back are the great drinks, clean facilities, large heated pool, beautiful beach, good food and the reasonable prices.
It's easy and convenient to get to create your own cruise excursion to Paradise Beach, as it's only a few minutes away by cab.
Have you been to Paradise Beach or one of the other beach resorts in Cozumel? What did you like best? Please let me know in the comments below.
Happy Cruising!!
Ilana xoxo
P.S. If you found this helpful, please don't keep it to yourself ;-). Please share on Facebook or PIN to your favorite Pinterest board (share buttons at the top). Thanks so much!
Popular posts you might enjoy:
21 Most Recommended Things to Do in Cozumel
21 Most Recommended Things to Do in Grand Cayman
27 things To Do on a Cruise Sea Day (and not be bored)
17 New Cruiser Mistakes to avoid: Cruise Like a Pro!
Let's connect:
Follow me on Facebook at Life Well Cruised
Follow me onYouTube at Life Well Cruised (Vlogs and cruise tips)
Follow me on Pinterest at Life Well Cruised
Follow me on Instagram at Life Well Cruised