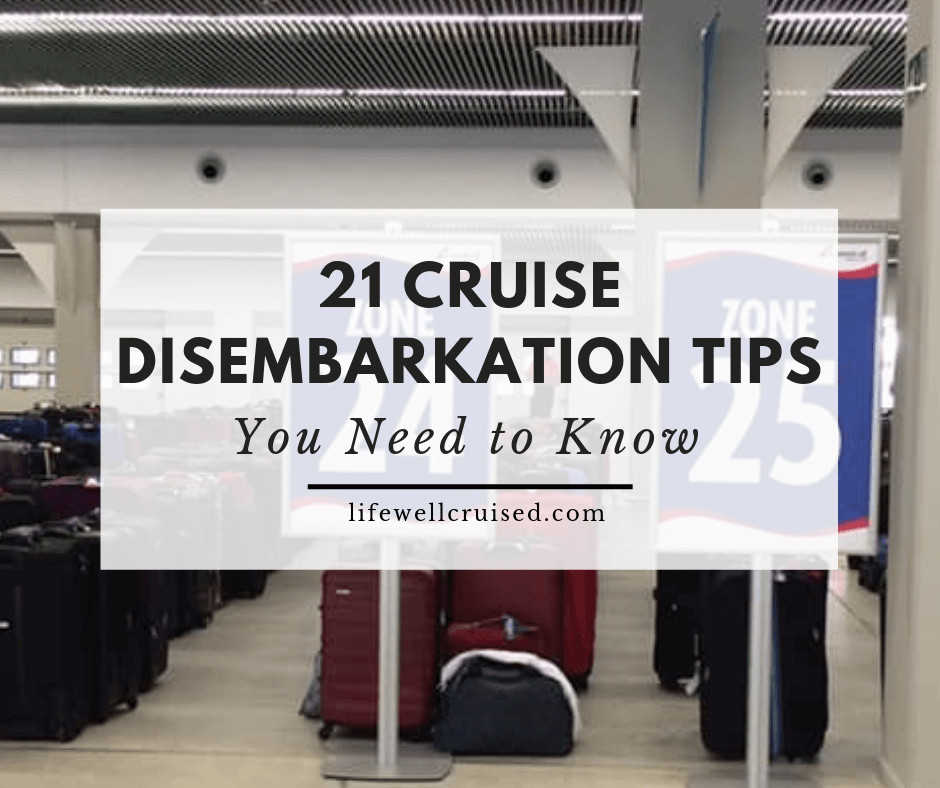 What cruise passengers need to know about cruise disembarkation, also known as debarkation day
The process of "checking out" of your cruise ship is very different from checking out of a hotel. If you're a new cruiser, or even if it's been a few years since you've cruised, it's good to be aware of the debarkation procedures and what to expect.
In this post, I'll go through some common questions and things you need to know about cruise disembarkation.
Disembarkation Day: The saddest day of the cruise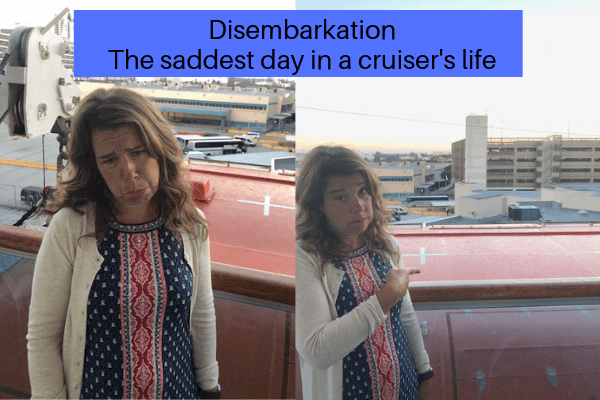 Cruise disembarkation (or debarkation) is something we cruisers don't really want to think about. If you're anything like me, you'd rather get to the fun stuff like planning excursions and making cruise packing lists, and NOT think about getting off the ship!
What to expect from the cruise disembarkation process
Cruise lines have small differences in their disembarkation procedures, but overall they're pretty similar. The last morning of your cruise, you'll have to disembark and leave what had become your very comfortable home away from home.
In this post, I'll go through all the basics, so that you can know what to expect and plan for on the last day of your cruise.
Regular Disembarkation vs Self-Disembarkation
There are two types of disembarkation, regular disembarkation and self-disembarkation (unfortunately both require you leaving the ship).
The disembarkation process is almost the same, with the main difference being that with self-disembarkation, you are responsible for taking your own luggage off the ship. I'll go over the pros and cons of both at the end of this post.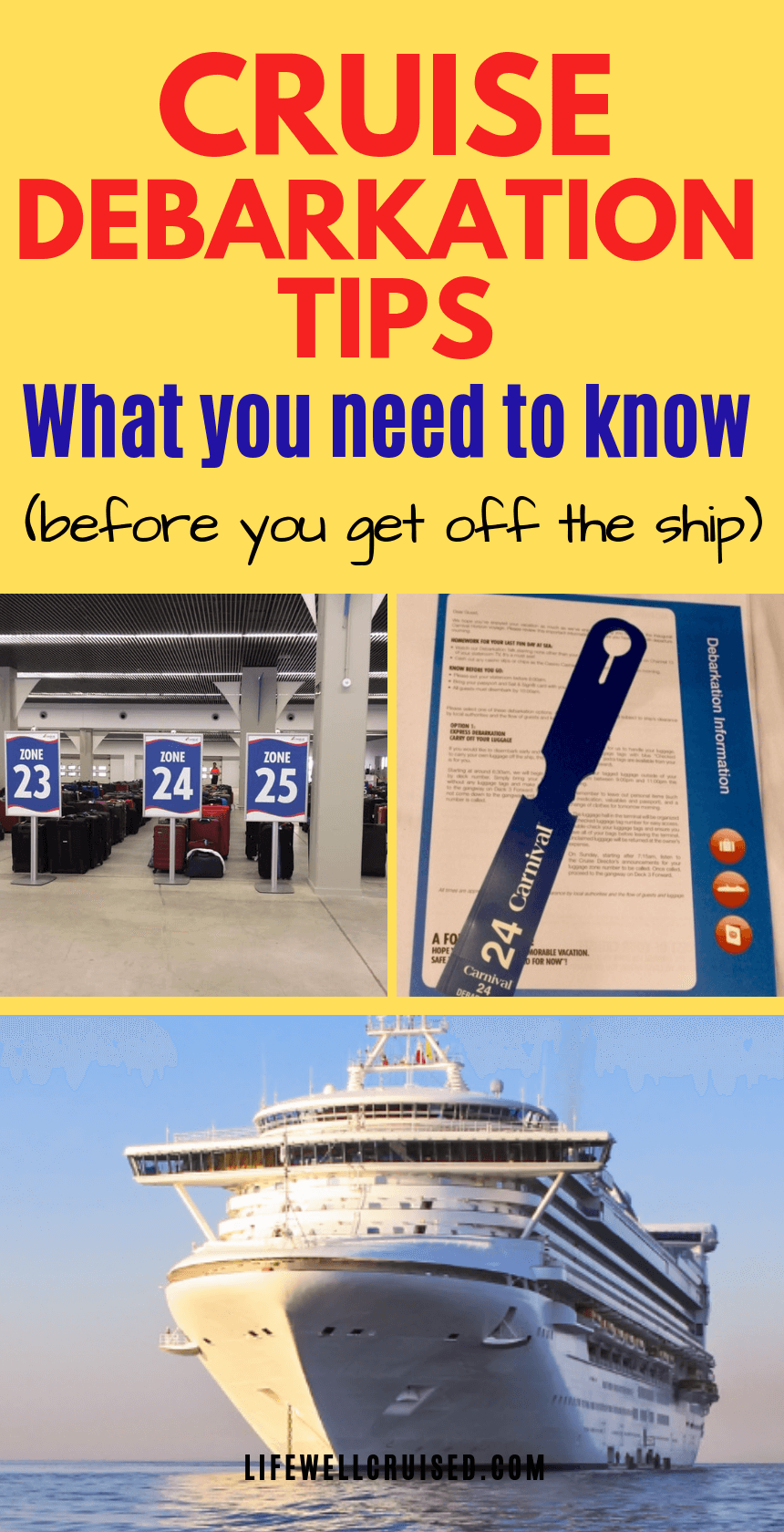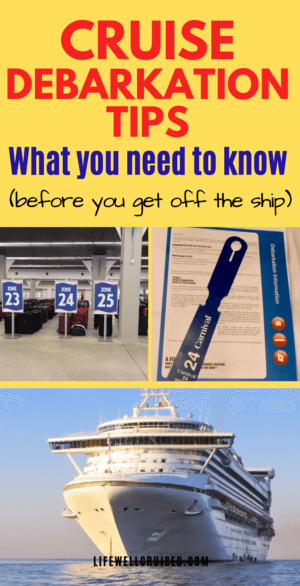 21 things to know when disembarking from your cruise ship
1. What time will you be able to debark the cruise ship at the end of the cruise?
There's no set time when cruisers can disembark and this will vary by cruise ship itinerary, cruise port and things that are actually beyond anyone's control the last morning of the cruise.
However, something important to know, is that the scheduled docking time listed on your cruise itinerary will not be the time that you get off the cruise ship. This is because the ship needs to be cleared by customs, and given permission for passengers to debark.
For instance, if your cruise itinerary states that your ship will be back at port at 6:00 am the last morning of your cruise, you won't be able to disembark until an announcement is made that the ship has been cleared.
This process can be an hour or two, and sometimes longer. The reality is that it's not something the cruise line can control.
As a general rule most cruise ships will start the disembarkation process around 7:30-8 am, however your cruise line can give you more specific information.
2. Avoid booking an early flight home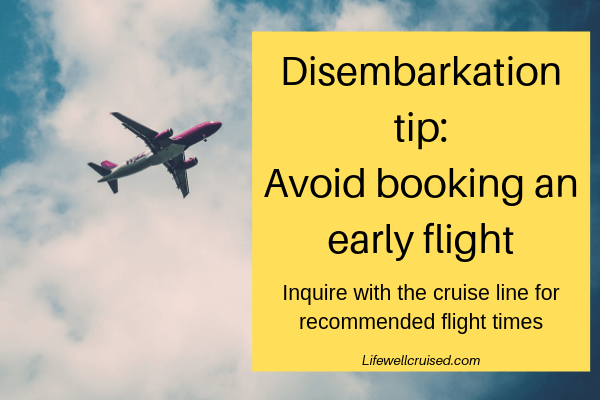 Since it's difficult to predict the exact time you can get off your ship, don't book an early flight home.
You have to account for time to disembark from your ship, getting your luggage, going through customs and then travel time to the airport.
My best tip is to simply call the cruise line before you book your flight, or ask your travel agent to do so. Cruise lines have recommended flight times for each cruise port. Keep in mind if you're an International traveler, you may need more time at the airport.
Another reason not to book a very early flight, is that even if you CAN make it, it's possible for your ship to arrive late in port due to weather or other reasons. For instance, cruise ships in Galveston have been known to be late due to fog.
3. Cruise ship debarkation instructions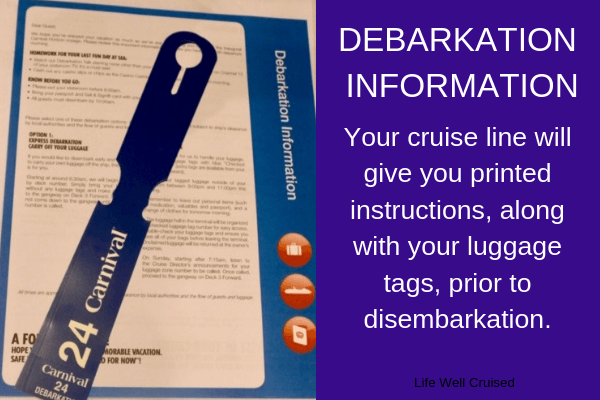 While on your cruise, your cabin attendant will give you some printed disembarkation instructions which will include what to do with your luggage as well as some basic custom information.
On the second to last day of your cruise, you'll also notice that you can find the disembarkation information on one of the TV channels in your cabin. For new cruisers, your ship may offer an assembly to go over information, so you can check for that.
I'll tell you what usually happens to me. I see this around day 5 on a 7 day cruise, and I don't like it. The fact is that I don't want anyone reminding me that this cruise will end, while I'm fully immersed in enjoying my cruise vacation. But, do take a look as there's information to know. Then, as quickly as possible, get back to enjoying your day!
4. Luggage tags and debarkation times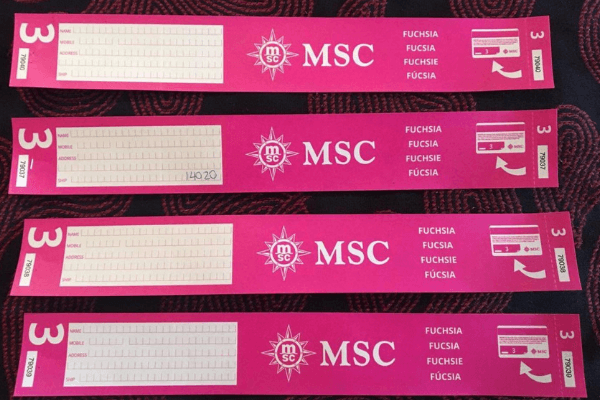 Along with the printed disembarkation information, you'll also receive special luggage tags.
As you can imagine, debarking thousands of passengers almost all at the same time is quite a process. So, cruise lines keep things organized and moving along by assigning color coded luggage tags which correspond to certain disembarkation times.
Examples:
Red 5 = 8:20 am
Purple 3 = 9:10 am…. and so on.
These assigned times, are really approximate and what the cruise line is hoping for, if all goes as planned.
5. Can I change my luggage tags if I don't like the assigned time?
You may be wondering, "what can I do if I don't really want the time the cruise line gave me?".
Maybe you're staying an extra day or two in port and you'd rather take things a bit slower in the morning, so you prefer a later time.
Maybe you're driving straight home from the port and you've got 10 hours of road ahead of you, and an earlier time would be better.
For whatever your reason, if you're given a time doesn't work well for you, simply bring your luggage tags to guest services and ask if you can get an alternative time. Most of the time they can accommodate you.
If you need extra luggage tags, they can help with that too.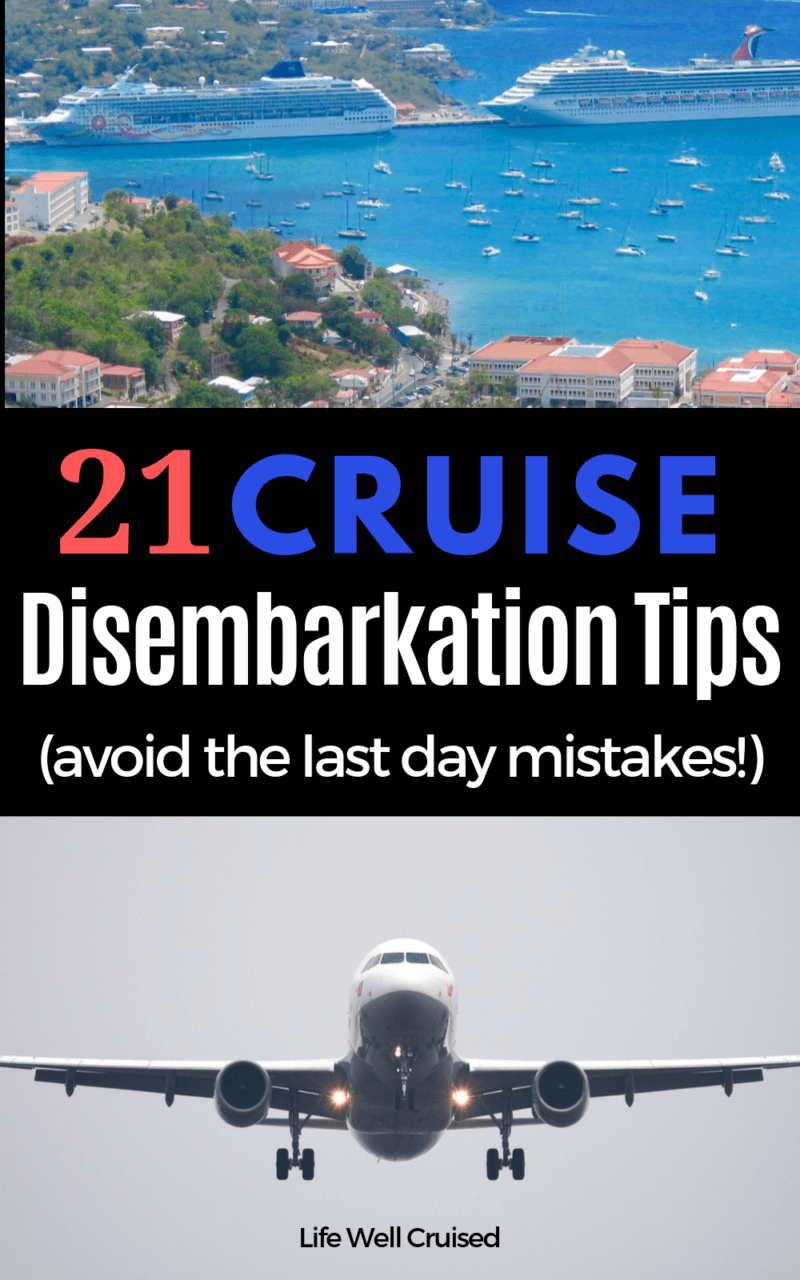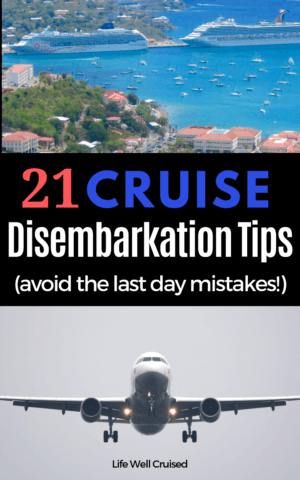 6. What do I do with my luggage*?
*This only applies to those doing regular disembarkation.
On the last night of your cruise, you'll be asked to place your luggage outside your cabin door by a certain time in the evening (you'll see the time on the instructions). The ship's crew will be working hard that night taking the luggage to a holding area, so that it can be move off the ship quickly the next morning.
Just like when you got on the ship on embarkation day, remember it's better not to pack valuables in your suitcase, but rather to leave them in your cruise carry on bag.
Put your cruise assigned luggage tags on all your suitcases before you put them in the hallway.
Tip: Either keep a luggage tag, or a tab, or even take a photo to remember your color and number.
7. Remember to keep out clothes and toiletries for disembarkation day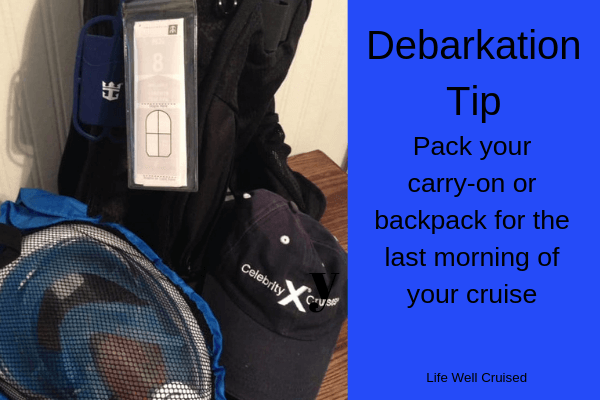 I'm sure there are a few people who forget this on every cruise! You don't want to disembark in a cocktail dress, right?
Remember to keep a carry on bag for the last night and morning of your cruise. Things to think about include night clothes, morning clothes, toiletries, valuables, tech stuff like laptops and phone chargers and personal ID and documentation.
8. Verify your cruise account BEFORE you leave the ship
My husband and I like to keep an eye on our cruise account throughout the cruise, looking at it once every couple of days, just to make sure all is as it should be. It also keeps us a bit more cautious with our spending than we might be otherwise.
You can usually check this on your cruise app (for cruise lines that have one) or you can get a printed copy from a machine or at guest services. We always print one up the last full day of our cruise (not disembarkation morning), and go through it line by line, just to make sure.
Many people have their account linked to their credit card, so no need to settle your account. If you do want to pay off your account in cash, try and do this early in the day as the lines get long as the evening wears on.
If you notice a discrepancy, bring it to the attention of guest services as soon as possible. The fact is that once you leave the cruise ship, you are accepting the statement and it's extremely difficult to go back and dispute any charges.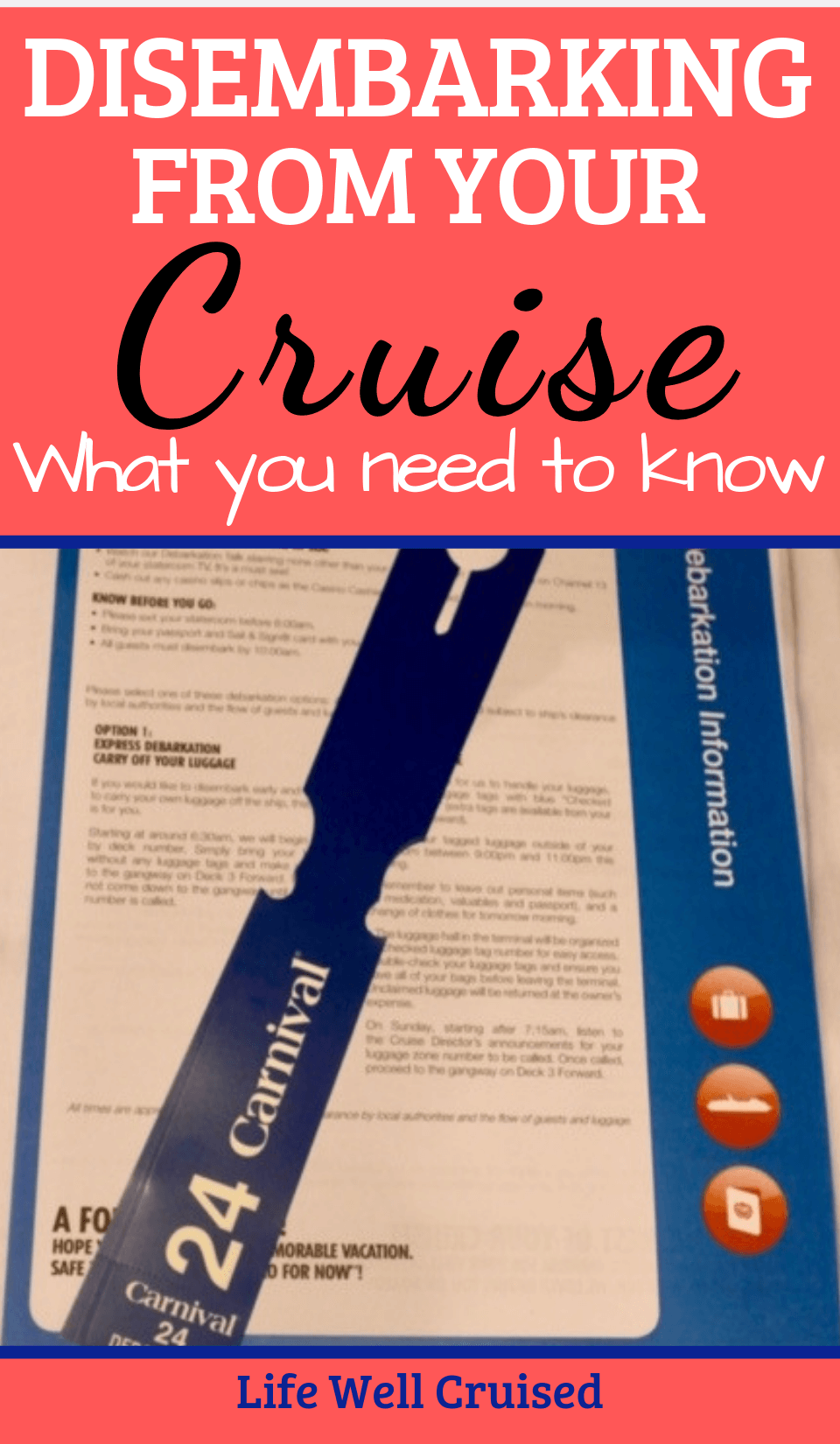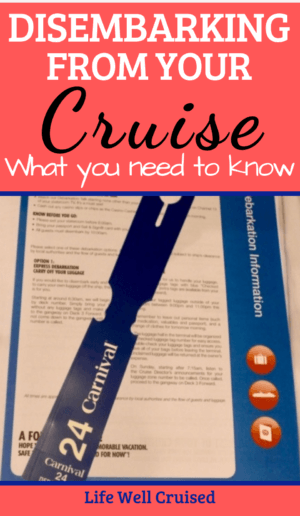 9. Fill out cruise staff appreciation cards
As a cruise passenger, simply filling out a comment card highlighting the good work of some favorite crew members, is one of the easiest things you can do. However, it makes a huge difference to those who work so hard so that we all have these incredible cruise vacation experiences.
I've been told that these comment cards help to earn crew members privileges and possibly even promotions. I also know the ship's staff really treasure these positive comment cards, and it truly impacts them.
10. Purchase your favorite cruise photos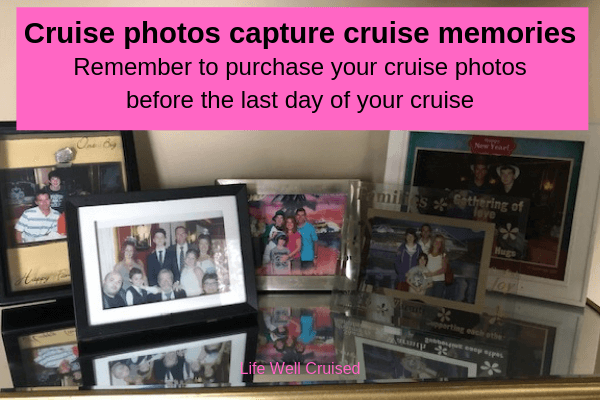 The photo studio is like a zoo on the last evening of the cruise, with people deciding now to buy their cruise photos and packages. It really gets hectic, so if you can go earlier in the day, or even earlier during the cruise, it will be better for you.
Whatever you do, don't make the mistake I read about the other day in a cruise Facebook group. A woman was very upset as she found the packages on the cruise ship to be too expensive. She explained that she thought she would get home and contact the cruise line to complain about this and purchase them at that point.
Of course, she found out that this was not possible, and was very disappointed. Her photos were gone.
You can only purchase your cruise photos on your cruise. To my knowledge, they are not stored.
So, if you want them and they are a great memory – buy the photos. You won't regret it!
11. Book a future cruise on-board
One way to help with future cruise blues, is to have an upcoming cruise to look forward to. Cruise lines offer several advantages to planning a future cruise onboard. In some cases, you can even buy a Future Cruise Deposit on an open booking, and choose your cruise once you get home.
Tip: Do this as early as possible in your cruise an don't wait until the last night, as it will be very busy.
12. Disembarkation morning reality
On the morning of the last day of your cruise, you'll notice that everyone (crew and passengers alike), are a wee bit stressed and that happy go lucky atmosphere you had, is starting to wane. The reality is, that the crew needs to clean and turn over that ship in a few short hours, so that new passengers can board..
Hopefully, you've had a wonderful cruise and will be back to do it all again in the near future!
Recommended Post: How To Know if You Have Post-Cruise Depression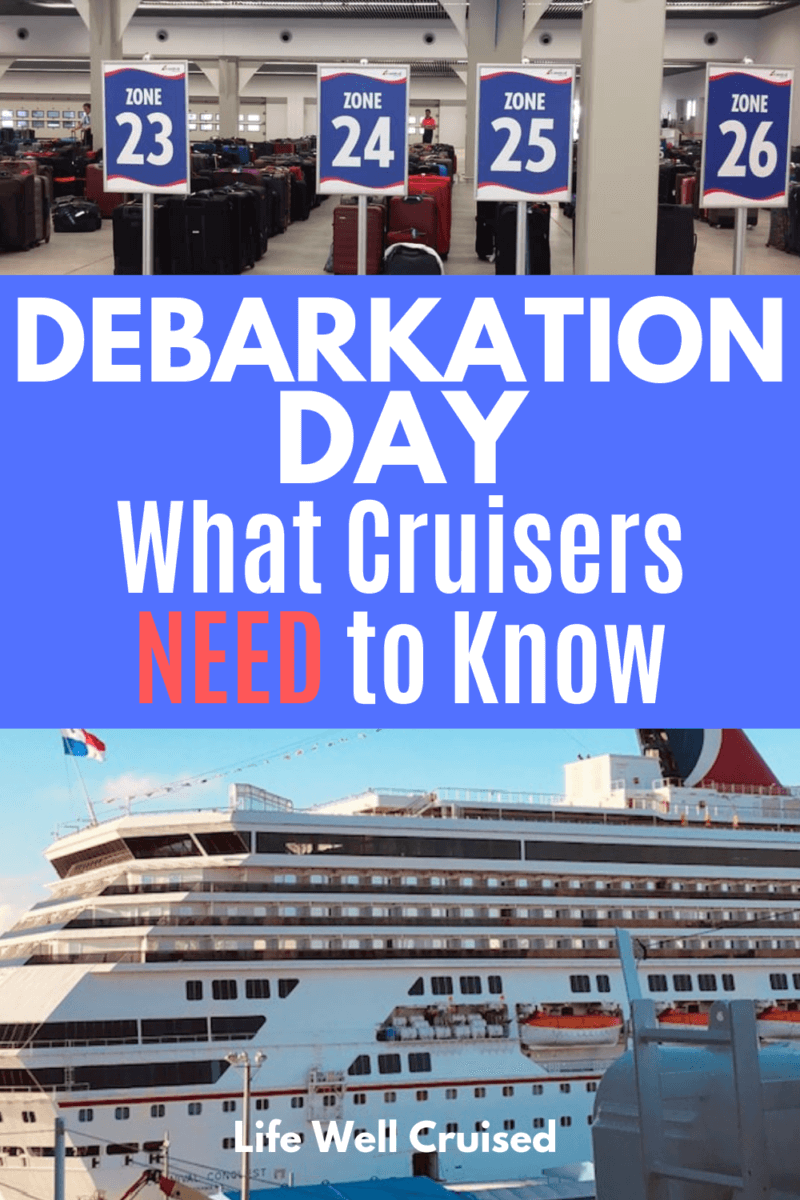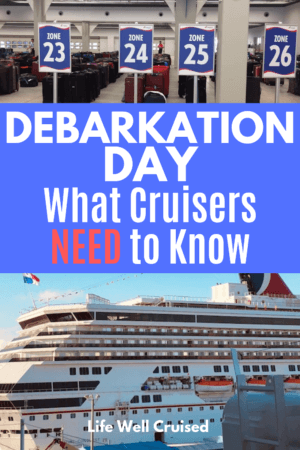 13. Breakfast on the last day of the cruise
There will be a few options open for breakfast including the buffet, the cafe and in some cases the main dining room. Room service may or may not be available. Once you're on your cruise ship, you'll be informed of the options.
Since you'll be leaving your cabin, this may mean bringing your carry on or other items with you to the buffet. Keep in mind it will likely be quite crowded.
We are often pretty tired the last morning, so the last few cruises we've just gone down to the cafe and picked up a coffee and muffin or one last delicious pastry to go. We bring it back to out cabin while we do some final things before we leave the cruise ship.
14. Check your cabin for any "forgotten" items
We actually do 2 checks, just to make sure.
After we pack up, on the last night of our cruise, we gather things together, and this includes all items that were in our cabin safe. I put chargers together and do a quick pack of our toiletry bag. We open all our drawers and check the shelves.
In the morning, do one last check. Make sure you've got your sunglasses, reading glasses (this happened to my friend), umbrellas etc. Parents, if you have children, go through their drawers and under their beds to make sure you're all packed up and nothing is forgotten.
*Keep your cruise card on you – you will need it.
Tip: If you get home and realize that you did forget something, cruise lines have a toll free number that you can call to report lost items. There's a chance that you may find it, however I haven't heard of many success stories.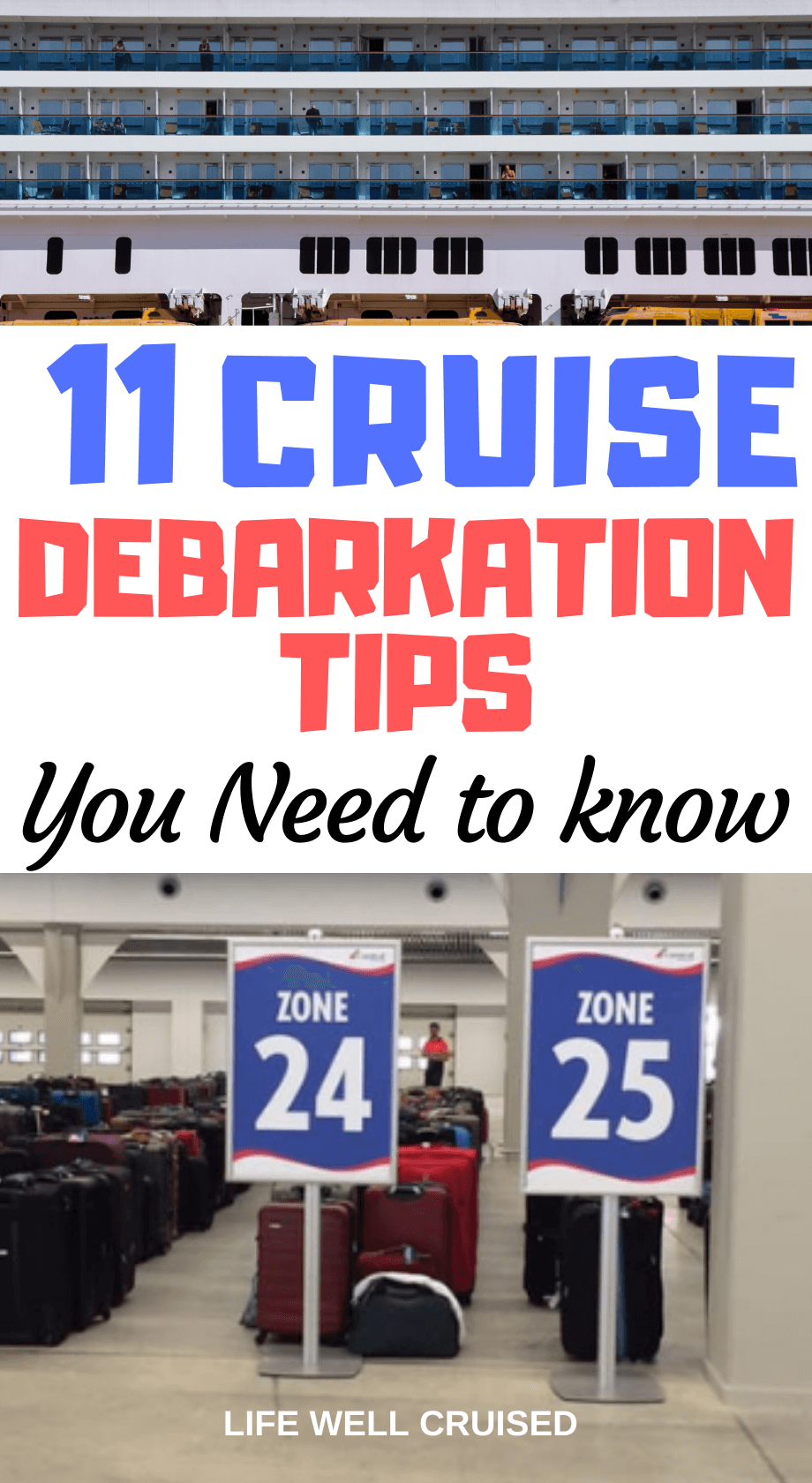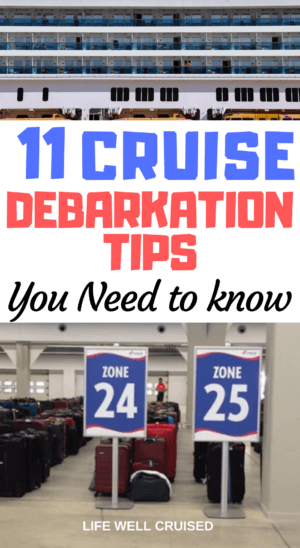 15. Getting off your cruise ship
Once you're all packed up and ready to go, you'll be asked to wait in designated public areas until your luggage tag number is called. Keep your cruise card in hand, as you'll be scanned as you leave the ship.
A couple of the ship's activities staff or officers may be near the exits to say goodbye and wish you a safe trip home. On a couple of occasions the Captain and/or Cruise Director have been there and it's been a nice final opportunity for us to say a big thanks!
16. Getting your luggage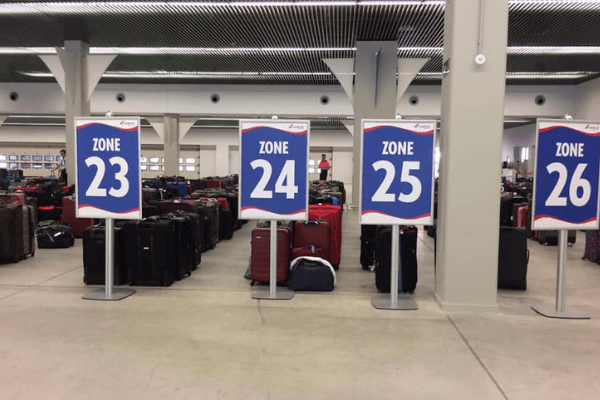 Once you get off the gangway, you'll head into the cruise port and in a great big room (sort of like a hangar), you'll find rows of luggage, grouped according to color and number.
This procedure is so much better than when we first cruised years ago. It used to be really hectic, but the last few cruises it's been a fairly easy process.
There will be porters that can help you with your bags, if needed.
Tip: Keep a few small bills handy to tip the porters.
17. Going through customs after your cruise
Whether you're American, Canadian or from any other country, you'll be going through customs as a final step of your cruise disembarkation. It's usually not too long a process – we've gone through this in 10-15 minutes.
During your cruise, keep track of your purchases including alcohol, cigarettes, and any large purchases. Be aware of the allowances for each in your home country. We keep our bills together during our trip to make it easier.
Tip: Keep your receipts together during your cruise by placing them in an envelope as you go. Small magnetic clips can also help to keep all your cabin items organized.
18. Heading home after your cruise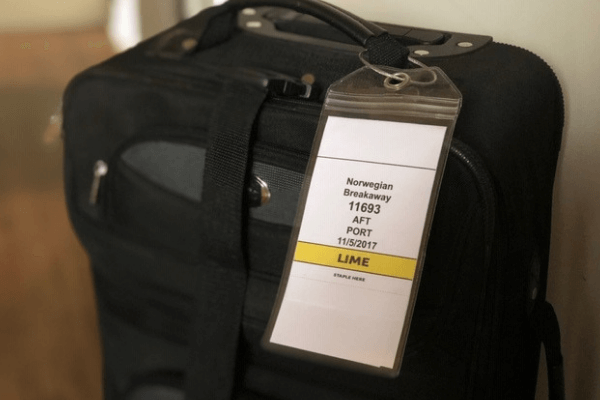 You're all done! Hopefully it's been a great cruise vacation and you've got dreams of future cruises in your head.
Getting to the airport
Most people get to the airport by taking a cab or by purchasing transfers with the cruise line. You can do this before your cruise with the cruise line or with help from your travel agent. You can often also add these on during your cruise at the guest services desk, but do verify.
Getting your car from cruise parking
Usually you're ship will return to the same pier as when you departed on your cruise, and you'll be able to get your car, load it up with your luggage and pay as your leave the cruise port.
In the rare case that your ship comes back to a different pier, if it's not close walking distance, you'll have a shuttle to bring you over to the original parking lot. This happened to us once a few years ago.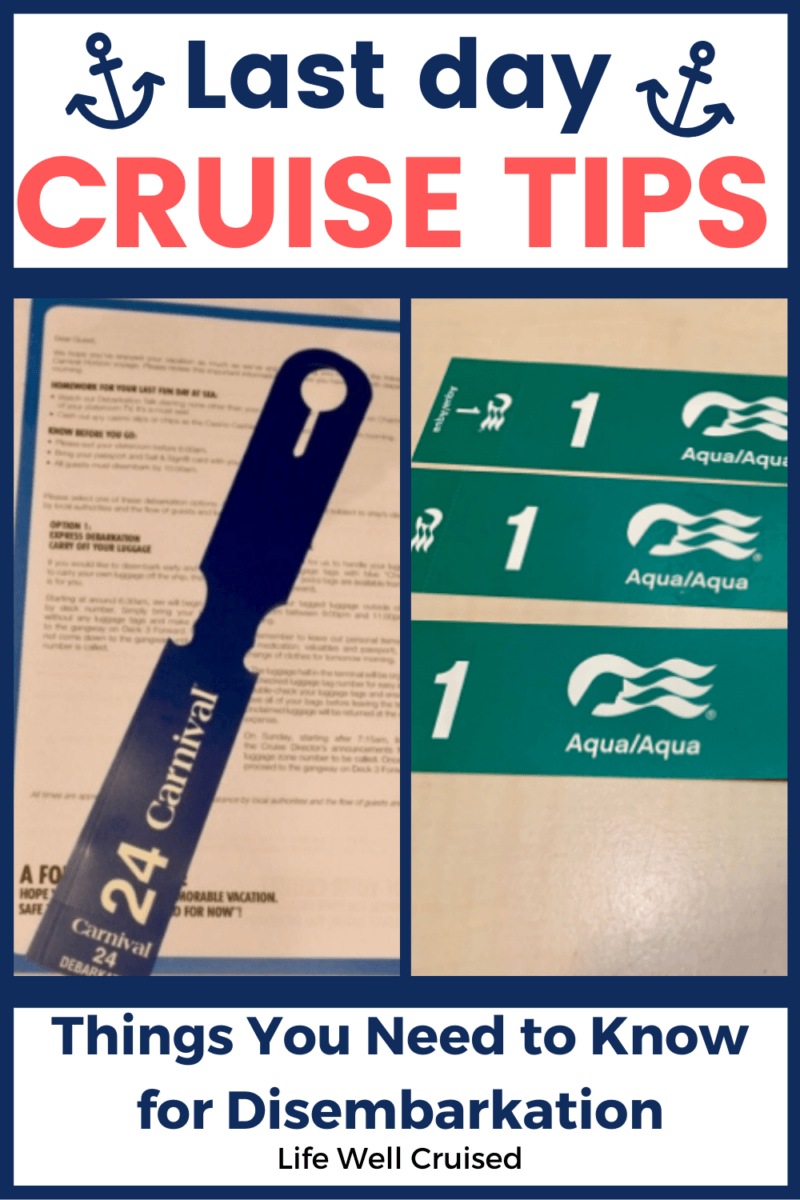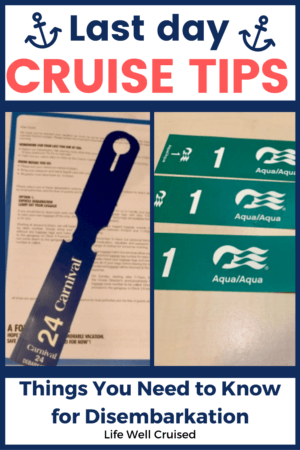 19. What to do if you have a late flight
If you have a late flight, you've got options. Consider booking a cruise excursion tour on the last day of your cruise.
You can store your bags in the luggage compartment of the coach bus, and you won't have to sit around in the airport. Since the excursion included transportation to the airport, this can also be a good value.
The Pros and Cons of Self-Disembarkation
Here's a quick explanation of the advantages and disadvantages self-embarkation, so you can know if this is the right thing for you and your party, at the end of your cruise.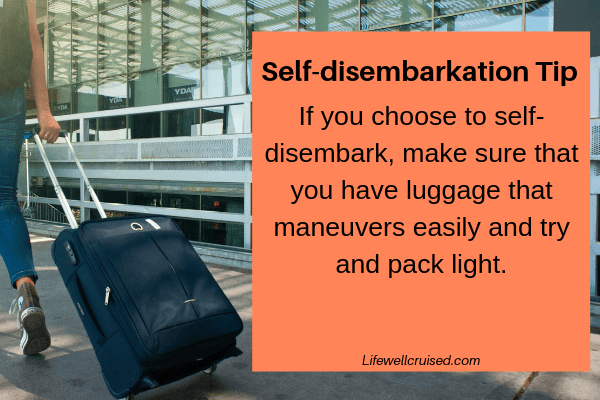 20. Benefits if Self-Disembarkation
*Earliest to get off the ship
*No need to put luggage out on the last night of your cruise
*Leaving the cruise port as early as possible
21. Disadvantages of Self-Disembarkation
*You will not receive any help with your luggage
*You may need to carry it down several flights of stairs as elevators may be full
*You need to be up very early to vacate your cabin and get off the ship
This is only a good option for your party, if everyone is able bodied and can handle the luggage. If you need assistance, or happen to have a lot of luggage, this isn't for you.
We've done both and there isn't a right or wrong way to disembark. The choice will be yours, and you can decide what works best once on the cruise ship.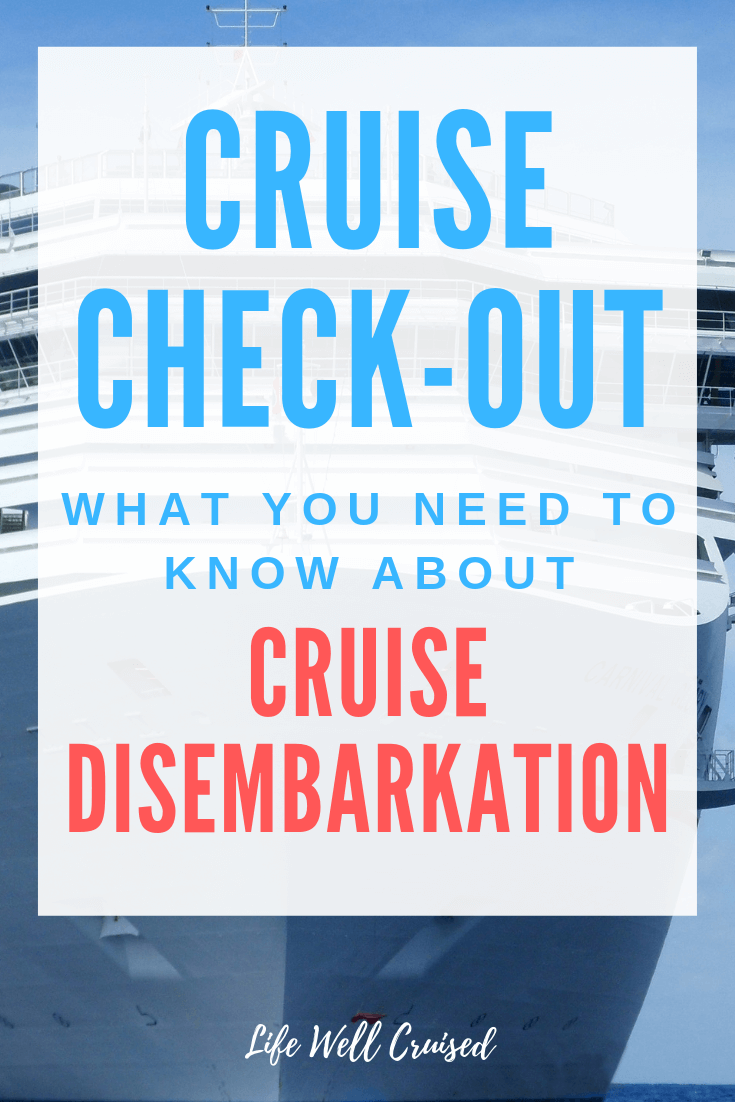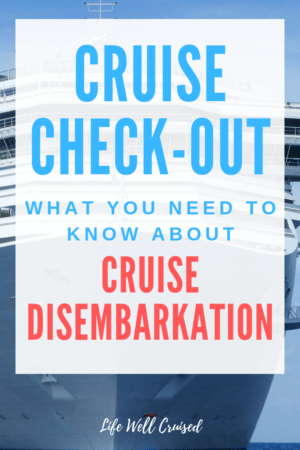 Recap: 21 cruise disembarkation tips you need to know
Cruising is so much fun, that it's hard to think about the last day of your cruise and debarking from your cruise! I hope these tips have been helpful and in giving you the information you need for when you are getting off of your cruise ship for the last time.
If you've cruised before, do you prefer regular or self-disembarkation? What advice do you have for future cruisers? Please let me know in the comments below.
Happy Cruising!
Ilana xoxo
If you've found this helpful, don't keep it to yourself ;-)! Please share it on Facebook or save it for later on Pinterest (share buttons at the top of the post). Thank you!
Recommended posts:
15 Cruise Embarkation Day Tips (for a great start of your cruise)
21 Essential Things to Pack in Your Cruise Carry-On
30 Cruise Cabin Hacks (to keep your cabin organized)
Let's connect:
Follow me on Facebook at Life Well Cruised
Follow me on Pinterest at Life Well Cruised
Follow me on Instagram at Life Well Cruised