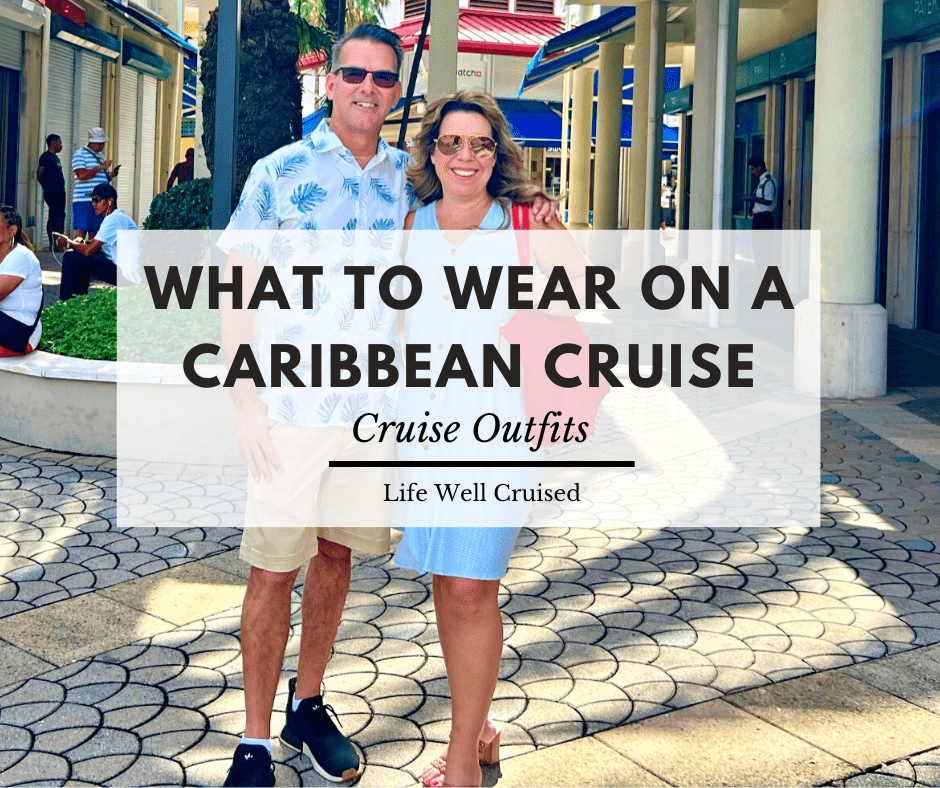 Are you wondering what to wear on a Caribbean cruise? You're in luck. I just back from a relaxing and fun cruise and I have a lot of tropical cruise outfits to share.
Since we cruise a lot, I build on my cruise wardrobe, and get a few new dresses, bathing suits, shoes or handbags as I need them. The weather for our 7 day November Caribbean cruise was perfect, at about 80-85F each day.
We cruised on Holland America's Nieuw Statendam and brought outfits for the day, as well as 5 casual and 2 dressy evenings. I'll also share some photos of the clothing my husband wore on our cruise.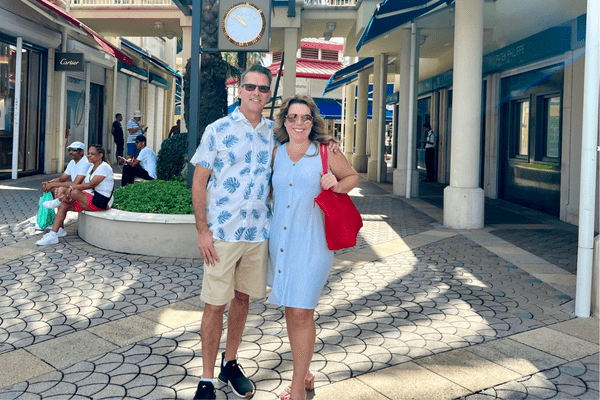 Hopefully, these cruise outfit photos can give you some ideas for what to wear on your Caribbean cruise. When possible, I include links to the items included.
This post contains affiliate links which means if you click and buy that I may make a commission, at no cost to you. Please see my disclosure policy for details.
As an Amazon Associate I earn from qualifying purchases.
Cruise Outfits I Wore on a Caribbean Cruise
Embarkation Day Cruise Outfit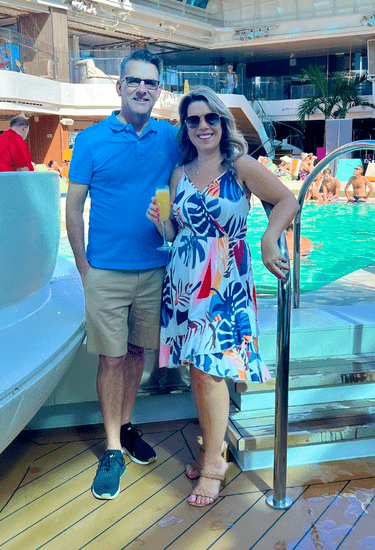 The weather was beautiful as we boarded the Nieuw Statendam in Port Everglades, Fort Lauderdale. I wore a light floral sundress for my embarkation day outfit. I also rewore this dress later on during the week on a casual night in the main dining room.
Recommended: Casual summer dress with ruffle bottom (check price & color & style options on Amazon here)
Daytime Cruise Wear
Our 7 day cruise itinerary included 4 days in ports, and 3 sea days. Since the weather was sunny and hot most of the time, I wore swimsuits with cover ups most days. I bought a new black swimsuit that I love!
Here are a few photos from our days on the cruise ship.
This easy sundress is comfortable, has pockets and can even be worn as a cover up over a bathing suit.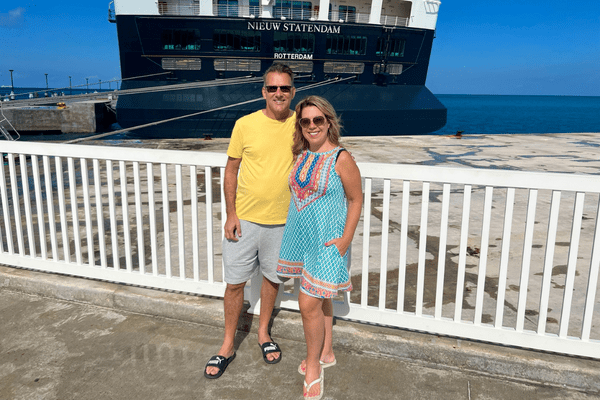 It's definitely one of the winners in my cruise wardrobe since I found it on Amazon a few months ago. It comes in a few patterns and colors as well.
Recommended: Boho sundress (check price & 10,000+ Amazon reviews here)
Sleeveless Shorts Romper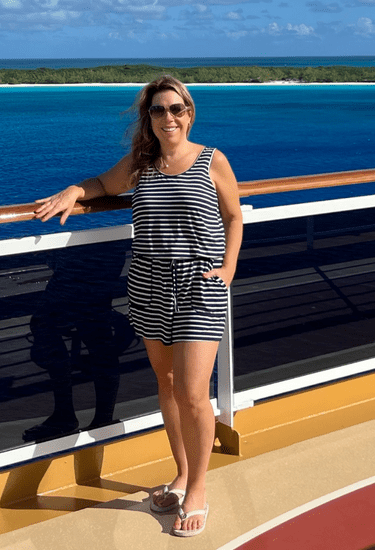 Recommended: Sleeveless shorts romper (available in stripes & solid colors)
Summer Dress or Cover Up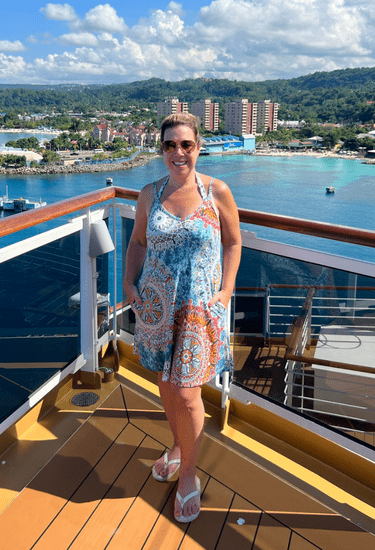 This light sundress can equally be worn during sea days on a cruise, as well as in ports. It's also a perfect wearable cover up for beach shore excursions.
Recommended: Sleeveless dress with pockets (see price & color options on Amazon here)
Sightseeing and Shopping in Port
While in Grand Cayman, we walked around and did some sightseeing and shopping near the cruise port. My husband wore a light tropical shirt, great for hot weather Caribbean cruises.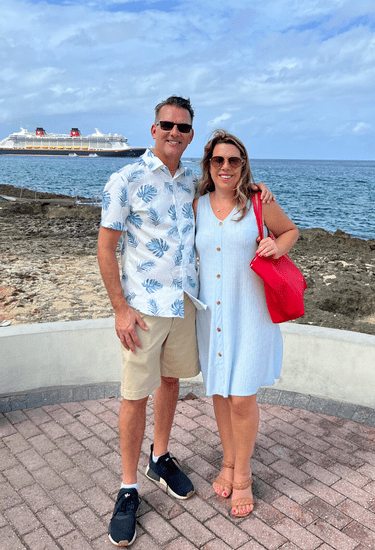 Evening Cruise Wear
The dress codes on our Holland America cruise were casual most nights, and dressy (formal or gala nights) for 2 nights.
Casual Evening Cruise Outfits
Here are some of the outfits my husband and I wore during the evening on our cruise. Dresses, tops and pants, and nice jeans are all perfect for evenings in the main dining room on most nights.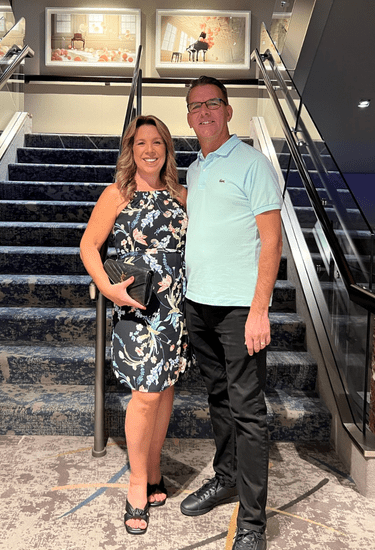 Related: Cruise Wear for Men: Men's Packing List for a Cruise
Sleeveless Casual Long Dress
I wore this long black sundress in the evening on our cruise. However, it could also be worn during the day. There are a variety of colors of this dress available as well.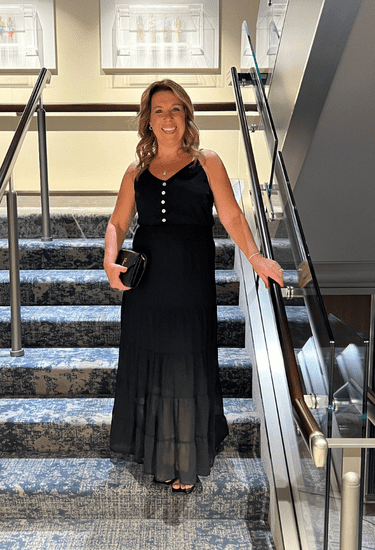 Here
Recommended: Sleeveless long sundress (check price & over 3000 Amazon reviews here)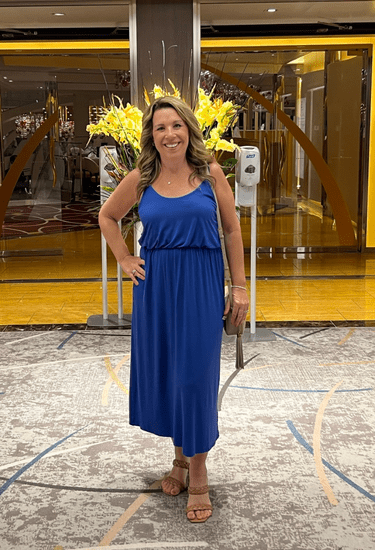 Short Sleeve Dress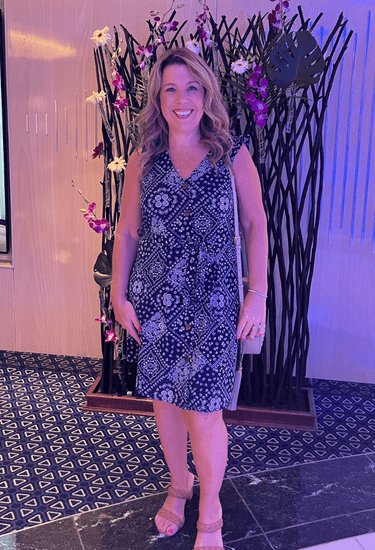 Formal Night – Gala Evening (dressy)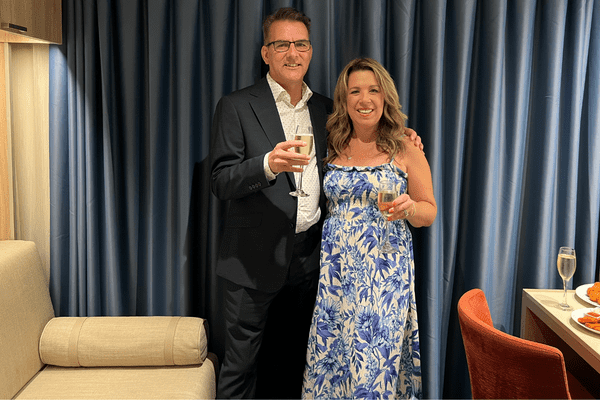 We dressed up for the first gala night, and had a wonderful dinner in the main dining room with new cruise friends.
We decided to go to Caneletto, an Italian specialty restaurant for the second formal night. We still dressed "nicely", but skipped the longer evening dress I brought and the suit for my husband.
Get The Ultimate Cruise Planner
Regular price: $27 Now just $17!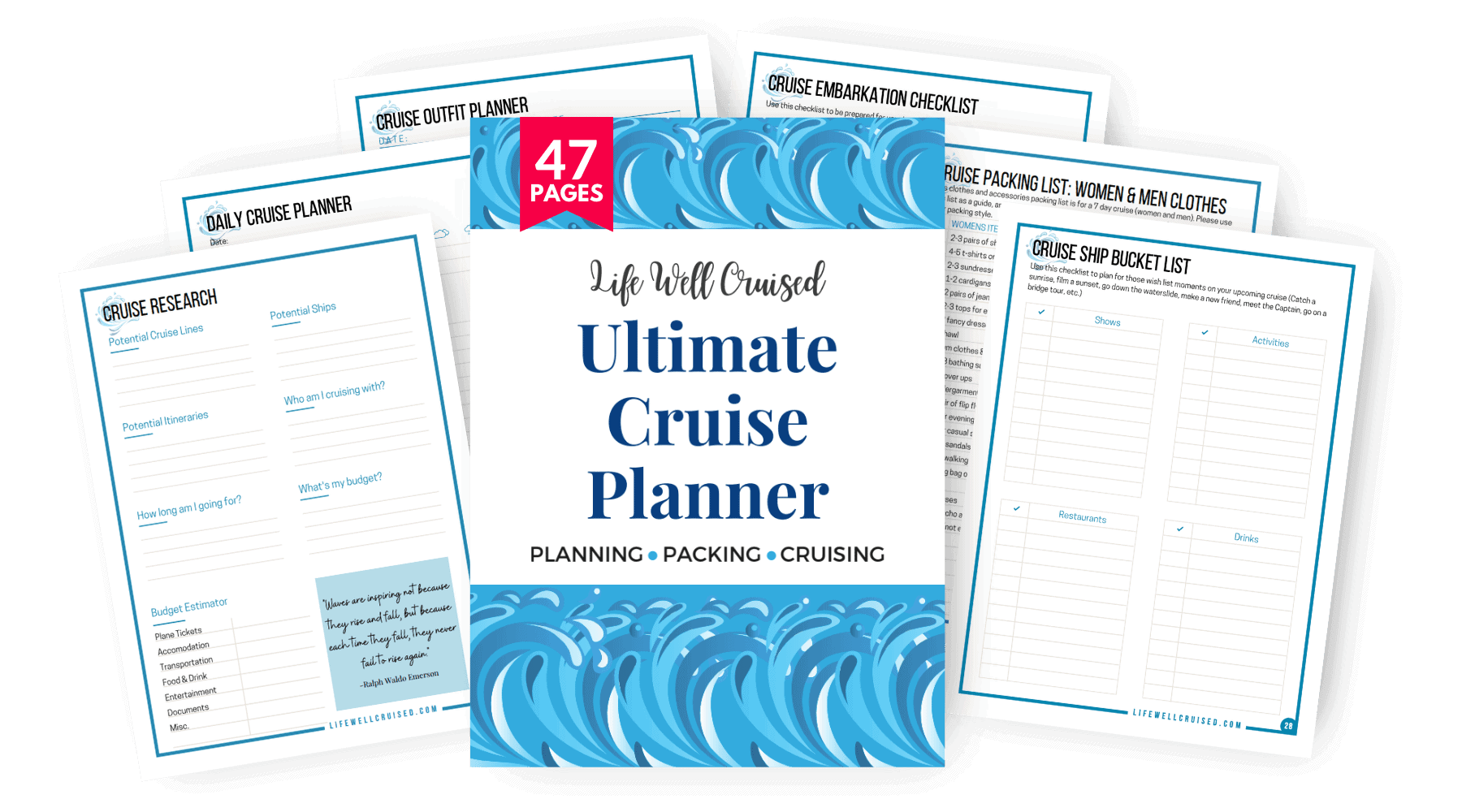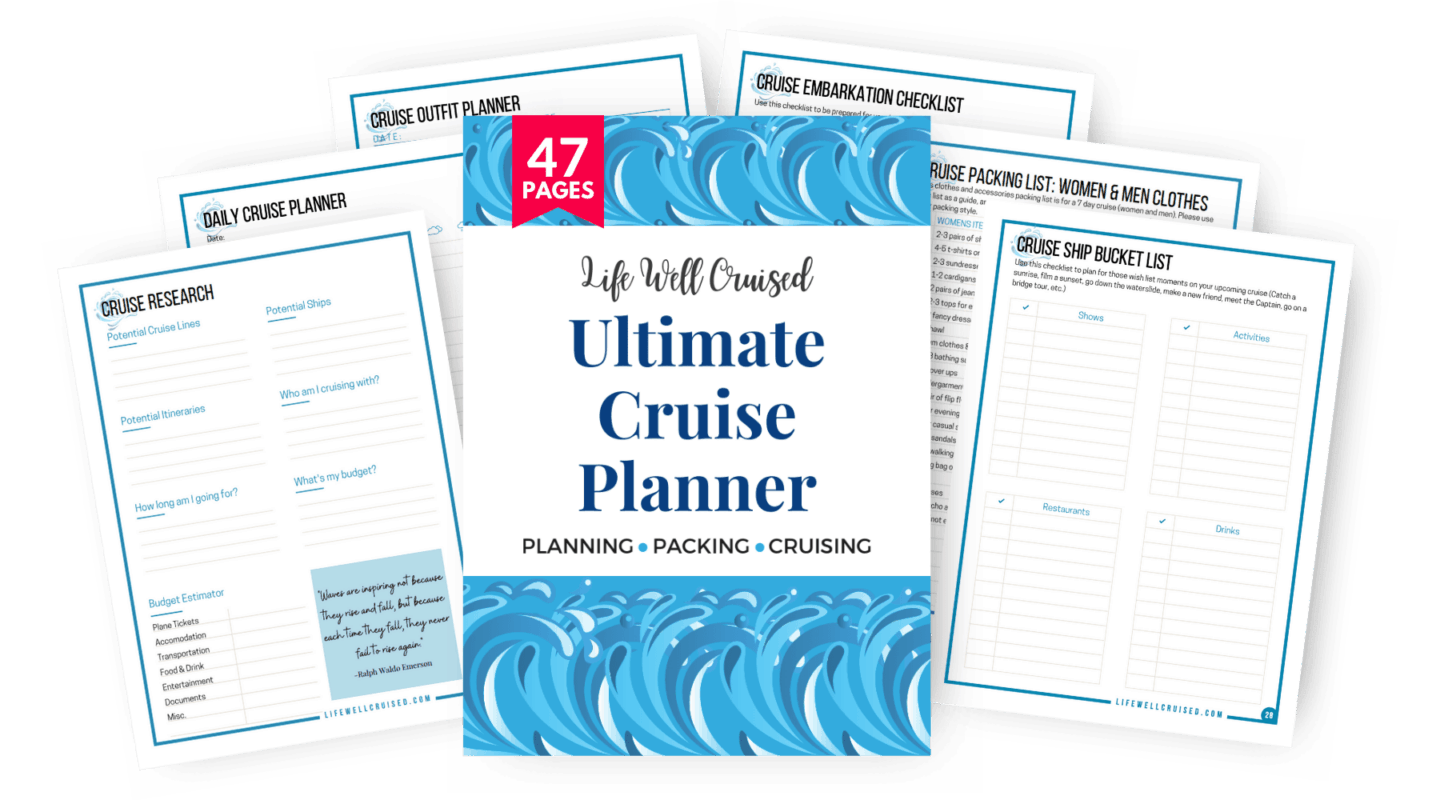 Bathing Suits and Cover Ups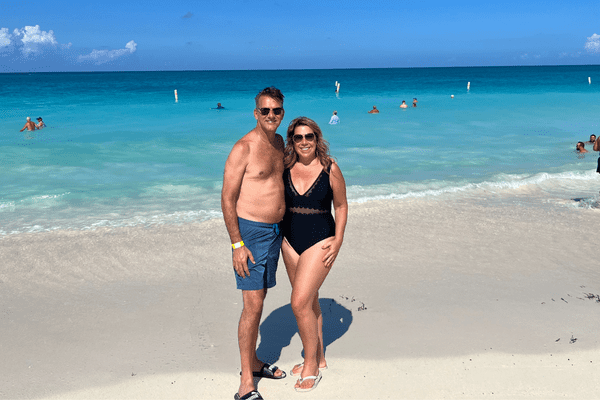 Swimsuits and Cover Ups
I bought a new black one piece bathing suit for this cruise and love the mesh design!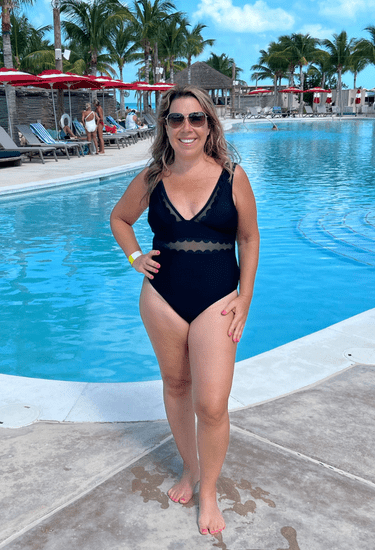 Recommended: Black bathing suit (check price & reviews on Amazon here)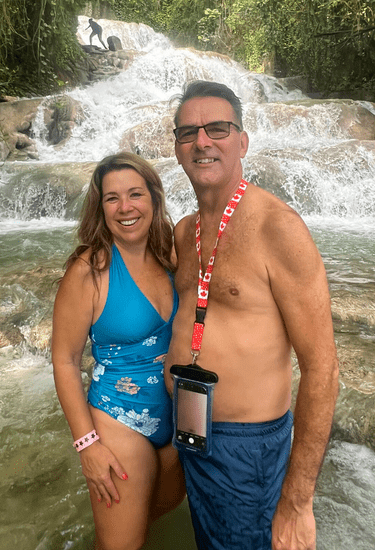 Recommended: Halter top one piece bathing suit (different colors available)
Accessories for a Cruise (totes, handbags & shoes)
Lacoste Tote Bag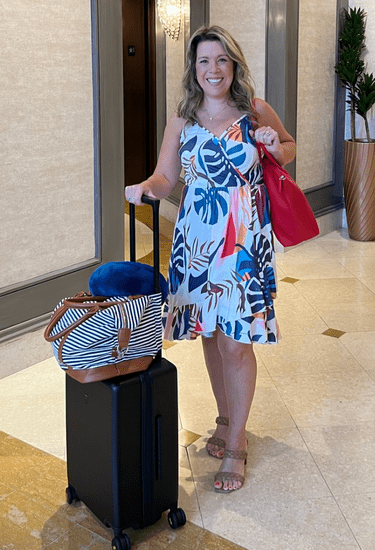 This tote bag is perfect to bring as a personal bag for your flight over to your cruise, as well as to use as a handbag when in cruise ports of call. It's a nice size and has a zipper, which is safer that carrying an open tote bag.
I also like this Lacoste tote bag as the material is sturdy and washable, which is great for traveling!
Lacoste Tote Bag
Recommended: Lacoste tote bag (several colors, check reviews on Amazon)
Nautical Stripe Carry-on Bag
Recommended: Nautical carry on bag( over 3000 5* Amazon reviews)
Hard Side Carry-On Luggage
We flew with a Level 8 hard side carry on piece of luggage, and checked 24 inch luggage.
Recommended: Level 8 luggage (Level 8 website Black Friday sale)
Reebok Classics
A pair of cute and comfortable sneakers is a cruise essential! I love these Reebok Classics. I actually purchased a new pair after ruining mine in the Bay of Fundy on my Canada New England cruise.
Recommended: Ladies Reebok Classics (check price & 7000+ 4.5* reviews on Amazon)
Tan Sandals
These tan braided sandals are quite comfortable and can be worn during the day and evening. The heel isn't too high, and the neutral color makes this a great versatile shoe to bring on a cruise.
Recommended: Braided sandals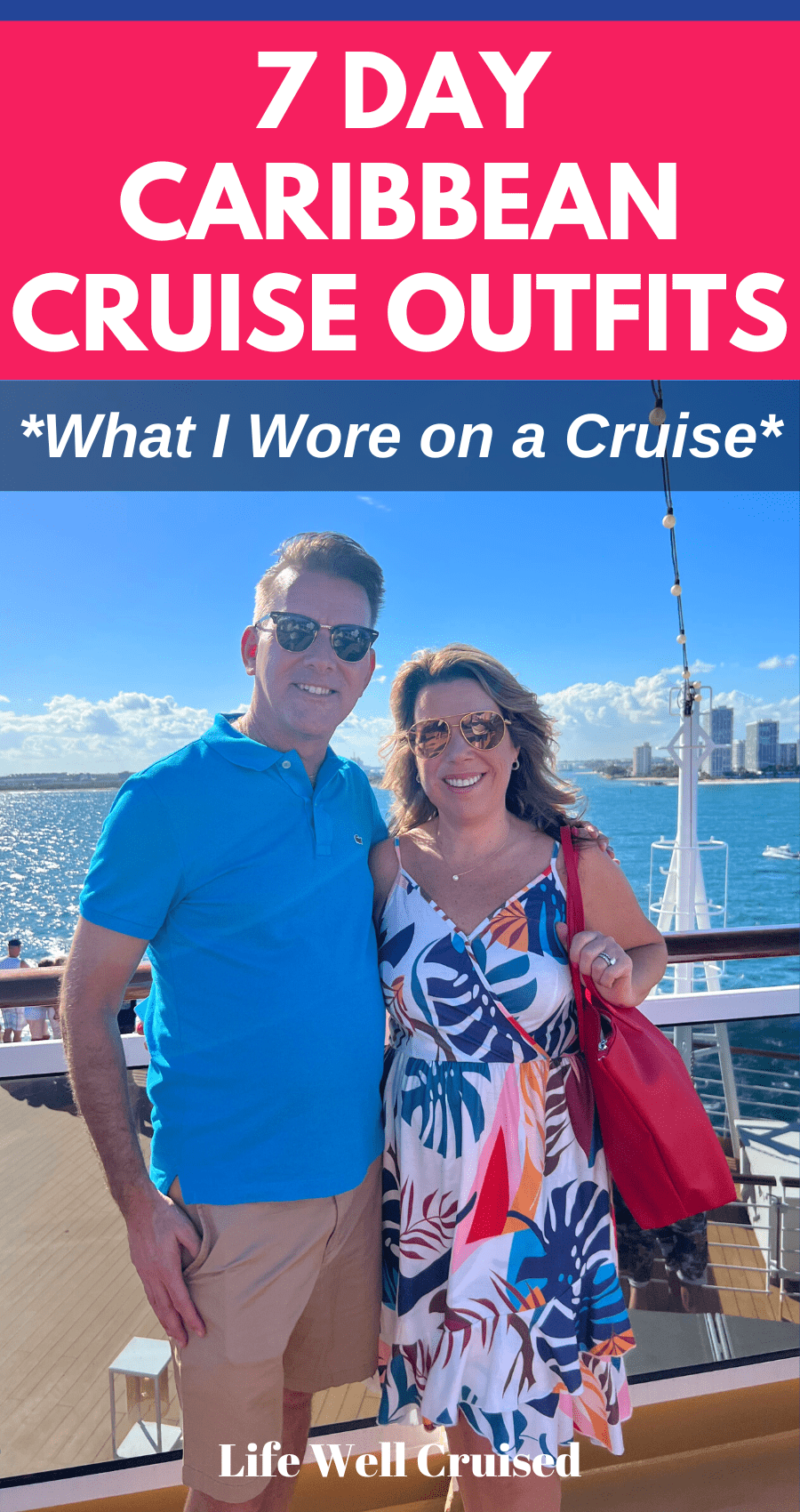 How Many Outfits Do You Need for a 7 Day Cruise?
As a rule of thumb, it's a good idea to plan for 1 daytime outfit and one evening outfit per day. However, you can mix and match wardrobe pieces and rewear the same dress, shirt or pants later in the week. Looking at your cruise itinerary, potential excursions and activities will help you to plan your cruise wardrobe.
Remember to pack 2-3 bathing suits, to have a rotation if one is wet. Packing 1-2 swimsuit cover ups for sea days and beach days will come in handy.
Get The Ultimate Cruise Planner
Regular price: $27 Now just $17!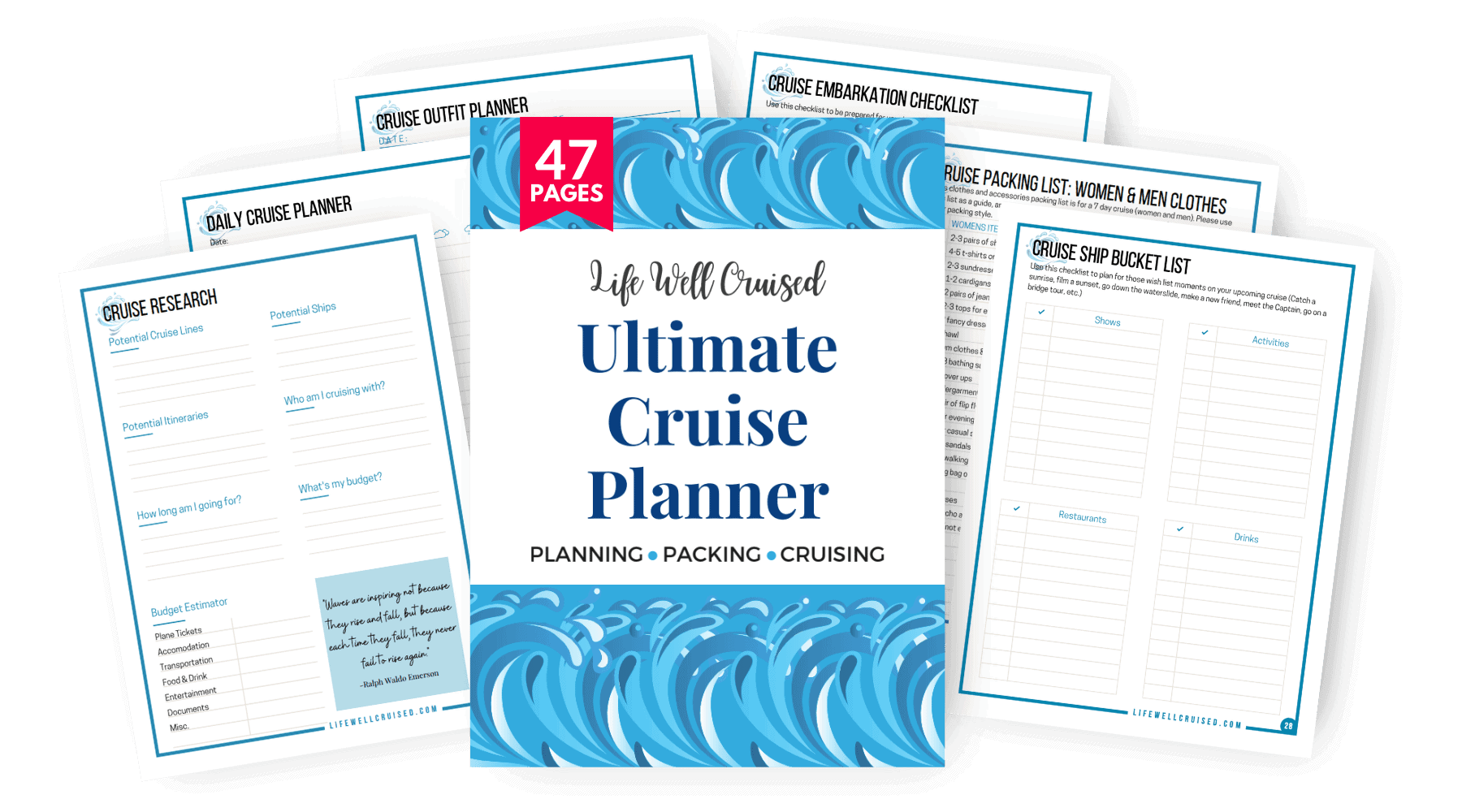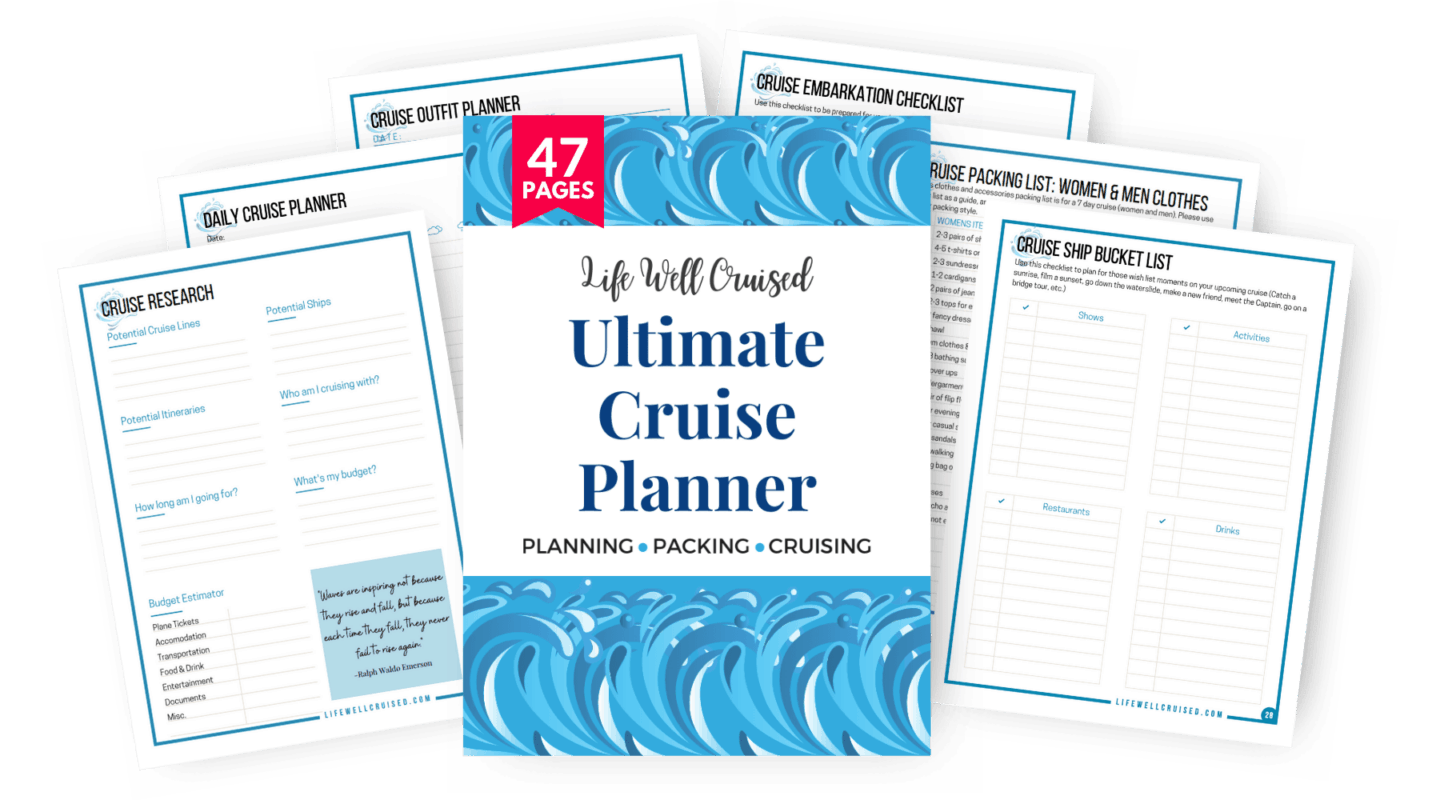 What Else Should You Bring on a Caribbean Cruise?
Are you wondering what else to pack for a Caribbean cruise? Check out these posts:
Video: What to Wear & Pack for a Caribbean Cruise
Final Thoughts on What to Wear on a Caribbean Cruise (cruise outfits)
One of my favorite cruise itineraries is a Caribbean cruise, in part because the cruise wear is easy to wear! From days on the cruise ship and in port, to dinners in the dining room or restaurants, resort style cruise outfits are perfect.
I hope this post and the photos gave you some ideas of what to wear and how to pack for your upcoming cruise.
Happy Cruising!
Ilana
If you enjoyed this post, please don't keep it to yourself ;-). Please feel free to share on social media (ie. facebook or Pinterest). Share buttons at the top. Thanks so much!