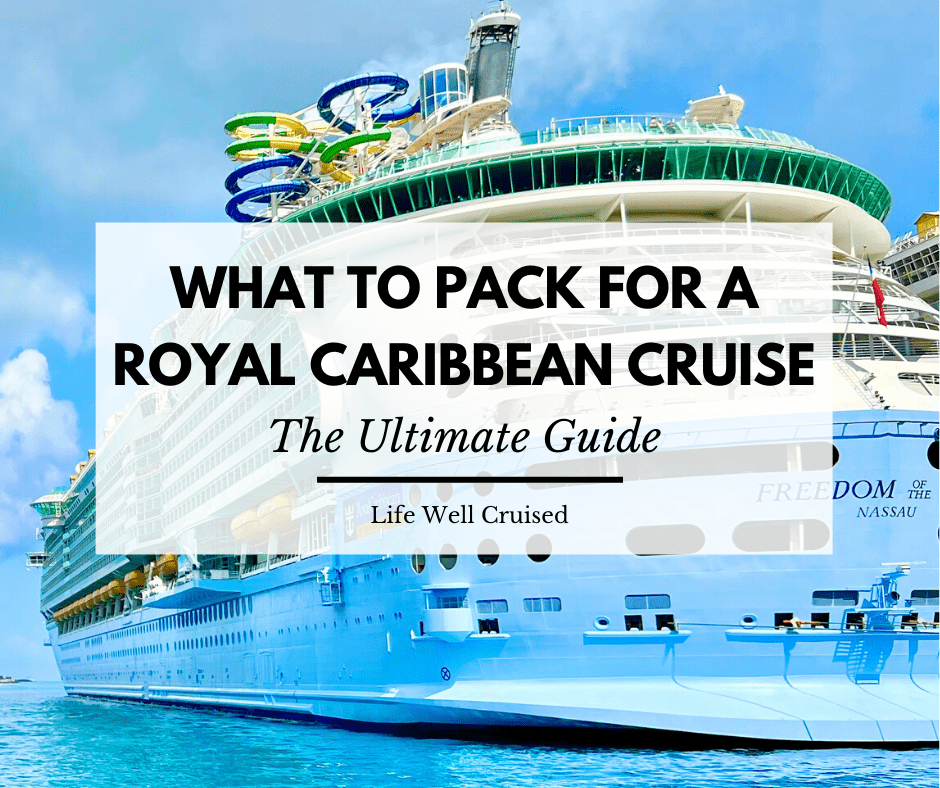 Are you going on a Royal Caribbean cruise and wondering what to pack? You're in luck! We've recently returned from an awesome 7 day cruise on Royal Caribbean's Oasis of the Seas, and I have a lot of cruise packing tips to share.
In this post I share the most important things to pack for your Royal Caribbean cruise, from must-have travel documents, clothing and cruise essentials.
This post contains affiliate links which means if you click and buy that I may make a commission, at no cost to you. Please see my disclosure policy for details.
As an Amazon Associate I earn from qualifying purchases.
Royal Caribbean Cruise Packing List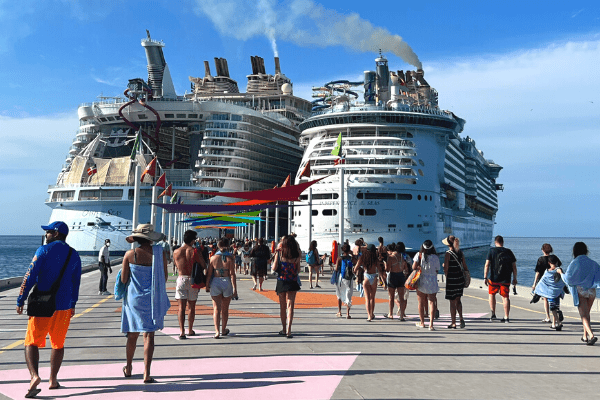 Packing for a Royal Caribbean cruise is very similar to packing for other cruise lines. However, there are some specific items that you'll want to make sure you bring on your cruise vacation.
This includes cruise wear based on Royal Caribbean's dress codes, itinerary and weather. As well, I've included some useful cruise essentials that will be helpful for sea days on the cruise ship and for shore excursions.
Cruise Packing Lists
This Royal Caribbean cruise packing list is geared mainly towards warm weather cruises. Here are specific cruise packing lists for different cruise itineraries (including clothing packing lists):
1. Government ID &/or Passports
The most important things to pack for your Royal Caribbean cruise are your government ID (driver's license) and passport if applicable. Make sure to never pack it in your checked luggage. Unfortunately, if you don't have it with you, you'll be denied boarding.
It's a good idea to use a passport wallet holder. I have 2 great options.
This one is so practical when travelling with 2-4 people, and will ensure that you don't make the mistake of packing your passport in your luggage.
Recommended: Passport travel wallet (check price & reviews on Amazon)
Passport Holder
This passport holder is great for a single passport and includes slots for credit cards and cash.
Recommended: Single passport holder with wallet (RFID protected)
2. Travel Documents
Make sure to have your travel documents handy. This includes cruise or airline boarding passes, as well as shuttles or shore excursion reservations. It's a good idea to print these out, however your Set Sail pass will be on your Royal Caribbean app as well.
3. Proof of Vaccine & Test Results
These days, most cruise lines are sailing with a requirement for all guests to be vaccinated, with few exceptions. You'll also need to provide a negative Covid 19 test result when boarding.
Since the health situation remains fluid, make sure to check with your travel agent as well as Royal Caribbean's cruise line's website for your particular cruise booking.
4. Royal Caribbean Luggage Tag Holders
Don't forget to print out your Royal Caribbean cruise ship luggage tags and attach them to your luggage on embarkation day. Since they are made of paper, I like to buy and use these Royal Caribbean cruise luggage tag holders which are sturdy and convenient.
Recommended: Royal Caribbean Luggage Tag Holders (on Amazon)
5. Credit Card
It's a good idea to bring at least one credit card on a cruise vacation. On a recent cruise to the Bahamas, a resort excursion we booked was not taking any cash and payment by credit card was required.
6. Cash (small bills)
Bring along some $1, $5 and $10 dollar bills on your cruise. I like to have some small bills handy from the time we get to the cruise terminal at embarkation to tip the porters, as well as to use for tipping for room service once on board.
7. Cruise Outfits
Royal Caribbean cruises are pretty casual these days. Plan on bringing shorts and t-shirts, sundresses or other casual resort wear to wear during the day. Don't forget to pack a few bathing suits and cover ups to enjoy the many pools and hot tubs!
The evening dress code for the main dining room is casual, smart casual and formal depending on the night. Jeans or nice pants and a polo style shirt work nicely for men most nights. A dress or jeans and a casual top for ladies is perfect as well.
Related:
8. Formal Wear (optional)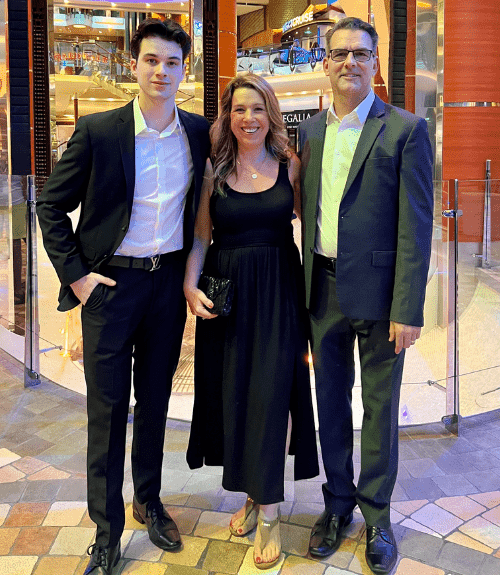 Although there are formal nights, on Royal Caribbean's website they explain that this is a "dress your best". For evening wear, you can definitely pack a suit or a cocktail dress, but a nice outfit will do as well if you aren't in the mood to dress overly fancy.
Related: What to Wear on a Royal Caribbean Cruise
9. Theme Outfits
Royal Caribbean cruises will often have fun theme nights with optional dress up. On a recent cruise, we had a 70's theme party in the Royal Promenade and several of the guests dressed up for the occasion.
Check recent Cruise Compasses or cruise line Facebook groups to keep an eye on what activities may be happening on your cruise.
10. Carry-on Bag
While you'll check your large suitcases at the cruise terminal, you'll want to have a cruise embarkation day bag for your first day essentials. Carry-on luggage or a weekender bag is perfect to keep a change of clothes, a bathing suit, medications and any valuables.
Recommended: Nautical stripe weekender bag (see 2 types available on Amazon)
11. Packing Cubes
Packing cubes are amazing to use as you pack for your Royal Caribbean cruise. There are several sets to choose from, however I like a mix of small, medium and large packing cubes.
Recommended: Packing cubes (check price & 16,000+ Amazon reviews)
12. Lanyards
Cruise lanyards are some of the best cruise accessories to keep your Royal Caribbean Seapass (cruise ship card). We used these and didn't lose our cruise cards, for once!
Recommended: Cruise lanyards (Amazon)
Get The Ultimate Cruise Planner
Regular price: $27 Now just $17!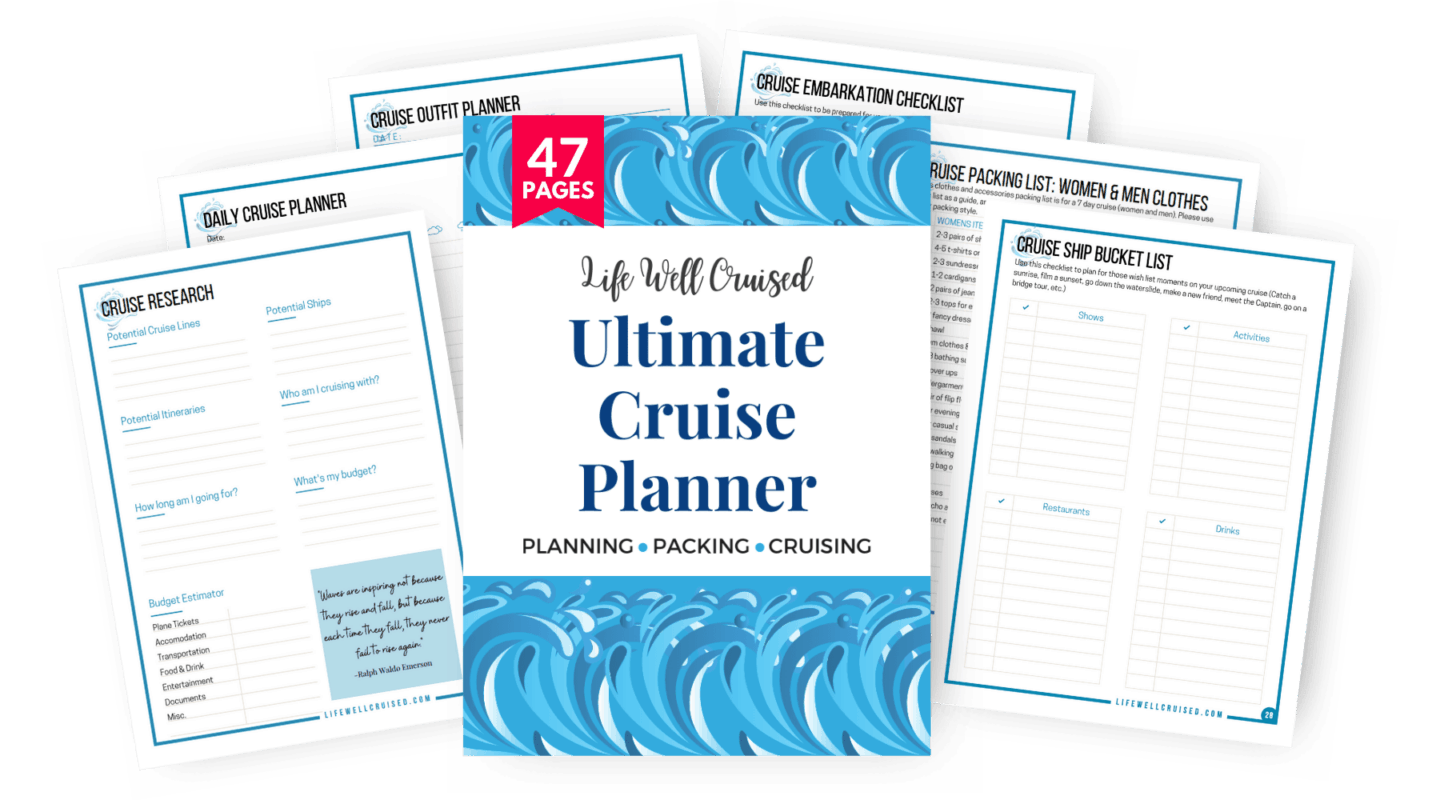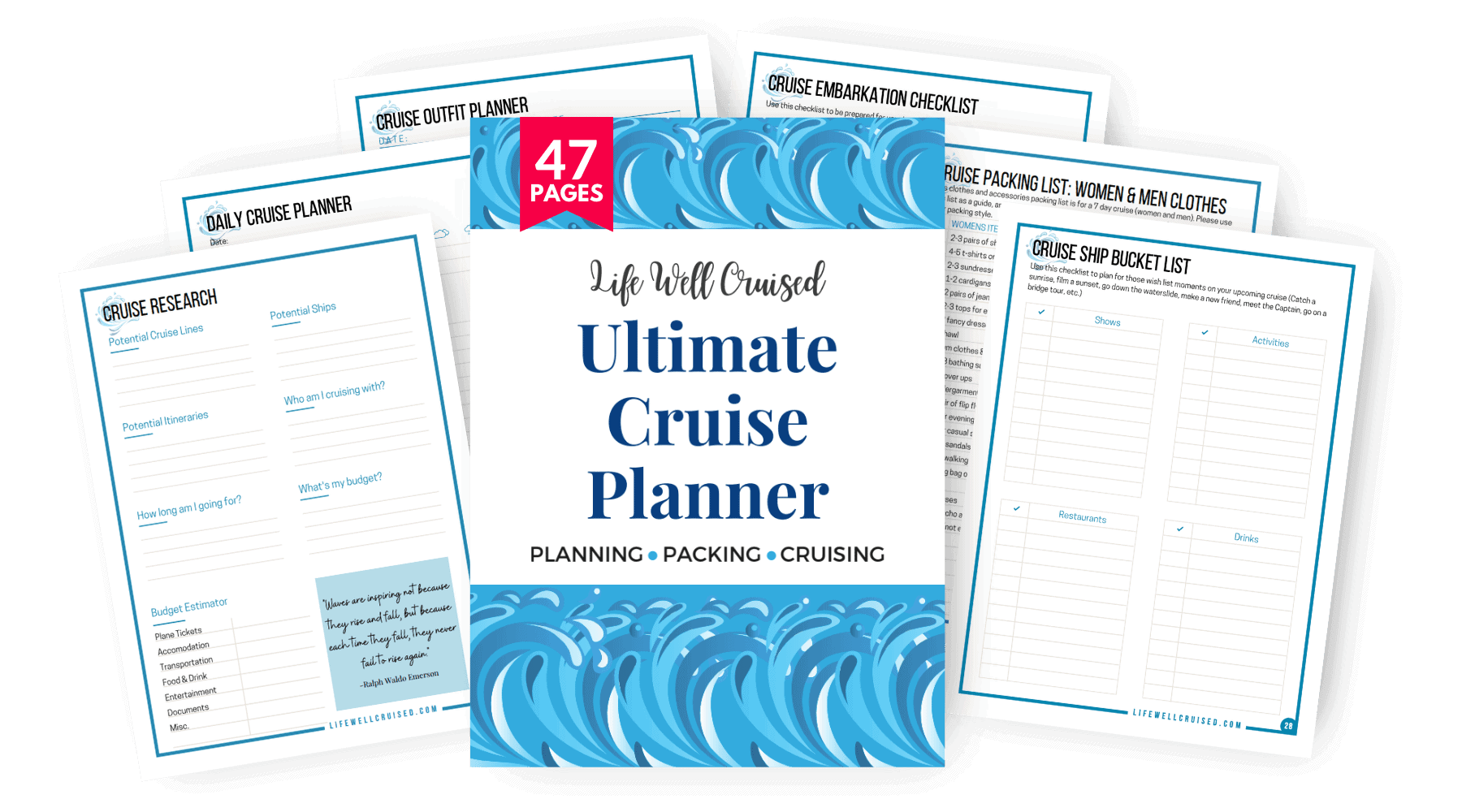 13. Wine
Royal Caribbean allows you to bring 1 bottle of wine per person. However, expect a corkage fee if you drink it outside of your cabin.
If you buy Royal Caribbean's premium beverage package, you can leave this off your packing list 😉
14. Reusable Water Bottle
Many cruisers enjoy having a reusable water bottle to refill on the cruise ship and take off the cruise ship on port days.
Recommended: Reusable water bottle (2 sizes available)
15. Toiletries
In addition to your cruise outfits, pack travel sized toiletries. This includes basic items such toothbrushes, toothpaste, shaving cream etc. You may also want to pack perfume, moisturizers and other personal items.
Related: What Toiletries to Pack for a Cruise (packing list)
16. Medication
Your cruise packing list should include both over the counter and prescription medication. It's also a good idea to pack 2 extra weeks of medication as a precaution.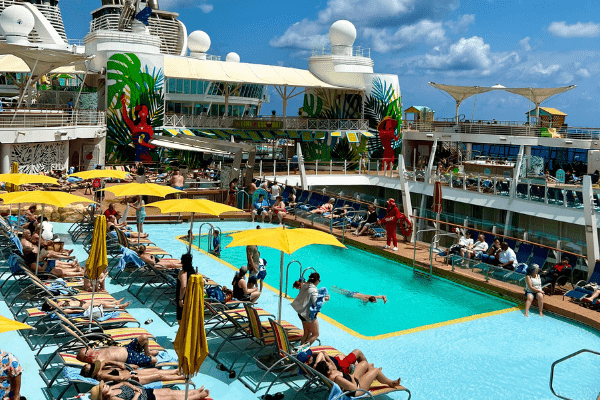 17. Sunscreen
If you're going on a Royal Caribbean Bahamas cruise or Caribbean cruise (or any hot and sunny destination), packing sunscreen is a must. It's best to get a reef safe sunscreen, as many islands don't allow any other kinds. This is especially important if you have beach or snorkeling excursions planned.
Recommended: Reef safe sunscreen (verify price & check Amazon reviews here)
18. Aloe Vera
We've needed to use Aloe Vera on our cruises more times that I can count! This aloe vera gel is truly the best we've ever used.
Don't forget to to pack an after sun lotion aloe vera gel as well as a lip balm with SPF.
Recommended: Aloe Vera gel (non-sticky – read over 50,000 Amazon reviews)
19. Lip Balm with SPF
Lips can burn and get swollen in the hot sun! These lip balms with SPF are perfect for all family members.
Recommended: SunBum Lip Balm SPF 30 (see 15,000+ great reviews here)
20. Swimsuit
Pack at least 2-3 bathing suits, so that each has time to dry.
Ladies swimsuit
Recommended: One piece tummy control swimsuit (see price & Amazon reviews here)
Men's swimsuit
Recommended: Vintage 80's/90's men's swim trunk (see other styles here)
21. Swimsuit Cover Up
A pretty bathing suit cover up is a must-have cruise wear for a Caribbean or Bahamas cruise. You may want to bring a couple swimsuit cover ups for your cruise, to go with different swimsuits.
Recommended: Swimsuit cover up (see different colors on Amazon)
22. Flip Flops
Make sure to add flip flops or pool shoes to your cruise packing list! Comfortable slip resistant flip flops are the best and safest for your cruise vacation.
Recommended: Slip resistant flip flops (see price & Amazon reviews here)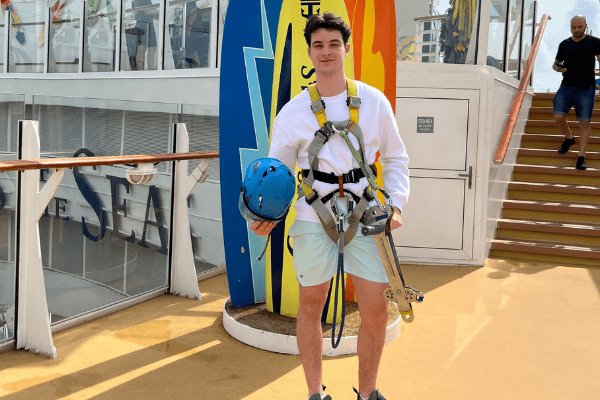 23. Closed Toe Shoes or Sneakers
Remember to pack comfortable walking shoes. Many of the activities on Royal Caribbean's largest cruise ships require closed toe shoes for safety. Sneakers or lightweight running shoes are just fine.
Recommended: Lightweight Cloudform running shoes (check price & color options here)
24. Socks
Something many cruisers forget to pack for a cruise is socks. Make sure to pack some sports socks and dress socks, depending what you will be wearing on your cruise.
25. Beach Bag for Excursions
Make sure to pack a good quality waterproof, zippered beach bag for shore excursions. This beach bag can hold all your towels, sunscreen, water bottles and everything else you may need for your day in port.
Recommended: Large zippered nautical beach bag (highly recommended)
26. Water Shoes
These lightweight water shoes are very comfortable and great for beach days at CocoCay or other destinations.
Recommended: Water shoes/Water socks (see different color choices on Amazon)
27. A Shawl or Pashmina
The cruise ship may be cool in the evening, so make sure to pack a light sweater, shawl or pashmina to cover your shoulders, esepcially if you're wearing a sleeveless top or dress.
Recommended: Pashmina shawl wrap (check price & amazon reviews here)
28. Cruise First Aid Kit
You can make your own travel first aid kit, or purchase a cruise first aid kit that's ready made and pre-filled with bandages and other items you may need for your cruise.
Recommended: Cruise first aid kit (check price & see over 50,000 excellent Amazon reviews)
Related: Cruise First Aid Kit Essentials You Need to Have
29. Motion Sickness Medication
A pro tip is to always pack some things to deal with possible motion sickness during your cruise.
Some items that can be very helpful are:
Related: How to Prevent Seasickness on a Cruise
30. Wrinkle Release Spray
Royal Caribbean cruise ships don't have a self service laundry room to iron your clothing. As well, irons and steamers are prohibited on a cruise.
Therefore, a great product to have is Downy Wrinkle Release spray to get wrinkles out of your cruise outfits.
Recommended: Downy Wrinkle Release (travel size)
Cruise Essentials
The following items are popular cruise essentials to bring on your cruise. Many can be used as cruise cabin hacks to add storage, while others can be used around the cruise ship and on days in the cruise port.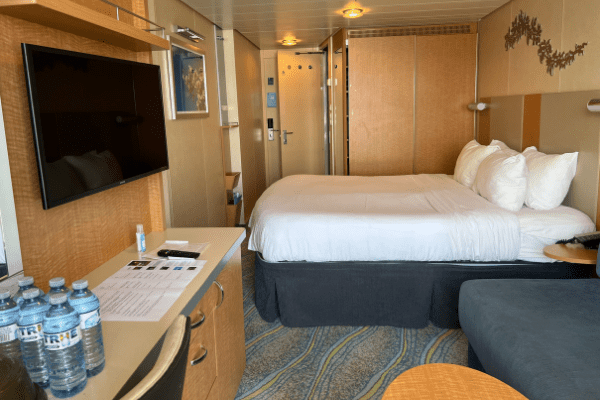 31. Power Strip (non-surge protected)
There aren't many electric or USB outlets in the cabins on Royal Caribbean cruise ships. It's a good idea to bring along a non-surge protected power bar, so you can always keep your phone and tablets charged during your cruise.
Recommended: Non-surge protected power bar (cruise approved – see 5000+ 5* amazon reviews)
32. Hanging "over the door" Organizer
Cruisers swear by the hanging organizer for toiletries and other essentials on a cruise. This can be a great way to keep your cruise cabin organized.
Recommended: Hanging cabin organizer (see Amazon link for price & details)
33. Magnet Hooks
We like to hang a few heavy duty magnet hooks on the cabin walls (they are metal). This way, we can hang our medallions, hats, bathing suits to dry and even backpacks and beach bags.
Recommended: Heavy duty magnet hooks (a best selling cruise essential)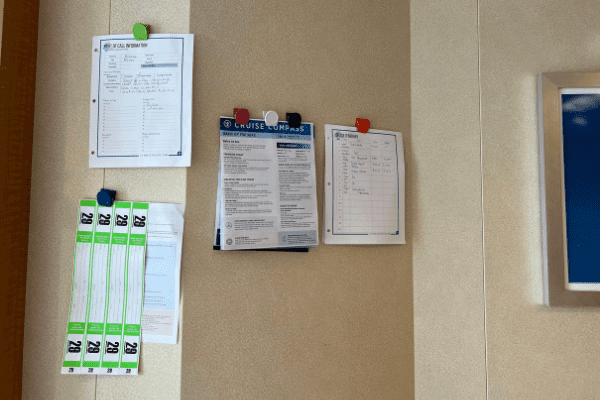 34. Magnet Clips
Magnet clips are great to organize papers like daily planners, disembarkation luggage tags and planner forms from the Life Well Cruised Ultimate Cruise Planner.
Recommended: Magnet clips
Get The Ultimate Cruise Planner
Regular price: $27 Now just $17!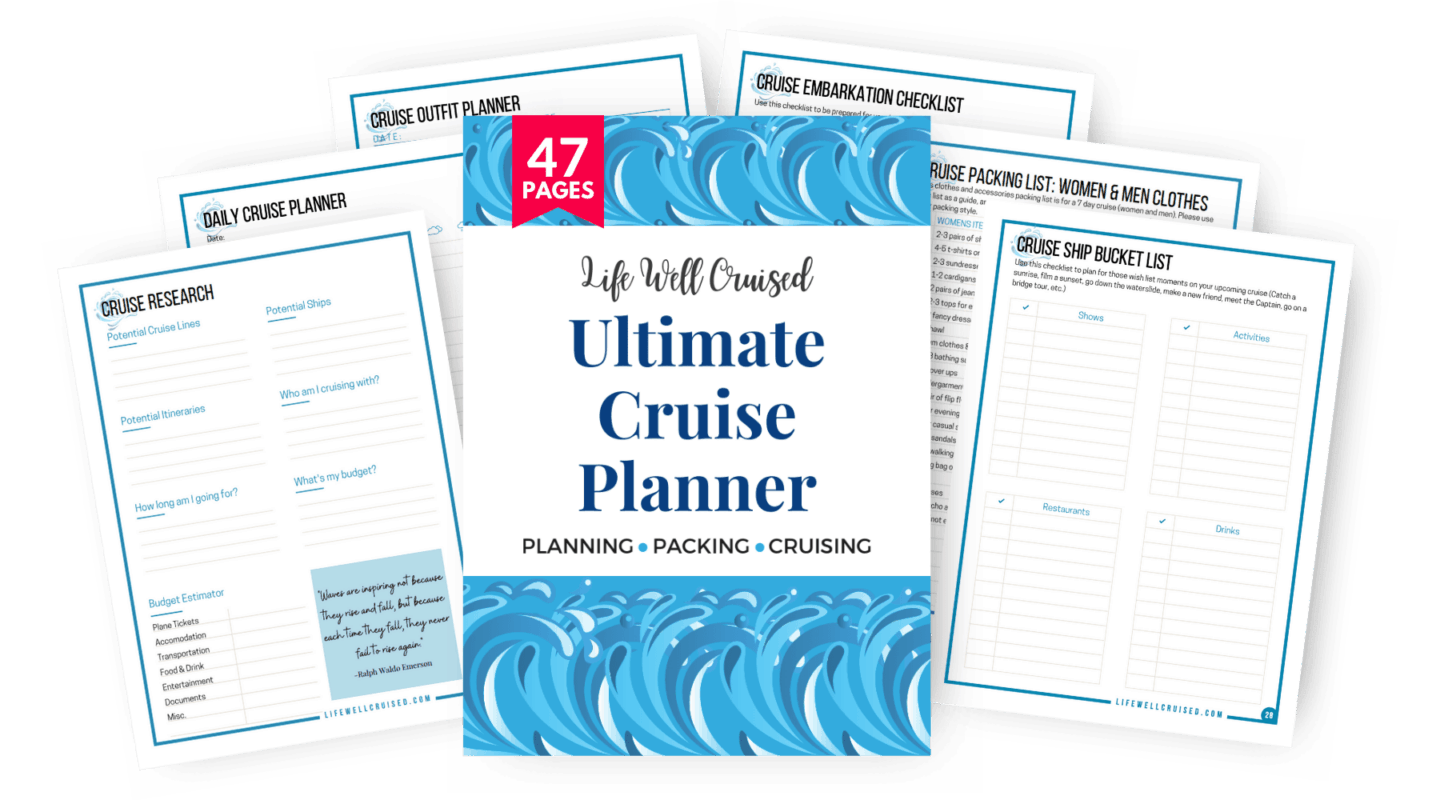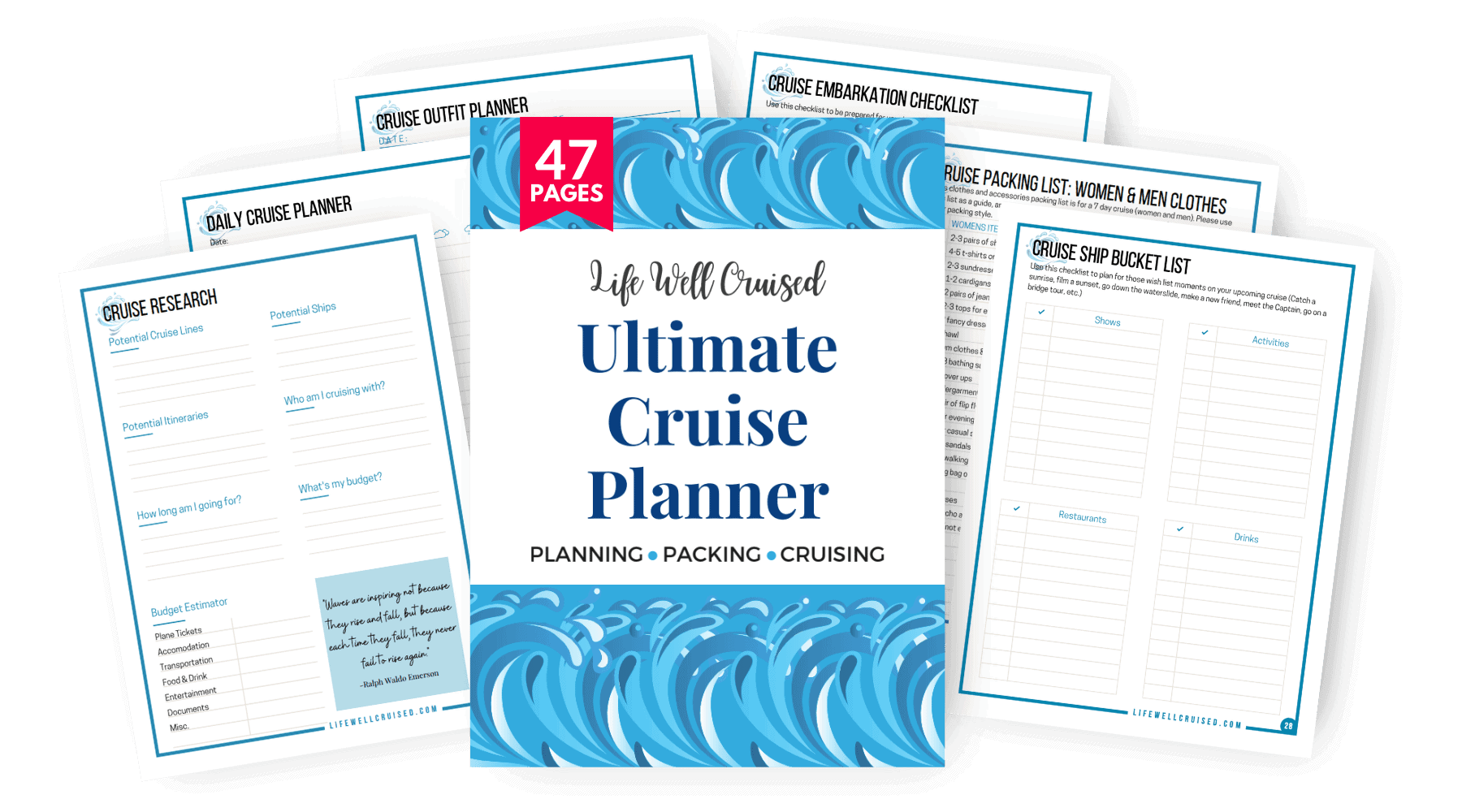 35. Hanging Toiletry Bag
This hanging toiletry bag is a must to keep small cruise cabin bathrooms organized!
Recommended: Hanging toiletry bag (see 5* Amazon reviews here)
36. Poo-Pourri Bathroom Spray
A bathroom spray is useful in compact cruise cabins for obvious reasons. Poo-pourri is a favorite "before you go" spray that works quite well.
Recommended: Poo-Pourri bathroom spray
37. Waterproof Phone Case
It's a good idea to bring a waterproof phone case on your cruise, for sea days by the pool as well as port days by the beach. This one includes the ability to use the touch screen as well.
Recommended: Waterproof Phone Case with cruise lanyard
38. Towel Clips
Towel clips are wonderful to use on cruise ship deck chairs, to keep your towel in place when there's an ocean breeze. It also makes it easier to recognize your chair!
Recommended: Cute towel clips (set of 2 pairs)
39. Tote Bag
It's a good idea to bring a cute tote bag to carry your sunscreen, sunglasses and even a towel around on your cruise ship or in port. This mesh tote shoulder bag one is a new favorite of mine, although I have the tan color.
Recommended: Mesh tote bag (see reviews & different colors on Amazon here)
40. Waterproof Dry Bag
This waterproof dry bag is perfect for cruise shore excursion days. This best-selling Amazon item comes in a several sizes and colors.
Recommended: Floating waterproof dry bag (verify price on Amazon)
Get The Ultimate Cruise Planner
Regular price: $27 Now just $17!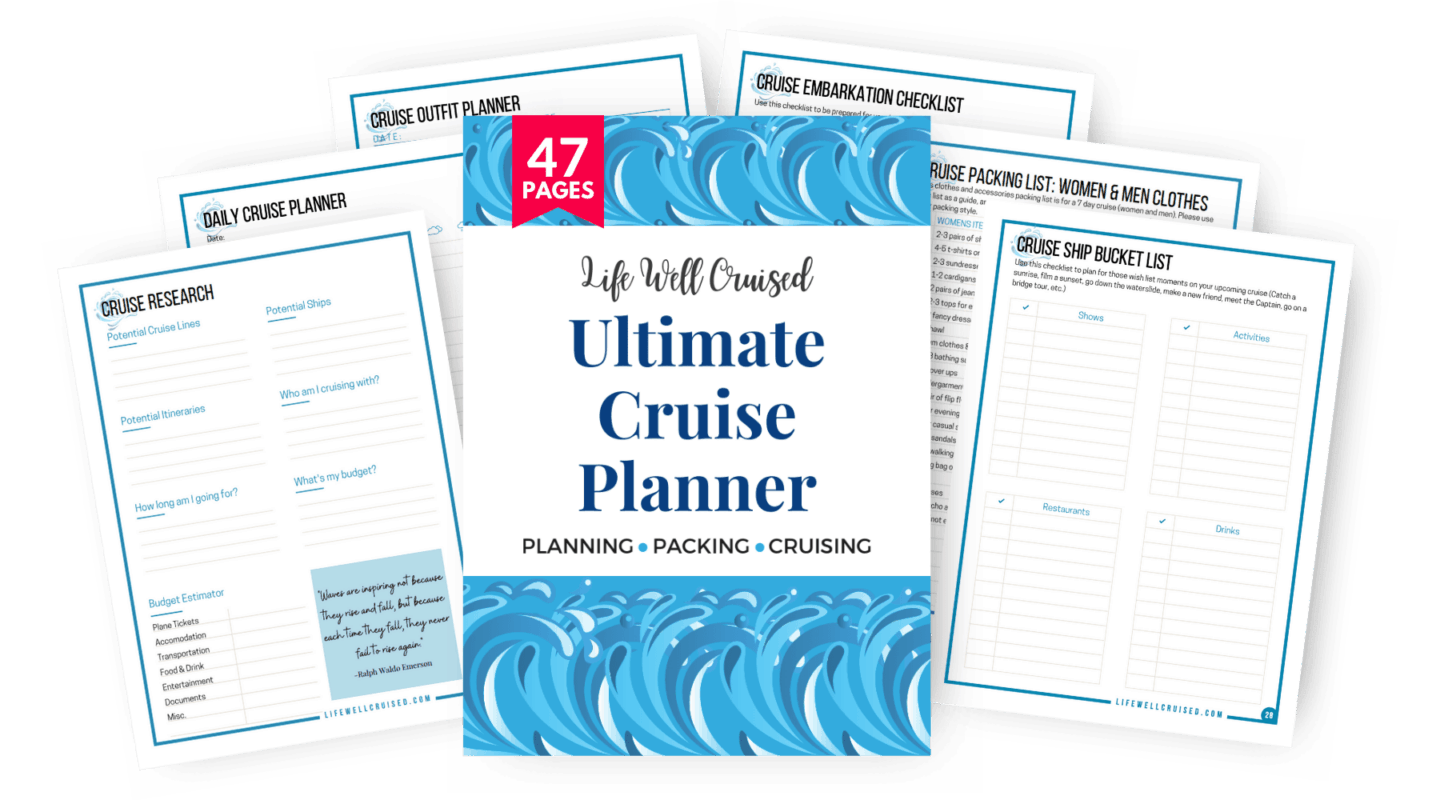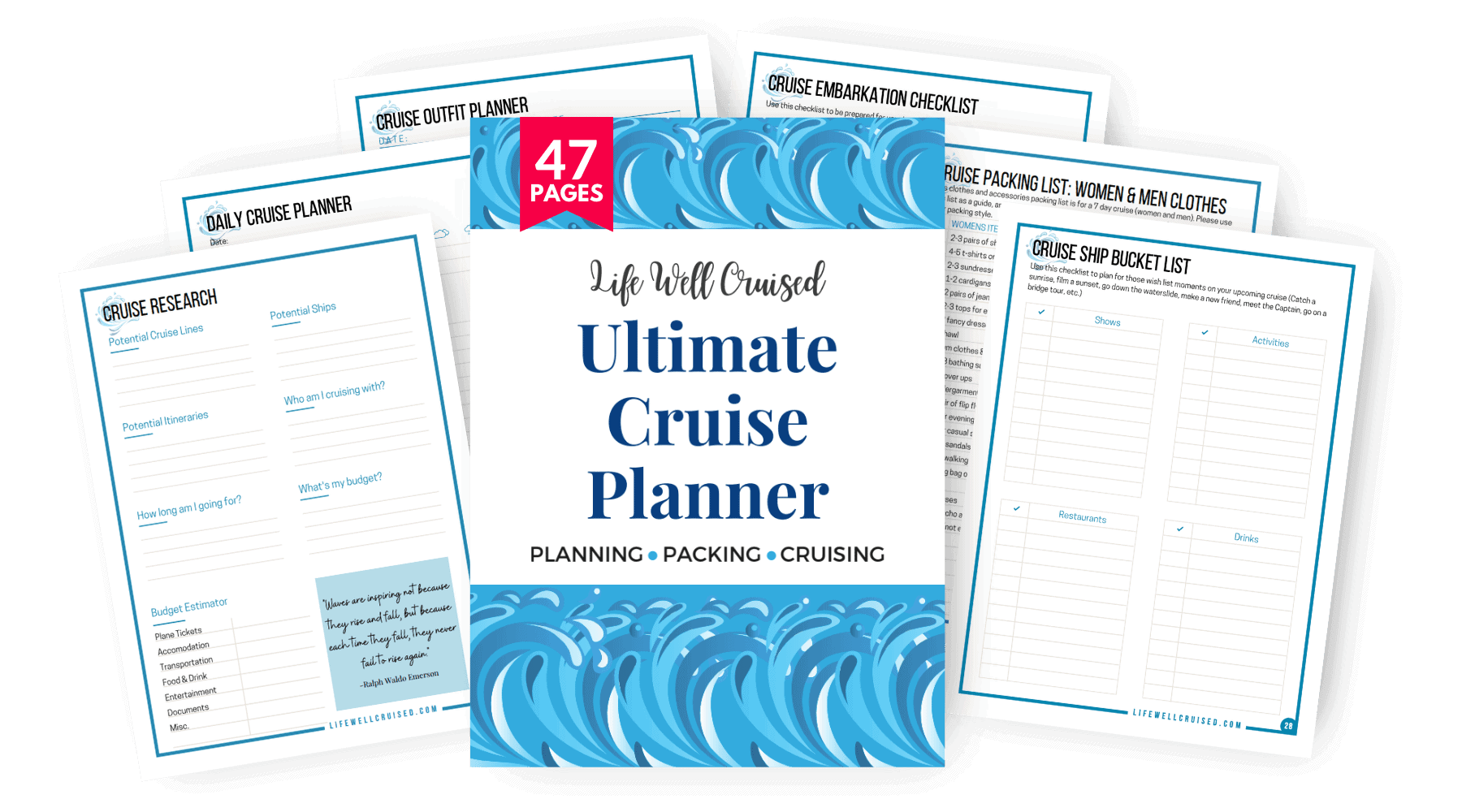 41. Mesh Laundry Hamper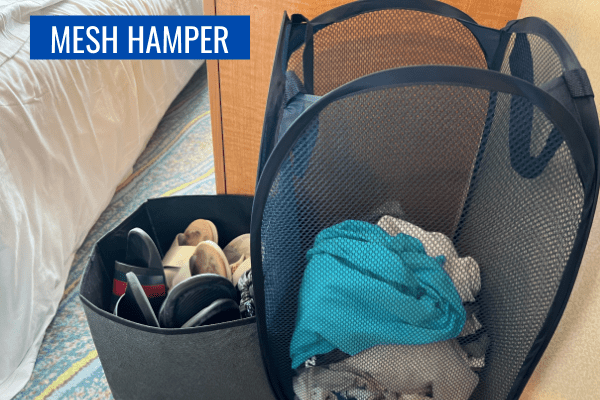 This foldable mesh laundry hamper was one of my most useful items for organizing our balcony cruise cabin on Oasis of the Seas.
Recommended: Mesh laundry hamper pop-up style (check price & read more than 40,000 Amazon reviews here)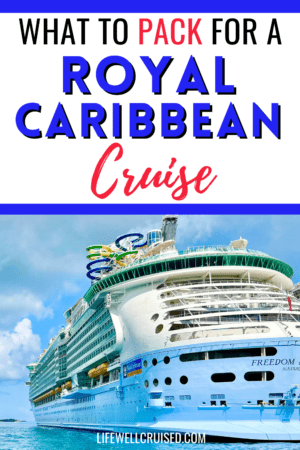 42. Portable Fan
Cruise cabins can get stuffy. If you're cruising in an inside stateroom or ocean-view, you may want to pack a portable fan. This small fan is battery operated, but rechargeable, and gets great reviews on Amazon.
Recommended: Portable Travel Mini Fan
43. Motion Sensor Nightlight
This portable motion sensor nightlight is so practical and makes a great gift for cruisers. This is especially handy for inside cabins, which will be pitch black when the lights are off.
Recommended: Battery operated nightlight
44. Bug Spray
Depending on your itinerary and planned shore excursions, you may want to pack some mosquito repellant for your cruise. As an example, excursions in Cozumel to the Mayan Ruins are well know to be a bit buggy, so definitely pack your insect repellant.
Recommended: Insect repellant (see Amazon reviews here)
45. Ziploc bags
A handy household item to bring on your cruise is ziploc bags. Plastic bags in different sizes are great to keep snacks, put wet bathing suits and more.
Things You Can't Bring on a Royal Caribbean Cruise
A Royal Caribbean cruise packing list wouldn't be complete if I didn't let you know the things not to pack for your cruise. For safety reasons, many of these things are prohibited on a cruise ship.
If you bring these items, they'll likely be confiscated by crew members.
Here's a quick list:
Video: What to Pack for a Royal Caribbean Cruise
Related and Popular Posts:
Get The Ultimate Cruise Planner
Regular price: $27 Now just $17!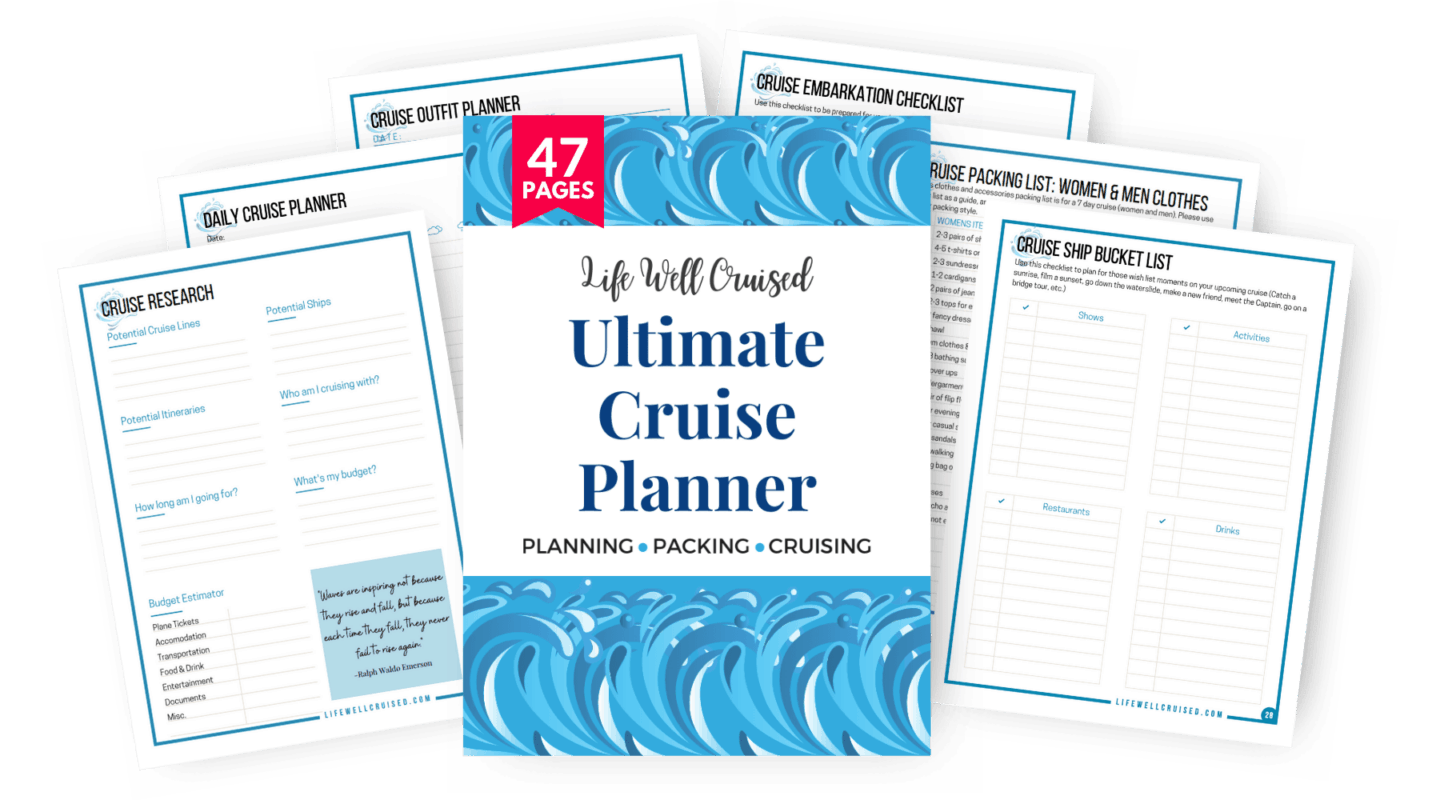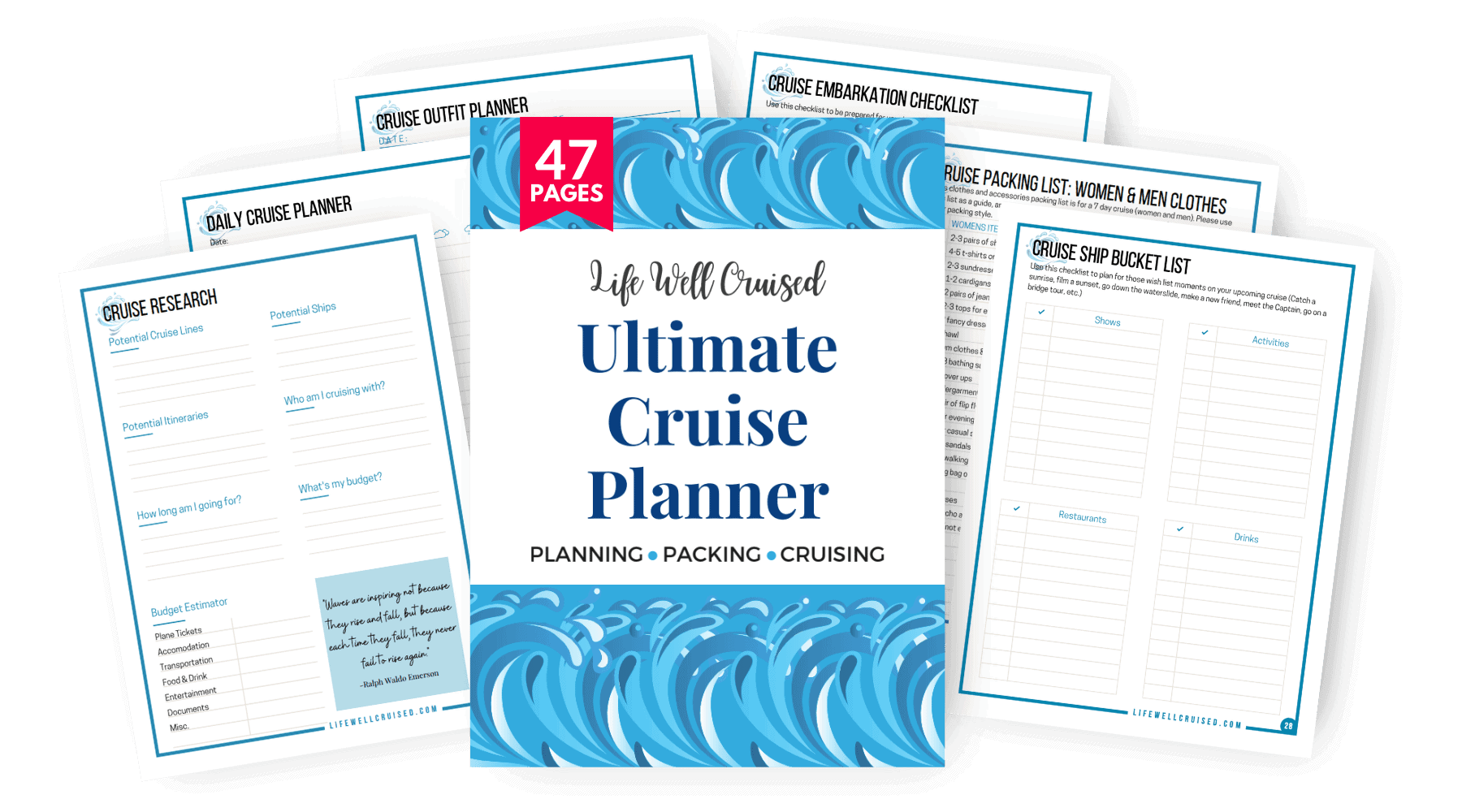 Final Thoughts on What to Pack for a Royal Caribbean Cruise
If you're going on a Royal Caribbean cruise, this cruise packing list will help. This list includes important items to pack for your Royal Caribbean cruise, for the cruise ship, cabin and port visits.
Have you cruised with Royal Caribbean and do you have anything to add to this Royal Caribbean packing list? Please let me in the comments below.
Happy cruising!
Ilana
P.S. If you found this helpful, please don't keep it to yourself ;-). Please share on Facebook or PIN to your favorite Pinterest board (share buttons at the top). Thanks so much!
Let's connect:
Follow me on Facebook at Life Well Cruised
Follow me on YouTube at Life Well Cruised
Follow me on Pinterest at Life Well Cruised
Follow me on Instagram at Life Well Cruised