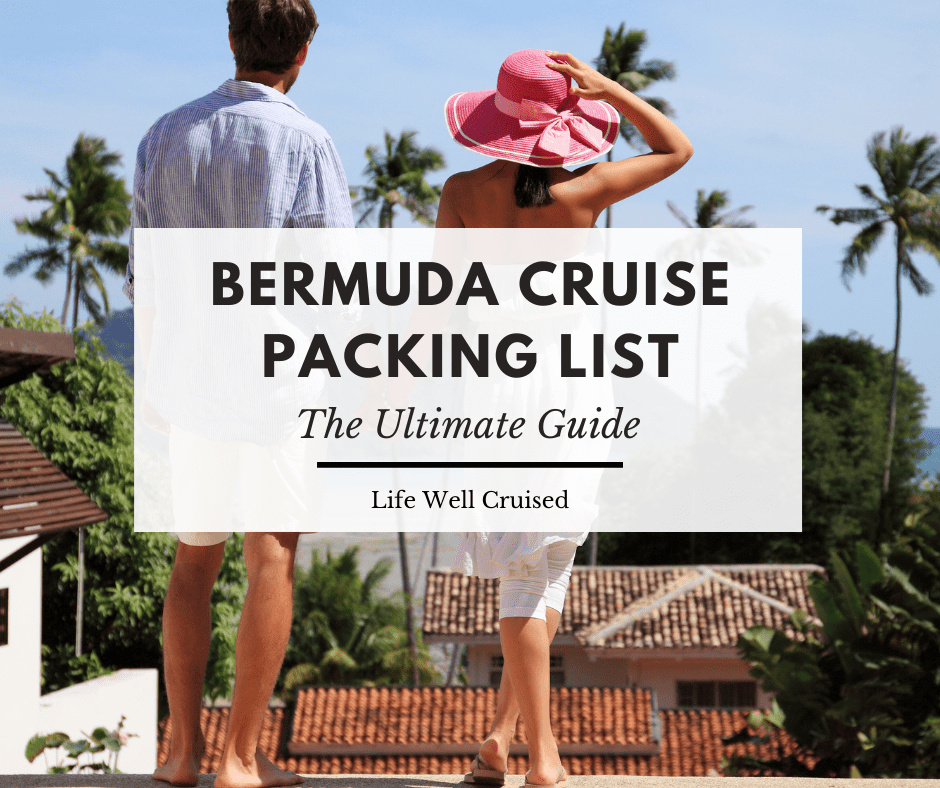 Are you planning a Bermuda cruise and wondering what to pack?
You're in luck! Bermuda is one of my all-time favorite destinations! Over the last decade, we've cruised to Bermuda several times and have gotten to know the island well.
Bermuda Cruise Packing List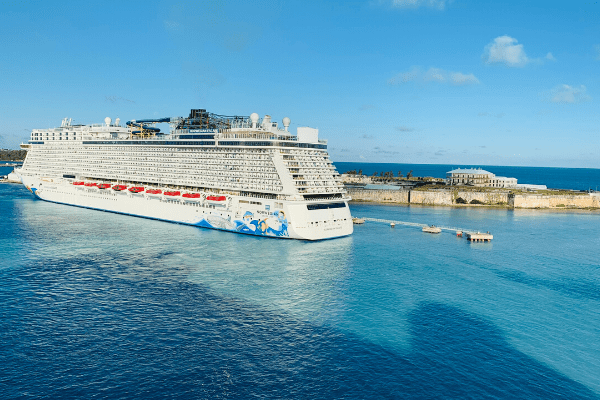 Packing for a Bermuda cruise will be similar to packing for a Caribbean cruise. However, there are some differences in both the weather and culture, which will affect what clothing and other items you may want to bring for your Bermuda cruise.
In this post we go over:
Bermuda weather by month (so you can plan your clothing)
What clothes to pack for a Bermuda cruise (his & hers)
What to pack for a Bermuda cruise (essentials & extras)
This post contains affiliate links which means if you click and buy that I may make a commission, at no cost to you. Please see my disclosure policy for details.
As an Amazon Associate I earn from qualifying purchases.
Bermuda Climate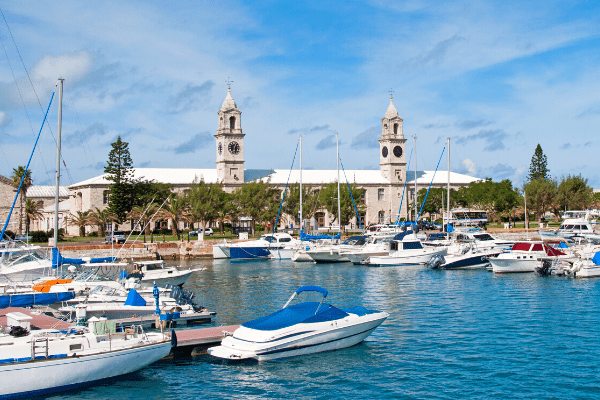 Bermuda is a subtropical climate, and cruises to Bermuda sail from April-November.
April is typically the coolest month of the Bermuda cruise season, with an average high of about 72°F (22°C). This is a great time to sightsee and spend time outdoors in moderate temperatures.
Bermuda's warmer "summer weather" typically starts in May, when the average high air temperature is about 76.7°F (25°C). The ocean is starting to warm up, with sea temperatures around 75°F (24°C). If you plan on beach days and water-sports, plan to cruise to Bermuda beginning in May.
The temperature in Bermuda continues to get hotter throughout the summer months, with July, August and September hitting average highs of about 85°F (29°C).
October is still quite warm with highs of 79°F (26°C). However the sea temperature decreases, making it cooler to swim. Bermuda gradually cools through November, with an average high of 74.9 °F (23.8°C). In November, there is also more chance of rain than the previous months of the Bermuda cruise season.
What to Wear on a Bermuda Cruise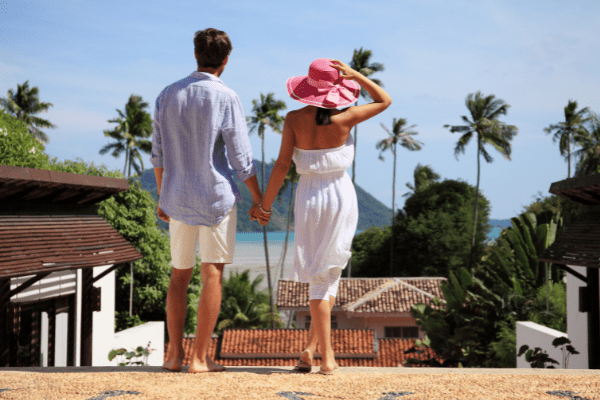 If you're taking a 7 day Bermuda Cruise, you'll need outfits for your sea days as well as evening wear for your cruise.
It's a good idea to check your cruise line's dress codes. Most 7 day cruises will have 2 Formal, Dress Your Best or Chic Evenings. The other evenings will be casual or smart casual dress.
Something to note is that dress codes apply in the main dining room, and not the buffet and casual restaurants.
Since Bermuda cruises usually sail from Northern US ports such as New York, New Jersey and Boston, it's important to check the weather and plan your clothing accordingly.
How to Dress for a Day in Bermuda
You'll need to pack clothing to wear when visiting Bermuda for 2-3 days. When planning what to wear in Bermuda, think resort wear.
Clothing Suggestions for Ladies
You'll likely need swimsuits and cover ups for the beach, and shorts and t-shirts or sundresses for sightseeing during the day. Short shorts and bathing suits are frowned upon when off the beach.
Don't forget to pack comfortable shoes for walking and a light sweater for the evening.
Clothing Suggestions for Men
Men may want to pack polo shirts and Bermuda shorts for sightseeing in Hamilton and walking around in Royal Naval Dockyard. Pants or jeans are appropriate if you decide to have dinner in a local restaurant in the evening.
Related: What To Wear on a Cruise Vacation (daywear, evening, formal nights)
Norwegian Cruise Line Dress Code: What to Wear on a Freestyle Cruise
What to Wear on a Celebrity Cruise (including Evening Chic)
What to Wear on a Cruise Formal Night
What Clothes to Pack for a Bermuda Cruise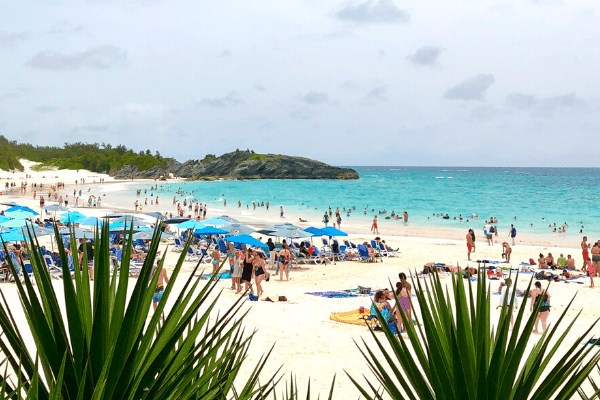 Bermuda Cruise Clothing Packing List for Women
Here's a list of clothing to bring on a 7 day Bermuda cruise. You may decide to bring more of some items and less of others. Please adjust the to your personal preferences and style.
2-3 bathing suits
2-3 pairs of shorts
5-7 t-shirts or tank tops
2-3 sundresses
2-3 casual evening dresses
2 cocktail dresses/fancy dresses
2-3 Light tops/blouses for evening
1-2 pairs nice jeans or pants for evening
Work out clothes (optional)
Sleepwear
undergarments & socks
Comfortable shoes for walking
Dressy shoes (evening)
Flip flops or sandals for beach or pool
Casual shoes for day
Casual shoes/wedge for evening
Shawl or Pashmina (cruise ship air conditioning on the shoulders)
Light sweatshirt or cardigan
Sunhat
Evening bag, clutch, or crossbody bag
Jewelry (optional)
Sunglasses
If you prefer to pack lighter for your cruise, this minimalist cruise packing list can help.
Bermuda Cruise Outfit Packing List for Men
3-4 shorts
4-6 t-shirts
2-3 bathing suits
1-2 pairs jeans
1-2 khakis
3-4 polo style shirts
1-2 button up shirts
1 suit
1-2 dress shirts
Undergarments and sleepwear
Work-out clothes (optional)
1 sweater or sweatshirt
Sandals/flip flops
Running or walking shoes
1 pair dress shoes
1-2 pairs casual shoes
Dress & sports socks
Baseball cap or hat
Sunglasses
Belt
Related: Cruise Wear for Men: Men's Packing List for a Cruise
Get The Ultimate Cruise Planner
Regular price: $27 Now just $17!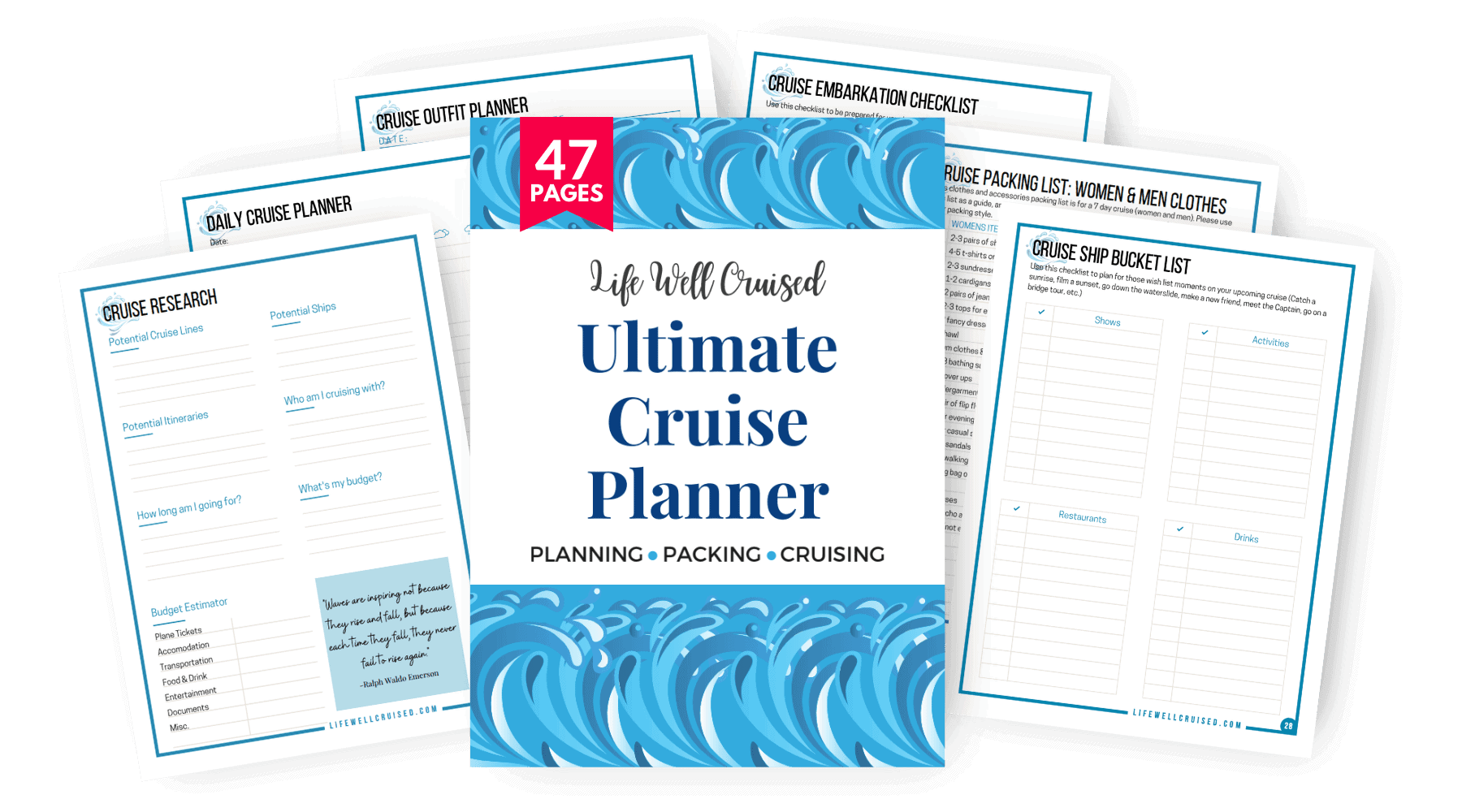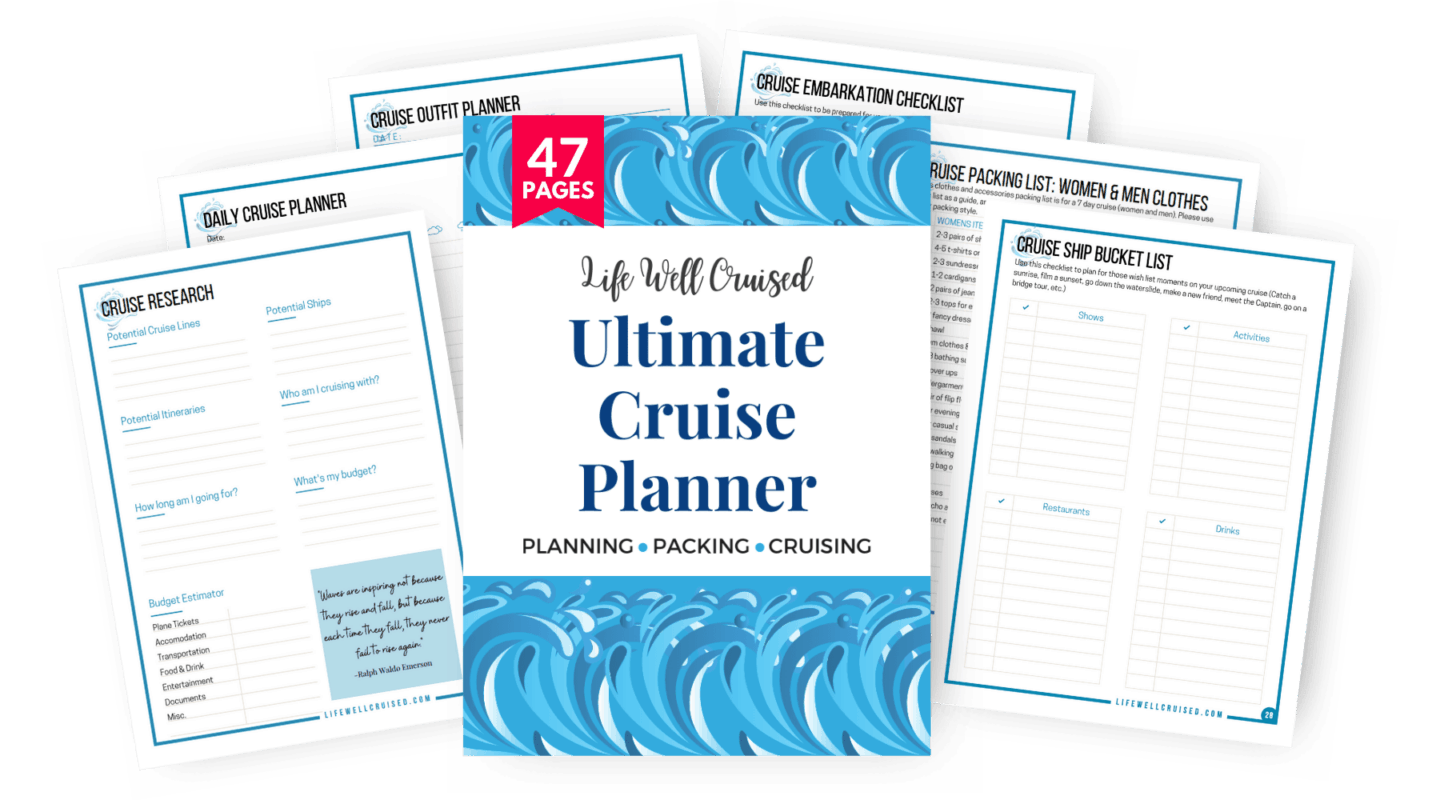 30 Things to Pack for a Bermuda Cruise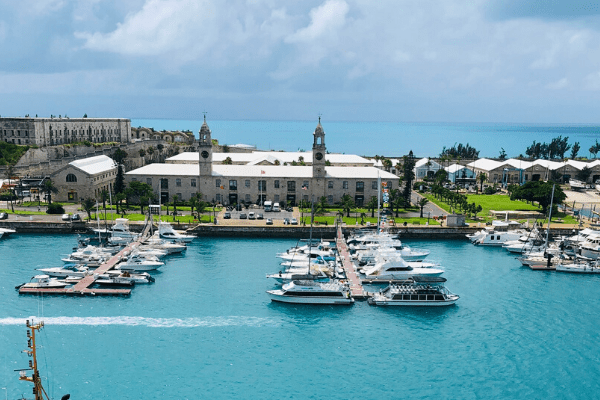 Here's a list of the most essential items to pack for your cruise. I've included both cruise accessories that will be useful for any cruise, as well as things to bring that are specific for your Bermuda Cruise.
1. Government ID &/or Passports
The most important things to pack for your cruise to Bermuda government ID and passport if applicable. Make sure to have this on you, and never pack it in your checked luggage. Unfortunately, if you don't have it with you, you'll be denied boarding.
It's a good idea to use a passport wallet holder. This one is so practical and will ensure that you don't make the mistake of packing your passport in your luggage.
Recommended: Passport travel wallet (check price & reviews on Amazon)
2. Proof of Vaccine & Test Results
These days, most cruise lines are sailing with a requirement for all guests to be vaccinated, with few exceptions. You'll also need to provide a negative Covid 19 test result when boarding.
Since the health situation remains fluid, make sure to check your cruise line's policy and keep up to date up with protocols up until your sailing.
3. Embarkation Day Bag
While you'll check your luggage at the cruise terminal, you'll want to have a cruise carry on bag with all you need for embarkation day. In here, you can keep your essentials like a change of clothes, a bathing suit and cover up, medications and any valuables.
A small suitcase, small duffel bag or backpack all make great cruise embarkation day bags.
Recommended: Nautical stripe weekender bag (see 2 types available on Amazon)
4. Toiletries
In addition to your cruise outfits, pack travel sized toiletries. This includes basic items such toothbrushes, toothpaste, shaving cream etc. You may also want to pack perfume, moisturizers and other personal items.
Related: What Toiletries to Pack for a Cruise (packing list)
5. Medication
Your cruise packing list should include both over the counter and prescription medication. It's also a good idea to pack 2 extra weeks of medication as a precaution.
6. Non-surge Protected Power Bar
Cruise cabins are well known for not having enough electric outlets. If you're bringing electronic items like cell phones, an iPpad, hair straighteners or any other electronic item, you'll likely want more plugs and USB outlets.
Many cruisers pack a non-surge protected power strip, which is cruise compliant. Please note that you can't bring a regular surge protected power strip, as it's considered a safety hazard on a cruise.
Recommended: Cruise Power Strip with USB Outlets – Non Surge Protection & Ship Approved (verify price here)
7. US Dollars
The Bermudan dollar is the official currency of Bermuda. However, it is pegged 1:1 to the value of the US dollar, and taken interchangeably on the island. So, you can feel free to use your US dollars in Bermuda to buy food, drinks, souvenirs, ferry tickets etc.
8. Reef Friendly Sunscreen
Bermuda is amazing seen and experienced at sea, on a catamaran excursion, ferry boat, or at one of the gorgeous pink sand beaches. Make sure to pack reef friendly sunscreen and reapply often.
Recommended: Reef safe sunscreen SPF 50 (see 1500+ excellent reviews on Amazon here)
9. Lip Balm with SPF
Remember to pack lip balm with SPF, as lips can burn in the sun and get swollen if this happens.
Recommended: Lip balm with SPF
10. Aloe Vera Gel
Bringing aloe vera gel or an after-sun care lotion is a must for your cruise. Unfortunately, even with taking precautions, getting too much sun can happen.
This organic aloe vera gel is non sticky and works really well!
Recommended: Aloe vera gel 100% pure (check price & see over 50,000 amazon reviews)
11. Swimsuit Cover Up
A pretty bathing suit cover up is a must-have cruise wear for a Bermuda cruise. You may want to bring more than one swimsuit cover up to use on the lido deck of your cruise ship as well as to go to the beach.
Bermuda cruise tip: Horseshoe Bay Beach is one of the most gorgeous beaches in the world! You can easily go there on your own from the Royal Naval Dockyard, where your cruise ship will dock in Bermuda.
Recommended: Swimsuit cover up (see different colors on Amazon)
12. Water Shoes
These lightweight water shoes are very comfortable and easy to pack for your cruise. The sand is soft in Bermuda, however there are large rocks on many Bermuda beaches. These can be rough and water shoes will come in handy.
Recommended: Water shoes/Water socks (see different color choices on Amazon)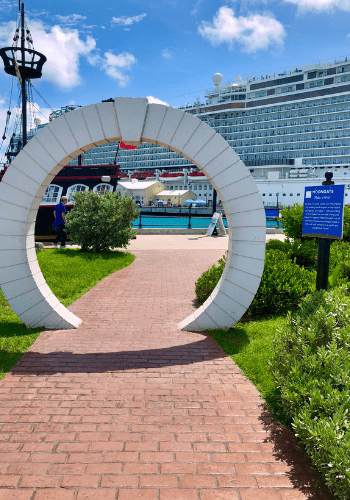 13. Golf Clubs
Have you ever seen golf clubs on a cruise packing list? Me neither.
However, Bermuda has some of the most incredible golf courses in the world. Since you'll be in Bermuda for 2-3 days during your cruise, you can plan a day of golf on your own or with a shore excursion. If you're driving to the cruise port, consider bringing your set of golf clubs.
14. Snorkel Gear
If you love the beach, ocean and sea life, it's a good idea to pack your own snorkel gear. You won't regret it in Bermuda!
Recommended: Snorkel set with panoramic & anti-fog view (check price & reviews on Amazon)
14. Beach Bag
It's a good idea to bring a large beach bag that can be used for to pack for a beach day in Bermuda, or to use on the ship as well (for sunscreen, towels, books, water bottles and more).
Recommended: Large beach bag (fits 4 towels & lined)
15. Refillable Water Bottles
If you're sightseeing in Hamilton or St. George for the day, or heading to over to Bermuda's Crystal Caves, make sure to pack some refillable water bottles to bring with you. These are collapsible, so they save space in your backpack or beach bag.
Recommended: Refillable & collapsible water bottles (check price & 2500+ Amazon reviews here)
16. Sunglasses
Remember to pack a pair or two of sunglasses. I like to bring a pair of sunglasses from Amazon that is less expensive, and leave my good ones on the cruise ship.
Recommended: Fashionable sunglasses (for men or women)
17. Microfibre Sand-free Beach Towels
While you can take the cruise ship's towels to the beaches in Bermuda, many cruisers say they prefer to use lightweight micro-fibre sand-free towels. These towels are quick dry and absorbent, and easy to carry as you explore Bermuda's beaches.
Recommended: Microfibre Sand-free beach towels (see 1400+ great reviews on Amazon)
18. Bermuda Shorts
Bermuda shorts are the fashion when walking around in Bermuda. Short shorts are best left on the cruise ship or worn at the beach.
19. Tote Bag
Bring a tote bag for shopping and shore excursions on your Bermuda cruise. This cute mesh tote bag is perfect for beach days too!
Recommended: Mesh tote bag (available in different colors)
Useful Cruise Accessories
These are some practical cruise accessories and travel items. You can use these things to organize your cruise cabin to make packing for your cruise easier.
20. Hanging "over the door" Organizer
Cruisers swear by the hanging organizer for toiletries and other essentials on a cruise. This can be a great way to keep your cruise cabin organized.
Recommended: Hanging cabin organizer (see Amazon link for price & details)
21. Hanging Toiletry Bag
This hanging toiletry bag is a must to keep small cruise cabin bathrooms organized!
Recommended: Hanging toiletry bag (over 14000 5* ratings on Amazon)
22. Magnet Hooks
Magnet hooks are a cruiser's "secret" organization hack! Since most cruise ship cabin walls and doors are metal, you can use magnet hooks to add storage space to the walls in your stateroom. Hang bathing suits to dry, baseball caps, and even backpacks for excursions. Be sure they are heavy-duty and strong!
Recommended: Magnetic hooks – set of 10 (check price & see over 20,000 reviews on Amazon)
23. Magnet Clips
Magnet clips are great to keep shore excursion tickets and other paperwork from cluttering your desk or vanity.
Recommended: Magnet clips (set of 6 on Amazon)
24. Packing Cubes
If you haven't tried packing cubes yet, consider giving them a go. They can be a great help with packing for your cruise, as well as pre and post cruise hotel stays.
Recommended: Packing cubes (verify price & read over 24,000 5* Amazon reviews)
25. Poo-Pourri Bathroom Spray
No matter your cruise itinerary, cruisers swear by Poo-Pourri!
Recommended: Poo-Pourri Before-You-Go Toilet Spray Bottle (verify Amazon price here)
26. Cabin Alarm Clock
If you like to know the time during the night or don't want to rely on your cell phone, consider a simple travel battery operated clock.
Recommended: Digital Travel Alarm Clock (battery powered with a light)
27. Motion Sensor Nightlight
This portable motion sensor nightlight is so practical and makes a great gift for cruisers. This is especially handy for inside cabins, which will be pitch black when the lights are off.
Recommended: Battery operated nighlight
28. Portable Fan
Cruise cabins can get stuffy. This small fan is battery operated, but rechargeable, and gets great reviews on Amazon.
Recommended: Portable Travel Mini Fan
29. Wrinkle Release Spray
Cruise cabins will not have irons, as they're a fire hazard. Clothes steamers are prohibited on most cruise ships as well. So Downy Wrinkle Release spray is a good way to get wrinkles out of your cruise outfits.
Recommended: Downy Wrinkle Release (travel size)
30. Cruise First Aid Kit
You can make your own travel first aid kit, or purchase a cruise first aid kit that's ready made and pre-filled with bandages and other items you may need for your cruise.
Recommended: Cruise first aid kit (check price & see over 50,000 excellent Amazon reviews)
Related: Cruise First Aid Kit Essentials You Need to Have
Towel Clips
Towel clips are wonderful to use on cruise ship deck chairs, to keep your towel in place when there's an ocean breeze. It also makes it easier to recognize your chair!
Recommended: Cute towel clips (set of 2 pairs)
31. Towel Bands
Towel bands are a good, space-saving alternative to towel clips that can go from lido deck to the beach.
Recommended: Towel bands (set of 6 – see price & amazon reviews here)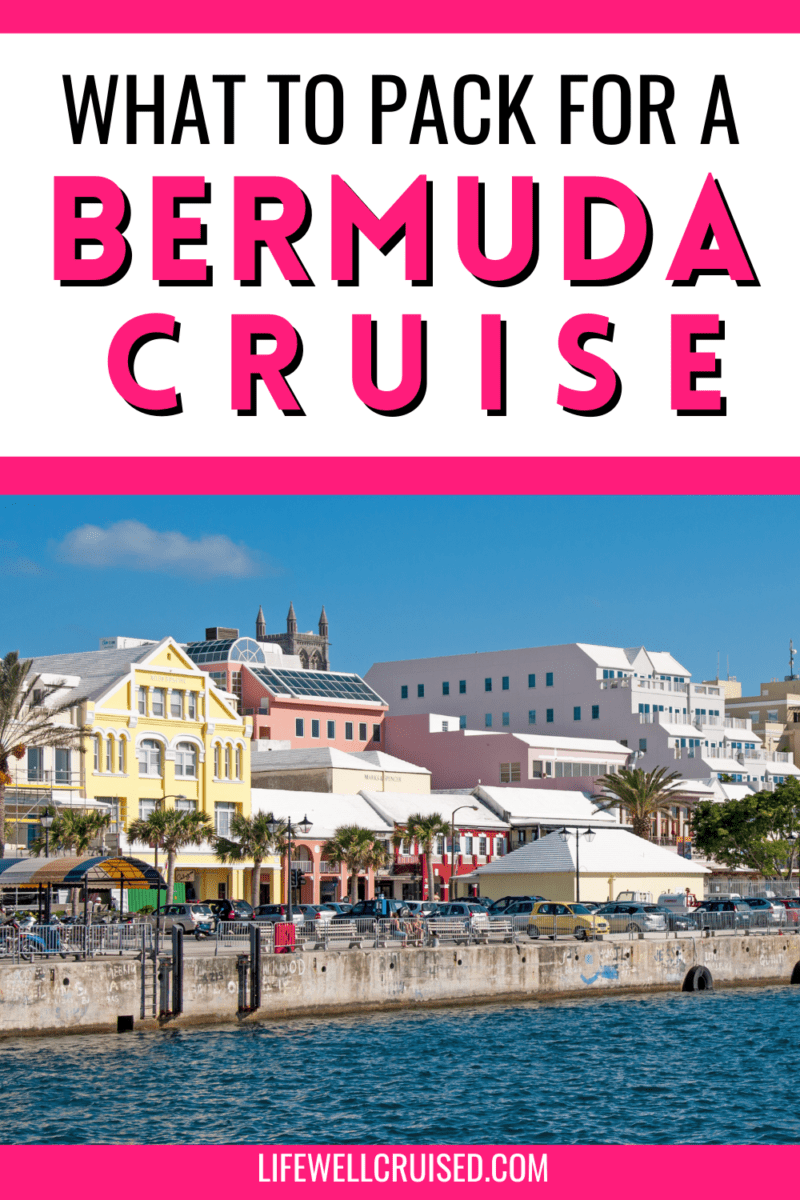 32. Electronics Organizer Bag
Keep all your chargers, wires and cables together in a small electronics organizer bag.
Recommended: Electronics accessory organizer bag (see details & Amazon reviews)
33. Portable Charger (power bank)
All travelers should pack a portable charger or power bank. In Bermuda, the days spent in port can be long and it's easy for your phone's battery to run low. This portable charger works very fast!
Recommended: Portable cell phone charger (see price & details on Amazon here)
34. Lanyard
A lanyard holds your cruise card both on the ship and in port, keeping your hands free. It's one of the most useful items to bring on a cruise.
Recommended: Cruise lanyards
25. Cruise Luggage Tag Holders
Your cruise luggage tags will need to be printed, then folded and stapled and put on your luggage. While this is perfectly fine, the paper can be flimsy and it takes time to do this the morning of your cruise.
Luggage tag holders are reusable, and truly one of the best cruise accessories you'll ever have. They're available for every cruise line (in wide or long sizes).
Recommended: Plastic Sleeve luggage tags (check link for specific cruiseline options)
26. Waterproof Phone Case
It's a good idea to bring a waterproof phone case on your cruise, for sea days by the pool as well as port days by the beach. This one includes the ability to use the touch screen as well.
Recommended: Waterproof Phone Case with cruise lanyard
27. Seabands
Make sure to have some motion sickness remedies, as it's always possible to be affected by some seasickness during your cruise.
Seabands are a practical, natural remedy for many experienced cruisers.
Recommended: Seabands (see both adult and children's sizes on Amazon)
28. Seasickness Medication
Bring along some Bonine or other seasickness medication, in case you feel some motion due to rough seas. It's handy to have just in case.
Recommended: Bonine seasickness tablets
29. Ginger Candies
Ginger candies are a natural way to ease an upset stomach or mild motion sickness on a cruise. They're great on tenders and small boat excursions as well.
Recommended: Tummydrops ginger candies
30. Foldable Lightweight Backpack
Bringing a lightweight backpack to Bermuda is a great idea. Whether you take an excursion to Crystal Caves or are simply walking over to Snorkel Park Beach from your cruise ship, having a water resistant foldable backpack will be so useful!
Recommended: Foldable backpack (water resistant)
Get The Ultimate Cruise Planner
Regular price: $27 Now just $17!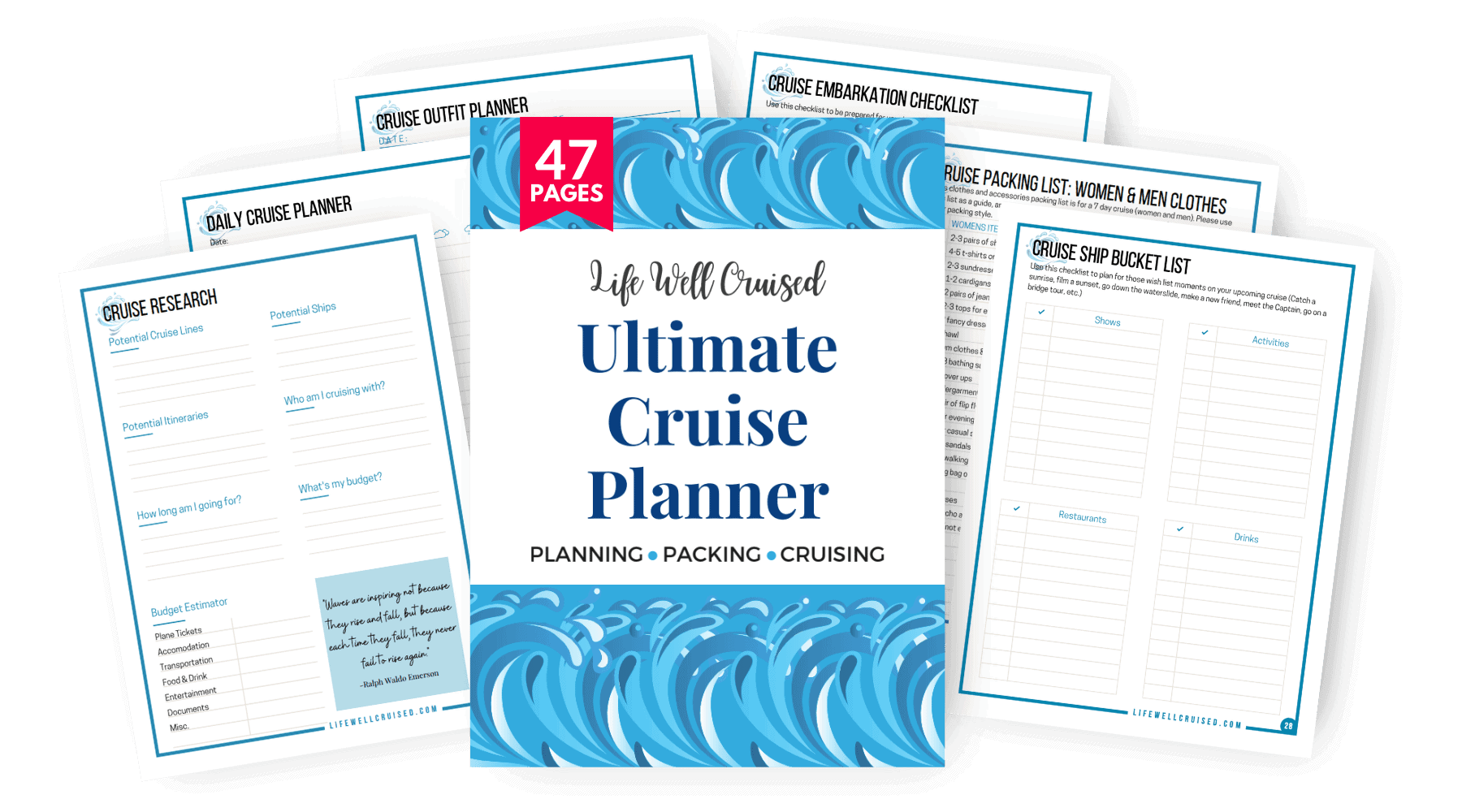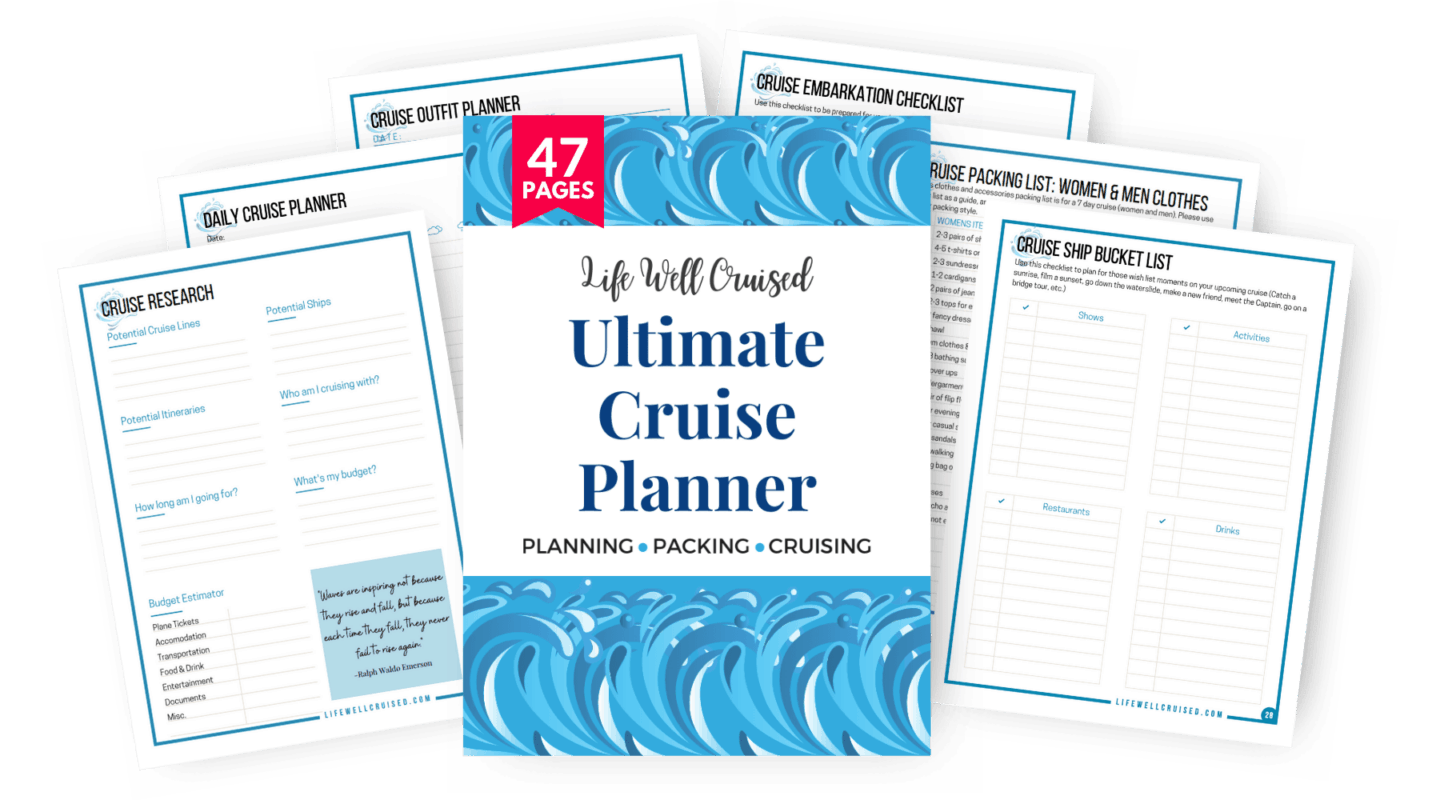 Related and Popular Posts:
Final Thoughts on What to Pack for a Bermuda Cruise
Bermuda is one of the best destinations to visit by cruise! In this post we went over what to pack for a Bermuda cruise, including what outfits to wear in Bermuda. I've also shared what things are helpful to bring onto your cruise, for the days and evenings at sea.
Have you cruised to Bermuda or is this your first time? Please let me know your tips and must-pack items in the comments below.
Happy cruising!
Ilana
P.S. If you found this helpful, please don't keep it to yourself ;-). Please share on Facebook or PIN to your favorite Pinterest board (share buttons at the top). Thanks so much!
Let's connect:
Follow me on Facebook at Life Well Cruised
Follow me on YouTube at Life Well Cruised
Follow me on Pinterest at Life Well Cruised
Follow me on Instagram at Life Well Cruised