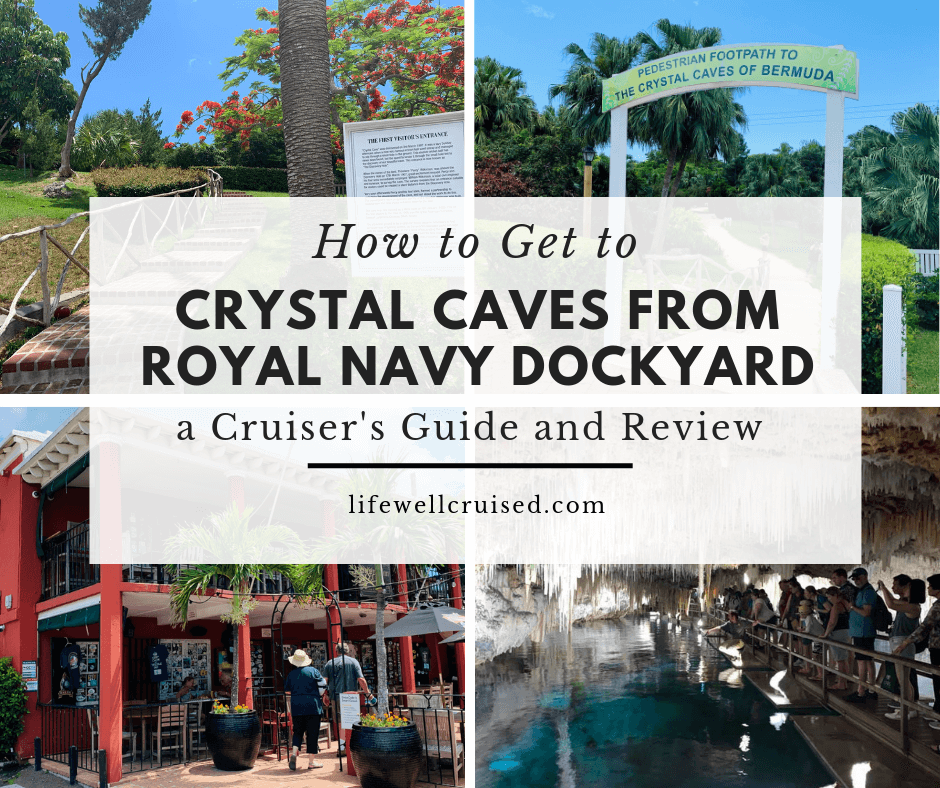 Going to Crystal Caves and the Swizzle Inn from the cruise port, in Royal Navy Dockyard on your own
If you're coming into Bermuda on a cruise ship, you are probably interested in visiting some of Bermuda's most popular attractions on your own. One popular and interesting sight to see is Crystal Caves.
This post will let you know how to get from the cruise port, Royal Navy Dockyard to Crystal Caves using Bermuda's bus and ferry. It's fairly easy (and safe), but does take some planning.
While you're there, you may want to have a meal at the famous Swizzle Inn, known for the original Rum Swizzle. If you're interested in seeing a bit of Crystal Caves and our journey there, I'll include a video down below of our time there.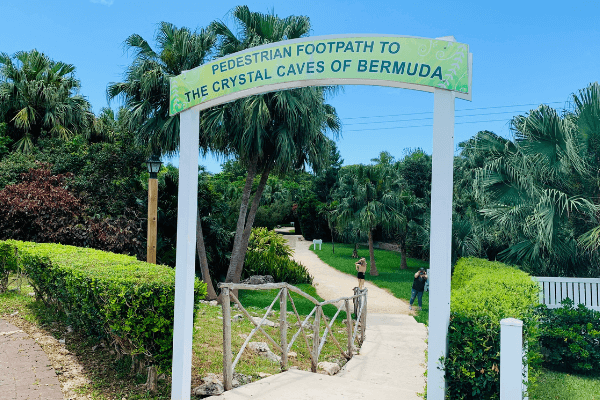 Firstly, here are some tips and information about where your cruise ship will dock, from a cruiser perspective.
Most cruise ships are docked in King's Wharf or "Dockyard". If your cruise ship is on the smaller side, it may go right into Hamilton or St. George. However the majority of Celebrity, Norwegian, Carnival and Royal Caribbean cruise ships are simply too big to get into those smaller ports.
Not to worry, Dockyard has a lot to offer, and has become much more accessible and convenient over the last few years.
From here you can also get to some of Bermuda's most famous beaches, including Horseshoe Bay Beach.
How to get to Crystal Caves from Royal Navy Dockyard on your own
To get to Crystal Caves and Swizzle Inn, you'll need to take a ferry as well as a bus. You can take the ferry to either Hamilton or St. Georges. However, in this post I will be giving you directions by going to Hamilton, as this is what we did when we were on our last cruise to Bermuda.
You'll need to purchase bus and ferry tickets (single use) or an unlimited bus and ferry pass. This year, the ticket booth was conveniently located between the two cruise ships.
We purchased a 1 day pass which was $19 per adult, and in US dollars.
Fun fact – Bermuda and USD are at par and USD are taken happily.
Directions by public transit from the cruise port to Crystal Caves and Swizzle Inn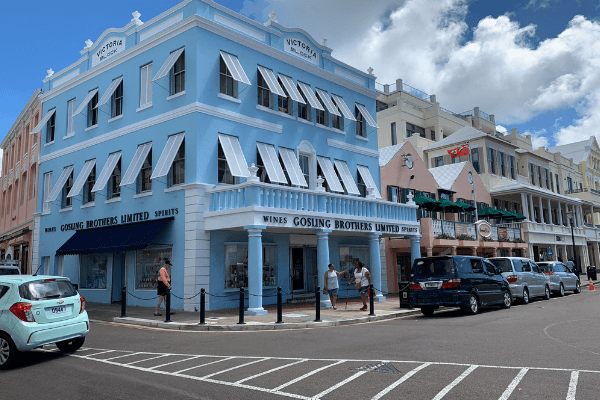 Ferry and bus directions:
1. Take the ferry from Dockyard to Hamilton, which is a about a 20 minute ride.
Tip: Before you get in line, check that you are waiting for the ferry to Hamilton and not St. George.
When you arrive in Hamilton, you will be on Front street. There is a Bermuda Tourism Center if you want to stop in for a map or information. The bus terminal is about a 5-10 minute walk from here.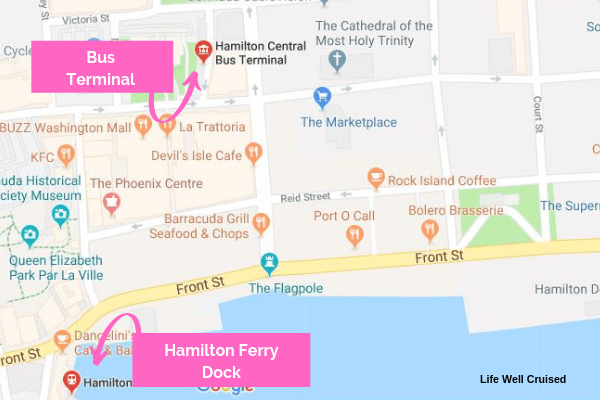 2. Walk right on Front Street, cross the street and walk up along Queen Street. Turn right on Church Street. The bus terminal is on the corner or Church Street and Washington Street.
3. Take either bus #1, #10 or #11 to Crystal Caves, about a 30-40 minute ride.
Tip: The people in Bermuda are helpful and nice, so do ask someone on the bus, or even the bus driver to let you know when you arrive at Crystal Caves. It is not an obvious "theme park" like attraction.
You've arrived!!
*We took bus #10 there and #1 back, and were told that #1 had the best views. We went with whichever bus arrived first, but #1 was pretty.
Crystal Caves, Swizzle Inn and Bailey's Ice Cream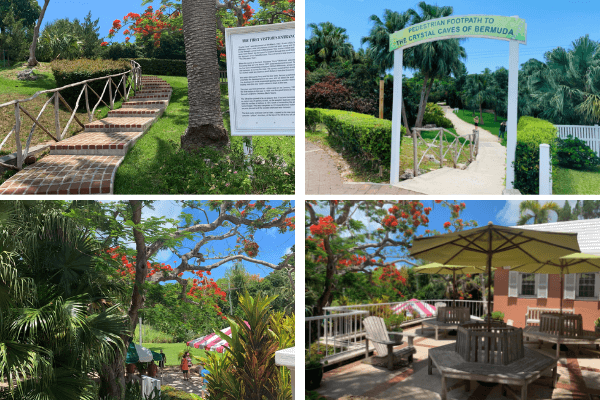 When you get to Crystal Caves, there is a walking path that leads you to the ticket booth and entrance to the Caves.
We often hear about Crystal Caves, however there are both Crystal and Fantasy Caves which you can visit.
We decided that one cave was enough and opted for the original Crystal Caves, at $24. Both caves were $34. If you are wondering about them, we were told that Fantasy Caves was more hot and humid, which was one reason we stuck with Crystal.
For those that are wondering if it's strenuous (as there are many stairs), we did not find it difficult. While there were many stairs, it was a slow walk and people of all ages were doing this.
"What shoes should I wear in Crystal Caves?", people often ask. The stairs were a teeny bit wet, so I suggest some running shoes or sneakers, but it wouldn't require special shoes or boots.
Our experience at Bermuda's Crystal Caves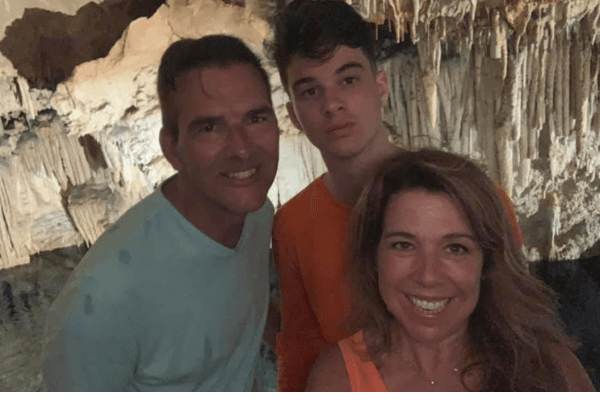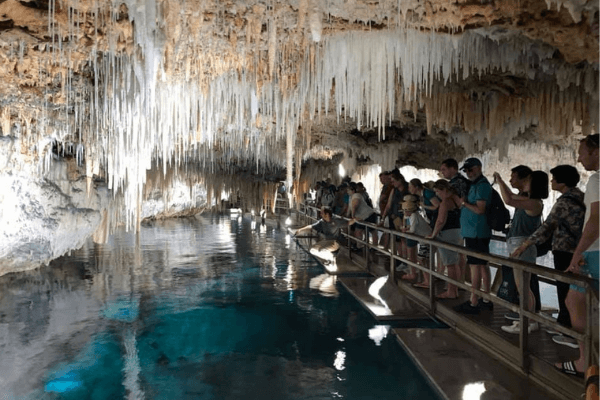 This was our 7th time in Bermuda, by cruise, and somehow we hadn't yet made it to the Caves. We were so glad we did.
Our entertaining and informative guides, Matt and Chea, told the story of how the caves were unexpectedly found by 2 young boys on Wilkinson family property in the early 1900s! The family still owns the property and famous Bermuda attraction today.
I don't want to ruin the experience if you go, by saying too much, but I will say that learning about stalagmites and stalactites was way more interesting than it sounded back in geography class. It was truly beautiful in the cave and our family really enjoyed it!
Lunch and Rum Swizzles at Bermuda's Swizzle Inn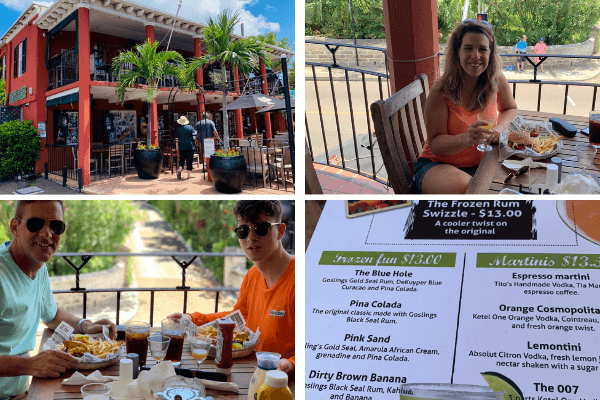 This quaint casual restaurant was worth a stop as we were in the area. We had some burgers and fries and a pitcher of Rum Swizzle. It's a beautiful spot to eat. Plus, we were trying to find the best Rum Swizzles in Bermuda, so there was some research involved ;-).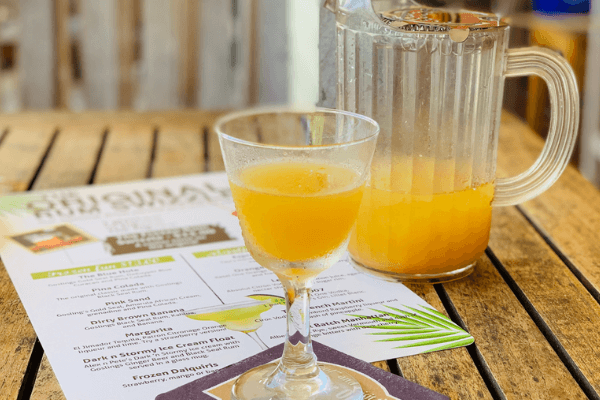 You may want to stop in at the store while you're here if you're looking for a special souvenir to get while in Bermuda.
Bailey's Ice Cream
If you feel like some ice cream while there, you can stop in at Bailey's, which is right next to Crystal Caves.
Heading Back to Hamilton and Dockyard from Crystal Caves
To head back to the cruise ship, simply reverse the steps. There is a bus stop right outside Crystal Caves, and you can head back to Hamilton this way. From Hamilton, simply take the ferry back to Dockyard.
YouTube Video: Heading to Hamilton and Crystal Caves from Royal Navy Dockyard
In this video, you'll see how we took the ferry from Dockyard to Hamilton, and then went on to Crystal Caves.
If you enjoy this video and find it helpful, we'd love to hear from you. Please let us know by giving it a "like" and leaving a comment. Thanks!
Recap: Visiting Crystal Caves and Swizzle in on your own
In this post I outlined basic directions for getting to Crystal Caves and Swizzle Inn from the cruise port, in King's Wharf, or Royal Navy Dockyard. I also went through a little run down of our experience while there, which I hope can be helpful as you plan your Bermuda itinerary while visiting.
One of the things we love when we cruise to Bermuda, is how easy it is to get around on our own. This way, we can avoid some expensive cruise ship excursions and also have a chance to talk with the locals too.
There's so much to see and do, however we have our favorites. If you're in Bermuda for 2-3 days, I suggest not trying to fill up your days running from one activity or sight to another. Instead, pick 2 or 3 things you really want to do and see, and save the rest for a return visit.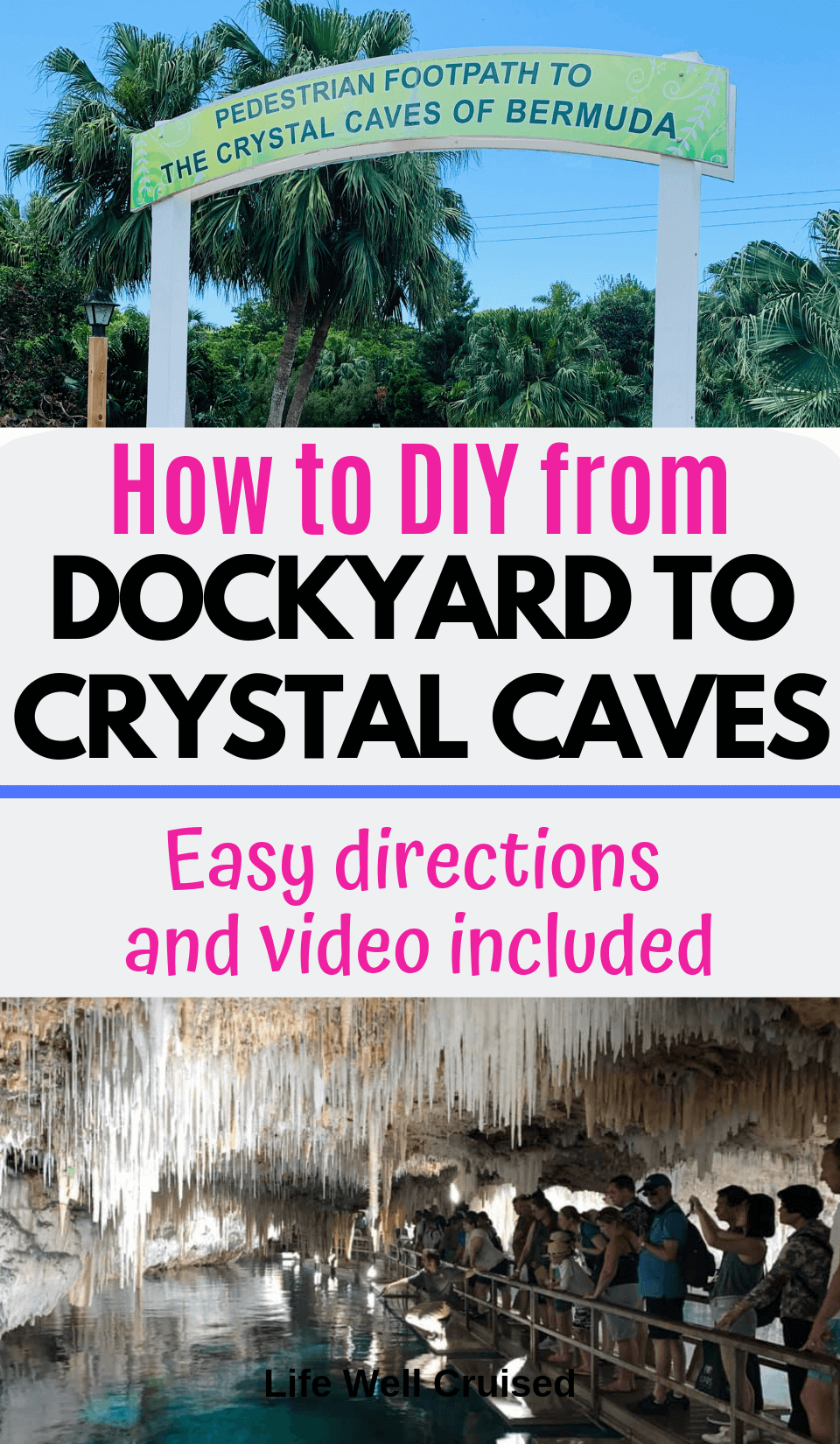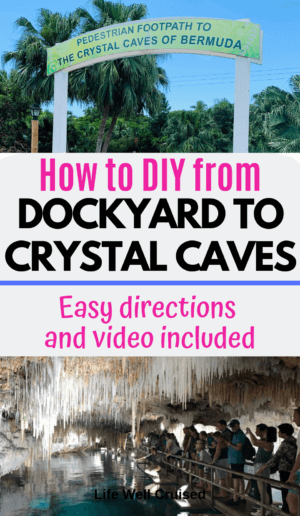 Here are some of our favorites and recommendations:
We love Horseshoe Bay Beach. It's truly as gorgeous as in the photos! If you decide to go there, you'll find the directions in this post (plus I have an extra tip in there too).
The Ultimate Guide to Horseshoe Bay Beach Bermuda (for cruisers)
We also enjoy Catamaran snorkeling excursions and this has been a favorite. Plus, in our "research" to find the best Rum Swizzle in Bermuda… let's just say, they were memorable!
Bermuda Rising Son Cruises Catamaran Snorkeling Review
Are you cruising to Bermuda or have you been there before? What are you thinking of doing or most looking forward to? Please let me know in the comments below.
Happy Cruising!!
Ilana xoxo
P.S. If you've found this helpful, please don't keep it to yourself ;-). Please share on Facebook or save for later on Pinterest (share buttons at the top). Thanks so much!
Let's connect:
Follow me on Facebook at Life Well Cruised
Follow me onYouTube at Life Well Cruised (Vlogs and cruise tips)
Follow me on Pinterest at Life Well Cruised
Follow me on Instagram at Life Well Cruised