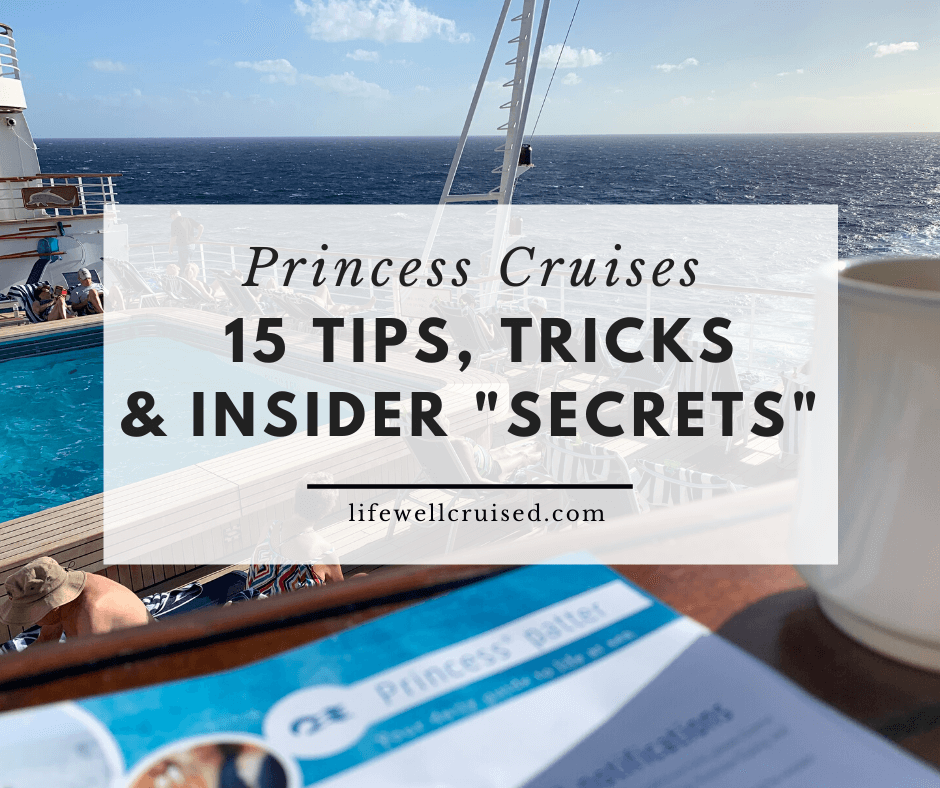 Princess Cruises Tips and Tricks You Need to Know
If you're going on a Princess cruise, here are some cruise tips you should know before you cruise.
The reality is, that although you can read a lot of general cruise tips, every cruise line is unique and has different amenities and offerings.
For this reason, this article focuses on features found on Princess Cruises; with Princess cruise tips, hacks and insider "secrets" you really want to know!
How to get discounts on your cruise booking
Hacks to get extra onboard credits
Princess Cruises dining "secrets" and specialties
Cruise cabin information
A shore excursion tip that will surprise you
and more…
Please know that this is not "official" Princess information, so always verify with the cruise line web site for current information, as well as any specifics related to your cruise booking.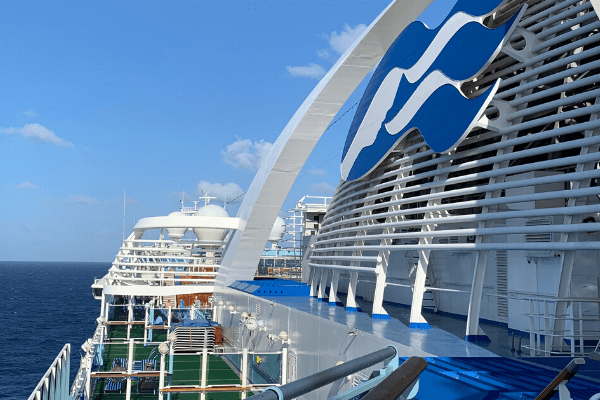 Recommended first-time cruiser posts (for general info):
15 Epic Tips First Time Cruisers Need to Know
25 Recommended Amazon Items to Bring on a cruise
10 Ways to Prevent and Avoid Seasickness on a Cruise
Things to know about cruising with Princess (that are pretty amazing)
We've cruised on Princess several times, and cruise on other lines as well. However, there are some things we genuinely love about our Princess Cruises.
Princess is a really good cruise line that seems to have something for everyone. We've done a few family cruises, couples only cruises, and even one large family cruise – I highly recommend Princess for multi-generational travel.
Firstly, some cruise advice that will pretty much guarantee that you'll find out all the important stuff
1. Read your Princess Patter (daily planner) or check the daily schedule and activity guide on your Ocean Medallion or Princess Cruises App. The various activities, restaurants and specialty food venues will all be written in the planner. Check the back as well, as sometime the info is there.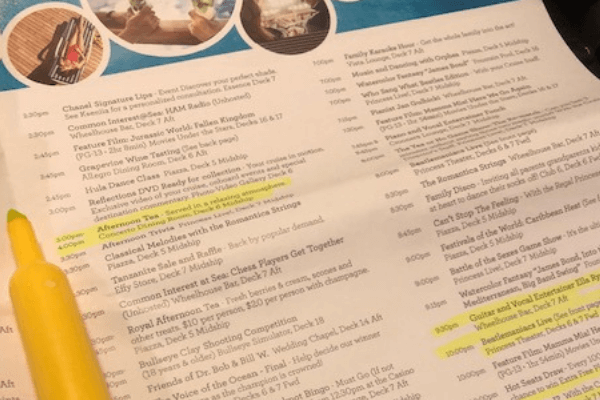 2. Just Ask. When you aren't sure, just ask your fellow cruise passengers or the staff on board. They'll be happy to share their knowledge and steer you in the right direction.
3. Go to the first time cruisers information sessions. On many cruise ships, there will be Ocean Medallion and even cruise port talks. These information sessions can be super helpful in answering questions you didn't even know you had. When are they? Check your Princess Patter 😉
Read more: 12 Top Reasons to Cruise with Princess Cruises
Princess First-time Cruiser Tips
Before we begin, I will let you know – you may want to grab a pen and paper, print out, or better yet, save on your favorite Pinterest board for later :-). If you find this helpful, please share.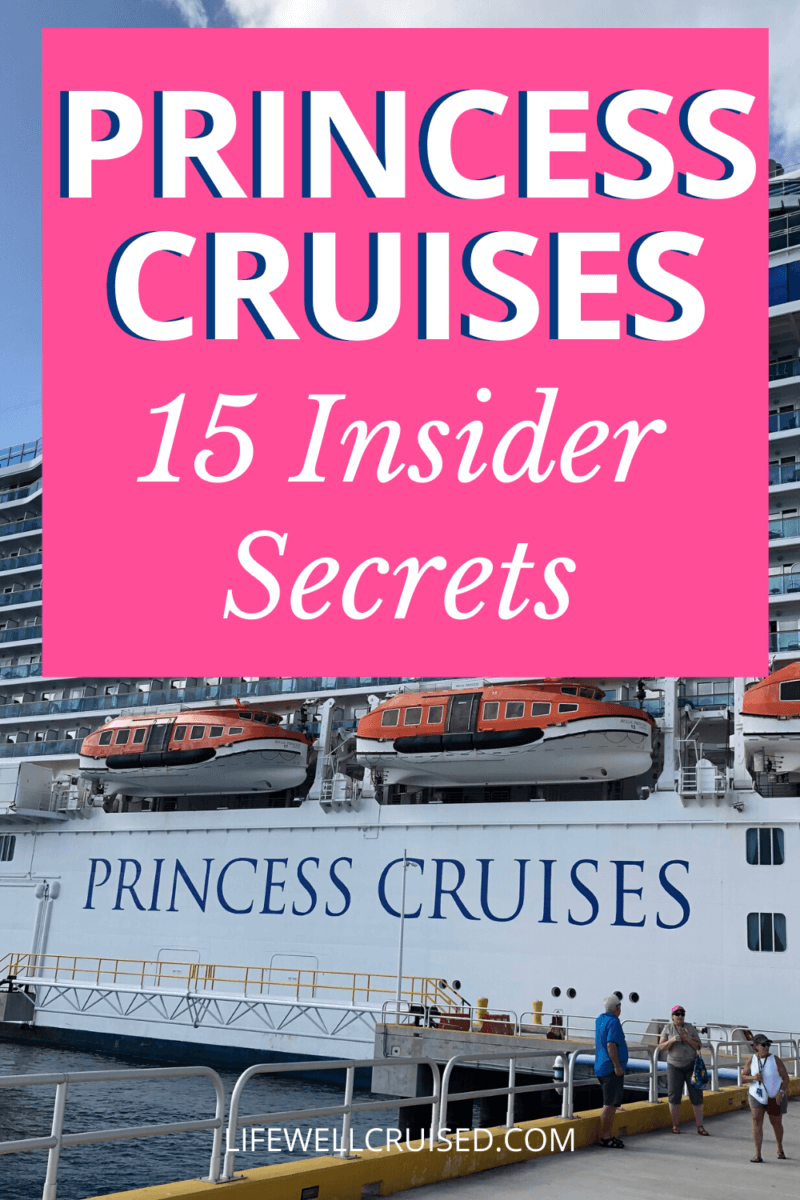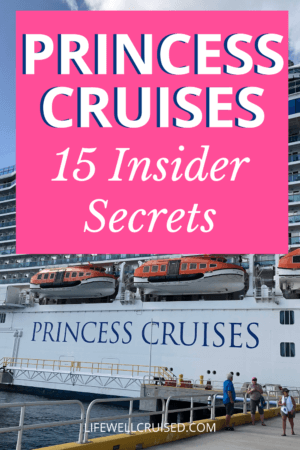 1. Princess Cruise Cabins
While Princess cabins aren't the largest we've ever seen, they have something we just love! Princess Cruises staterooms have amazing large open closets. From inside cabins to balcony staterooms, the cruise cabins have a sort of separator wall between the sleeping area and closet and washroom area.
While these cabins don't have large sofa chairs or couches in them, for this you'll need to move up to a mini-suite, this large open space as you enter your cabin is really practical.
There are even a couple of full size mirrors. In our family, it served as a bit of "private" dressing area, right outside the washroom.
Whether you're an over-packer like me or not, this extra large hanging space, along with a few shelves. Even though I still love some good cruise cabin hacks, this just makes it easier on everyone.
2. Princess Cruises Dining Options
Princess has some of the best dining options at sea. There's literally so much available and included.
Recently, I saw a fun Facebook thread, asking Princess Cruisers to name their first-time cruiser lessons or mistakes. One common first cruise "mistake" was how many people didn't realize that most of the food on-board the ship was actually included.
We had friends who cruised several years ago, and they recounted the story and lesson from their first cruise. It seemed that they ate each breakfast, lunch and dinner in the buffet. There's nothing wrong with eating in the buffet, but it wasn't until the last night of their cruise, that they realized that dinner in the dining room was actually included!
Here is a list of Princess restaurants and food venues that are included (no extra fees)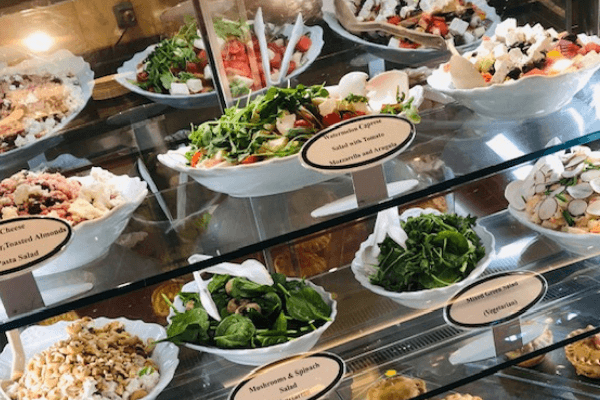 Main Dining Room (Traditional and Anytime Dining)
International Cafe – This is literally open almost all the time and offers breakfast, lunch (even salads), snack and dessert options
Poolside Grill – Outdoors near the pool there is a grill with burgers, hot dogs, chicken burgers, french fries and more (fries at 4 pm are too good!)
Poolside Pizza – Princess has some of the best pizza at sea (possibly THE best)
Horizon Court Buffet – the buffet has quite a lot available from morning to night
Alfredo's Pizzeria – while not available on every ship, Alfredo's is a casual sit down Italian venue open for lunch and dinner and there's no extra charge.
Alfredo's Pizzeria Tip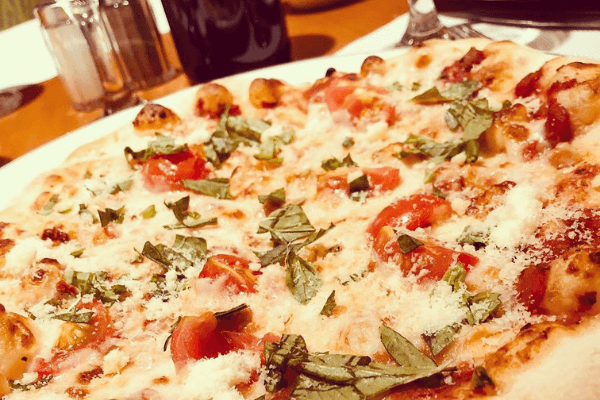 If you're cruising on Regal or Royal Princess (or another ship with an Alfredo's restaurant), consider having your lunch here on embarkation day, while your fellow cruisers still don't realize it's included. The buffet will be busy that first day, so avoid it if you can.
I put together this review with pictures and the menus, so you could get an idea of what to expect.
On top of this there's ice cream and popcorn on the pool deck. My best for any ship, is to explore as much as possible, and discover all it has to offer.
Alfredo's Pizzeria (review and menus): Princess Cruises Alfredo's Pizzeria; the Best Pizza at Sea (link to article)
3.What food isn't included?
Specialty restaurants such as Sabatini's, Crown Grill and Crab Shack have an additional charge. If you'd like to have a more intimate or special meal, you may really enjoy this.
Other food items that aren't included are the gelato shops in the Piazza (Princess Atrium) and a few odd items like chocolate covered strawberries. There is a fairly small charge if you enjoy them.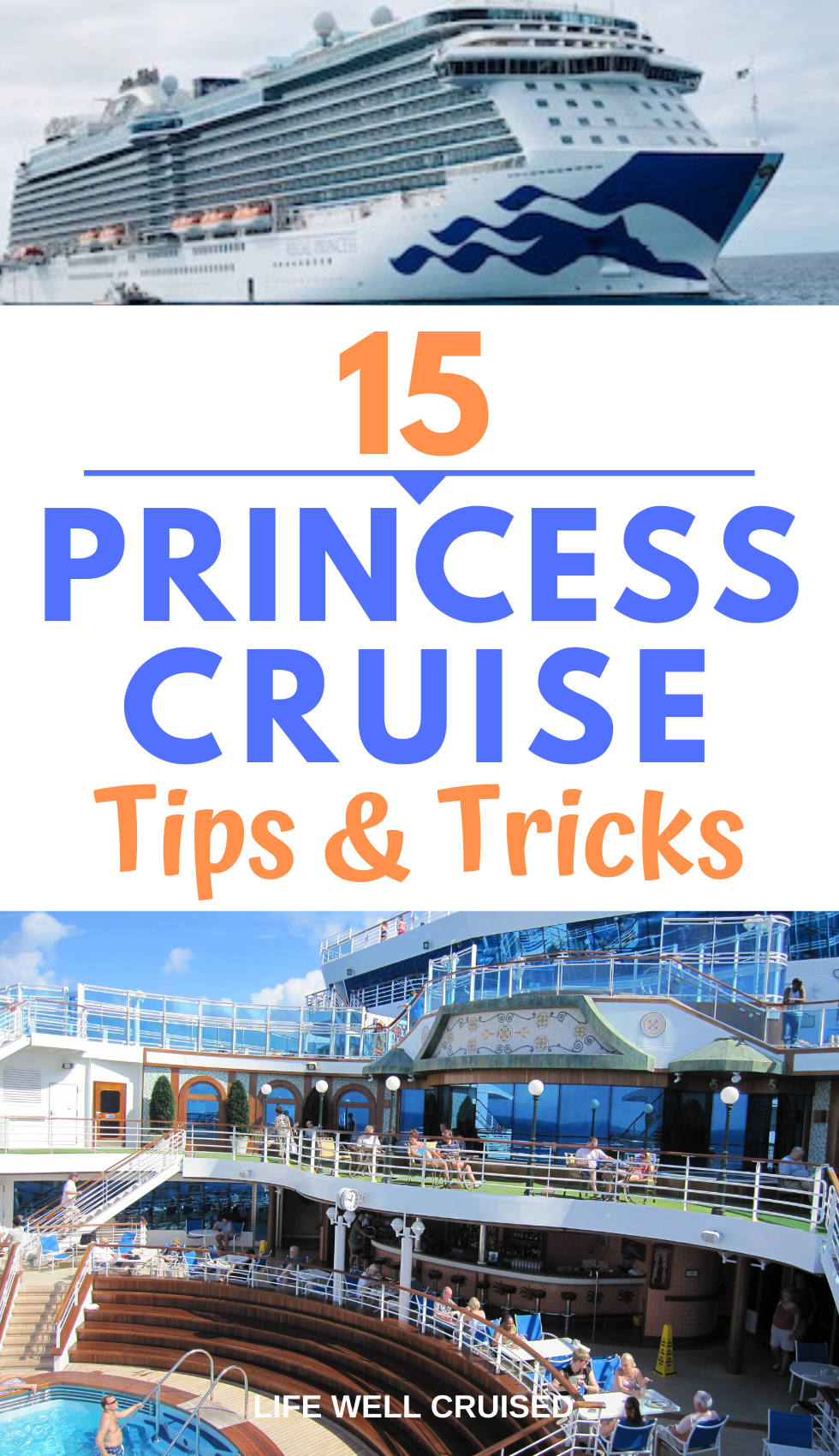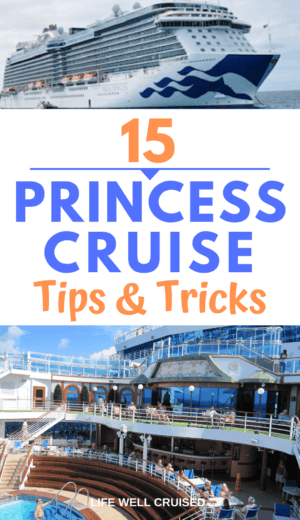 4. Are drinks and coffee included?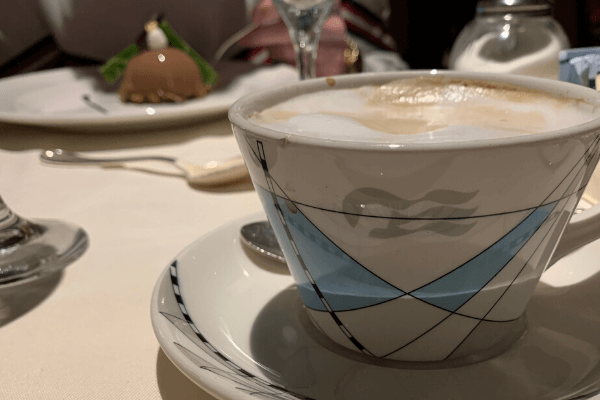 With cruise lines promoting beverage packages, it can be hard to know what drinks are included, and which are not.
There are additional charges for alcoholic drinks, soda or pop, water bottles and some juices. There's also an extra charge for specialty coffee and tea.
While "regular" coffee and tea is available in the buffet and in the Main Dining Room, freshly brewed coffee, specialty coffee and premium teas are additional.
Consider purchasing a coffee package at International Cafe, which is an excellent value.
Alcohol and non-alcohol/soda packages can also be purchased as well.
Here's an extensive guide to the Princess Cruises Drink Packages, that I've recently put together. I've included bar menus and drink photos as a resource, so do check it out:
Princess Cruises Drink Packages (with bar menus and drink photos)
Tip: You can bring a bottle of wine per adult in the cabin. A corkage fee of $15 may be applied if you drink it in a public area.
5. Bonus for Foodies: Princess Fan Favorite Foods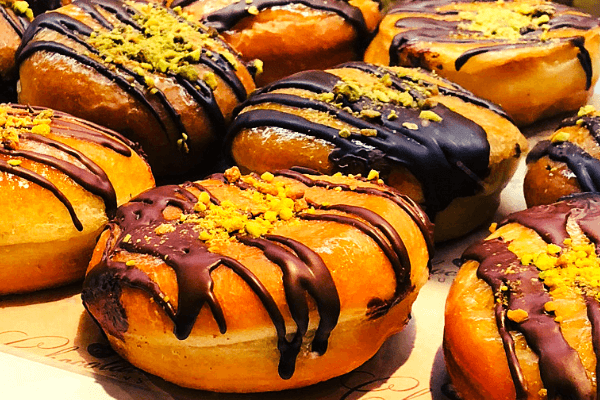 There are some foods that frequent Princess cruisers just love – they are really kind of fan favorites. So, if you're cruising with Princess for the first time, and you love cruise food, you might want to know this.
Poolside pizza – It's really good, and was even voted best at Sea by USA today. More importantly, regular cruisers rave about it, so give it a try.
Fettuccine Alfredo – In my opinion, this dish which is served in the main dining room as a full meal or appetizer, was actually much better when it was served in a parmesan cheese bowl, but it's still really good and definitely a favorite.
Nutella Donuts – Look out for these in the International Cafe, as they are not available every day. They are so good they're almost sinful.
Chocolate Journey's desserts – Most chocolate desserts on Princess are really good. If you see one of these on the dessert menu in the dining room or at the International Cafe, they are worth the calories.
Princess Cruises Love Boat Dream – While this isn't my personal favorite, it's certainly popular and perhaps the most romantic dessert on the menu. Shaped in a heart and made of chocolate cake and chocolate mousse, it's worth a try.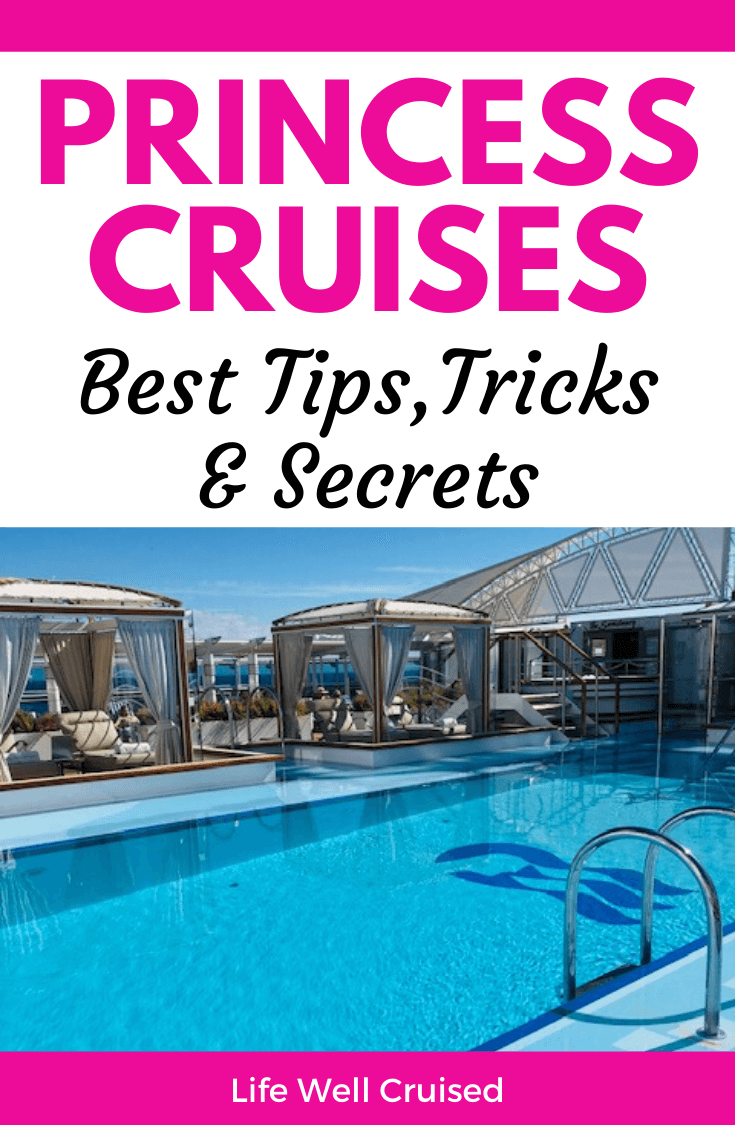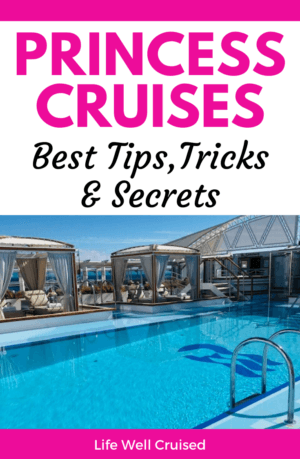 6. Princess Love Boat Nostalgia
If you're on a Princess Cruise, there's going to be some Love Boat nostalgia. From the cruise ship horn playing the Love Boat Theme Song (on some ships), to the Love Boat Disco Deck Party – it's all in good fun!
You can even find Love Boat reruns on your cruise cabin TV.
7. Hooray for Room Service!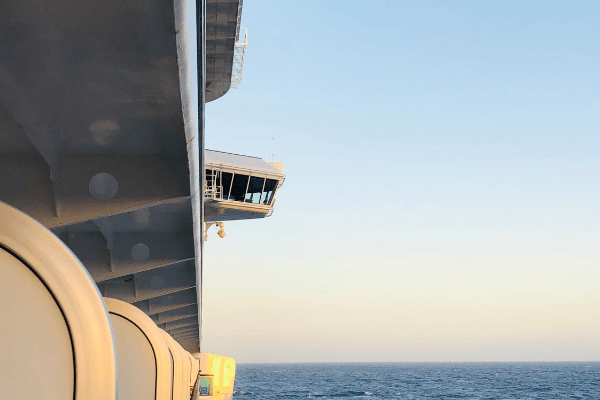 When we first started cruising, most cruise lines offered free room service. But, over the years we've seen that change. We love that Princess continues to offer a pretty decent room service menu!
Whether you order a light breakfast to have in your cabin before an early shore excursion, or a late night snack, just know that this is included with your cruise fare.
8. Princess Cruises Discounts and on board credit benefits
There are all sorts of discounts you should check for, if you're booking a Princess Cruise.
From Military benefits, Past Passenger discounts, and additional on board credits for *referring your friends (did you know about this one?), these are things you should ask about when booking a Princess Cruise.
These additional onboard credits can be substantial – if you are a veteran or in the military, please inquire about the military benefit when booking with your travel agent or Princess directly.
To use the Refer Your Friends program, you must register your friend as a referral online. You will both get an additional on board credit, even if you aren't cruising together. Check Princess Cruises website for details and current information.
9. Princess Cruises OceanMedallion Ships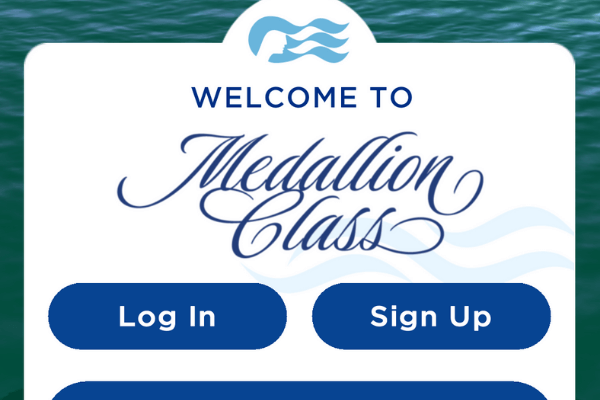 Over the last year or so, you've probably heard a lot about Ocean Medallion cruises.
Basically, the Medallion device replaces the cruise card, and quite a bit more. Although not yet available on every cruise ship, Princess has said that 15 of its cruise ships will be OceanMedallion ready by the end of 2020.
If you have a smart phone, there's a lot that you can do on your device. However, you don't need to have a smart phone to use this, and it's "free". There is no additional charge.
I won't go into all the details here, as I've put together a lot of information in these 2 previous posts (below).
If you'd like to read more about our personal experience with Ocean Medallion, you can find our review here: Our Ocean Medallion Cruise Experience on the Regal Princess
Additionally, as more information was released about Ocean Medallion, I put this together to help answer any questions, from a cruiser perspective: 21 Things You Need to Know About Ocean Medallion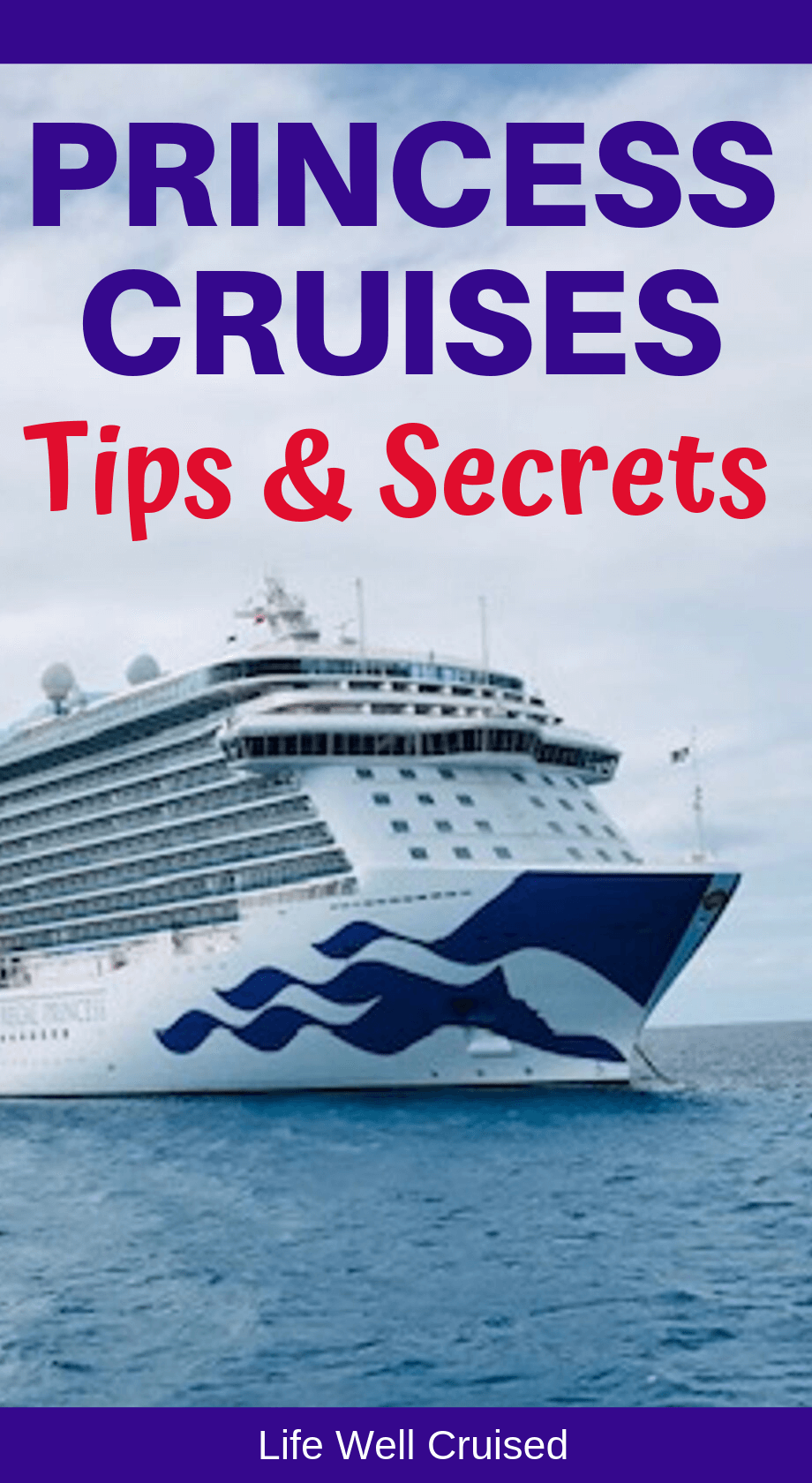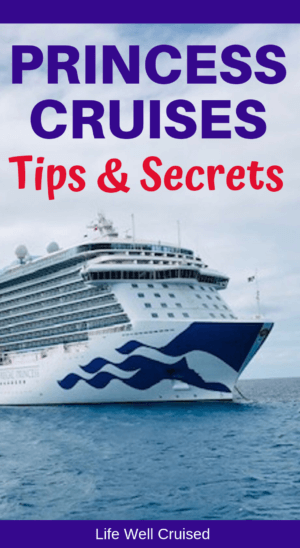 10. Princess Cruises MedallionNet – Internet and Wifi
Could it be that the days of expensive and sluggish internet on a cruise ship are slowly becoming a thing of the past?
After cruising on the Regal Princess last Christmas and New Year's and paying less than $10 a day for unlimited internet – it has really spoiled us!
MedallionNet is available on all OceanMedallion cruise ships. The updated technology has allowed for fast internet, that works well even in your cabin.
However, this isn't available on all Princess Cruise Ships yet. Check to see if your ship has this, and otherwise what internet packages you can buy, if you need this.
Remember that you don't need to buy any internet package to use the Medallion or it's features. You only need to purchase MedallionNet if you want to use the internet.
If you'd like to know more, please read this post.
If you'd like a video explanation of Ocean Medallion, you can see this in my YouTube video below.
11. Future Cruise Deposits and Booking On-board
If you're cruising for the first time, or even if you've cruised a few times, you may not be aware of the advantages of booking your "next" cruise on board.
Most cruise lines offer an on-board booking incentive program, and generally they are advantageous. Princess Cruises has a really good one, which I believe is very worth it.
How does booking on-board work?
I often recommend to people, that if they have enjoyed their cruise, they should put down a deposit for a future cruise. Not only is the deposit reduced, but it will give you additional on-board credits on a future cruise, just for booking on-board.
That's free money – and who doesn't love this?!?
If you've booked with a travel agent, the future cruise reservation agent will send the booking to him or her, if you wish. You can even go home and transfer it to an agent, which may get you even more perks back home. There are some conditions , so please check before you book.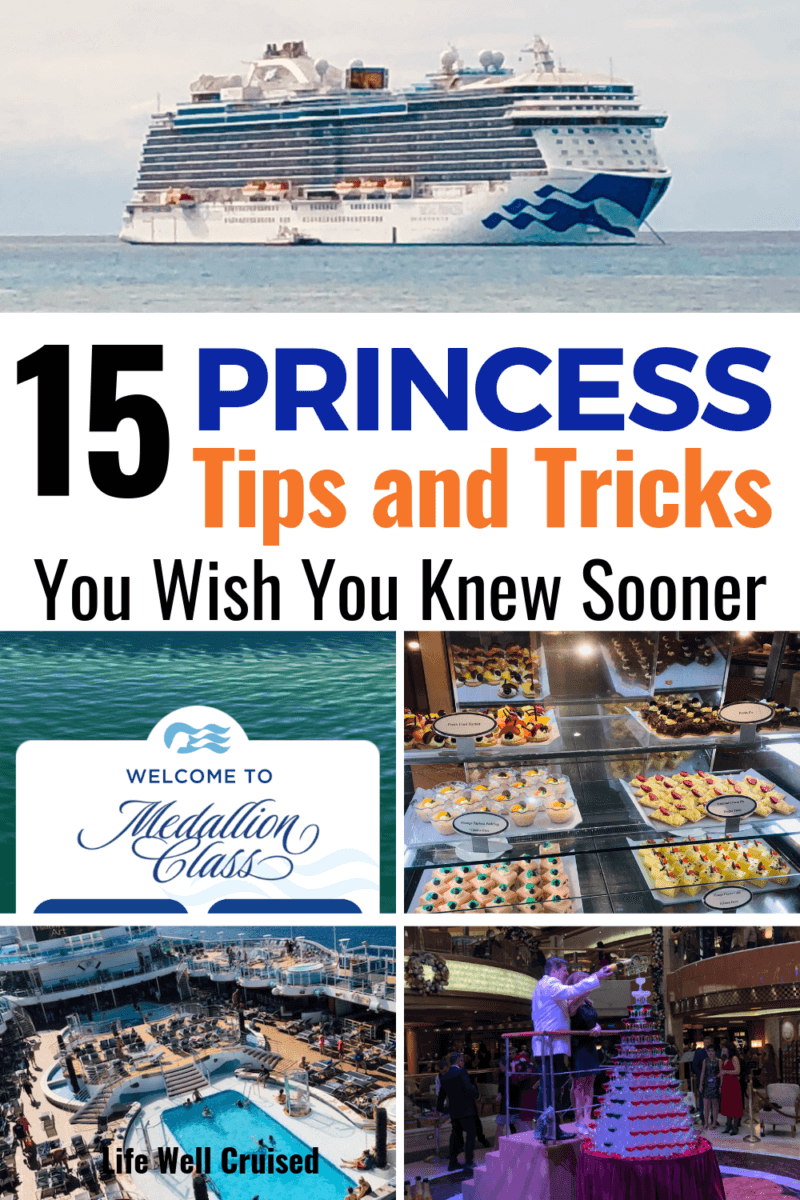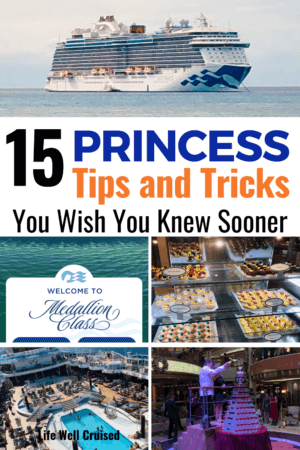 12. Princess Cruises Loyalty Program
One thing you'll notice on a Princess Cruise, is the amount of repeat cruisers there are.
Why? Well, overall they offer a really good cruise experience and people want to cruise again.
However, they also have a really good loyalty program, called Captain's Circle. They offer past passenger discounts, free internet minutes, a small discount in stores, and even at a certain loyalty level, free laundry, and more!
Seriously, they had me at free laundry. Ladies, am I right? 😉
13. Some Special Princess Cruise Ship Experiences that we Love!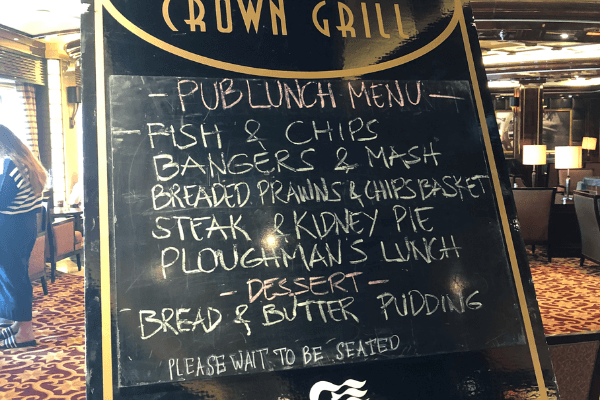 I feel like I talk about food a lot, but Princess has some really great casual food and special experiences that are worth doing, and many cruisers just don't know about it (and I want to make sure you do!)
Some "free" foodie experiences that you may enjoy include:
The British Pub Lunch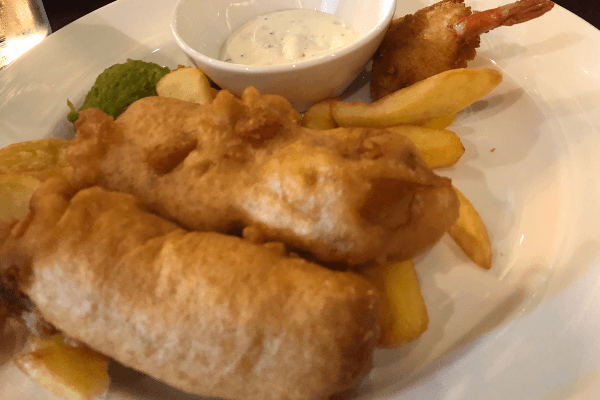 This is served on sea days often in the Wheelhouse Bar or Crown Grill. There is no extra charge for it.
They serve fish and chips, prawns, bangers and mash, and more. We think it's fabulous and love it!
Tip: It gets busy and it's quite popular, so go early.
Afternoon Tea
There are actually 2 afternoon teas served. One is served in the main dining room and there is no extra charge. The other is has a small charge and is served in a more intimate setting.
We did the afternoon tea, in the MDR for the first time while on our last Princess Cruise. We had some little cucumber sandwiches and some scones, cream and jam – it was soooo good!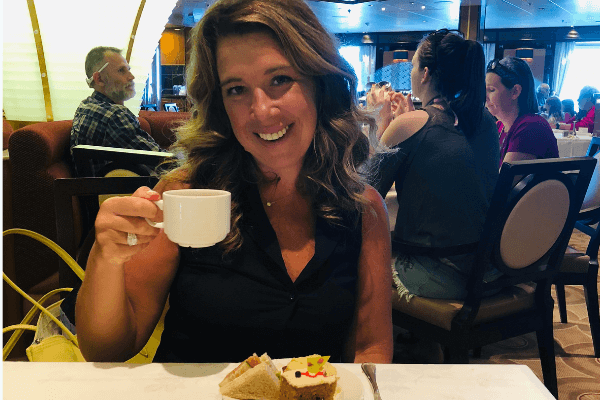 14. Princess Cruises Shore Excursions Tips
I'm by no means suggesting that you book every shore excursion with Princess, or even that you need an excursion in every cruise port. However, there are times when it's a good idea to book an excursion.
I've found a really good advantage, which many cruisers just don't know about.
It's the Best Price Shore Excursion Guarantee. Basically, the way this works is that if you find a very similar shore excursion online with another vendor, Princess will not only match the price, but give you a 10% difference in extra on-board credit.
Here is the form, which you can download from the Princess website.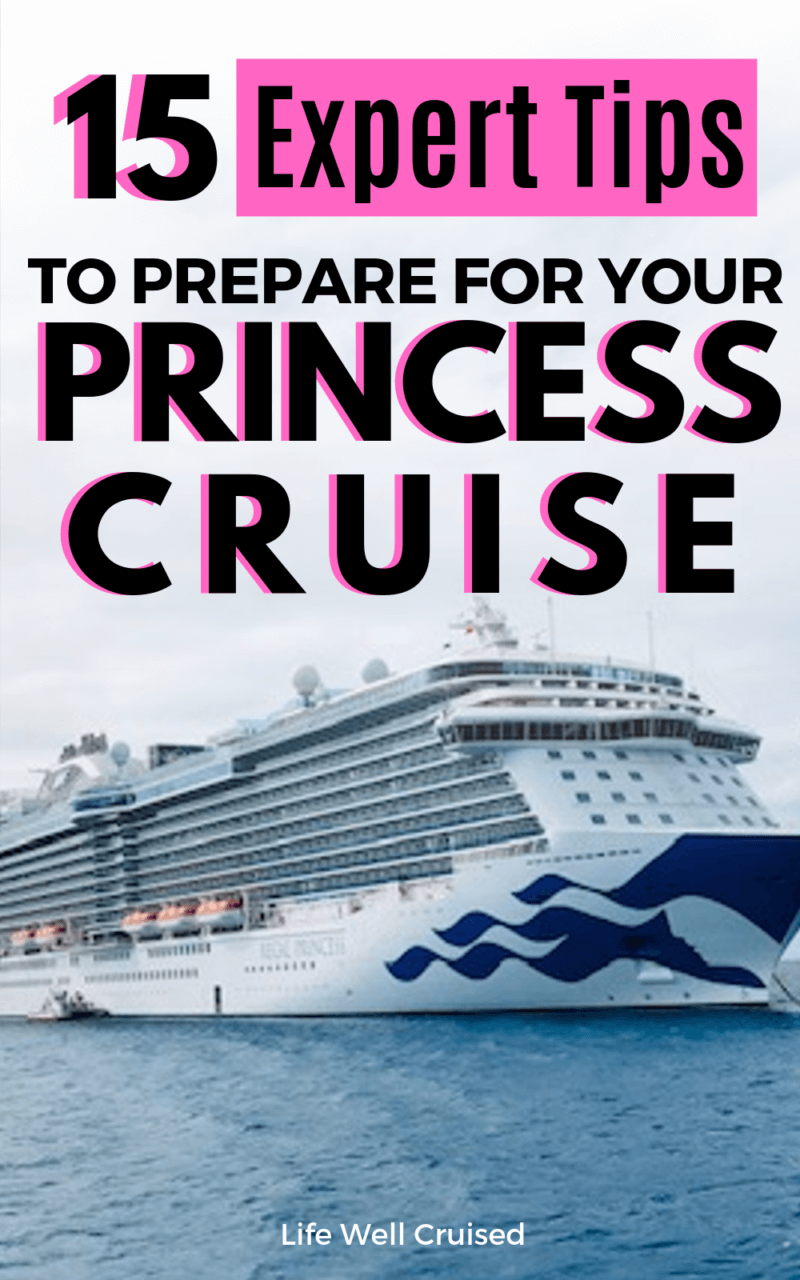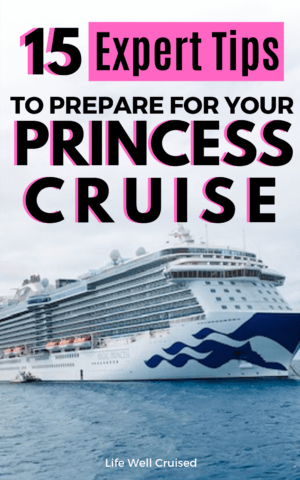 15. Princess Cruises Glossary and Cruise Lingo Acronyms
First time cruisers will learn quickly that cruisers have a language all their own. You'll hear frequent cruisers speak in cruise jargon and acronyms all the time.
These are just a few:
MDR – main dining room
IC – International Cafe
FCC – Future Cruise Credit
OBC – On board credit
TA – Travel Agent
B2B/B2B2B – 2 and 3 and more cruises all in a row
For a more extensive list of cruise vocabulary: Cruise Lingo Glossary – 55 Words You Need to Know
Princess Cruises Embarkation Day – What to expect
I've put together this YouTube video about our recent Princess Cruise on the Crown Princess. It begins with our embarkation day, and you can follow along on our Caribbean cruise if you'd like to see some samples of dining and other aspects of cruise life on Princess.
If you enjoy, please consider subscribing to my YouTube channel where I share helpful cruise tips and vlogs.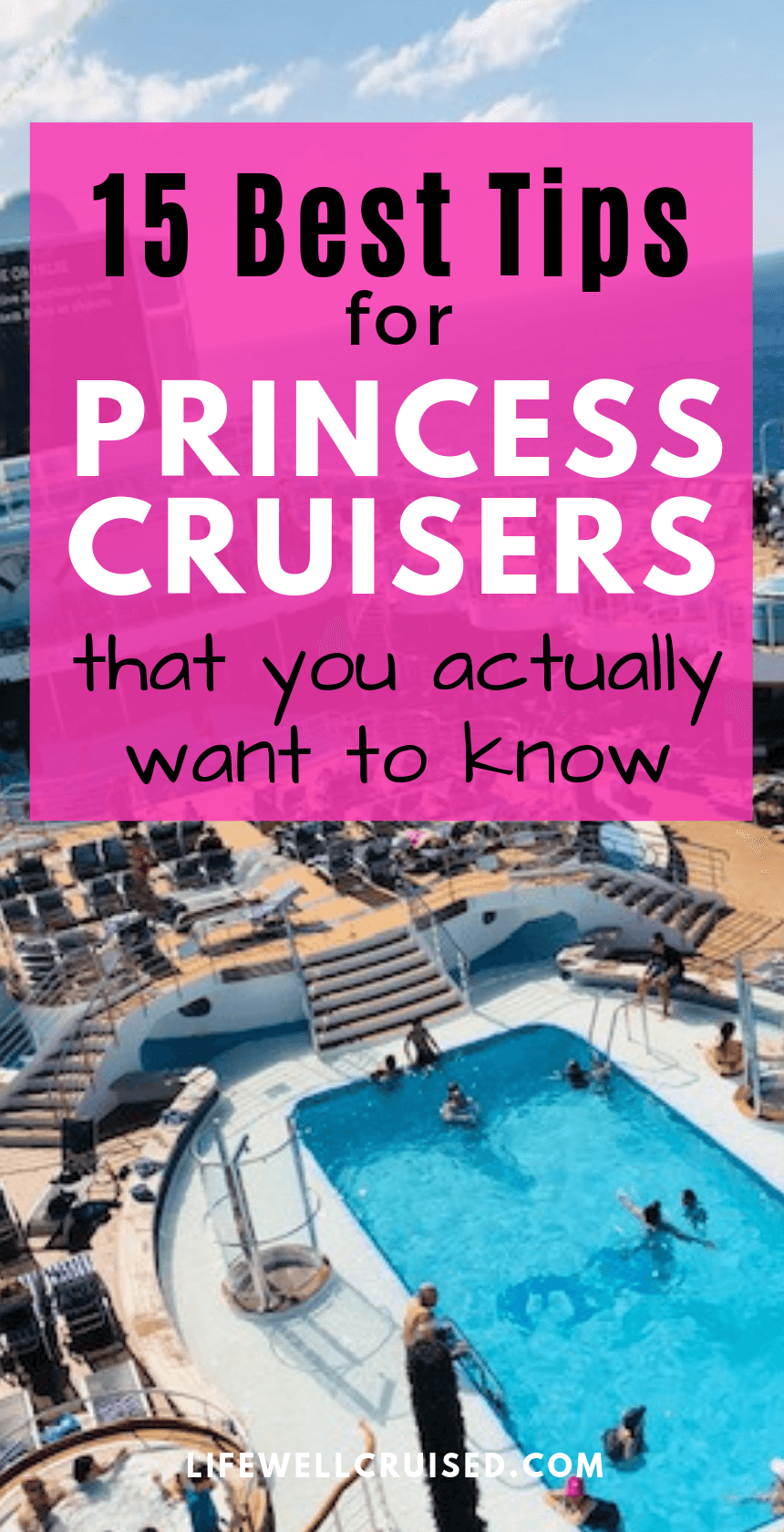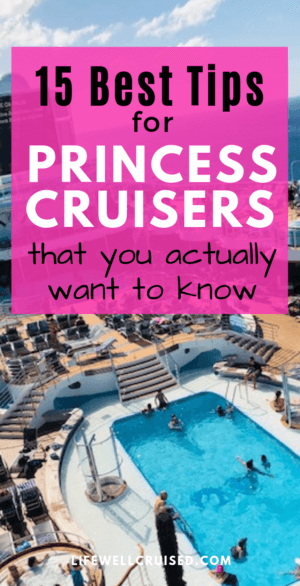 Read next: Princess Cruises Drink Packages (the details and menus) – Premium Beverage Package, New Grounds Coffee Package, Princess Plus perks
Recap:15 Awesome Tips for First-Time Princess Cruises
We've gone through some of the best things about cruising with Princess, and things first time cruisers will appreciate knowing.
One of the most important things to do, is actually to refer to your Princess Patter, the daily planner. This, or the app on your phone or portal, will help you to make sure you don't miss anything important.
Even though my intention is to provide useful and helpful information, always check your own cruise personalizer, with your travel agent and/or Princess Cruises website for the most accurate information, that is relevant to your own booking.
Have you cruised with Princess or are you cruising soon? Do you have any extra tips?
Happy Cruising!!
Ilana xoxo
P.S. If you found this helpful, please don't keep it to yourself ;-). Please share on Facebook or PIN to your favorite Pinterest board (share buttons at the top). Thanks so much!
Popular Posts:
30 Cruise Cabin Hacks Every Cruiser Needs to Know
The Pros and Cons of Packing Cubes for Cruise Vacations
11 Cruise Boarding Tips You Need to Know
15 Cruise Embarkation Day Tips Straight from the Pros
Let's connect:
Follow me on Facebook at Life Well Cruised
Follow me onYouTube at Life Well Cruised (Vlogs and cruise tips)
Follow me on Pinterest at Life Well Cruised
Follow me on Instagram at Life Well Cruised