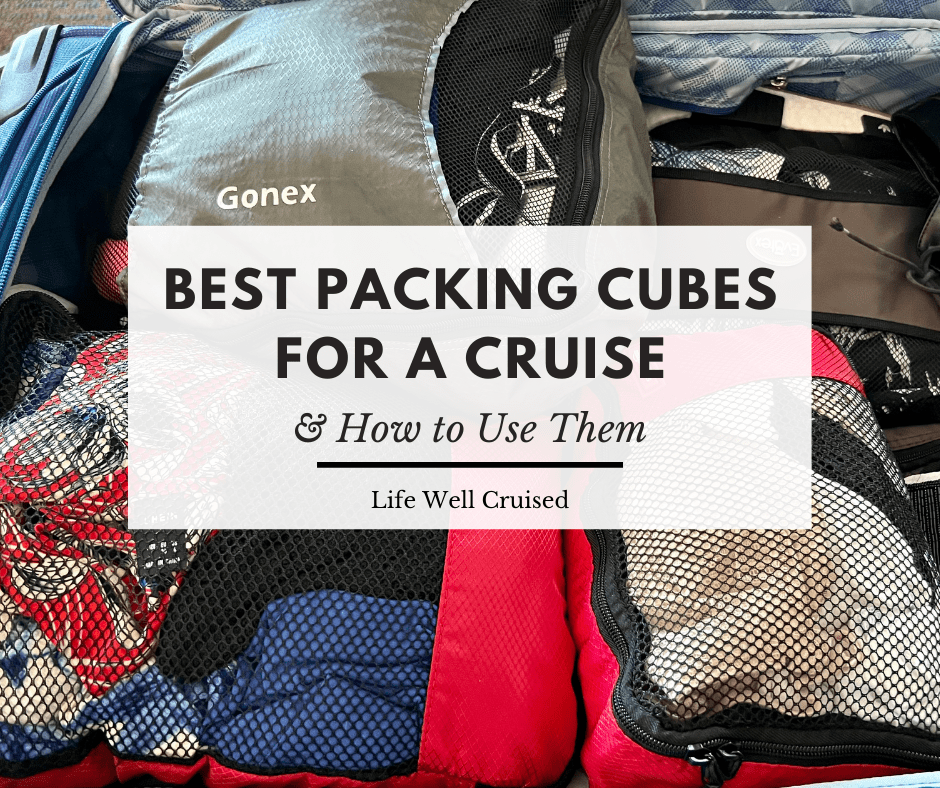 Are you going on a cruise and wondering if packing cubes will be helpful? Packing for a cruise can seem complicated, but packing cubes are especially useful on cruise vacations!
Whether you like to pack light or tend to overpack, packing cubes will help you to pack better and be feel more organized.
When I first heard of packing cubes, I wondered what the fuss was about. As a frequent cruiser, I had my own "system", and I am not a minimalist packer. However, I found some great ways to use packing cubes on cruises, as well as how to pack them efficiently.
With that said, In this post I share how why packing cubes are great for cruises and tips on how to pack for a cruise with packing cubes. I've also included some of the best packing cubes to pack for your cruise vacation.
This post contains affiliate links which means if you click and buy that I may make a commission, at no cost to you. Please see my disclosure policy for details.
As an Amazon Associate I earn from qualifying purchases.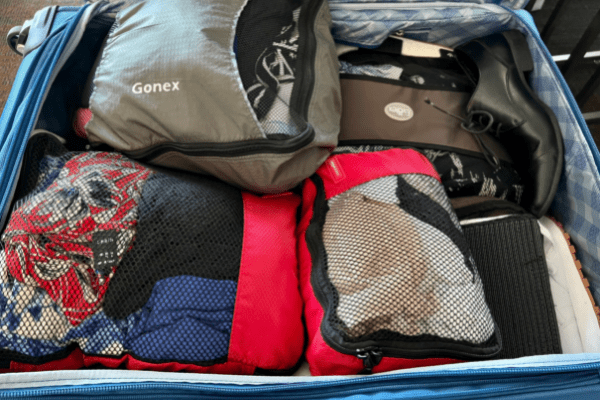 Are Packing Cubes Good for Cruises?
Packing cubes are great for cruises, as they help you to pack in an organized way, making unpacking your clothing once in your cruise cabin easy. You can also use packing cubes to organize and separate your outfits and things you need for pre-cruise hotel stays.
However, there are some cons to packing cubes. When using packing cubes for the first time, it may take longer to pack. As well, if you're packing bulky items like sweaters and sweatshirts, packing cubes don't seem to help. Using a method of both packing cubes for dresses, pants, shirts and shorts, and placing bulkier clothing on top, works nicely for cruise packing.
Why Packing Cubes Are Great for Cruise Packing
1. Great Organizational System
This might be the best reason to use packing cubes! Packing cubes really do help to keep you organized.
You may want to pack by putting all like items together. As an example, a packing cube with t-shirts, another with shorts and so on. Different size packing cubes are available, which is great for packing everything from underwear to pants.
Another way to organize your cruise outfits is by day. This method seems to be especially popular for those cruising with young children, as you pack your kid's evening outfits all in one place if you like. This can make life a bit easier for Mom or Dad, as everyone is getting ready for dinner and just "knows" what to wear.
2. Packing Cubes Can Be a Space-saver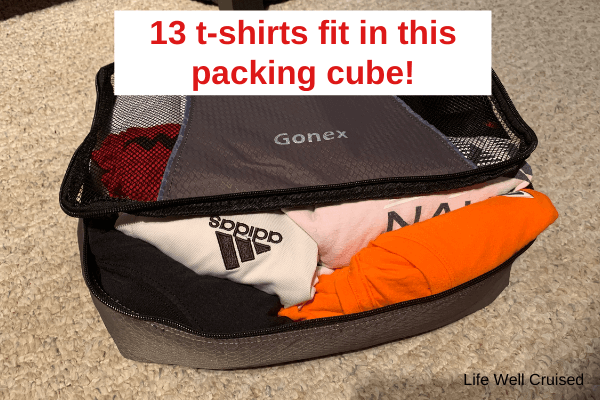 Packing cubes fit way more inside than you'd imagine. I actually fit 13 t-shirts for my son into one small size packing cube (for reference he's a men's medium). Lightweight summer dresses fit in effortlessly as well.
Several packing cubes can fit in your luggage, however you'll probably want a few sizes so that they can fit together like a puzzle.
3. Some Compression Abilities
The packing cubes that we bought on Amazon (link to Amazon) had some compression abilities, while also being partially made of mesh, which made them breathable.
Recommended: Packing cubes set (verify price on Amazon – link)
4. Perfect a Pre-cruise or Post-cruise Overnight Bag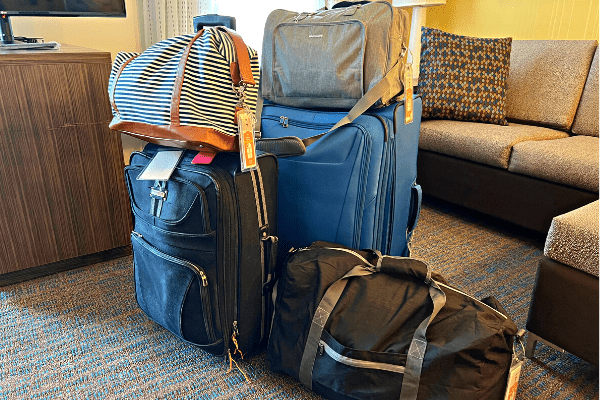 If you're heading into the cruise port a day or two ahead, which is highly recommended, then you'll want to pack an overnight bag. Packing cubes are great for keeping an outfit or two ready to wear and organized for each person.
Tip: Use your overnight bag as a cruise carry on bag for embarkation.
Recommended: Nautical stripe carry on bag (see reviews here)
5. Organize by Color
Using various color packing cubes for different family members or people in the cruise cabin can help to keep your items even more organized.
This way, even when unpacking, everyone knows which stuff is theirs. Of course, while great for cruises, packing cubes can be used for other vacations and weekend trips as well.
Recommended: Packing cubes (set of 6 includes shoe & laundry bag)
6. Easy Unpacking on Your Cruise
One of the best reasons to use packing cubes, is how fast and easy it is to unpack once in your cruise cabin! Everything is more visible and manageable. Plus, each member of the family can unpack or even place their packing cubes directly onto the shelves and drawers. TipL Leave packing cubes unzipped to minimize wrinkles.
Packing cubes even make it easier to pack up when the sad day comes and it's time to disembark from your cruise.
Recommended: 21 Essential Things to Pack in Your Cruise Carry-On
Best Packing Cubes for a Cruise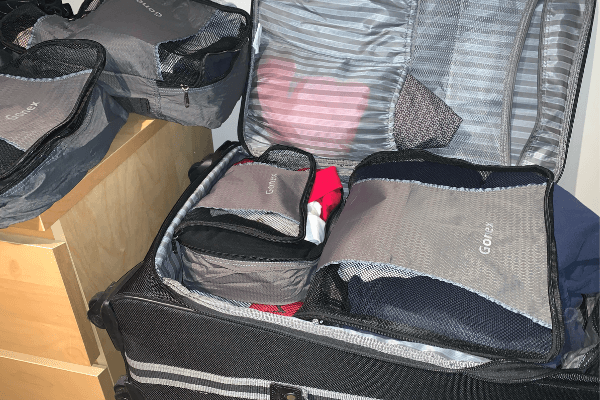 Packing Cubes Sets
There are actually a few packing cube sizes, and getting them too small or too big, won't be very helpful. It's a good idea to start off with one or two packing cube sets with 3 basic sizes, small, medium and large.
Then, add more packing cubes sizes as you need.
Small sizes are great for underwear and socks and bathing suits. Medium sizes were perfect for t-shirts, shorts and light dresses. Large and extra large sizes were best for pants, jeans and long sleeve shirts and sweaters.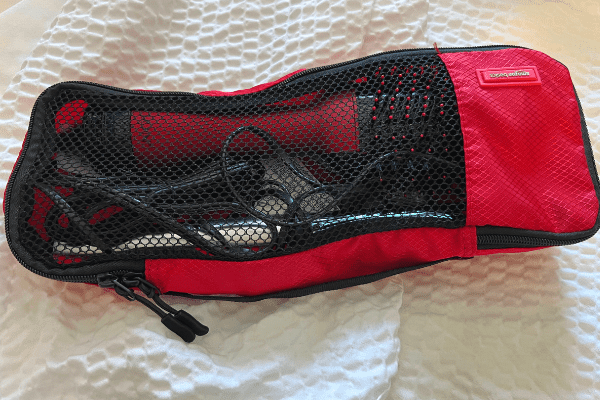 Tip: Long packing cubes are amazing for hair appliances!
Packing Cube Set of 6 with Laundry Bag
This set of packing cubes is a best selling favorite. It comes with both a shoe bag and a laundry bag. If I was starting over, I'd get one of these in a different color for everyone in my family!
Recommended: Set of 6 packing cubes (see Amazon reviews, price & colors here)
Packing Cube Set (5 pack)
This packing cube set is a great starter pack. With one large, 2 medium and 2 small sizes, picking up a set of two of these is a great start to more organized packing for a cruise.
Recommended: 5 Pack Packing Cube set (see colors and over 7000 amazon reviews here)
Amazon Basics 4 Piece Set (medium)
The medium size packing cubes are very versatile and can be used often. The Amazon Basics packing cubes have great color options and hold up really well.
Recommended: Amazon basics set of 4 (other sizes available)
Compression Cubes
If you really want to compress your items, and pack more in less space, compression cubes are a good idea.
Recommended: Compression cubes set (check reviews & price on Amazon here)
Get The Ultimate Cruise Planner
Regular price: $27 Now just $17!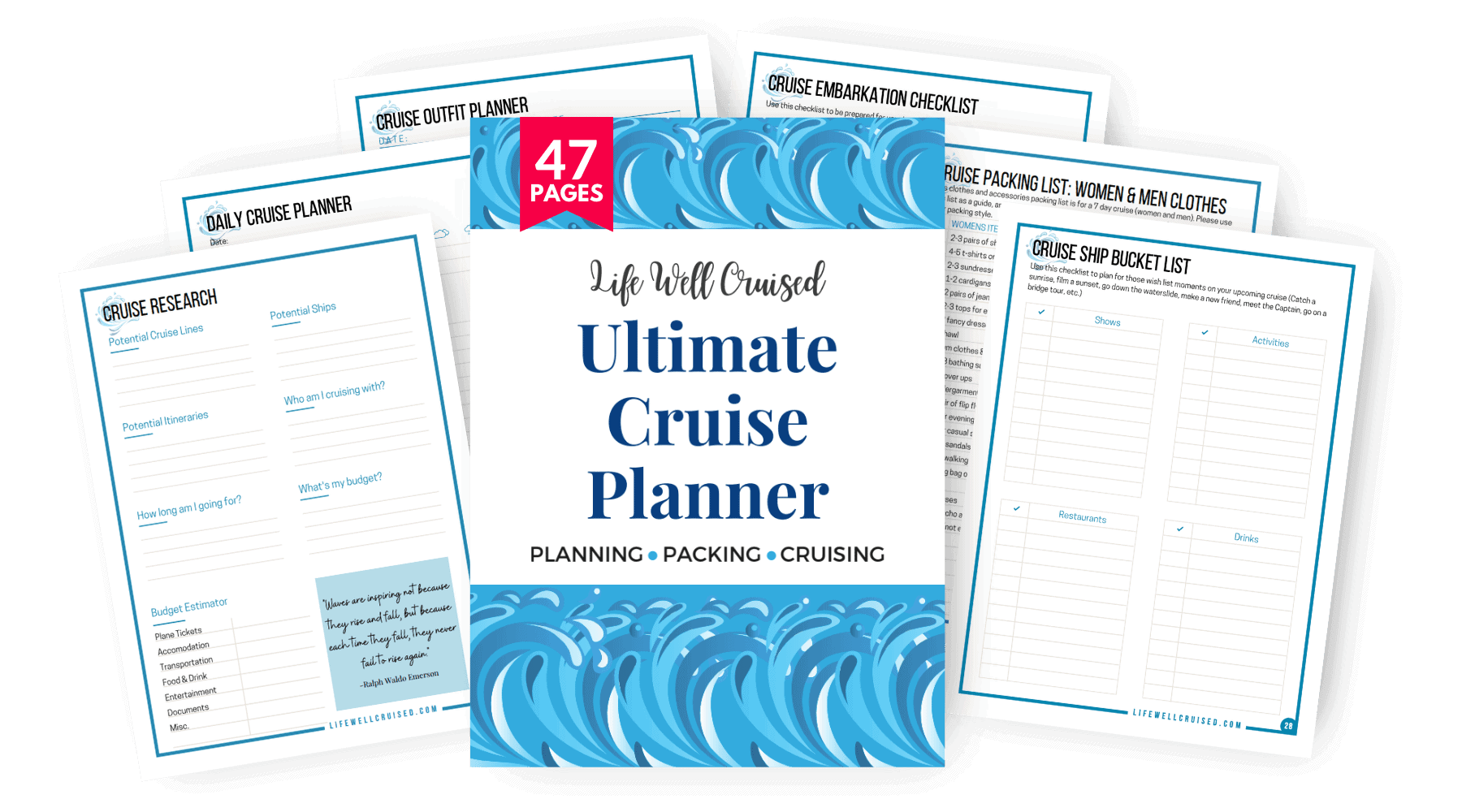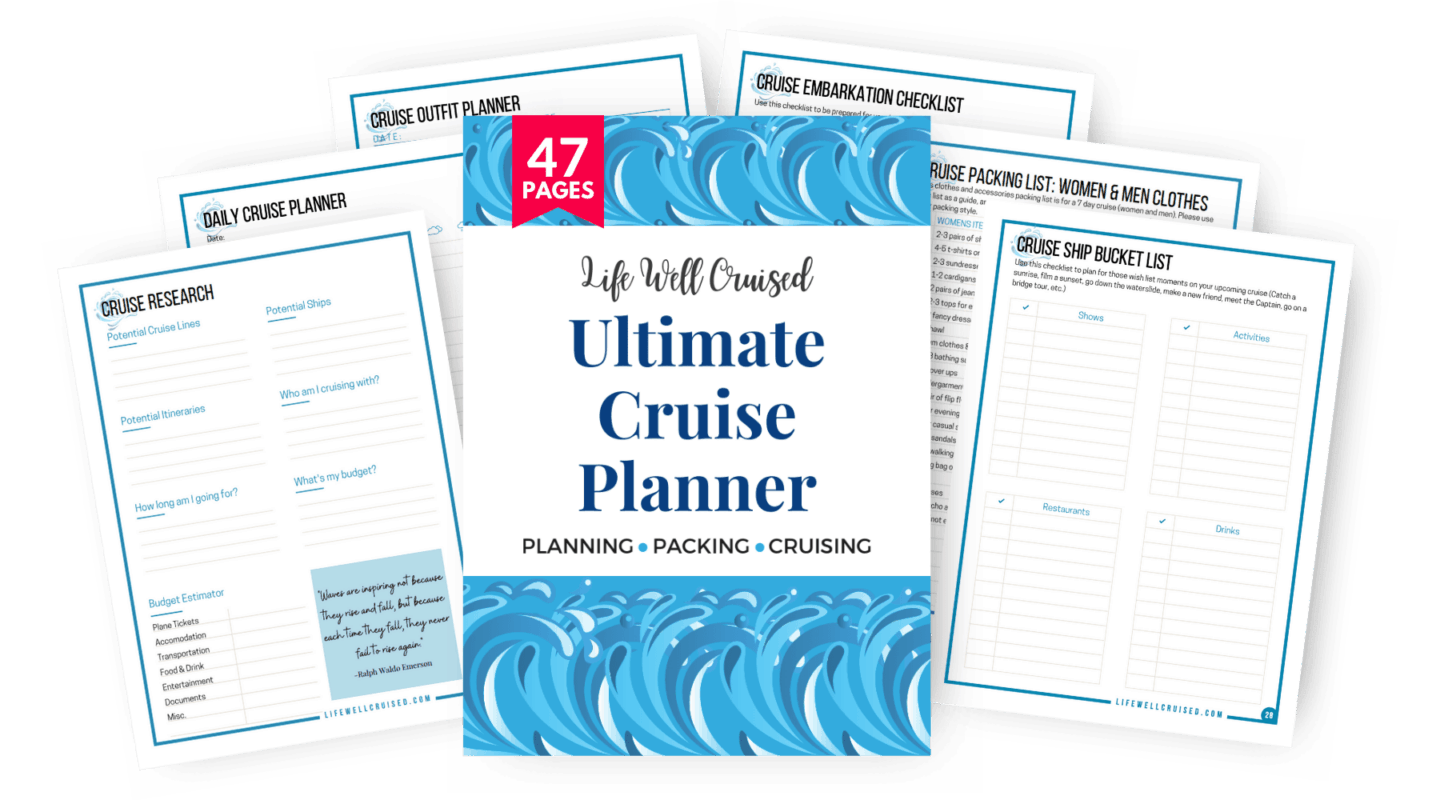 Cons of Packing Cubes
Packing Shoes for a Cruise
Shoes don't fit that easily into packing cubes, so you do need to be creative. This was probably about the only packing cube "con" for me.
You have a couple of options. There are some great packing cubes designed specifically for shoes, which might be the best is you like things very neat and organized.
Alternatively, you can use a little packing hack and wrap each shoe in a plastic shower cap, then place into the sides of some of your packing cubes, along with your cruise outfits. I usually like to place my shoes in between certain clothes with heels wrapped, or place socks in other shoes to retain their shape. Some shoes were placed against the sides of the luggage. Basically, I found ways to fit all my shoes in, as well of those of my family.
Now, using packing cubes to pack our shoes wasn't impossible, but it did force me to be more creative. Just a heads up ;-).
Alternatively, there are packing cubes and bags for shoes, but I don't have the extra room in my suitcase for those. If you do, that's probably your best best.
Packing cubes weren't great for big sweatshirts and hoodies
Since sweatshirts can be bulky, we found these didn't pack that well into the packing cubes. Instead, we placed these on top of the cubes before we closed the suitcase, and that worked fine.
Best Ways to Pack with Packing Cubes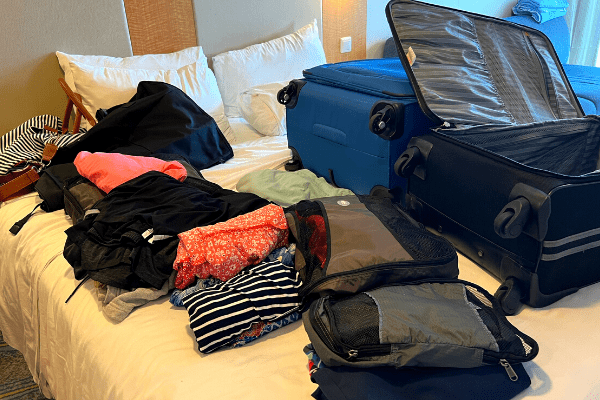 There are some ways to using packing cubes to fit more, pack efficiently to reduce wrinkles in your cruise outfits.
1. Roll method
Rolling your t-shirts, flowy tops and dresses instead of folding seems to minimize wrinkles, and seems to fit more inside each packing cube. Ince in your stateroom, hang up your cruise outfits as needed.
2. Folding & Stacking method
Folding and stacking a few pairs of shorts or pants together and placing them in one packing cube works well. More can fit in that meets the eye, so pack and press down a little to fit more in each cube.
3. Shoe trick
If you prefer to pack light for a cruise, you can keep your shoes in a packing bag, which often comes with packing cubes sets. However, if you've got a pretty full suitcase and pack a few pairs of shoes, you'll have to be more creative.
Some shoes can fit on the outer edges of your luggage, however heels and shoes that "squish" don't do very well in that spot.
My little shoe packing tip is to open up and cube and try and fit your heels or other shoes against the inside wall of your packing cube. I make sure there's some fabric leaning up into the heel, to avoid breaking.
I usually do a quick wipe of my shoes ahead of time just to make sure the bottoms are clean, even if they are "indoor" shoes.
Packing Toiletries for a Cruise
Don't forget to pack your toiletries for a cruise. This hanging toiletry bag is perfect, as it can hang right on the bathroom door or on a magnetic hook if you used any popular cruise cabin hooks.
This one comes with a TSA approved clear pouch for cosmetics.
Recommended: Hanging toiletry bag (see Amazon reviews & color options here)
Popular & Related posts:
Get The Ultimate Cruise Planner
Regular price: $27 Now just $17!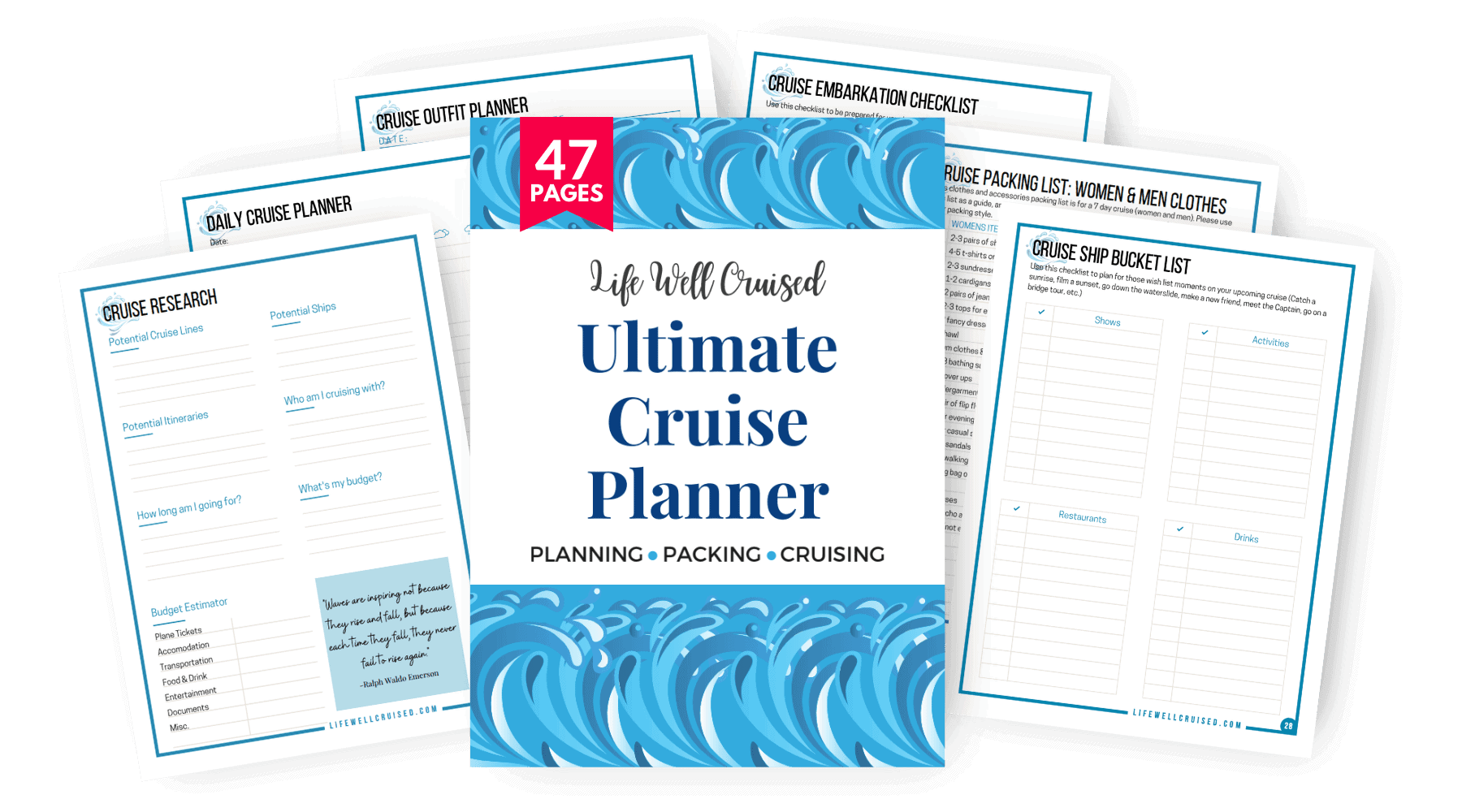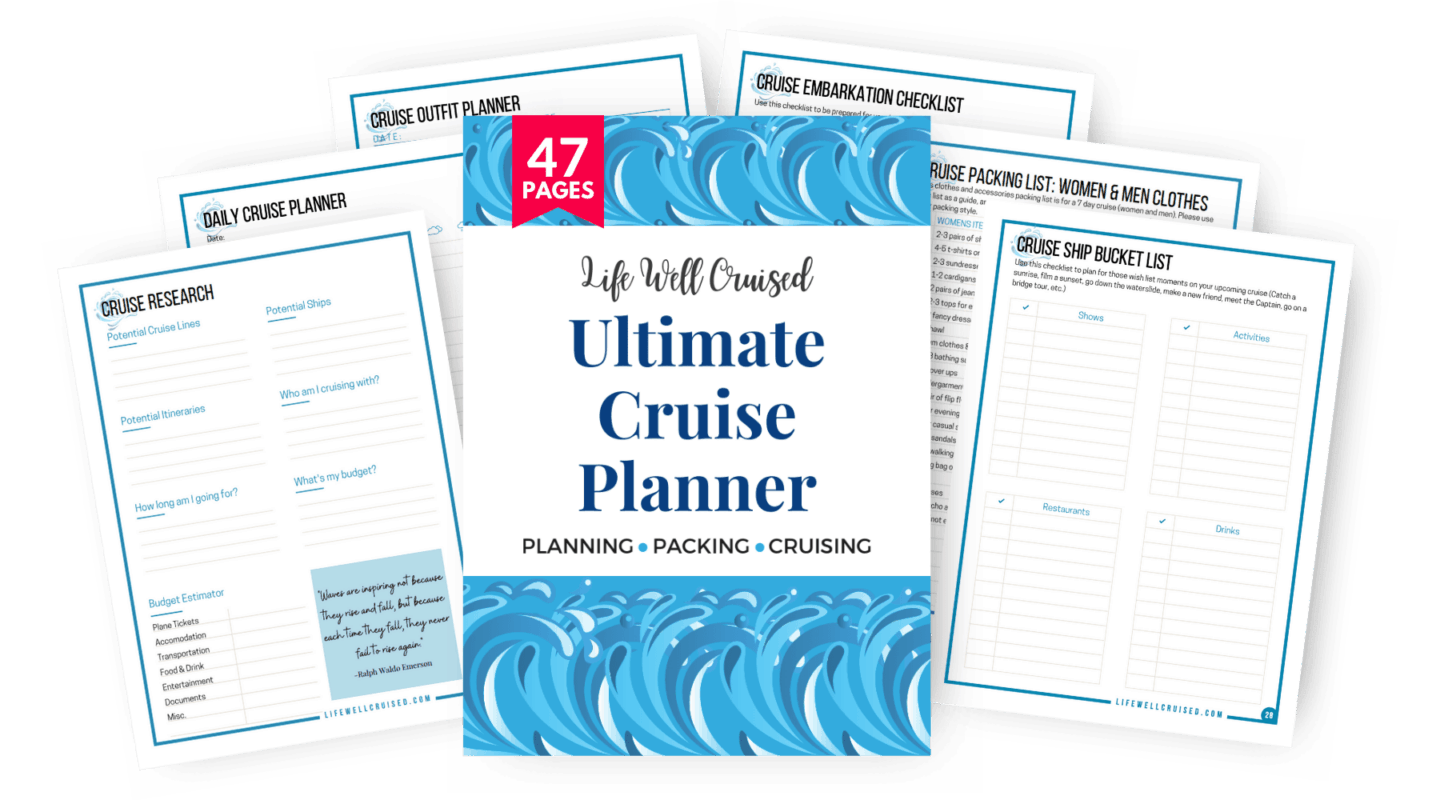 Final Thoughts on Using Packing Cubes for Cruises
Packing cubes are great for weekend travelling, road trips, and especially going on cruise vacations. Packing cubes can help cruisers pack better and stay more organized, and who doesn't want that?
Have you used packing cubes to pack for a cruise? Please share your comments and tips below.
Happy Cruising!
Ilana
P.S. If you found this helpful, please don't keep it to yourself ;-). Please share on Facebook or PIN to your favorite Pinterest board (share buttons at the top). Thanks so much!
Let's connect:
Join me on Facebook at Life Well Cruised
Join me on YouTube at Life Well Cruised
Join me on Pinterest at Life Well Cruised
Join me on Instagram at Life Well Cruised