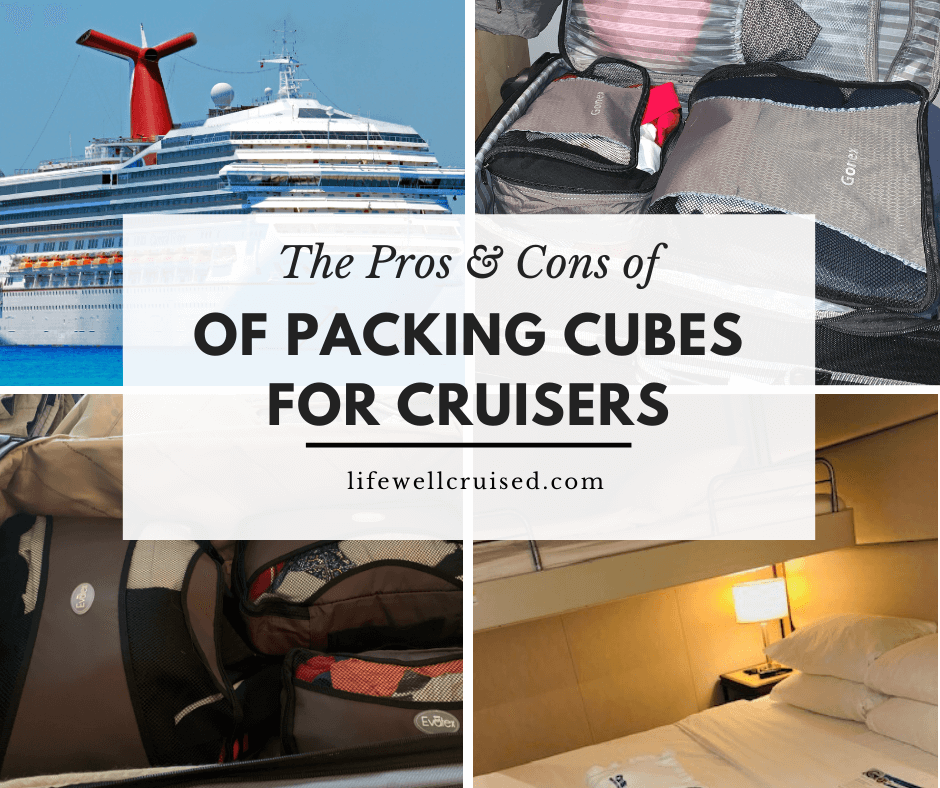 Should You Use Packing Cubes for Cruise Travel?
If you're going on a cruise, you're probably thinking about what cruise outfits you need to bring and how you can best pack for your cruise.
You may be even be wondering if you need packing cubes…
Am I right?
It seems like everyone is recommending packing cubes these days.
However, while some cruisers swear by them, others have their own system and claim that packing cubes just aren't right for them.
In this post, I'll be going through the pros and cons of packing cubes for cruise vacations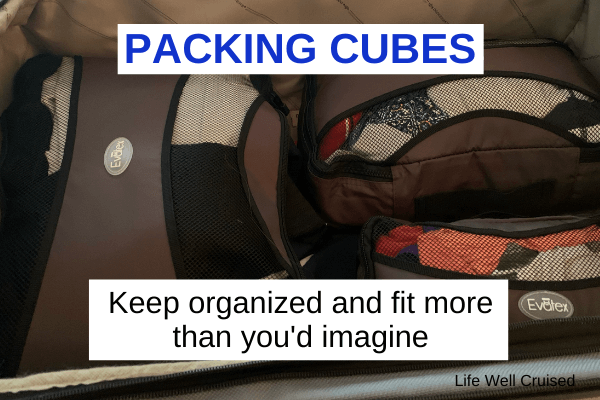 This post contains affiliate links which means if you click and buy that I may make a commission, at no cost to you. Please see my disclosure policy for details.
My own packing cube story
Before I get into the pros and cons of packing cubes, so you can see if they're right for you, I'd like to share with you my first experience with packing cubes.
I was NOT a huge packing cube fan just about a year ago.
I'd seen videos on YouTube about the joys of packing cubes and people in cruise Facebook groups were recommending them. I knew so many cruise travelers loved them!
So, I went on amazon and I bought a pack.
"But, which ones?" I thought.
If you've ever checked Amazon for packing cubes, then you know there are literally dozens to choose from! Different brands, colors and sizes. Oh my!
Well, I bought a pack of 5 packing cubes in grey, and pretty much looked for the least expensive, as I figured they were kind of all the same.
Being totally honest, when they arrived they were smaller than I imagined and seemed so flimsy. As I tried to pack in one, the zipper broke.
Thankfully I bought my packing cubes from Amazon, which meant an easy return and refund.
Needless to say, I was really NOT a packing cube fan at that point.
However, since so many experienced cruisers swore by them and many on my Life Well Cruised Facebook Page encouraged me to try packing cubes again, I did just that for my last cruise.
Now, I'm an over-packer and have always had "my own system" (it all fits!!), so I wasn't sure how useful they would really be… for me.
However, I have to admit, there was an appeal to feeling more organized and efficient, so I was willing to give packing cubes another shot!
Spoiler alert – I LOVED them and found them very useful!
However, I did find some pros and cons to packing cubes, as I can see why they aren't necessarily right for everyone.
I also have a few cruise packing cube tips, based on what I learned, which I'll share with you today.
The Pros of Using Packing Cubes for Cruise Packing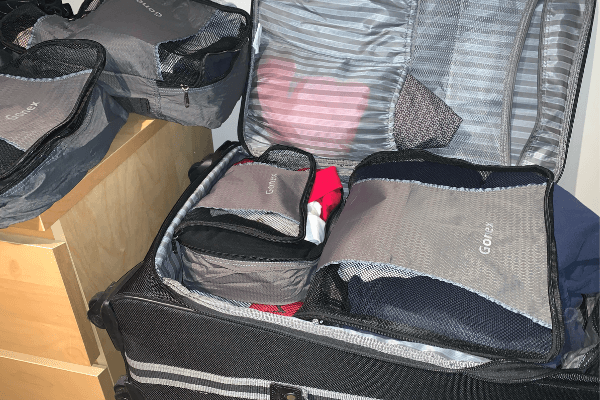 Great organizational system
This might be the best reason to use packing cubes! They really do help to keep you organized.
Some people keep all shirts together, then all shorts together, and so on. Others create outfits for each day and sort it this way.
This method seems to be especially popular for those cruising with young children, as you pack your kid's evening outfits all in one place if you like, which can make life a bit easier for Mom or Dad, as everyone is getting ready for dinner and just "knows" what to wear.
Packing cubes can be a space-saver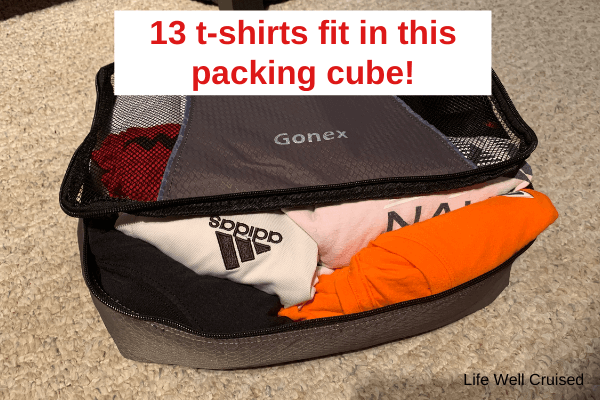 Packing cubes fit way more inside than you'd imagine. I actually fit 13 t-shirts for my son into one small size packing cube (for reference he's a men's small). Lightweight summer dresses fit in effortlessly as well.
Several packing cubes can fit in your luggage, however you'll probably want a few sizes so that they can fit together like a puzzle.
Some compression abilities
The packing cubes that we bought on Amazon (link to Amazon) had some compression abilities, while also being partially made of mesh, which made them breathable.
Recommended: Packing cubes set (verify price on Amazon – link)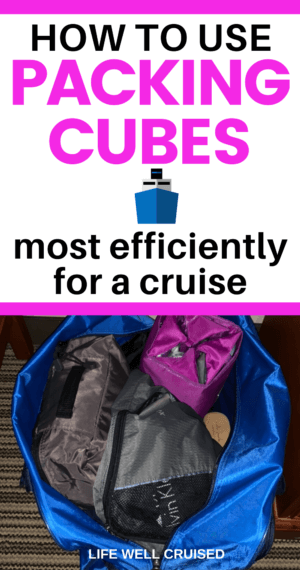 Perfect for use in a pre-cruise or post-cruise overnight bag
If you're heading into the cruise port a day or two ahead, which is highly recommended, then you'll want to pack an overnight bag.
We actually stayed in florida a couple of nights before our cruise,and one night after, and two things that were lifesavers were:
1.Packing cubes
2.This hanging toiletry bag (available in 3 colors on Amazon)
I literally cannot say enough about how much I love this toiletry bag by Royal Fair (Amazon link). It's the perfect size, has 4 removable see-through pouches, hangs on a bathroom hook, and folds into a super cute bag even if you wanted to carry it on it's own.
We used it both pre and post cruise during our hotel stays, as well as on our cruise and it was the BEST. THING. EVER.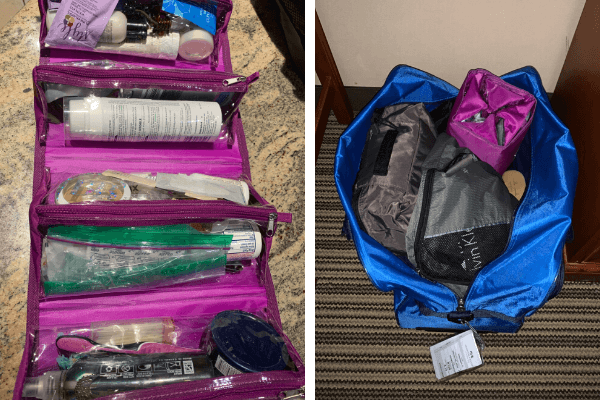 Packing cubes are available in several colors
Using various color packing cubes for different family members or people in the cruise cabin can help to keep your items even more organized.
This way, even when unpacking, everyone knows which stuff is theirs. I'll definitely be buying one more set before our next cruise for this reason.
Recommended: Packing cubes (Amazon link – check sizes and colors available)
Ease of unpacking on your cruise
We've never unpacked quicker than this past cruise – somehow the packing cubes just made everything see more visible and manageable.
Another cruise packing (or unpacking) tip is that you can keep some items within the cubes and place them directly in the drawers or a shelf.
It just keeps cruise clothing items organized, and also is a time saver for unpacking once in your cruise cabin, as well as for when the sad day comes when it's time to pack up to disembark from your cruise.
Recommended: 21 Essential Things to Pack in Your Cruise Carry-On
The Cons of Using Packing Cubes for Cruise Packing
It may be more time consuming to pack for your cruise
If you're using packing cubes for the first time, you may find that it takes more time to pack things into your suitcase.
I can imagine with time and practice, it will get easier and faster. However, my experience was that I needed some time to "organize" my stuff before it was ready to go into the cubes.
Plan to get the right sizes to fit your cruise outfit packing needs
There are actually a few packing cube sizes, and getting them too small or too big, won't be very helpful.
As a suggestion, consider buying one or two variety packs of 6-10 cubes, where you have "all sizes". Then add to it with a set of 3-4 large cubes or even extra large depending on your packing needs.
Small sizes were great for underwear and socks and bathing suits. Medium sizes were perfect for t-shirts, shorts and light dresses. Large and extra large sizes were best for pants, jeans and long sleeve shirts and sweaters.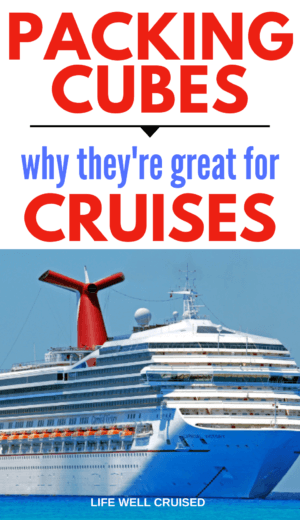 Shoes didn't easily fit into packing cubes
This was probably about the only packing cube "con" for me. Since I'm always pretty well packed for a cruise (that's a nice way for me to say I bring everything but the kitchen sink), I always had my packing methods to bring several pairs of cute shoes.
I usually like to place my shoes in between certain clothes with heels wrapped, or place socks in other shoes to retain their shape. Some shoes were placed against the sides of the luggage. Basically, I found ways to fit all my shoes in, as well of those of my family.
Now, using packing cubes to pack our shoes wasn't impossible, but it did force me to be more creative. Just a heads up ;-).
Alternatively, there are packing cubes and bags for shoes, but I don't have the extra room in my suitcase for those. If you do, that's probably your best best.
Packing cubes weren't great for big sweatshirts and hoodies
Since sweatshirts can be bulky, we found these didn't pack that well into the packing cubes. Instead, we placed these on top of the cubes before we closed the suitcase, and that worked fine.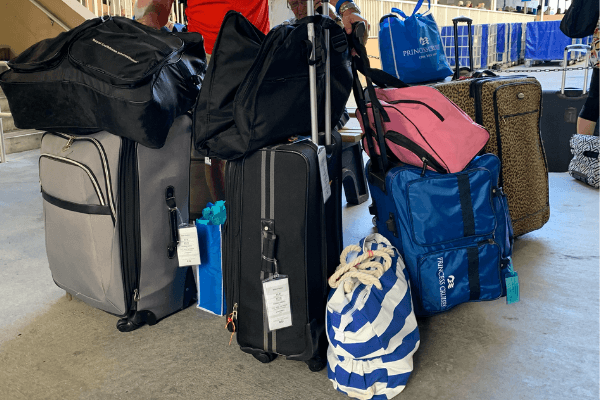 Ways to Pack with Packing Cubes – for efficiency and to keep clothes wrinkle-free
There are some methods to using packing cubes to fit more in, as well as to reduce wrinkling of items
1. Roll method
Rolling t-shirts, flowy tops and dresses before placing them snugly into the packing cubes seemed to fit more in, and items came out with very little wrinkles.
2. Stacking method
Stacking a few pairs of shorts or pants together and placing them in one packing cube works well. More can fit in that meets the eye, so pack and press down a little to fit more in each cube.
3. Shoe trick
If you're already a light cruise packer, you can keep your shoes in a packing bag, which often comes with the packing cubes sets. However, if you've got a pretty full suitcase, you'll have to be more creative when packing your shoes.
Some shoes can fit on the outer edges of your luggage, however heels and shoes that "squish" don't do very well in that spot.
My little shoe packing tip is to open up and cube and try and fit your heels or other shoes against the inside wall of your packing cube. I make sure there's some fabric leaning up into the heel, to avoid breaking.
I usually do a quick wipe of my shoes ahead of time just to make sure the bottoms are clean, even if they are "indoor" shoes.
Recommended: How to Pack Light for a Cruise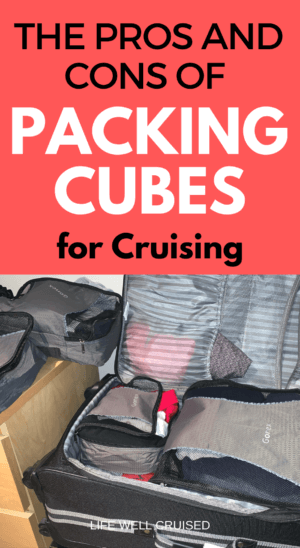 Which packing cubes are most recommended?
I loved the 2 sets that I bought on Amazon, one by Gonex (set of 9) and the other by Evatex (set of 4).
Others may be great too, but I haven't tried them. Checking reviews on Amazon should give you a good idea.
I bought 2 sets as I wanted to try 2 brands that got great reviews and came highly recommended on Amazon. The pricing on both is reasonable, and I found often even has a small discount.
You may want to check for your favorite color. I was pretty boring going with grays and browns, but my next set is going to be more colorful!
Below are both brands that we've tried and found worked well and were durable and of good quality. Price, size and availability may differ so it's worth checking.
1. Gonex Packing Cubes set (Amazon link)
2. Evatex Packing Cubes set (on Amazon)
Recommended: Evatex Packing Cubes (verify price on Amazon)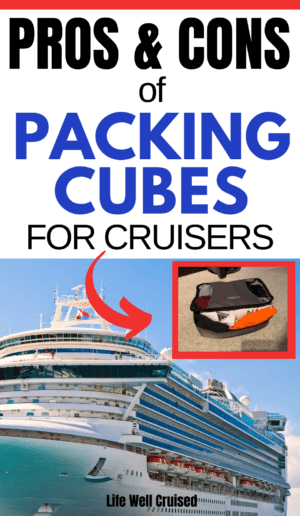 Recommended: 25 Most Popular AMAZON Cruise Essentials
Recap: The Pros and Cons of Packing Cubes (for Cruise Packing)
Ao, after this past cruise I can honestly say that myself, and my husband and son, are definitely packing cube converts.
I loved them overall and appreciated feeling organized, even when I had a lot of stuff. It was also really easy to find things, as things were all in one place.
It was even nice, as a wife and Mom, not to be asked to find things for everyone else. I'm not sure why, but this inevitably happens, lol.
What do you think – will packing cubes help you with your cruise packing? If you've used them before, please share your tips in the comments below.
Happy Cruising!!
Ilana xoxo
P.S. If you found this helpful, please don't keep it to yourself ;-). Please share on Facebook or PIN to your favorite Pinterest board (share buttons at the top). Thanks so much!
Read more:
25 Cruise Essentials Most Popular on Amazon
21 Things People Forget to Pack for a Cruise (and regret)
30 Cruise Cabin Hacks Every Cruiser Needs to Know
Let's connect:
Follow me on Facebook at Life Well Cruised
Follow me onYouTube at Life Well Cruised (Vlogs and cruise tips)
Follow me on Pinterest at Life Well Cruised
Follow me on Instagram at Life Well Cruised