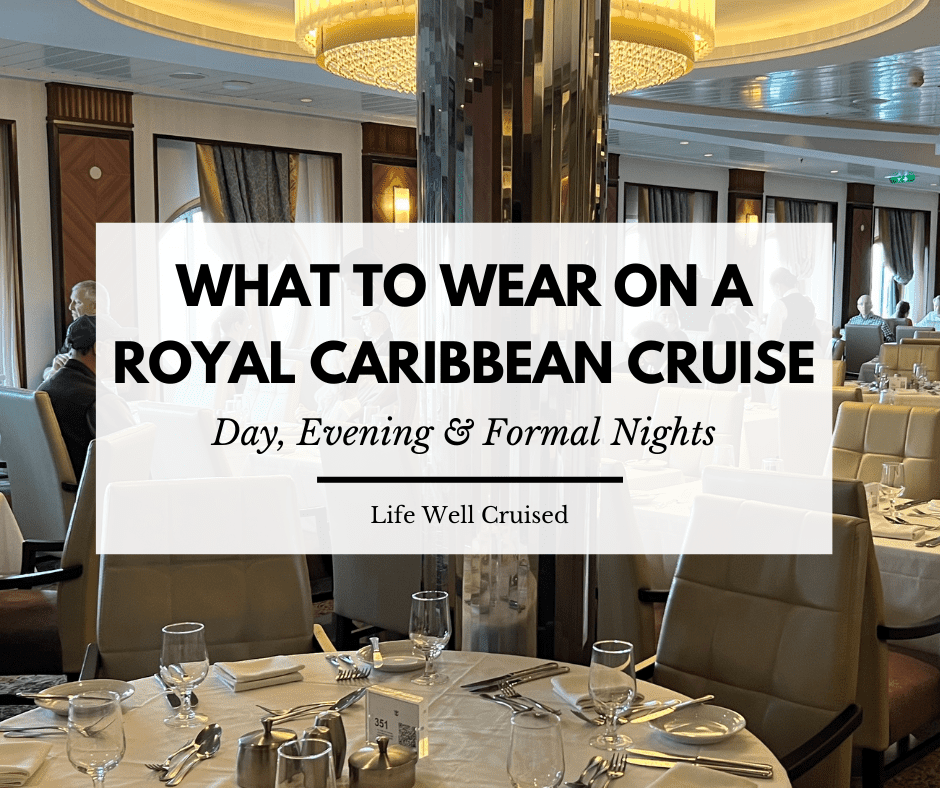 Are you going on a Royal Caribbean cruise and wondering what to wear? Don't worry, I've got your covered!
Since it had been a few years since I'd gone on a Royal Caribbean cruise, I did a lot of research as I packed and planned my cruise outfits for a recent cruise.
In this post I share what to wear on a Royal Caribbean cruise, for days on the pool deck to dinners in the main dinning room. I also answer some questions about how to dress on a Royal Caribbean cruise, including for formal nights.
I've also included real photos from the cruise ship and the cruise outfits we wore, to give you some cruise outfit inspiration. However, If you're a first time cruiser with Royal Caribbean, I hope this can be helpful!
This post contains affiliate links which means if you click and buy that I may make a commission, at no cost to you. Please see my disclosure policy for details.
As an Amazon Associate I earn from qualifying purchases.
What to Wear on a Royal Caribbean Cruise
Embarkation Day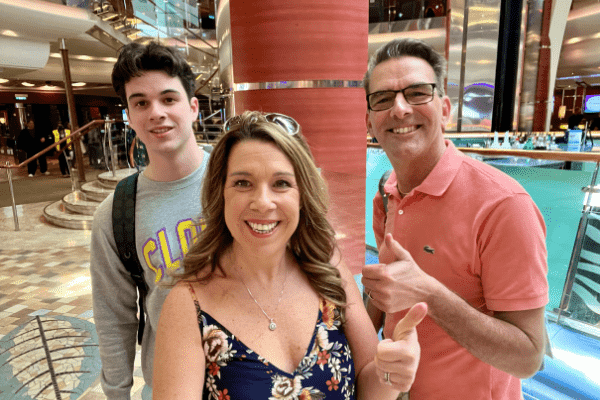 It's a good idea to plan what to wear on your cruise embarkation day. You can pick a cute outfit for embarkation day photos, but more importantly, consider your plans for the first day of the cruise.
If you plan on using the pools, hot tubs or waterslides, consider wearing a bathing suit under your clothes.
Something unique on many Royal Caribbean cruise ships, are the activities like the zipline, rock wall and Ultimate Abyss dry slide. If you think you might want to take advantage of all the amazing things to do on your cruise ship on first day of your cruise, make sure to wear comfortable clothing and sneakers or other closed toe shoes.
Don't forget to pack a cruise carry on bag for embarkation day with all your essentials!
Sea Days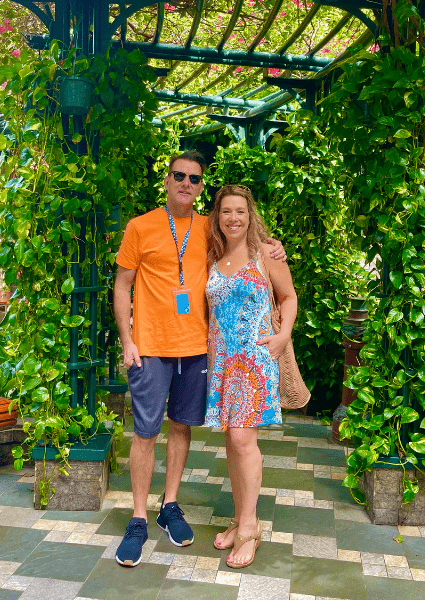 During the day, Royal Caribbean cruise ships are quite relaxed and you can wear casual clothing. Resort wear and swimsuits are perfect for the pool deck. Comfortable, sporty clothing is useful as well for playing mini golf and participating in the variety of onboard activities.
Be sure to pack shorts, tanks tops and t-shirts or light sundresses for sea days if you're on a warm weather cruise.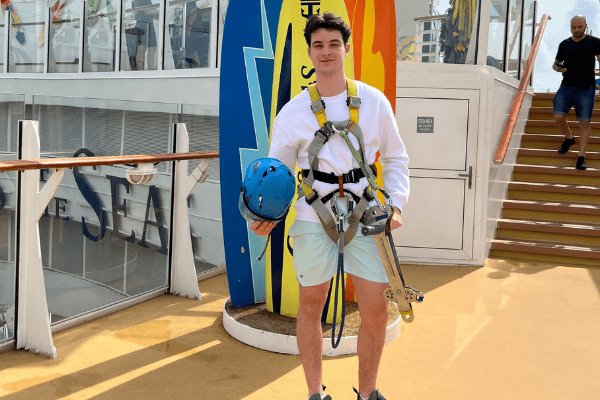 Like all major cruise lines, bare feet and pool wear are not permitted in restaurants. Remember to pack a swimsuit cover up for when you go and eat, or for walking inside the cruise ship's public areas.
Don't forget flip flops for the pool and sneakers for some of the onboard activities.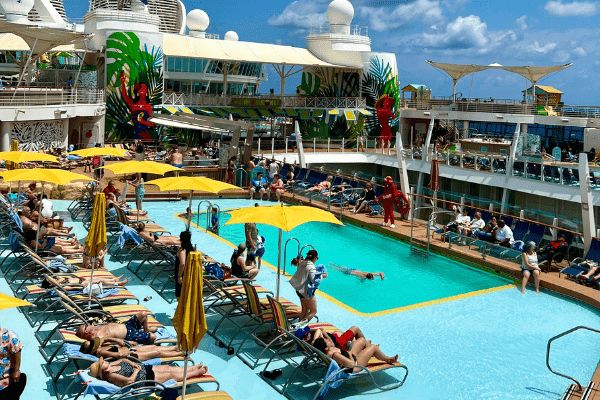 Warm Clothing for Ice Skating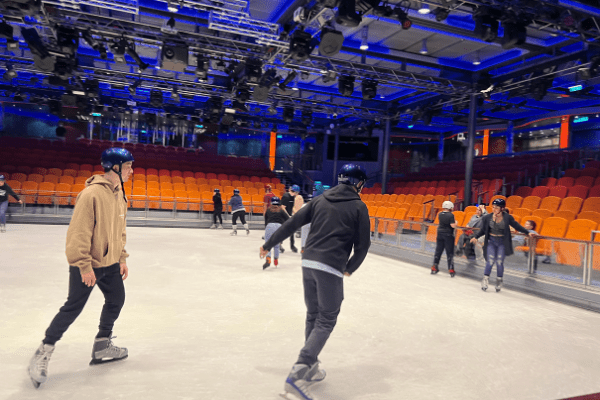 Something that many people forget to pack for a cruise, are long pants and a sweatshirt. While these are always good to have for potential cooler weather, this is especially important when going on a Royal Caribbean cruise.
Be sure to pack warmer, comfortable clothing if you sign up for a free ice skating session in Studio B. Even if you don't plan on going ice skating yourself, you'll want to pack a light sweater or cover up to see the ice skating show, which is always amazing!
Related: What to Pack for a Caribbean Cruise
Port Days and Shore Excursions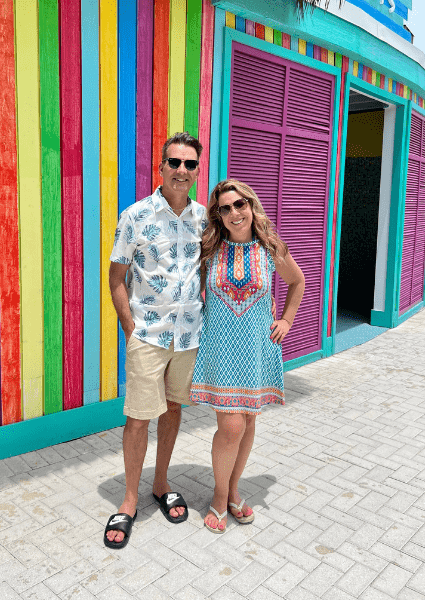 When planning what to pack for a Royal Caribbean cruise, it's a good idea to plan your clothing for days in port based on what activity or shore excursion you're planning in your port of call.
Swimsuits with a cover up are just fine if you're heading straight to a beach or a catamaran snorkeling excursion. If you're sightseeing or taking a tour, casual clothing is perfect.
Some important things to pack are comfortable shoes for walking and a light scarf or cover up for shoulders (ladies), if you are entering religious buildings.
Something to be careful of and not wear on a cruise for certain ports, is camouflage clothing. In some Caribbean islands, wearing camouflage clothing is actually illegal and you can be asked to go back to the cruise ship to change or even face a fine.
Tip: Don't forget to pack a beach bag, your government ID (or any recommended identification), a credit card and some small bills for tips on tours.
Related: What to Pack in Your Shore Excursion Day Bag
Get The Ultimate Cruise Planner
Regular price: $27 Now just $17!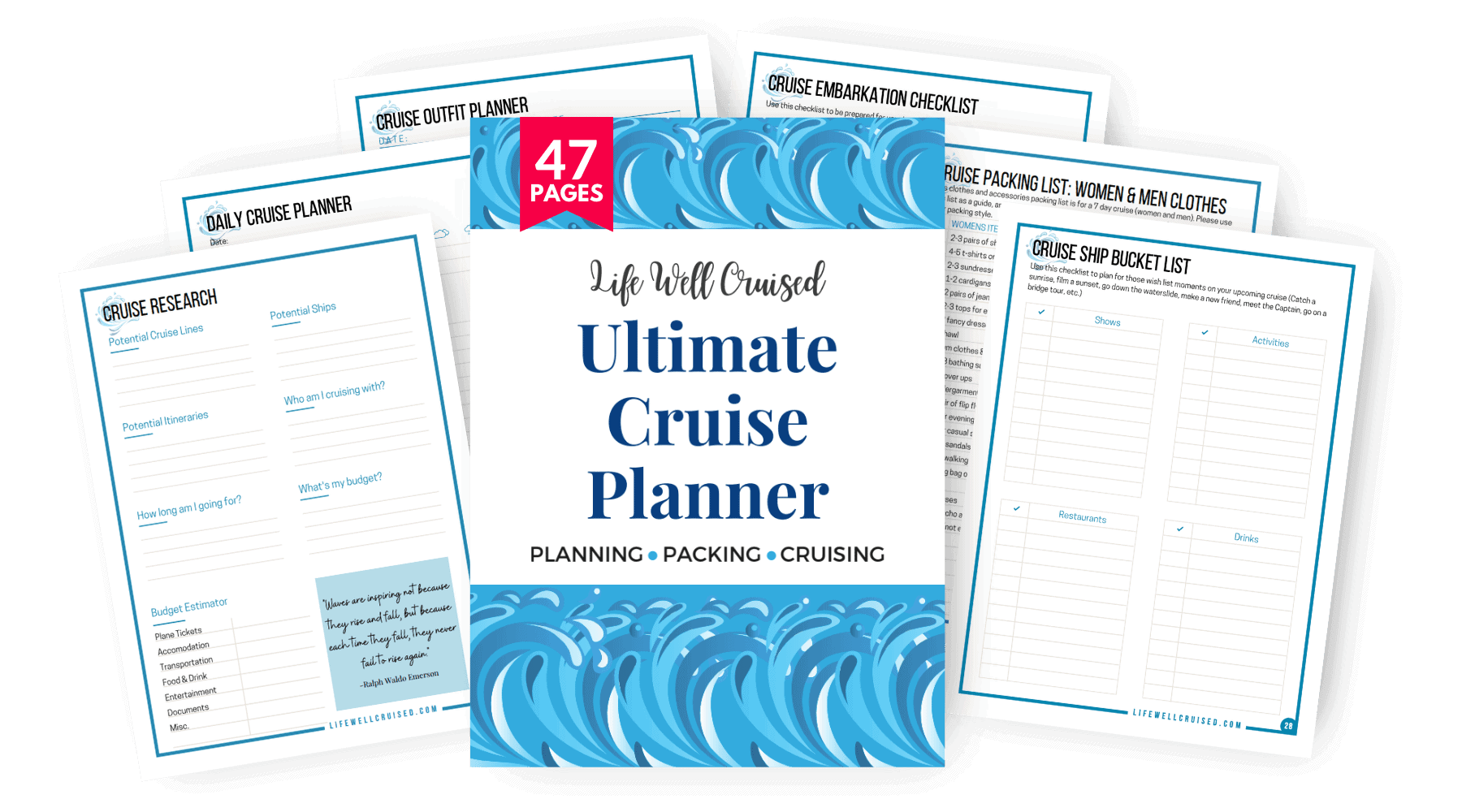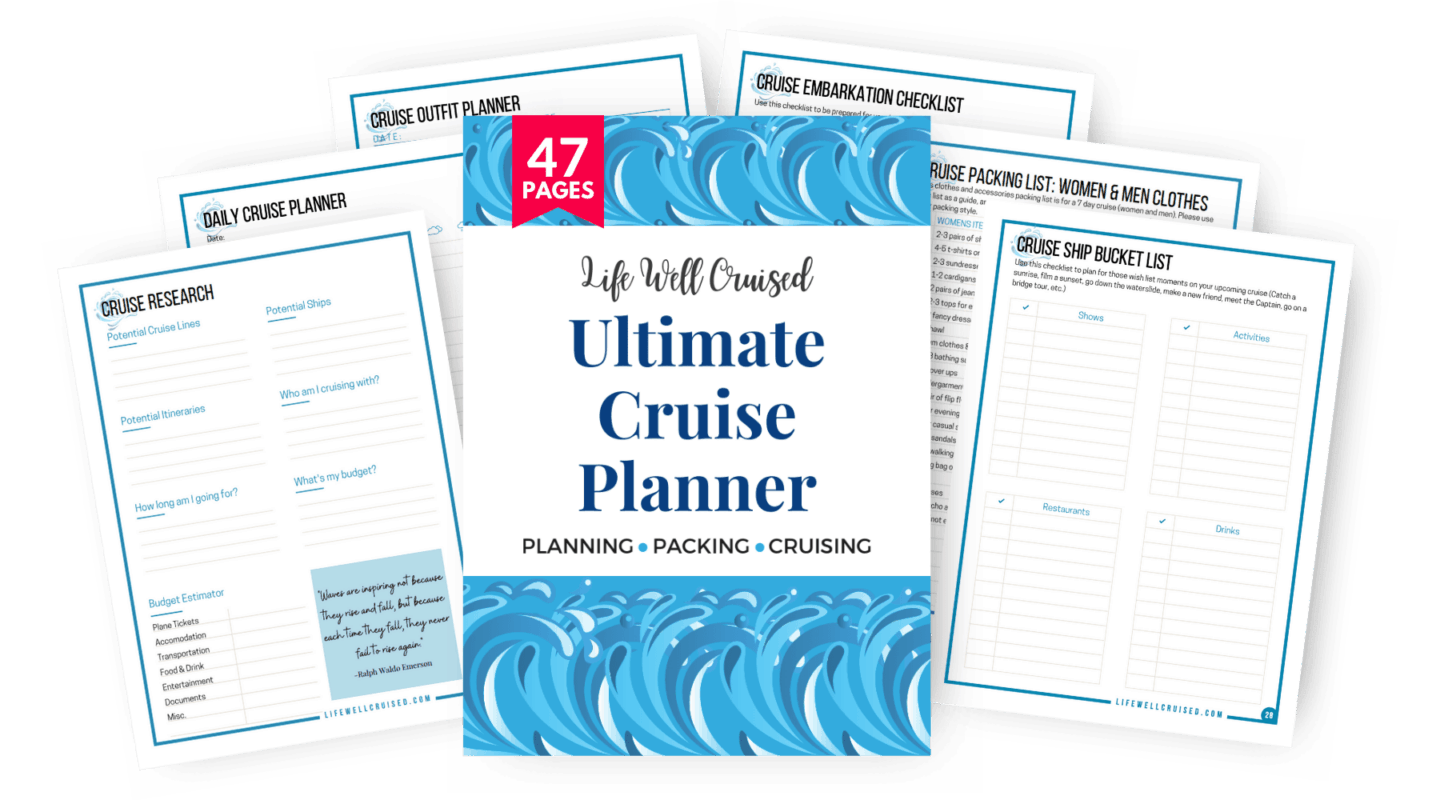 Royal Caribbean Dress Code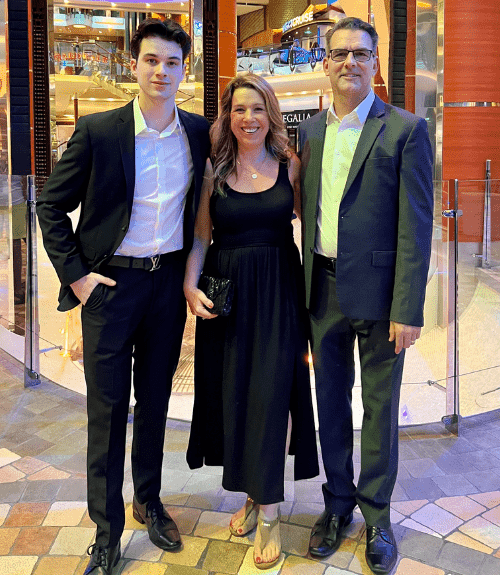 Royal Caribbean has 3 dress codes in the Main Dining Room for dinner; casual, smart casual and formal attire.
According to the cruise line website, the Royal Caribbean dress code is as follows:
Casual:
On casual nights nice jeans, polo shirts, casual dresses and nice tops are suggested for the main dining room in the evening. For lunch and breakfast, you can wear shorts, however pool wear is best kept for the Lido deck.
Smart Casual:
Smart casual nights are a bit fancier than the casual dress code. Smart casual attire includes wearing pants and a collared shirt, dresses, skirts and blouses, or pantsuits. Jackets, sports coats and blazers are included in suggested attire.
Formal:
On formal nights formal wear is welcome. The formal night dress code includes suits and ties, tuxedos, cocktail dresses and evening gowns. Dress pants and a dress shirt are also worn by many men on a cruise.
Remember to pack dress shoes, as well as a shawl and evening bag or clutch.
Related: Can I Wear Jeans on a Cruise?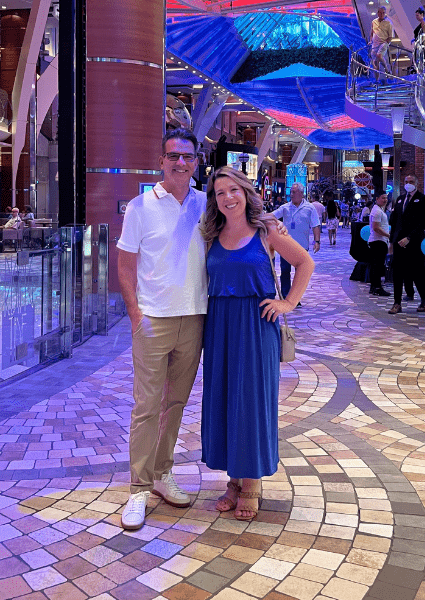 How Many Formal Nights on Royal Caribbean
To plan your outfits, here are the number of formal nights on Royal Caribbean cruises.There can be 1 to 4 formal nights during a sailing and is at the ship's discretion. Our Chef's Table dining experience also enforces a formal dress code policy.
3-5 night cruises – 1 formal night (1-4 night cruises may or may not have a formal night)
6-7 night cruises – 2 formal nights
8-10 night cruises – 2 formal nights
11-14 night cruises – 3 formal nights
15 + night cruises – 3 or 4 formal nights
Tip: Our own personal experience, and that of many others, is that in practice many cruise passengers are dressing more casually than Royal Caribbean's official dress code suggests. Keep this in mind as you plan what to wear on your cruise.
Related: What's Included on Oasis of the Seas (Entertainment, Activities, Food & Drink)
Dress Code in Specialty Restaurants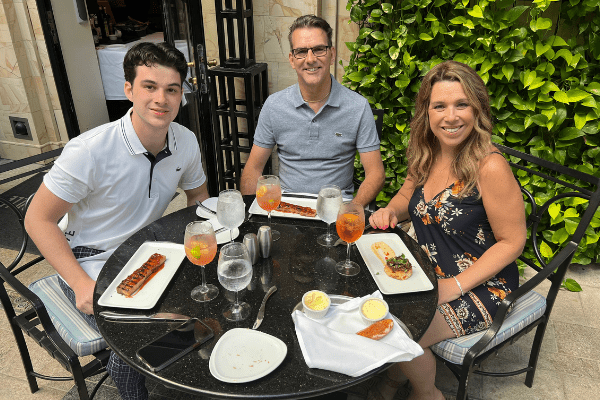 The dinner dress code is applicable in the Main Dining Room and specialty restaurants. The Chef's Table has a formal dress code.
Windjammer Buffet
If you really want to keep it casual, the Windjammer buffet is a great idea. The food is good and the buffet is self serve.
Make sure to check the opening and closing hours, as the Windjammer is not open 24 hours. Other casual alternative eateries include the Cafe Promenade, Sorrento's Pizza and room service are all good casual options.
Related: The Ultimate Cruise Lingo Glossary – 85 Terms You Need to Know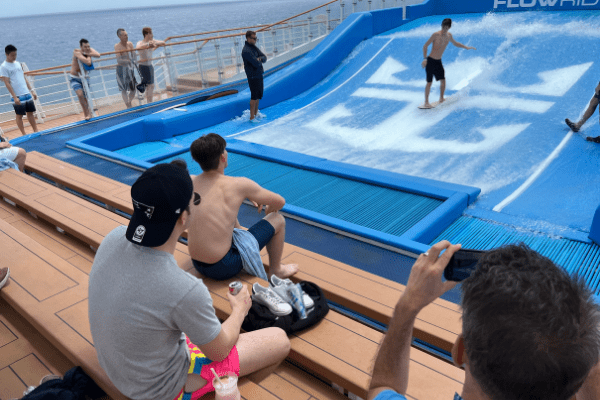 How formal is formal night on a Royal Caribbean Cruise?
You might be asking, how formal is formal night on Royal Caribbean? Royal Caribbean has a formal dress code on 1-3 nights during a cruise, which includes black tie formal wear as a dress suggestion. However, in our experience there is a wide range of clothing that cruise passengers actually wear and most people are not in a tuxedo or long evening gown.
Although Royal Caribbean describes the formal night dress code as night "your best black-tie look", with suits and ties, tuxedos, cocktail dresses or evening gowns suggested as options, in reality it's not as formal in practice. Royal Caribbean's dress codes are loosely enforced, with most cruise passengers dressing less formally than this.
On a Royal Caribbean cruise formal night, you may see a few tuxedos and evening or cocktail gowns. However it's far more common to see men in suits, or even a nice pair or pants and a dress shirt. Ladies can often be seen wearing a cocktail dress, little black dress, sundress or pants and a top.
Tip: Royal Caribbean's formal night is a nice occasion for family members to dress up and even take a some photos with the ship's photographer.
Related: 50 Best-Selling Amazon Cruise Essentials
Royal Caribbean Theme Nights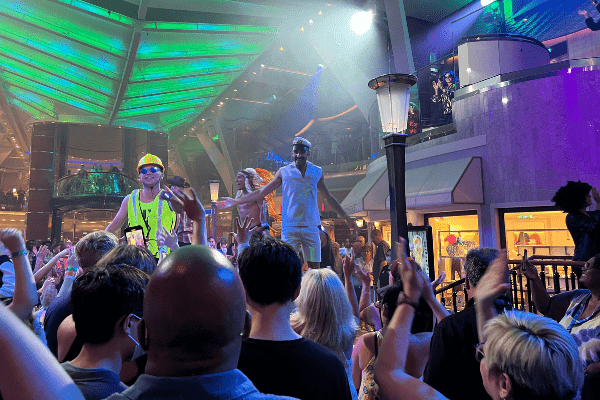 While there is no official dress suggestion for theme nights, it can be fun to bring a few special outfits for the occasion. On our cruise there was a 70's Night Party, which is pretty common on many Royal Caribbean sailings.
To know about theme nights for your cruise, it's a good idea to join cruise roll calls, facebook groups and take a look at the Cruise Compass from recent past sailings on your cruise ship.
Tip: Check out past cruise compasses and menus, is a great way to prepare for your cruise vacation.
Related: Royal Caribbean Cruise Compass Oasis of the Seas
Packing for Your Cruise Based on Cruise Destinations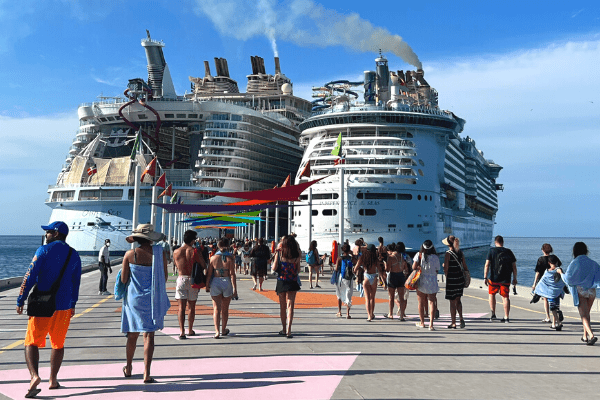 This guide on what to wear for a Royal Caribbean cruise is general, so it's a good idea to now tailor your cruise packing list to your itinerary and cruise destination.
Here are cruise packing lists to read, save and share:
Get The Ultimate Cruise Planner
Regular price: $27 Now just $17!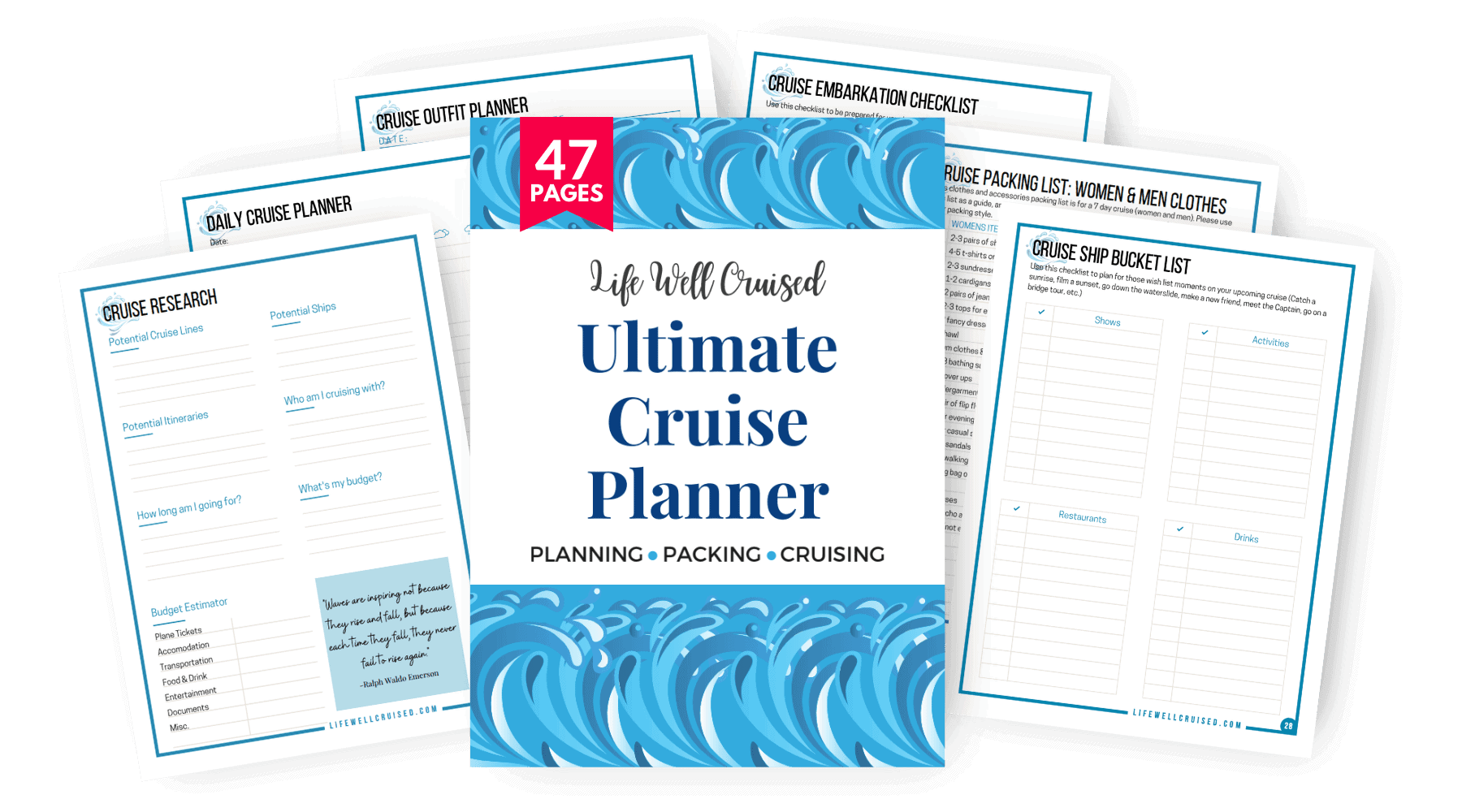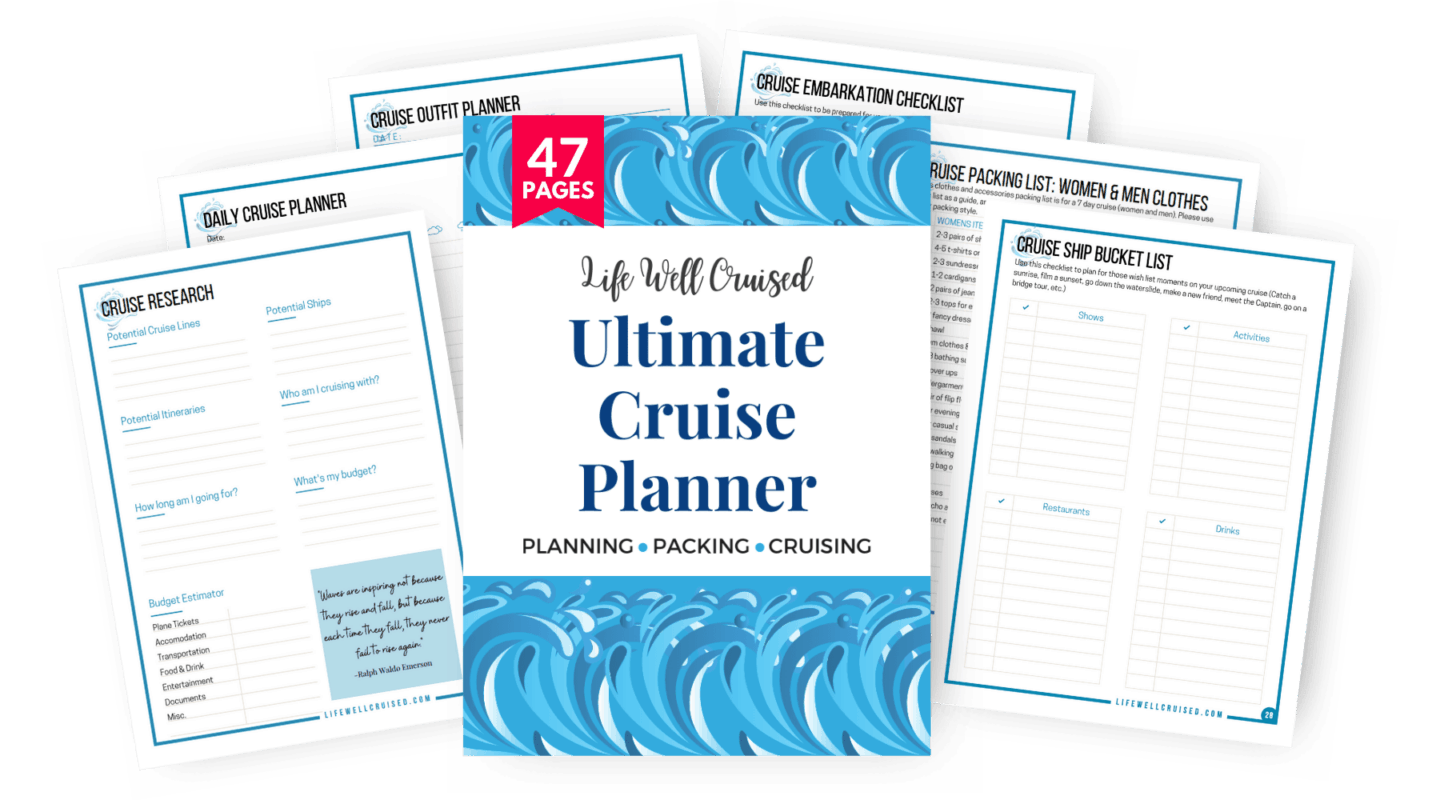 Final Thoughts on What to Wear on a Royal Caribbean Cruise
Planning what to wear on a Royal Caribbean cruise isn't as hard as it seems. On the most part, you can pack casual and smart casual attire, and the dress policy on Royal Caribbean is pretty relaxed.
That said, Royal Caribbean has beautiful, elegant main dining rooms and specialty restaurants, and it's fun to dress up a bit on a cruise vacation, so don't be shy!
Have you cruised with Royal Caribbean or are you planning to? Please let me know in the comments below.
Happy Cruising!
Ilana
P.S. If you found this helpful, please don't keep it to yourself ;-). Please share on Facebook or PIN to your favorite Pinterest board (share buttons at the top). Thanks so much!
Let's connect:
Follow me on Facebook at Life Well Cruised
Follow me on YouTube at Life Well Cruised
Follow me on Pinterest at Life Well Cruised
Follow me on Instagram at Life Well Cruised
Get The Ultimate Cruise Planner
Regular price: $27 Now just $17!