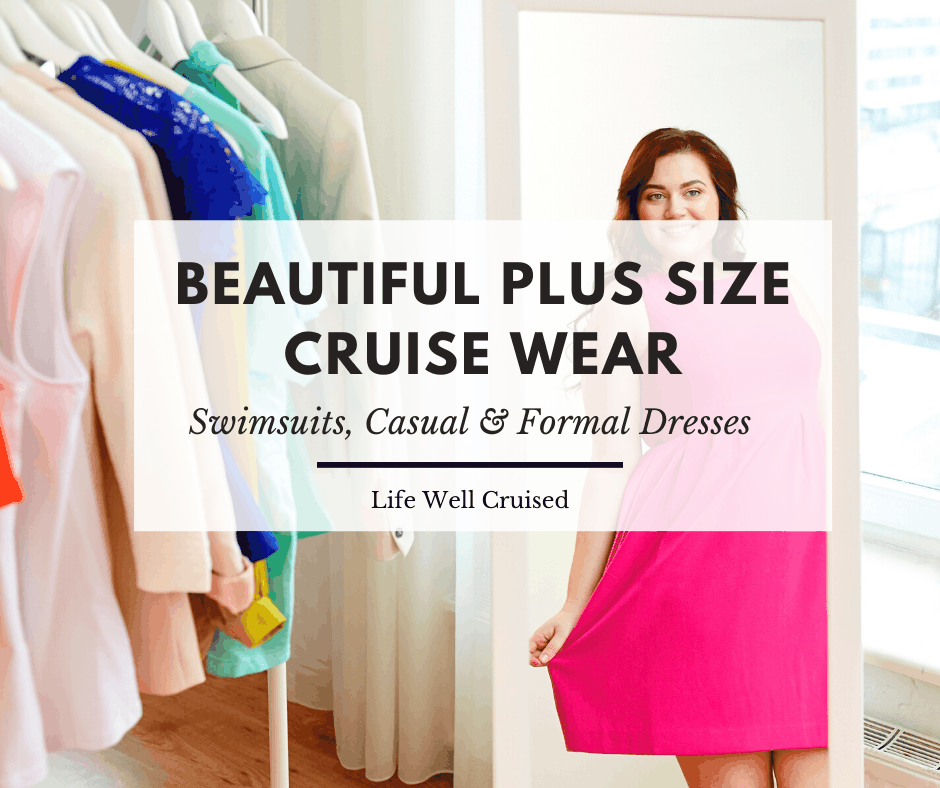 Are you going on a cruise and looking for cute and flattering plus size cruise wear? One of the best parts of cruising, is the planning and anticipation. For me, this always includes choosing some new cruise outfits and accessories.
Whether you like to dress up or keep it casual, you'll find beautiful plus size cruise wear in this post. I've included gorgeous bathing suits and cover ups that look great on curvy women! As well, there are casual sundresses and tops, and stunning plus size cocktail dresses for formal nights.
There are even a few must-have accessories to complete your look and wear on your cruise.
These pieces are flattering for a woman's shape, hugging curves in the right places and fitting more loosely in others. One thing I know for sure – everyone looks good on a cruise!
Plus Size Cruise Wear: Bathing Suits, Dresses and Accessories
These plus size cruise outfits are best for warm weather cruises; Caribbean, Bahamas, Bermuda and even Mediterranean cruises. In another post, I share what to wear on Alaska cruises.
I've organized this post starting with:
Bathing suits and cover ups
Tops & Blouses
Rompers
Casual sundresses and Maxi dresses
Evening wear
Formal or chic night outfits
Accessories
Going on a Caribbean cruise? Read this post next: What to Pack for a Caribbean Cruise (includes packing list)
This post contains affiliate links which means if you click and buy that I may make a commission, at no cost to you. Please see my disclosure policy for details.
As an Amazon Associate I earn from qualifying purchases.
Ladies Cruise Packing List (warm weather)
To get you started, here's a simple women's cruise packing list for a 7 day warm weather cruise, to use as a guide. You may prefer to pack less or more, so adjust quantities of your favorite items accordingly.
2-3 sundresses and maxi dresses
2-3 pair of shorts
3-5 tops (day & evening)
1-2 pairs of dark jeans, pants or a skirt
2-3 smart casual dresses or Little Black Dress
1-2 fancy dresses or outfits
2-3 bathing suits
1-2 pashmina shawls
1 sweatshirt or cardigan for cool weather
Pyjamas
sneakers shoes or comfortable walking shoes
Heels or dressy flats for evening wear
Wedge shoes or espadrilles for day or evening
Tote bag or backpack for cruise ship and excursion days
**Looking for a printable cruise travel planner to keep organized? See what's included in the 47 page Ultimate Cruise Planner
Cruise Outfits for Plus Size Ladies
The bathing suits and cruise outfits shown are all affordable styles that you can conveniently purchase on Amazon. The outfits are perfect for ladies of every age, but perfectly suitable if you're looking for plus size cruise wear for women over 50.
Plus Size Bathing Suits for Women
I'm loving the bathing suit styles that are popular these days. There's no reason to shy away from colors and patterns if you love this. The fabrics and fit are made to fit a women's curves – finally!
Here are a few best-sellers in plus-size swimwear, that are perfect for cruise sea days or beach excursions.
Cupshe One Piece Strappy Plus Size Bathing Suit
This Cupshe one piece bathing suit is so pretty and flattering! I love the bright colors and gorgeous detailing at the top of the swimsuit. The ruching in the mid section makes this plus size bathing suit look good on every body type.
Recommended: Cupshe one piece floral bathing suit (see color options & awesome Amazon reviews here)
2 Piece Halter Swim Dress Tankini Set
You would never know that this feminine bathing suit is a 2 piece! It's a combination tankini style top with comfortable short swim shorts.
Recommended: 2 piece tankini swim dress (see color options & Amazon reviews here)
2 Piece Flowy Swimdress
This 2 piece tankini swimsuit combines a flowy top and shorts bottom. Quick drying and comfortable, this bathing suit is available in several fabrics and is very well reviewed. I love this wine color!
Recommended: 2 piece flowy swimdress (see Amazon reviews)
Plus Size Floral 2 Piece Bathing Suit
The ruched high waisted bottom and floral top bathing suit stunning on curvier women. If you pair this with a cute cover up, it will look fabulous on the lido deck!
Recommended: High waisted 2 piece floral plus size bathing suit (check pricing on Amazon here)
Floral 3 piece Bathing Suit
If you enjoy a flirty feminine bathing suit, you'll love this floral 3 piece with a ruched ruffle skirt. While not for everyone, this plus size bathing suit exposes only the mid section, and covers and hugs the rest of the curves. The design and fabric make it very flattering on plus and mid-size women.
Recommended: Floral 3 piece bathing suit (see 2 colors available)
Plus Size One Piece Swimsuit
Sometimes a simple one piece swimsuit is best. This plus size bathing suit has built in tummy control and is available in several colors and sizes (L-22 plus). The neckline and peek-a-boo details are so flattering.
Recommended: One piece bathing suit ( see price, reviews and color options here)
Plus Size Swimsuit Cover ups
Plus-size Crochet Swimsuit Cover Up
This short sleeve crochet bathing suit cover up looks perfect over any swimsuit. It's a good idea to have at least 2 bathing suits and cover ups for a 7 day cruise, to use when one is wet.
Recommended: Crochet bathing suit swimdress cover up (verify price & Amazon reviews here)
Ladies Swimsuit Cover Up
Recommended: Crochet bathing suit cover up (see different colors and styles)
Baggy Plus-size Swimsuit Cover Up
This cute t-shirt style cover up is comfortable and light – perfect for the beach or pool.
Recommended: Loose t-shirt style cover up (see colors & 1000+ Amazon reviews)
Plus Size Crochet Style Cover Up
Available in both long sleeve and short sleeve options, this plus size crochet style swimsuit cover up is gorgeous! The sizes range from large-4x large plus and come in several beautiful colors.
Recommended: Plus size crochet swimsuit cover up
Related: Bathing Suit Cover Ups for a Cruise
Ladies Plus-Size Tops and Blouses
Elegant Wrap Blouse
This wrap style top with flowy sleeves has a belted tie and is lovely on a women's shape. This elegant blouse will look great to wear for dinner in the main dining room or your cruise ship's specialty restaurant.
Recommended: Wrap blouse top (see 2000+ Amazon reviews)
Short Sleeve Lace Detail Top
This top is beautiful in all colors! I actually love it in black, but wanted to show you a light floral style top which is so feminine and pretty. The lace detail on the shoulders and pretty neckline is very flattering.
Recommended: Round neck short sleeve blouse with lace detail (see more color & style options here)
Short Sleeve Animal Print Top
This top would look great paired with a skirt or pair of white pants or dark leggings. I love the animal print, which is very trendy this year, however there are solid colors and other prints you may like as well.
Recommended: Short sleeve soft flare top (see other colors & prints here)
Plus Size Crochet V-neck Blouse
This beautiful top is perfect paired with a pair of dark jeans or black pants. It's available in several colors as well as a long sleeve style.
Recommended: crochet vneck blouse (check prince & styles on Amazon here)
Plus Size Casual Top
This flowy top is so pretty and flattering and can be worn on a cruise for daytime or night.
Recommended: Casual shot sleeve flowy top (check price & colors options)
Casual Sleeveless Top
This casual sleeveless top is perfect paired with cute athletic or denim shorts.
Recommended: Casual sleeveless top (see over 2000 4.5* Amazon reviews here)
Plus Size Rompers and Jumpsuits
Sleeveless wide leg romper
This sleeveless wide leg romper has a nice relaxed fit in a flattering 3/4 length pant.
Recommended: Sleeveless one piece romper jumpsuit
Plus Size Romper Jumpsuit
This super cute shorts romper jumpsuit comes in solid colors and a few stylish prints. I love this as a cute embarkation day look.
Recommended: Floral shorts romper (see Amazon reviews & style options here)
Ladies Plus-Size Casual Sundresses & Maxi Dresses
Striped Maxi Dress
This casual loose maxi dress with pockets is both comfortable and adorable for cruising. This dress can be worn during the day or evening on your cruise.
Recommended: Casual maxi dress with pockets (see different styles and colors on Amazon)
Ruffle Sleeve Short Dress
This cute ruffle sleeve dress is perfect for day and casual evenings on a cruise. This cruise dress is one of the most popular styles in resort wear this year.
Recommended: Ruffle style dress (available in solid colors too)
Boho Wrap Style Short Dress
This Boho wrap style short dress fits snug on the top and is flowy and loose on the bottom. This comfortable and flattering sundress is adorable!
Recommended: Wrap style plus size short dress
Sleeveless Tank Dress
If you like wearing sundresses instead of t-shirt and shorts, this versatile sleeveless tank dress is perfect. It's great for shopping or sightseeing on a shore excursion, but can also be dressed up for the evening as well.
Recommended: Sleeveless tank dress (check Amazon price & reviews here)
Tie Knot T-shirt Dress
One of the most popular dresses of the year, this tie knot style t-shirt dress is cute and casual!
Recommended: Tie knot t-shirt dress (check price & 2500+ Amazon reviews here)
Plus Size Spaghetti Strap Slip Dress
This tank style dress is super comfortable! The dress fabric is a combination of rayon and spandex, perfect if you want pack wrinkle free for your cruise.
Recommended: Spaghetti strap dress (see size options from X-Large to 5X-Large)
Casual Cold Shoulder Sundress
This short dress style is one of Amazon's best-sellers! It's available in several colors and fabrics so you can find the perfect dress for your cruise vacation.
Recommended: Short cold shoulder style dress (check price & read over 6000 reviews here)
Elegant Cold Shoulder Dress
This flowy cold-shoulder style dress has great coverage of the arm, yet still looks pretty and sexy. It can be worn as a casual or more dressy look on a cruise.
Recommended: Cold shoulder flowy dress (check price & amazon reviews here)
Plus Size Off the Shoulder Long Dress
This short sleeve off the shoulder dress has a flattering loose a line style. If you like a more flowy look, it's best to size up.
Recommended: Floral print off the shoulder dress (see Amazon reviews)
Tropical Dress with Ruffle Sleeves
I love the tropical look for this pretty dress! It's available in different colors and patterns, from sizes large plus to 5X large plus.
Recommended: Tropical dress with ruffle sleeve
Long Sundress with Pockets
This tropical looking sundress is so pretty for day and evening, and available in several styles and colors.
Recommended: Spaghetti strap long sundress (see over 1000 Amazon reviews)
Plus Size Off the Shoulder Short Dress
This pretty off the shoulder dress is available in several gorgeous colors. The lace detail at the bottom makes this simple dress look a little more fancy, however this dress can still be worn often at home as well.
Recommended: Off the shoulder lace detail dress
Floral Maxi Dress
Long floral dresses are so popular, and look especially good on cruise and beach vacations!
Recommended: Floral maxi dress (see style options & reviews)
Long Floral Dress
This high low asymmetrical floral dress is so flattering on curvy women. It's available in both light and dark colors, perfect for an evening chic or elegant nights on a cruise.
Recommended: Long high low floral dress
Off the Shoulder Plus Size Maxi Dress
This floor length maxi dress has a side slit and a loose ruffled top and would be a great dress to wear on smart casual evenings during your cruise.
Recommended: Off shoulder maxi dress with slit (see over 1500 amazing reviews)
Related: 15 Best Beach & Tote Bags for a Cruise
Long Flowy Short Sleeve Dress
Whether you're dressing in Norwegian's Freestyle dress code or Celebrity's Evening Chic, a long floral dress will look amazing! This dress is short sleeve – great if you like to cover your arms. The v neck style and peek-a-boo leg detail is very slimming.
Recommended: Long flowy short sleeve dress (check reviews and color options on Amazon)
Plus Size Evening Outfits, Cocktail Dresses and Formal Wear
Elegant Cami Dress with Spaghetti Straps
This elegant satin cami dress is stylish and flattering. Although it has spaghetti straps, it has a beautiful cowl neck detail and ruching at the waistline and hip. It pairs well with a wrap or light crochet cardigan for evenings on a cruise.
Recommended: Cami style sleeveless dress (check price & reviews here)
Faux Wrap Dress
Thisfaux wrap dress with 3/4 length sleeves is perfect for cooler weather cruises or for ladies who prefer not to wear sleeveless tops and dresses.
I have this one and I always get compliments whenever I wear it!
Recommended: Faux wrap dress with sleeves
Plus Size Modest Cocktail Dress
If you like a less form fitting style, this modest beaded cocktail dress has the perfect balance. The looser fitting asymmetrical top is very flattering paired with the form fitting bottom of this dress.
Recommended: Caplet sleeve beaded cocktail dress (the other colors are gorgeous!)
Here's the same dress in another color
Recommended: Sheer top with beaded bottom cocktail dress (blush color)
Plus size Bodycon Pencil Dress
A gorgeous pencil dress is so elegant and when made right, really flatters a woman's figure. If you're going on a Christmas cruise, this would look amazing in the red color.
Recommended: Bodycon pencil dress (see details & color options on Amazon here)
Elegant Plus Size Pencil Style Cocktail Dress
Perfect for a formal night on a cruise where cocktail dresses are more common than full length evening gowns, this pencil dress style with is so flattering. The ruffle style bottom on this mermaid style dress is gorgeous on curvy women.
Recommended: Elegant party style cocktail dress (see color options & reviews on Amazon)
Plus Size Sleeveless Multi Tier Dress
If you're looking for a classic, flattering dress that you can wear for years, this sleeveless cocktail dress is a good option. It's available in black, navy and other beautiful colors. Pair it with a pretty shawl or pashmina to cover your shoulders in cool air conditioning.
Recommended: Sleeveless Cocktail Dress (see details & Amazon reviews here)
Related: Best Shoes to Pack for a Cruise
Outfit Accessories for a Cruise
Cruise ships tend to have cool air conditioning, especially in the evening in the dining rooms and lounges and theatres. Make sure pack a shawl or pashmina for these times.
I like to have 2 colors, one black and one in a champagne or other color to change up the look.
Recommended: Luxurious feel shawl pashmina (read 2000+ amazing Amazon reviews)
Sunhat & Sunglasses
Here are some favorite accessories to pack for a cruise. Having a wide brim sunhat and/or a cap is important for any sunny and hot weather cruise. Sunglasses are a must as well.
I like to bring a pair or two or inexpensive sunglasses ever since my husband lost his Ray-bans in a taxi cab while in Cozumel cruise port.
Recommended: ladies straw wide brim sunhat
Recommended: ladies cotton & mesh sunhat (UV cut)
Recommended: Polarized sunglasses retro style (see different color options & 1500+ Amazon reviews here)
Here are some other posts to help you plan, pack and get ready for your cruise:
15 Best Beach, Tote Bags & Backpacks to Bring on a Cruise
What Shoes to Bring for a Cruise (for day, evening & shore excursions)
25 Best Gifts for Women Who love to Travel
27 Things People Forget to Pack for a Cruise
What Toiletries to Pack for a Cruise (packing list)
15 Best Beauty Essentials to Pack for a Cruise
50 Must-have Cruise Essentials from Amazon
Final Thoughts on Ladies Plus Size Cruise Wear
Looking good and feeling your best on your cruise vacation is important. I hope this list of plus size cruise outfits gave you a few ideas for what to wear and pack for your Caribbean cruise.
Please let me know which items you love and which other items I should add in the comments below.
Happy Cruising!
Ilana
P.S. If you found this helpful, please don't keep it to yourself ;-). Please share on Facebook or PIN to your favorite Pinterest board (share buttons at the top). Thanks so much!