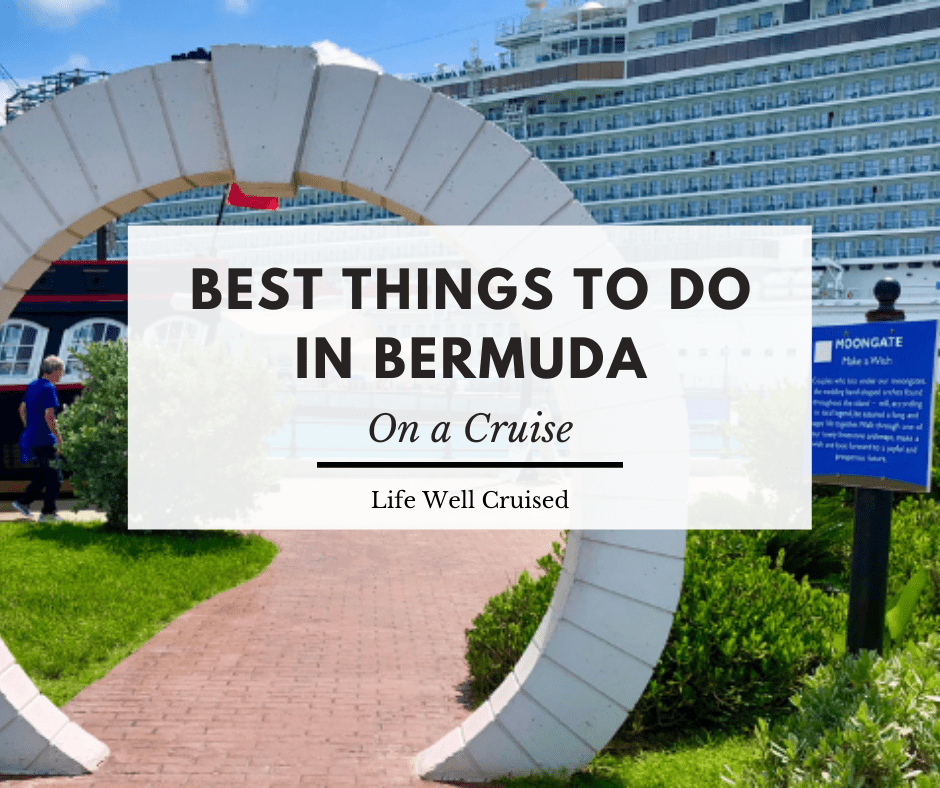 If you're planning a Bermuda cruise, you're in luck! Bermuda is an island with a rich history, friendly people and genuine pink sand beaches!
After cruising to Bermuda several times, I've put together a list of the very best things to do in Bermuda on a cruise. Whether you are looking for family-friendly activities, Bermuda beach excursions or something off the beaten path, these must-see Bermuda attractions won't disappoint!
In this guide, I've included some useful Bermuda tips and information you need to know about this popular cruise destination, including how to get around and explore on your own.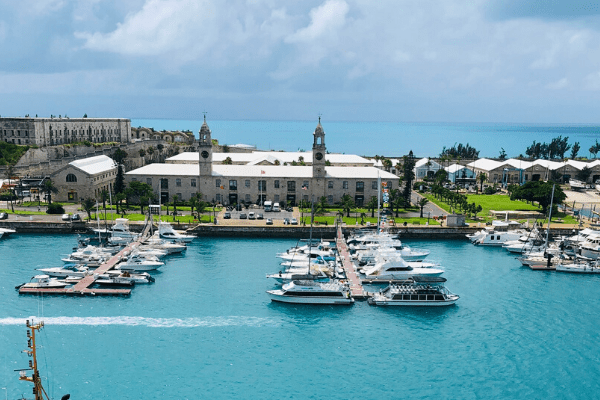 Why Cruise to Bermuda?
The island of Bermuda has become a popular cruise destination for numerous reasons. A self governing British Overseas Territory, Bermuda has a comfortable sub-tropical climate. A misconception is that Bermuda is located in the Caribbean. However, Bermuda's location is just 700 miles away from North Carolina, in the Atlantic ocean.
Convenient North-East Departures
Bermuda cruises have North East departures leaving from New York, New Jersey, Boston and Baltimore. This is a convenient for many Americans and Canadians who like to drive to their port or have a short flight.
Overnights in Bermuda
Many cruises to Bermuda offer overnight stays (2-3 days in Bermuda), allowing time for excursions to pink sand beaches, world renowned golf courses, and a Unesco World Heritage Site.
Options for Cruise Lines and Cruise Ships
There are many cruise ships that sail to Bermuda, from large cruise ships that dock in Royal Naval Dockyard, to smaller ships that may dock in Hamilton or St. George.
Celebrity Cruises, Royal Caribbean, Norwegian Cruise Line and Carnival all have regular cruises to Bermuda. Luxury lines like Viking Cruises and Regent Seven Seas have some sailings that include Bermuda as well.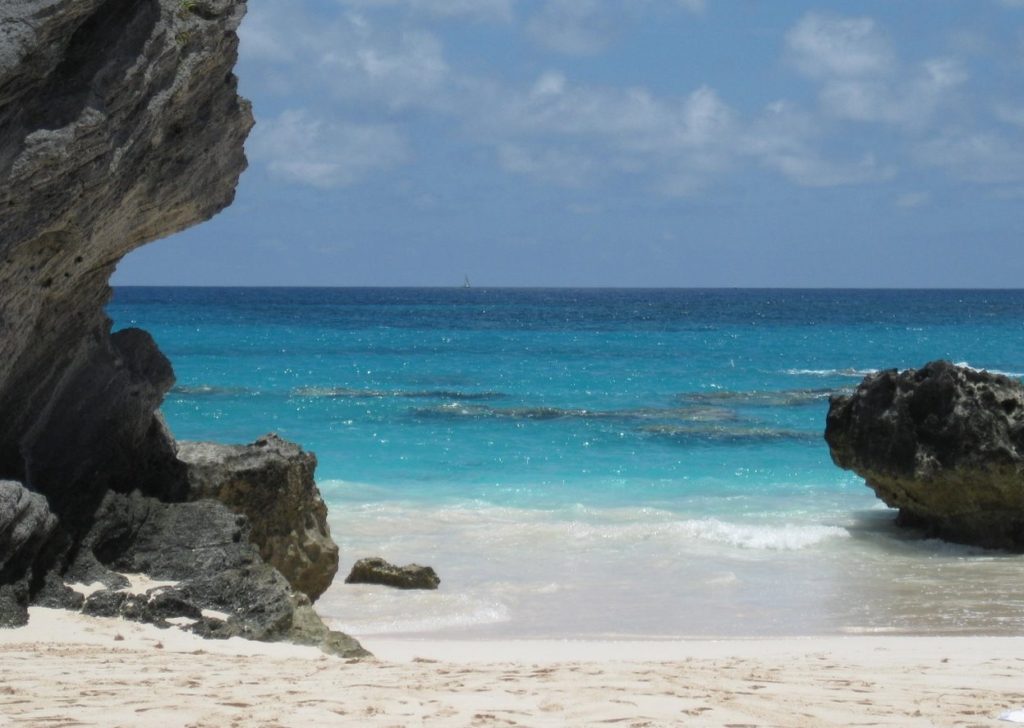 Where Do Cruise Ships Dock?
Most cruise ships dock in King's Wharf or Heritage Wharf, also known as the Royal Naval Dockyard, or just Dockyard. This cruise port is great spot, within walking distance to the National Museum of Bermuda, Snorkel Park Beach and the Bermuda Craft Market.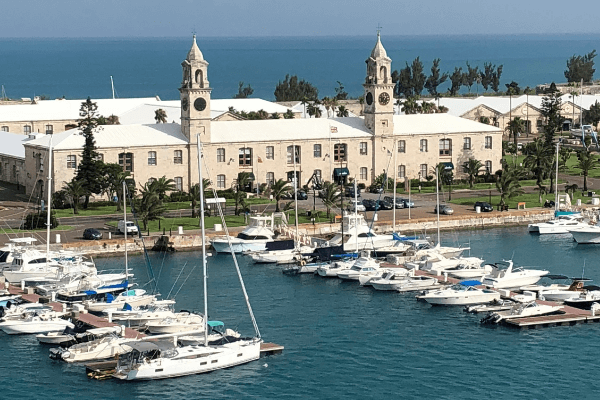 Getting Around in Bermuda
King's Wharf is a short walk to public transportation options. A shuttle or the local bus will take you to the beautiful pink beaches on the south shore of the island. The ferries are the best way to get to Hamilton Parish and St. George, where you'll find many attractions and natural wonders.
You can purchase 1-3 day passes for the bus and ferry at the visitor's center in Dockyard, steps away from your cruise ship.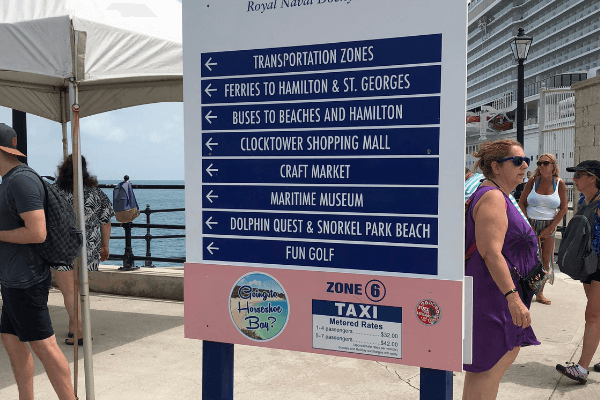 Suggestions for Cruisers When Planning Your Bermuda itinerary
Remember that your ship will be docked at the cruise port for a night or two, depending on your itinerary. It's a good idea to plan excursions that will be further from the cruise ship on day 1 and day 2. Then save the last day for activities that are close to the ship in the Royal Navy Dockyard.
Can You Use US dollars in Bermuda?
Bermuda Cruise Tip: Note that the Bermudian dollar is 1 to 1 with the US dollar and US dollars are taken happily in Bermuda.
Related: What to Pack for a Bermuda Cruise: The Ultimate Guide
Top Things to Do in Bermuda on a Cruise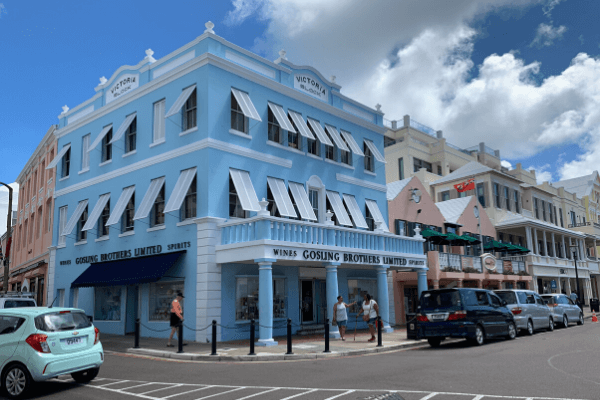 Here are a few popular must-see Bermuda attractions. Please tailor this Bermuda cruise guide to your interests and pick a few attractions to focus on. If you love Bermuda, simply plan another cruise to return!
1. Horseshoe Bay Beach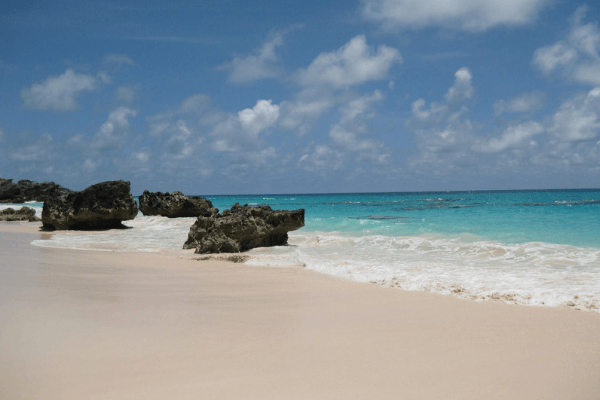 Arguably the most famous beach in Bermuda, Horseshoe Bay Beach is about a 15 minute drive from the Royal Naval Dockyard cruise port. You'll see long stretches of blush pink sand and striking rock formations, jutting out from the turquoise waters close by the shoreline.
You can get there by taking public transportation or a shuttle right from the cruise port. At about 7$ a person from port right down to the beach, the shuttle is very convenient. While there are other beaches nearby, including Warwick and Church Bay which you may also want to visit, you simply must see Horseshoe Bay!
Do not let the crowds scare you off – walk all the way past the crowds to the left. Continue past the first couple rock formations and it is Heaven!
2. Baby Beach
If you have young children check out Baby Beach immediately to the right. The rock formations insulate the cove area from rougher seas at the main beach and provide for great viewing of many fish and crabs!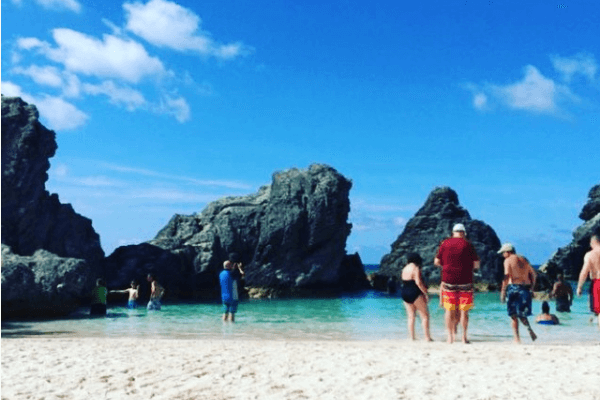 3. Rum Bum Beach Bar and Beach House Restaurant
While you're at Horseshoe Bay Beach, you can grab a bite to eat at the on-site take out restaurant along with a pretty good Rum Swizzle from the Beach Bar. While not inexpensive at about 10$ a drink, they're quite good!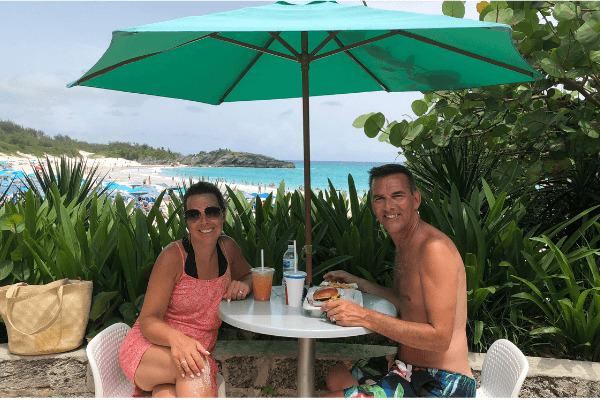 Read more: The Ultimate Guide to Horseshoe Bay Beach Bermuda (for cruisers)
4. Tobacco Bay Beach
Located in St. George's parish, Tobacco Bay Beach is considered to be one of the best Bermuda Beaches for snorkeling. While Tobacco Bay is known for it's shallow and clear waters, perfect for seeing marine life, how Tobacco Beach got it's name is interesting part of Bermuda's history.
In the early 1600's, a group of Castaways whose ship wrecked upon the reefs explored the island of Bermuda and it's beautiful beaches. At this beach, they found wild tobacco growing. Hence, Tobacco Bay Beach was named.
Now don't go looking for tobacco on your Bermuda cruise. There's none to be found hundreds of years later, but the name "Tobacco Bay Beach" remains.
5. Hamilton City
Just a ferry ride away from Royal Navy Dockyard is Hamilton, the capital city of Bermuda. This truly is a beautiful small city to explore. If you enjoy history, consider spending a day in Hamilton to see the sights.
As you arrive in Hamilton, you'll see Front Street, the main street lined with colorful pastel buildings facing the harbour. Hamilton is a great place to shop for jewelry, clothing, crafts made by local artisans, souvenirs and rum.
Tip: There's a department store called Marks & Spencers in walking distance from Hamilton Harbour. It has a section in the back with delicious food imported from the UK. We buy some shortbread and jam cookies and striped mint candies called Humbugs. We bring them back as souvenirs for friends and family back home.
6. City of Hamilton Walking Tour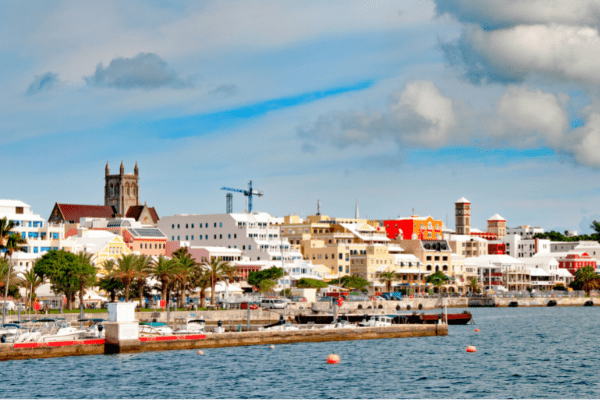 Spend a couple of hours walking around the city of Hamilton on a self-guided walking tour or take a tour with the local town crier. Start on Front Street, then explore up and down Queen Street, Cedar Avenue and Church Street.
Some interesting sights to see include government buildings such as the Cabinet Building, the Sessions House and the impressive City Hall. An interesting fact about Bermuda's rich history, is that Bermuda's parliament is the oldest in the British commonwealth.
If you enjoy museums and art, make sure to stop in at the Bermuda National Gallery.
7. Cathedral of the Holy Trinity
In the parish of Hamilton, you'll also find some of Bermuda's oldest historic churches. In particular, the Cathedral of the Most Holy Trinity is worth a visit. On weekdays it's open to guests who wish to climb the tower, where you experience incredible views of Hamilton city.
8. Hamilton Harbour Nights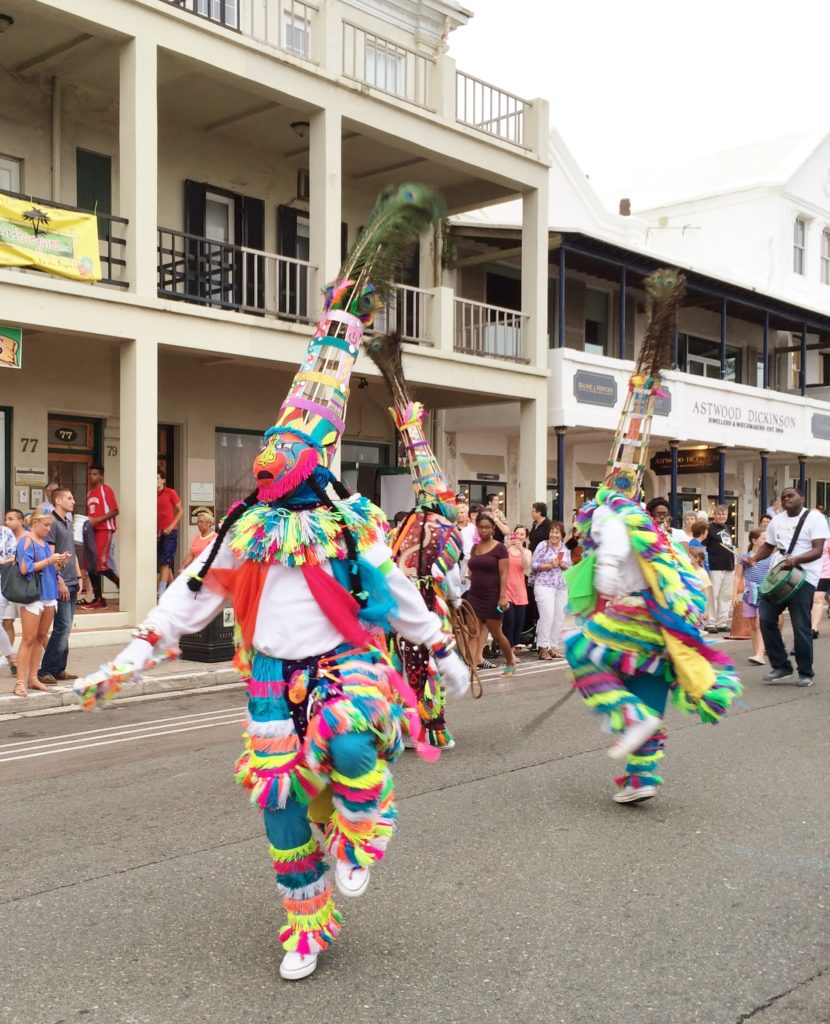 If your cruise ship will be in Bermuda on a Wednesday, you should plan on going to Hamilton's Harbour Nights Festival. Hamilton Harbour Nights is a fun evening street fair with local vendors of handicrafts and delicious street food.
There are performers and a parade. You will also get to see a parade of local Gombey Dancers in traditional costumes. This is truly one of my all-time favorite Bermuda attractions. You won't find this anywhere else!
How to get to Hamilton from the cruise port (Dockyard)
You simply take the 25 minute ferry ride from the ship dock to Hamilton. I suggest going a bit early as the ferry line does get long and it will be crowded. The ferry is 5$ per person each way, however depending on what you are planning during your visit to Bermuda, it may be worth buying a multi day pass for the ferry and bus.
Bermuda Cruise Tip
If you head into town a couple hours before, you can visit some of the Government buildings and beautiful churches and perhaps do a bit of shopping. You can also check out some of the popular local restaurants and people watch.
Get The Ultimate Cruise Planner
Regular price: $27 Now just $17!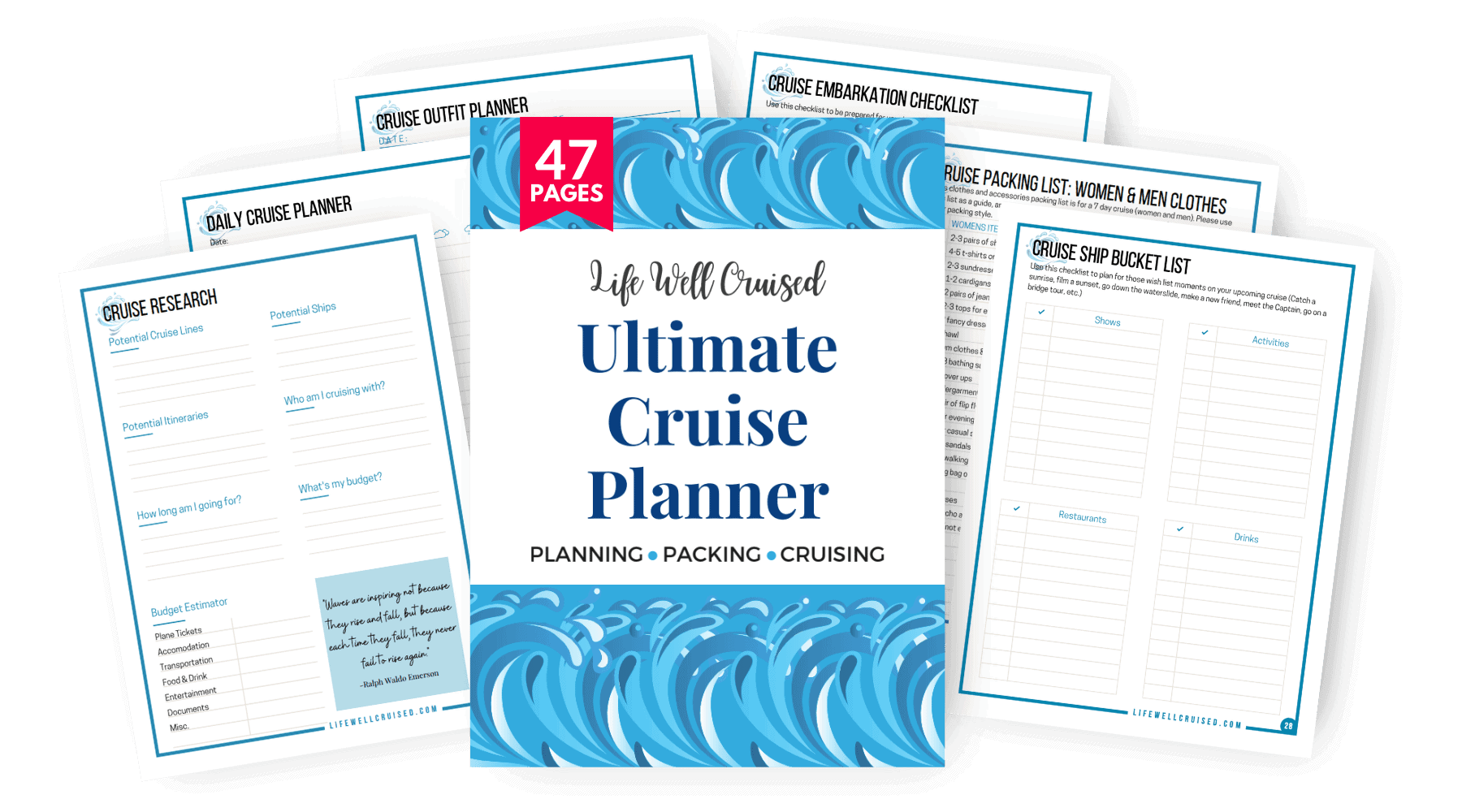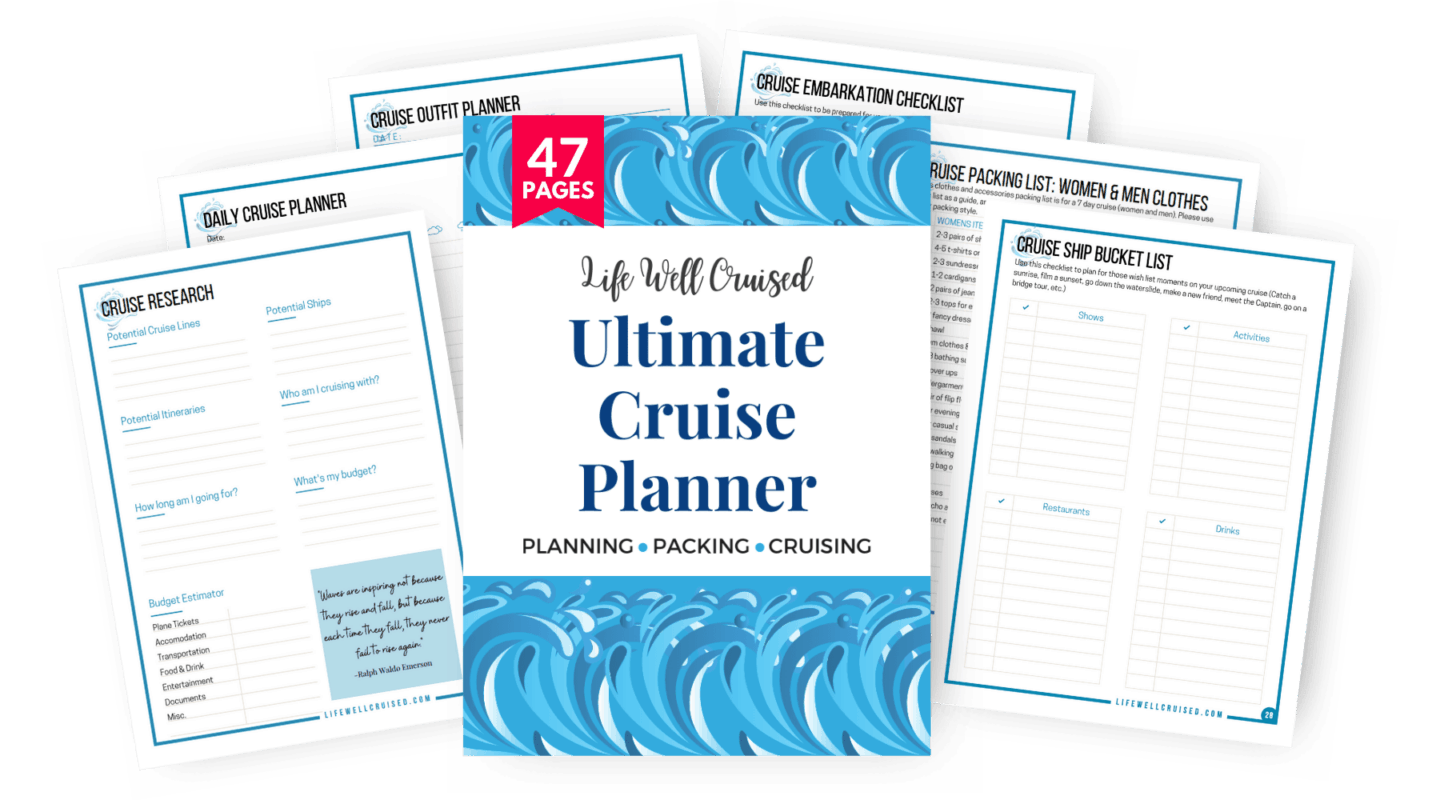 9. Bermuda Aquarium, Museum and Zoo (BAMZ)
If you are looking for things to do in Bermuda with kids, this Aquarium, Zoo and Museum is a favorite for families. The super large aquarium is the main attraction, and is a living replica of Bermuda's coral reef – so you'll see a wide variety of Bermuda marine life here. You'll see outdoor pools with seals and turtles as well.
Once you see the aquarium, visit the small zoo and interesting museum. Do check their website for opening hours and tour times.
10. Crystal Caves and Fantasy Caves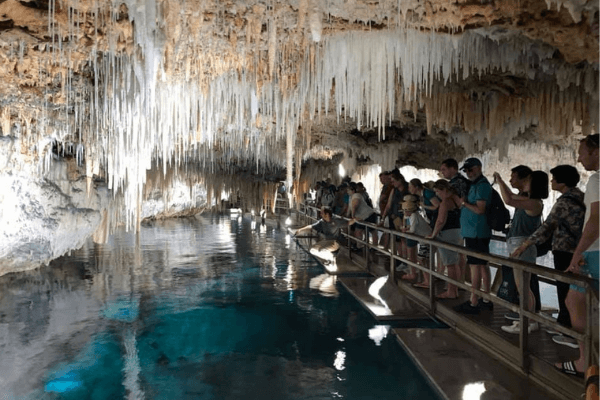 In the parish of Hamilton, you will find the famous natural beauty of the Crystal Caves. This unique cave, home to underground shimmering stalactites set over a clear ocean fed lake is a sight you won't soon forget!
You'll be intrigued to know that Mark Twain himself was the first tourist to visit!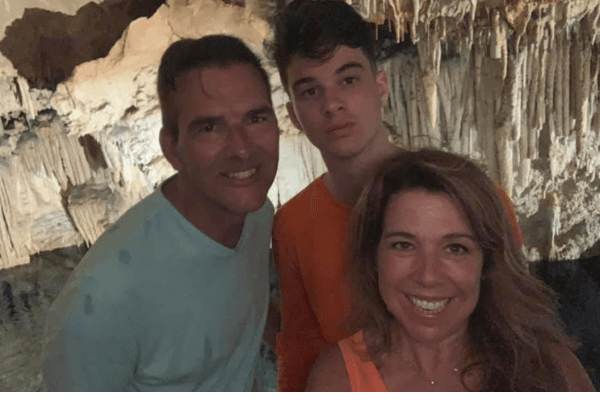 We had an amazing day at Crystal Caves on our Bermuda cruise on the Celebrity Summit.
If you're thinking of going to Crystal or Fantasy Caves, here's detailed review and helpful guide with how to get to Crystal Caves from Royal Naval Dockyard using Bermuda's public transportation.
Read more: A Guide to Bermuda Crystal Caves on Your Own
11. The Swizzle Inn
This well known pub and restaurant is home to the famous Rum Swizzle. If you're planning a day, consider coming here for a casual lunch or dinner after visiting Crystal Caves or another sight. Consider getting a pitcher or original rum swizzles and sharing.
The Swizzle Inn is located across the street from Crystal Caves.
12. Bermuda's National Drink – the Rum Swizzle
Bermuda is known for 2 drinks, the Rum Swizzle and the Dark and Stormy, both made with Goslings Rum. I've had both, but the Rum Swizzle is one of my all time favorites. I now even make a version of this drink at home!
You'll find Rum Swizzles at quite a few bars and restaurants in Bermuda, however the original is at the Swizzle Inn.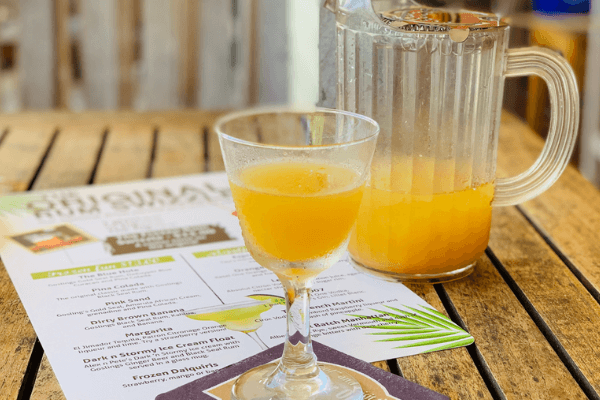 Follow along in our YouTube video as we head over to Crystal Caves, Swizzle Inn and Hamilton by ferry and bus.
13. Gibb's Lighthouse
Located about 30 minutes away from the cruise port, accessible by bus or taxi, Gibb's Lighthouse is a phenomenal spot to get a great bird's eye view of western Bermuda and the cruise ship port.
There's even a restaurant where you can enjoy afternoon tea. If you are a lover of Maritime History and British history, be sure to put this on your list of things to do while in Bermuda.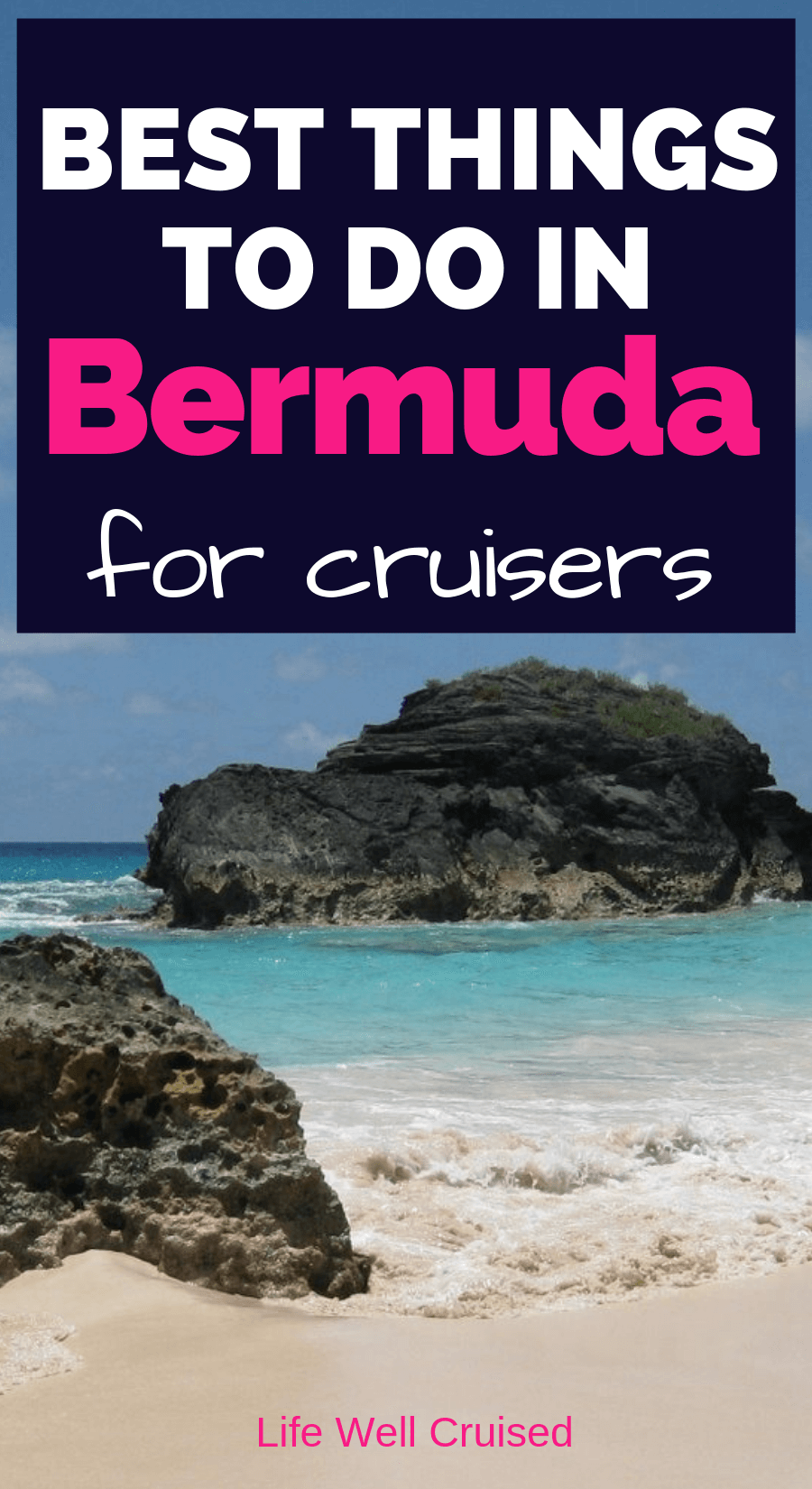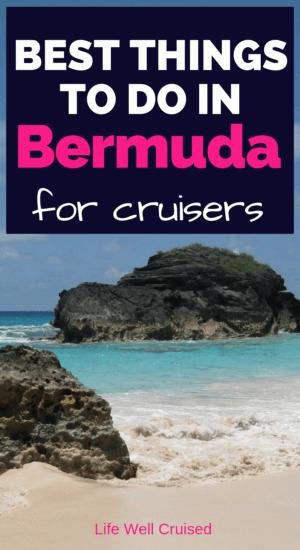 14. Parish of St. George Historical Reenactment
St. George is about 45 minutes away from by ferry. It is a truly gorgeous ride, so well worth the trip!
St. George is a UNESCO World Heritage Site and this is a good place to do a walking tour. You'll find historical landmarks and museums, including the Tucker House Museum, The Unfinished Church and Fort-St. Catherine.
What is the Must-Do?
This town is quaint and slow paced and has some interesting sites to see, plus one of the quirkiest things you will see anywhere! The Ducking Stool in the town center, King's Square.
St. George has 18th century historical re-enactments in King's Square which include a Town Crier and "The Dunking of the Nagging Wench".
Now, I bring my sense of humor when I travel and we just thought this was totally different.
Local actors participate and school children come watch. They just really have a fun time and involve the "audience" in the show. It is usually on Thursday's at 12:30, however please check for the current schedule.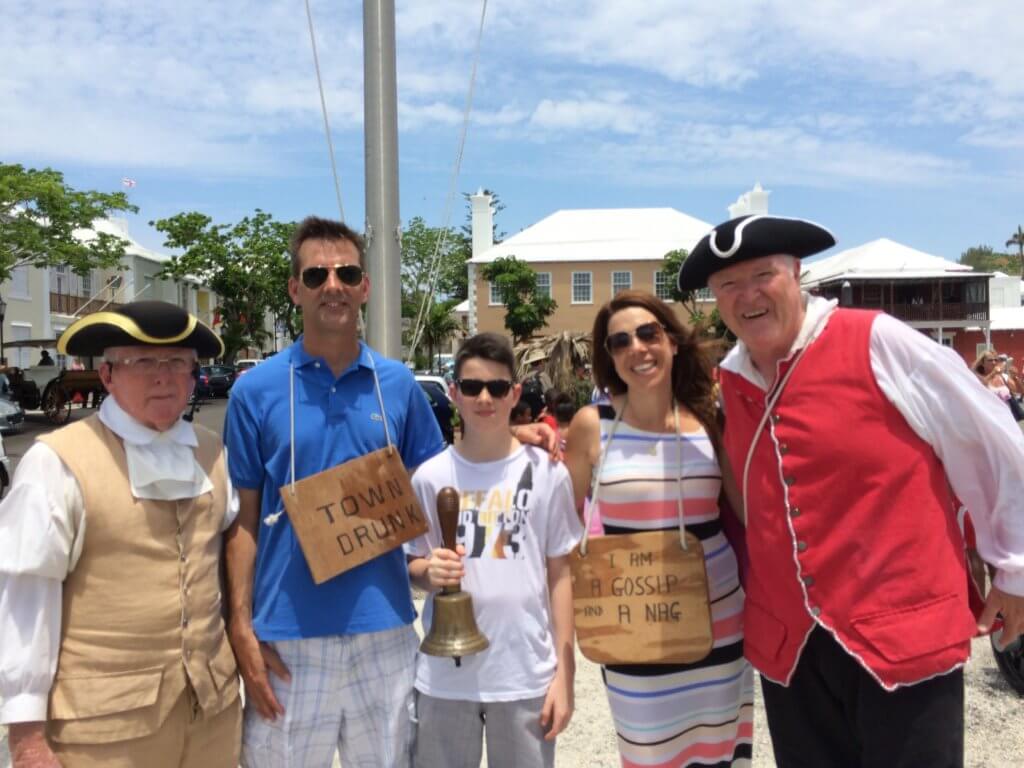 Things to do near the cruise ship in Bermuda – Royal Naval Dockyard/King's Wharf
Bermuda Cruise Tip
The Dockyard area near the cruise ship has quite a lot to do and see, however do plan your Bermuda itinerary carefully.
It may surprise you to know that even with 2 and 3 days in port, every year there are cruise passengers who miss the ship, as don't return to the ship on time.
As a suggestion, use your first day or two to visit places further from the port and do excursions on your own. Your last day and evenings could be spent closer to the ship in the dockyard area.
Just note that the last day in Bermuda is always busier around the cruise port/Dockyard area.
15. Royal Naval Dockyard
The Royal Naval Dockyard has quite a few activities to do and places to visit, all within a short distance of your cruise ship. It's well worth exploring and taking time to visit this part of Bermuda.
There's even a free trolley if your feet are just a little tired from exploring Bermuda's beaches and other attractions. You'll find really pretty shops with Bermuda crafts and souvenirs, well as some nice, casual restaurants and pubs. There are museums, a beach area and several types of activities!
Since there's so much to see, we toured Royal Navy Dockyard and created this video below (where you'll see some of our favorite things!)
Related: Bermuda's Royal Naval Dockyard: Best Things to Do Near the Cruise Port
16. Snorkel Park Beach
This man-made beach is literally a 5 minute walk from the cruise ship dock. It's a very calm small beach to visit if you have young children as well as if you're looking for a beach day on the last day of your cruise. At 5$ to enter, its a great deal for nice, fun beach day.
They have snorkel gear that you can rent, or you can bring your own. Kayaks and other water sports equipment is available for rent.
17. Dolphin Quest
Right next to Snorkel Park, you'll find Dolphin Quest. If you or your children have dreamed of swimming with dolphins and learning about them, this is offered within walking distance of the ship. Booking ahead is suggested.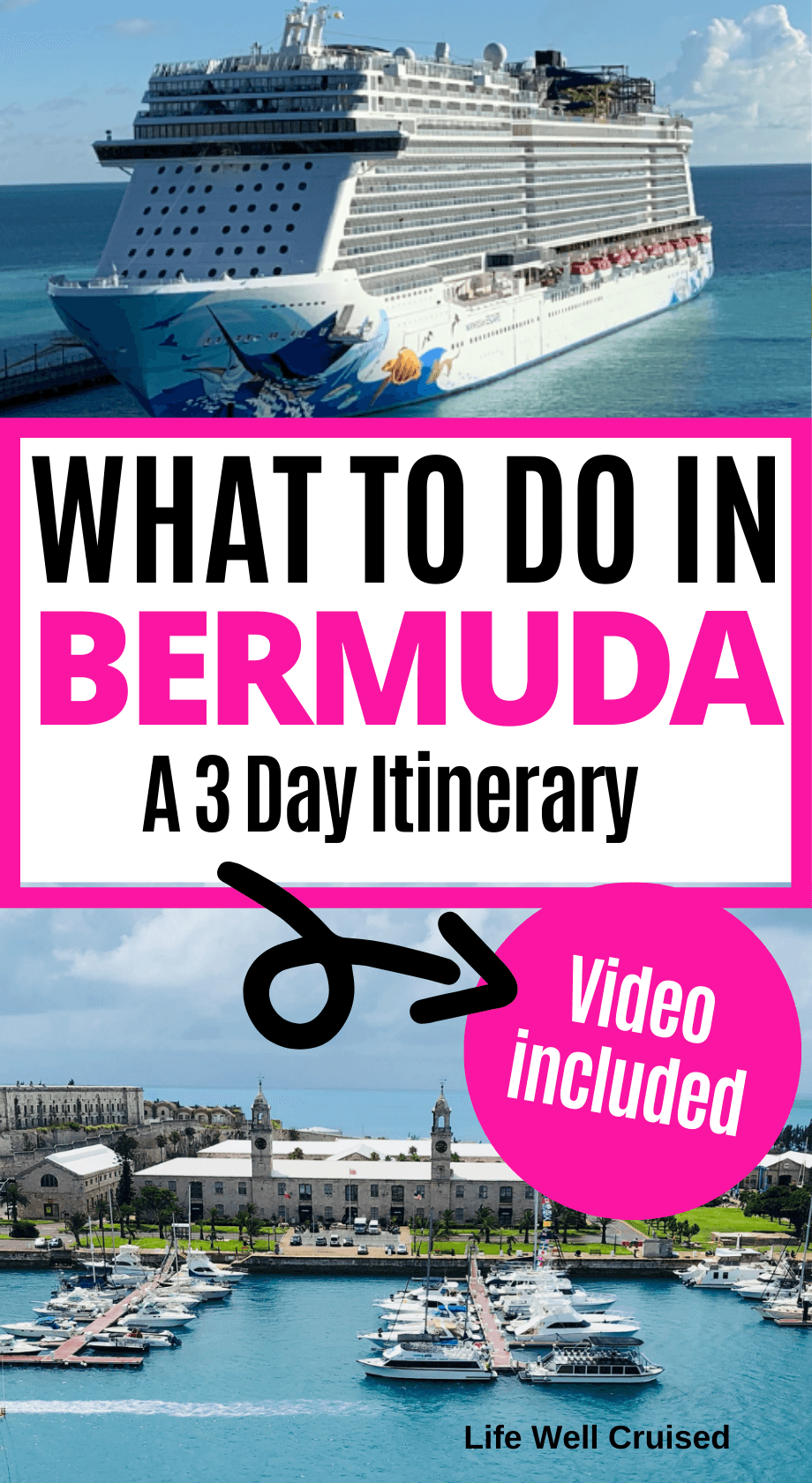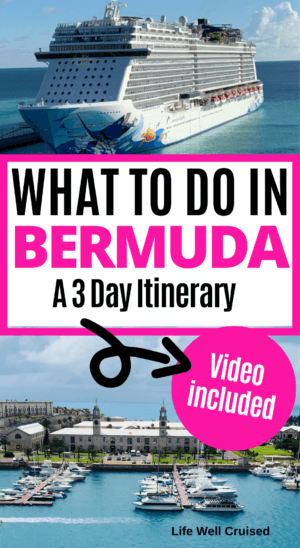 18. National Museum of Bermuda
If you or your children enjoy learning about Bermuda's History as well as seeing artifacts from sunken treasures, this is a great way to spend a few hours. There is also a play area for young children. The museum located in the Keep, Royal Naval Dockyard is free for children 16 and under and does have a charge for adults. Check their website for opening hours and rates.
19. Clock-tower Mall and Local Shops in Dockyard
The Clock-tower Mall, which is visible in many of the the pictures you'll see of the Bermuda Cruise Port, is filled with small local shops. If you want to bring back some Bermuda perfume, some artist's paintings or prints, handmade jewelry and other crafts, this is the place to find it.
Other shops in Dockyard include a rum cake shop and the glass blowing shop where they demonstrate their work. Some great clothing stores feature nautical themed clothing and made in Bermuda jewelry, candles and other collectibles.
*Many of the shops and some local artists and shopkeepers are featured in this Bermuda Dockyard video on YouTube.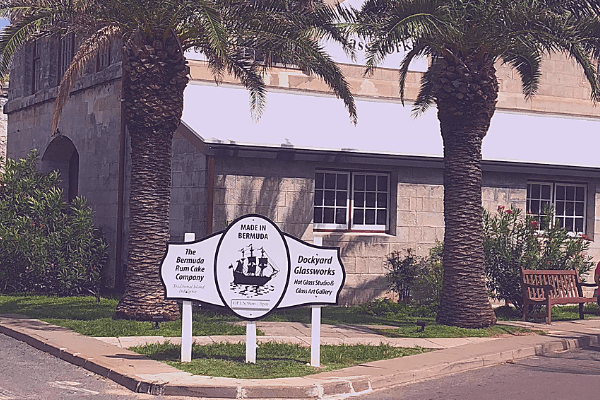 20. Bermuda Treats to Eat or Take Home
My favorite souvenirs to bring home usually include some local treats. You can find some good options right in dockyard, close to your cruise ship.
Some ideas include bringing back some rum cakes from the Bermuda Rum Cake Company or some locally made fudge from the Bermuda Fudge Company.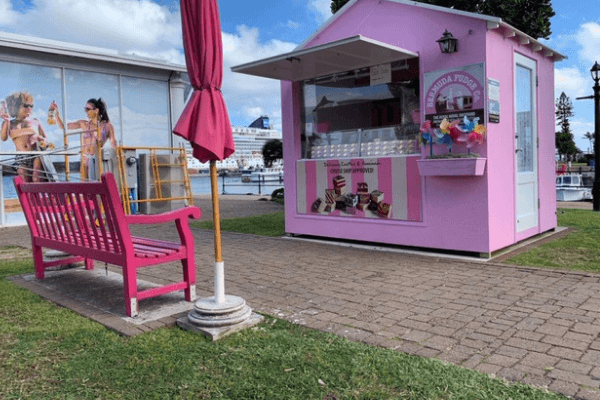 21. Bermudas's Moongate in Dockyard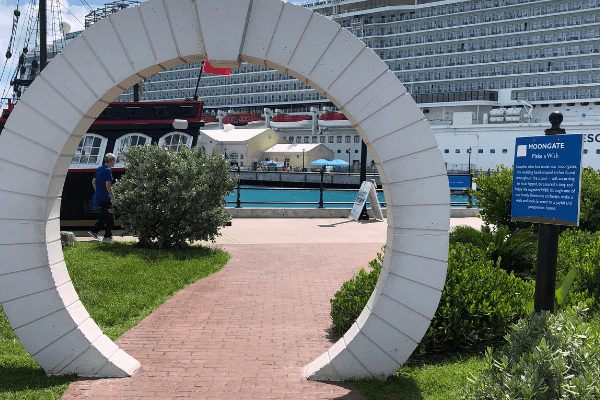 Bermuda has several Moongates located around the island. Lucky for us cruisers, there is one right in Dockyard fairly close to the cruise ships.
Legend has it that if couples walk through the Moongate together, they'll be blessed with a long and happy life together.
My husband and I first walked through this Moongate in 2008 during our first visit to Bermuda by cruise. Since then we've gone through it each and every time we've returned.
I've come to realize that this Moongate is part of many people's Bermuda stories, from anniversaries, to engagements to just being together and stopping for a moment to create a vacation memory.
Let it become one of yours – find the Moongate (and take a photo).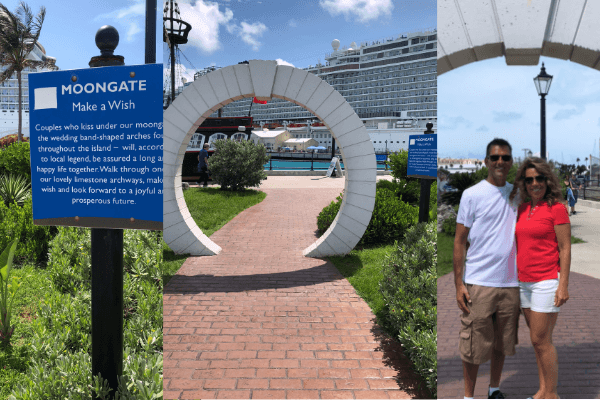 Bermuda Shore Excursions
It's been said that Bermuda is best seen from the water. There are some great excursions including catamaran snorkeling, wave runners, glass bottom boats and more.
While you certainly don't have to book and excursion, as there is plenty to do and see on your own, there is value to a local excursion. You can book these with your cruise ship, or directly with a local tour operator.
It can be a good idea to book online before you go as excursions are popular and can sell out.
22. Snorkeling and Boat Excursions
I quite like catamaran and boat excursions as for me it is the right amount of "organization", local information from the tour operator or guide, and activity to make it an enjoyable part of our visit.
The last couple of years we've had great excursions with Rising Son Tours. We've appreciated the gorgeous catamarans, friendly and informative crew, and rum swizzles of course!
We were provided with noodles, paddle-boards and had an overall great time floating in the crystal clear waters.
If you're not fond of getting into the water, consider a romantic Champagne Catamaran excursion at sunset or a boat tour of some of the beautiful and famous homes of Bermuda.
Here's my review, so you can see what is offered and what to expect: Bermuda Rising Son Cruises Catamaran Snorkeling Review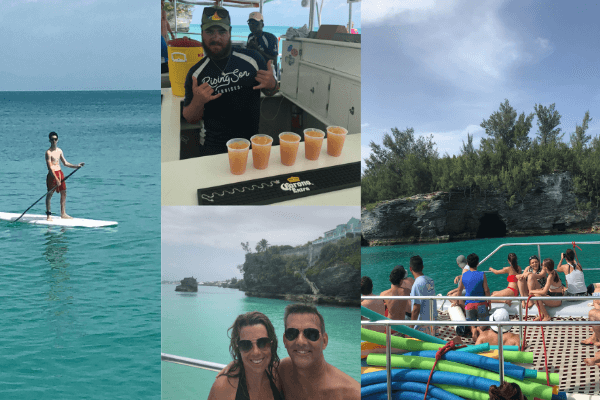 23. Port Royal Golf Course
Bermuda has some of the most beautiful and highly rated golf courses in the world, so if you are a golfer, put this on your wish list. Port Royal Golf Course in Southampton is the closest golf course to the ship and is easily accessible by bus or cab. Golf clubs, shoes and carts are all available to rent. However, if you are cruising to Bermuda it is very easy to bring your own golf clubs on board.
24. Tom Moore's Jungle/Blue Hole Park
If you are looking for something different that is not often on the cruiser's radar, make your way to Tom Moore's Jungle in the parish of Hamilton. This nature reserve has wooded paths, mangroves, caves and grottos, including well known Blue Grotto. You'll see a variety of birds and fish as well.
There's always an interesting story in Bermuda: this nature reserve is named after Irish poet Tom Moore, who wrote poetry under a calabash tree in this reserve in 1844. The famous tree was destroyed in a hurricane several years ago, however its branches have begun to grow again.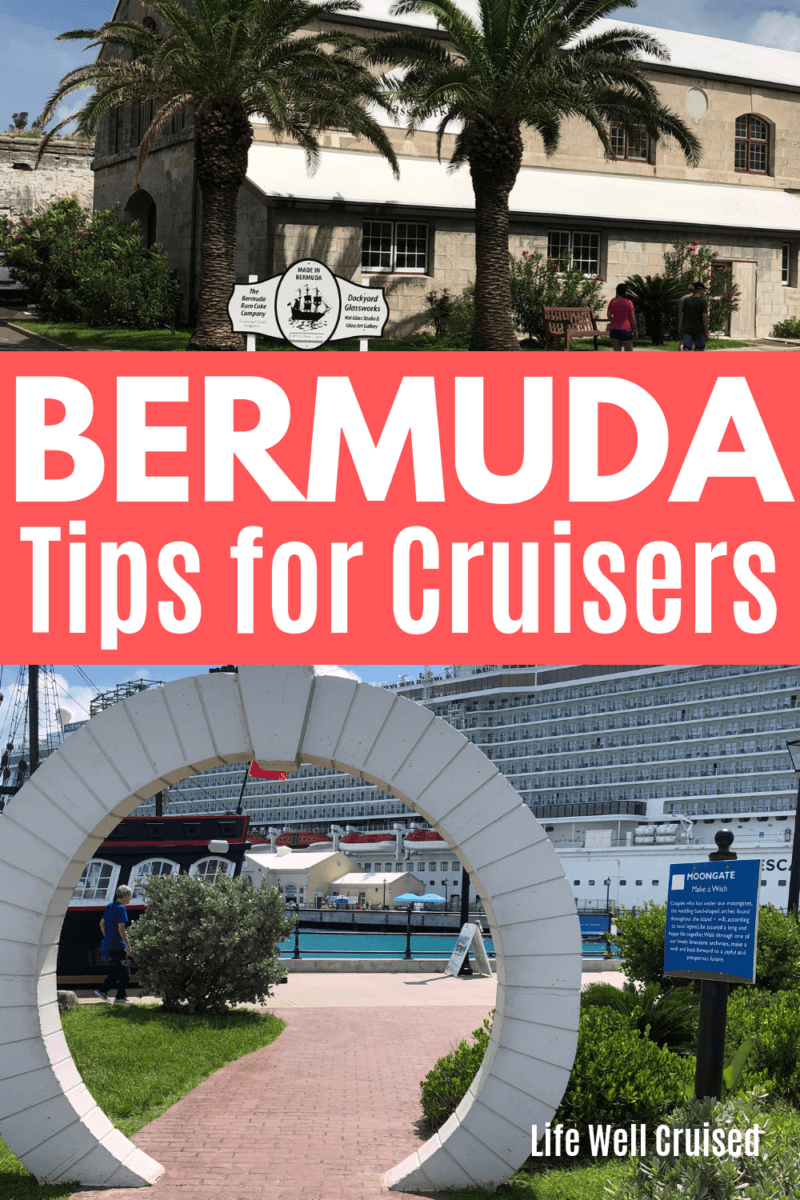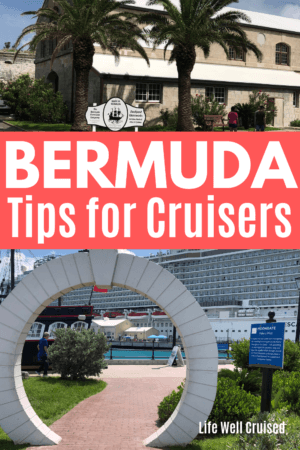 25. Dining in Bermuda & Local Eats
Bermuda is a bit on the expensive side, as a lot is imported from the US or Britain. Since you are cruising, try to plan your day so that you can take advantage of eating some meals on the ship and some meals in Bermuda.
Some of the most popular pubs for both locals and tourists include the Hog Penny Pub or Flanagan's Irish Pub in Hamilton. If you want to grab a bite close to the ship, a great spot is The Frog and Onion Pub.
A little place quite close to the cruise port that is distinctively local is Woody's. It's only about 5 minutes away by cab. I've unfortunately not eaten there yet, however I hear from the locals that they make a fabulous fish sandwich!
If you've been to Bermuda and know other great spots I should add to my list, please leave a comment below.
Related: What to Pack for a Bermuda Cruise: The Ultimate Guide
Get The Ultimate Cruise Planner
Regular price: $27 Now just $17!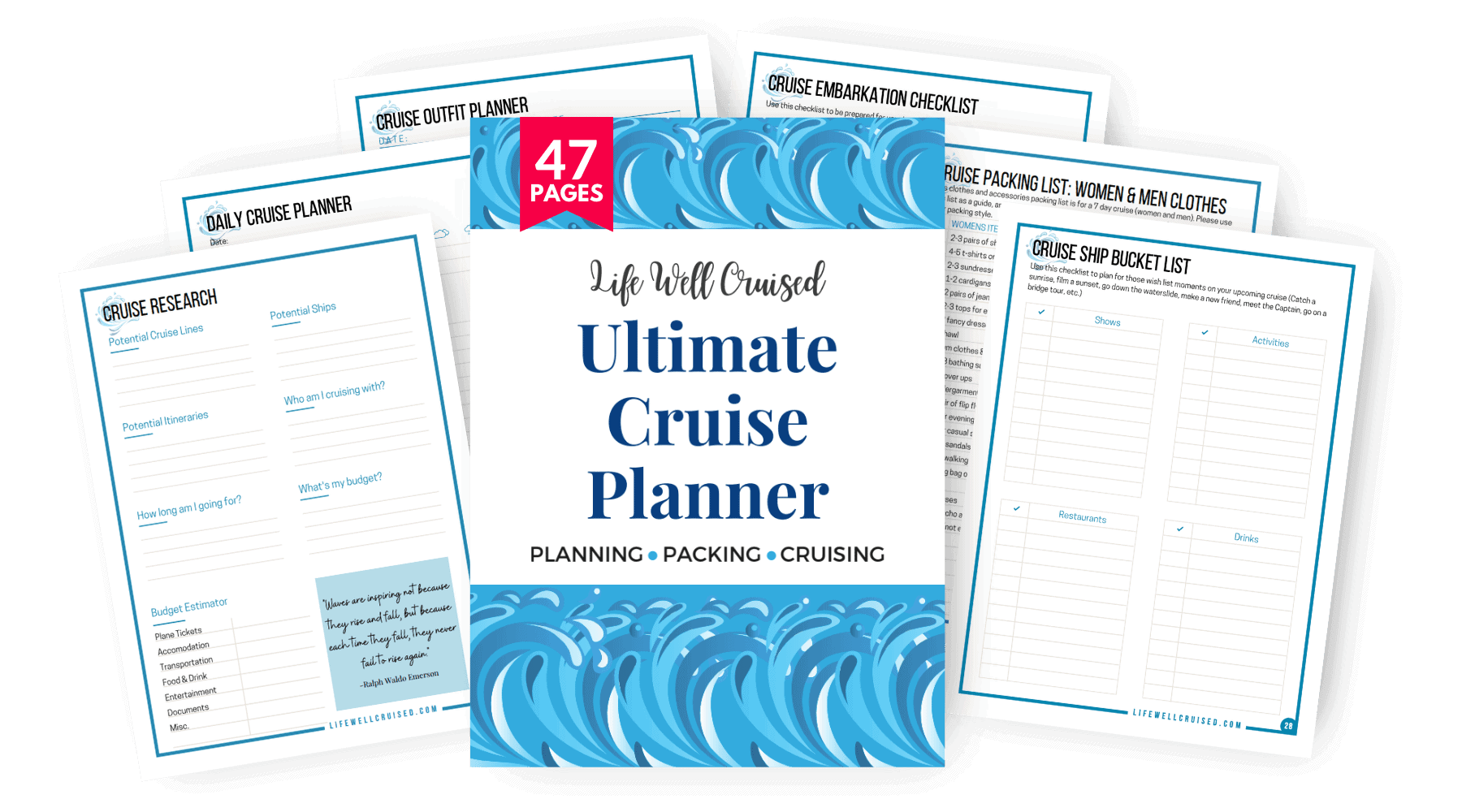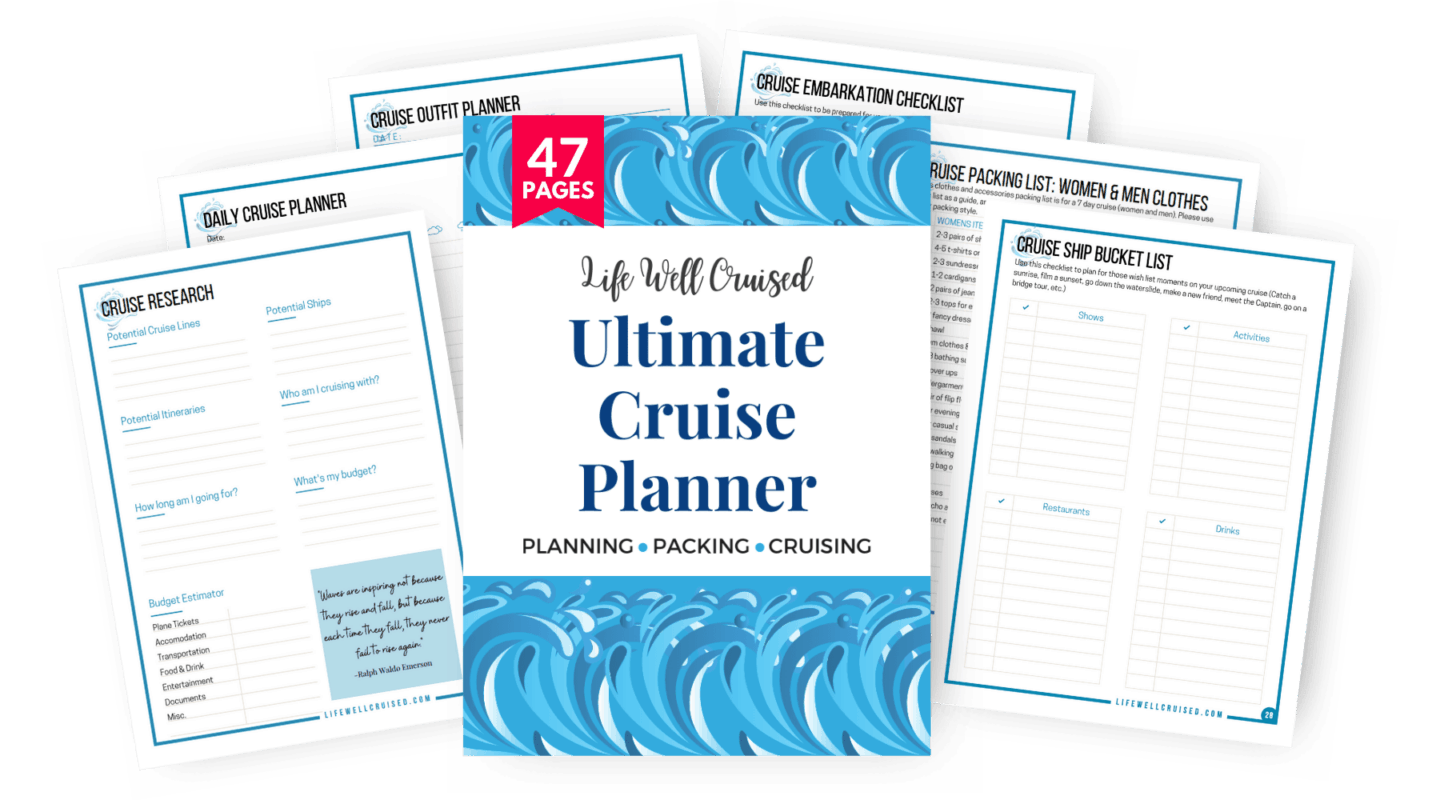 Final Thoughts on the Best Things to do in Bermuda for Cruisers
I hope that this list of the best things to do in Bermuda on a cruise can help you enjoy Bermuda as much as I have!
Although Bermuda is a small island, remember to build a little itinerary so that you plan things that are in the same area. Divide up your must-see Bermuda attractions into your 2-3 days. Whatever is left, just means you must return on another cruise!
Related & Popular Posts
Check this Podcast episode where I chatted about Bermuda by Cruise with Guys Telling Stories .
Have you cruised to Bermuda or are you planning to? Please let me know your tips and questions in the comments below.
Happy Cruising!
Ilana
P.S. If you found this helpful, please don't keep it to yourself ;-). Please share on Facebook or PIN to your favorite Pinterest board (share buttons at the top). Thanks so much!
Let's connect:
Follow me on Facebook at Life Well Cruised
Follow me onYouTube at Life Well Cruised (Vlogs and cruise tips)
Follow me on Pinterest at Life Well Cruised
Follow me on Instagram at Life Well Cruised