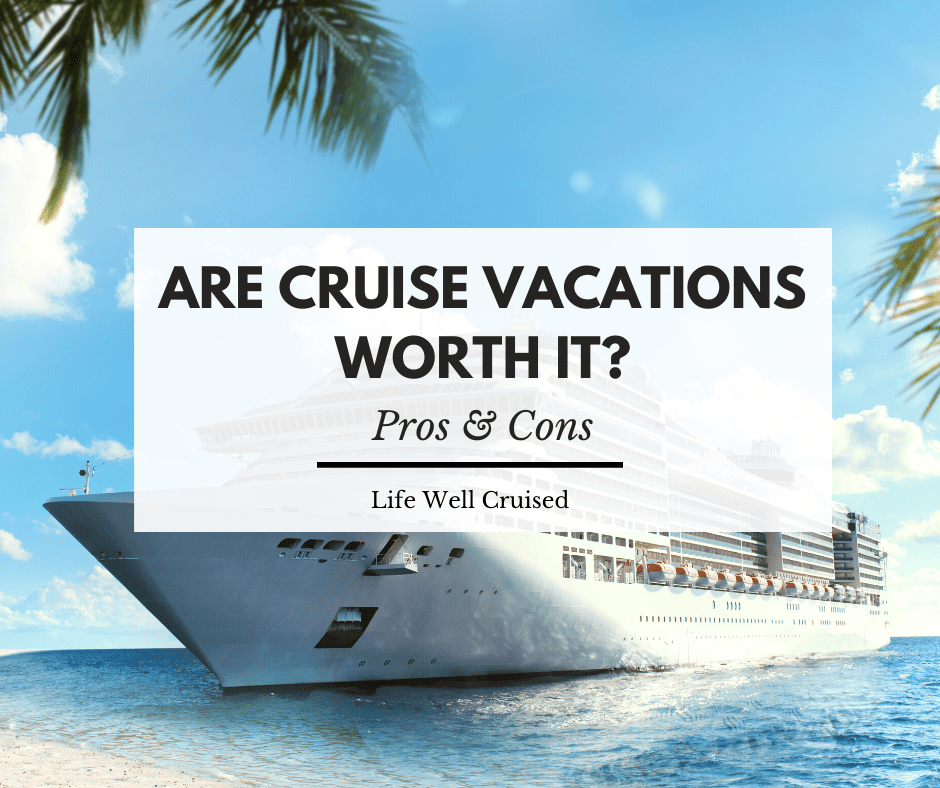 Are you thinking about going on a cruise and wondering if cruises are worth it? As someone who loves to cruise and has a borderline cruise addiction, there are many reasons why I believe that cruises are worth it.
In fact, many people get hooked on cruising, from the very first time they try it. However, along with the great reasons to cruise, there are some negative points to be aware of.
This post contains affiliate links which means if you click and buy that I may make a commission, at no cost to you. Please see my disclosure policy for details.
As an Amazon Associate I earn from qualifying purchases.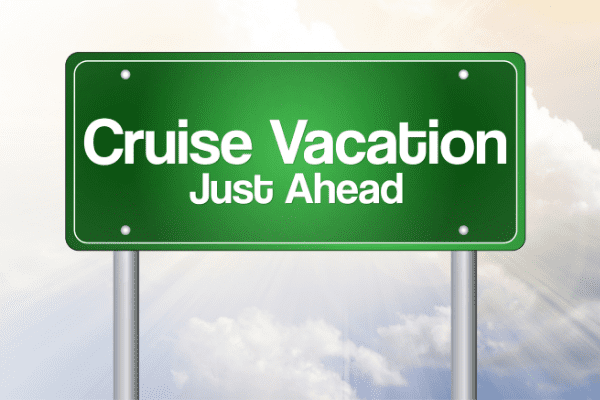 Are Cruise Worth it?
In short, yes cruises are worth it. Cruises have a lot to offer. They're a fun vacation where people get to travel to multiple destinations all in one trip. Plus, they can be a great value. On a cruise, guests can expect plentiful food options, amazing entertainment and top notch service.
In this post I share the pros and cons of cruising, and share why cruises are a great value vacation.
Advantages of Going on a Cruise
As an avid cruiser, I could list the advantages of cruises for days! With that being said, here are the pros of cruising:
Affordable Vacation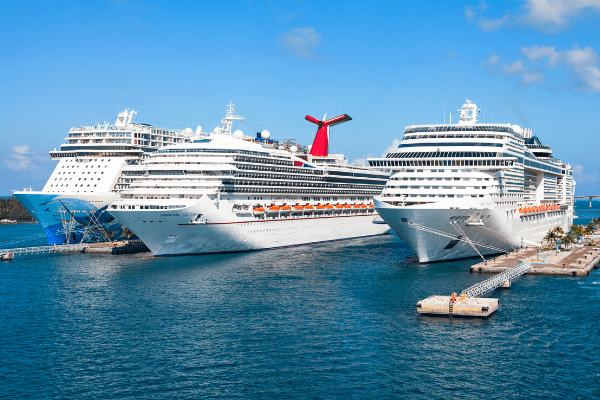 Cruises are known for being an affordable vacation and a great value. While some cruise lines are pricier than others, you can certainly find some really good deals.
If it's your first time booking a cruise, it's a good idea to work with a travel agent. A cruise specialist or travel advisor can help find the best cruise for you, and even get some last-minute deals.
Sometimes cruise lines will throw in perks like the drink package, internet package, and even give you some onboard credit, which is a really good value.
The great thing about cruising is that it's almost an all inclusive vacation. Your food, activities, entertainment and some drinks, are all included in your cruise fare. Drink packages are available as an add on, which can be more affordable than paying per drink once onboard.
Related: 10 Things Not included in the Price of a Cruise
Visiting Multiple Destinations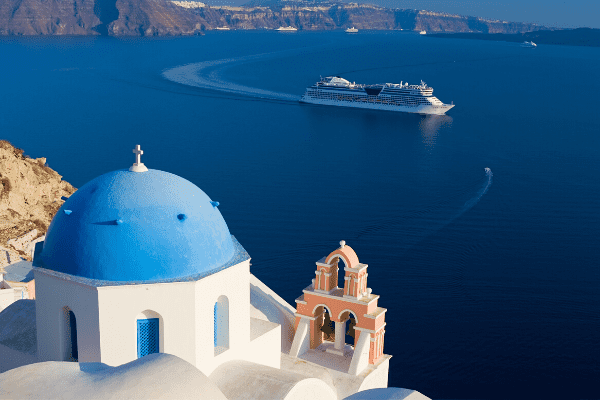 The thing that makes a cruise vacation different from other vacations, is that you get to visit multiple destinations all in one trip. Whether it's taking a Caribbean cruise, Mediterranean cruise or a world cruise, cruising is a great way to travel.
If you're on a limited time frame and want to travel to different places, cruising is your best option. There are so many wonderful destinations that cruises go to, that most people would be able to travel easily to otherwise.
Relaxing & Stress Free Vacation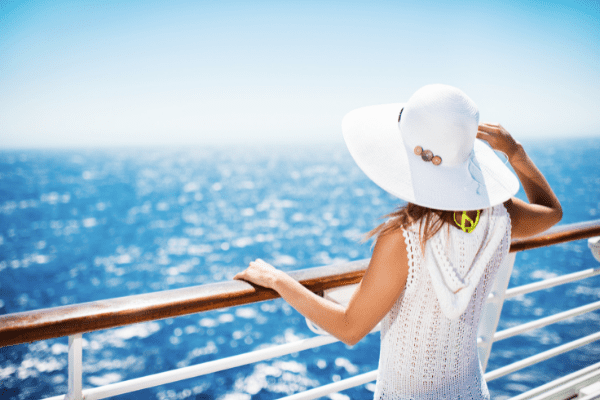 Unless you're doing a cruise with a ton of ports, cruising is a relaxing and stress-free vacation. Caribbean cruises are the best for relaxing and visiting some of the most beautiful beaches in the world.
For many cruisers, laying out on the top deck and relaxing to the sounds of the ocean is the best feeling. Onboard a cruise, you can book spa treatments (at an additional cost), which is amazing for those who want to feel rejuvenated while being on vacation.
Meeting New People
One of the best things about cruising is that you get to meet new and interesting people. Whether it's at the pool, at dinner, or around the ship it's nice to talk with your fellow cruisers.
People on cruises are just so friendly and it's a wonderful environment. After all, there's not much to complain about when you're on a cruise ship!
Great Service
One of the reasons cruisers love cruising, is because the service is like no other. On cruise ships, the crew members are always super friendly, helpful and kind.
If you value great service on a cruise, consider cruising on luxury cruise ships or smaller ships. Cruise lines like Azamara, Viking Ocean Cruise and Silverseas Cruises are all considered luxury lines that offer top notch service.
You may also love the romance of sailing one one of the world's most massive ocean liners. For great service, dining, and nostalgia, consider a trans-Atlantic crossing Cunard's Queen Mary 2.
Celebrity Cruises is one of the major cruise lines that also offers amazing service. Whether it's by the pool, in the dining room or at the bar, the service is consistent and great quality on Celebrity.
Fine Dining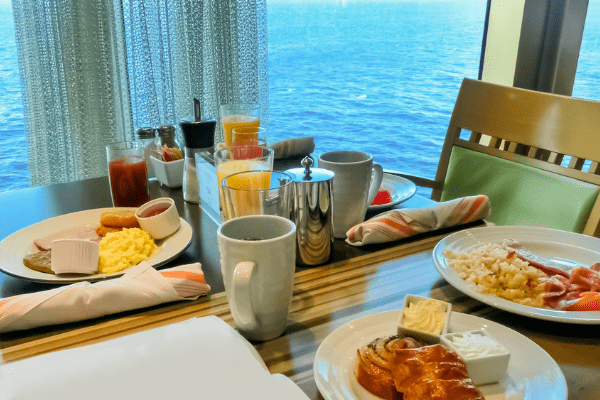 Cruises are known for having an abundance of amazing food and plenty of different dining options. Whether you eat at the buffet, main dining room, specialty restaurants or you prefer room service, there is something for everyone.
The wonderful thing about cruise food is that you get to try food from different cultures. In the buffet, there is so much food and plenty of different options. If you have food preferences, restrictions or food allergies, cruise lines can accommodate you as well.
When it comes to the dining room, most cruise lines have a dress code. Certain cruise lines will be more lenient when it comes to the dress code and others will take it more seriously.
Specialty dining is an extra charge on many cruise ships. However, it is a completely different menu and a different experience from the main dining room. Specialty restaurants may serve Italian food, French food, steak or seafood and the quality is just amazing.
Entertainment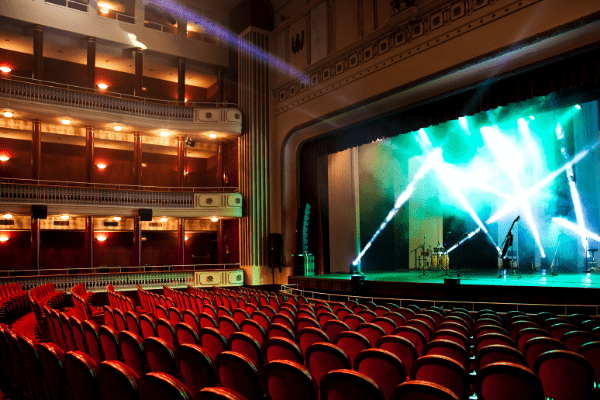 For many cruisers, the entertainment onboard is the best part about cruising. Cruise lines like Carnival, Royal Caribbean and Norwegian have some of the craziest entertainment on their huge cruise ships!
There is non-stop entertainment that is a great time for everyone. Whether it's going on water slides, zip-lining, taking some dance lessons or watching a movie in the movie theatre, there is never a dull moment when you're cruising.
With all the entertainment onboard these cruise ships, you will be looking forward to the sea days so you get to experience all the fun.
There are also plenty of shows onboard that are really incredible. There are all sorts of entertainers ranging from musicians and magicians to full scale production shows.
Related: 6 Best Cruise Lines For College Students – By a Recent Graduate
Great Family Vacation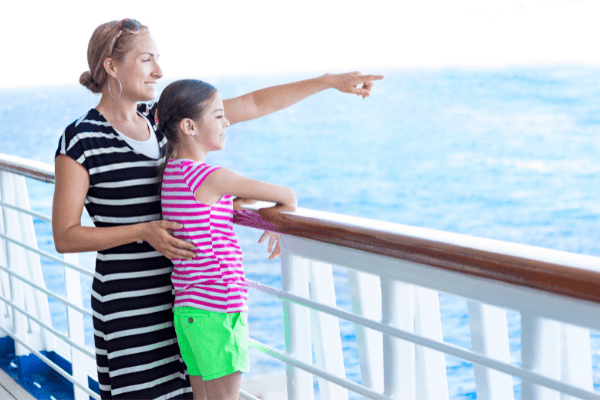 Cruising is a great family vacation because there is something for everyone. For the younger ones, they will absolutely love the kid's clubs.
In the kid's clubs, there are always things going on and fun activities taking place. Each cruise line offers something different for the family.
Best cruise lines for Families:
Disney Cruise Line
Carnival Cruise Line
Norwegian Cruise Line
Royal Caribbean Cruise Line
Other cruise lines will also have a children's and teen club, but these are the most popular. Here's more information about what you can expect on a cruise.
Disney
A Disney cruise is a Disney themed cruise filled with Disney characters. This is great for families with younger children who love Disney.
There are water slides onboard the Disney ships and the food is really good.
Carnival
A Carnival cruise is known to be really affordable and fun for a family vacation. There are plenty of activities onboard the ship and tons of kids.
There are water slides, splash parks and even roller coasters on the newer carnival ships.
Norwegian
Norwegian Cruise Line has a super fun atmosphere that is great for teenagers and young families. They have some awesome kids clubs and there are tons of kids onboard.
There are water slides, laser tag and even Go-Karting on some Norwegian ships.
Royal Caribbean
Royal Caribbean is known for having the biggest ships at sea. These cruises are amazing for families and have plenty of activities.
Onboard a Royal Caribbean ship, you can expect to find rock climbing walls, water slides, zip-lines, ice skating rinks and bumper cars. On the newer ships they even have a 10 story tall dry slide!
Tip: Newer ships and larger ships tend to have more activities and attract younger families!
Unpacking Only Once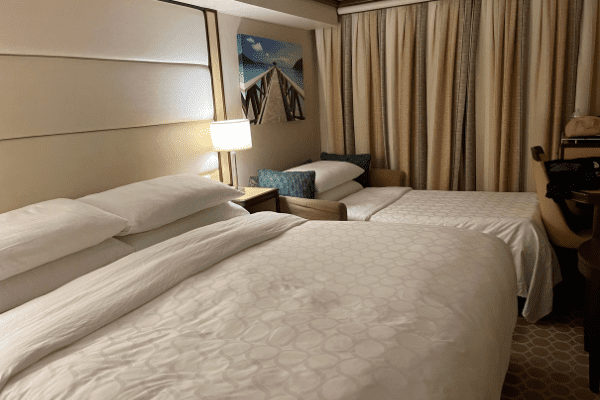 One of the best parts about a cruise holiday is that you only need to unpack once. On the first day of your cruise, take some time to unpack so you don't have to worry about your clothes for the rest of the cruise.
This really comes in handy on longer itineraries because it's one less thing to worry about. When you're on a cruise, you know that your clothes and personal items are safe and in one place.
Related: 17 Cruise Cabin Essentials Every Cruiser Needs
Loyalty Programs
One thing that's amazing about the cruise industry is the loyalty programs. Cruise companies offer amazing discounts and perks to returning customers.
This is one of the main reasons that cruisers get hooked on cruising. As you cruise more, the better your vacations get!
Get The Ultimate Cruise Planner
Regular price: $27 Now just $17!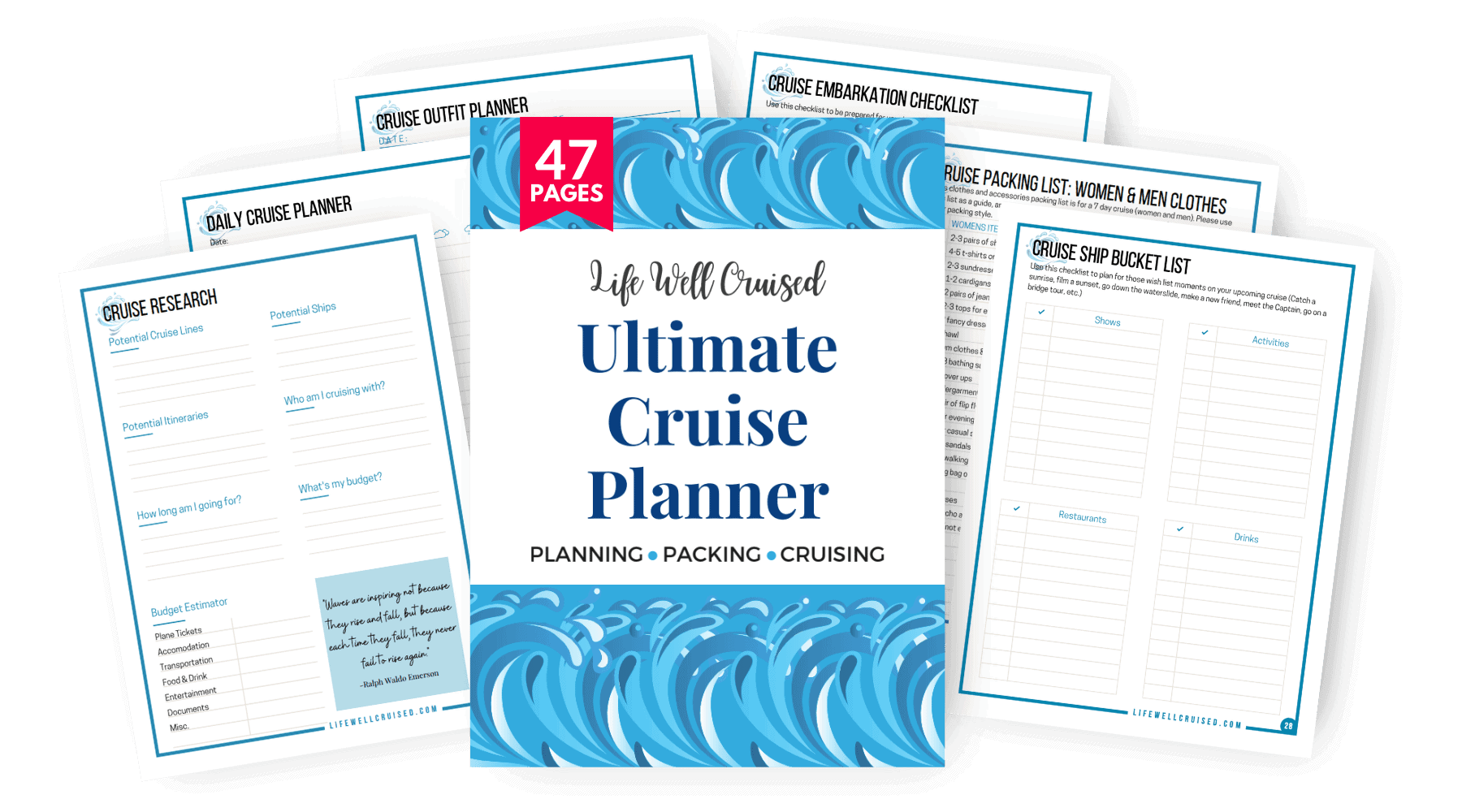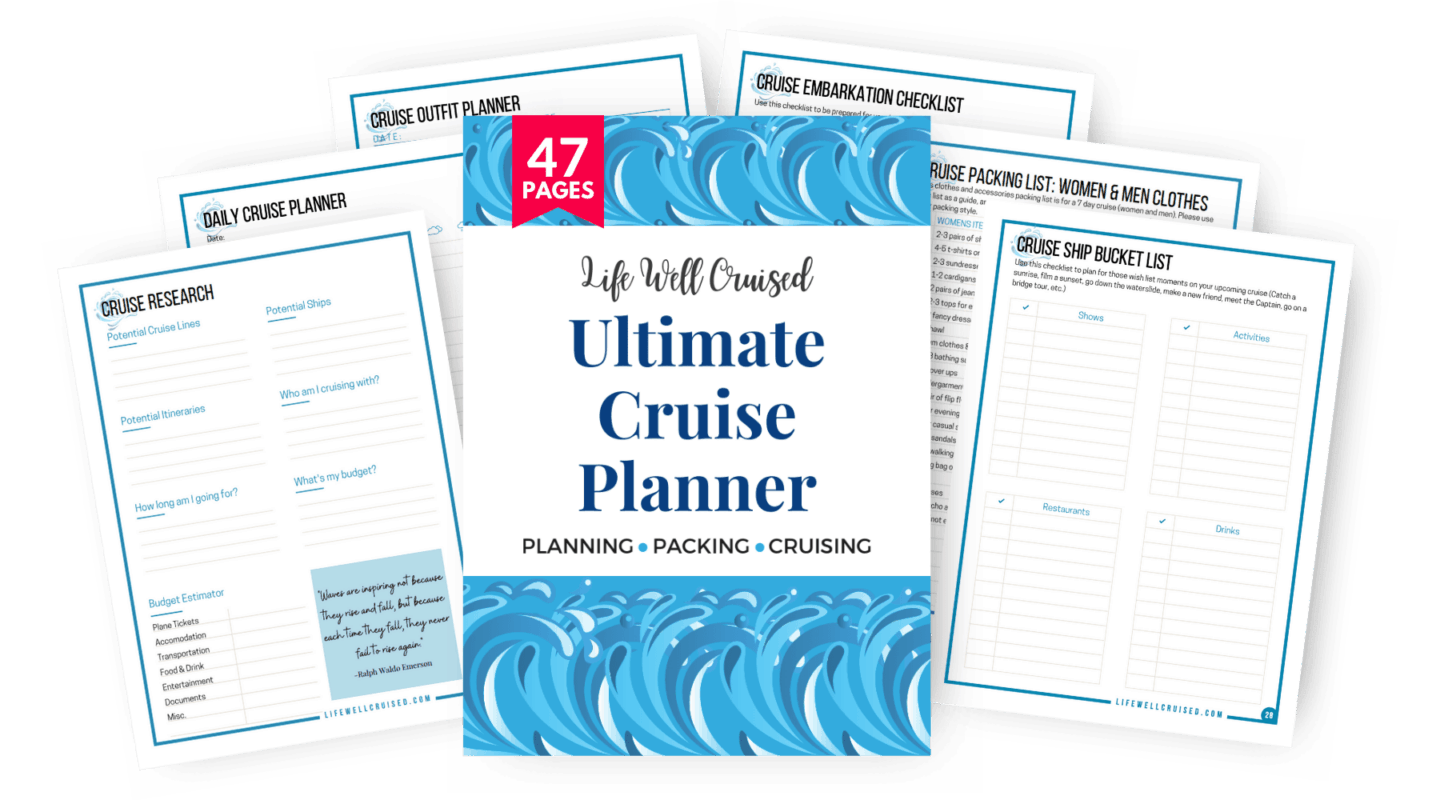 Disadvantages of Going on a Cruise
There is so many positives about cruising, but there are still a few disadvantages of going on a cruise that you should be aware of.
Here are the cons of a cruising:
Limited Time at a Port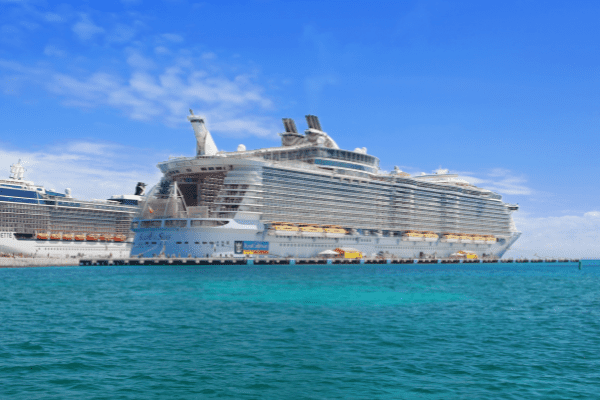 As much as going to several destinations in one trip is amazing, this also means that your time in each cruise port of call is limited. Often, your cruise ship will be docked in a cruise port for about 8-10 hours.
When compared to a land vacation in one place, the disadvantage is that there is less time to enjoy the destination.
If you really enjoy a destination, it can be hard to get back on the ship and sail away at boarding time. Some things that can help are planning excursions and researching your cruise port before you go.
Tip: Remember that you can plan a return visit to any destination by land or on future cruise.
Extra Charges
Even though cruises are a great value vacation, there are additional costs on a cruise that you can expect. Things like wifi, excursions and even soft drinks or a drinks package usually have an extra charge over and above the cruise fare.
If you're on a limited budget, there are definitely ways to save money on a cruise. However, one con of cruising is the fact that that you can expect some extra costs beyond the fixed price of the cruise.
Crowds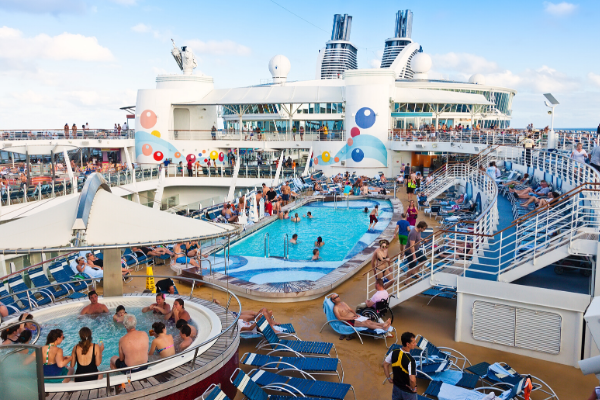 At times, on a cruise you will find yourself in a really crowded part of the ship surrounded by large groups of people. This tends to happen at popular places like at the pools on a nice day or at the theatre after a show.
Generally, you will find large crowds on bigger ships, as they have more people onboard. For those who can't stand being in crowded spaces, medium and small ships are your best option.
Expensive Excursions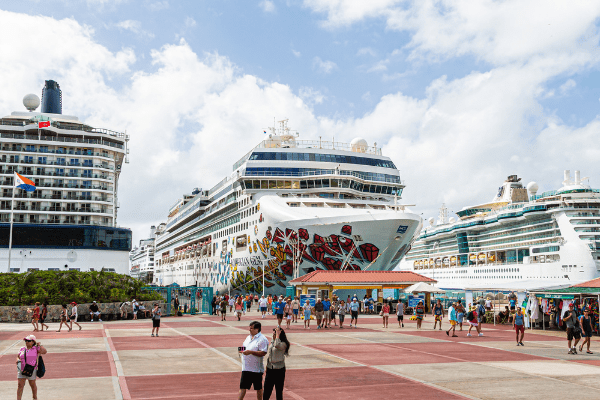 On cruises, shore excursions can get quite pricey, especially when you book them through the cruise line. Doing some research on your cruise ports can save you money.
There are times when you can explore on your own easily or may want to book a shore excursion through 3rd party tour companies.
However, there are some benefits and assurances that come with booking your excursions through the cruise lines.
For example, when booking excursions with the cruise line, if your tour happens to be late when returning back to the cruise, the ship will not leave. If this same situation was to happen with a 3rd party tour company, the cruise is unlikely to wait and you can miss your ship.
When dealing with a private tour company, it's a good idea to make sure that they are reputable and trusted. The last thing you want is to have a bad excursion, or even worse, miss your cruise!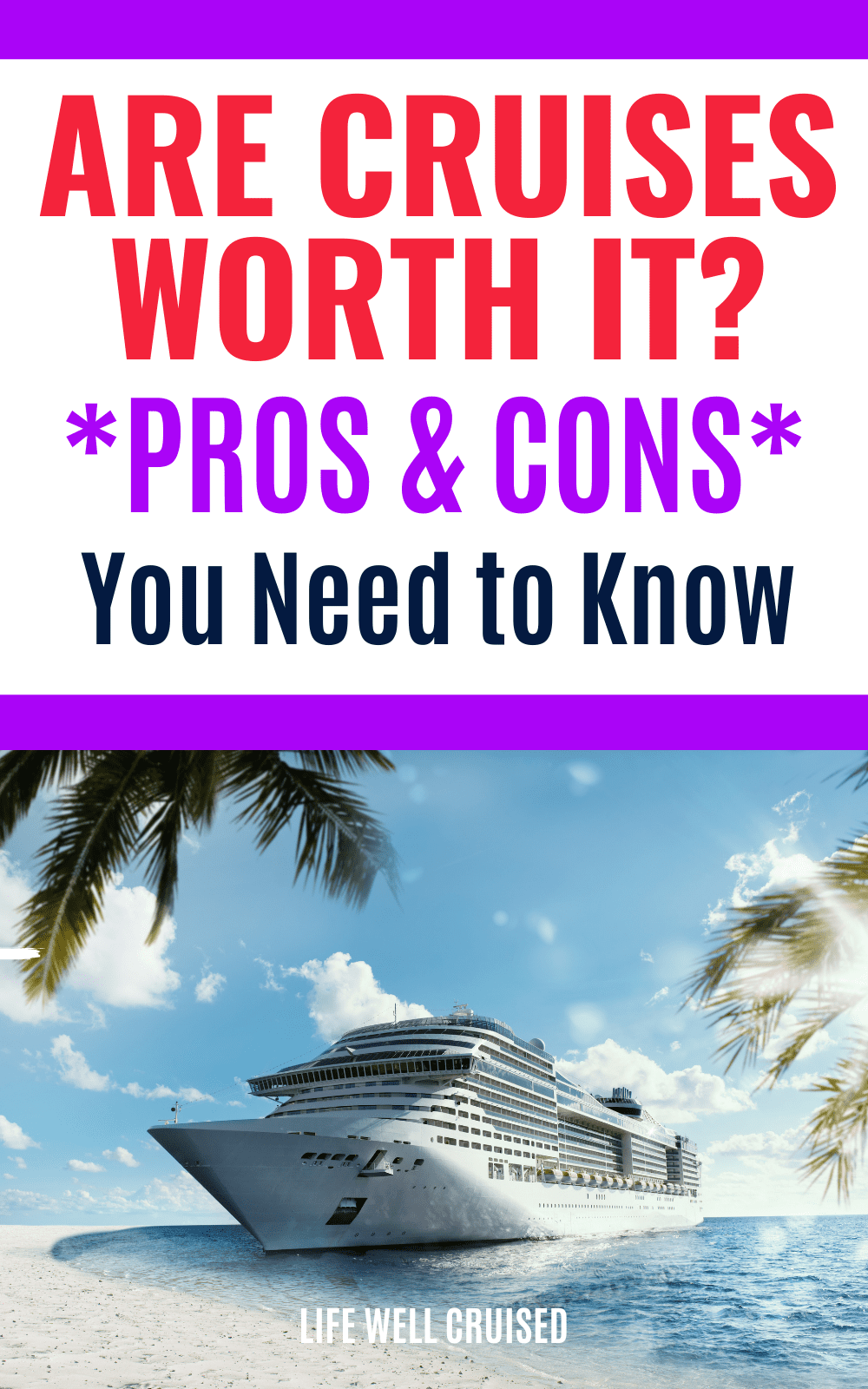 Cancelled Ports & Itinerary Changes
When cruising, there is always the chance of having cancelled ports and itinerary changes. This doesn't happen often, but once in a while a port will get changed or cancelled.
On the bright side, if a port does get cancelled you get an extra sea day, which is an extra day to relax and have fun.
Rough Seas
One of the realities of cruising is that sometimes there will be rough seas. On bigger ships you will feel less movement. However, it is normal to feel some amount of movement considering you are in the middle of the ocean.
During hurricane season and on smaller ships, it can be more likely that you feel more ship movement.
If you get any seasickness, there are plenty of ways to minimize the effects and to deal with the motion of the ocean. This includes taking over the counter medications such as Bonine or Dramanine.
Expensive Internet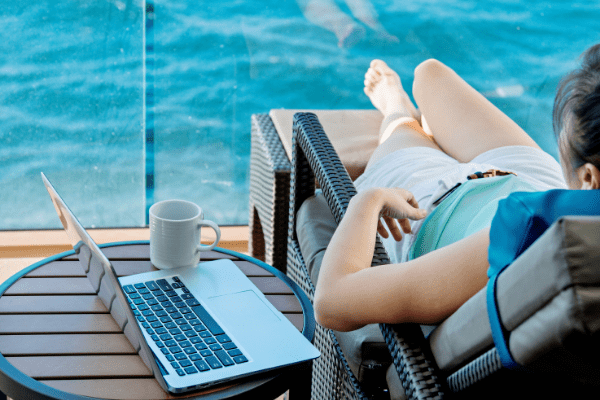 Nowadays, most cruisers want to use the internet so they can check emails and stay in contact with their friends and families through social media. Unfortunately, most cruise lines charge extra for internet, and wifi packages can cost a lot of money.
Some cruisers use this as an opportunity to stay off their phones and to disconnect for a few days. For others, they will bite the bullet and pay for the pricey internet package.
The Last Day!
The worst part about cruising is disembarkation day, or the last day of the cruise. Unfortunately, you will have to pack all of your belongings and say goodbye to the friends you met onboard.
Many cruisers dread the end of their cruise because it means that they have to return to their normal lives. It's a sad feeling knowing you are getting off of the ship and your vacation is coming to an end.
On the bright side, there are always future cruises and other vacations to look forward to!
Get The Ultimate Cruise Planner
Regular price: $27 Now just $17!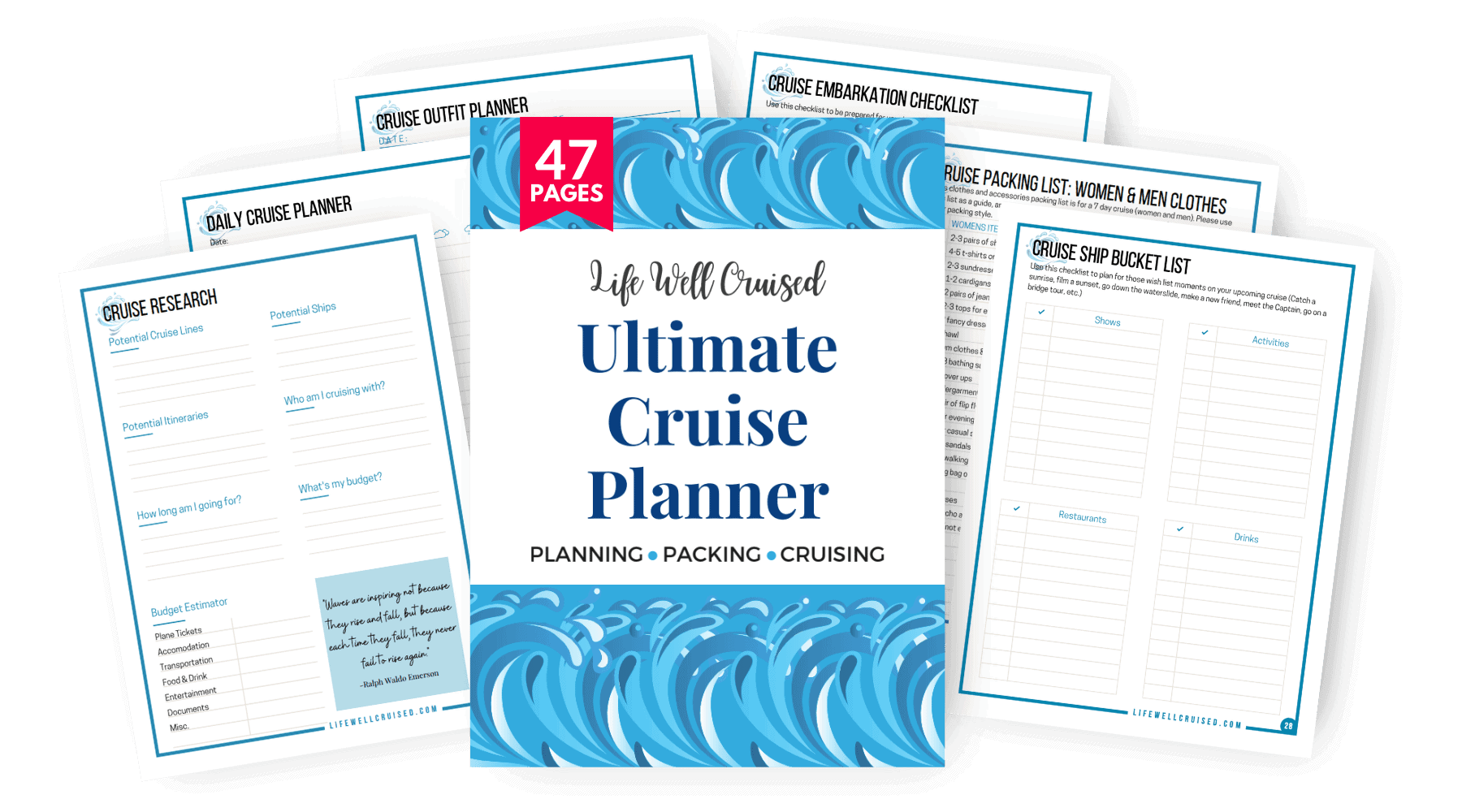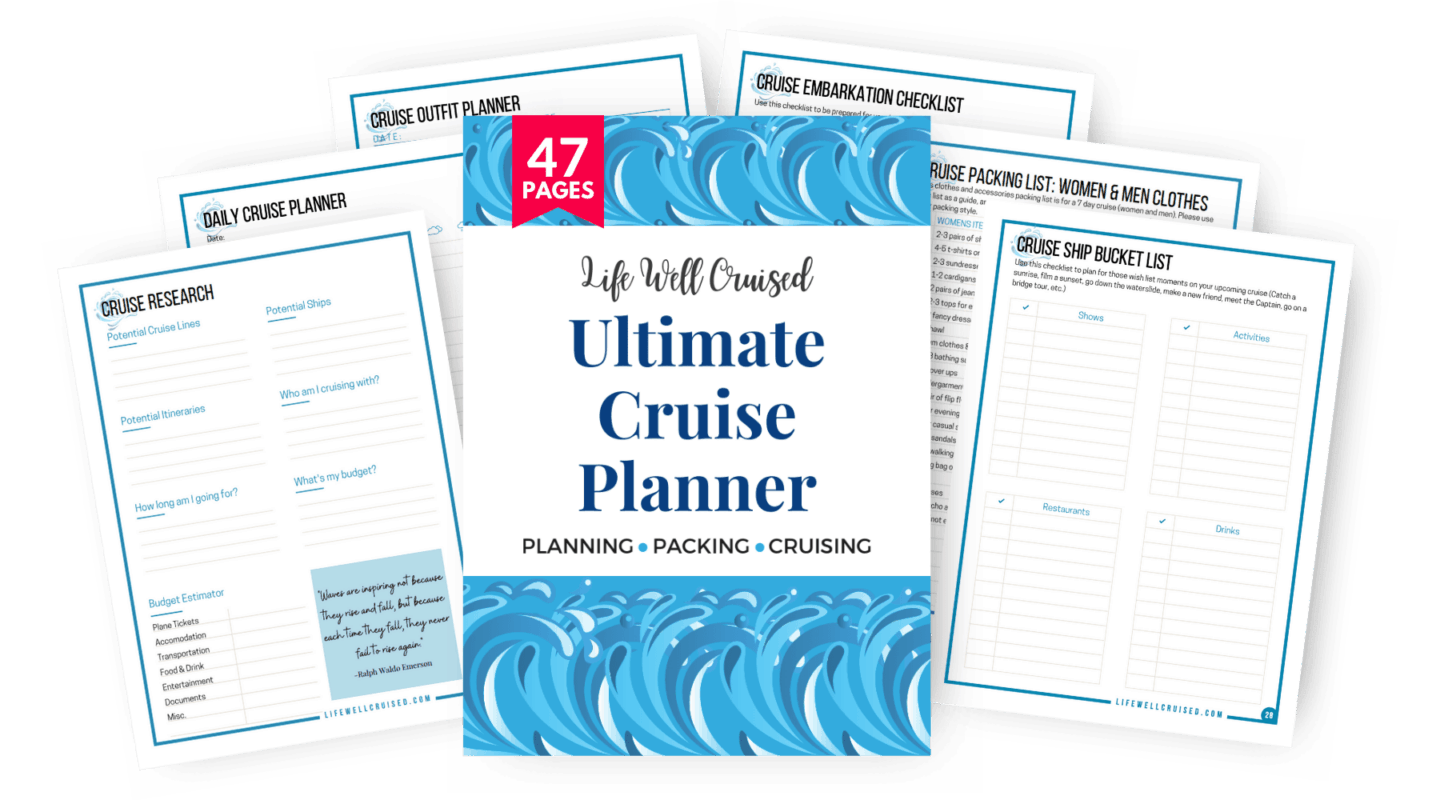 Related & Popular Posts:
Final Thoughts on Are Cruises Worth it – Pros and Cons
There it is, the pros and cons of cruising! I've had the pleasure on cruising since I was very young and I just love going on cruises.
There are so many amazing reasons to cruise, but there are also few cons that new cruisers should be aware of.
What's your favorite reason to cruise? Please let me know in the comments below.
Happy Cruising!
Ethan
Author Bio: Ethan Schattauer writes about fashion, travel and college advice on the website WhatToWearMen.com. As a frequent cruiser, Ethan shares his unique perspective on what cruising is like for teens and young adults.
P.S. If you found this helpful, please don't keep it to yourself ;-). Please share on Facebook or PIN to your favorite Pinterest board (share buttons at the top). Thanks so much!
Let's connect:
Follow me on Facebook at Life Well Cruised
Follow me onYouTube at Life Well Cruised (Vlogs and cruise tips)
Follow me on Pinterest at Life Well Cruised
Follow me on Instagram at Life Well Cruised