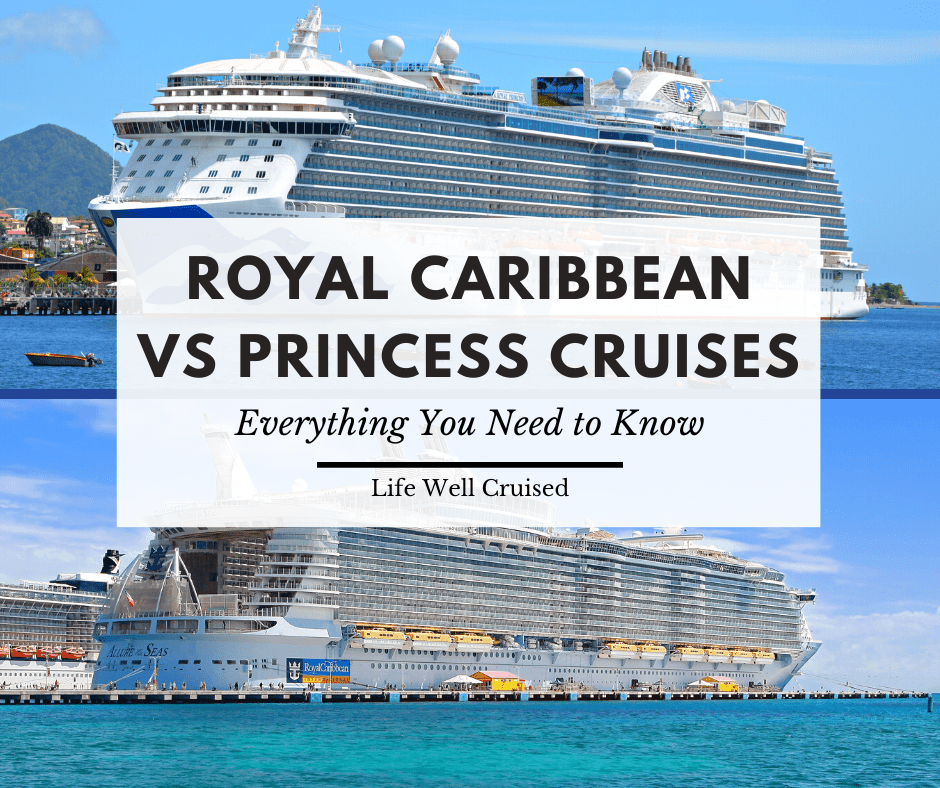 Are you planning on booking a cruise and comparing Princess Cruises and Royal Caribbean, to see which is best for you? Since they are both popular well-loved cruise lines, this is a great question.
While cruise lines all have similarities, Princess Cruises and Royal Caribbean do have some important differences to be aware of. As someone who has cruised with both Princess and Royal Caribbean, I know first hand that both cruise lines have a lot to offer.
With that being said, here's everything you need to know about Princess Cruises and Royal Caribbean.
This post contains affiliate links which means if you click and buy that I may make a commission, at no cost to you. Please see my disclosure policy for details.
As an Amazon Associate I earn from qualifying purchases.
Why Cruisers Like Princess Cruises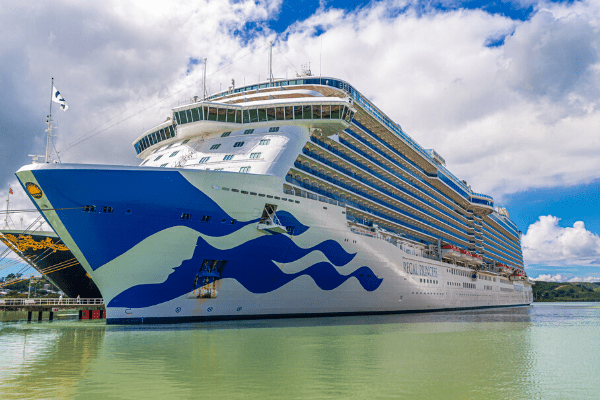 Princess Cruises is a premium cruise line, well known for their beautiful and elegant cruise ships. Princess has a reputation of catering towards a mature, well travelled demographic of cruise passenger.
Here are the reasons why cruisers like Princess Cruises:
Ship Design
Princess is known for having beautiful and elegant ship designs. The "sea witch" Princess logo is one of the most recognizable and iconic, since it was seen in the original "The Love Boat" tv shows which premiered in 1977. The hull design on Princess ships is a now a striking blue and white depiction of the logo.
On most Princess cruise ships, you'll find a grand atrium, the Piazza, which is the central hub of the cruise ship.The Piazza is a gathering place where passengers can eat at the International Cafe shop, sit in a bar with new friends, shop in the boutiques or relax while listening to live music.
You'll also find many lounges, bars, restaurants and dining rooms to take in shows and enjoy.
Princess cruise ships have beautiful pool areas, from quiet adult only pool areas to pools with music and activities. On newer, larger Princess ships, the large sports court is impressive.
Cabins
Princess cruise ship cabins have a unique and practical layout. Like other cruise lines, Princess cruise cabins have two twin beds that can be made into a queen bed, a desk with drawers and night tables next to the bed.
However, most Princess cruise cabins, from inside staterooms to balcony cabins and mini suites, feature a large open closet design which faces the bathroom. This open closet and shelving provides optimal storage space for your cruise outfits and essentials.
Traditional Cruise Experience
Princess is a modern cruise line that still feels traditional in many ways. For those that enjoy a traditional cruise experience, Princess provides this without being rigid or stuffy.
For instance, Princess cruises has dress codes in its dining rooms, including both casual and formal nights. There are also options for early, late seating and open seating in the dining room (Dine my Way).
Private Island
Princess's private island located in Eleuthera, Bahamas is Princess Cays. If you're going on a Caribbean cruise, Princess Cays is likely to be on the itinerary.
This gorgeous cruise line private island a great place to relax and tan one on the beach, try some water sports, eat at the beach barbecue and have a drink at the bar. You can book excursions here as well.
Service
One of the great things about cruising with Princess is the amazing service. The crew members onboard a Princess ship are helpful, kind and friendly.
Whether it's in the main dining room, by the pool or in your stateroom, the service on Princess is always top notch.
Food & Dining
The main dining room experience on Princess is fantastic. Compared to other cruise lines, Princess has one of the best main dining room experiences at sea.
There are variety of dishes on Princess Cruises including meat, chicken, fish, pasta and vegetarian options. Don't forget to try the Fettuccini Alfredo, a classic Princess dish.
On Princess, they have some specialty restaurants with amazing food. If you have a special evening or really enjoy great cruise food, be sure to try Crown Grill and Sabatini's.
Related: Princess Cruises Dining Room Menus (with food photos)
Variety of Itineraries
Princess offers many cruise itineraries from the Caribbean and Bahamas, Alaska, British Isles, South America, Asia and more. Princess Cruises prides themselves on going to over 300 cruise destinations in over 100 countries around the world.
When it comes to the variety of itineraries that a cruise line offers, it's hard to compete with Princess. If you love to travel and meet like minded cruisers, Princess has some well traveled guests.
Mature Travellers
While families and kids will cruise with Princess mainly during the Christmas holidays and school breaks, most of the time you can expect a mostly adult crowd.
Princess tends to target a demographic of well travelled guests and like minded cruise travelers. This means that the atmosphere on a Princess ship will be a relaxed and good time, but don't expect a boisterous crowd.
Related: How is Christmas Celebrated on a Cruise and What to Expect
Multigenerational Travel
Princess Cruises does have something for everyone. In recent years Princess Cruises has been a popular cruise line for multi-generational travel. In fact, our own family has cruised with 3 generations for a 50th anniversary cruise. Everyone, from ages 7 to 77 had a great time!
Alaska cruises during summer months, and most cruises during school breaks will have some families on board.
Related: Princess Cruises New Year's Eve Multi-Generational Cruise Review
Entertainment & Activities
Princess has great entertainment options, such as Broadway-caliber production shows, live music, magic shows, performances by comedians and more. There are also fun interactive shows such as Deal or No Deal and The Voice of the Ocean.
When it comes to activities onboard a Princess cruise, there are dance classes, art auctions, basketball courts, pools and hot tubs. Throughout the day, there is music by the pools and on sea days there are poolside activities.
A unique experience that Princess offers is Movies Under the Stars, and outdoor movie experience.
Picture this, you can relax on your lounge chair under the big screen and stars above. Princess makes the experience special by providing blankets and popcorn for the best movie night ever.
MedallionClass Experience
The MedallionClass Experience is unique to Princess cruise line. On a Princess cruise, you'll be given an ocean medallion, which helps provide a better cruise experience. The medallion is a quarter-sized wearable device which unlocks your stateroom door and provide other touch free conveniences.
As someone who has cruised with Princess since the OceanMedallion came out, I've had the chance to see how it's evolved and how the experience keeps getting better.
The Medallion allows for you to locate your loved ones around the cruise ship and have food and drinks delivered directly to your cabin as well as most areas around the cruise ship.
Related: Princess Cruises Ocean Medallion: Updates & New Features
The Love Boat
If you've ever watched or heard of The Love Boat TV show, then you know that Princess cruises is synonymous with romance and celebrations at sea.
Princess cruises offers some different romantic experiences including the ultimate balcony breakfast and ultimate balcony dinner.
They also offer some nice vow renewal packages, weddings at sea and more.
Related: Princess Cruises: 15 Tips, Tricks and Insider Secrets
Get The Ultimate Cruise Planner
Regular price: $27 Now just $17!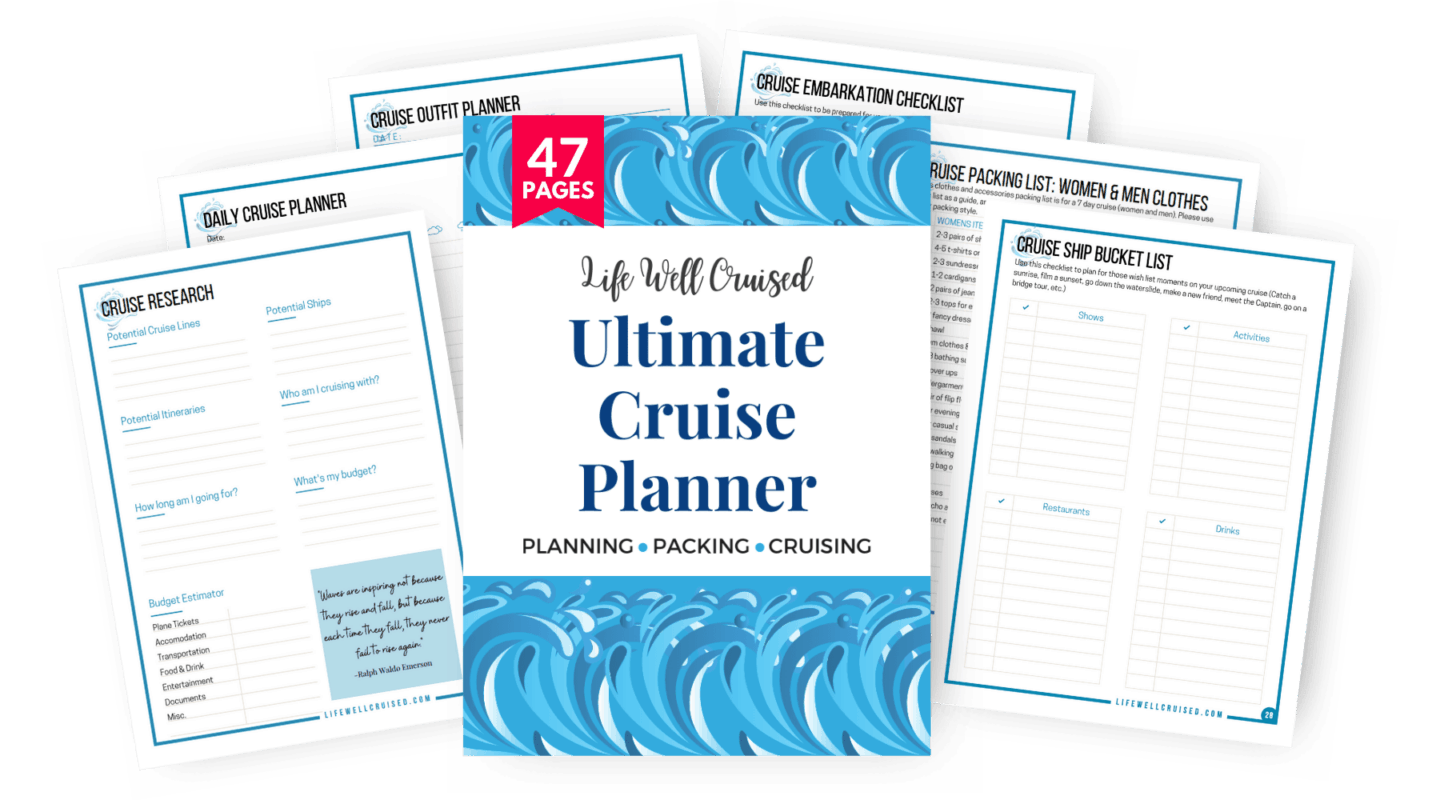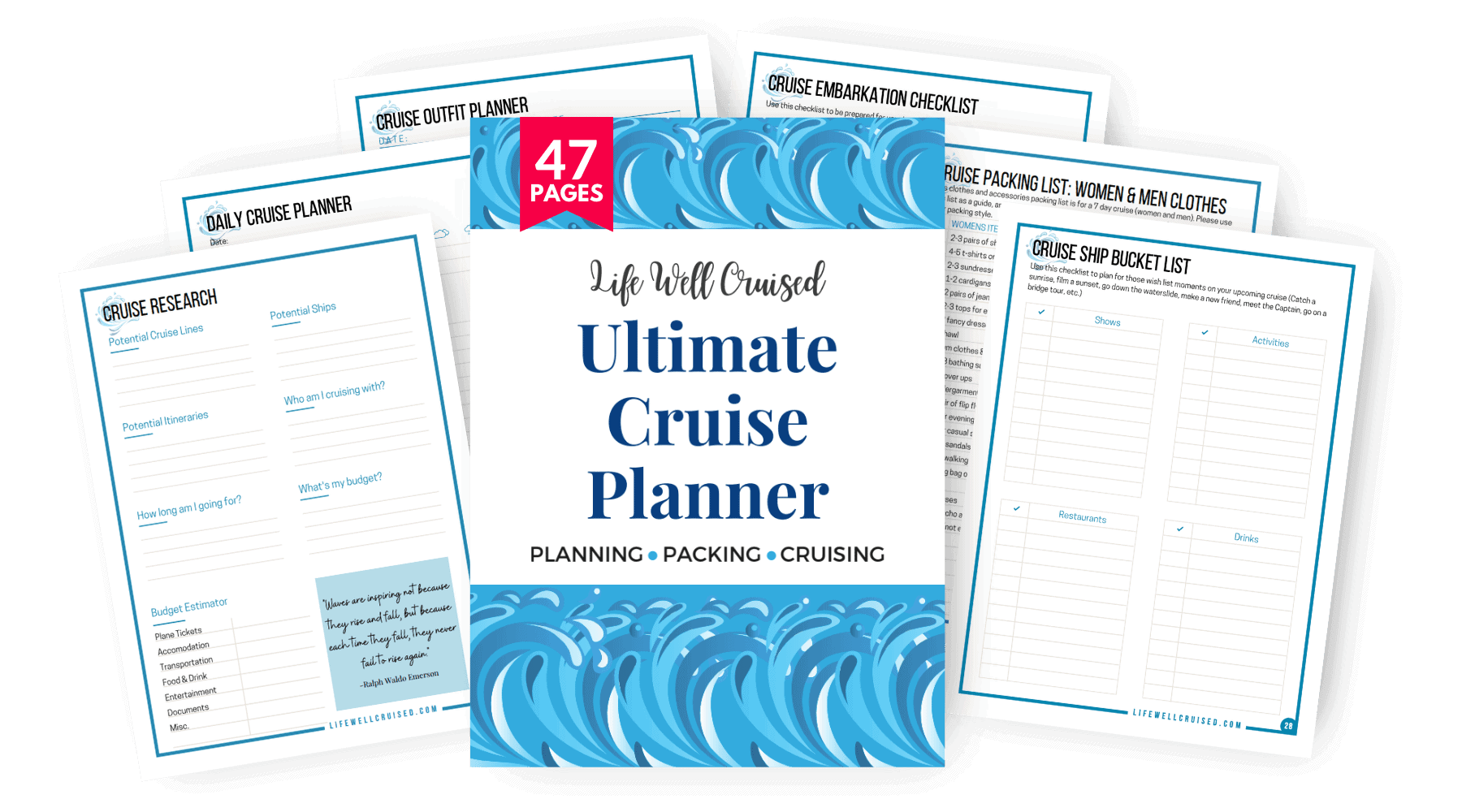 Pricing
Princess is a premium cruise line that offers a great product for the price. When booking a Princess cruise, you can book at a cruise only fare or choose a more inclusive package to suit your needs.
For those that like a more all inclusive type of cruise experience, Princess Cruises offers Princess Plus which includes the Plus beverage package, Medallion Net Wifi (1 device) and crew incentives (gratuities).
Additionally, Princess offers Princess Premiere which includes the Premium beverage package, photo packages, two specialty dining meals, Medallion Net Wifi (4 devices) and crew incentives (gratuities).
These do come at an extra cost, however, it can be a great way to actually save money on your cruise.
Related: What to Pack for a Princess Cruise
Why Cruisers Like Royal Caribbean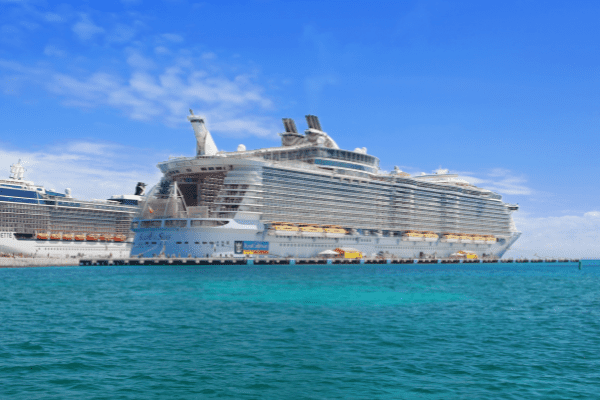 Royal Caribbean is part of Royal Caribbean group, formally known as Royal Caribbean International. Royal Caribbean, a contemporary cruise line, is best known for having the most innovative and largest ships in the world.
Here are the reasons why cruisers like Royal Caribbean:
Ships & Ship Design
If you've never cruise with Royal Caribbean, Royal Caribbean cruise ships are going to blow you away!
Royal Caribbean has some of the most incredible and innovative cruise ships at sea. Royal Caribbean's Oasis Class ships are the largest cruise ships at sea, at over 220,000 tons and more than 6,000 passengers.
These ships offer the most features and attractions, so if you want a Royal Caribbean Cruise Ship with tons of activities, make sure you choose an Oasis Class ship.
Quantum Class ships also have amazing onboard attractions. Although they are a bit smaller in size at over 160,000 tons and more than 4,500 passengers, these are still popular and well loved cruise ships for families and kids.
Royal Caribbean's older cruise ship designs are still great, but won't some of the bells and whistles that you will find on the large ships like the Oasis and Quantum Class. If you enjoy a more traditional cruise ship and don't need surfing pools and ziplines, older Royal Caribbean cruise ships are a great way to cruise for less.
It's important to research to find the best Royal Caribbean cruise ship for you.
Related: What's Included on Oasis of the Seas (Entertainment, Activities, Food & Drink)
Family Friendly Environment
Onboard Royal Caribbean cruise ships, you'll find a a family friendly environment. There are food and dining options, activities and events which cater towards families with young kids, teenagers and young adults.
Royal Caribbean cruise ships attract families with kids of all ages, due to their Adventure Ocean kid's club which ranges from the nursery through 17 years of age.
Those who are cruising with a family, love to cruise with Royal Caribbean as it is the ultimate cruise line for family vacations.
Related: Are Cruises Kid Friendly? Everything You Need to Know
Private Island
The great thing about cruising to the Caribbean or Bahamas with Royal Caribbean, is that many itineraries stop at their private island, Perfect Day at Cococay.
Perfect Day at Cococay has water parks, beaches, large swimming pools, zip lining and many more activities. The food on the island is very tasty and it's included with the price of your cruise.
Royal Caribbean also has Labadee which is their other private island located in Haiti. In Labadee there is a beautiful beach, roller coaster and zip lining.
Variety of Restaurants
There are many dining options to choose from onboard Royal Caribbean cruise ships. Some restaurants are included and others cost extra.
The Windjammer Marketplace, El Loco Fresh, Sorrento's Pizza and the main dining room are some great included restaurants to eat at.
Onboard Royal Caribbean cruise ships there is a wide variety of specialty restaurants. Many people who cruise with Royal Caribbean will get the Ultimate Dining Package so they can try all of the specialty restaurants that Royal Caribbean has to offer.
Related: 13 Cruise Main Dining Room Tips All Cruisers Need to Know
Entertainment
If you want a cruise line where you are always going to be entertained, then Royal Caribbean is for you. When it comes to the best cruise line for entertainment, it's hard to beat what Royal Caribbean has to offer.
Since Royal Caribbean has extravagant and big ships, there are multiple entertainment venues onboard. On select ships there are aqua shows, musicals, ice skating shows at the ice rink, comedians and broadway style shows.
The great thing about a Royal Caribbean ships is that there are a variety of different shows happening every evening. This means that there will always be plenty of options when it comes to entertainment, each and every night of your cruise.
Related: 50 Best Selling Popular Amazon Cruise Essentials
Activities
Royal Caribbean is known for having fun ships and some of the best onboard activities at sea. When you're on a Royal Caribbean cruise, there is never a dull moment.
The onboard attractions are family friendly, so it's a great time for everyone. Here's a list of activities onboard Royal Caribbean cruise ships:
Activities Onboard Royal Caribbean:
Ice Skating
Laser Tag
Silent Disco
Rock Climbing
Water Slides
Escape Room (additional cost)
Splash Park
FlowRider Surf Simulator
Basketball Courts
Mini Golf
Zip Lining
Bumper Karts
The Ultimate Abyss (10 story dry slide)
Related: What to Pack for a Royal Caribbean Cruise: The Ultimate Guide
Kid's Club
Royal Caribbean has one of the best youth programs in the cruise industry. If you're cruising with kids, take advantage of Adventure Ocean, Royal Caribbeans kid's club.
The Adventure Ocean kid's club is a place where kids between that ages of 3 and 17 can meet, participate in activities and hang out. The kids and teenagers are separated by age group and they have great activities to participate in throughout the cruise.
As someone who grew up cruising, I know first hand how fun the kid's club is on Royal Caribbean. As a kid, my parents could not get me out of the kid's club, because it was such a good time!
On select Royal Caribbean cruise ships, there is a nursery for 6 to 36 month old children. Royal Caribbean is one of the only cruise lines that offers a nursery for young children.
Related: 15 Matching Cruise Shirts for Families, Couples & Groups
So Which Cruise Line is Best for You? Princess Cruises or Royal Caribbean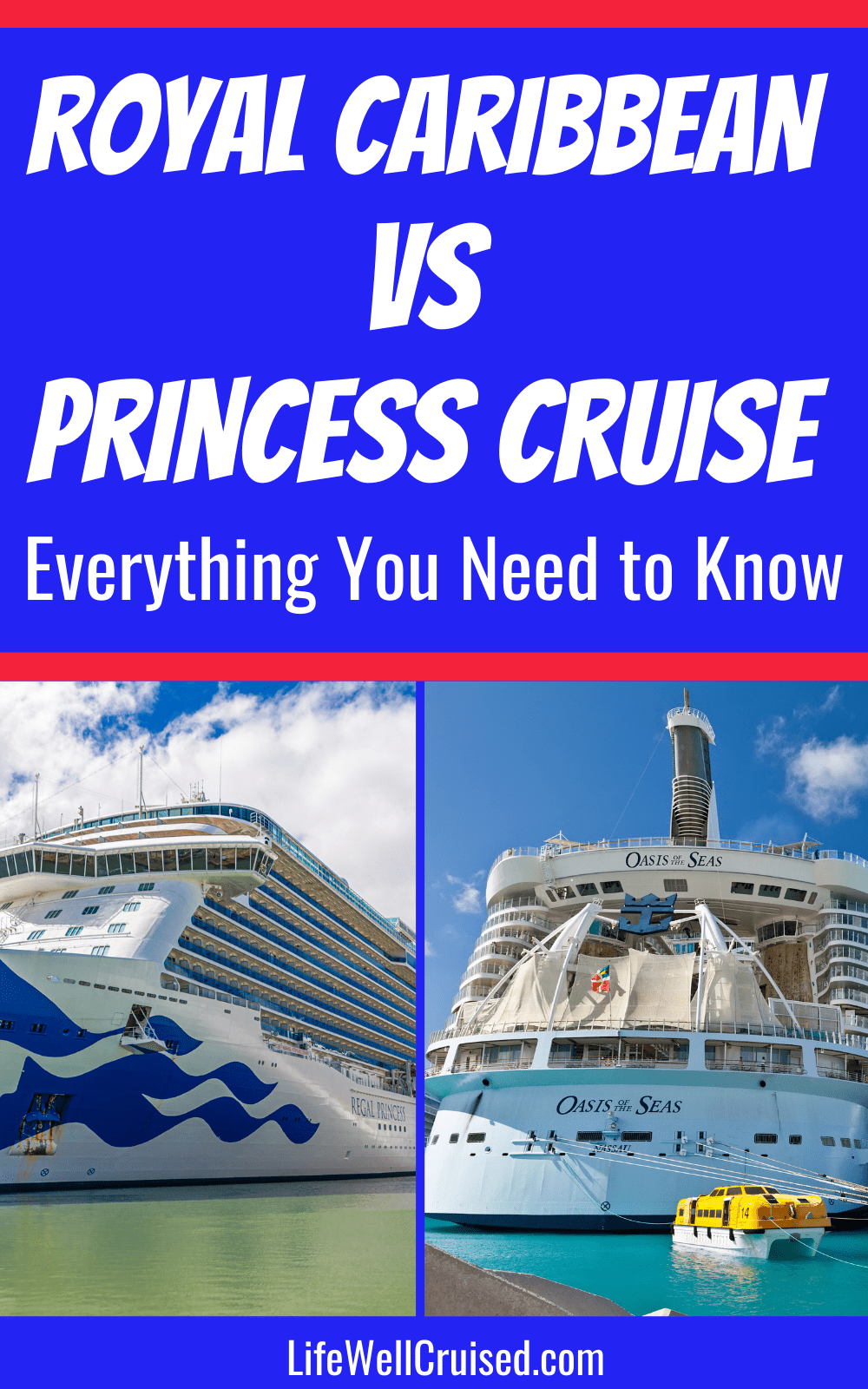 Princess Cruises is Best For:
Cruisers who enjoy a relaxed, luxurious vacation while traveling and exploring new destinations. The beautiful ship design, calm atmosphere and great service is why passengers love to cruise with Princess.
Typically, the clientele on Princess Cruises tends to be a little older, however during school breaks and summer vacation there will be some younger and more lively cruisers onboard.
Royal Caribbean is Best For:
Any cruiser who enjoy nonstop entertainment, activities and an exciting environment. Royal Caribbean is often referred to as, the cruise line for those who are young at heart.
Whether you're older or younger, Royal Caribbean has fun things to do for passengers of all ages.
Related & Popular Posts:
Get The Ultimate Cruise Planner
Regular price: $27 Now just $17!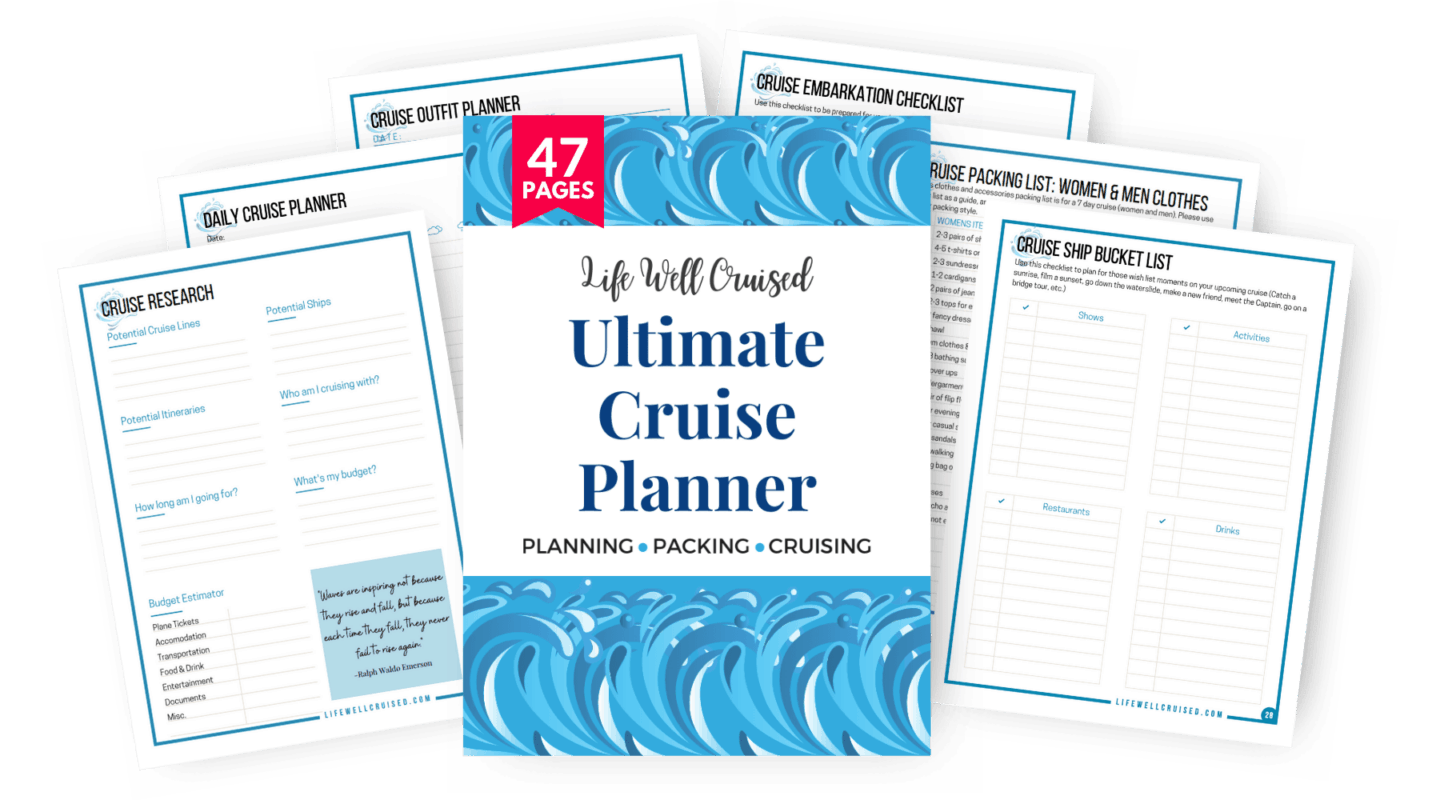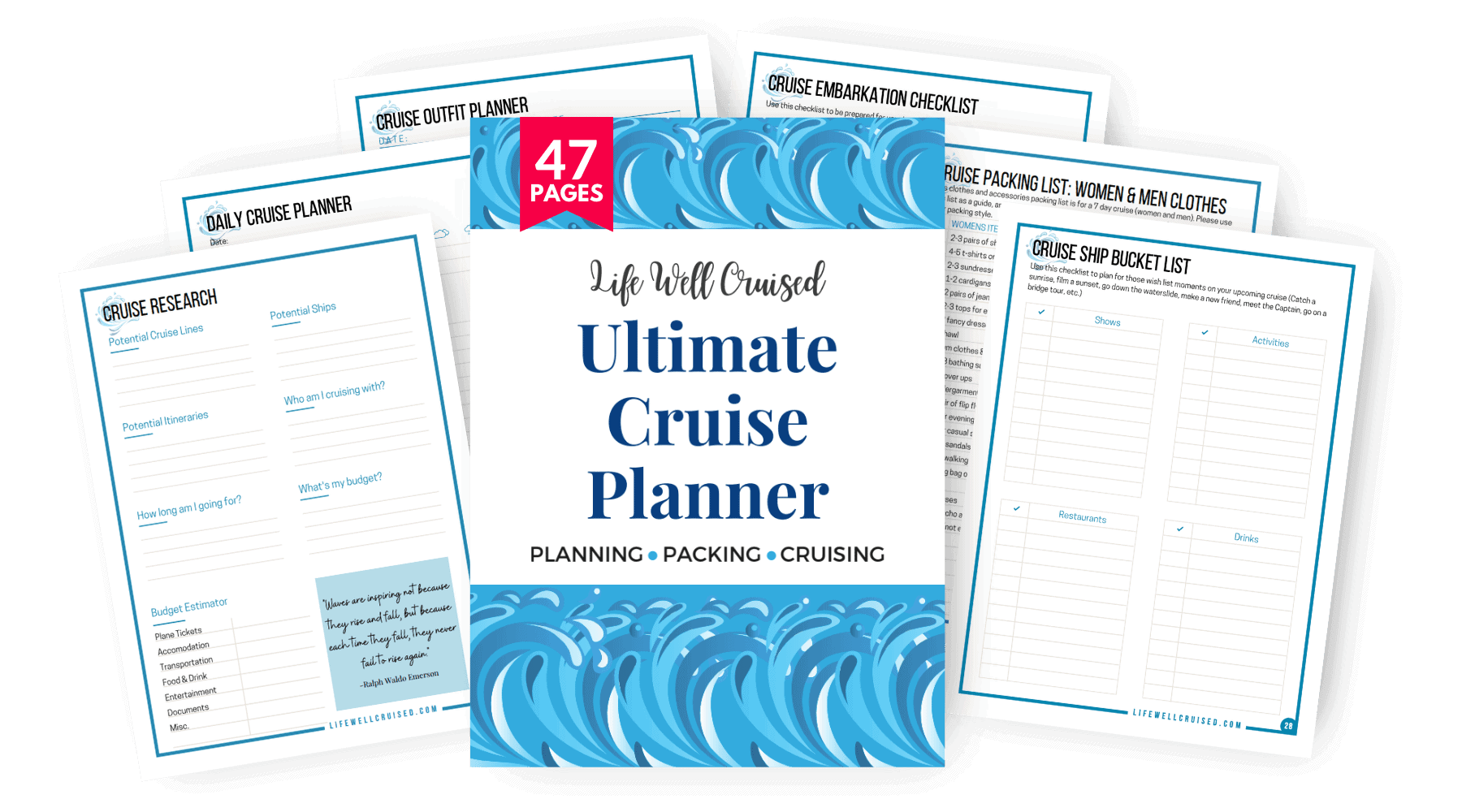 Final Thoughts on Princess Cruises vs Royal Caribbean
Well there it is, Princess Cruises vs Royal Caribbean.
Comparing Princess and Royal Caribbean can be a challenge, as they are very different. On one hand, Princess is known for the more traditional cruise experience. Where as Royal Caribbean is well known for its cool ships with lots of bells and whistles.
When it comes to choosing which cruise line is better, it really comes down to what you'll enjoy most on your cruise vacation. Both cruise lines have a big fan base and get a lot of repeat cruisers!
In this post, I shared everything you need to know about Princess Cruises and Royal Caribbean.
Have you cruised with Royal Caribbean or Princess Cruises or are you planning to? Please let me know what you like best in the comments below.
Happy Cruising!
Ethan
P.S. If you found this helpful, please don't keep it to yourself ;-). Please share on Facebook or PIN to your favorite Pinterest board (share buttons at the top). Thanks so much!
Author Bio: Ethan Schattauer writes about fashion, travel and college advice on the website WhatToWearMen.com. As a frequent cruiser, Ethan shares his unique perspective on what cruising is like for teens and young adults.
Follow me on Facebook at Life Well Cruised
Follow me on YouTube at Life Well Cruised
Follow me on Pinterest at Life Well Cruised
Follow me on Instagram at Life Well Cruised