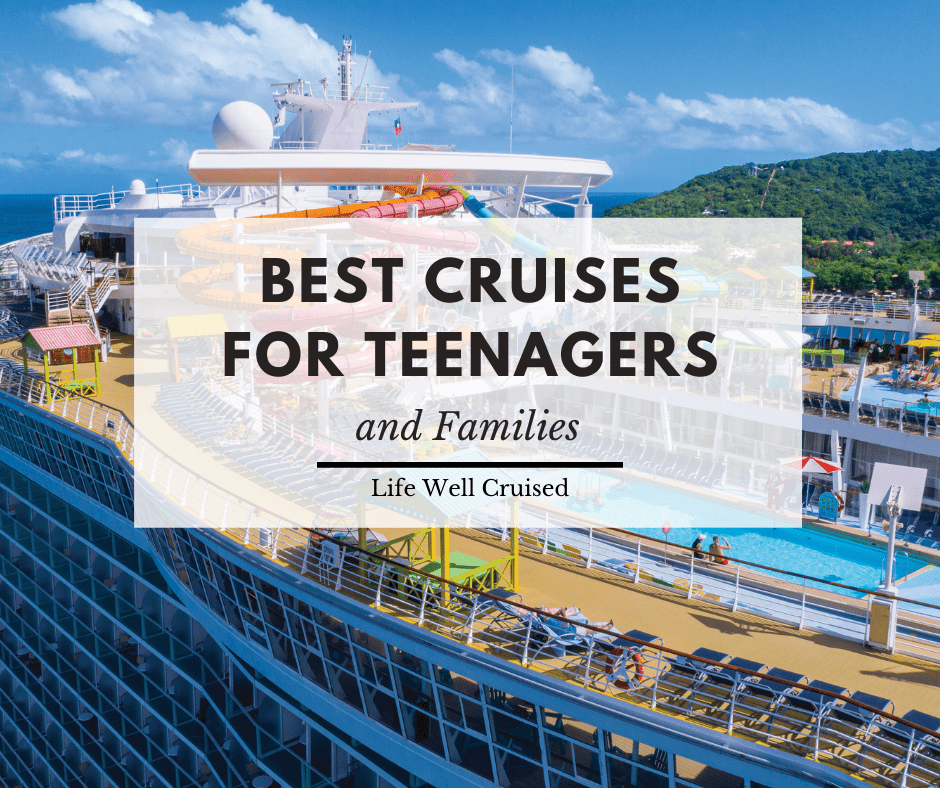 Are you wondering what are the best cruises for teenagers? As a 21 year old who has been on over 20 cruises, I know how important it is to choose a family cruise that your teens will love.
Booking the right cruise ship can make the difference between a super fun family vacation for all, or a boring cruise with whiny teens!
In the last few years, cruise lines have stepped up their game to keep things fun and exciting for teenagers. In this post, you'll find cruise lines and ships that are great for teens and make a wonderful family vacation.
With that being said, here are the 7 best cruises for teenagers in 2023.
This post contains affiliate links which means if you click and buy that I may make a commission, at no cost to you. Please see my disclosure policy for details.
As an Amazon Associate I earn from qualifying purchases.
7 Best Cruises for Teens
1. Royal Caribbean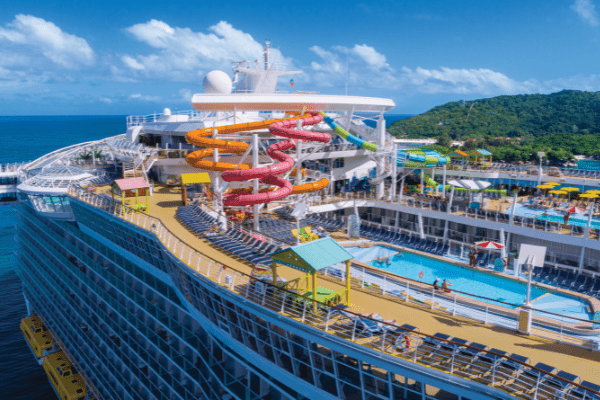 On Royal Caribbean cruises, you will never have to worry about having a bored or dissatisfied teen. Royal Caribbean makes some of the biggest and best cruise ships and they are loaded with cool activities and never ending fun!
Royal Caribbean activities for teen cruisers:
Aqua parks
Rock walls
Laser tag
Ice skating
Zip lines
Water slides
Surf simulators
Mini golf
Bumper cars
Indoor skydiving
Dry slide
Bungee trampolines
The teen club is great for both older teenagers and younger teens. They also have separate clubs for younger siblings that are onboard.
At the teen club and kids club, there are tons of fun things to do. You can expect activities like dance parties, video games and scavenger hunts around the ship.
When it comes to cruise ship cabins, Royal Caribbean has great accommodations for families. If you have the budget, you can splurge on a on Royal Caribbean Family Suite. These are insanely cool cabins your kids and teens will love!
There are also staterooms in every budget, from inside cabins to balcony cabins (for 4 or 5 on some Royal Caribbean cruise ships). If you'd like a bit more space and privacy, you can book connecting cabins, perfect for both teens and parents.
Royal Caribbean has an amazing private island, Perfect Day at CocoCay. CocoCay is the perfect place for families, and especially teenagers! You will find water parks, beautiful beaches, gorgeous swimming pools, activities and even a hot air balloon.
Related: 17 Rookie Mistakes First Time Cruisers Should Avoid
When it comes to dining, Royal Caribbean offers plenty of different dining options. They have everything you can imagine – from all you can eat buffets, to all you can eat pizza and even a Johnny Rockets.
If you're looking for a vacation that the whole family can enjoy, Royal Caribbean is the cruise line for you. They make some of the best family cruises in the industry and their new ships are really amazing.
As a teenager, one of the best ways you can spend your school holidays is on a Royal Caribbean ship.
Best Royal Caribbean Cruise Ships for Teenagers:
Wonder of the Seas
Symphony of the seas
Odyssey of the Seas
Navigator of the Seas
Voyager of the Seas
Related: Best Things To Do on a Cruise on Sea Days
2. Carnival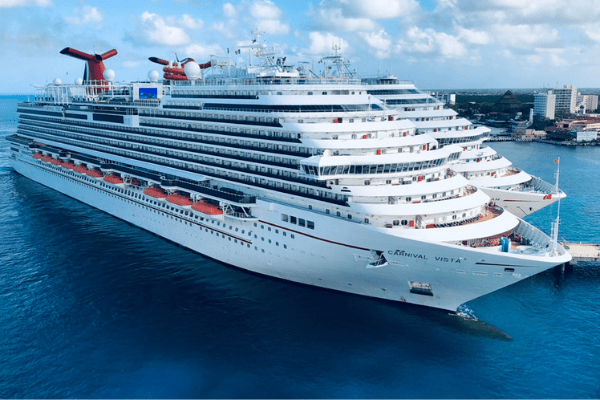 If you're looking for an affordable family vacation that your teen is going to love, Carnival is the cruise line for you.
Carnival ships attract a lot of families with teens. If you're looking for a fun family atmosphere, you are going to have a great time!
On Carnival, the party never stops. There are tons of things to do and you are always being entertained.
On board, there are plenty of teen activities. You'll find everything from huge water slides, to sports courts and even roller coasters are on Carnival's newest ships! The teens clubs are pretty fun and it's a great way for teenagers to make new friends on a cruise.
Carnival cruise ships have a good variety of food, and it's plentiful. If your teens love pizza and all you can eat soft ice cream cones, Carnival cruise ships are teen heaven!
The affordable rates definitely make Carnival Cruise Line a great cruise for teenagers and families.
Best Carnival Ships for Teenagers:
Carnival Mardi Gras
Carnival Vista
Carnival Dream
Carnival Celebration (coming soon)
Related: 6 Best Cruise Lines For College Students – By a Recent Graduate
3. Disney Cruise Line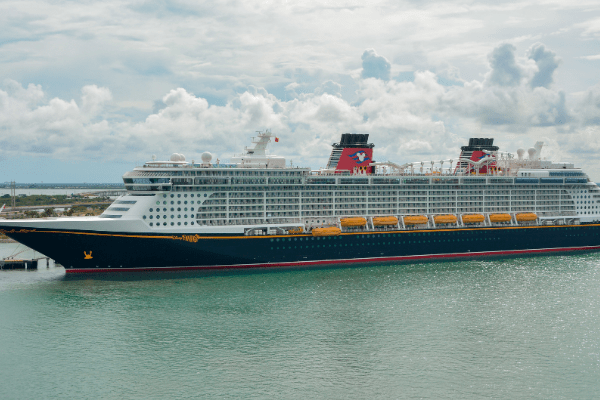 Disney Cruise Line makes some amazing family friendly cruise ships that are of course, Disney themed. You will find load of families with kids and teens onboard any Disney cruise ship.
On a Disney cruises, you'll have water slides, large hot tubs and pools. They also have some of the very best onboard entertainment.
On some of the newer Disney ships, teenagers (14-17 years old) have their own sun deck and a nice area to hang out in the Vibe lounge. In the Vibe lounge there is a stage, video games and a smoothie and soft drink machine.
Disney is also great for older children (11-13 years old), as there is a tween club called Edge which has similar activities the Vibe club.
Obviously, since it is a Disney ship, you can expect to see Disney characters around the cruise ship.
One word of caution for parents of teens. Some teens will love a Disney cruise and everything it has to offer. However, some teenagers may feel that they're too old or even too cool for Disney. You know your own teens, so plan accordingly.
When it comes to cruise lines, Disney is well know for amazing service and great dining at different restaurants onboard.
Disney, has rotational dining, which is very unique. Guests rotate between three different restaurants throughout the cruise. However, their wait staff remain the same. This allows for Disney cruisers to try every themed restaurant, while still having amazing service.
Best Disney Ships for Teenagers
Disney Dream
Disney Magic
Disney Wonder
Disney Wish
Related: 33 Fun Things to Bring on a Cruise
4. Norwegian Cruise Line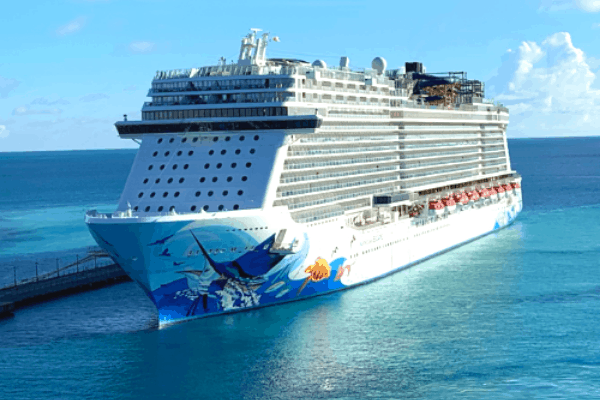 Norwegian Cruise Line is the perfect cruise line for young people and teens who are going on a family vacation. Norwegian cruise ships have some of the best activities for both older kids and younger kids.
Norwegian activities for teen cruisers:
Rock climbing
Go-Karts
Water slides
Splash park
Virtual reality
Racing simulator
Mini golf
Ropes course
When it comes to teen clubs, Norwegian is one of the best! They have plenty of fun activities going on throughout the day and there are always things to do.
At the teen club they have air hockey, foosball, a dance floor, tons of video games and music playing at all times. It's a really cool space for teenagers to make friends, hang out and create awesome memories.
Norwegian is a Freestyle cruise line, which can be great for teens and families. The dress code is very relaxed and there are several dining venues to choose from.
You can also get some perks with Norwegian's Free at Sea promotion, which often includes free 3rd and 4th passengers. This is great for families who can have their kids and teens sail free on certain sailings.
All in all, I think Norwegian is one of the better cruise lines for teenagers. If you have the chance to try one, you'll never have to worry about your teenager being bored onboard a Norwegian cruise.
Best Norwegian Ships for Teenagers:
Norwegian Viva
Norwegian Escape
Norwegian Joy
Norwegian Bliss
Norwegian Sky (for shorter cruises)
Related:
5. MSC Cruises
If you're looking for an affordable way to cruise with your teenagers, MSC Cruises has you covered. MSC has a policy where children under 18 cruise free all year round!
Having an amazing promotion like that, encourages families to bring their young ones onboard. MSC has some pretty cool activities for teens, such as virtual reality, racing simulators and a family theatre where movies are shown and games are played.
On some of the newest MSC cruise ships, there are some really cool themes. For example, the MSC Seashore has a New York City theme where you can find both Central Park and Times Square onboard the ship!
MSC is an Italian cruise line, so it's important to know that some things will be different from American cruise lines, including entertainment and dining.
However, MSC cruise ships are gorgeous, have great itineraries and you'll get to eat some of the best pizza at sea!
Best MSC Ships for Teenagers:
MSC Seashore
MSC Meraviglia
MSC Euribia (newest ship)
Related: Best MSC Cruises For Families & Kids
6. Princess Cruises
Princess Cruises are some of the best cruises for multigenerational travel, with activities for everyone from kids, to teens, to adults of all ages.
Princess Cruises tends to attract an older clientele overall, but it doesn't mean that your teenager won't have fun on a Princess cruise ship. Even though you won't find big waterslides or Ziplines, like Royal Caribbean, Carnival or Norwegian, there are still some really fun things to do onboard.
Princess has some things other cruise lines don't, that your teenager may really appreciate. In particular, Ocean Medallion.
Ocean Medallion has really taken the cruise ship experience to the next level. There are so many awesome features, which really enhances the cruising experience.
Since Princess introduced the Ocean Medallion, they integrated high speed wifi at sea (MedallionNet). Your teen can keep up with their friends on social media during their cruise, stream movies, and more.
Princess cruises makes for an amazing family holiday for all. Whether it's going to movies under the stars, playing some arcade games or taking it easy playing board games, there are a lots of fun activities onboard.
When it comes to dining options on Princess cruise ships, there are a good variety of restaurants to eat at. Whether it's the poolside grill, all you can eat buffet, main dining room or specialty restaurants, there is something for everyone!
In my opinion, Princess makes some of the best cruises for young adults and teens. As someone who's cruised on Princess a lot, I really like the service, food and the laid back atmosphere.
Best Princess Ships for Teenagers:
Sky Princess
Discovery Princess
Regal Princess
Enchanted Princess
Related:
7. Celebrity Cruises
Celebrity Cruises has a reputation of being an upscale cruise line that attracts an older crowd. While some elements of this may be true, in my opinion, Celebrity has some of the best teen centres at sea.
Celebrity is great for teenagers to make new friends, while parents get a luxurious and relaxing vacation
The Teen Club on Celebrity is pretty cool. Teenagers have their own hangout spaces. Some of the activities on Celebrity include pool parties, movie nights, sports tournaments and video games.
On Celebrity cruise ships, you'll find really cool pool areas, hot tubs, a video arcade, a miniature golf course and a basketball court.
The food on Celebrity is amazing and the service can't be beat. They have plenty of food options in the main dining room that will be appealing to teenagers, even if they are picky eaters.
Best Celebrity Ships for Teenagers:
Celebrity Edge
Celebrity Summit
Celebrity Beyond
Related:
Are Cruises Safe for Teenagers?
Cruises are very safe for teenagers. Cruises give teens their freedom to explore and have fun, while still being confined to a cruise ship. The teen club is a great place to hang out safely, and meet up with friends.
As with any vacation, talk with your teen about the rules and general safety precautions before your cruise. As long as the teenager is responsible, there is no reason to be worried about their safety on a cruise ship.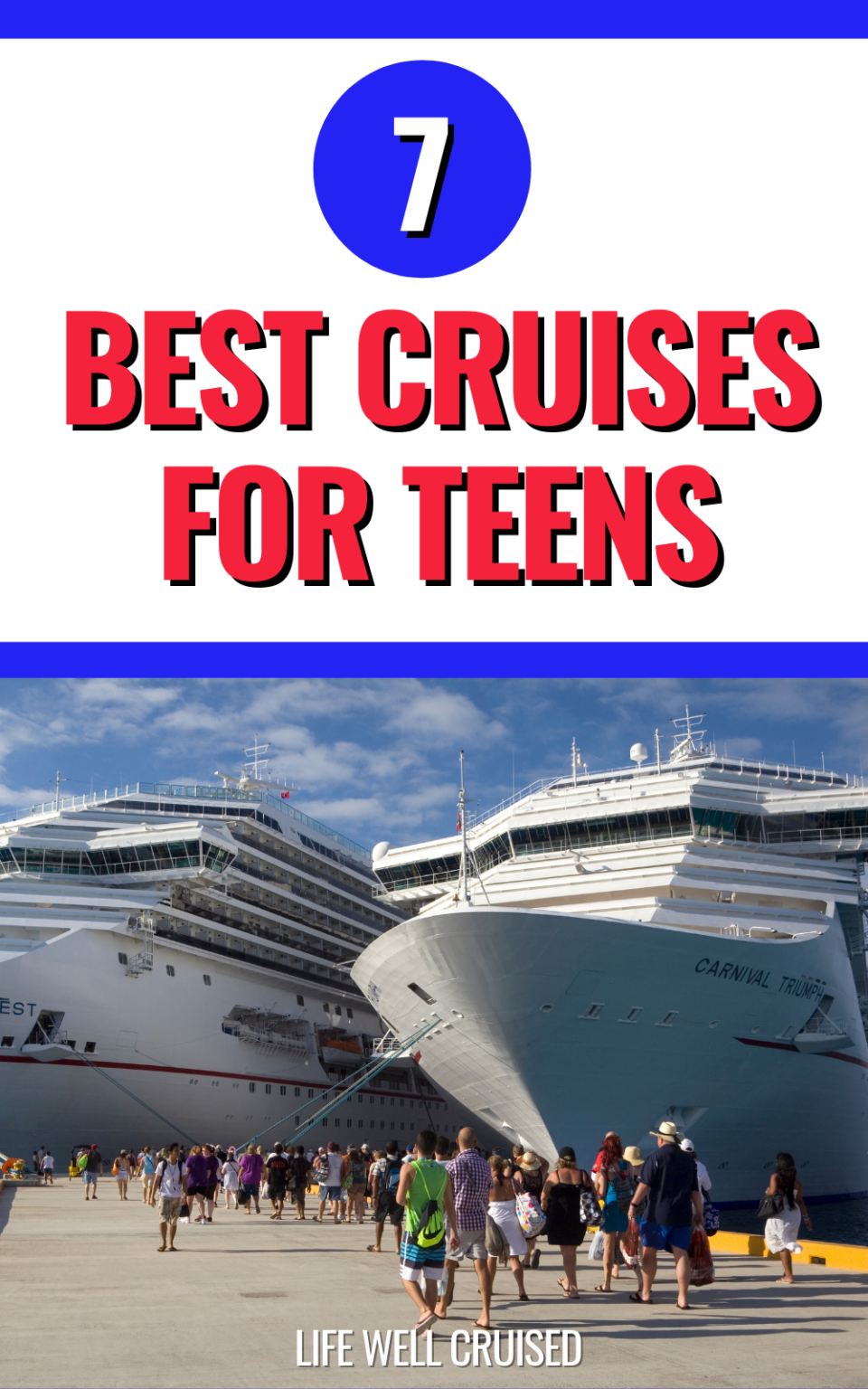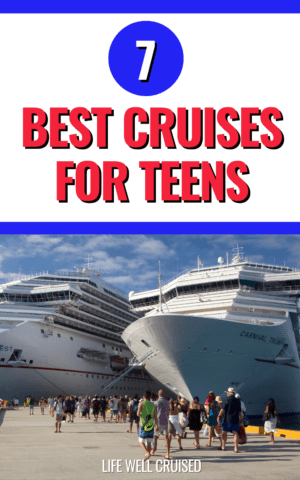 Related & Popular Posts:
Final Thoughts on Best Cruises for Teenagers
Well there it is, the best cruises for teenagers!
As someone who's cruised throughout my teenage years, I can say that cruising is the ultimate vacation. I mean, it's hard to complain when you're traveling to cool destinations, meeting new people and eating unlimited pizza on vacation!
What's your favorite cruise line for teenagers? Please let me know in the comments below.
Happy Cruising!
Ethan
Author Bio: Ethan Schattauer writes about fashion, travel and college advice on the website WhatToWearMen.com. As a frequent cruiser, Ethan shares his unique perspective on what cruising is like for teens and young adults.
Featured photo credit Royal Caribbean Oasis of the Seas
P.S. If you found this helpful, please don't keep it to yourself ;-). Please share on Facebook or PIN to your favorite Pinterest board (share buttons at the top). Thanks so much!
Let's connect:
Follow me on Facebook at Life Well Cruised
Follow me on YouTube at Life Well Cruised
Follow me on Pinterest at Life Well Cruised
Follow me on Instagram at Life Well Cruised