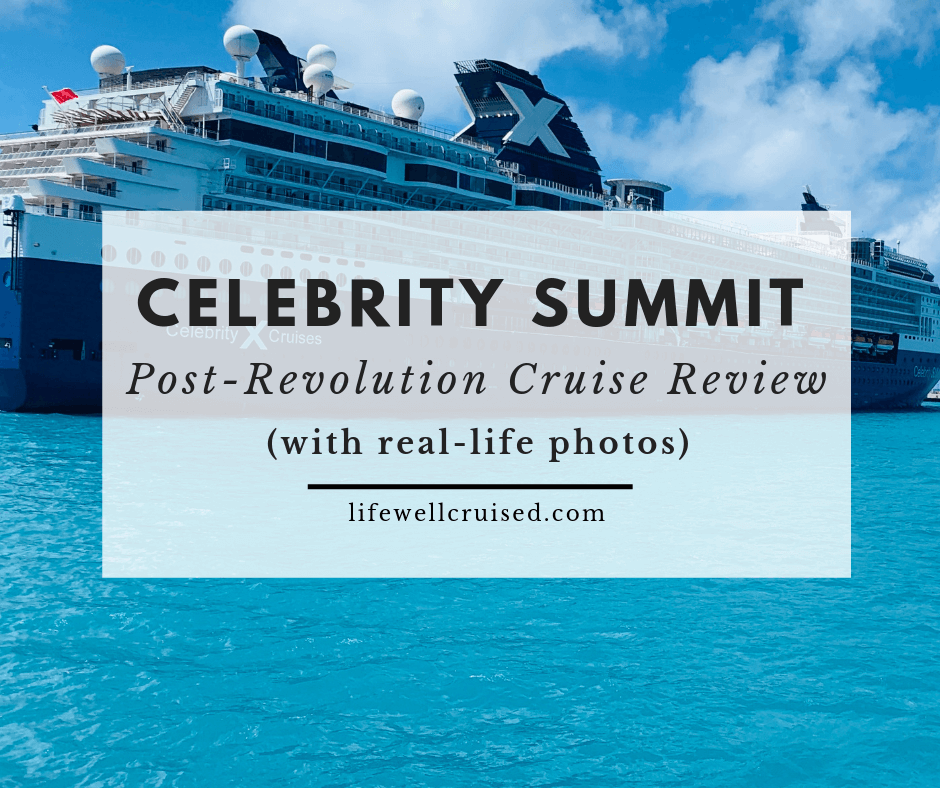 Celebrity Summit Cruise Review After the Updates (part 1)
We recently cruised on the Celebrity Summit (post-revolutionized) from Cape Liberty, New Jersey to Bermuda, Boston, Bar Harbor and Portland. The combination of 3 port days in Bermuda, and 3 days in New England made for an interesting 11 day cruise that we couldn't pass up!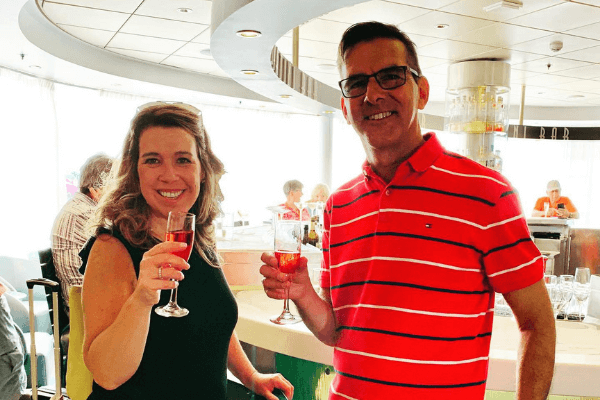 Celebrity Summit Cruise Review Post-Revolutionized (part 1)
We were pretty excited about cruising on the Celebrity Summit, now that it's been "Revolutionized". I figure, you probably are too!
So, before getting into the dining, entertainment, and port reviews, I'll go over our impressions of the ship, post-updates.
Part 1 of this Celebrity Summit Cruise Review, will focus on the details about the ship itself, after the Celebrity Revolution updates.
To give you a bit of background, we have cruised on the Summit twice before, and really enjoy this ship. However, there were areas that were dated and needed a fresher look.
I wrote about what we were most looking forward to before our cruise on Celebrity Summit, and the ship did not disappoint!
Cabins: First Impressions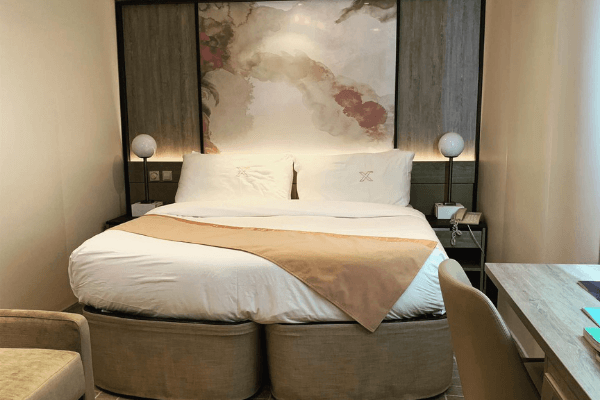 One of the first things we did after boarding, and having a quick glass of celebratory Champagne upon embarkation, what I think of as one of Celebrity Cruises "Special Touches", was head to our cabin to put our carry-on and other items down.
We were pleased to know that Celebrity is now trying to make it more comfortable for guests, by allowing a quick drop off of the essentials in the cabin, while the attendant continues to make everything ready.
As we walked up the stairs and down the halls, we saw that the carpets had been replaced and were fresh. However, when we saw our cabin we were shocked.
We were in an Inside Cabin for this cruise, and truthfully weren't expecting much. However, as we opened the cabin door, we literally gasped. The color palette is serene and upscale, yet it was so warm and inviting.
Plus, it really felt spacious. Having seen photos, they just don't do it justice.
Now, I won't say that this inside cabin was as good as a Veranda cabin (let's face it a balcony is pretty awesome!), it was a pleasant surprise that the inside cabin was more than livable. It was genuinely very pretty.
The only negatives were not having natural light, and the extra space of the balcony (which we fully expected).
When we've had balcony cabins, we really enjoy some coffee outside in the morning and love some time on our own private outdoor space. So we did miss this a little, but still found our cabin very comfortable.
Cabin Layout, Furnishings and Bathroom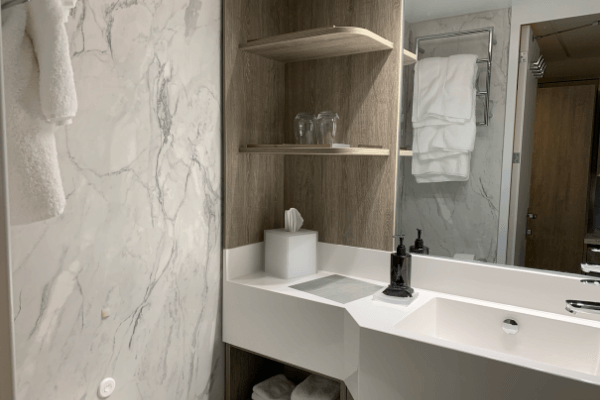 For an inside cabin, the space was very efficient and the furnishings were really nice, and practical. If you've cruised on this ship (or similar ones) before, you'll notice that the small sofa was replaced with a large chair, and the coffee table is no longer there.
In our case, the sofa chair turned into a bed at night for our son. We found all beds extremely comfortable, even the sofa bed!
Something to note is that there were electric and USB outlets at both the desk/vanity and night-tables. Nice improvement!
The bathroom was so nice, with good shelving and a glass shower door.
Here's a quick cabin tour video, where you can see the closet space and more of the furnishings.
More Celebrity Summit cabins: Veranda, Oceanview, and Quad cabins (cabins for 4)
We did a little cabin tour through the online roll call we joined, so here are some photos of the other cabins as well.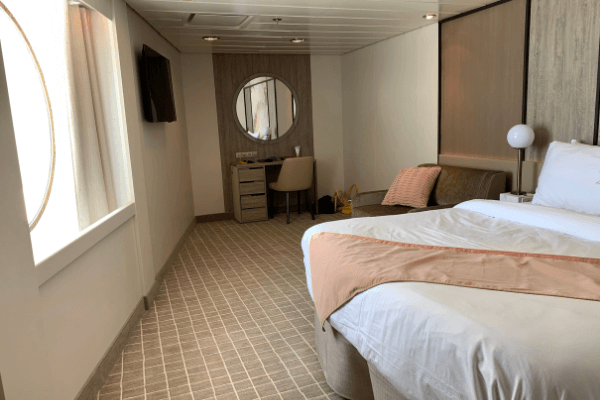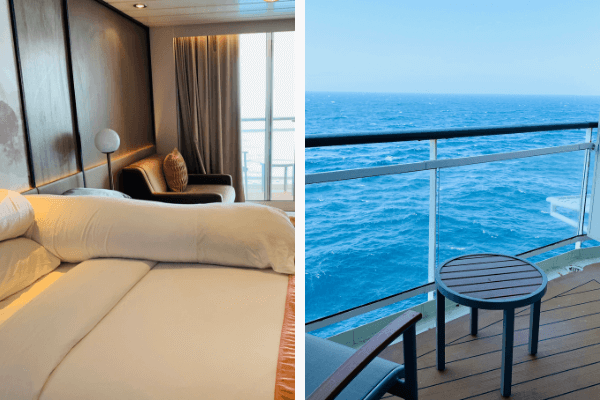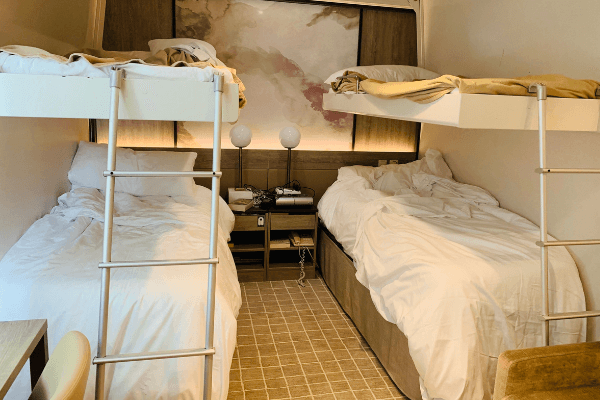 Oceanview Cafe (buffet)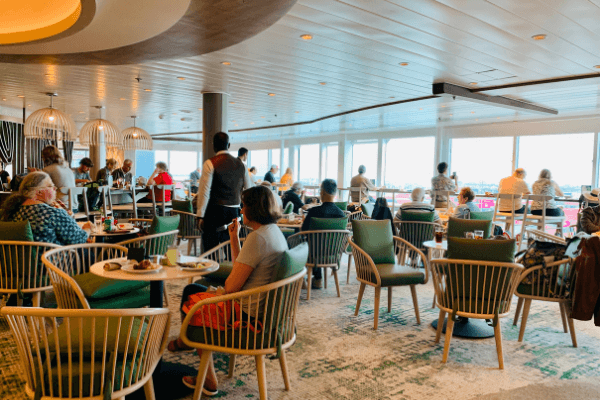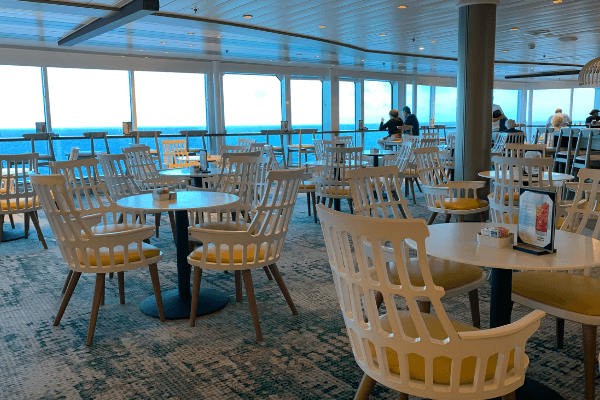 We went upstairs to Deck 10 and had a bite to eat at Ocean view Cafe, the buffet.
This is an area that looks completely transformed, and almost doesn't feel like a cruise ship buffet. It was so spacious, and the colors were light and airy, with different types of chairs and tables in various sections of the buffet.
I overheard someone say that there was wasted space, as they could have fit "more" in. I disagree, as finally we were in a buffet that didn't feel loud and hectic, and tight on space.
That being said, there are several stations along the sides of Oceanview Cafe, and in the back are were you can find stations such as pasta station, a pizza station, create a sandwich station, salads, and hot grilled items.
One thing we noticed is that the grill station that was there before, was removed in lieu of this hot station. It does include grilled minute steak, chicken breast and fish, however it wasn't cooked to order.
Tip: At the entrance to Oceanview Cafe, there is an ice cream and snack bar with absolute delicious ice cream and freshly made sorbet. We had the mango sorbet on our embarkation day, and truly it was mouth watering.
Sunset Bar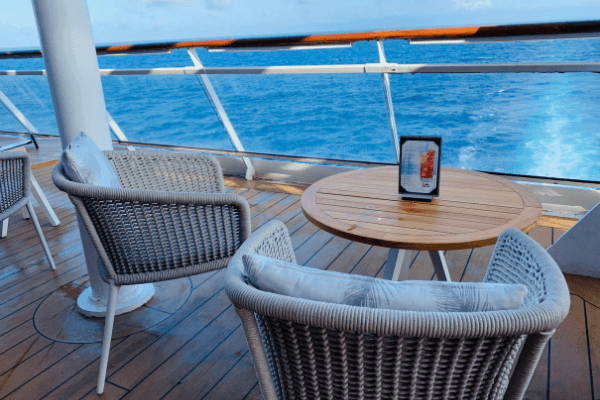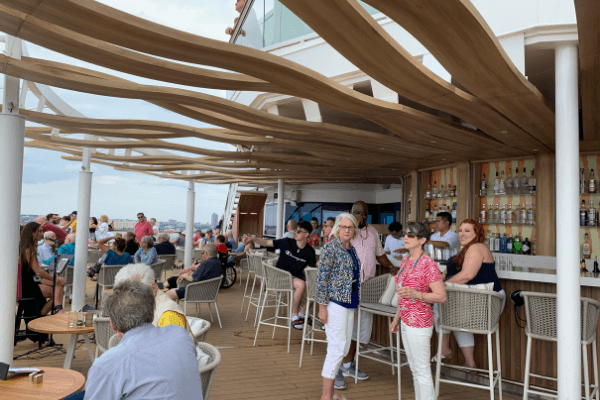 Sunset Bar – Only my favorite place on the Celebrity Summit.
#ilovesunsetbar – just sayin'
We experienced Sailaway from here for the first time, at the recommendation of new friends we met. They were right. It had a great atmosphere (despite an overcast sky), including a lovely musical duo playing for us as we departed.
Check out Sailaway at the Sunset Bar for a great aft view as you depart Cape Liberty and head under the Verazano Bridge.
The furniture is so pretty and it's our favorite place to eat, when we go to the buffet (it's straight out back).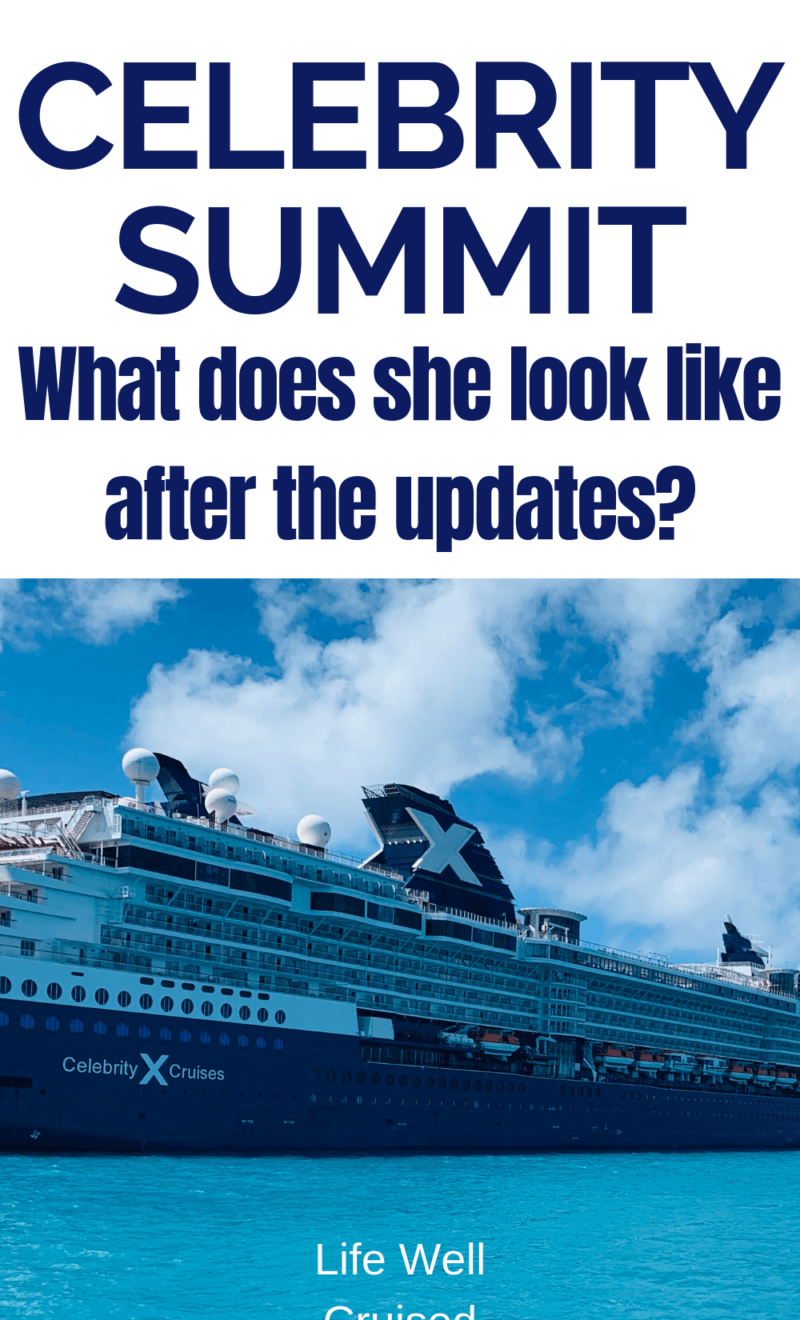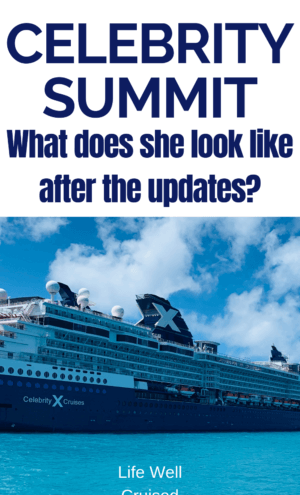 While we truly enjoy the Sunset Bar, I will pass on some pros and cons about these updates, in my opinion (and heard from some others on board)
Pros:
Gorgeous new furniture.
A larger, more open bar.
A lighter and airier look with light woods.
Cons:
Less shade – The covering over Sunset Bar is a wood design with openings rather than full shade in some areas.
Low tables with regular size chairs. These tables were somewhat awkward to eat at, so try and find a high one unless you're simply having a drink.
Tip: If you enjoy Sangria, the Sunset Bar had an amazing red sangria. As we got back from our cruise ports, we ended the afternoon with a Sangria as we sailed away. Perfect!
Main Pool area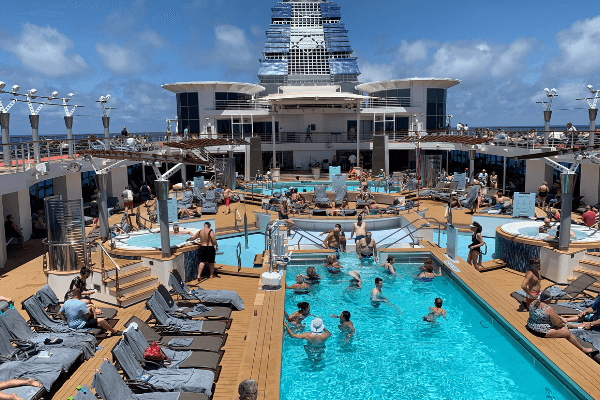 The main pool area seems to have gotten a nice little face-lift. She has new lounge chairs and the pools have been painted a very pretty shade of sea blue.
The Solarium Pool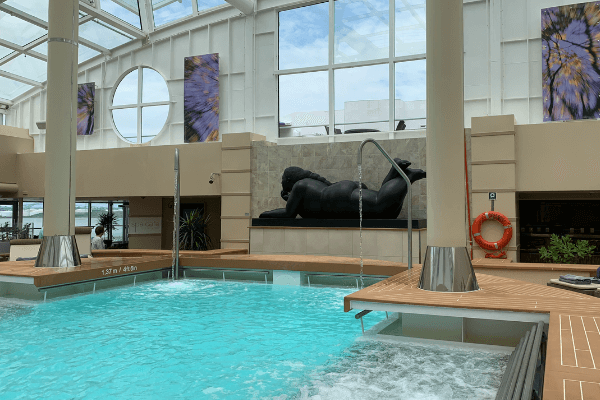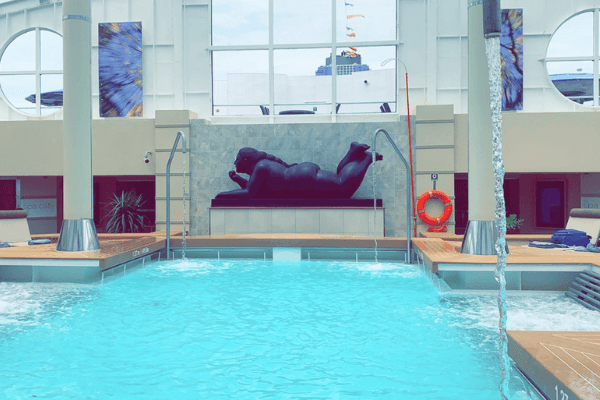 The thallostherapy pool is definitely a favorite of many Celebrity Summit cruisers. Calming music plays, there is comfortable lounge seating and conversation areas. Plus, it's a covered pool, that gets a lot of light.
Updates also include a nice updated paint job to the well loved large lady sculpture that adorns the Solarium Pool.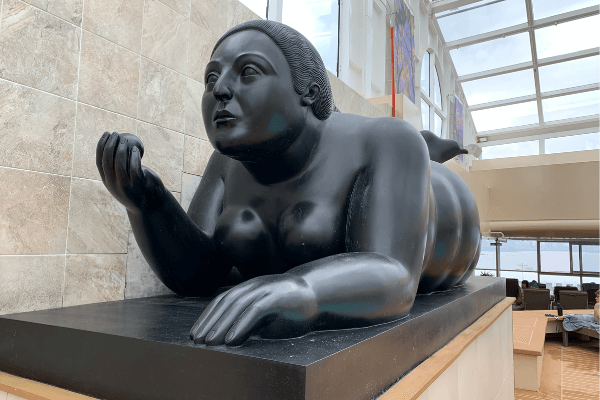 Persian Gardens
Persian Gardens received a beautiful update and has an upgraded feel. The "aquatic suite", with an aromatic steam room, sensory showers, salt room, Hamman Turkish bath, Infrared Sauna and heated loungers, is a popular feature on the Summit.
Passes are available for the week, however, if you are cruising in an Aqua Class Veranda, access to Persian Gardens is included. If you enoy spending time at the spa, consider the value of Aqua Class for this benefit (among others)
Tip: Just inside the doors to the interior of the ship from the Solarium Pool, there is a ladies washroom that is my favorite public washroom on the ship.
What's so special?
Hairdryers, lotions and an updated and beautiful sauna. If you enjoy a sauna and don't have access to Persian Gardens for the week, this one was almost always empty. Maybe, don't tell anyone 😉
Cosmopolitan Dining Room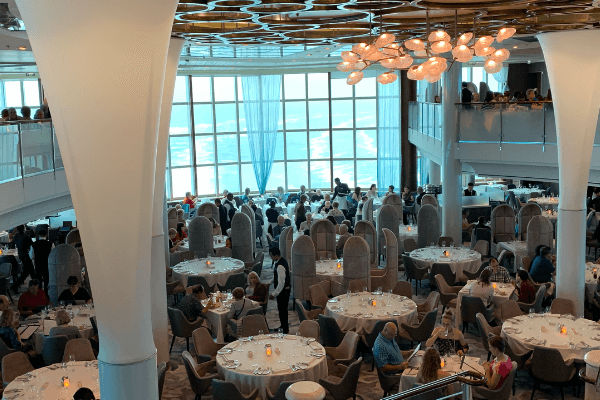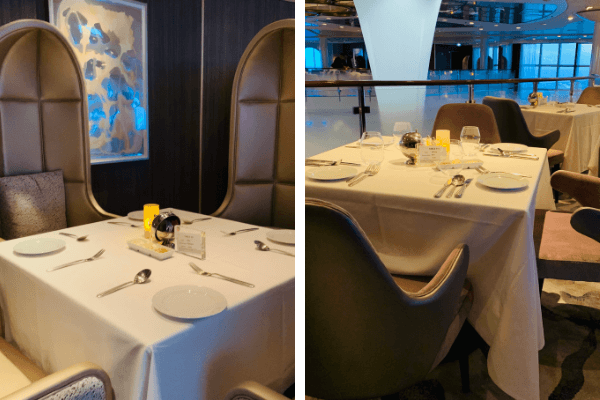 With a color scheme as calming as the sea, the "revolutionized" Cosmopolitan dining room is beautiful in every way.
Previously, this main dining room was rich, but dark.
Now, it's light and modern, with unique but sumptuous seating. No matter where you sat, the chairs were very comfortable.
This cruise, we opted for traditional early seating, which was a pleasure. It was nice to get back to having the same servers every night, as we had done on our earlier cruises, but more on that in Part 2.
Rendez-Vous Lounge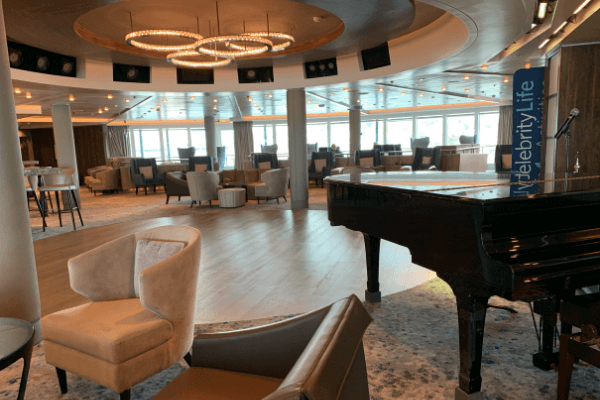 Another area that got a complete change of look and feel, is the comfortable Rendez-Vous lounge that led into the Cosmopolitan restaurant.
The look is now open and bright, and once again feels like a totally different space than what we remember.
Now, there are groupings of chairs and seating configurations for 2, 4, 8 and even 10. This made for a great venue for games and shows in the evening, as well as activities during the day.
When nothing was scheduled, you could see people playing board games or sitting and talking. A really nice space.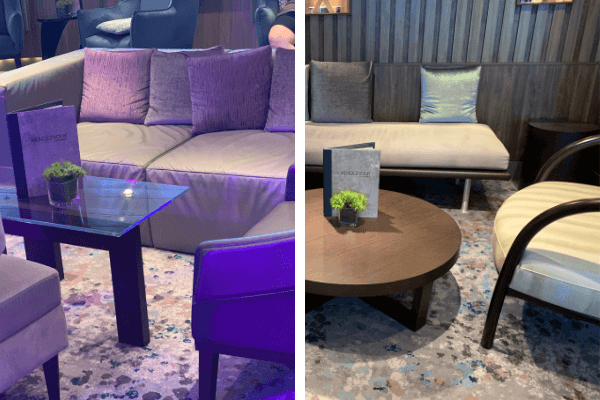 Theater
There were some updates made to the theater (it was always dark, so being honest hard to see). However, from a passenger point of view, the more comfortable seating was a noted update that we really appreciated. The tones were also neutral and rich, and very much in line with the look of the rest of the ship.
Casino
Gone are the dark reds and in are the blues and grays and silver. I didn't play in the casino, so my only experience is walking through, but the Casino was looking good.
Celebrity Summit Shops and shopping area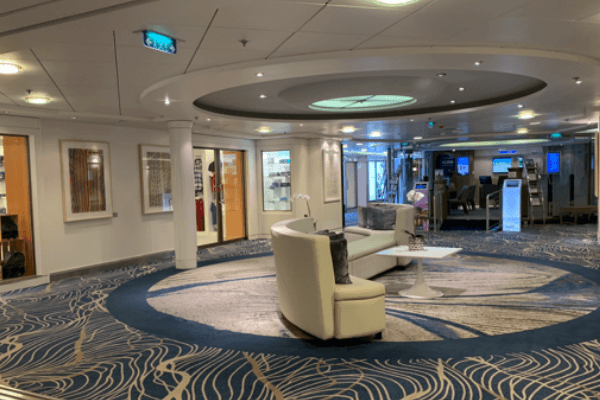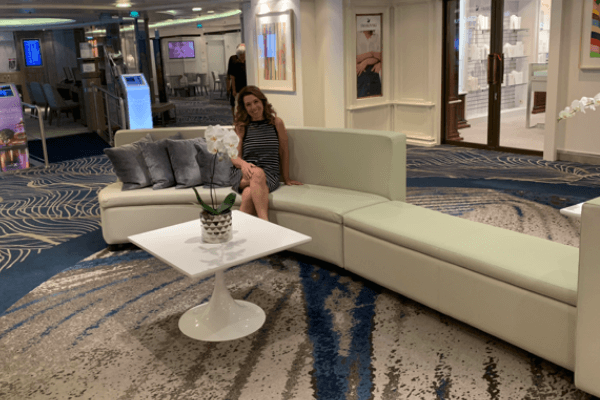 In the past, the shopping space on the Summit was called the Emporium. Being honest, I'm not sure it is anymore.
However, this space has been refurbished really nicely with fresh carpeting and a nice long and unique seating "couch" in the center. Blues, grays and silver and a bright look made this space feel nice and bright!
The shops were nice enough – pretty typical cruise stores.
For those that are interested, in addition to a Celebrity souvenir shop, there is an Apple Store, a couple jewelry stores, a Tag Hueur boutique and a small Vintage Rolex collection for sale (pre-owned). This very much interested my son, lol, although no purchase was made ;-).
The Celebrity Summit exterior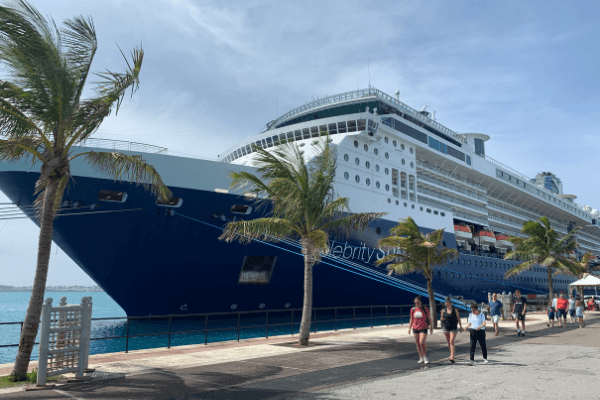 You can see that the Celebrity Summit now has a fresh new exterior look as well. She sure looks pretty in Bermuda.
What was not refurbished on the Celebrity Summit?
As much as this was beyond a basic refurbishment, not every space was redone on the Summit.
I'm pointing this out not as a complaint, but so you can have a realistic expectation of what to expect. After all, it is an older ship.
Crush Martini Bar and Sky Lounge
Both of these bars and venues still look pretty amazing and are overall in keeping with the Celebrity Summit "revolutionized" look.
Could they use new, more comfortable chairs? Probably in the near future.
The Grand Foyer and Cafe Al Bacio
I LOVE these spaces and am OK that they were not updated. However, since the rest of the ship was updated in lighter and more modern tones, it surprised us that Cafe Al Bacio's dark wood and yellow gold look remained.
That said, we LOVE Cafe Al Bacio and always found it a great place to hang out, have amazing coffee and amazing desserts.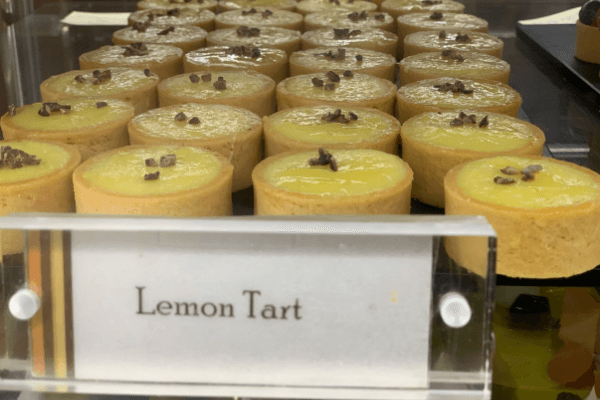 Tip: The pastries and desserts are included and are soooo good. Try the lemon tarts which are sinful!
Recommended reading: If you'd like to know more about Cafe Al Bacio and what's included (menus too), you can read this post.
Cellar Masters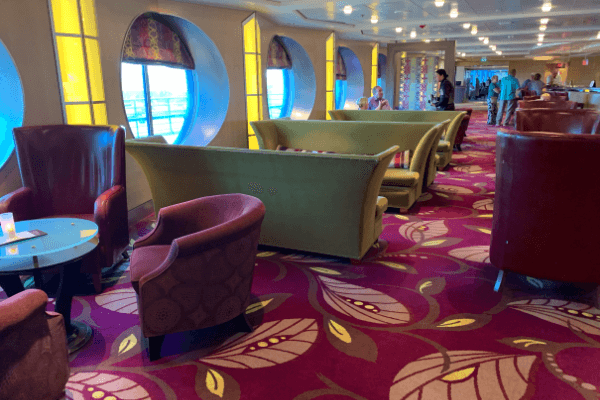 Leading into the Cosmopolitan Dining room on Deck 5 (upper level) is Cellar Masters. This wine bar/lounge didn't get updated and the color scheme and furnishings do look dark and a bit worn. This was probably the only space that we noticed this.
We heard some info (at a Cruise Critic get together) that this area was supposed to have been redone, however time ran out. I can't be 100% sure, but I can see that being a possibility.
Revolutionized cruise ship areas we didn't see
The Retreat Deck, Lounge and Suites
If you've been following the Celebrity Revolution videos and photos, you know that the Celebrity Summit now has a stunning sun deck area at the front of the ship, reserved for guests staying in suites.
I'm sure it's as amazing in person as in photos!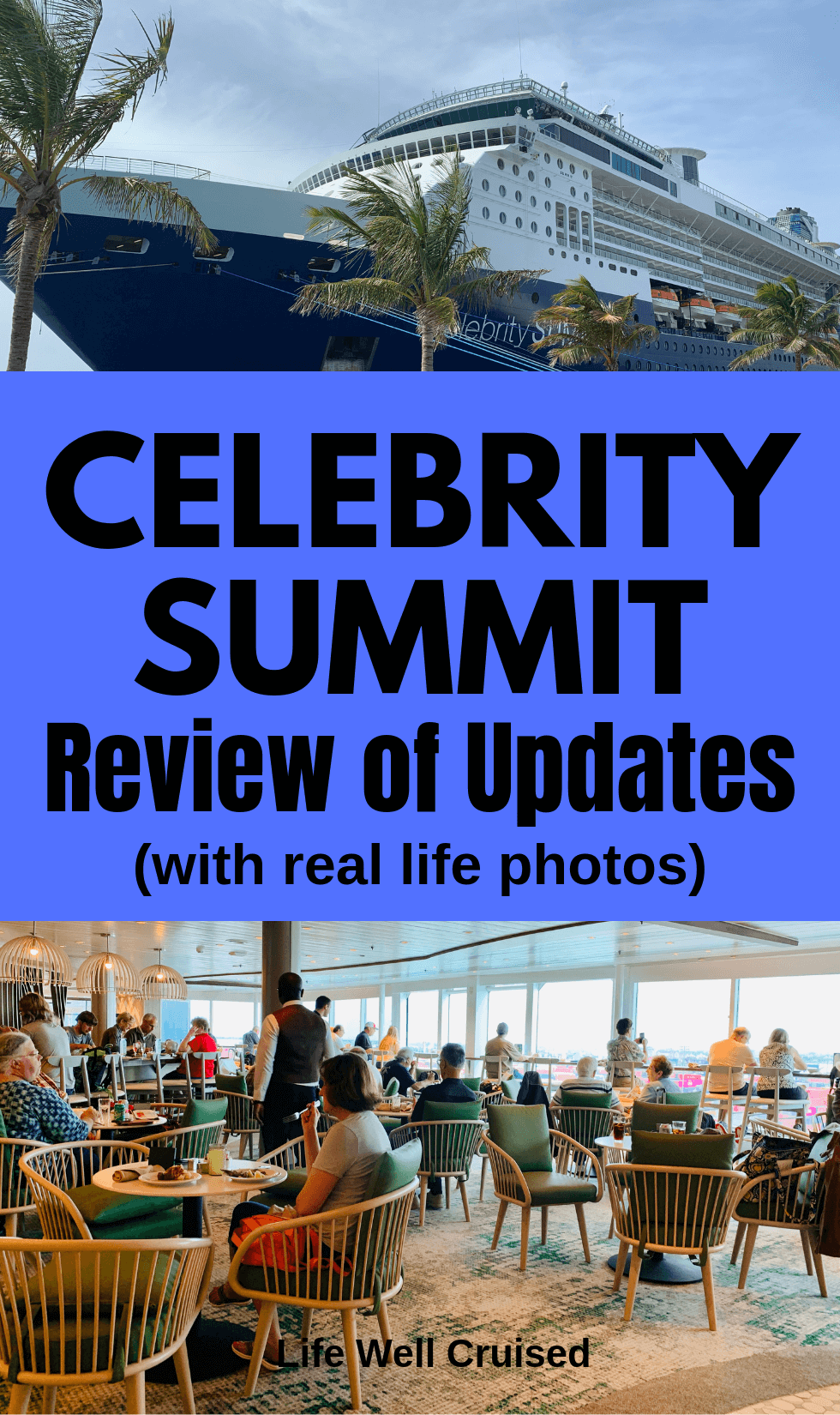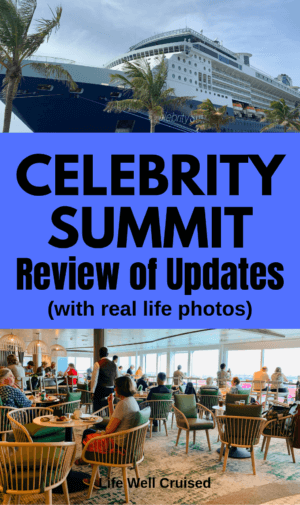 Overall impressions of the ship and cruise
This was one of the best cruises we've had. Truly, although the ship is really as nice (actually nicer), than it looks in photos, this isn't what makes the cruise.
The Celebrity Summit staff and crew were incredible. Our stateroom attendant was attentive and did a great job. Our servers made every dinner special. The entertainment was excellent. The food and drinks… wonderful. All of this will be in the next part of the cruise review.
Finally, Captain Ioannis was so personable. If you have a chance to go to the Captain's Talk (was on the last sea day on our cruise), definitely do so. It was extremely informative a great way to spend some time during our sea day.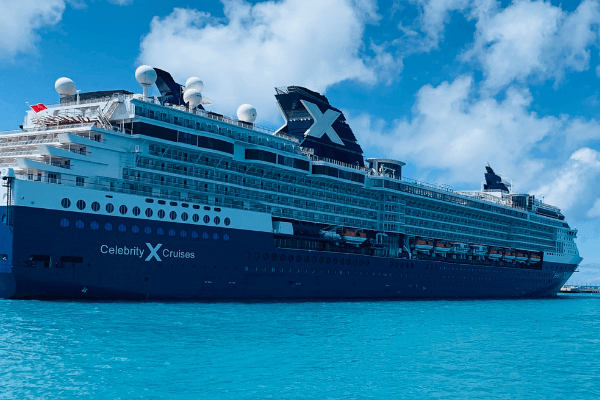 Recap: Celebrity Summit Review (post-revolutionized)
I hope that Part 1 of this Celebrity Summit (post-revolutionized) cruise review gave you some information about the updates on the ship and that the photos give you a realistic look at what you can expect when you board the ship, for your own cruise vacation.
Have you cruised on the Celebrity Summit? Let me know your thoughts, and please ask me any questions you have and I'll do my best to answer.
Happy Cruising!
Ilana xoxo
If you've found this helpful, please don't keep it to yourself ;-)! Please share on Facebook or Pin and save for later on Pinterest (buttons at the top). Thanks so much!
Popular Celebrity Cruises posts you may enjoy:
12 Special Touches That Will Make You LOVE Celebrity Cruises
The Ultimate Celebrity Cruises Tuscan Grille Review
Celebrity Cruises: 7 Reasons You Will LOVE Cafe Al Bacio
How to Stay Fit and Healthy on a Celebrity Cruise Vacation
Let's connect:
Follow me on Facebook at Life Well Cruised
*NEW* Follow me on YouTube at Life Well Cruised
Follow me on Pinterest at Life Well Cruised
Follow me on Instagram at Life Well Cruised