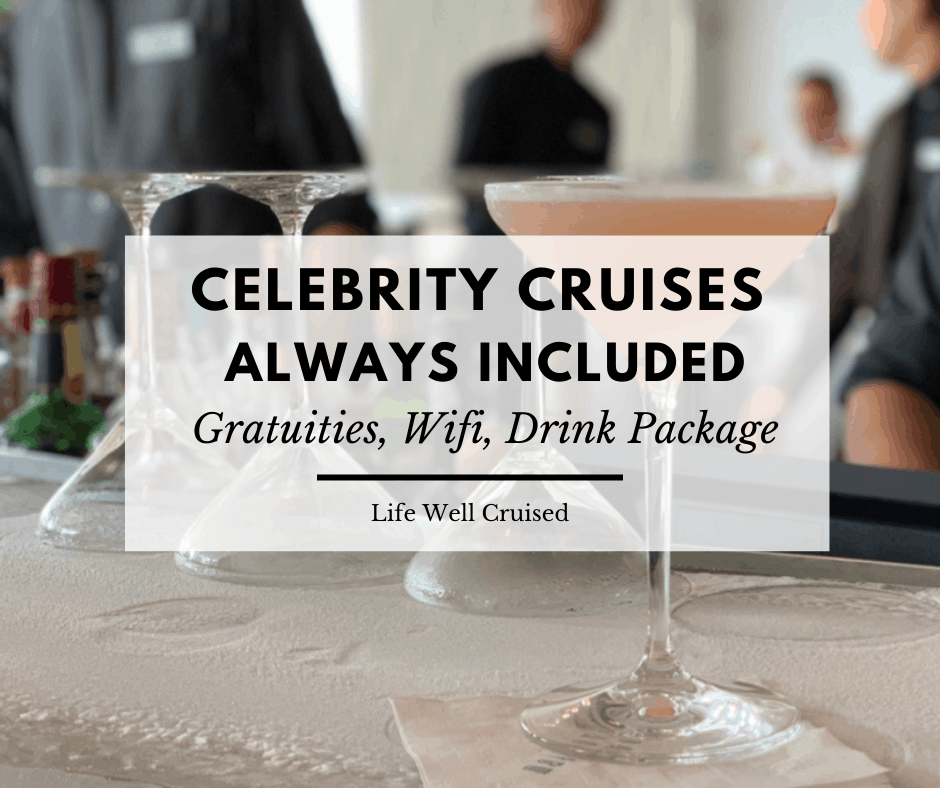 Celebrity Cruises Always Included Pricing – Includes Gratuities, Wifi & Drink Package
Celebrity Cruises has a new pricing program called Always Included. This means that every cruise you book with Celebrity will include a drink package, tips and Wi-Fi.
Celebrity's New All Inclusive Cruising Program
Celebrity's new Always Included program isn't a promotion, it's really a new way of cruising, at least for a Premium Cruise Line. By including a few popular "perks" in the cruise fare, your Celebrity Cruise will feel even more like an easy, relaxing vacation.
In this post, I'm going to share the details of Celebrity Cruises Always Included program, including what's included in the drink package, as well as what's not. We'll also go over some of the pros and cons of Celebrity's new all inclusive cruise concept.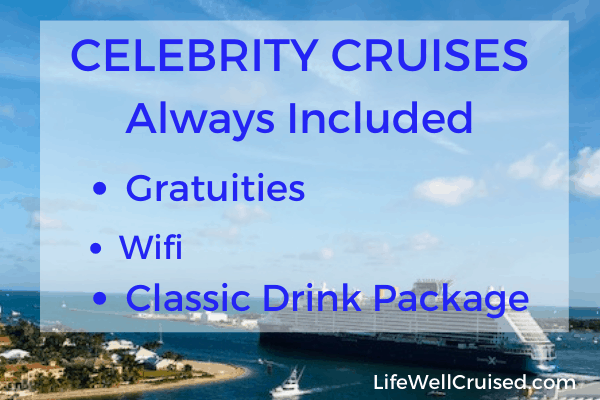 Always Included
Beginning November 17 on new bookings, all state rooms on every celebrity ship, except Galapagos cruises, will include these 3 things:
Daily gratuities
Wifi for the first 2 passengers in the cabin
Classic beverage package
The idea of this similar to the perks promotions of the past, where you could choose extra perks such as the classic beverage package, free gratuities, onboard credit and Wi-Fi.. If you've cruised with Celebrity and had these, then you probably know how wonderful this is.
Classic Beverage Package Explained
The Celebrity Cruise Classic Beverage Package includes quite a bit. You'll have an option of several wines by the glass, certain beer, frozen cocktails, classic cocktails, spirits and liqueurs. It also includes unlimited soda, many juices, water bottles, specialty coffee and tea.
Even if you don't drink alcohol, if you're a coffee lover, I think that you'll really enjoy the high quality Lavazzo coffee beverages at
Café Al Bacio
.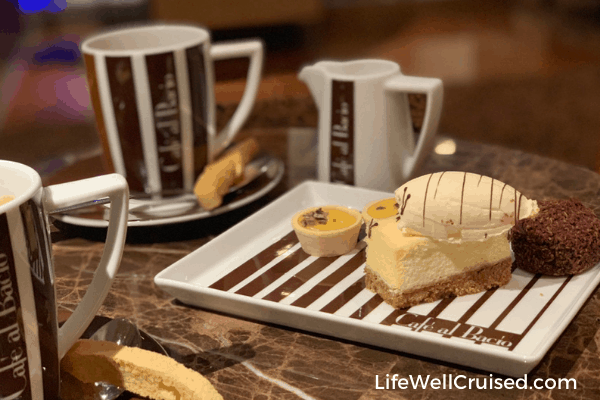 Elevate Package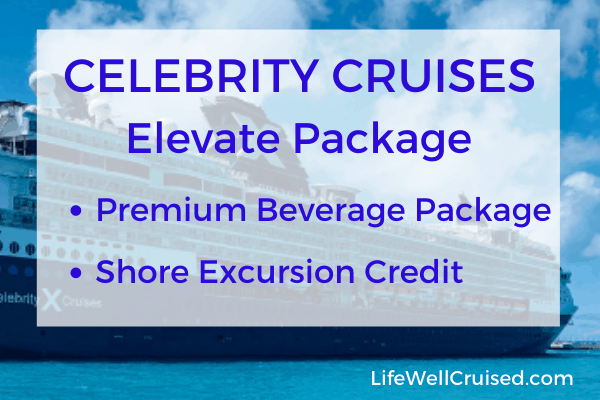 While every Celebrity Cruise now comes with included tips, wi-fi and a drink package, you may still want more.
If you're familiar with the beverage packages on Celebrity, then you'll know that the classic beverage package does have certain limitations and only offers certain brands.
With Celebrity's Elevate Package you'll receive the Premium Beverage Package, as well as a shore excursion credit of up to $200 per person, per cabin.
Premium Beverage Package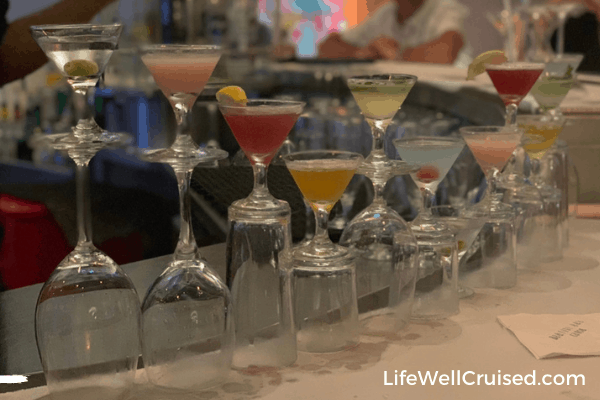 The premium beverage package includes a wider assortment of wine and beer, as well as top shelf liquor and alcohol. You'll also have Evian water included, Pelligrino, sports drinks and smoothies.
If you enjoy martinis on Celebrity, which is really a specialty of theirs, then you may want to upgrade to this package for this alone. In the past, you could pay the difference between a drink included with the Classic Beverage Package (up to $9 a drink) and a Premium drink. This might be add about $4 for a martini.
The shore excursion credit is:
1 to 5 nights $100 per person
6 to 9 nights $150 per person
10 nights & more $200 per person
The cost is $30 per person per day to upgrade from the always included pricing to the elevate package
Indulge Package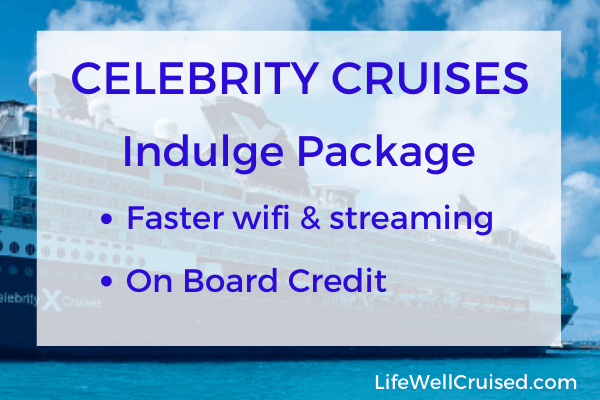 For those who prefer to have even more included, and not have anything to worry about in terms of expenses on a cruise, there's the Indulge Package.
Indulge includes everything in the Always Included, and Elevate plus and additional onboard credit of up to $400 per person, and unlimited faster Wi-Fi with streaming.
Onboard credit:
1 to 5 nights $200 per person
6 to 9 nights $300 per person
10 nights plus $400 per person
The cost upgrade to Indulge from Always Included is $60 per person per day
Booking a Suite in the Retreat
If you book a suite in the Retreat on any celebrity cruise ship then you will receive the indulge package at no extra cost. This comes with many amenities and beautiful spaces onboard including a private restaurant, lounge, sundeck, butlers and concierge.
Simply Sail Pricing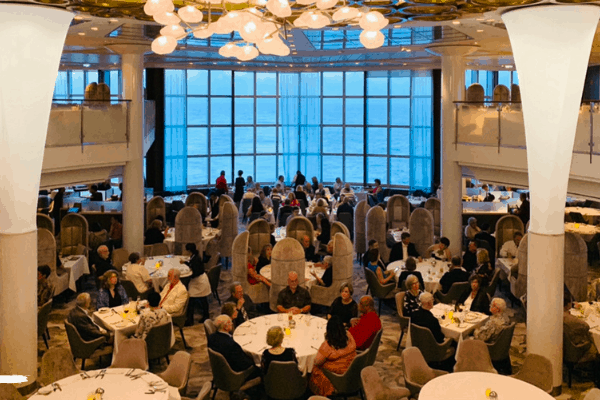 If you're wondering if you can cruise on Celebrity without having the Always Included pricing, this is possible. The Simply Sail pricing is a cruise only rate, that will be available for booking within 90 days of sailing, provided there is availability. This essentially replaces the exciting deals pricing which we've seen in the past, basically cruises sold without perks.
At this time, if you want to book a Celebrity Cruise and plan in advance, the only way is with the Always Included pricing model.
Already booked?
If you've booked before November 17, 2020 which is when the always included pricing program came out you have a couple of options.
1. You can keep the booking, price and amenities you have. If you've already booked with some perks it's likely that this is your best value, however it's a good idea to check.
2. You can also opt into the Always Included pricing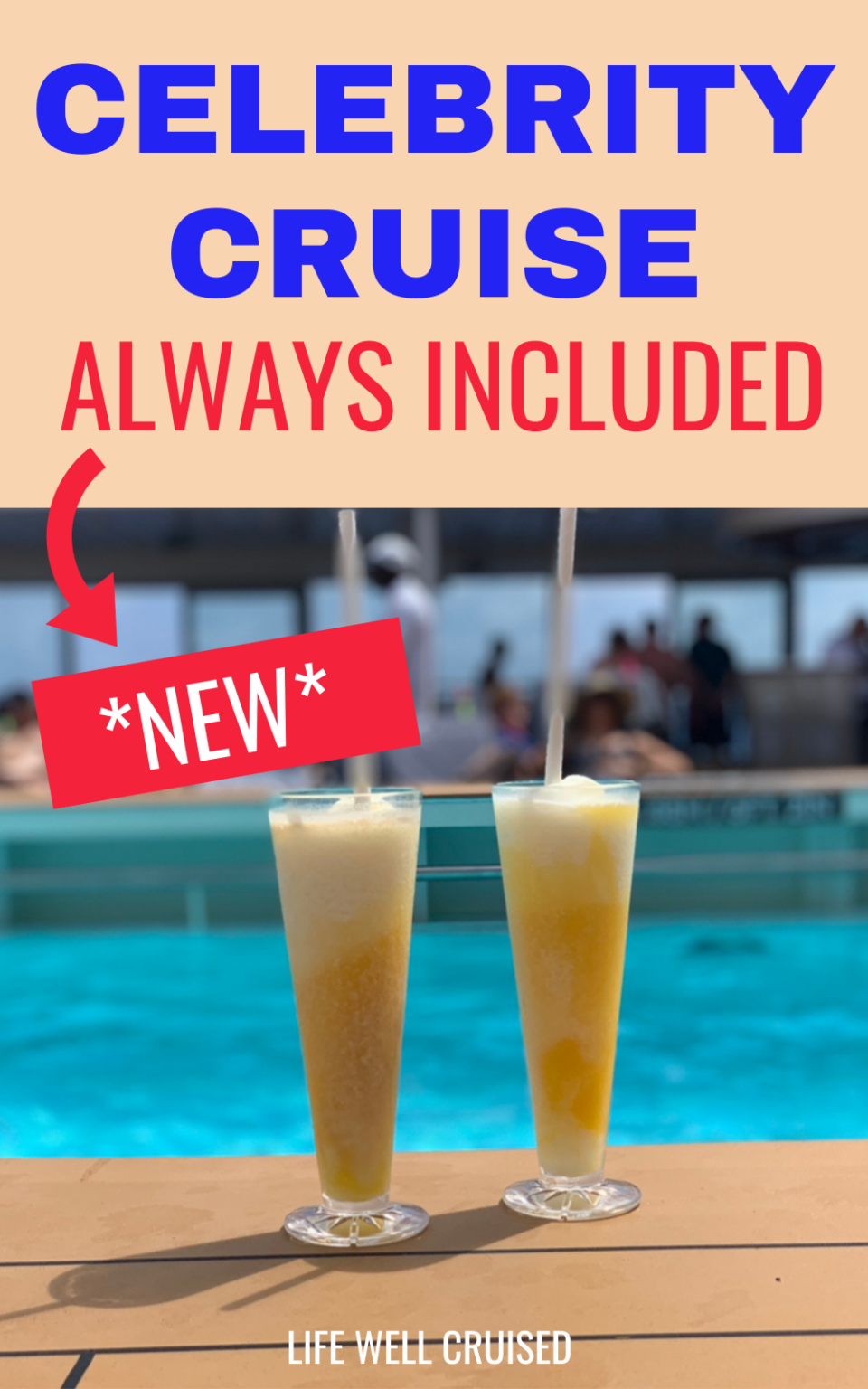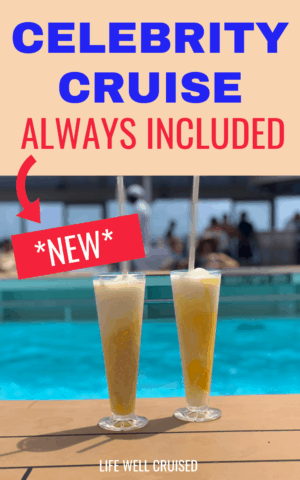 Celebrity's Always Included Pricing – Pros and Cons
Pros
Unlike other promotions that come and go, Celebrity's Always Included concept makes cruise vacation planning easier.
When cruising in an almost all-inclusive environment, it's a pleasure to be able to order a drink anytime you want, including specialty coffee and even water water bottles as you're heading off the ship in a cruise port. How nice to not have to consider the cost, as the vacation has already been paid.
Having Wi-Fi included, even if you don't use a lot of internet is convenient these days. You may need to keep up a little bit with things at home or even check on your flights and hotel arrangements during your cruise. Having access to wifi takes some stress away.
Finally, having the tips included in your cruise is a nice way to ensure that crew is receiving gratuities from every passenger. For those that don't like the concept of tipping extra once on a cruise, the fact that gratuities are included alleviates this.
Keep in mind that if you're not satisfied with the service on board, you can speak with guest services and they will work on solving any issues to your satisfaction.
Cons
As many avid cruisers have noted, naturally pricing on Celebrity will be higher. There is a lot of value in what's included, however if you don't drink alcohol, coffee or soda, and are rarely on the internet this may not be the case for you. As well, The pricing for solo passengers does not look to be very advantageous.
Celebrity Cruises related posts:
12 Reasons We Love Cruising with Celebrity
The Ultimate Celebrity Cruises Tuscan Grille Review
Celebrity Cruises Always Included Explained – YouTube Video
If you enjoy cruise tips, cruise vlogs, cruise news and updates, please check out the Life Well Cruised YouTube channel.
Recap: Celebrity Cruises Always Included (New) – Drinks, Tips, Wifi Included
In this post we went over the details of what's included with Celebrity Cruises; Wi-Fi and a Classic drink package. We also shared information about the upgraded packages, Elevate and Indulge, which include a Premium Beverage Package, extra onboard credit and streaming wifi.
For those that prefer to book Cruise Only (no perks), the Simply Sail pricing is available at 90 days or less before the cruise.
Have you ever cruised with Celebrity and have you enjoyed the perks in the past? What do you think of the new Always Included program?Please let me know your thoughts in the comments below.
Happy cruising!
Ilana xoxo
P.S. If you've enjoyed this post, please share it with a friend on Facebook or save for later on Pinterest. Thanks so much!