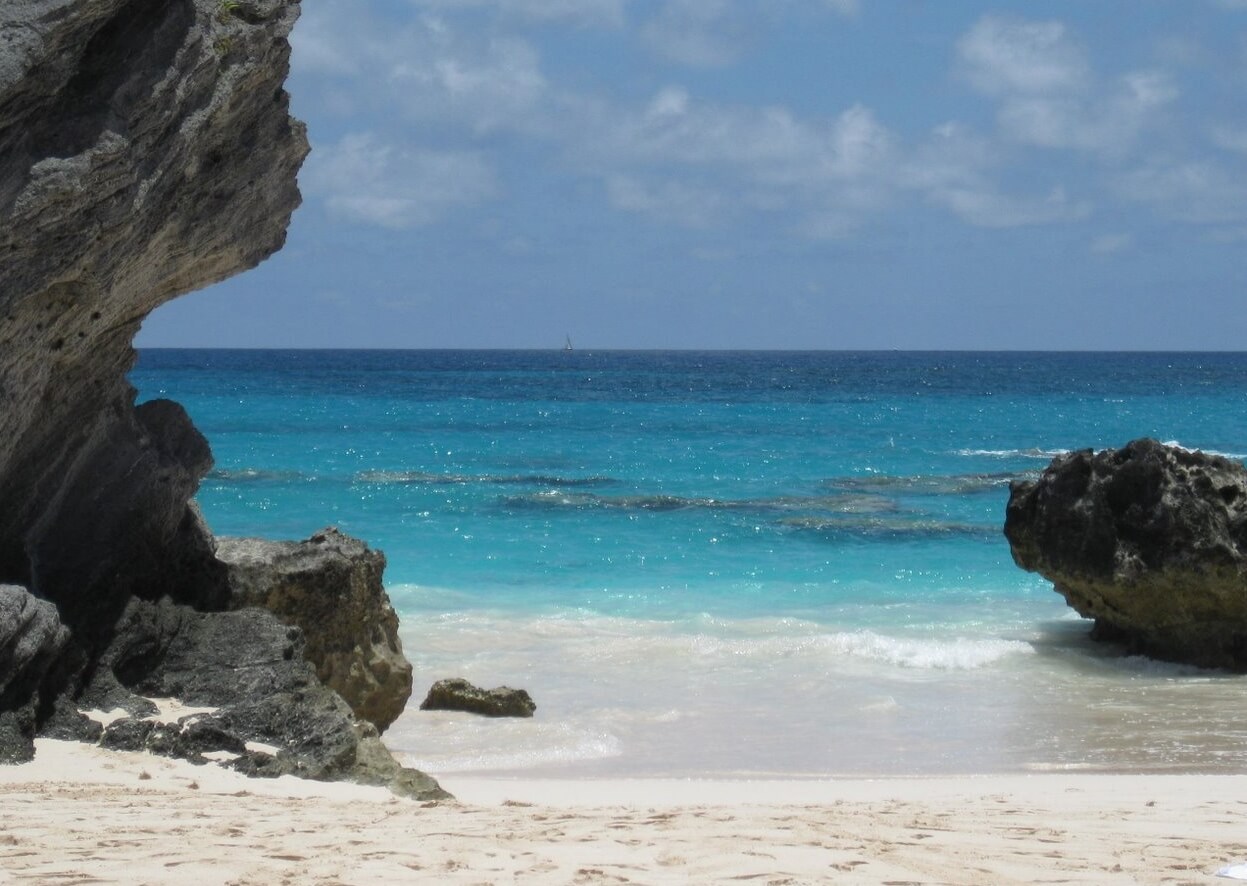 Celebrity Summit Bermuda Cruise Review (plus Boston and Newport)
This was our 16th cruise, but our first Celebrity Cruise. We had heard many positives about Celebrity and were excited to finally have the opportunity to sail on the Summit. We had hoped to try one of the larger, newer Celebrity Ships, but this one fit our preferred travel dates and destinations, so it worked! I should mention, that we have sailed to Bermuda a couple times before and we just love Bermuda. I could go every year and never have enough. If you are considering Bermuda, Book It!!
First let me say that we loved this cruise! It will be an honest review with some pros and cons, as well as filled with a few tips for ship and itinerary – but I can tell you right now that I highly recommend the Celebrity Summit as a fabulous Bermuda cruise!
Who cruised: 2 adults, one teen
Cabin: Balcony
Perks: 2 perks available at that time. We chose the All inclusive classic beverage package plus Onboard Credit (which was a greater amount than the prepaid gratuities so best value)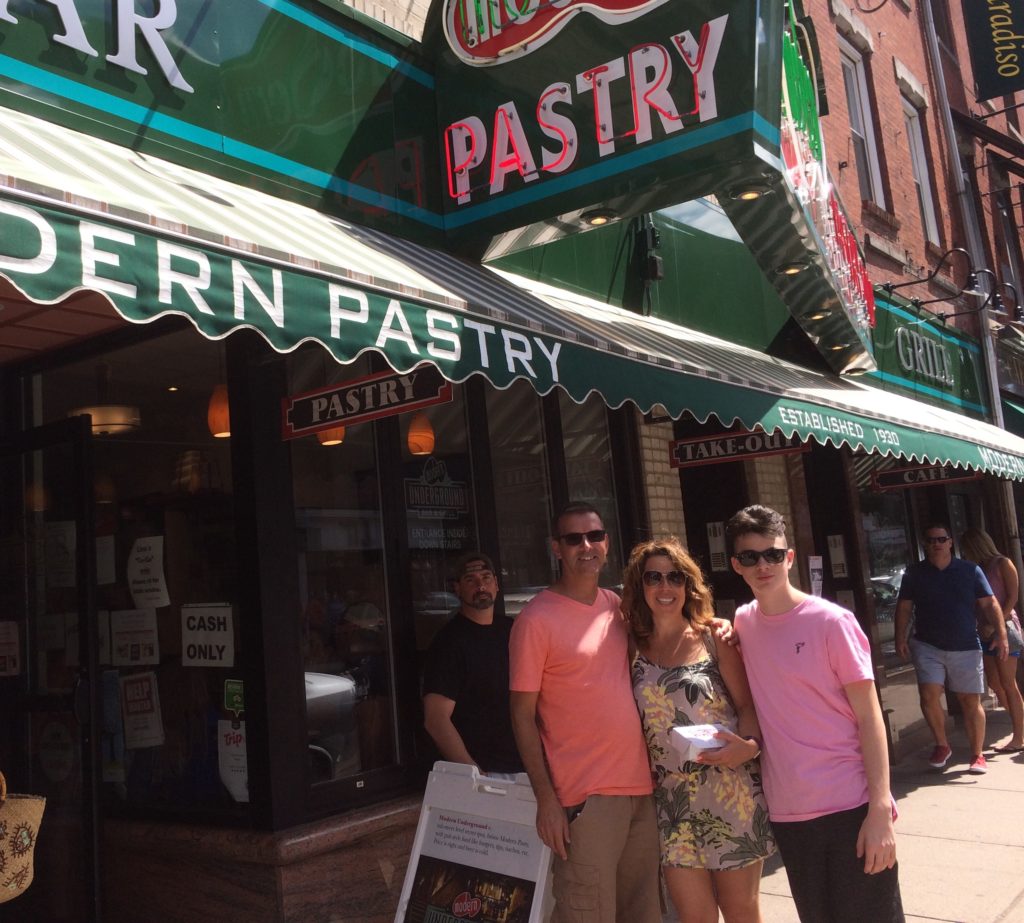 Embarkation
This cruise departed from Cape Liberty, in Bayonne, New Jersey. One of the things I love about this cruise is that I can drive to this port in a little over 6 hours. This makes it an easy Summer cruise for us as we don't have to worry about airfare. If you are a Canadian traveler (like me) or if you live in the North-Eastern states this might be a plus for you too! If you're budget minded, you may appreciate that secure Port Parking is only 20$ per day compared to 40$ a day in Manhattan where some other Bermuda Cruises sail from.
We drove in day day prior to the cruise, as we always do for every cruise. This way we can relax, shop, have a nice dinner somewhere and be well rested and vacation-ready the morning of the cruise. We left our hotel after breakfast and headed to the port early. New Jersey highways can be confusing and signage isn't always great, so allow some extra time to drive there.
We arrived at about 10:45 am and after a fast and easy check in, we were on the ship before 11:30 am. This was a surprise to us as it was one of the earliest times we have boarded. We weren't able to go to our cabins yet, so we decided to start our cruise vacation with one of the fabulous coffees at Al Bacio.
Since we had the Classic Beverage package, specialty coffees were included – Amazing!! In my opinion Celebrity has the best all inclusive beverage perk. We had 2 cappuccinos and our son had the Affigato. This is such a treat – it is an espresso served with a small scoop of vanilla gelato and served in a martini glass. It was decadent, and I had it several times during this cruise.
The Celebrity Summit Impressions:
We had a nice embarkation day as we explored the ship. The Atrium is beautiful and elegant, but not large and grand in the way we have come to expect on many ships. We did love the layout as it felt very intimate and upscale, but it did surprise us.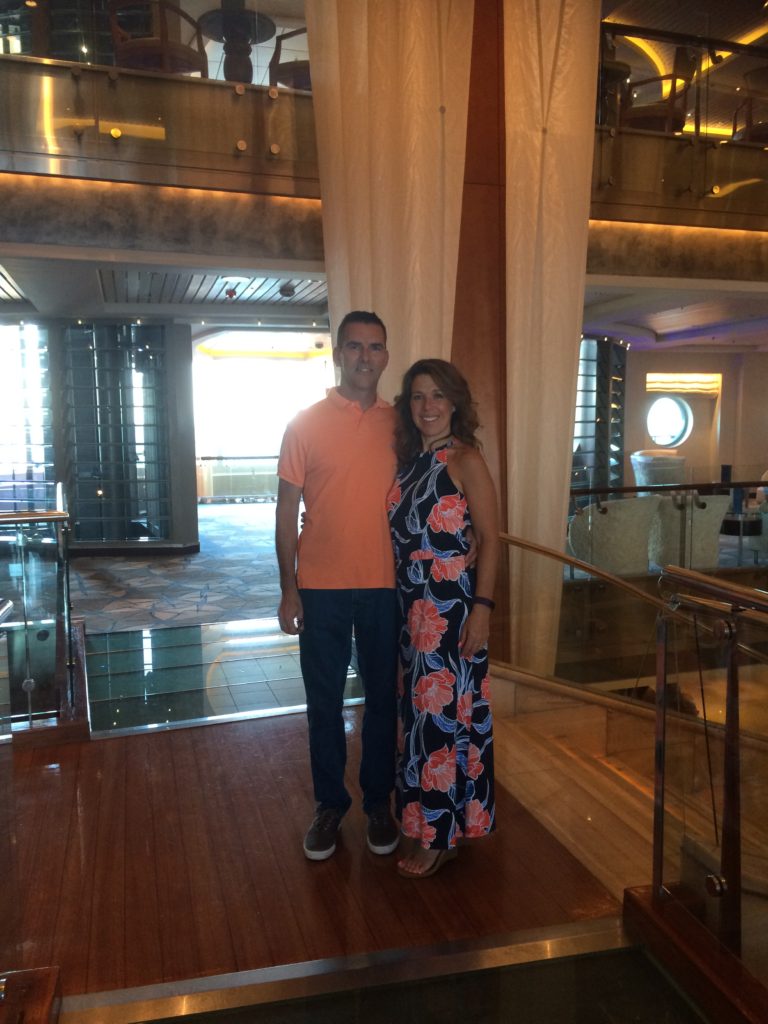 Buffet:
We ate lunch in the buffet and found it to be very good the first day in particular. We were really impressed with the meat and fish grill in the back of the buffet, so do make your way over there. There were also some nice pizza and pasta stations. As the cruise went on perhaps we just got used to it, but we found it be slightly better than average, perhaps due to the lack of variety. We always felt the quality was consistent and very good.
Dining:
Dinner was to-die-for every night! Seriously, we had some main dishes and appetizers and soups that we all agreed were absolute stand-outs, as in "the best we have ever had in our whole life"! The service was truly superb, from the waiter, assistant waiter, sommelier (remember we had the Classic Beverage Package), and right back to the Maitre D. This is what a cruise should feel like! Attentive, friendly and refined service. Celebrity does it right.
Entertainment and activities:
There were nightly shows that included typical production shows as well as a very funny Comedian that appeared twice. We aren't super fans of the singing and dancing shows, but each to their own. The reviews from our fellow guests were "Two Thumbs Up!!". The atmosphere in the evening was less lively than we experienced on the majority of our cruises. I am not really sure why that was, but it did seem like only one main event happened each night, so that if you weren't at the main show, there wasn't a lot else to do. We often like to relax and hang out in a lounge or bar in the evening and often met a few new friends at the Ice Bar.
One super fun things to do (that was totally different) was the Silent Disco. This took place at the Ice Bar which is in the Atrium area. Fun, fun, fun! This was both the quietest and liveliest party all at the same time! I'll explain. There is a DJ and there are headsets, so only those with headsets can hear the music. There are 3 "stations" you can set your headsets – red, green, or blue. You can also change your frequency or station at any time. So at any given time you can see 50-100 or more people dancing, many to different music, and all in silence to those walking through. You could even find new friends to mingle with that are dancing (and possibly singing) to the same music as you. Here's a photo just for fun!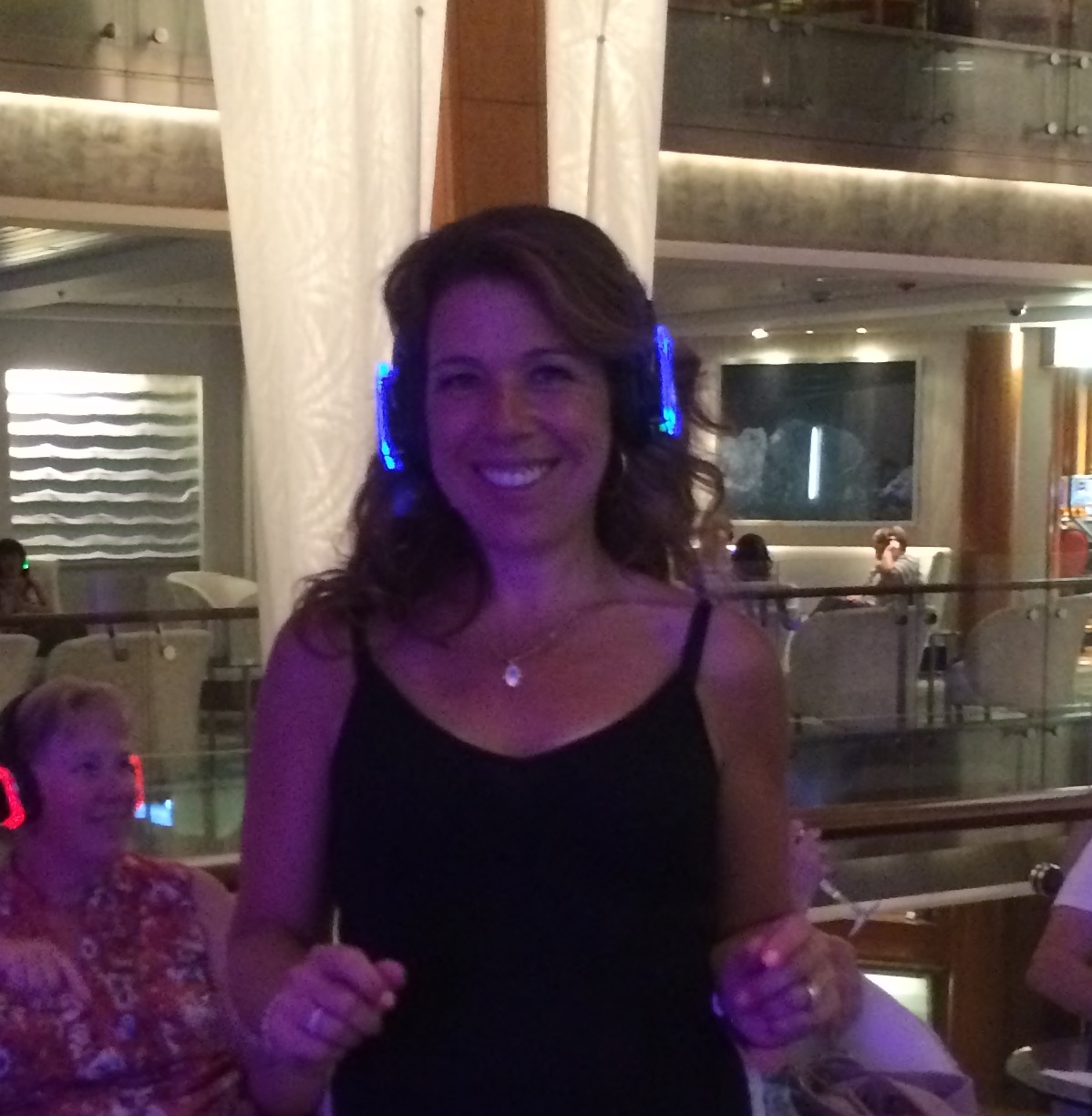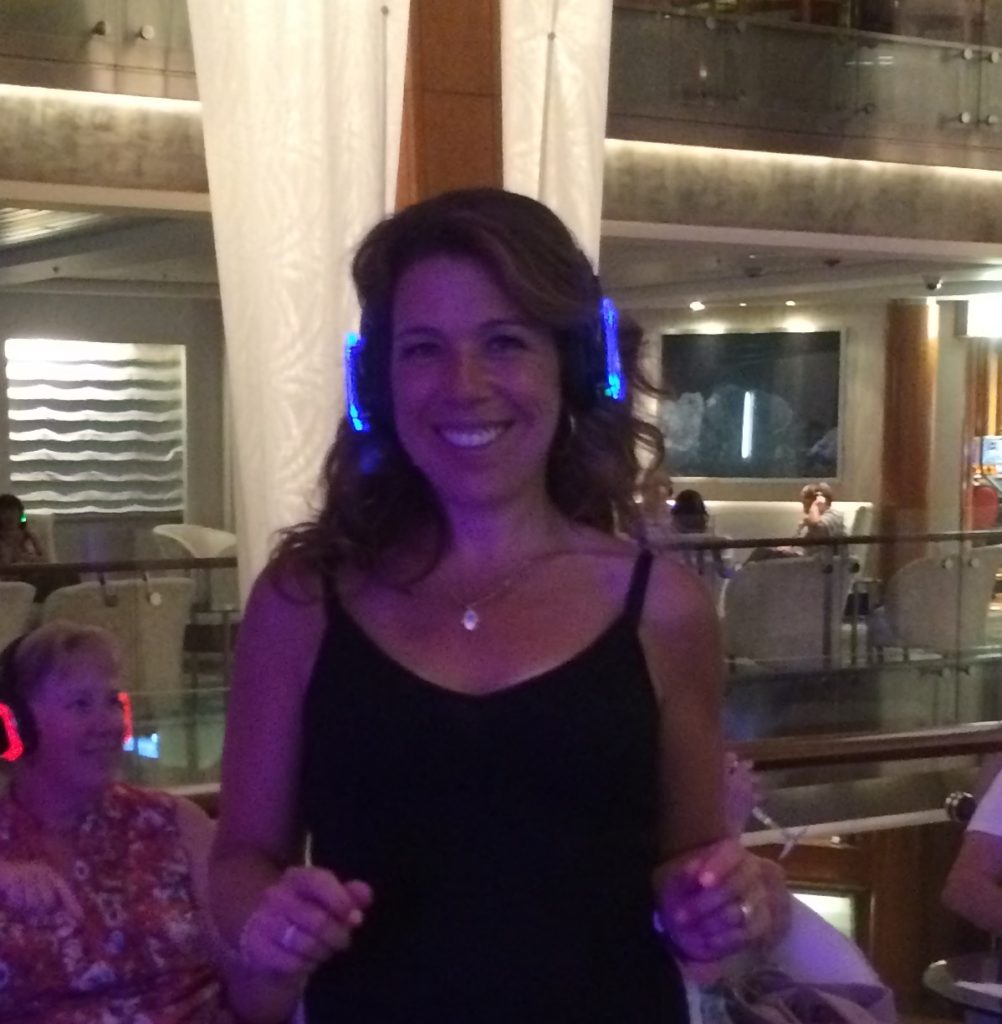 Other Ship Features:
Cafe Al Bacio: This is a fantastic coffee bar/pastry and dessert venue for a relaxing sit down treat or take away.
Diningroom: The two story main dining room was elegant and offered an incredible dining experience each night.
Cabins: This is where the ship's age shows and the cabin didn't reflect Celebrity's tagline of "modern luxury".
Celebrity special touches: In my opinion, the little extra touches that Celebrity provides for it's passengers add to cruise in a subtle way, that you later miss and notice when it doesn't happen on other ships. What touches? Take a look at the "water station" as we were getting ready for our tender at the end of a hot day in Newport, Rhode Island.
If you'd like to know more, you may enjoy:
Celebrity Cruises: 7 Reasons You Will LOVE Cafe Al Bacio
12 Special Touches That Will Make You LOVE Celebrity Cruises
The Ultimate Celebrity Cruises Tuscan Grille Review
Ports:

Newport, Rhode Island
This was a lovely seaside town to visit. After tendering off the ship we walked along the main street and mostly window shopped and people watched. In hindsight we would have benefited from one of the tours, including seeing the Breakers, the Vanderbilt "summer cottage" and other historical mansions.
Ports: Boston, Massachusetts
I love this city! So much so that I will be doing a separate review/guide for it. We took the ship's shuttle for 15$ p/p from the port to a central drop off and pick up point that was running continuously throughout the day. Information guides were present with city maps and were very helpful. We were able to walk around the Quincy Market/Faneuil Hall where we saw fabulous interactive street performers. You can also walk the historic Freedom Trail.
We took about a half hour at the Holocaust memorial and it moving and poignant. Finally we went over to Little Italy for fabulous pizza and cannolis. One of the our best port days on a cruise!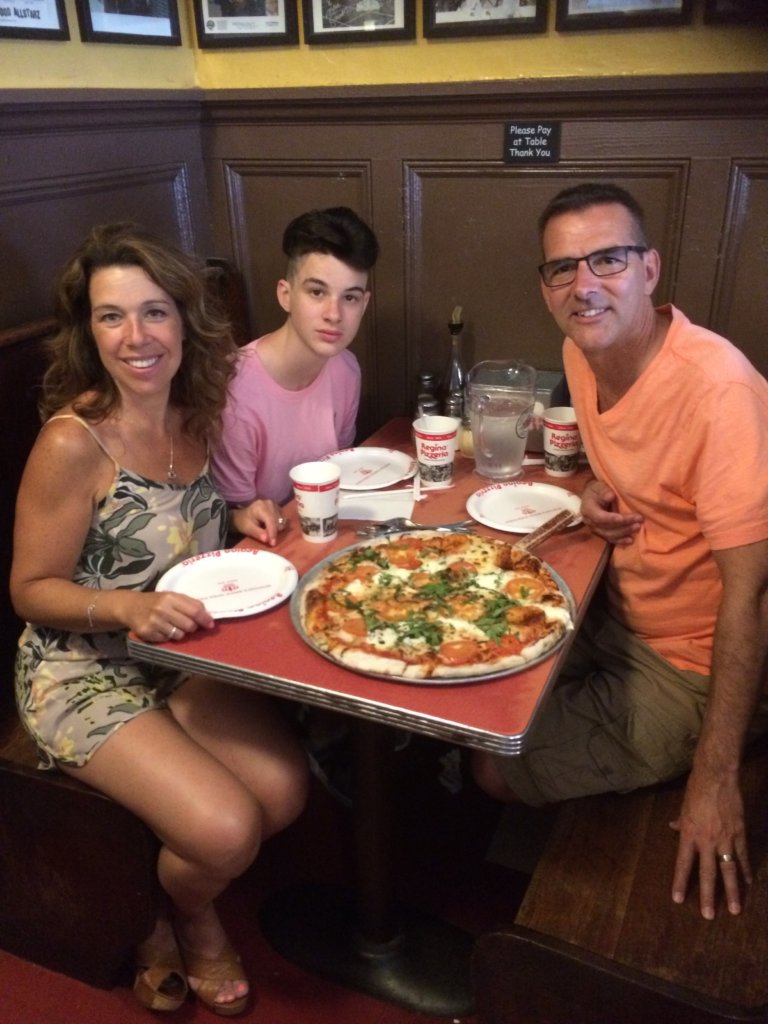 Ports: Bermuda (3 days)
We are in love with Bermuda. This was our 4th time visiting by cruise and it just never gets old for us. I think it is underrated by some cruisers, as many don't appreciate how special it is to have 3 days and nights to explore a port, especially an island as beautiful and unique as Bermuda.
Day 1
We chose the Devil's Isle Snorkel excursion offered through the cruise line on the first day. Snorkeling isn't fabulous in Bermuda but the excursion was still nice and informative, and had some kayaks and other water toys that made the trip enjoyable. Just an FYI, on Wednesday evenings there is a street party in Hamilton called Hamilton Nights. For 5$ p/p you can take the ferry over and enjoy a parade with traditional Gombey Dancers. You'll also see some vendor booths set up along the streets selling jewelry and other crafts made by local artists, as well as some street food tables. Many take advantage of being in a port at night by checking out the locals pubs and bars as well.
Day 2
We went to Horseshoe Bay Beach which is just the nicest anywhere. The pale pink-peachy sand is dreamy and really glitters when you see it for yourself. If you want a much less crowded section, just keeping walking to the left about 10 minutes. You can certainly take public transit safely in Bermuda (and with pink buses who wouldn' t want to?), however there are van shuttles available for about 7$ p/p that come and go all day to the beach.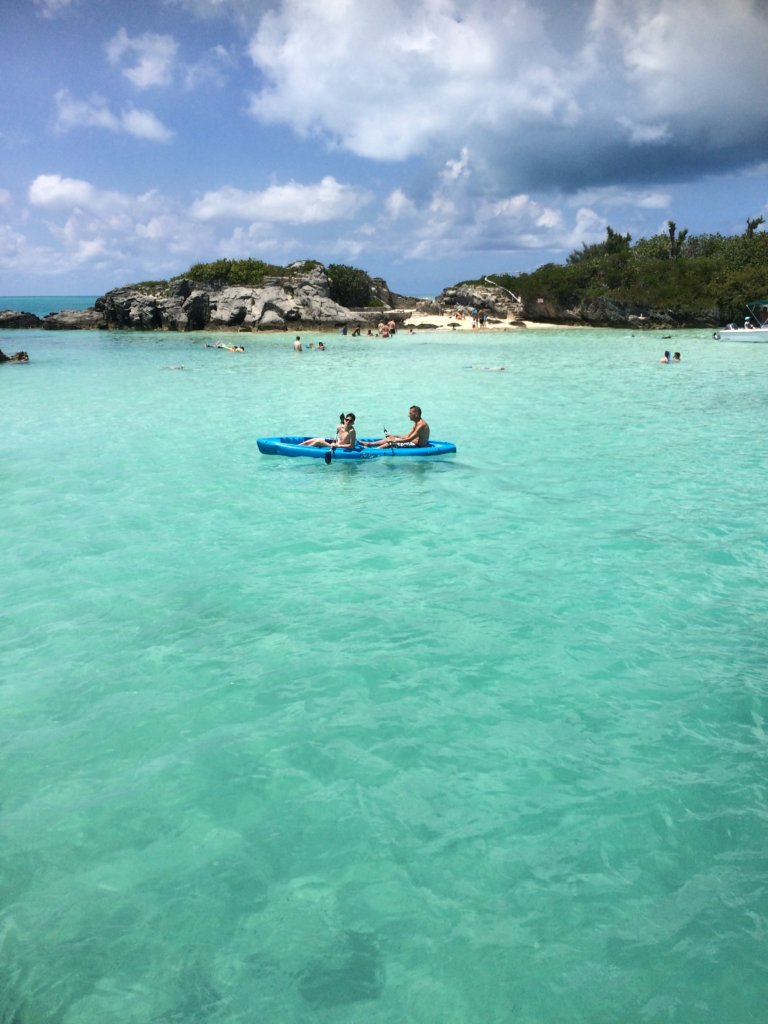 Day 3
We checked out the man-made beach right in Dockyard, next to the cruise ship, Snorkel Park Beach . This was our day to say close by to the ship and do some shopping in the dockyard area. This place is gorgeous and has changed immensely since we were first there about 10 years ago.
There's really so much to do in Bermuda that it deserves more space than I can give I here. I will be doing a separate review/guide of Bermuda so that I can give you some tips on "what to see", and you can tailor your Bermuda itinerary to your interests.
**Update – A Bermuda Guide for Cruisers is now available with lots of things to do plus tips just for cruise passengers!
Thanks for checking out my Celebrity Summit Bermuda, Boston and Newport Cruise Review. If you have questions please just ask in the comments below. If you liked my review or found it helpful, please let me know as well.
Happy Cruising!!
Ilana xoxo