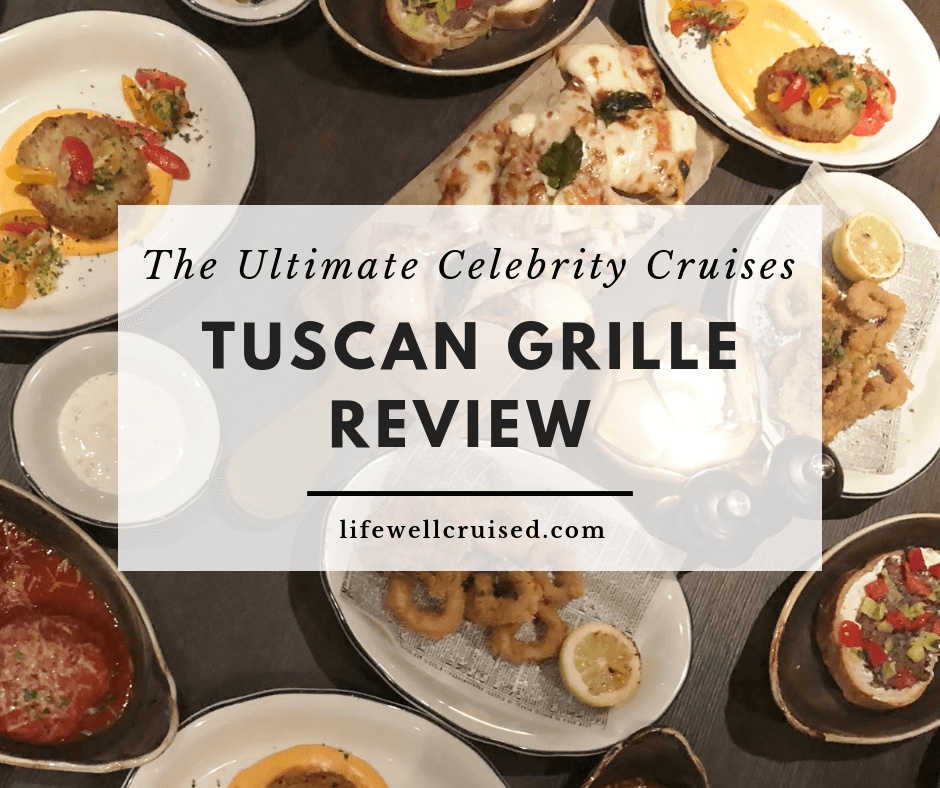 Celebrity Tuscan Grill Restaurant Review
We recently cruised on the Celebrity Summit and had an amazing time, and had the pleasure of dining at one of the specialty restaurants, the Celebrity Tuscan Grille. This is a review of our personal experience and I've included photos as well as menus (at the end) for your information. If you would like to read more about our experience on the Celebrity Summit, I'll include links to the reviews below.
If you are a new cruiser, or if you've cruised with other cruise lines and not yet with Celebrity Cruises, let me tell you a bit the Tuscan Grille. The Tuscan Grille is one of Celebrity Cruises' Specialty Restaurants, which means that it is not included in your cruise fare, and you can reserve to dine here at an additional charge. It is an Italian Steakhouse with an upscale, yet warm and inviting feel.
You may wonder, when the food and dining is so very good on Celebrity, is it worth going to Tuscan Grille? I questioned this myself and I can give you a resounding 100% YES!!! While the meals in the dining room were very good, the Celebrity Tuscan Grille was a culinary experience to remember and I highly recommend it. Here is a glimpse into our meal and evening on the Celebrity Summit.
Celebrity Tuscan Grille: Our Dining Experience
As we glanced through our menus, we enjoyed this little antipasto platter served on a rustic wood cutting board, thanks to our boys ordering while we (the adults) were a few steps behind. I thought this was a great way to start our dinner though so I'm passing on the tip.
There's a little story about this, and if you have been on the Summit I am thinking you can imagine it. Before heading to the Tuscan Grille, my husband, myself and our friend all stopped for a quick martini at Crush Martini Bar and had told our teen sons that we would meet them in just a few minutes. We then brought our superb martinis (Oh, how I miss them!) to the table where our boys were waiting with this lovely Antipasto Board. It went perfectly with our pre-dinner drinks and conversation as we took a few minutes looking over the menu.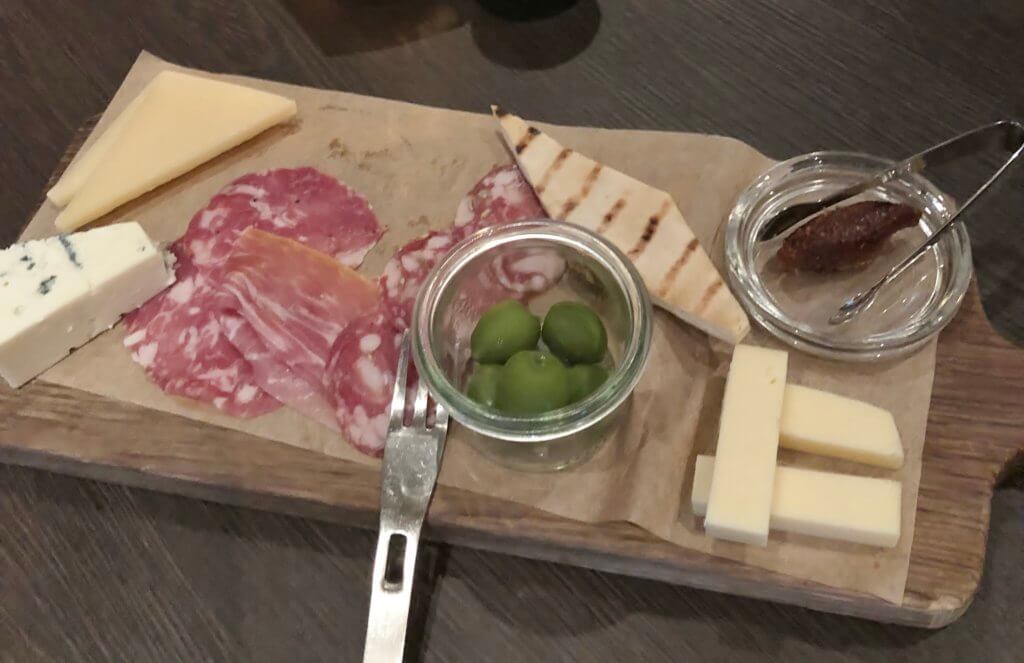 Celebrity Tuscan Grille: Atmosphere and Decor
We were seated in a comfortable and spacious booth. As you can see, the decor is upscale, but not stuffy. You can expect a a classy but relaxed atmosphere where you will have a delicious meal, which can be served family style. Some areas of the restaurant were quite intimate with seating for 2 or 4.
Celebrity Tuscan Grille: Service
Our servers were very attentive. One of the things I most appreciate when I go to any restaurant, is when a waiter takes the time to explain how dishes are prepared and why they are his top recommendations. I love being guided through a meal, especially when I'm on vacation!
From the time we walked in, we were greeted warmly as if we were old friends, yet treated as if we were special guests. Isn't that the magic combination?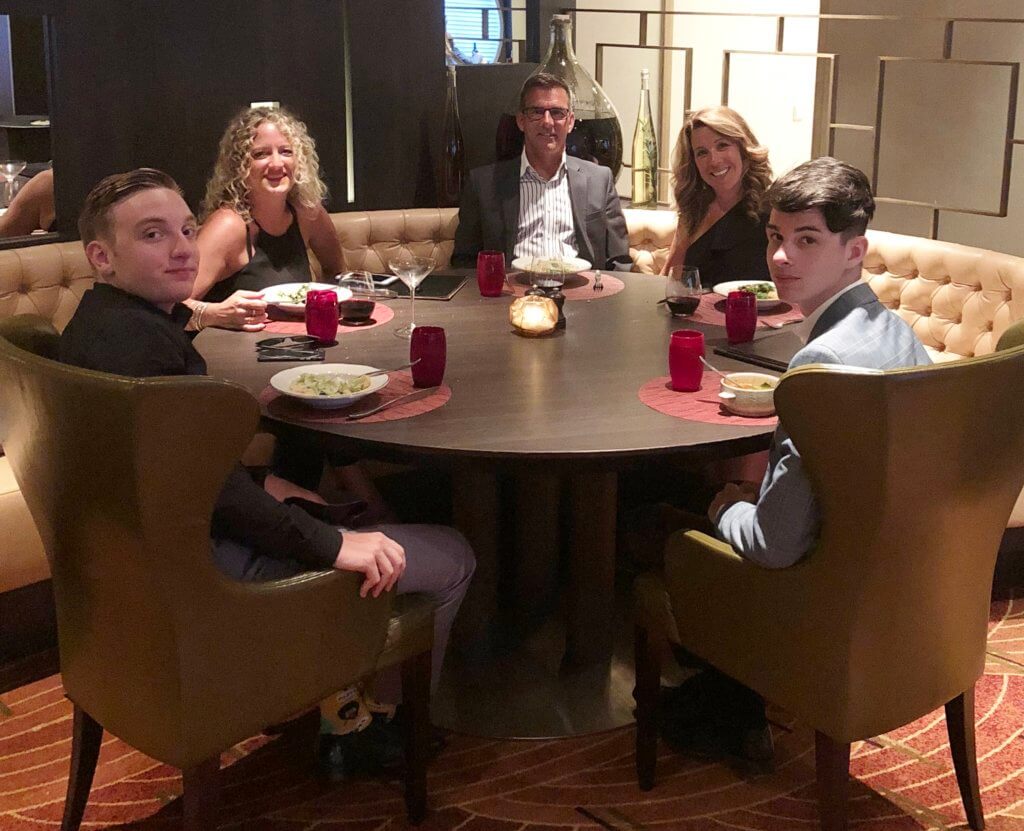 A fabulous dinner with friends at the Celebrity Tuscan Grille
Celebrity Tuscan Grille: The Starters
Our waiter recommended that we choose a few appetizers for the table to share, as we were each having trouble deciding. You can certainly order one for yourself, however I loved being able to try a few different things. I'm one of those people who could live on appetizers and wine ;-).
What were our favorites? The calamari was delicious, perfectly cooked and tender. The crab cakes were so flavorful and we definitely enjoyed as well. However our surprise hit, and one I think you MUST try are the "house meatballs". You can expect a generous portion of 2 melt-in-your-mouth tender meatballs with a homemade Italian tomato sauce. I am normally not the biggest meat-eater, and I loved this dish.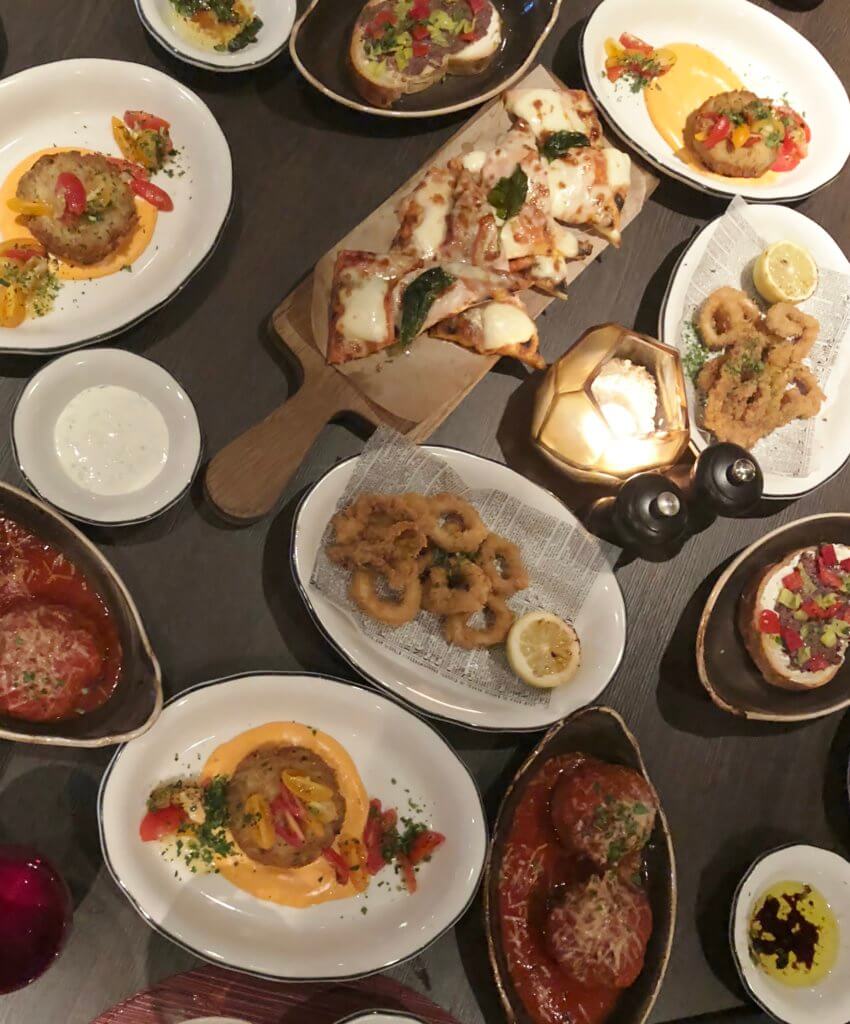 Celebrity Tuscan Grille: Salads and Soups
The choice of soups and salads were quite nice, and even though we wanted to save room for our main meal, we just had to try.
I opted for the Goat Cheese and Arugula Salad which was so good. The goat cheese was prepared in small lightly breaded balls served alongside the arugula and topped with pine nuts and a drizzle of balsamic vinaigrette. My husband decided on the Ceaser salad, which was topped with pecorino cheese. He said it was very good. Finally, Micheal (our son Ethan's friend) ordered the Creamy Burrato, which was a nice combination of marinated tomatoes and pesto, served with bread to dip.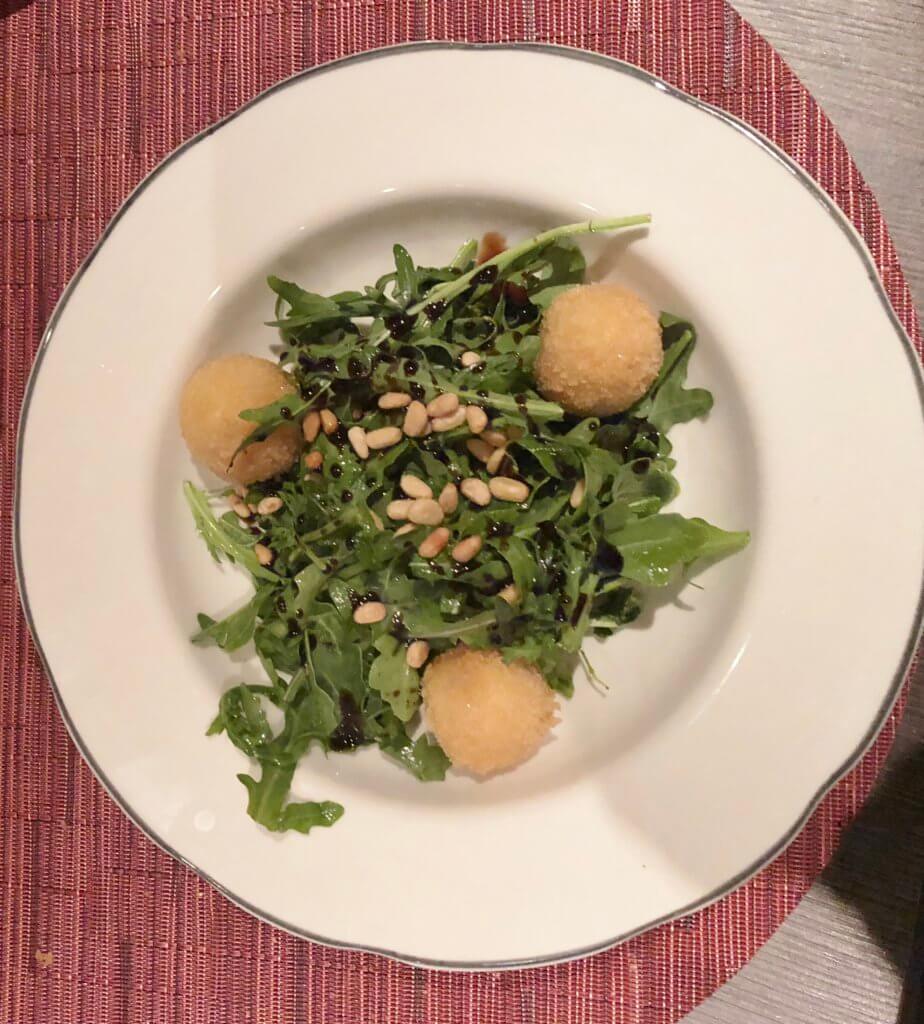 Delicious goat cheese salad – totally worth it!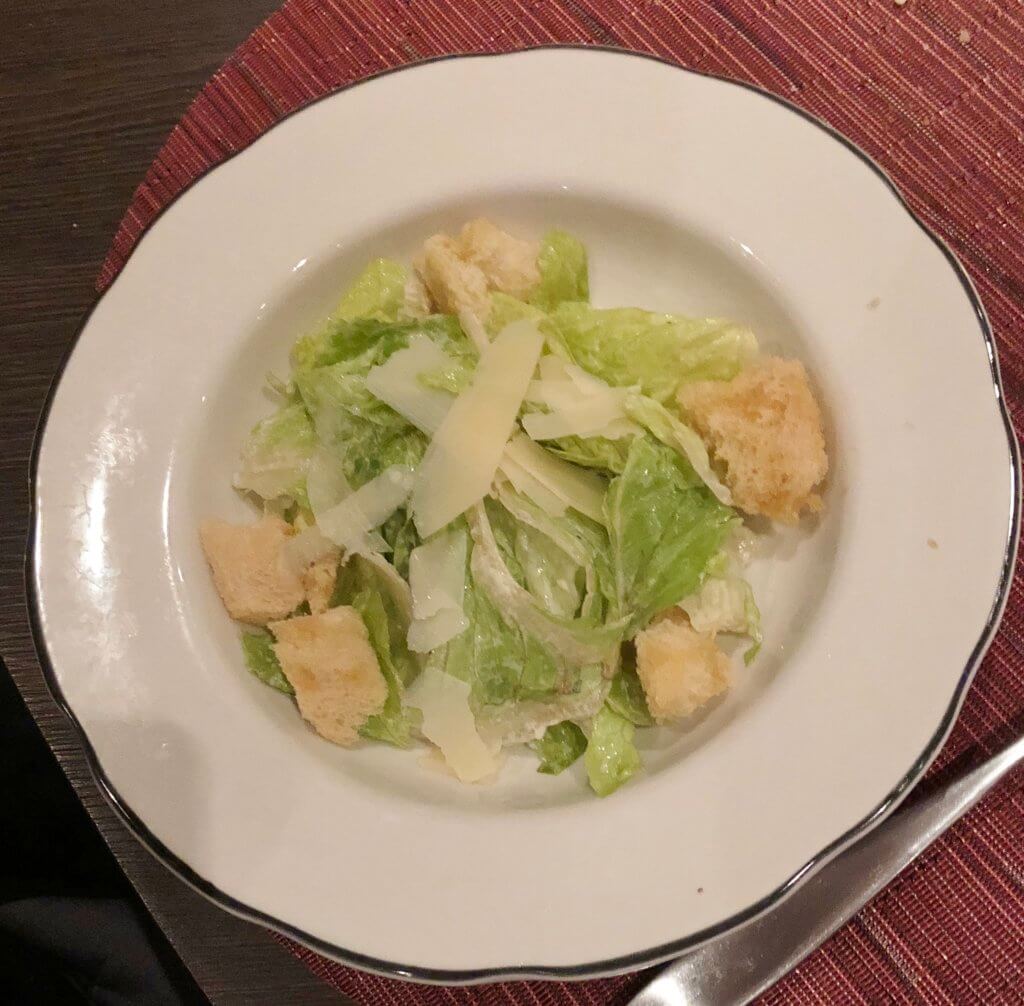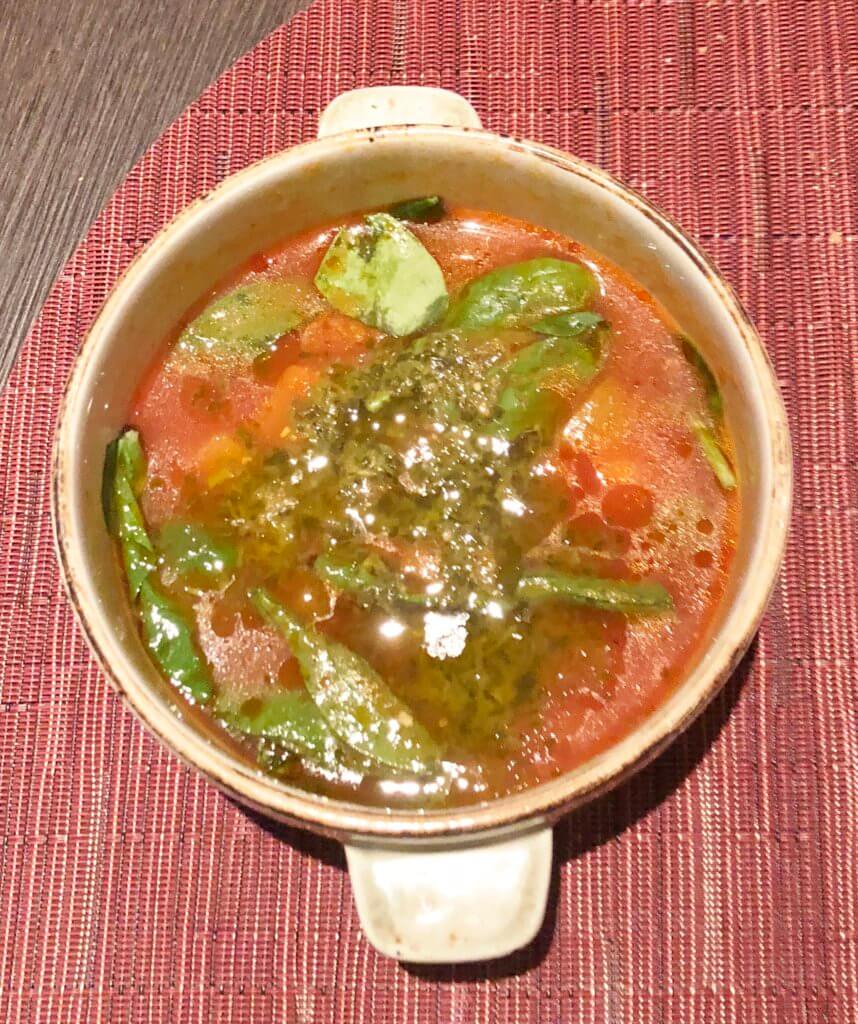 Celebrity Tuscan Grille: Main dishes – Meats and Home-made Pastas
As you can see, our meal up until now had really been outstanding. Normally, I don't choose pasta when I am at a restaurant. However we were told by several other passengers who had been to the Tuscan Grille, that the pasta is just that good! Our waiter was wonderful and suggested that we each order a meat or fish dish, and that he would bring us his recommended pasta dishes in half portions for us to share and try.
4 of us ordered the 9 ounce broiled filet mignon, and it was tender and flavorful. Our friend ordered the grilled Branzino (fish) and thought it was very good. For the sides, we tried the mashed potatoes and the eggplant parm. I happen to love eggplant parmesan and this was probably the best I have ever had! So if you enjoy this, try it as a side and share.
The stand-out dishes were the home-made pastas. His recommendations were spot on! We had the Strozzapreti Carbonara, which is a pasta served in a parmesan cream sauce with pancetta and peas. We also tried the Shortrib Pappardelle Ragu, which I am so glad he recommended, as this normally would not have stood out for me on the menu. He promised us that it was a winner, and it was one of our very favorites! Finally, the Lobster Rigatoni Alfredo was yummy as it sounds.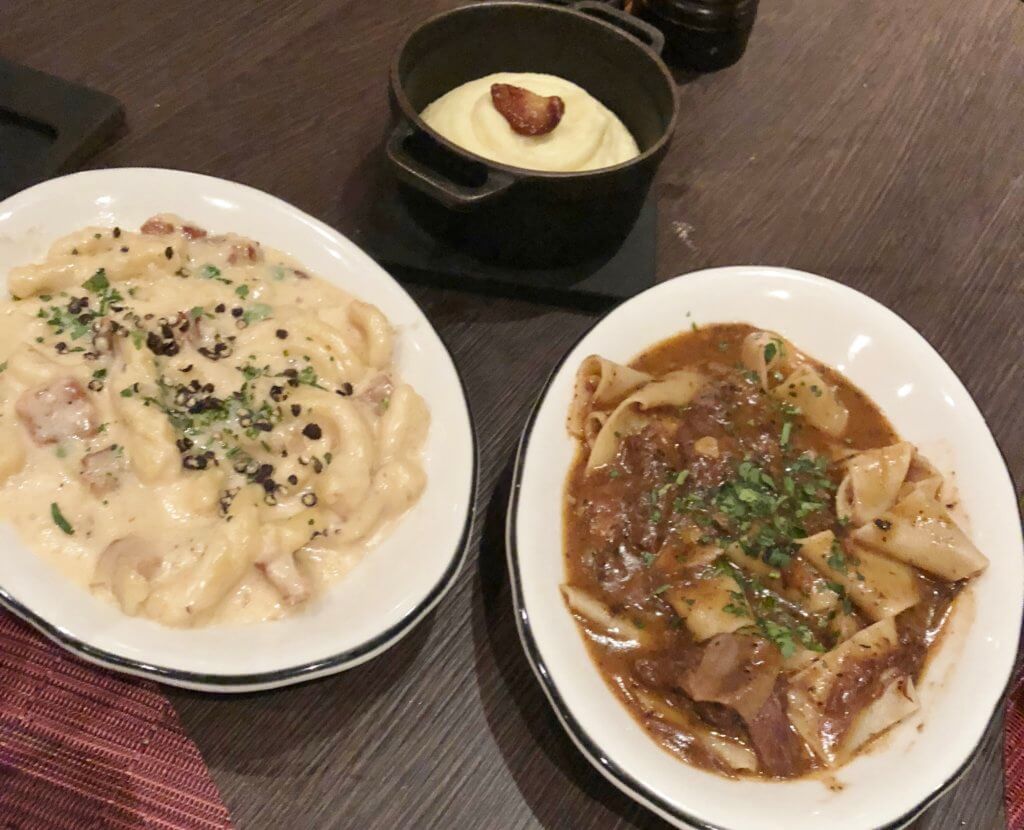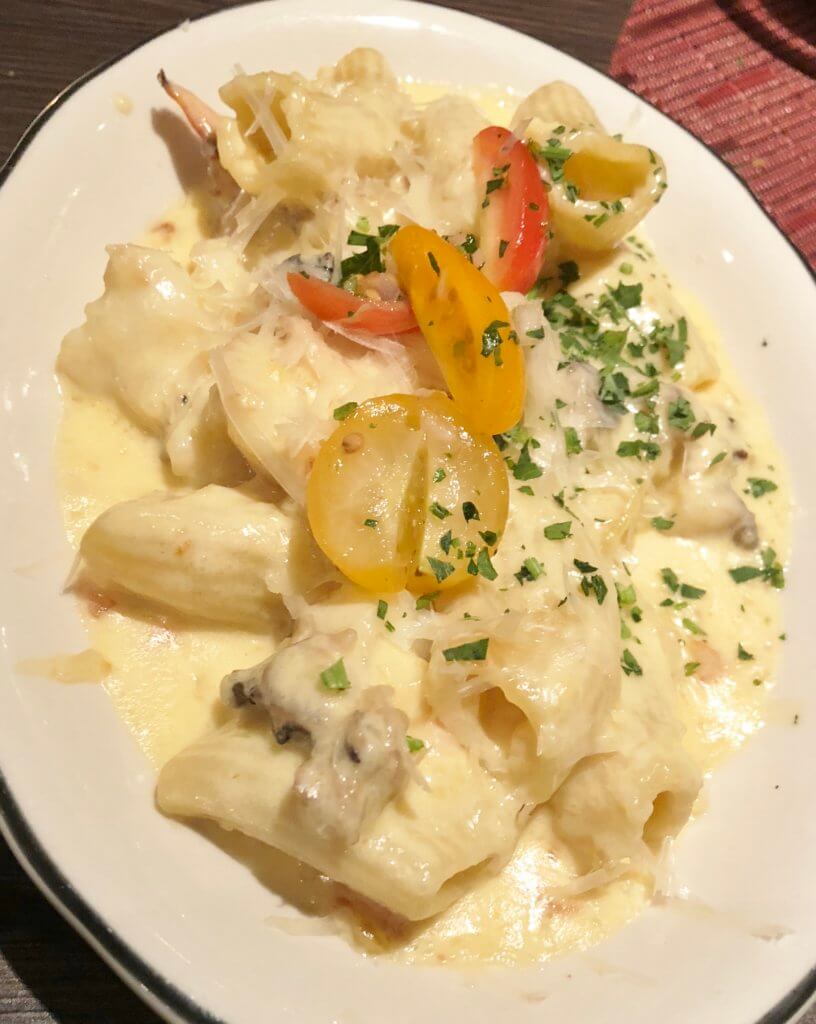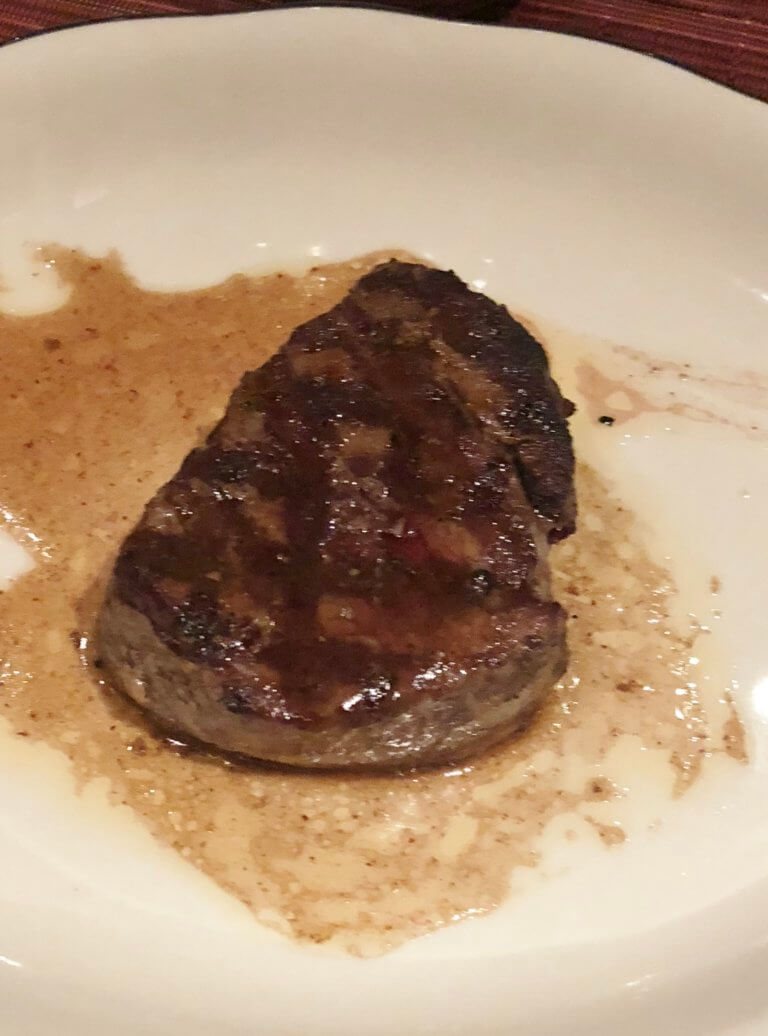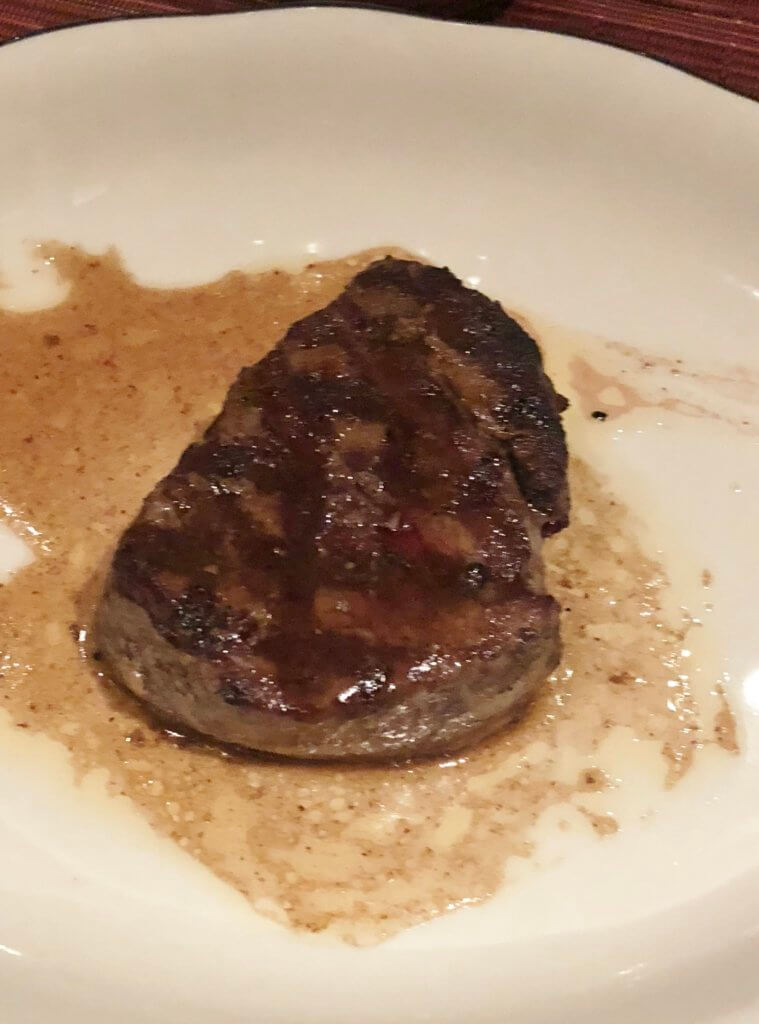 Celebrity Tuscan Grille: Desserts and Coffee
Truly, I am not even sure how we possibly ate dessert, but we did. I would say, don't eat here early in the cruise, as you'll be going twice. Yes, it's that good!! However, in all seriousness, do make your reservations early or even pre-cruise, if possible, as you really don't want to miss it.
The desserts we tried were the Tiramisu (which did not disappoint), the Limoncello cheesecake, the Pistachio Marble Creme Brulee, the Zabaglione Strawberry Shortcake and my absolute favorite, the Spumoni donuts with Vanilla Gelato.
My son raved about the desserts and even said that he thought Celebrity should have a dessert only specialty restaurant, as he would 100% pay for this any night of the cruise. His favorite was the strawberry shortcake, which the picture just doesn't do the taste justice. It is actually fantastic and pretty decadent, so do try this if you are a shortcake lover.
A note about the coffee – if you have the Classic Beverage Package your specialty coffees are included, whether in Cafe Al Bacio, the main dining room, or in Specialty restaurants. I love a Cafe Americana and my husband enjoys a Cappuccino. The coffees were perfect to accompany our desserts.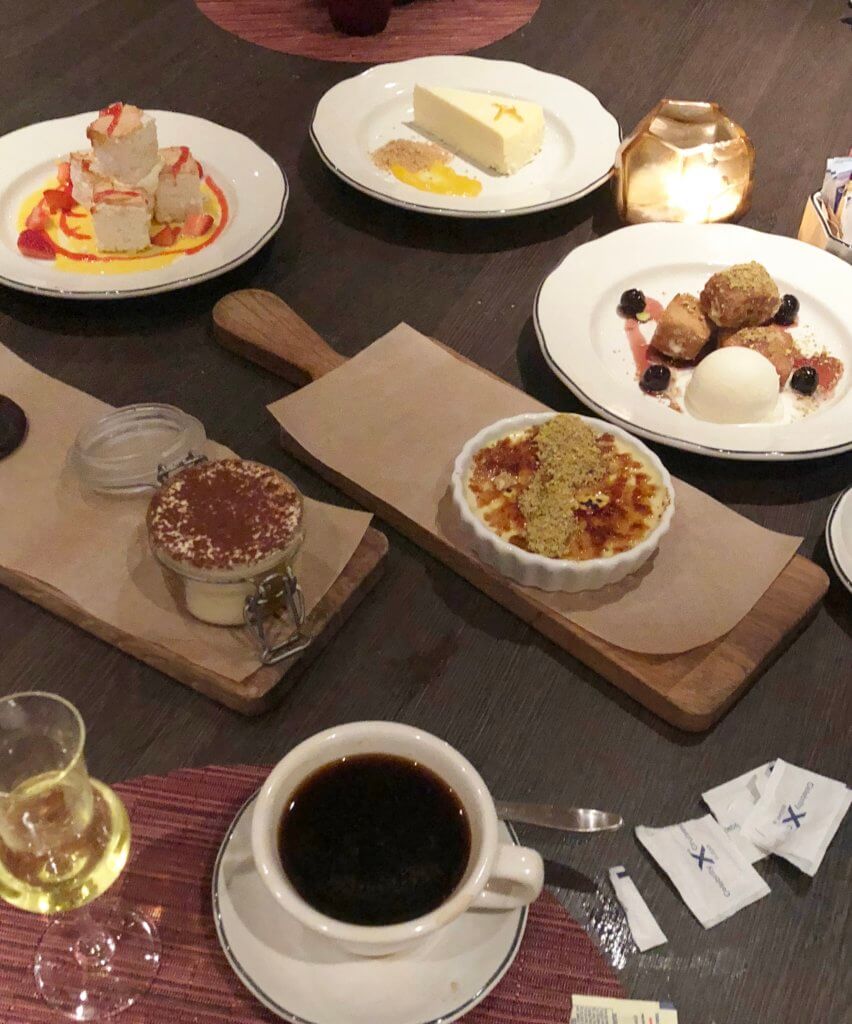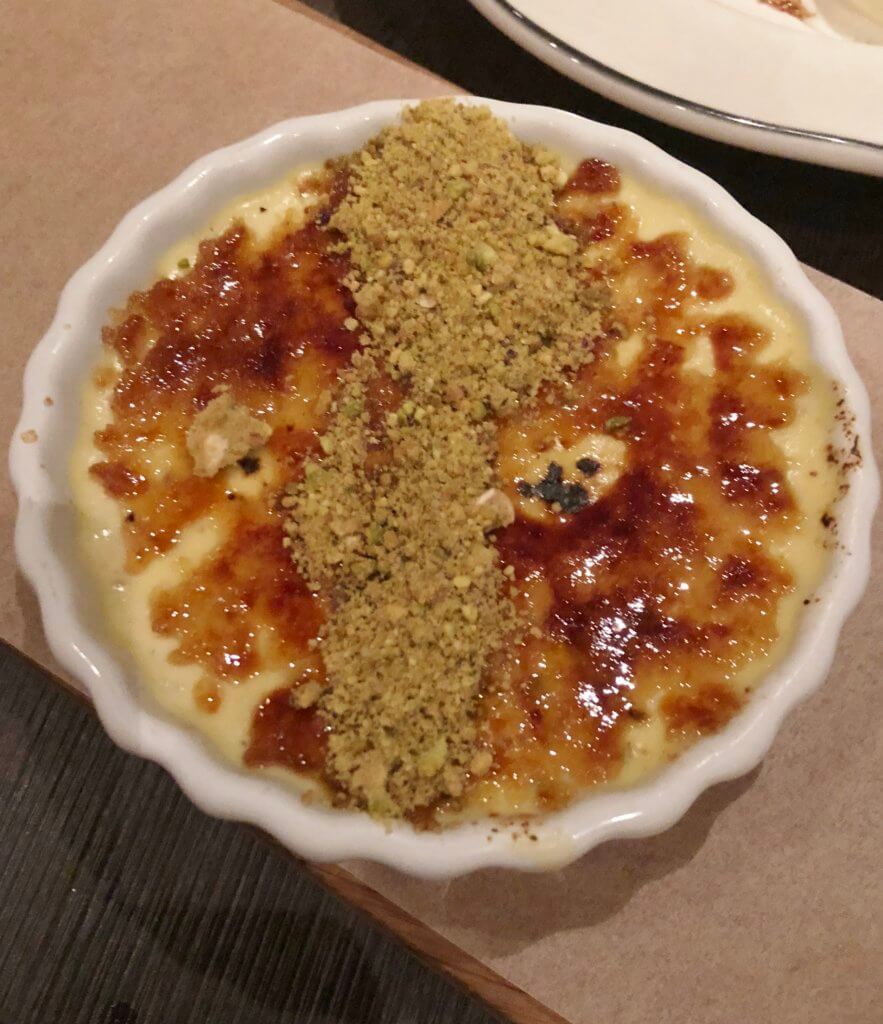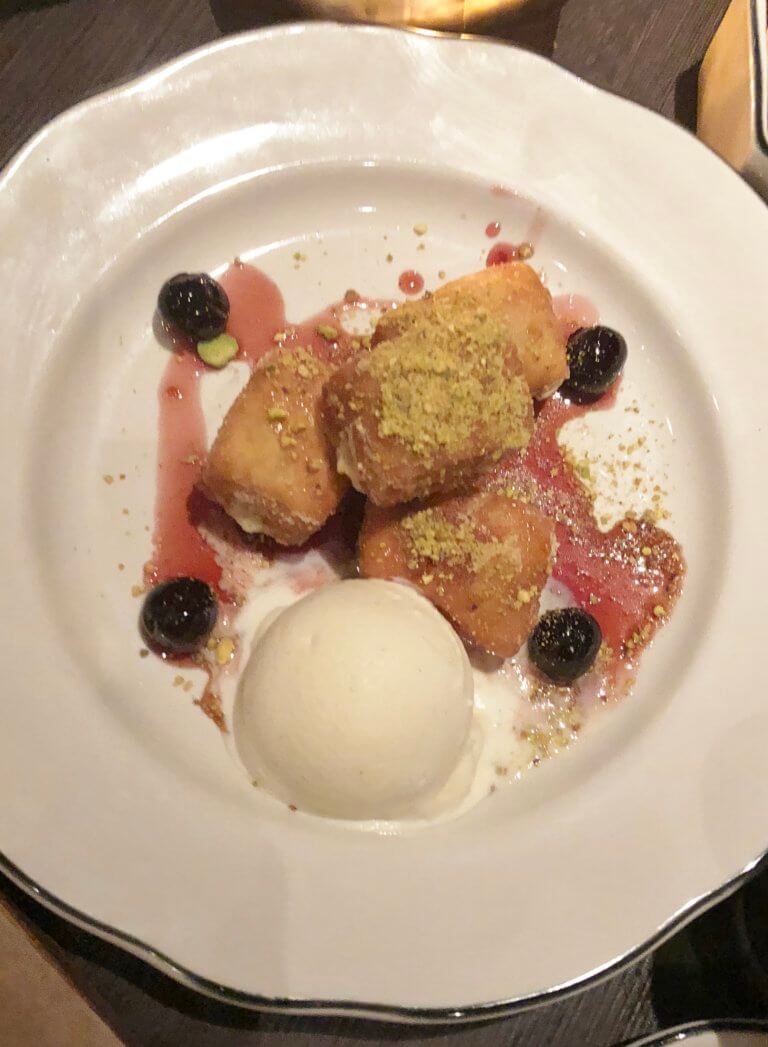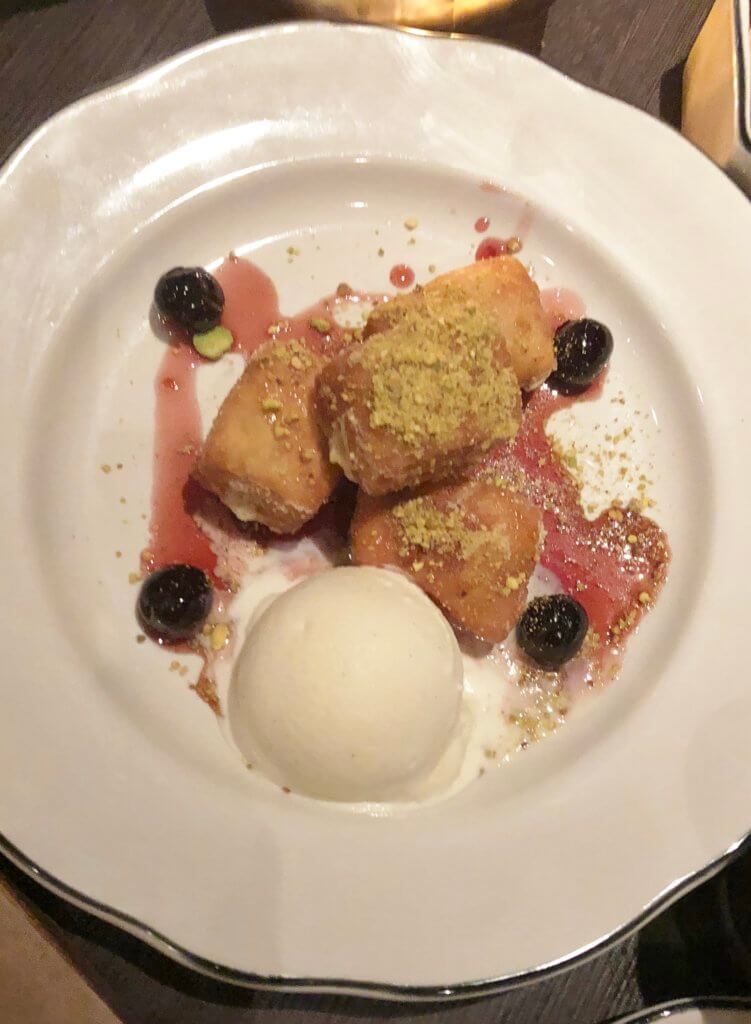 Celebrity Tuscan Grille: Special Touches
You may know how I just love the Celebrity Special Touches. Well, our amazing server brought out a home-made limoncello for us to try and took the time to explain the process in which is was made. It was delicious and his attention to detail was so appreciated.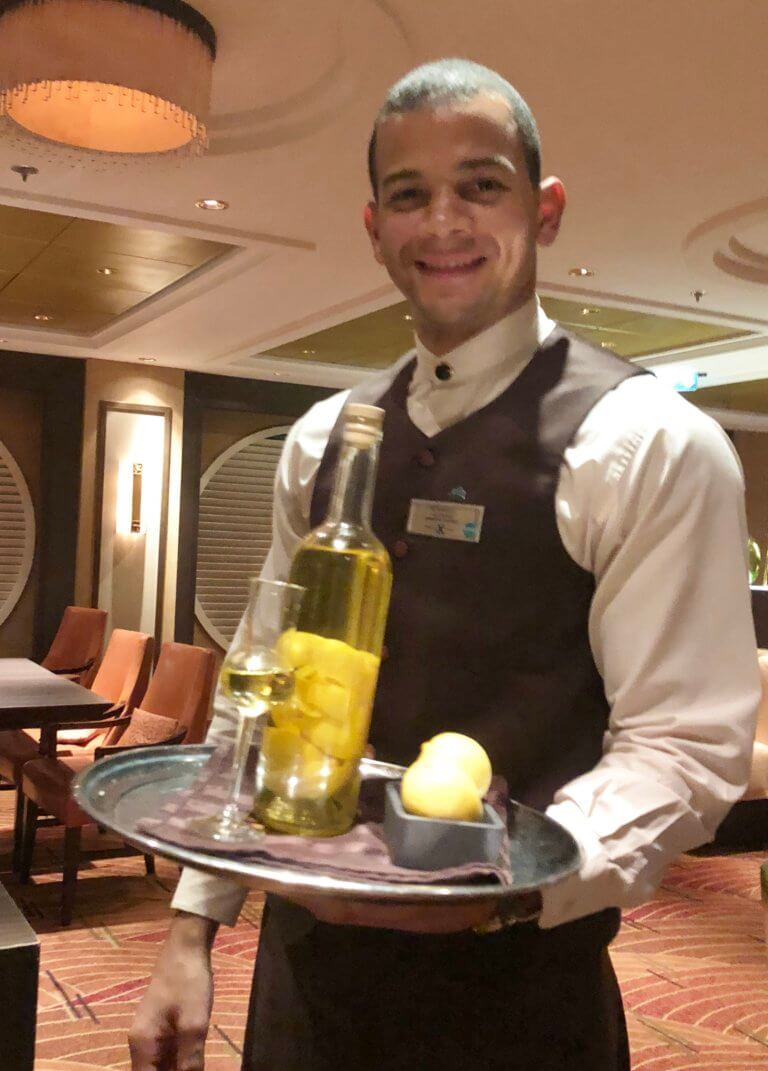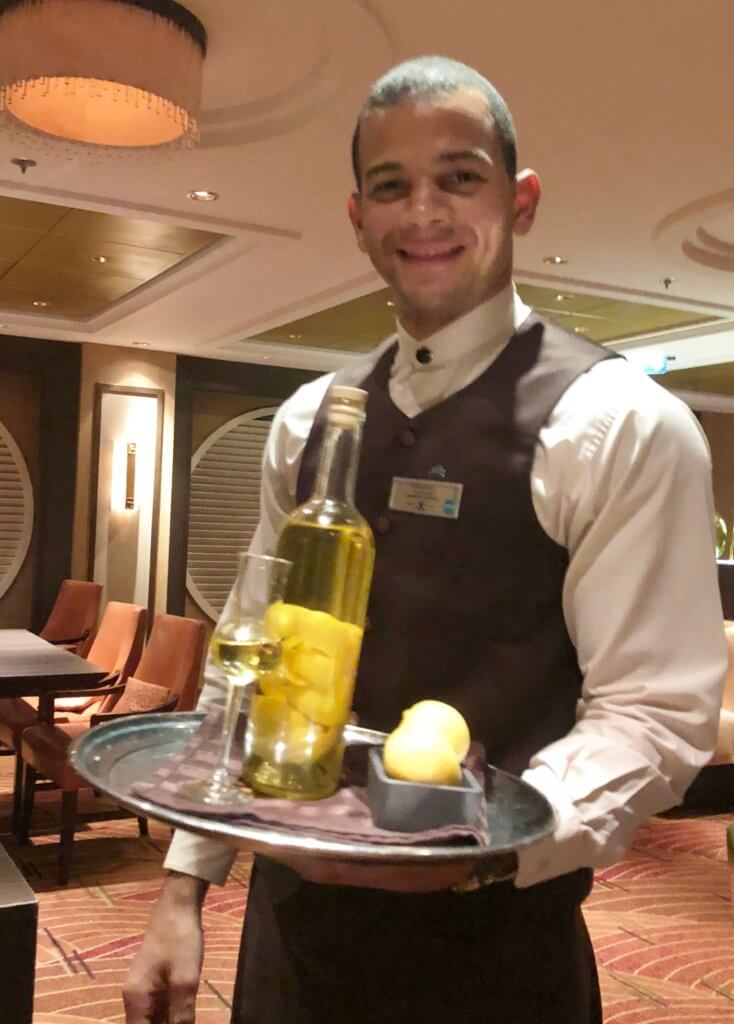 Celebrity Tuscan Grille: Menus
I hope that you enjoyed my Celebrity Tuscan Grille Review and found it helpful. I included the menus below for your information.
Have you been to the Celebrity Tuscan Grille? Do you usually go to the specialty restaurants? I would love to hear your thoughts below in the comments (after the menus).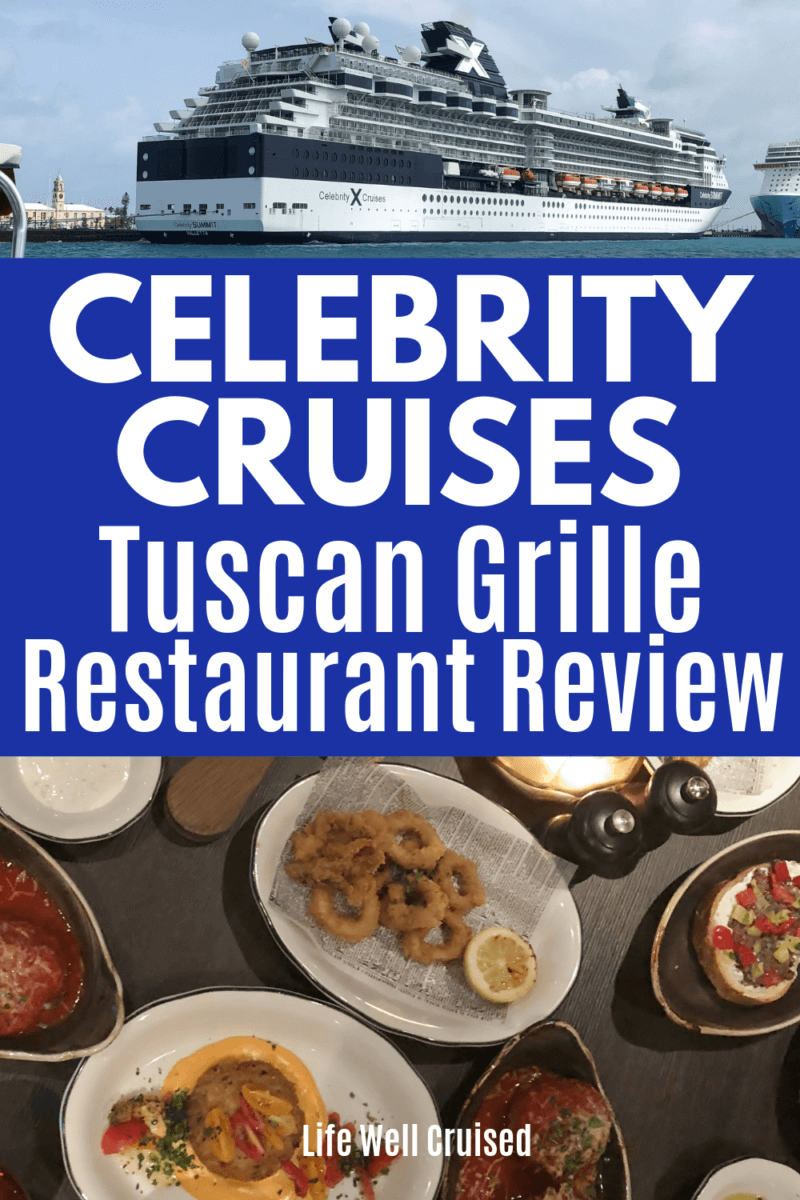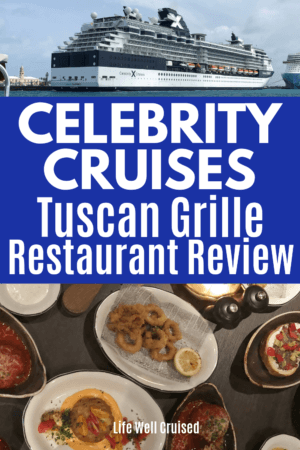 Thanks for taking the time to read this review!! If you've enjoyed this, you may also like 12 Special Touches That Will Make You LOVE Celebrity Cruises and Celebrity Cruises: 7 Reasons You Will LOVE Cafe Al Bacio.
Don't keep this info to yourself 😉 – if you like this post please share it on Facebook or Pinterest so others can see it too. Thanks!!
Happy Cruising,
Ilana xoxo