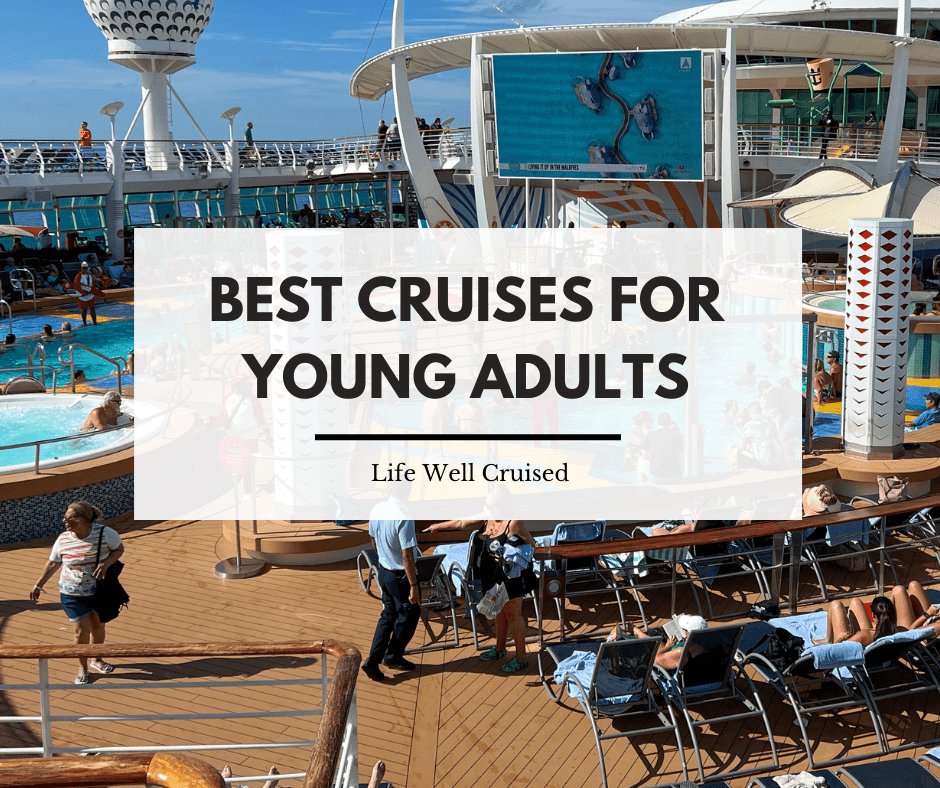 Are you under 30 and looking for the best cruises for young adults? Don't worry, I've got you covered. As a young adult who's been cruising for years, I know first hand which cruise lines cater towards our demographic.
Choosing a cruise as a young person isn't one size fits all. We all look for different things when we're on vacation. Whether it's partying, relaxing, seeing new places or even having a romantic cruise with our significant other, there is a perfect cruise for you!
With that being said, here are the 8 best cruise lines for young adults.
This post contains affiliate links which means if you click and buy that I may make a commission, at no cost to you. Please see my disclosure policy for details.
As an Amazon Associate I earn from qualifying purchases.
8 Best Cruises for Young Adults
1. Royal Caribbean Cruises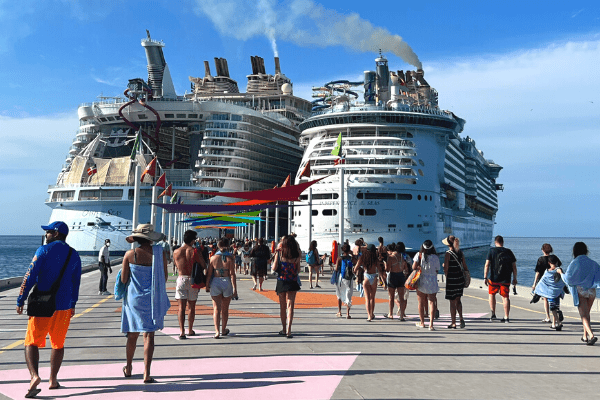 If you're a young adult, you'll love a Royal Caribbean cruise. Whether you're cruising with friends or planning the ultimate family vacation, there is something for everyone!
Royal Caribbean cruise ships are amazing for young people. There is nonstop fun, endless activities and amazing drinks! This is true whether you take 3-5 day short cruises, or a longer cruise of 7-8 days.
Onboard a Royal Caribbean ship, you'll find great things to do including zip lines, rock climbing, water parks, basketball courts, mini golf, pools and hot tubs.
The nightlife on Royal Caribbean is also super fun. Whether you want to go to the club, listen to live music, watch game shows or stand-up comedy, you won't be bored on these cruise ships!
On Royal Caribbean, there is always something going on, even as it gets late. The various entertainment venues are busy and the nightclub is a blast.
Royal Caribbean really caters towards young people, so it's a great place to make new friends. Recently, I was on the Oasis of the Seas and I met some really cool friends who I'm still in contact with.
Wondering about the activities on Royal Caribbean? Check out the Cruise Compass daily planners from our recent cruise.
Perfect Day at CocoCay
If you're looking into a cruise vacation with Royal Caribbean, I'd recommend booking an itinerary that stops at Perfect Day in CocoCay. Perfect Day in CocoCay is Royal Caribbean's private island, which is incredibly fun for young adults.
There is a huge water park, gorgeous beaches, zip-lining, jet skiing, a hot air balloon and Oasis Lagoon, a massive pool. If you like pool parties, then you're going to love the Oasis Lagoon because it has that crazy fun spring break vibe.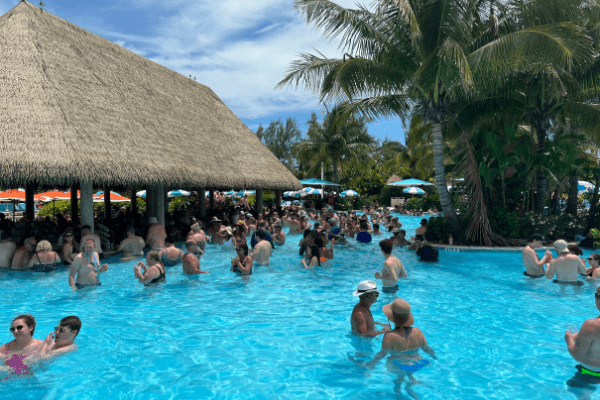 Tip: If you want to cruise with younger people, book larger and newer cruise ships, and shorter cruise trips, as these tend to attract a younger demographic.
Royal Caribbean Cruises for Young Adults:
Oasis of the Seas
Symphony of the Seas
Navigator of the Seas
Quantum of the Seas
Wonder of the Seas
Related: What to Pack for a Royal Caribbean Cruise
2. Carnival Cruise Line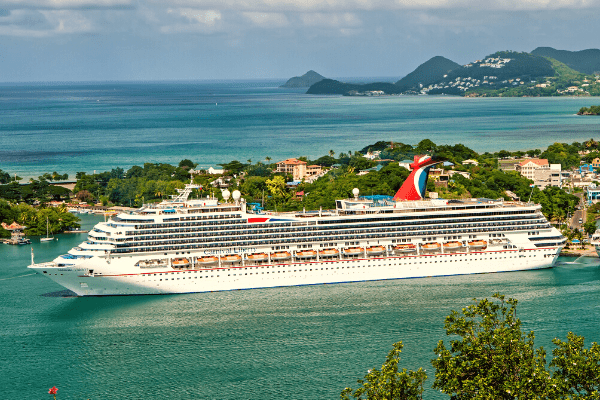 Carnival cruises are a great option for younger adults who are looking for that party vibe. If you're looking for a great cruise on a budget, Carnival is your best bet.
The clientele on Carnival tends to be young, or at least young at heart!
On a Carnival cruise ship you will be partying, drinking and there are endless amounts of onboard activities. You will find basketball courts, ropes courses, pools, hot tubs, water slides and even a roller coaster on some cruise ships!
There are some great things on Carnival, such as 24-hour pizza, Guy's Burger Joint and amazing drinks.
Booking shorter cruises on Carnival will be more affordable which tends to attract a younger demographic.
Tip: Cruising during summer break, winter break or spring break are all seasons that attract young cruisers.
Carnival Cruises for Young Adults:
Carnival Mardi Gras
Carnival Celebration (coming soon)
Carnival Vista
Related: What's Included on a Carnival Cruise – Everything You Need to Know
3. Norwegian Cruise Line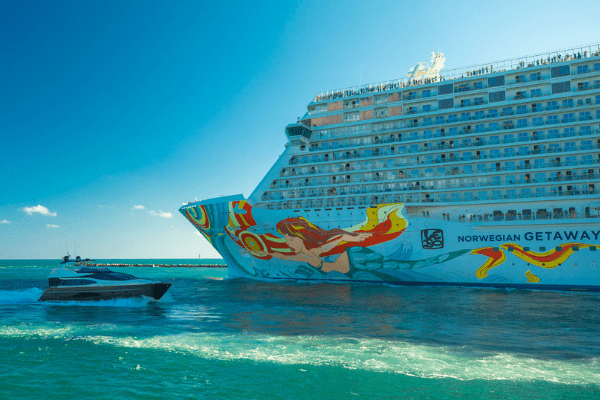 Norwegian Cruise Line has great cruises for a younger crowd. Norwegian cruise ships definitely have a fun party vibe, perfect for anyone from college students to young couples.
Out of the cruise lines I've sailed, Norwegian definitely attracts the most young adults who are looking to have a good time. If you want to spend your cruise drinking, partying and having fun, you will love Norwegian Cruise Lines!
There are plenty of activities onboard a Norwegian cruise ship that cater towards older kids, teenagers and young adults. There are so many fun things to do on NCL, especially on sea days!
You'll find water slides, rock climbing, mini golf, bowling and even a race car track on some of Norwegian's newer cruise ships. Of course, there are pools and hot tubs as well.
One of the nice things about Norwegian is it's Freestyle dress code, which makes packing for your cruise easier.
When booking your Norwegian cruise, you can also book with the Free at Sea promotion, which has extra perks like free wifi, shore excursions, a beverage package and dining package.
Solo Cruisers
Norwegian is also known as being a really good cruise line for solo cruisers. If you're a solo traveler, there are studio staterooms designed for specifically for those who are traveling on their own.
Additionally, Norwegian has the Studio Lounge which is an area for solo travellers to meet and mingle.
Norwegian Cruises for Young Adults:
Norwegian Getaway
Norwegian Epic
Norwegian Escape
Norwegian Prima (coming soon)
Norwegian Viva (coming soon)
Related: Norwegian Cruise Line's Free at Sea Perks Explained
Get The Ultimate Cruise Planner
Regular price: $27 Now just $17!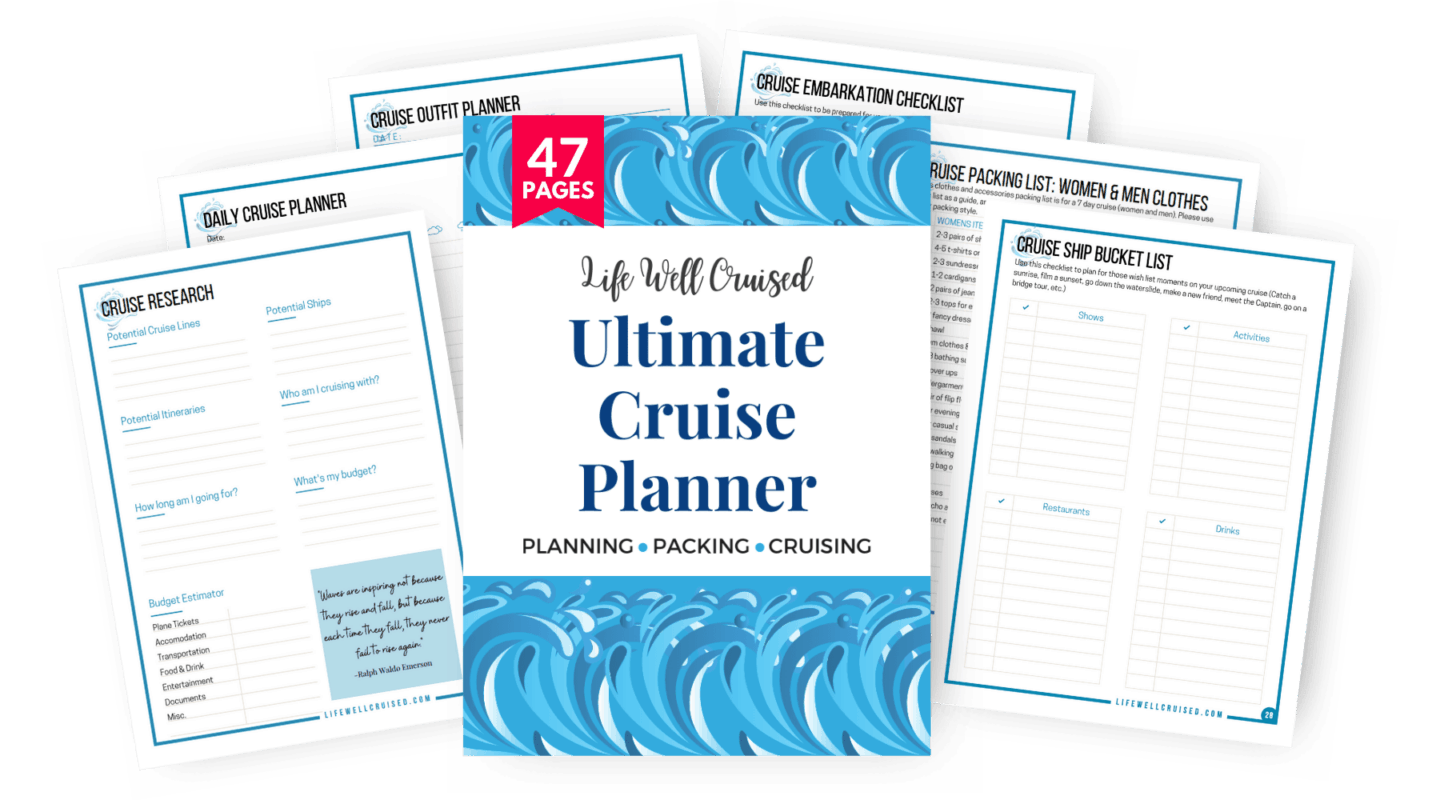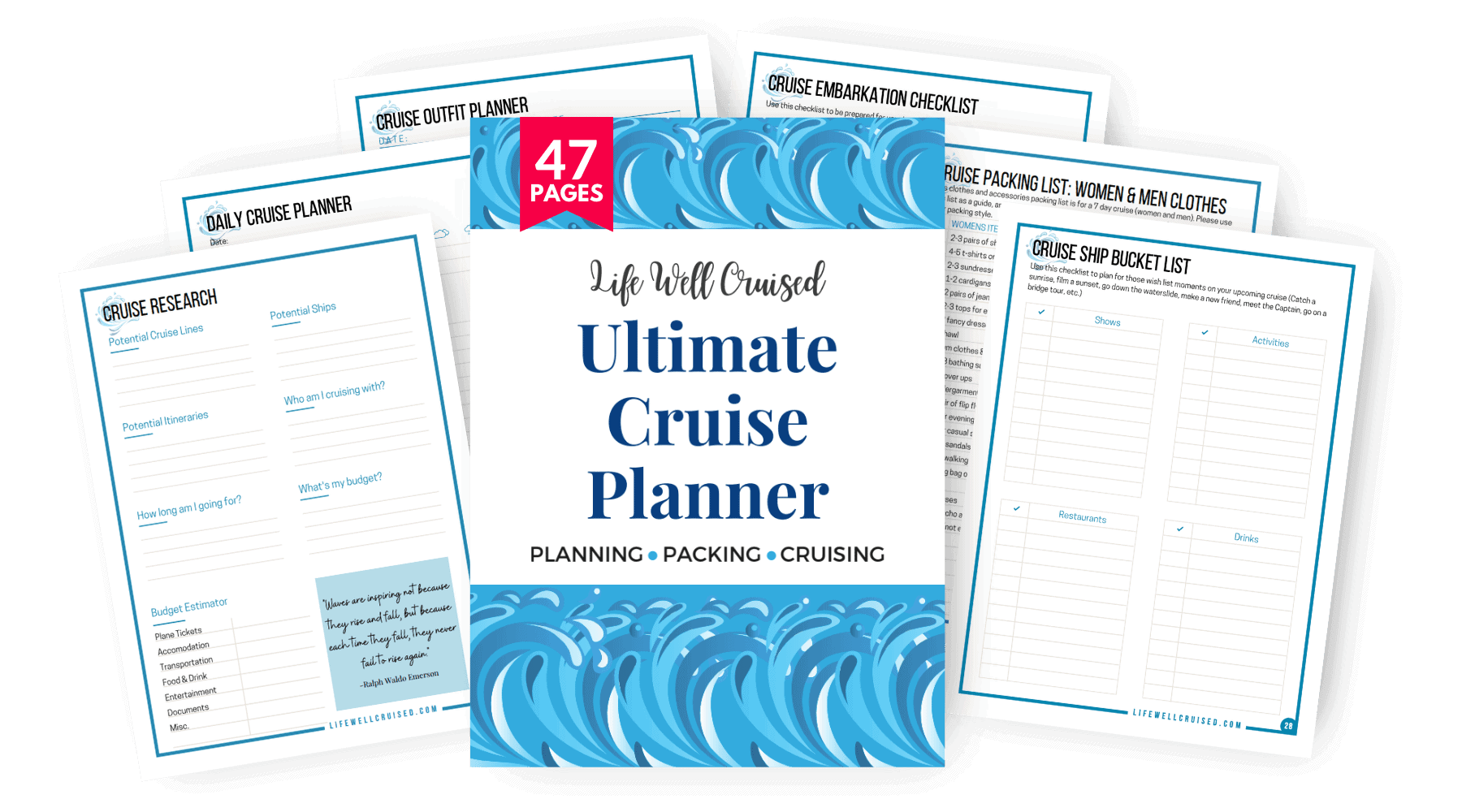 4. Celebrity Cruises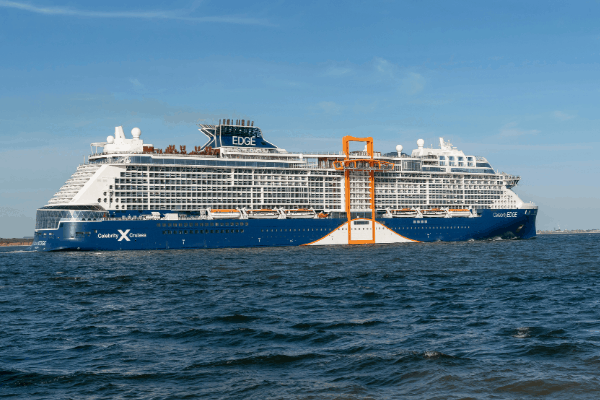 If you're looking for a modern luxury vacation experience, Celebrity Cruises is your best bet. If you like to relax and take it easy on vacation, you will love Celebrity Cruises.
The food and service on Celebrity is top notch and the age group of clients tends to be a bit older. However this can be perfect for a couples cruise. The nightlife on Celebrity is quiet, so if you're looking for a party ship, Celebrity won't be for you.
Celebrity does an amazing job at keeping a relaxing environment, where you truly feel like you're on vacation.
Visiting new destination can be tiring. After a long day of exploring, Celebrity has the best cruise ships to come back to. On your way back onto the ship, you will be offered citrus water and cold towels which feel amazing!
Celebrity is a great cruise line for young couples who want to relax, eat good and explore the world together.
Celebrity Cruises for Young Adults:
Celebrity Edge
Celebrity Summit
Celebrity Equinox
Celebrity Apex
Related: What to Wear on a Celebrity Cruise
5. Princess Cruises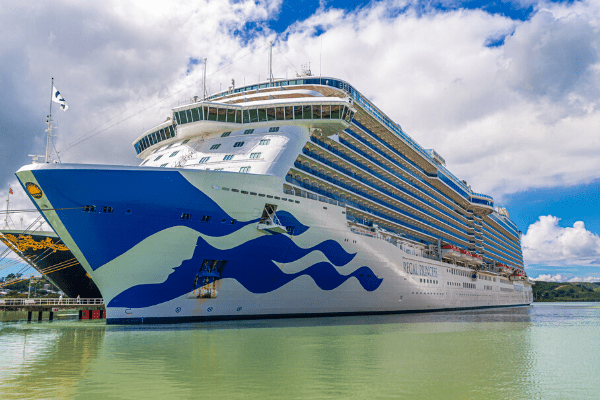 Princess Cruises doesn't tend to attract many young travellers, however I think it is really good cruise line for young adults. As someone who has cruised with Princess a lot, they have great food, great service and the night life is still really fun.
Plus, the Ocean Medallion and MedallionNet wifi is pretty awesome!
Recently, I did a New Year's Cruise on a Princess ship and there were a ton of people my age. I made so many friends, partied every night, ate and had the best time.
If you want to meet others your age, here are some tips:
Princess cruises that are 7 nights or less will have a younger crowd
Cruise during the summer, holidays and school breaks for a more diverse age group and younger demographic
If you're planning a couples cruise, Princess is a good option.
Princess Cruises for Young Adults:
Sky Princess
Regal Princess
Discovery Princess
Enchanted Princess
Emerald Princess
Related: What to Pack for a Princess Cruise
6. Virgin Voyages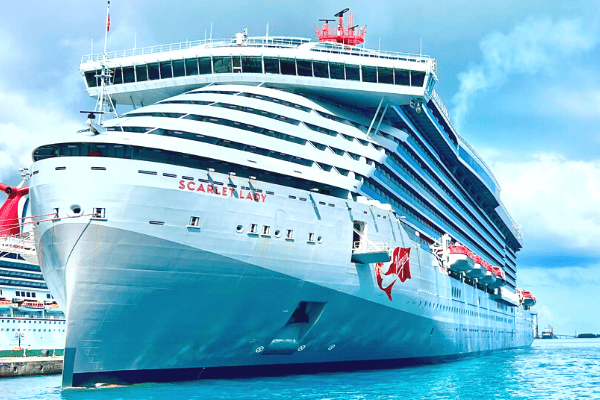 Virgin Voyages is a relatively new cruise line that is actually targeting young adults with a very cool and fun vibe. Virgin is an adult only, luxury cruise line that is line no other cruise line.
Onboard a Virgin cruise ship you won't find waterslides and race cars, as you might on family friendly cruise lines like Royal Caribbean, Carnival or Norwegian. Instead, there are activities, entertainment and dining that are catered towards a hip adult crowd.
On a Virgin ship there are pools and hot tubs, a gym that offers classes, cruise ship balconies with hammocks and even a tattoo parlour.
The best thing about Virgin Voyages being an adult only cruise line, is that you don't have to worry kids taking over the pools and hot tubs!
Virgin Voyages Ships For Young Adults:
Virgin Scarlet Lady
Virgin Valiant Lady
Virgin Resilient Lady
Virgin Brilliant Lady
Related: 6 Best Cruise Lines For College Students – By a Recent Graduate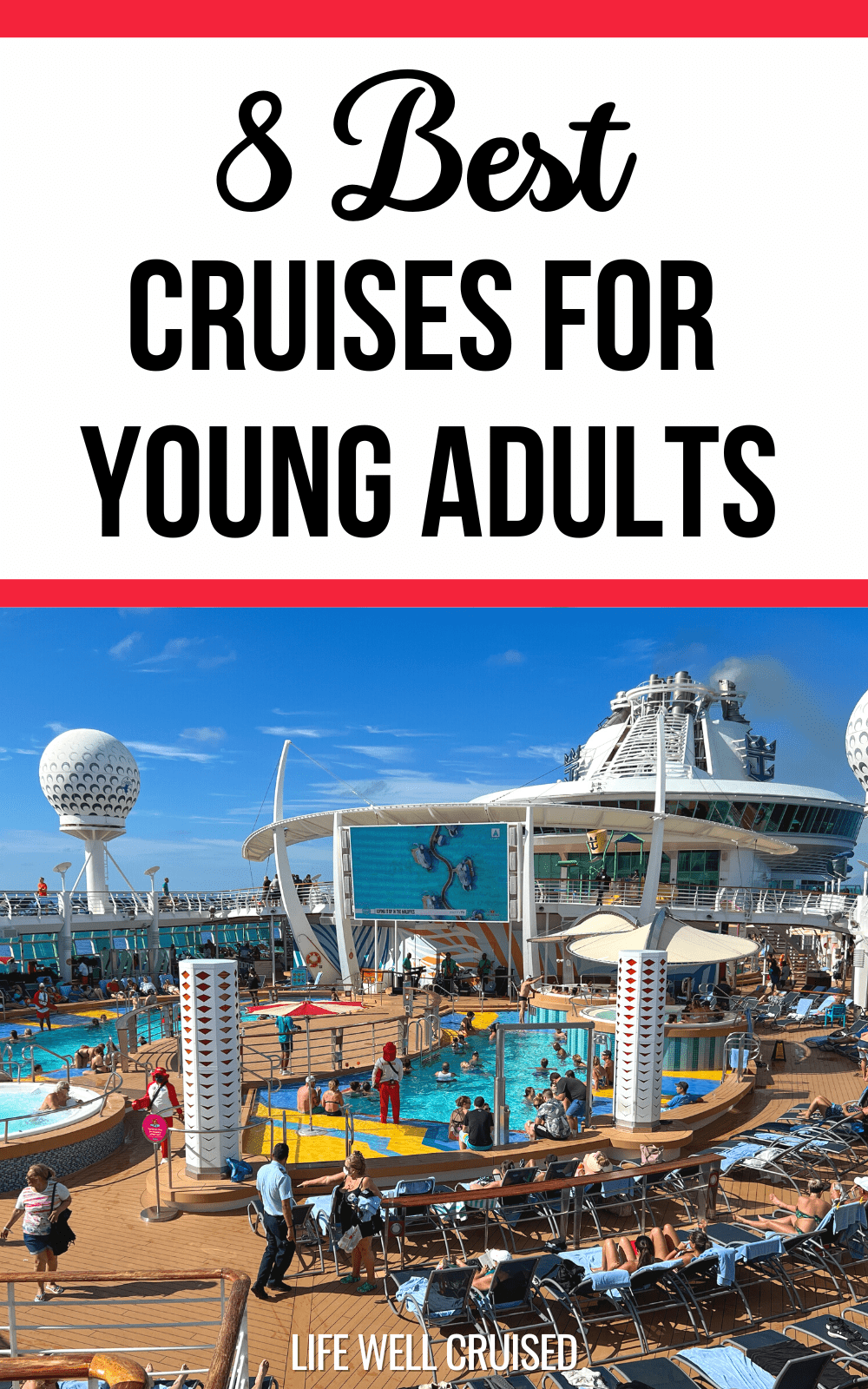 7. Disney Cruise Line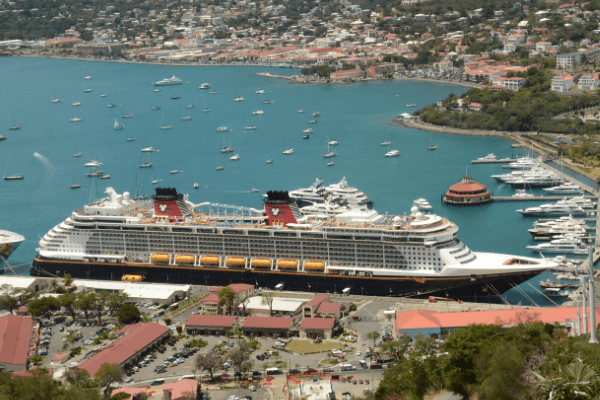 Are a big Disney fan? Disney cruises can be a lot of fun for young adults and young families with kids. If you're a Disney lover, then a Disney cruise is something you should experience once in your life.
While Disney Cruise Line is known for having Disney themed family cruises, there are actually some adult only areas on their cruise ships.
Compared to other cruise lines, Disney cruises tends to have a lot of young children, so be prepared for a more family friendly atmosphere. On a Disney ship the food is very good, the entertainment is fun and the staff is really friendly.
Onboard a Disney ship they have a big screen outside by the pool, hot tubs and water slides.
Disney Cruises for Young Adults:
Disney Magic
Disney Wonder
Disney Wish (coming soon)
Related: 27 Awesome Things To Do on a Cruise on Sea Days
8. MSC Cruises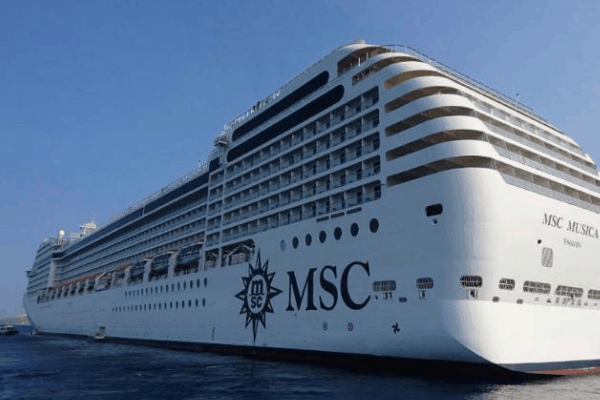 If you're looking to have a good cruise on a budget, MSC cruises is the cruise line for you. Recently, MSC has made a push to attract a younger demographic to their cruise lines.
MSC is well known for their absolutely stunning cruise ships. Many actually have real Swarovski crystal staircases!
MSC cruise ships are beautifully decorated and innovative. On the MSC Seashore, it has a New York City theme with several area's around the ship being inspired by the big apple.
Onboard an MSC ship, you'll find tons of activities including water slides, bowling allies, rope courses, beautiful pool areas, relaxation areas and hot tubs. Plus, they are well known for their amazing pizza!
MSC Cruises for Young Adults:
MSC Seashore
MSC Meraviglia
MSC Virtuosa
Related & Popular Posts:
Get The Ultimate Cruise Planner
Regular price: $27 Now just $17!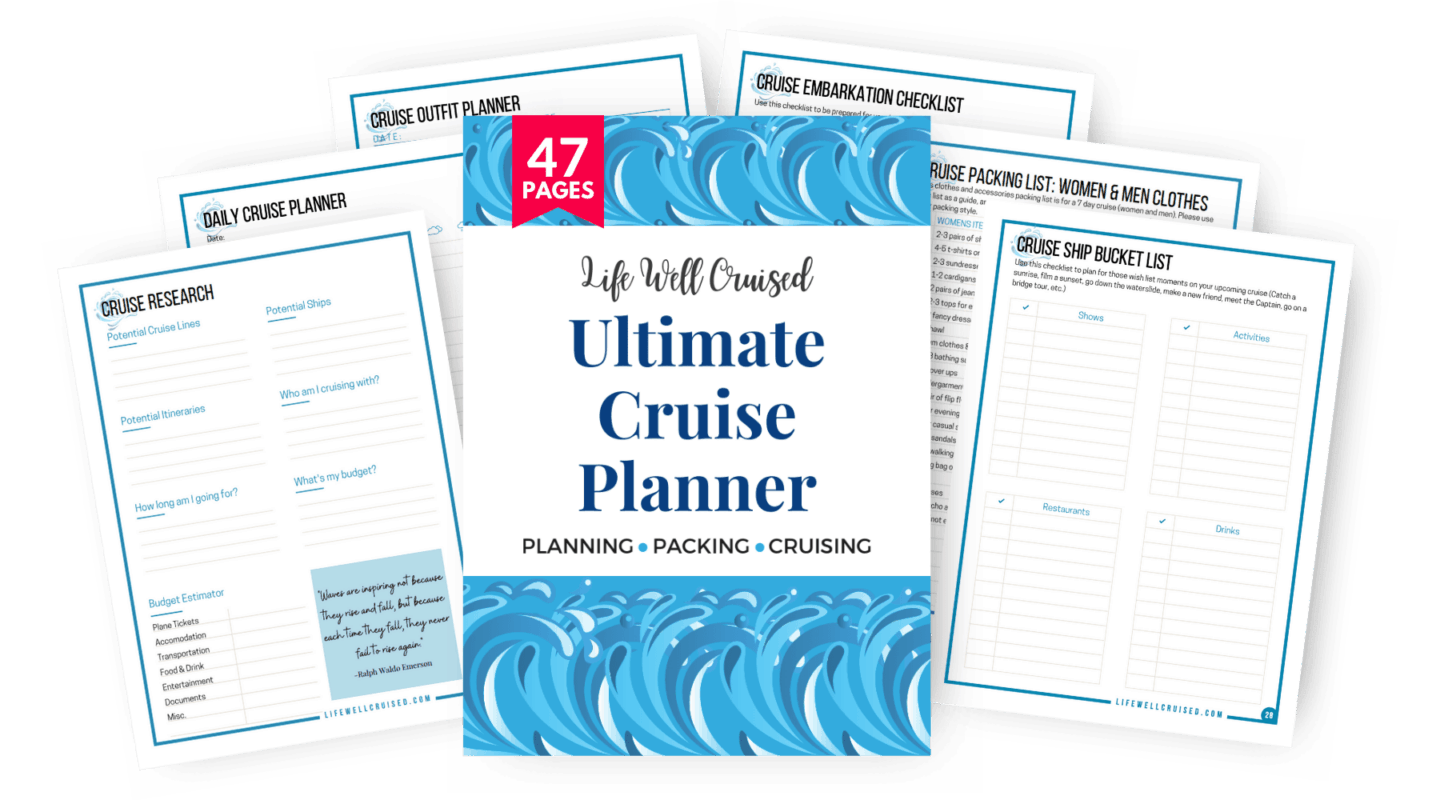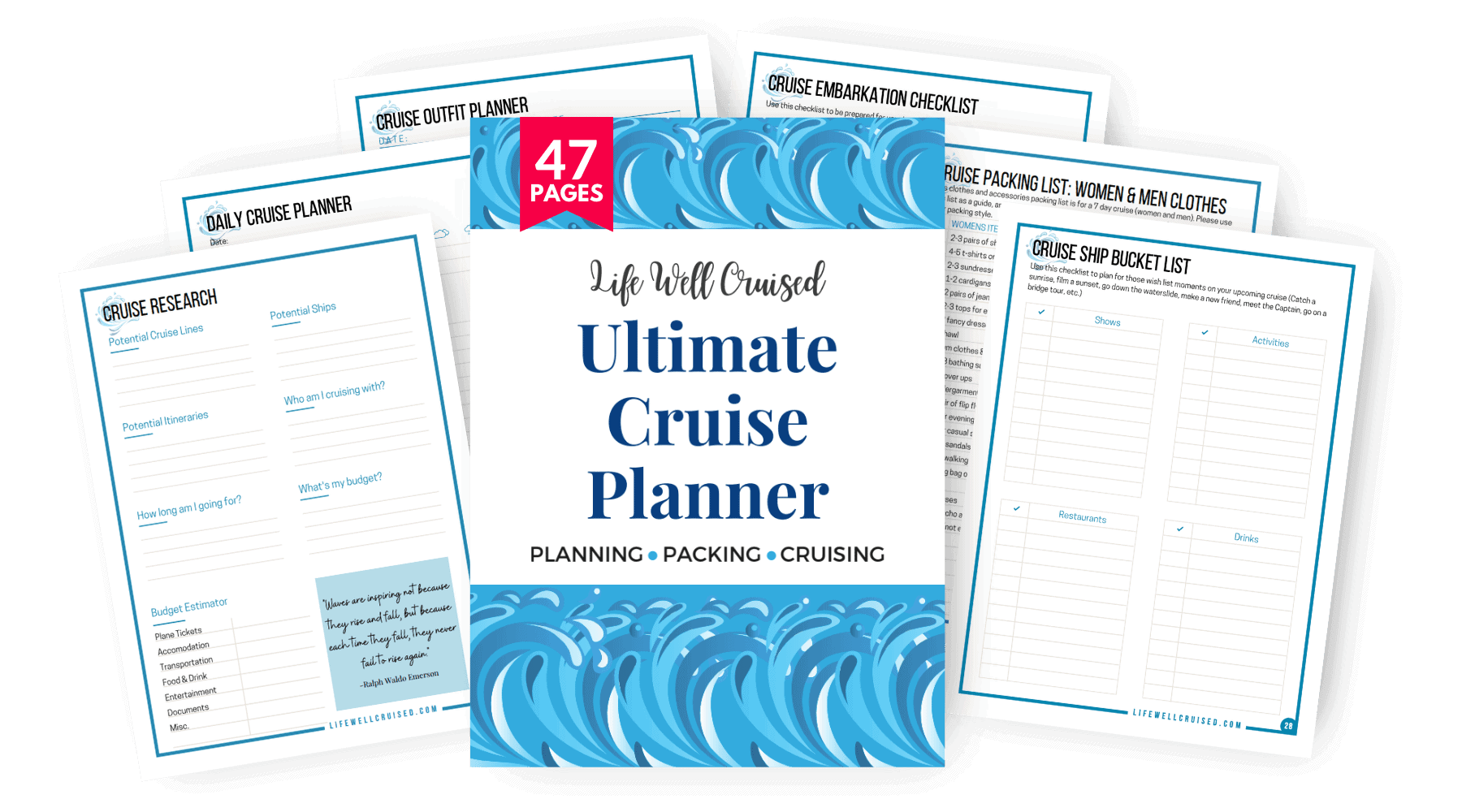 Final Thoughts on The Best Cruises for Young Adults
Well there it is, the best cruises for young adults! As someone who has grown up cruising, I can say that a cruise vacation is the best vacation.
If you've never been on a cruise, be careful, because they are addictive! Once you cruise it's hard to go back to an ordinary vacation. Whether you're trying to relax or party, there is a cruise line for everyone.
Have you ever been on a cruise & if so, what's your favorite? Please let me know in the comments below.
Ethan
Author Bio: Ethan Schattauer writes about fashion, travel and college advice on the website WhatToWearMen.com. As a frequent cruiser, Ethan shares his unique perspective on what cruising is like for teens and young adults.
P.S. If you found this helpful, please don't keep it to yourself ;-). Please share on Facebook or PIN to your favorite Pinterest board (share buttons at the top). Thanks so much!
Let's connect:
Follow me on Facebook at Life Well Cruised
Follow me on YouTube at Life Well Cruised
Follow me on Pinterest at Life Well Cruised
Follow me on Instagram at Life Well Cruised