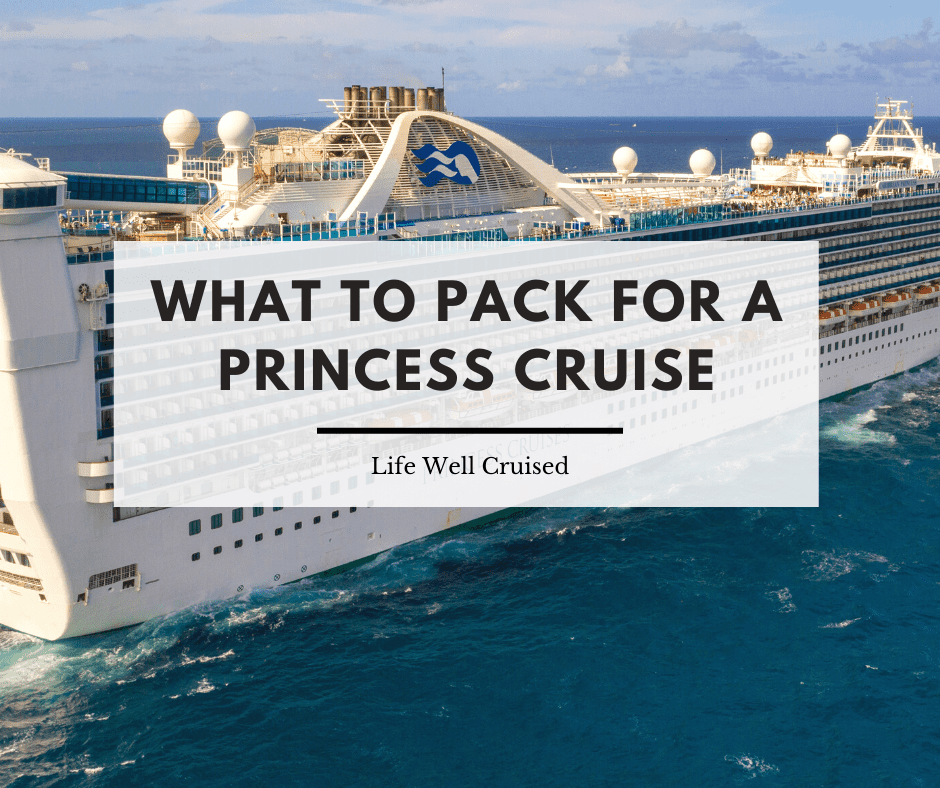 Are you going on a Princess cruise and wondering what to pack? While a Princess Cruises packing list will be similar to cruising other cruise lines, there are some things that make preparing for a Princess cruise unique.
I've cruised with Princess several times over the years and always adapt my cruise packing list when sailing with them.
In this post I share what to pack for a Princess Cruise, keeping in mind Princess Cruises' dress code. In addition, I've included some useful cruise and travel essentials to bring to keep your cabin organized and have everything you need for days at sea and in ports of call.
This post contains affiliate links which means if you click and buy that I may make a commission, at no cost to you. Please see my disclosure policy for details.
As an Amazon Associate I earn from qualifying purchases.
Princess Cruises Packing List: 30+ Useful Cruise Must-Haves
1. Ocean Medallion & Accessories
All Princess cruise ships are now Medallion Class. Onboard your cruise, you'll have an Ocean Medallion instead of a cruise card. The medallion will unlock your cabin door and be used as a touchless pay method for any purchases, among other things.
If you live in the United States, Princess Cruises may ship your Ocean Medallion to your home before your cruise.
It's important to bring this with you, for fast check in on your embarkation day. Don't forget to do your online check in, make reservations and fill in your health questionnaire on the Medallion Class app as soon as possible.
If you don't live in the United States, or if you've booked last minute, you'll be able to pick up your Ocean Medallion at the cruise terminal on embarkation day. I've done this a few times and everything works out just fine.
2. Passports & Government ID
The most important things to pack for your cruise are your passport, is applicable, and government ID. Make sure to have this on you, and do not pack it in your checked luggage. If this happens, there's a good chance that you won't be able to get it back on time to be able to board your cruise.
3. Proof of Vaccine (only if required)
Most cruises do not require proof of vaccination or testing. However, there are some itineraries which may require them.
Since health protocols can change, always check the current information on the Princess Cruises website or ask your travel agent for requirements for your booking.
4. Cruise Documents & Reservations
If you have your phone or tablet with you, you'll be able to access your Medallion Class app with the information for your cruise. However, it's still a good idea to print out your cruise boarding documents, hotel reservations and shore excursion information, especially if you're booked with an independent tour operator.
If you're having trouble connecting to wifi and accessing your emails, the printed documents will come in handy.
5. Carry-on Bag for Embarkation
Make sure to bring carry on bag or backpack with the essentials you need for the first day of your cruise. Since your luggage will be delivered a few hours after boarding, make sure to have your valuables, medication and a change of clothing in your embarkation day bag.
Here's a list of the items you may want to bring and pack in your embarkation day bag.
6. Medallion Accessories
Either before or during your cruise, you can purchase Medallion accessories for your Princess cruise. On the Princess Cruises website, you'll find various Medallion holders, wristbands and bracelets.
Some people prefer to use a wallet style Medallion accessory, which is useful as you leave the cruise ship on port days.
Recommended: Medallion holder wallet (check price & details on Amazon here)
This clip on style metal Medallion holder is nice and thin, and a good alternative to bulky bracelets.
Recommended: Ocean Medallion holder wallet clip
6. Wine
Princess allows each guest over 21 to bring one bottle of wine on board at embarkation if you like. If you want to bring additional bottles, you can do so. However, you will be charged a corkage fee of $15 upon embarkation.
Do you have Princess Plus? If so, you can probably scratch the wine bottles off your Princess Cruises packing list.
Read more: Princess Plus – What's Included and Is it Worth it?
8. Small Bills
It's a good idea to bring some small bills with you to tip the porters who'll help you with your luggage at the cruise terminal, as well as for small purchases in the markets or local stores in the ports of call.
9. Sunscreen
If you're going on Caribbean or Bahamas Princess cruise, or any hot and sunny destination, packing sunscreen is a must. It's best to get a reef safe sunscreen, as many islands don't allow any other kinds. This is especially important if you have beach or snorkeling excursions planned.
Recommended: Reef safe sunscreen (verify price & check Amazon reviews here)
Don't forget to to pack an after sun lotion aloe vera gel as well as a lip balm with SPF.
Recommended: Aloe Vera gel (non-sticky – read over 50,000 Amazon reviews)
10. Medication
Make sure to pack your prescription and over the counter medication. Princess recommends bringing 2 additional weeks of medication when you travel, as well as a list of your prescription medications in case you ever needed to refill them or they are lost.
11. Basic First Aid Kit
A basic first aid kit is a must-have that often gets forgotten and left off the cruise packing list. You'll be thankful to have some bandaids and antibiotic ointment if you get a small cut, blister or other small wound.
Read more: 31 First Aid Kit Essentials to Pack for Your Cruise
12. Daytime Clothing
During the day, the dress code on Princess is fairly casual. Sundresses, shorts and t-shirts are perfect. Keep in mind that you'll want to pack a swimsuit cover up for when walking on the pool deck. Something to note is that pool wear isn't allowed inside the buffet and other indoor restaurants.
For days in port and shore excursions, plan accordingly based on your activity. Remember to pack sleepwear and undergarments.
Read more: What to Wear on a Cruise (with clothing packing list)
13. Evening Outfits
Princess has 2 dress codes for the main dining room – smart casual and formal.
The amount of formal nights depends on the length of cruise.
4 days and less – no formal nights
5-6 days – 1 formal night
7-13 days – 2 formal nights
14-20 days – 3 formal nights
21-28 days – 4 formal nights
29 days+ – 5 or more formal nights
Smart casual dress is similar to what you might wear to a nice restaurant at home.
Ladies: Dresses, skirts or pants, blouses and tops
Men: Polo style shirts and pants. Clean, nice jeans are good as well.
Related: What I Wore on a 7 Day Princess Caribbean Cruise (with photos & links)
14. Formal Clothing

When planning your cruise outfits, make sure to pack your formal wear or dressy outfit. Princess has 2 formal nights on a 7 day cruise and more on longer cruises. Short cruises under 4 days don't have a formal night.
How formal are Princess Cruises for formal nights?
Princess maintains a traditional dress code for the evenings in the main dining room, although it has relaxed in recent years.
In our experience, most men dress in suits or a sports jacket and dress pants. Some men wear tuxedos, although less than years ago. An outfit of a dress shirt and dress pants are also worn, with or without a tie.
Ladies may want to pack a cocktail dress, evening gown or an attractive "little black dress" or pantsuit.
Related: What To Wear on a Cruise Vacation (day, evening & formal night)
Cruise Wear over 50: Flattering Cruise Outfits for Women (plus packing list)
25 Affordable Cruise Outfits for Ladies
15. A Shawl or Pashmina
Bring a shawl or pashmina to cover your shoulders in the evening, since air conditioning can be cool in the public areas around the cruise ship, including in restaurants, theatres and lounges.
I like to pack a light scarf in my shore excursion bag as well, to cover my shoulders if needed when sightseeing and entering a religious building.
Recommended: Pashmina shawl wrap (check price & amazon reviews here)
16. Evening Bag (for ladies)
While you won't need to carry a purse on a cruise, having a small evening bag to keep your ocean medallion and a lipstick is handy. I like to wear an evening clutch with my cocktail dress as I do think it completes an outfit.
17. Bathing Suits & Cover ups
Make sure to pack at least 2-3 bathing suits for any warm weather cruise. Swimsuits can take time to dry, and there's nothing more uncomfortable than starting your day off in damp swimwear.
Remember to bring a couple of swimsuit cover ups, as well as some casual sandals or flip flops to wear by the pool.
Recommended: Bathing suit cover up (see colors & 15,000+ reviews on Amazon here)
Related: Caribbean Cruise Packing List
18. Binoculars
Travel binoculars are an Alaskan cruise essential, however they can be so useful in other destinations as well. From your balcony, you may be able to get a better view of marine life like whales, dolphins and flying fish.
Recommended: Binoculars (waterproof & lightweight)
Related post: Princess Cruises Drink Packages (with bar menus and drink photos)
19. Poncho and/or Umbrella
Cruising with Princess to Alaska or Canada and New England? Make sure to pack a poncho or umbrella for possible rainy weather. Truthfully, it's a good idea to have this on any cruise itinerary, but these are must-bring items on certain sailings.
20. Towel Clips or Bands
Bring towel clips or towel bands to secure your towels on breezy days on the lido deck!
These are some of the most popular and well reviewed on Amazon
Things to Pack for Your Princess Cruise Cabin
The cabins on Princess cruise ships have large closets and several shelves, so storage for clothing and shoes is pretty good. However, there are a few items that you may want to pack and bring with you, to make your stateroom more functional and comfortable.
21. Hanging Toiletry Bag
The bathrooms in Princess cabins are quite small. Using a hanging toiletry bag saves space and is very convenient.
Recommended: Hanging toiletry bag (with detachable make up pouch)
22. Magnet Hooks
We like to hang a few heavy duty magnet hooks on the cabin walls (they are metal). This way, we can hang our medallions, hats, bathing suits to dry and even backpacks and beach bags.
Recommended: Heavy duty magnet hooks (a best selling cruise essential)
23. Power Bar (non-surge protected)
There aren't many electric or USB outlets in the cabins on Princess cruise ships. It's a good idea to bring along a non-surge protected power bar, so you can always keep your phone and tablets charged during your cruise.
Recommended: Non-surge protected power bar (cruise approved – see 5000+ 5* amazon reviews)
24. Charger Cables & Power Bank
Make sure to pack your charger cables for your phone or iPad. As well, it's a good idea to pack a power bank or portable charger, especially for long days in cruise ports of call.
25. Poo-Pourri Bathroom Spray
A bathroom spray is useful in compact cruise cabins for obvious reasons. Poo-pourri is a favorite "before you go" spray that works quite well.
Recommended: Poo-Pourri bathroom spray
26. Travel Alarm Clock
A simple travel alarm clock is super practical, since the time will likely only be visible on the stateroom telephone (way too small). Many cruisers appreciate having a simple digital alarm clock that they can set and make sure they're on time for early shore excursions.
Recommended: Travel alarm clock (check 9000+ reviews here)
27. Portable Fan
If you tend to find the air stuffy in cabins at night, bring along a battery operated fan. This one is quiet and perfect for travel.
Recommended: Portable travel fan (check Amazon price & see reviews here)
28. Wrinkle Release Spray & Tide to Go
Since Princess cruise ships have self serve laundry rooms on board, you can wash and dry items if you want to. However, if you just need to deal with a small stain on your clothes, a Tide to Go pen is a must-have.
It's also a great idea to bring Downy Wrinkle Release Spray to get wrinkles out of your cruise outfits.
Packing for a Princess Cruise
29. Luggage Tags
Remember to print out your luggage tags before your cruise. Plastic luggage tag holders are available specifically for Princess cruiseline. They are durable are reusable.
Recommended: Princess luggage tag holders
30. Packing Cubes
While packing cubes are not a must, they definitely help to keep organized when packing for your cruise. There are several sets to choose from, however I like a mix of small, medium and large packing cubes.
Recommended: Packing cubes set (read reviews & see color options)
31. Carry-on Tote Bag
Remember to pack a carry-on tote bag for embarkation day. This one can be used on your flight, for a pre-cruise hotel stay, and even as a shore excursion day bag.
Recommended: Nautical carry on bag (see color and style options here)
32. iPad or Tablet
Since Princess cruise ships are Medallion Class, it's pretty convenient to have a smartphone, iPad or other smart device. You will be able to cruise without a phone – you can use the portals around the ship as well as your stateroom T.V. to access many of the features. However, having a mobile phone or tablet will be very useful for your Princess Cruise.
Video: Princess Cruises Drink Packages, Princess Plus & Princess Premier
More Cruise Packing Lists
For more specific cruise packing lists and tips, please read the posts next:
Final Thoughts on What to Pack for a Princess Cruise
If you're going on a Princess cruise, you want to be prepared and make sure to pack all you need. I hope this Princess cruise packing list was helpful as you make your own cruise packing list.
Are you cruising with Princess? What are you making sure to pack and bring on your cruise?
Happy Cruising!
Ilana
If you found this article helpful, please pass it along. Please feel free to share on Facebook or PIN to your favorite Pinterest board (share buttons at the top). Thanks so much!
Let's connect:
Follow me on Facebook at Life Well Cruised
Follow me on YouTube at Life Well Cruised
Follow me on Pinterest at Life Well Cruised
Follow me on Instagram at Life Well Cruised