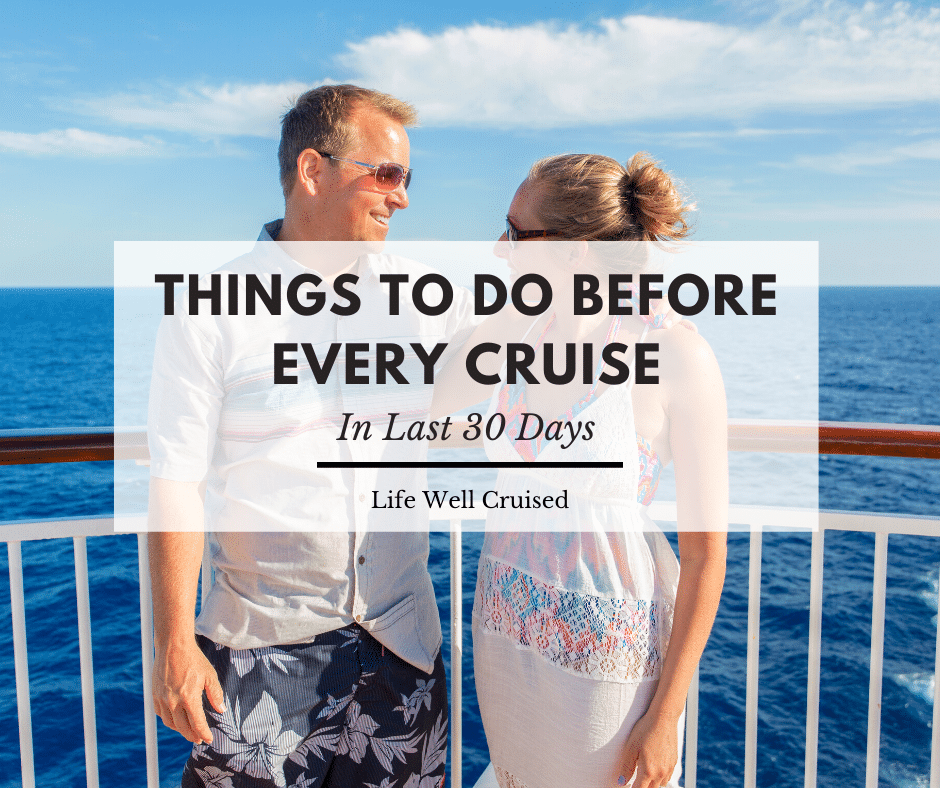 If you're going on a cruise, you might be wondering what you need to do before your cruise. While cruising is a fun and relaxing vacation, there are some important pre-cruise travel planning steps.
In fact, if you forget to do some of these things, you could have a serious problem, including being denied boarding.
Planning a cruise can get stressful, but it doesn't have to be. This pre-cruise checklist for the last 30 days before a cruise, will help you to make sure you don't forget a thing!
With this list of essential things to do before your cruise, you'll keep track of everything you need to do, from booking hotels, excursions, cruise packing & more.
This post contains affiliate links which means if you click and buy that I may make a commission, at no cost to you. Please see my disclosure policy for details.
As an Amazon Associate I earn from qualifying purchases.
Things Cruise Passengers Should to Do Before a Cruise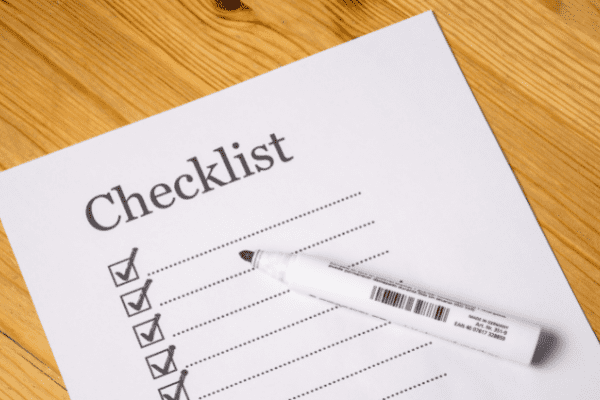 1. Online Check-in
Before your cruise, you'll do need to do your online check in on the cruise line website or app. It's a good idea to do your online check in around 30 days before your cruise. However, this can vary by cruise line.
For example, Royal Caribbean allows cruise passengers to check in as early as 45 days before their cruise. Carnival Cruise Line's online check in access begins 14 days prior to sailing.
Your cruise line will allow you to book an embarkation time on boarding day or you may be assigned one.
Passport Information
When doing your online check-in, make sure to have your passport or government ID on hand of everyone in your party, as you'll have to enter the information. You may be instructed to scan a photo of the document to upload to the app.
Tip: Check your passport expiry date as early as possible in case you need to have it renewed.
Health Questionnaire
You may also have a short health questionnaire to complete. Some cruise lines will ask you to return to the health questionnaire in the last 24 hours before your cruise.
Take note of the instructions, as may differ from one cruise line to another. Health, vaccination and travel protocols are subject to change, so keep up to date on the cruise line website and by checking your emails.
Credit Card
You'll need to enter your credit card information to keep on file for onboard purchases. One credit card can be used for all members of your party. If you choose to pay off your onboard account in cash, you can do this on the cruise ship with guest services.
Tip: Consider prepaying gratuities and pre-booking shore excursions so you don't have a big bill at the end of your cruise.
2. Download the Cruise line App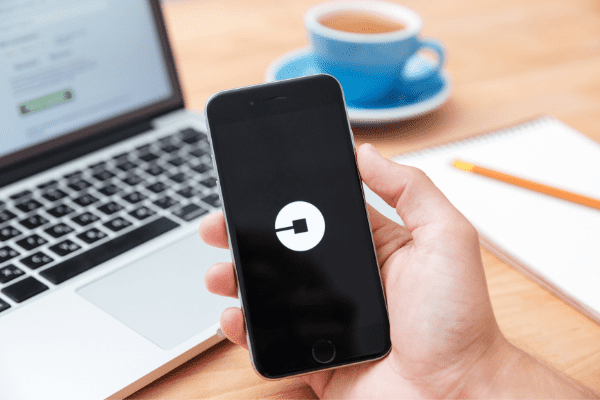 Most cruise lines have a cruise line app and recommend you download it.
In some cases there may be information that you need to complete on the cruise line app. For example, if you're booked on a Princess Cruise, you will need to do your online check in on the MedallionClass™ app.
However, the cruise line app is handy to have for all cruise lines and is best downloaded before you board. You may be able to do your safety briefing or emuster drill on your phone, view the daily planner and menus, and message other guests on board.
3. Make Hotel Reservations & Travel Arrangements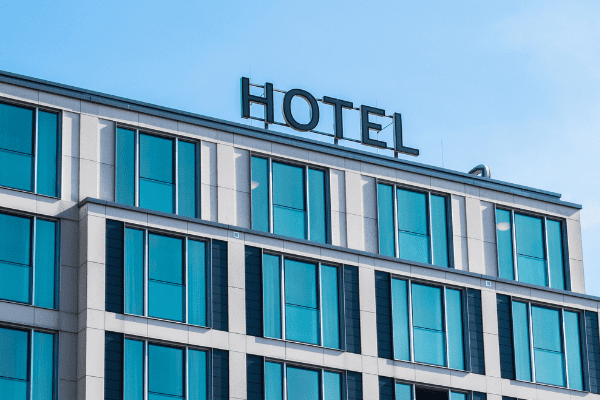 If you haven't already made your hotel reservations for a night before your cruise, then make sure to do this now. If you've already made your hotel reservations, this is a good time to check back to see if there have been any reductions in the hotel price.
Make sure to check if your hotel offers a shuttle to the cruise port, and otherwise consider your transportation to the ship on embarkation day.
Related: 50 Must-have Cruise Essentials from Amazon
4. Print Luggage Tags and Cruise Documents
Remember to print out your cruise luggage tags as well as your cruise documents, shore excursion confirmations and hotel reservations.
Even if you have them on your phone, if you don't have Wi-Fi at some point it can get complicated. Having your hotel reservation printed it out, as well as any other reservations will give you peace of mind.
Related: Cruise Luggage Tags and Holders for all Cruise Lines
5. Research Cruise Ports and Book Shore Excursions
One of the biggest mistakes rookie cruisers make, is not researching cruise ports enough. You don't want to arrive in the port of call with nothing planned.
Whether you want to explore on your own, book shore excursions privately or with the cruise line, make sure to research before you go.
If you're planning on doing cruise line excursions, be aware that they can and do sell out. It's best to book shore excursions as soon as they become available or within the last month before your cruise.
6. Purchase Cruise Packages
If you haven't done so already, now is a good time to book your cruise drink packages and dining packages. Often, cruise lines will offer a discount for booking online before your cruise.
Wifi packages are also available.
7. Make Onboard Reservations
Make onboard reservations for specialty dining restaurants, spa treatments and entertainment options if they're offered (ie. booking a show).
Availability may be limited so it's best to reserve as much as you can about 30 days (or earlier) before your cruise.
Related: 27 Cruise Travel Hacks Repeat Cruisers Swear By
8. Start a Packing Checklist
Even if you're not ready to pack yet, you'll want to start a cruise packing list about a month before your cruise. You may also want to have a place in your home to place items you want to bring on your cruise vacation.
Make sure to try on any cruise outfits that you haven't worn in a while, to make sure they fit and that you feel your best.
Things to remember include toiletries, cruise essentials and outfits for formal or chic nights.
9. Join a Cruise Roll Call or Facebook Group
Joining a cruise roll call or facebook group for your specific cruise can be really helpful. In these groups, people will share information about the cruise and chat about the excursions and ports.
You'll also be able to "virtually" meet people before you go on your sailing. If you have questions about your cruise this is also a really good place to ask them.
You could find cruise line roll calls on the Cruise Critic message boards and on other online forums, as well as on Facebook.
10. Consider Travel Insurance
If you haven't purchased travel insurance at the time that you booked your cruise, its still a good idea.
Anything can happen, from canceled flights that result in passengers missing a cruise, to an unfortunate medical emergency. Medical interventions on the cruise ship or in a cruise port of call can add up to several thousands of dollars.
For peace of mind, it's important to make sure that you have adequate travel insurance before your cruise vacation.
Get The Ultimate Cruise Planner
Regular price: $27 Now just $17!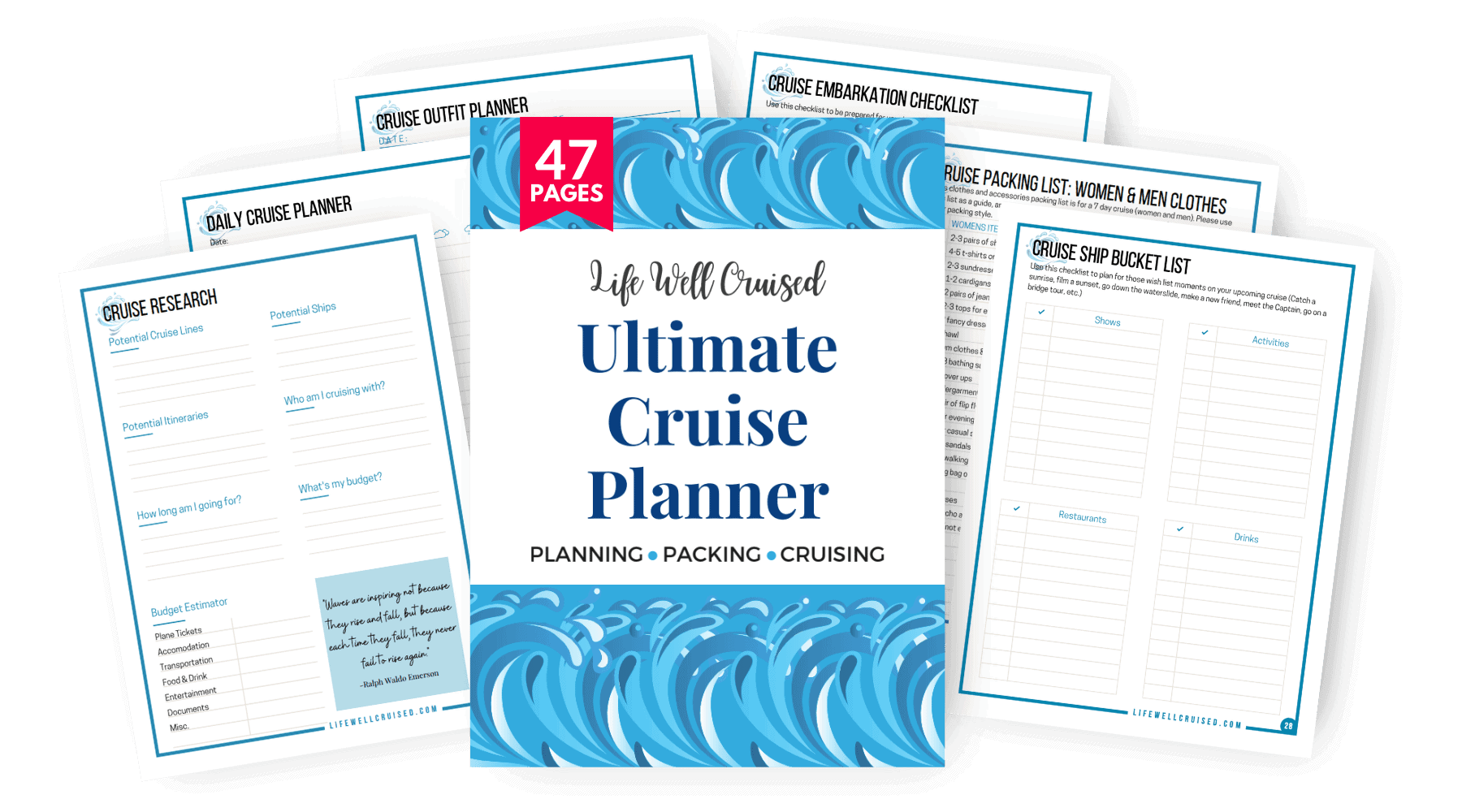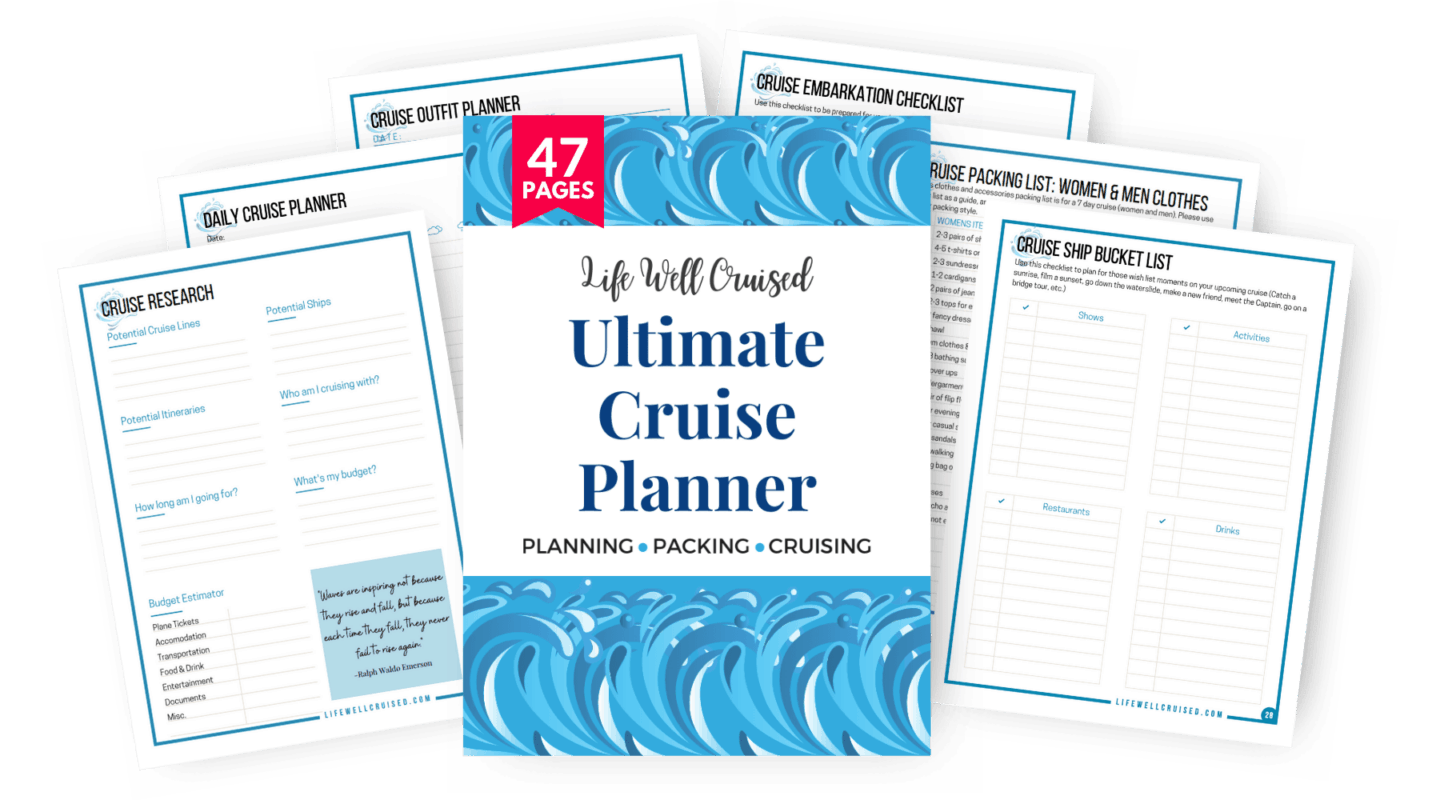 11. Withdraw Cash or Foreign Currency
If you're taking cash on your cruise as spending money, make sure to go to the ATM or your bank to withdraw money in advance of your cruise. If you need foreign currency you may need to allow some time and order this from your bank.
Tip: Save your small bills and bring them along to use for tips (for bartenders, room service and porters).
12. Alert Your Credit Card Company
And if you don't travel often, it's a good idea to alert your credit card company and let them know that you will be on a cruise and in certain cruise ports of call.
While some credit card companies don't require you to do this, many people do report that they've had their credit card blocked or declined when travelling, especially if they made a large purchase.
Since you don't want to have a problem, you may want to call your credit card and let them know, or see if you can update this on their website.
Related: 17 First Time Cruiser Mistakes to Avoid
13. Bid for Cabin Upgrades
In the last few weeks before your cruise, you may get an email from your cruise line with an invitation to bid for a cabin upgrade.
While there are some potential downsides to getting an upgraded stateroom (like receiving a bad cabin location), you can get a great deal!
If you don't mind the mystery, consider placing a bid on a cabin upgrade and see what happens.
14. Get to Know Your Cruise Ship
Get orientated more quickly to your cruise ship be researching it before your cruise. You can do this by watching cruise ship tours and review videos. You can also pick up a cruise line brochure at a travel agent office or download the cruise ship deck plans.
15. Check on Cell Phone Plans
Cell phone service and normal wifi plans won't work the same way on a cruise. Plan in advance by checking out the cruise ship internet plans to find one that suits your needs.
It's also a good idea to check on international plans with your cell phone provider. While most of then time this won't be the best solution for cell phone use on the cruise ship, it can be great for days on land before and during your cruise.
Related: 15 Cruise WiFi Tips, Secrets & Mistakes to Avoid
16. Make Self-care Appointments
Consider the appointments that you need to make before your cruise. This may include making an appointment at your hairdresser for a cut or color, booking a manicure and pedicure, having your eyebrows done, bikini wax and any other types of self-care.
17. Refill and Bring Extra Prescription Medication
Don't forget to refill and prescriptions you'll need while traveling. Cruise lines recommend that you bring some extra medication with you on your cruise. However, this is a good idea whenever you travel.
Make sure to plan for and pick up extra prescription medication as you pack and get ready for your trip.
18. Purchase Cabin Door Decorations
While this is completely optional, many cruisers enjoy decorating their cruise cabin door for their vacation.
Whether you go with a theme or keep it simple with a few dollar store items, collecting a few magnets or other cabin decorations is something to plan in advance.
Get The Ultimate Cruise Planner
Regular price: $27 Now just $17!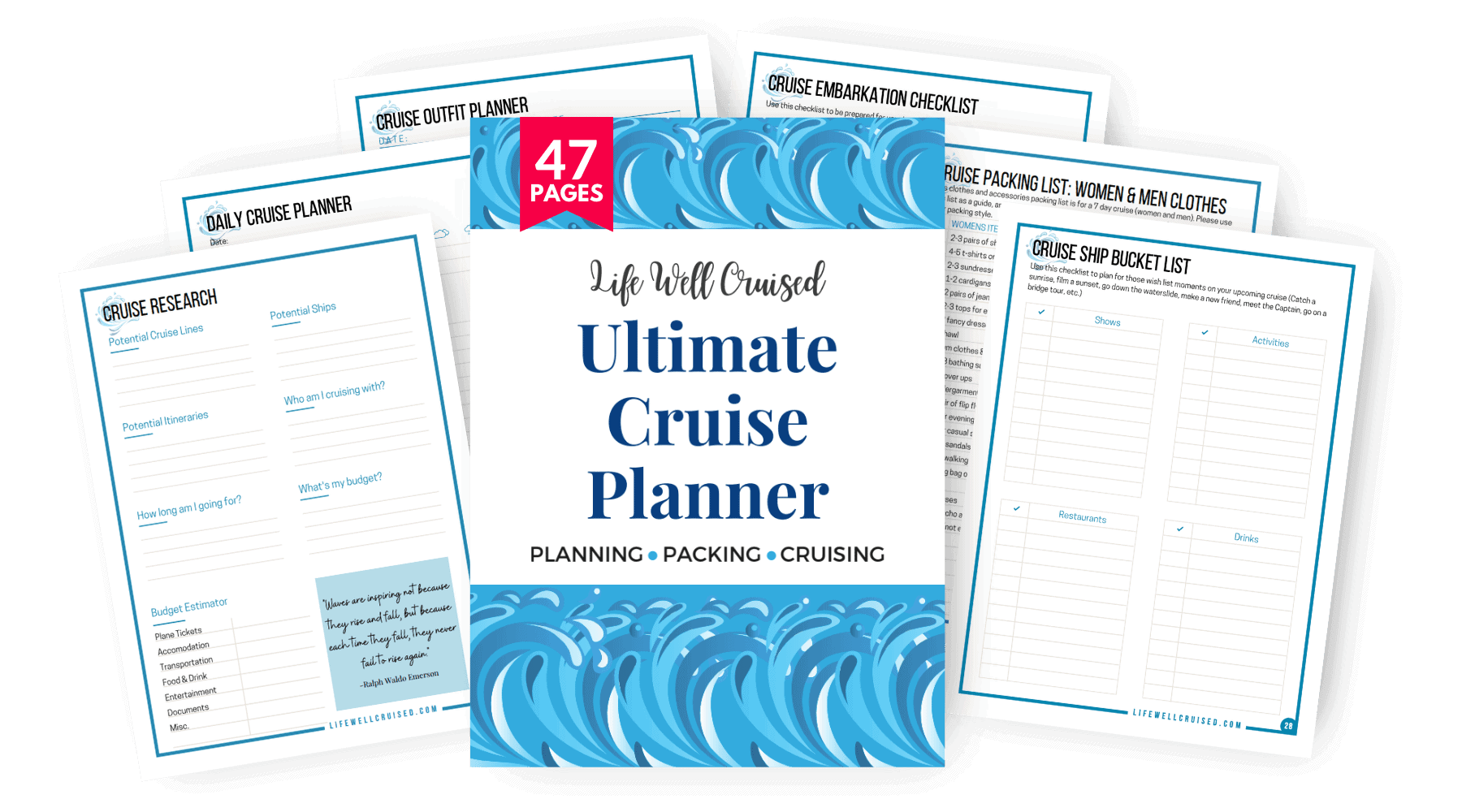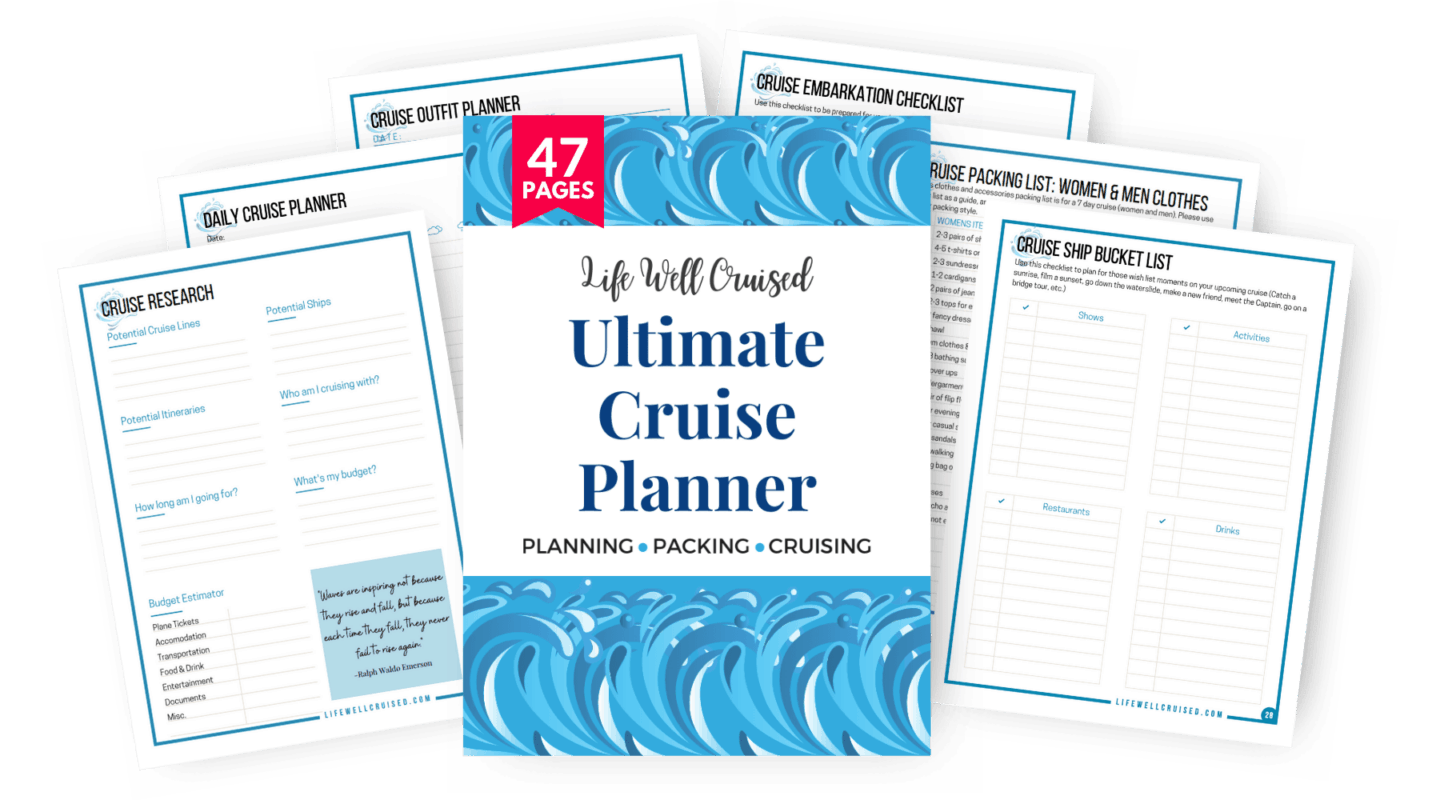 19. Last Minute Home Organization
Make sure to keep a list of the last minute home things that you need to do before you go on your cruise holiday.
Some things you'll want to do include: notifying the alarm company that you'll be traveling, putting a hold on the mail, setting up an away message on your work email, cleaning out your fridge, emptying your garbage bin in your kitchen, making your bed with clean sheets for when you arrive back home.
20. Check the Weather Forecast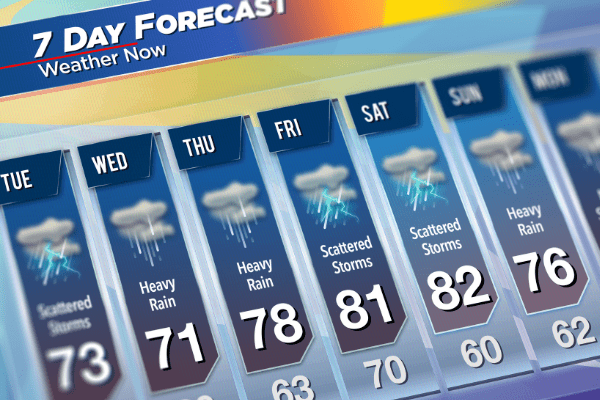 About a week before your cruise, make sure to do a last minute weather check. It's a good idea to know if the weather may unseasonably cold, hot or rainy and adjust the clothing you packed if need be.
Always remember to pack a sweater or warmer outfit just in case, even on Caribbean cruises. Having an umbrella or poncho is a good idea as well.
Related and Popular Posts
Video: Things You Must to Do Before Your Cruise
In this video we go through the most important things to do before your cruise, so that you stay organized and are well prepared.
Get The Ultimate Cruise Planner
Regular price: $27 Now just $17!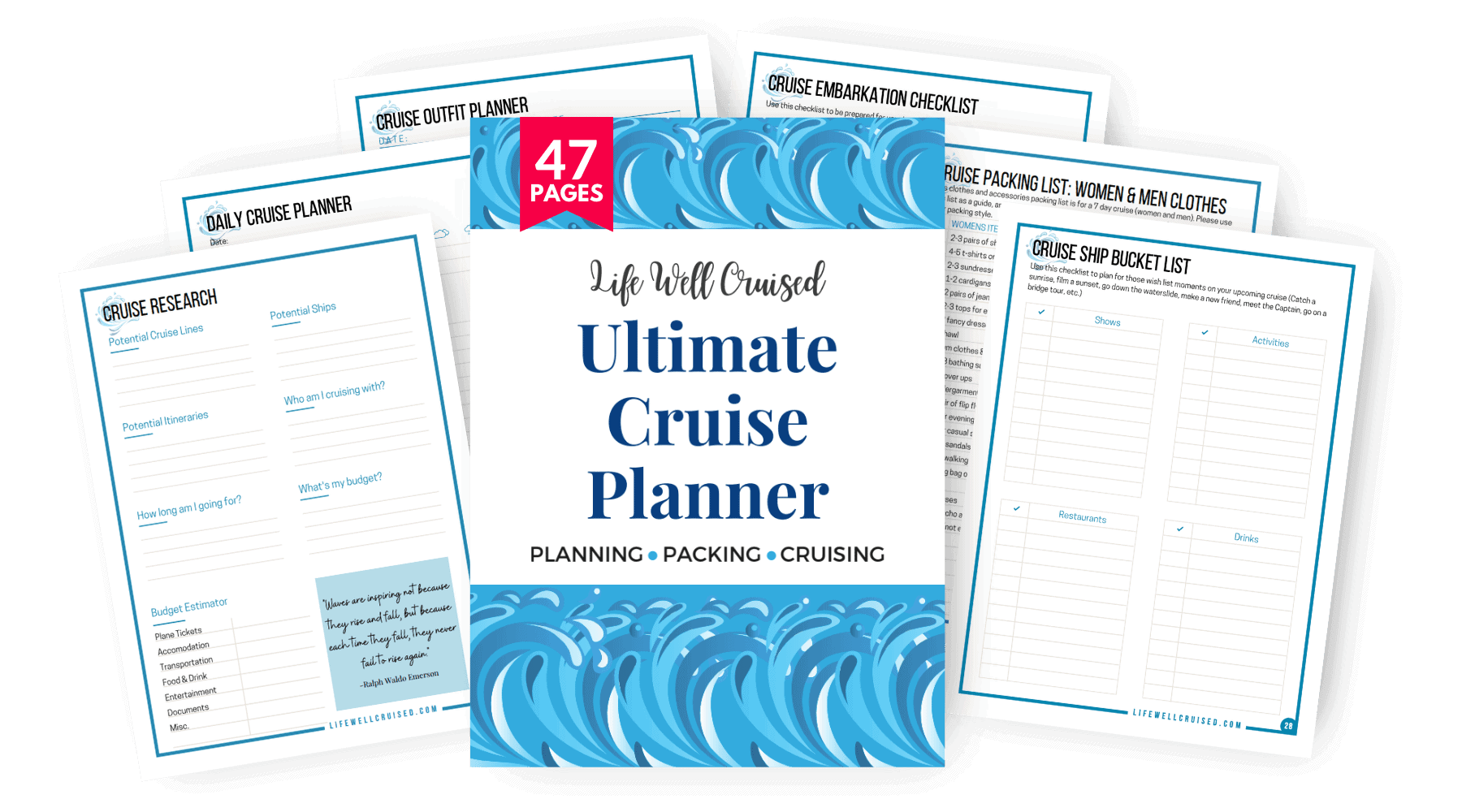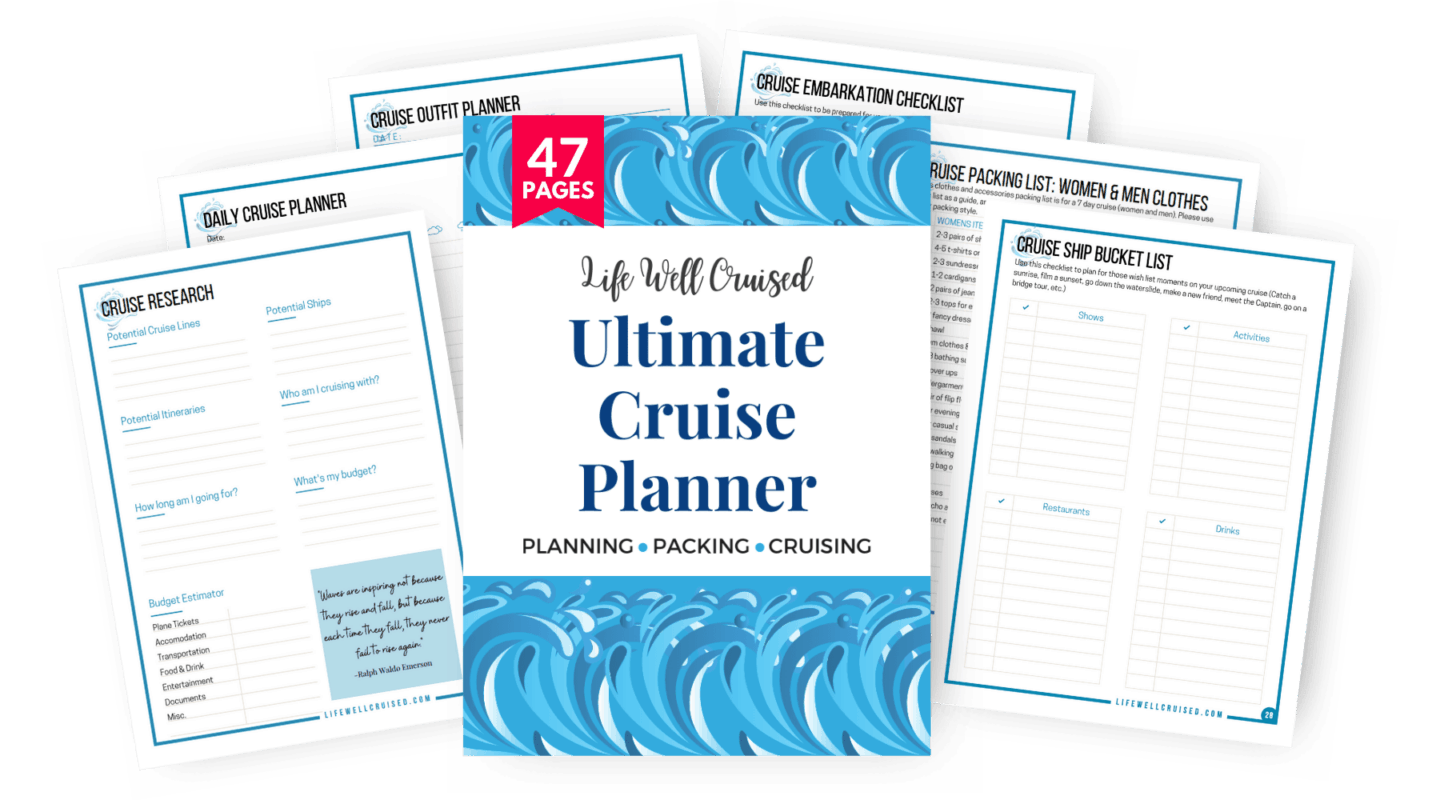 Final Thoughts on Things to Do Before a Cruise
Cruising is a great, fun vacation. However there are a lot of important things that need to be done in the last month and few weeks before a cruise. From online check in to cruise packing, this pre-cruise checklist will help you to be prepared for your cruise.
Happy cruising!
Ilana
If you found this article helpful, please pass it along. Please feel free to share on Facebook or PIN to your favorite Pinterest board (share buttons at the top). Thanks so much!