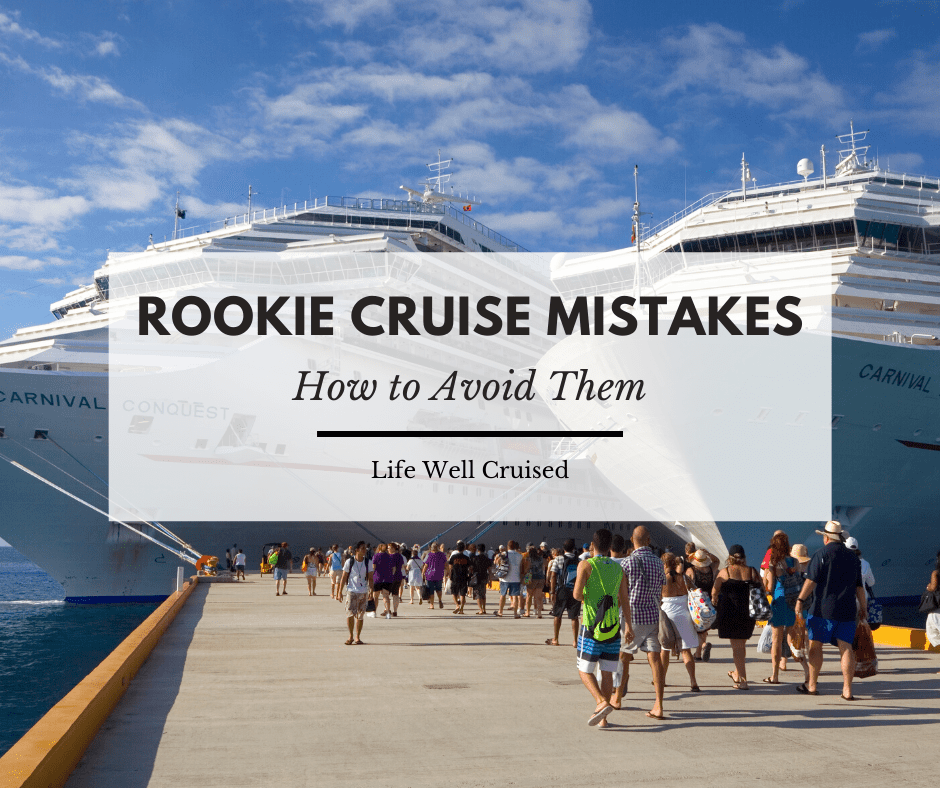 Cruising is so different from booking a vacation at a hotel or even going to a resort, that it's easy for rookie cruisers to make some mistakes.
When we took our first cruise almost 20 years ago, we sat down with a travel agent and she told us just about everything we needed to know. However, these days, it's more likely that you've booked online, either with a travel agent, online website or direct with the cruise line.
While the basic information is still passed on, there's still a lot to know that may not be. In this post, I share 17 common first time cruiser mistakes, so that you don't make them!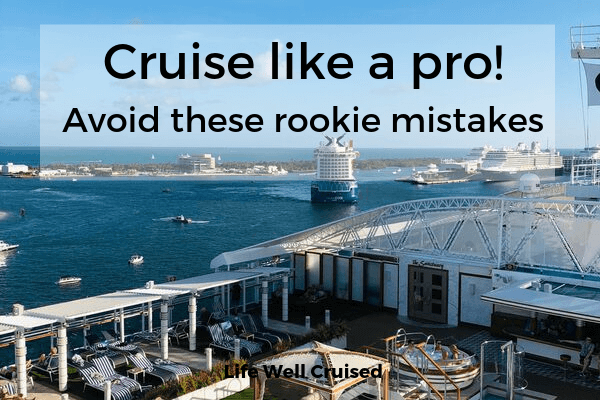 Common Rookie Cruiser Mistakes to Avoid
1. Booking the Wrong Cruise
This may seem obvious, but the worst mistake first time cruisers can make is booking the wrong cruise ship.
We have very good friends who booked their first cruise a few years back. They saw a good deal, got excited and booked it.
However, although they did enjoy it, they confessed that there were times they were a bit bored on the ship. They would have liked more action at the pool during the day. The evening entertainment was a bit sleepy. Plus, the ship was a bit older and they prefer more modern accommodations.
Many first time cruisers may think that all cruises and cruise ships are the same. However, this couldn't be further from the truth.
Experienced cruisers know that every cruise line and cruise ship has it's own personality and vibe. There are different things to do on board, from activities to entertainment and one size does not fit all!
For this reason, you'll need to do a little bit of research or get some advice to help you choose the perfect cruise. If you like more action, you might not be happy with a cruise ship that's more sedate. Likewise, if you want to relax, you don't want a party ship.
Be cautious when choosing a cruise, and don't book based on price alone.
Related: How to Book a Cruise for the First Time: a Comprehensive Step-by-step Guide
2. Flying in on the Same Day as the Cruise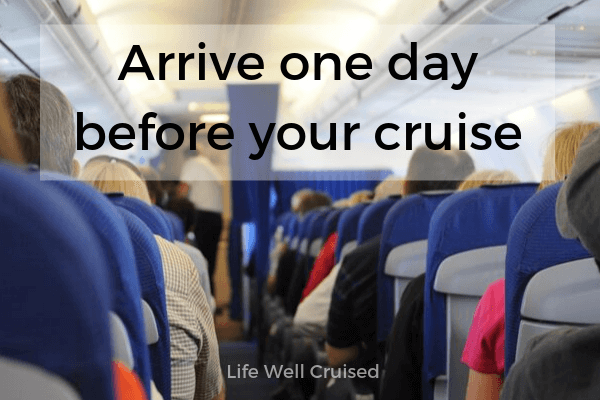 Another common mistake first time cruisers make is flying in on the same day as the cruise. With possible flight delays, luggage and weather issues, it's never a good idea to arrive with only a few hours to spare before embarkation.
Sadly, it's more common than you think for people miss their cruise ship, because their flight hasn't arrived on time. Avoid this mistake and plan to arrive at least one day before your cruise vacation. You'll have peace of mind and will start your cruise without any stress or worry.
Related: 15 First Things to Do on a Cruise Immediately After Boarding
3. Arriving Too Early or Too Late for Boarding Time
If you're a new cruiser or if you haven't cruised in a few years, this one might surprise you. Cruise lines require you to complete your online check in, and at this time you'll choose or be assigned a boarding time.
Make sure not to arrive too early or too late. The advice that you may have read from only a couple of years ago has changed.
Should you arrive too early on embarkation day, you'll have to wait outside the cruise terminal. You also don't want to arrive late, as you need some time to complete the cruise boarding process.
Here are some updated boarding day tips: 25 Cruise Embarkation Day Tips You Need to Know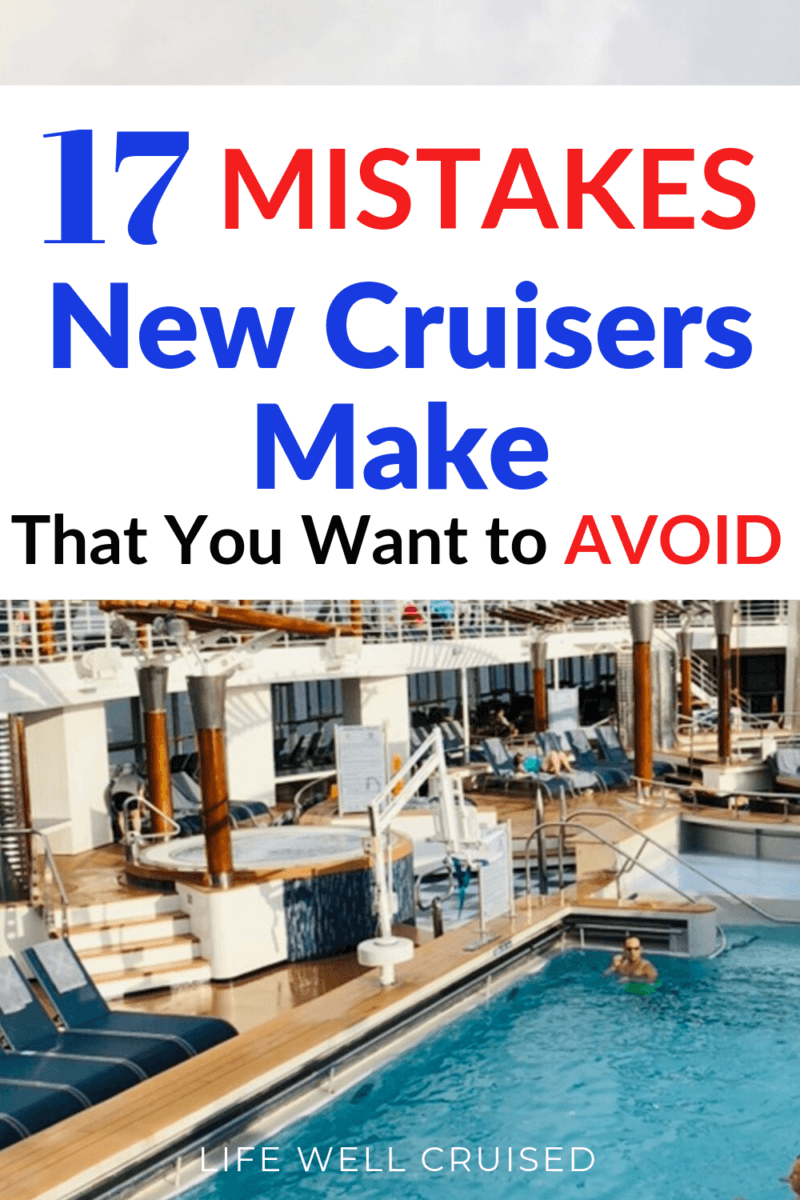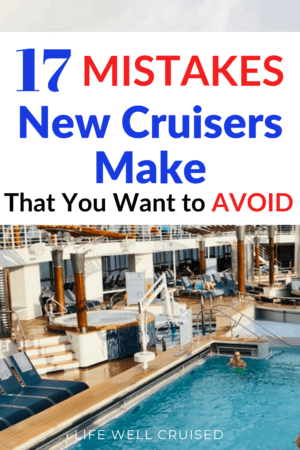 4. Booking an Early Flight on Disembarkation Day
A common rookie mistake to avoid is booking an early flight on the last day of the cruise.
In fairness, it's an innocent mistake. If you check your cruise itinerary, you'll likely see that your ship should arrive back in port very early in the morning. However, you should know that it can take a few hours until you actually disembark from your cruise ship.
The cruise ship has to clear customs before thousands of cruise passengers are able to disembark. This process does take some time.
Then you need to get your luggage and pass customs as you leave the cruise port. Add on a transfer, Uber or taxi to the airport, and it can take more time that you planned for.
Related: Cruise Disembarkation Tips You Need to Know
5. Thinking Everything is Included on a Cruise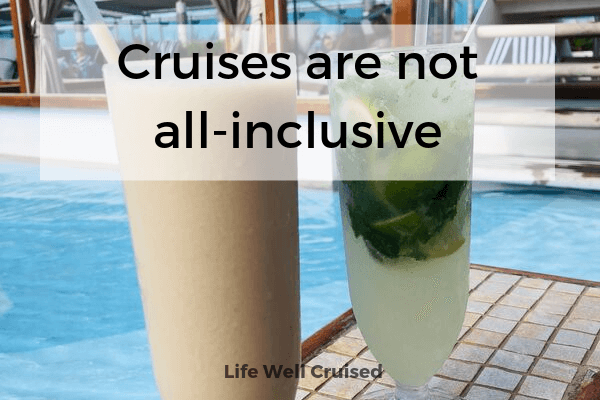 Cruises are a great value, but they're not all inclusive. There are some things that are not included on a cruise, that you'll want to plan for.
Here are a few things to remember:
Cruise Gratuities
Gratuities are customary on a cruise and usually charged automatically to your onboard account. Some new cruisers say they weren't aware of these cruise gratuities or tips until the end of the cruise.
If you need more information about tipping on a cruise, including how much to plan for by cruise line, I wrote about it in this post:
The Ultimate Guide to Cruise Gratuities
Shore Excursions
At each port of call, you may want to book an excursion or tour. You can go on your own or book a shore excursion with the cruise line.
Internet/Wifi
Cruise ship internet isn't the same as on land, and therefore it's more expensive. May cruise lines will have internet packages available. Try and reserve online before your cruise, which will often be the best value.
Related: 10 Things Not included in the Price of a Cruise
Get The Ultimate Cruise Planner
Regular price: $27 Now just $17!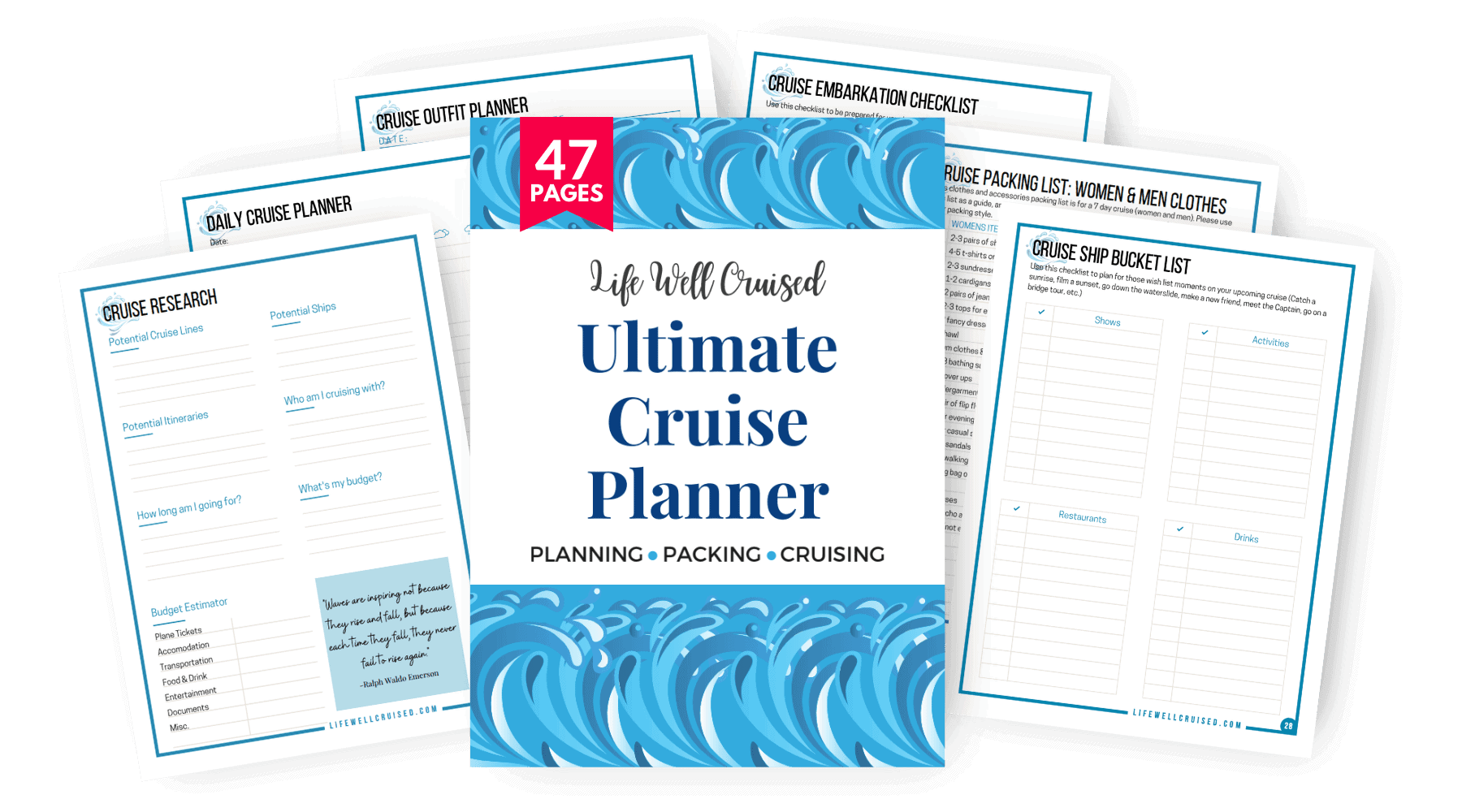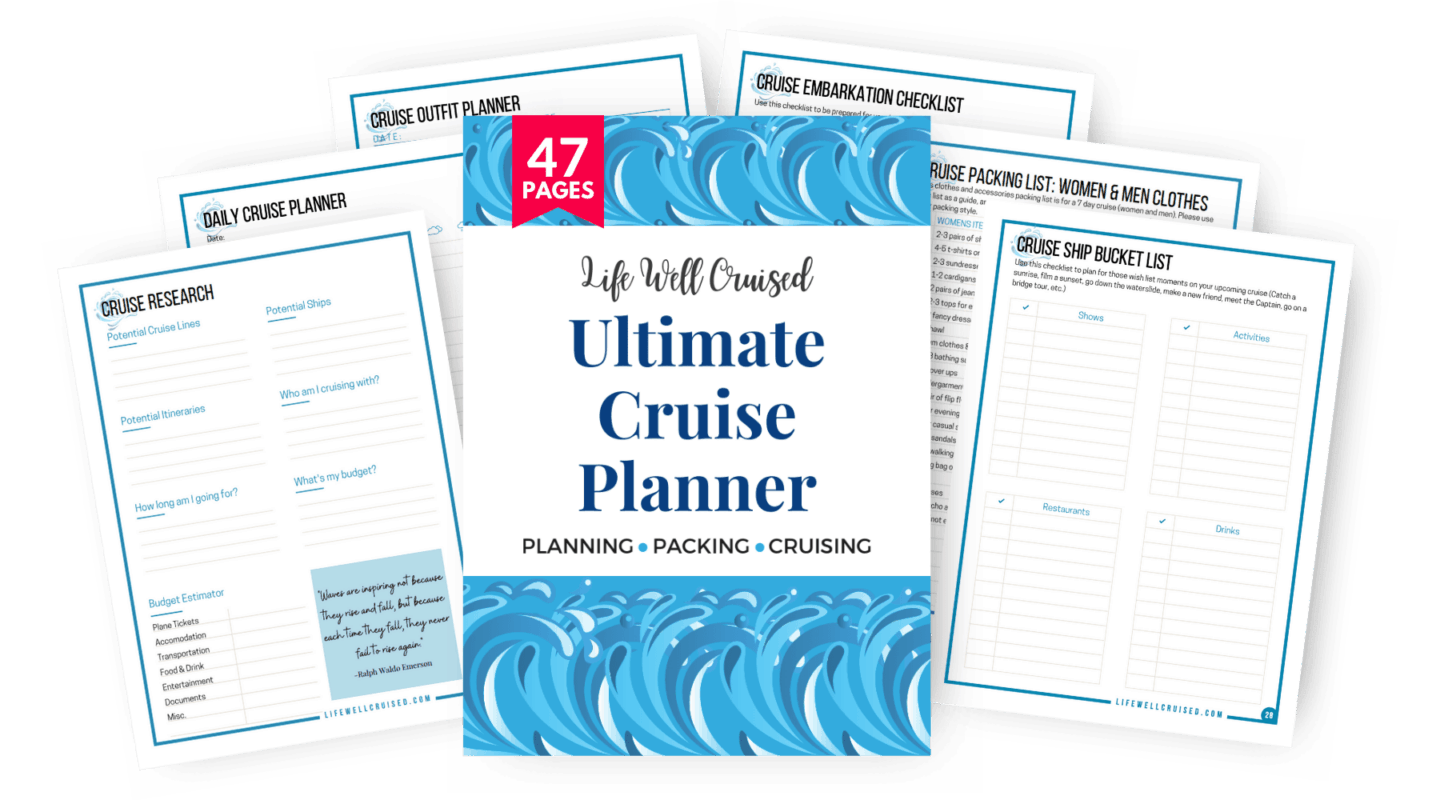 6. Not Reading the Daily Planner or Checking the App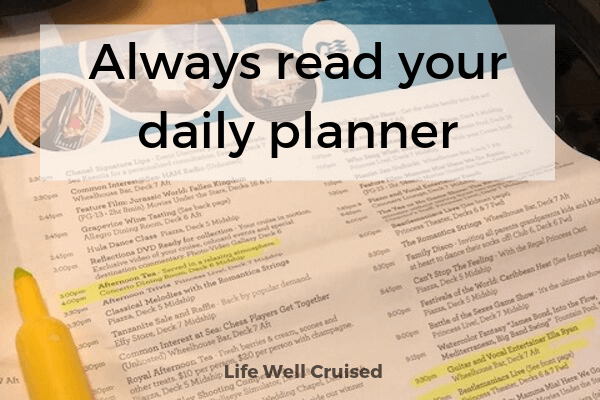 A lot of rookie mistakes can be avoided by reading your daily cruise planner or by checking the schedule on the cruise line app.
You don't want to miss some of thee amazing shows or not know about some of the interesting cruise ship activities.
All cruise ships will provide a daily planner of ship activities, as well as information such as opening hours for dining venues, the fitness centre and more. You can plan for your shows in the evening or other special events you want to attend.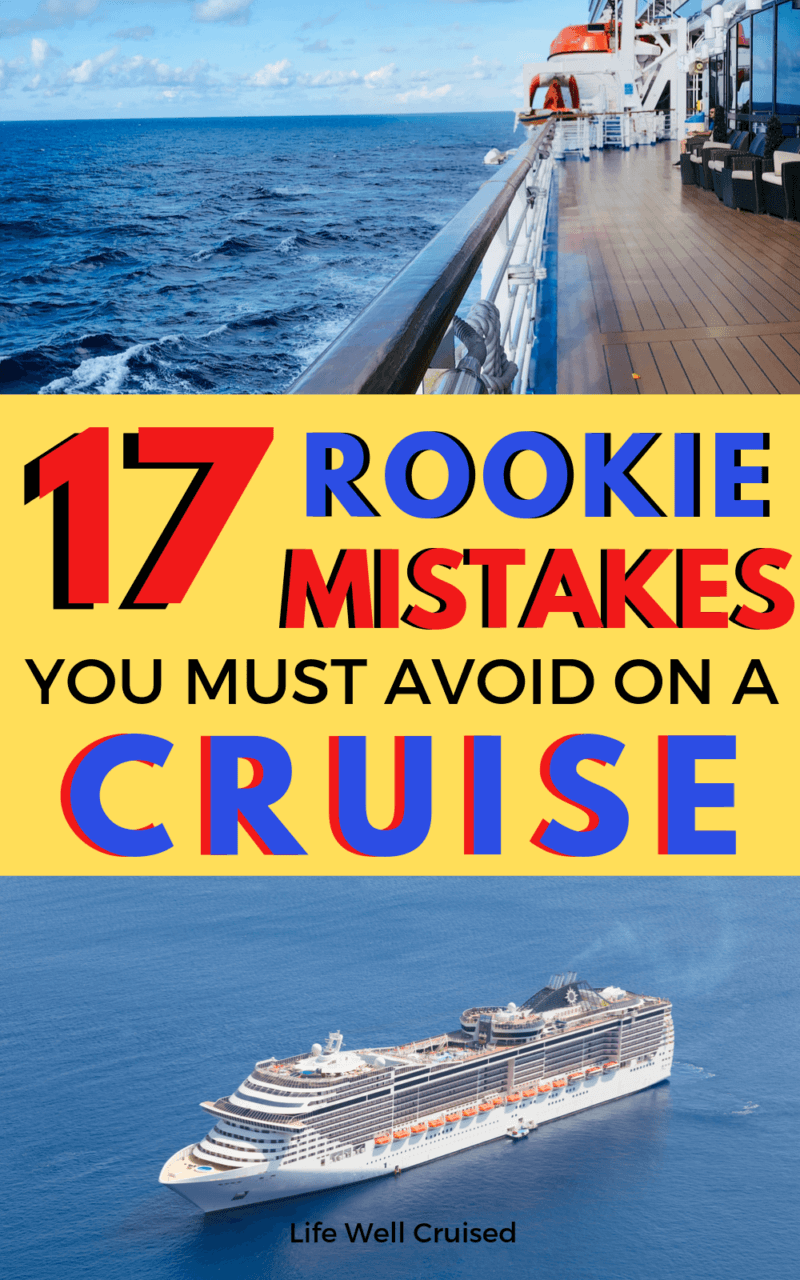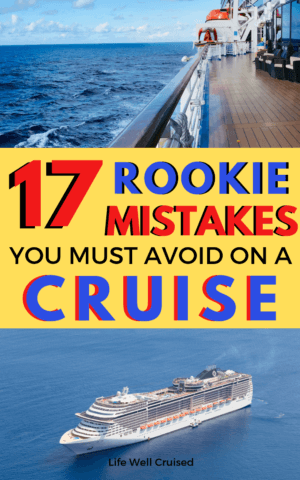 7. Not Knowing What Restaurants Are Included
These days there are so many restaurants on a cruise ship, that it may not be obvious to know which are included and which have an extra charge. Some first time cruisers have said they thought only the cruise ship buffet was included!
It's a good idea to research your cruise ship and get to know about the dining venues. Generally, the main dining room, the buffet, a poolside grill and at least one casual restaurant are included.
We've been on cruise ships where we've met people who didn't realize until the end of the cruise, that some of the best casual restaurants were actually included. Don't let this happen to you!
8. Not Researching Cruise Ports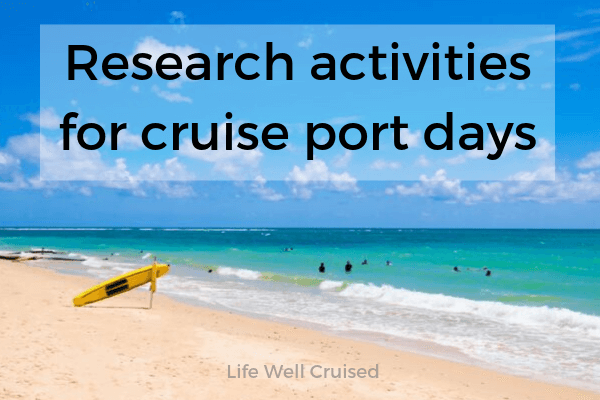 While you can certainly wing it and figure things out as you go, a big mistake some new cruisers make is to simply get off the ship at a cruise port without having a plan of what to do.
Depending where you are, there may not be a lot close by the port. Getting off and simply walking around, may not be the most exciting vacation day. It may not even feel very safe.
If this is your first cruise, consider booking your excursion with the cruise line. In this way, your excursion will be organized for you. If you prefer to explore independently or book a private excursion, just make sure to research your cruise port before you go.
Related: 9 Best Tips for Cruise Shore Excursion Planning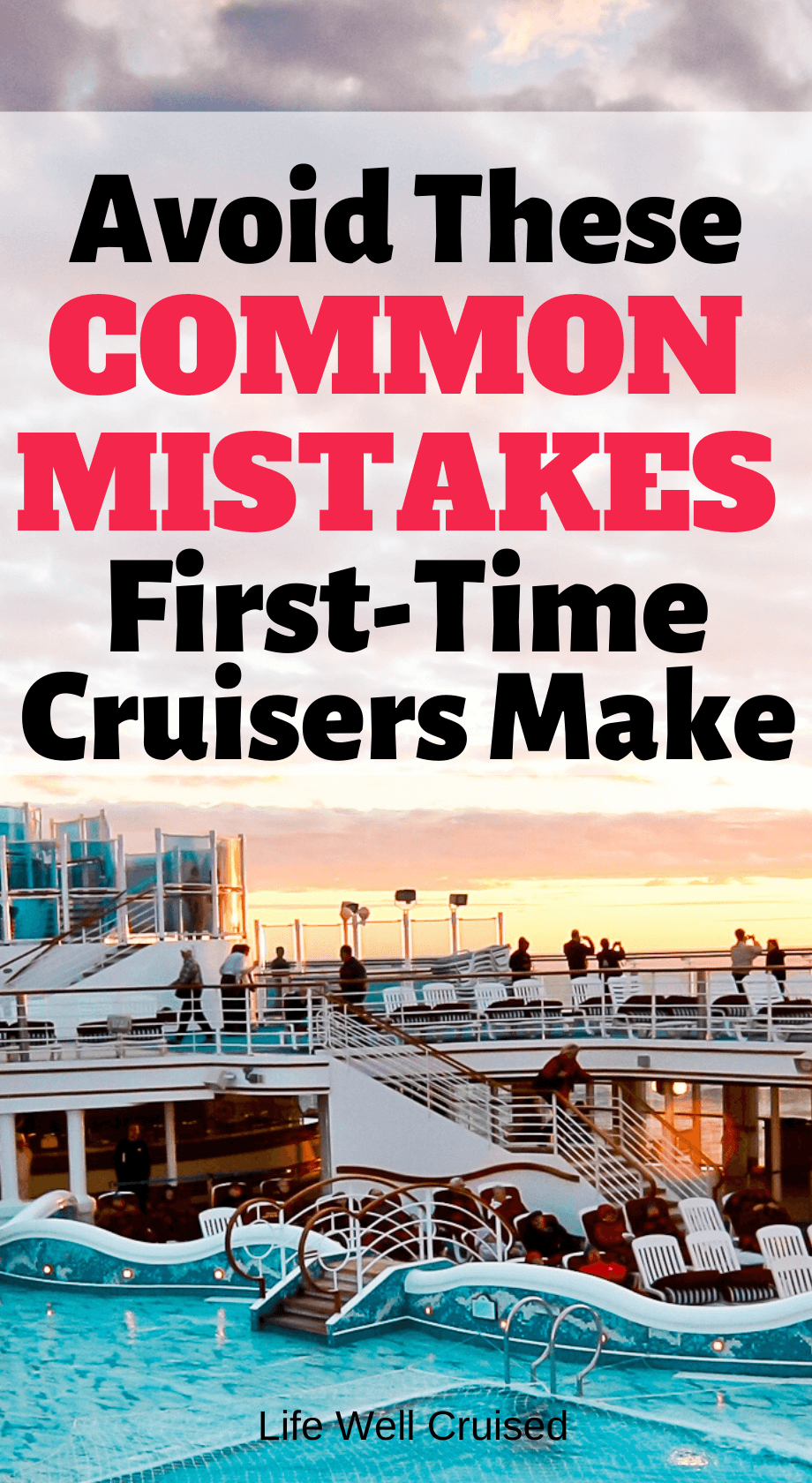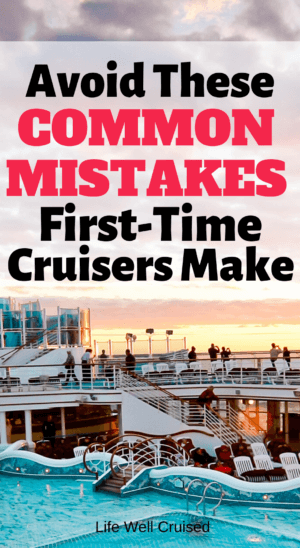 9. Overplanning
Are you an over-planner? I can be guilty of this! I love to research and find out all I can before a cruise, but this can be good and bad.
I've learned that we can't, and shouldn't, try to do it all within one cruise vacation. Whether at port or on the cruise ship, over planning and over doing it just won't feel like a vacation.
10. Not Exploring the Cruise Ship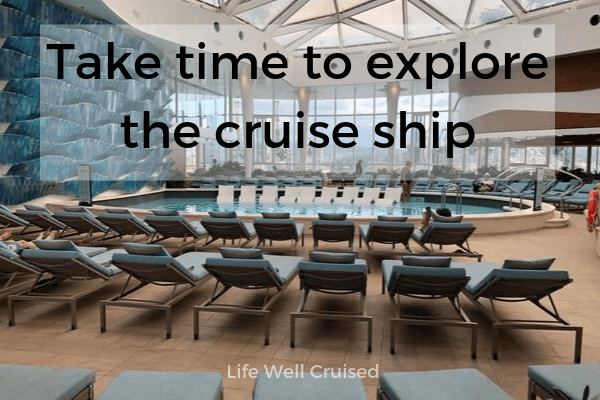 Not taking the time to explore your cruise ship is a big mistake that you don't want to make. Most cruise ships have several pools, hot tubs, bars and lounges. As well, you'll find different activities available both inside and on outdoor decks.
By exploring your cruise ship you'll get to know your favorite places to be and hang out, and you won't miss out on some potentially amazing cruise experiences!
Related: 101 Amazing Cruise Activities for Every Cruiser
11. Eating too much
We all love cruise food! While I subscribe to the motto "cruise calories don't count", eating too much on a cruise can leave cruisers feeling stuffed and unwell.
Try and go easy on the meals and drinks, and remember that there will be delicious and appealing menus every day.
Related: How NOT to Gain Weight on a Cruise – 7 tips that really work
12. Waiting for Elevators
Sometimes on a cruise, we walk by a few people waiting for the elevator who are a bit frustrated that it's taking a while.
Consider this: the cruise ship has 14-17 decks, 3000 plus people and about 10 elevators – this is bound to happen.
When possible, work off that cruise food one deck at a time. If you can do it, try taking the stairs up or down at least some of the time.
You'll save time, be less frustrated, and feel better.
Related: 13 Ridiculous Things People Do on Cruises
13. Overspending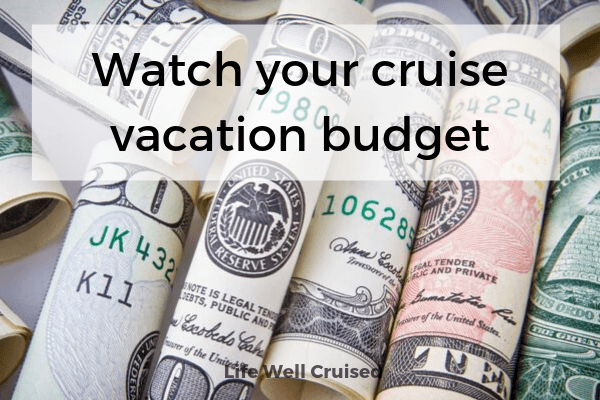 All cruisers should be aware of onboard expenses that can add up. One of these is alcoholic beverages.
On a cruise a few years ago, we met and a great, fun couple. We would hang out at the pool by day and they would have a few drinks. Then wine at dinner. Finally, after dinner there were martinis at the bar or cocktails at the disco.
At that time, drink packages and perks weren't an option
We drank too, but somewhat less, as we were watching our vacation budget. We brought our own wine on board which is permitted by many some cruise lines, which saved some money.
We also have a habit of checking our onboard account daily, so we can keep an eye on our expenses, and curb things if we start to spend a bit more than we have in mind.
Well, on the last sea day of the cruise, they finally checked their cruise account, which was smart to do this before disembarking the next day. They told us how in shock they were. They spent way more on this and other vacation indulgences.
It's a lesson for new cruisers – watch your budget and plan for some extra expenses. If you do think that drinks may add up, consider buying a beverage package in advance.
Related: How Much Spending Money Should You Bring on a Cruise?
14. Not Buying Travel Insurance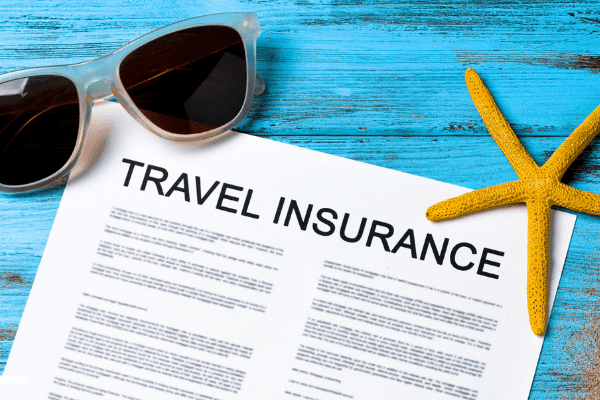 Sadly, a big mistake made by many cruisers is not purchasing adequate cruise travel insurance. Even when we don't think something will happen or that we may have a reason to cancel, unfortunately sometimes it does.
Travel insurance can protect your vacation dollars, should you need to cancel your trip. It's also very important make sure that you are covered for any medical situations that can occur while traveling or on a cruise.
Do check with your travel professional or cruise line for your specific needs.
15. Not Trying New Things
Whether it's trying a new food or a new activity, there's probably no better place to live a little than on a cruise. If you're a bit shy, a cruise is perfect. No one knows you – so participate in a poolside contest or dance competition and have some fun!
If you don't have a lot of time to read at home, bring a good book with you and relax. Have you always wanted to try Pilates? Sign up for a class.
We've gone to see shows that maybe we wouldn't have gone to back home, and tried foods that were different. We've encouraged our kids to do this too – so this is good advice for new cruisers of any age!
Related: 27 Fun Things To Do on a Cruise on Sea Days
37 Things to Do on a Cruise When it Rains
101 Cruise Ship Activities for All Ages
16. Not Registering the Kids for the Kid's Club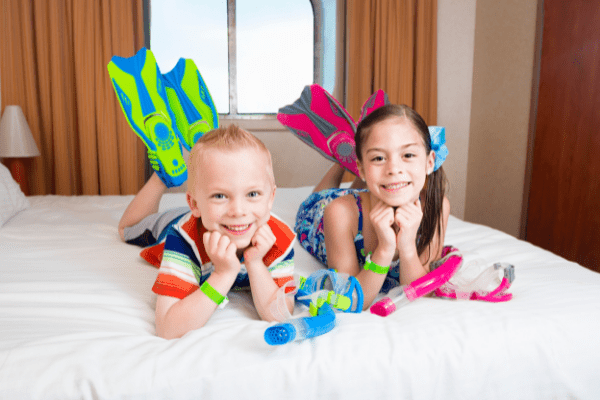 Parents, please put registering your children in the kid's camp on your list of the first things to do after you board your cruise.
If you're going on a family cruise, you want your children to get comfortable and meet new friends on board. There will usually be an open house, where you can visit the kid's club along with your children. This is a great opportunity for you to meet your children's counsellor as well.
Related: 10 Cruise Experts Share Their Best Tips for Cruising with Kids
17. Not Booking a Future Cruise on Board
If you loved your cruise and think you want to do another one, set up at appointment with the future cruise consultant on board. Cruise lines have some awesome incentives for booking your next cruise onboard, usually in the form of extra OBCs (on board credits)
Sometimes, you can make an open booking, and do your cruise shopping once you're back home.
This is one of the ways that veteran cruisers get such amazing deals, and cruise so often.
Related: 27 Cruise Travel Hacks Repeat Cruisers Swear By
Get The Ultimate Cruise Planner
Regular price: $27 Now just $17!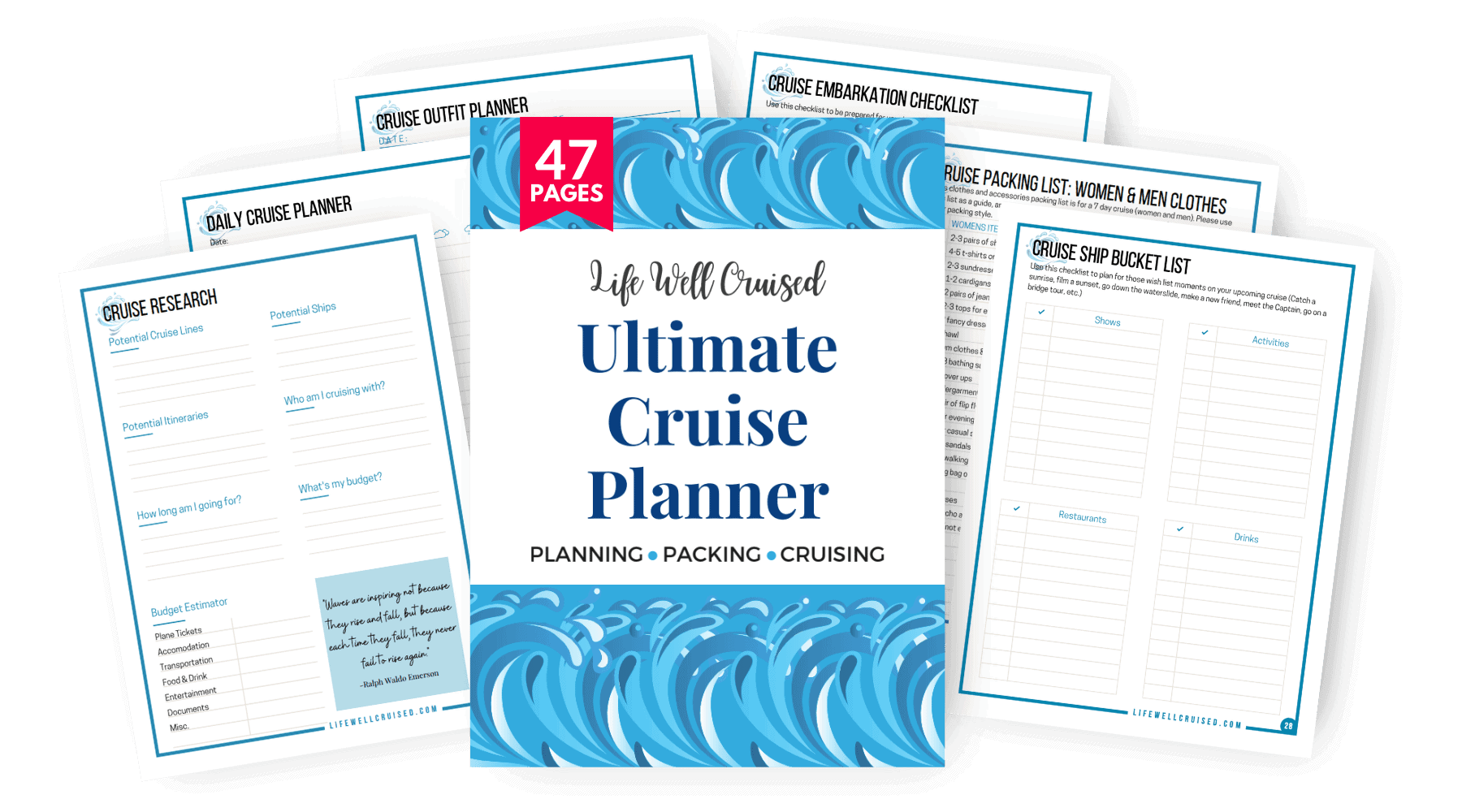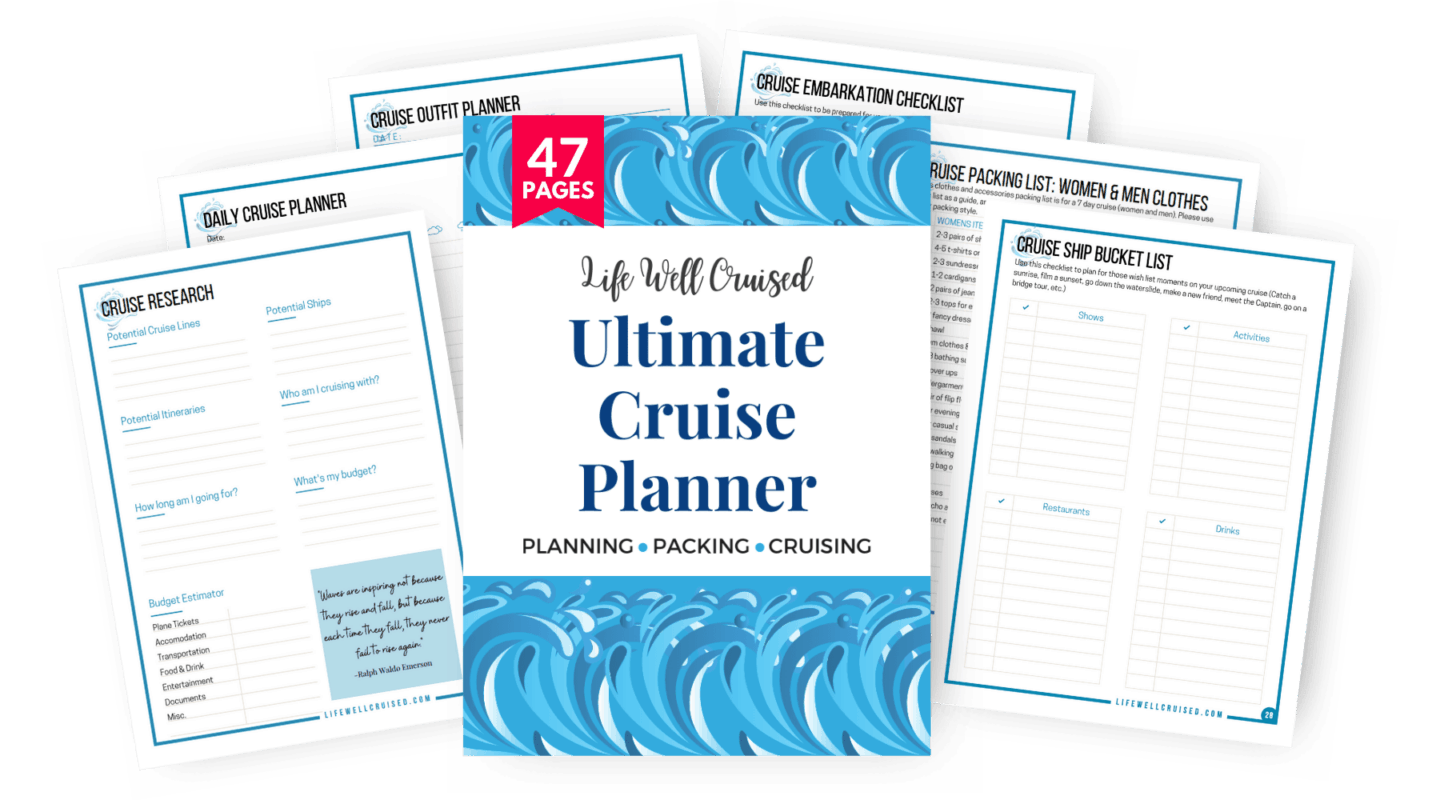 Video: Rookie Cruise Mistakes to Avoid
Popular & Related Posts:
What to Pack for a Caribbean Cruise (with packing list)
50 Popular Cruise Essentials & Accessories
10 Cruise Ship Cabins to Avoid
Tipping on a Cruise Ship – The Ultimate Guide to Cruise Gratuities
27 Things People Forget to Pack for a Cruise
Recap: 17 New Cruiser Mistakes to avoid – Cruise Like a Pro!
In this post we've gone over 17 mistakes new cruisers often make on their first cruise, and how you can be prepared and not make them!
From starting your cruise off the best way possible, to enjoying the cruise experience, to keeping on a budget – I hope these tips will be helpful as you plan and embark on your first cruise.
Have you been on a cruise and make a first time cruiser mistake? Is there an extra tip we should add? Please let me know in the comments below.
Happy Cruising!!
Ilana
P.S. If you found this helpful, please don't keep it to yourself ;-). Please share on Facebook or PIN to your favorite Pinterest board (share buttons at the top). Thanks so much!
Let's connect:
Follow me on Facebook at Life Well Cruised
Follow me onYouTube at Life Well Cruised (Vlogs and cruise tips)
Follow me on Pinterest at Life Well Cruised
Follow me on Instagram at Life Well Cruised