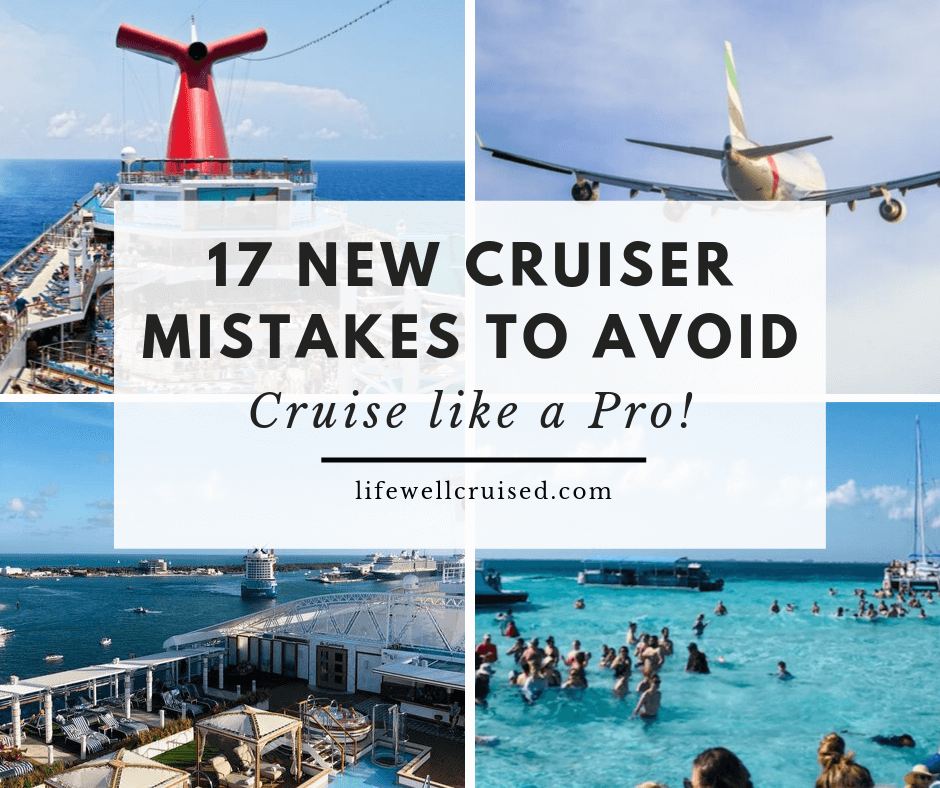 Planning your first cruise? These are rookie mistakes that you don't want to make!
Cruising is so different from booking a vacation at a hotel or even going to a resort, that it's easy for new cruisers to make some mistakes. In this post we'll go through some rookie blunders, so that you avoid them and cruise like a pro!
These days, people aren't sitting down with a travel agent very much as they book a cruise. Many new cruise passengers are booking with an online travel website or directly on the cruise line website.
While the basics are there, sometimes, the little dos and don'ts just don't passed on. There are some things you just want to know before embarking on your first cruise.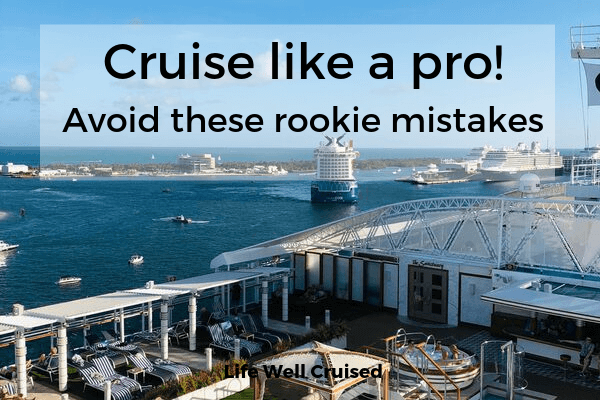 Let's go through 17 common rookie cruiser mistakes – so you don't make them!
1. Booking the wrong cruise
We have very good friends who booked their first cruise a few years back. They saw a good deal, got excited and booked it.
However, although they did enjoy it, they confessed that there were times they were a bit bored on the ship. They would have liked more action at the pool during the day. Evening was a bit sleepy. Plus, the ship was a bit older and they prefer more modern accommodations.
This is such a common rookie mistake! Many people book a cruise thinking "aren't they all the same?".
They aren't. In fact, every cruise line and cruise ship has it's own "personality". There are different things to do on board, different styles of entertainment, different decor and even a different vibe.
For this reason, you'll need to do a little bit of research or get some advice to help you choose the perfect cruise, for you!
You know what you like and what anyone else likes doesn't really matter.
If you like more action, you might not be happy with a cruise ship that's more sedate. Likewise if you want to relax, you don't want a party ship.
Of course there are many cruise vacation experiences that are in the middle and offer the best of both worlds, but you know what I mean.
Be cautious when choosing a cruise, as it can be tempting when you what may look a great deal online. If it's not the right cruise for you, don't book it!
2. Flying in on the same day as your cruise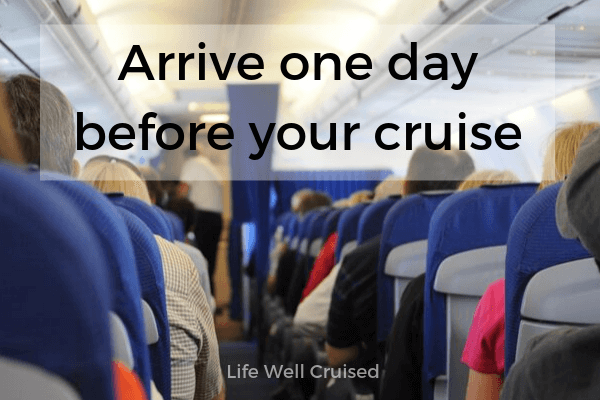 You might think that you have time to get on your cruise before boarding time, but don't chance it. Always fly in a day prior to your cruise.
The reality is, on embarkation day, you can usually board by about noon. This gives you a nice first day of your cruise.
If you fly in the same day, you'll be rushing and stressed, and miss a good part of that easy cruise ship feeling that comes with boarding.
Plus, in the worst case scenario, there can be a storm or even mechanical issues that can prevent your plane from arriving on time. Sadly, people miss their cruise ship all the time. It doesn't wait for you if you don't get there on time!
Give yourself peace of mind, and plan to arrive one day before your cruise vacation.
2. Boarding later on Embarkation Day to avoid the rush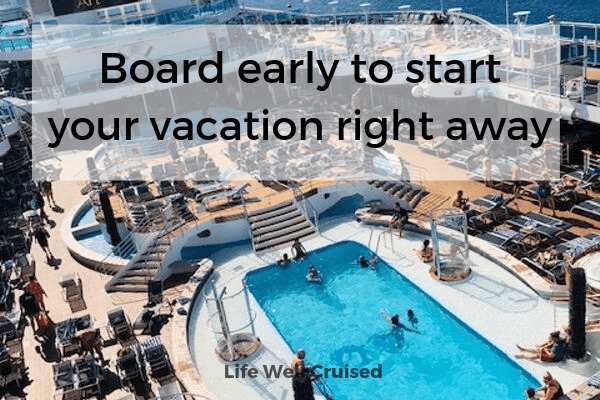 You'll get mixed opinions on this. Some people advise to arrive early for boarding, while others say to arrive later in the day, after the crowds and line ups die off.
In my opinion, "arriving later" for a cruise isn't the best advice for cruising in 2019-20, for 2 reasons.
Firstly, many cruise ships allow passengers to board by around noon, sometimes a bit earlier. While this can be a busy time, in reality cruise lines and cruise ports have become more efficient. Therefore they can better accommodate those waiting, and lines move fairly quickly.
The vast majority of cruise passengers have done their online check in advance, and checking in is getting quicker and quicker. In some cases, with new technology the cruise line is getting you on board in minutes.
Secondly, why miss the fun of embarkation day? Get on early, go have some lunch and explore the ship. Perhaps sit back and have a drink by the pool. These are all things you can't do if you get on late ;-).
Here are some boarding day tips: 15 Cruise Embarkation Day Tips (to start you cruise off right)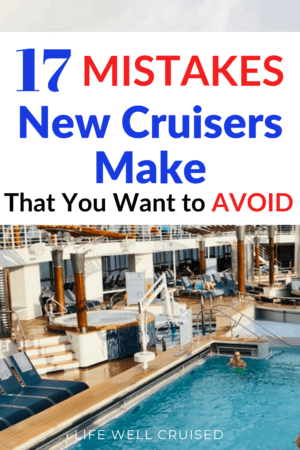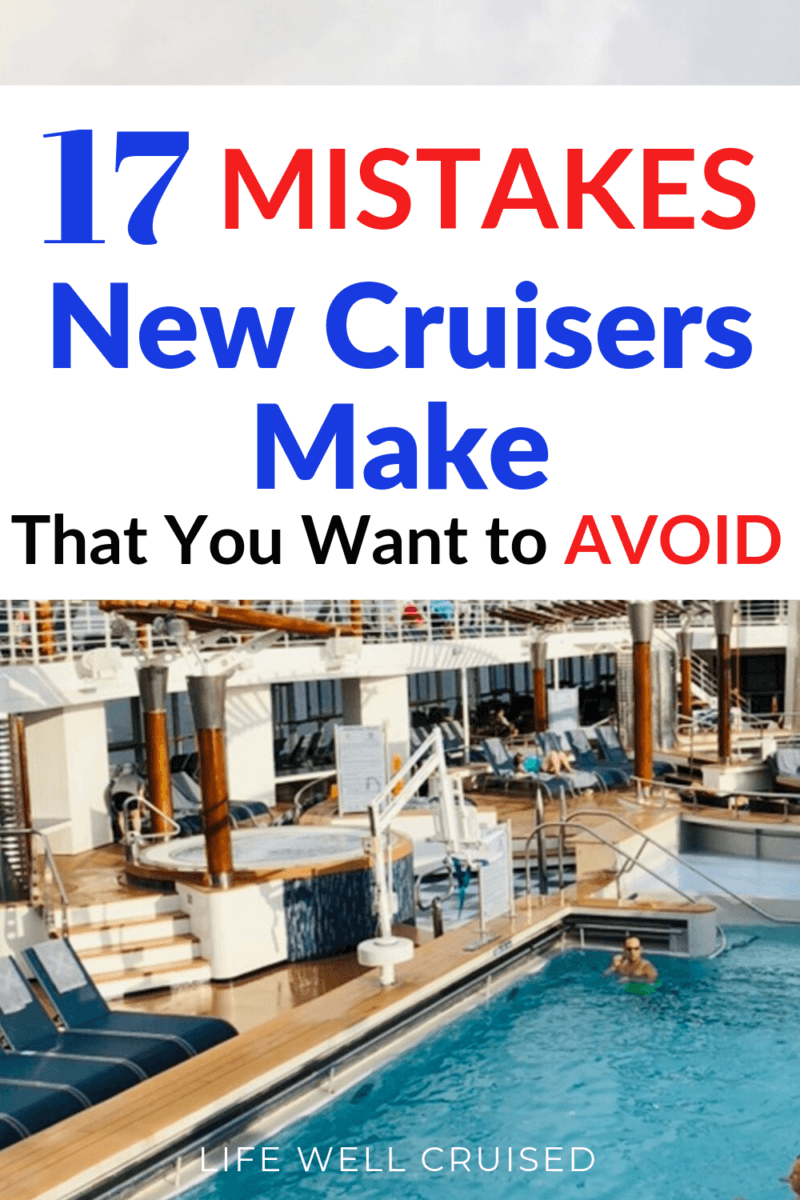 4. Booking a "too early" flight at the end of the cruise
If you take a look at your cruise itinerary, you'll notice that on the last day of your cruise, your schedule will often show a ship arrival time that is quite early in the morning. Even though your cruise ship may be scheduled to arrive back at port at 6 or 7:00 am, you won't be getting off the ship at this time!
Your cruise ship has to be cleared by local customs and only then are passengers allowed to disembark. This might be closer to 8:00 or even 9:00 am.
Keep in mind that it doesn't end there – you need to get your luggage and pass customs individually as you leave the port. Then add on a transfer or taxi to the airport. All this takes time!
Cruise tip: Cruise lines can give you guidelines and suggest the earliest time that you should book your flight. To have the most accurate information for your own booking, call the cruise line directly or ask your travel agent.
Helpful related info: What you need to know about cruise disembarkation
5. Thinking cruises are all inclusive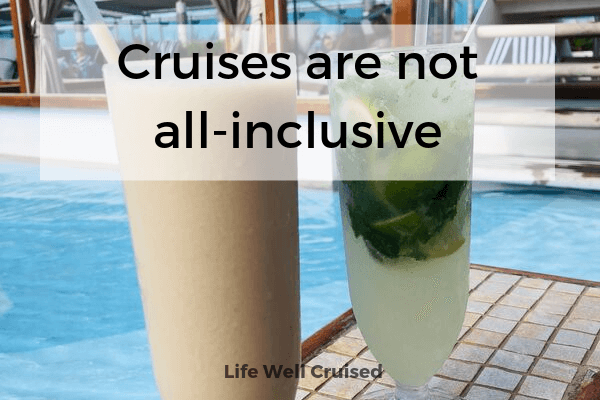 Cruises are a great value, but they're not all inclusive. There are some expenses to be aware of and plan, before your cruise, so that you're not surprised.
A couple things to remember:
Gratuities on a cruise
Gratuities are customary on a cruise and usually charged automatically to your credit card daily while on your cruise. They average about 15$ per person/per day, depending on your cabin and cruise line. This covers the main people that serve you and make you feel taken care of including your cabin attendant,waiter, assistant waiter and maitre 'd.
Activities at ports of call
Most of the time,you will have to spend at least a little bit at each port of call. Whether you go on your own to a local beach, or book a shore excursion, you can expect some extra expenses at your cruise stops.
Internet
Cruise ships don't work on the same internet type system as hotels or anywhere on land. Being far out at sea, they rely on satellites and cruise ships have metal walls which makes internet connectivity more complicated.
Forgive my very non-tech way of explaining it, but this is why cruise ship internet can be so expensive. Cruise ship internet is changing and becoming more reasonable, but we cruisers do still have to be cautious.
For a full list of what's not included with a cruise, we recommend this post: 10 Things Not included in the Price of a Cruise
6. Not reading the daily planner (Princess Patter, Cruise Compass, Carnival Fun Times…)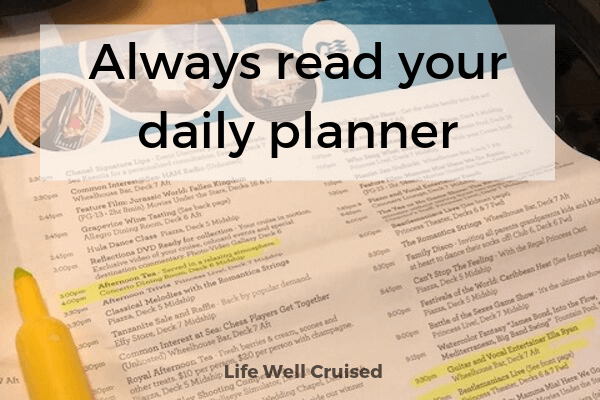 A lot of rookie mistakes can be avoided by reading your daily planner checking the schedule on the cruise line app.
Missing shows you want to attend, showing up at the wrong time for Zumba, or in the worst circumstance, getting back to the ship too late and missing the ship at a cruise port!!
All cruise ships will provide a daily planner of activities as well as information such as opening hours for dining venues, the fitness center, etc. You can plan for your shows in the evening or other special events you want to attend.
It will also state the all aboard time when in you're at a port of call. Seriously, double check this info before you leave the ship.
Cruise tip: I like to pack a highlighter and go through the planner at night before we go to bed, or early in the morning when we wake up or at breakfast. We mark off the things we most want to do, and this helps us plan for the day.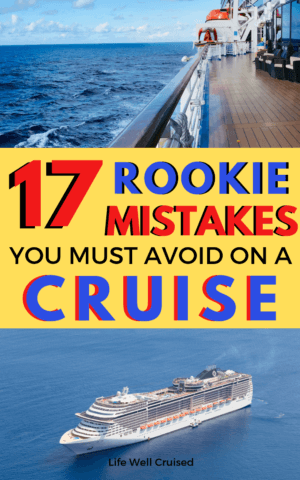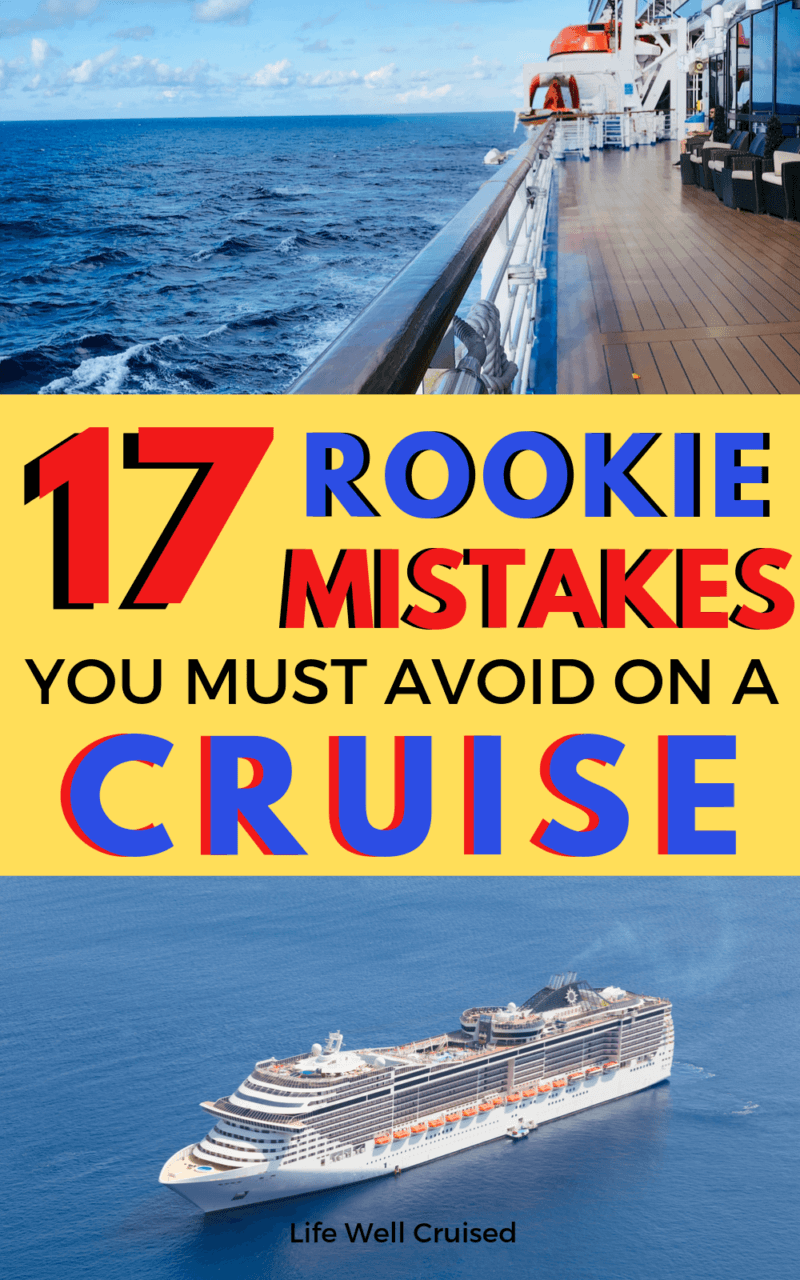 7. Missing out on the Main Dining Room
Years ago before we took our first cruise, our friends told us a cautionary tale. You see, they were on a 7 day Caribbean Cruise, and only realized on day 6, that the main dining room was included.
Yep. For 6 days they were going to the buffet.
Now, there's nothing wrong with eating in the buffet, if that's what you want! But you do want to know what is included with the cost of your cruise.
On most ships there are many cruise food options – casual restaurants, specialty dining, buffets and cafes and the main dining room, of course! Some do have additional fees, however on many ships, quite a few are included.
You can find that information on the daily planner or don't hesitate to ask a staff member, guest services or even another cruise passenger.
8. Making ZERO plans for Cruise Port days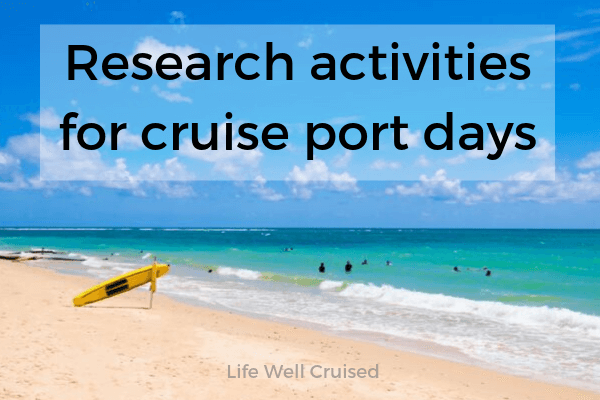 While you can certainly wing it and figure things out as you go, a big mistake new cruisers make is to simply get off the ship at a cruise port without having at least a bit of an idea of what to do.
Depending where you are, there may not be a lot close by the port. Getting off and simply walking around, may not be the most exciting vacation day. It may not even feel very safe.
Even if you don't book an excursion, do a little bit of research about the destination. Find out if there are beaches close by, or perhaps some sightseeing or other activities you'll enjoy.
You can find out some good information about the cruise excursions available on your cruise line's website, in Facebook groups as well as on websites.
If you've waited until you're on board, there will be a shore excursion desk, so go ahead and ask some questions.
Cruise tip: If I want to visit a cruise port on my own, I ask a few crew member on the ship for their recommendations. Those working in the shops often get time off during port days (as the ship store's are closed), so they tend to have a lot of insider tips!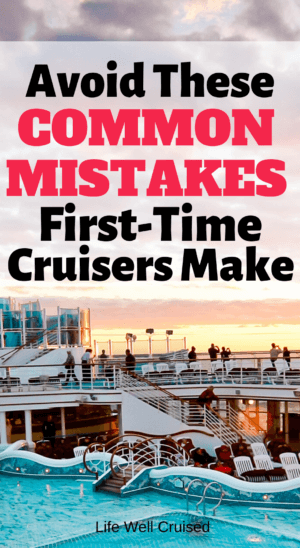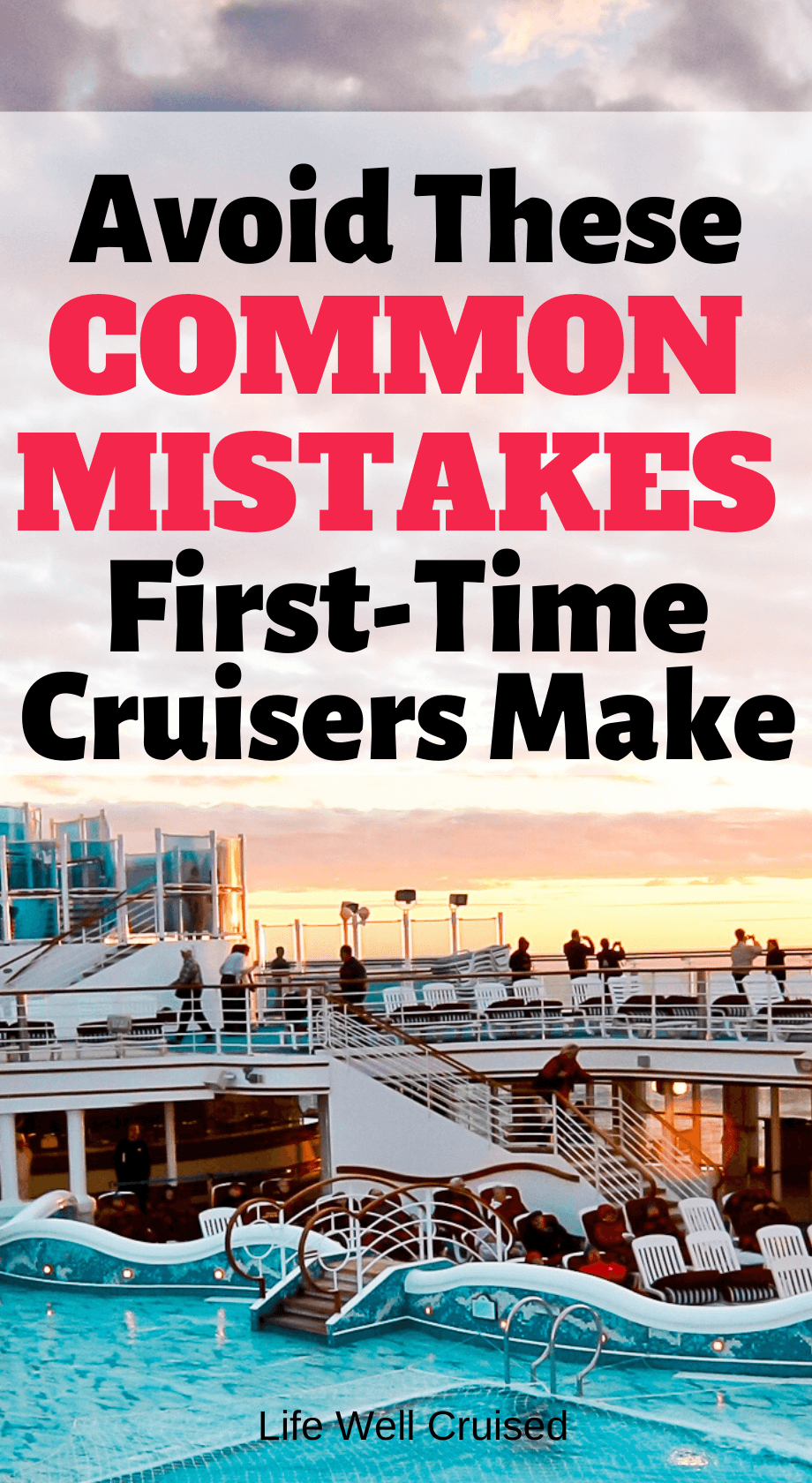 9. Planning every second of the trip
Are you an over-planner? I can be guilty of this!
I LOVE to research and find out all I can before a cruise. But this can be good and bad.
I've learned that we can't, and shouldn't, try to do it all within one cruise vacation. Whether at port or on the cruise ship, over planning and over programming leads to stress for everyone!
So, pick and choose the things you know you want to do or see on the cruise ship.
If you really want to *Zipline while on your cruise, find out the hours it's open and make it happen. Do you want to enter a singing competition at sea? Be ready for it.
Do you have 5 things that look great for a port day? Pick 1 or 2 and vow to return and cruise again! Don't exhaust yourself, as that'snot a vacation!
*These are examples activities and will differ from cruise-line to cruise-line and ship to ship
10. Not taking time to explore the ship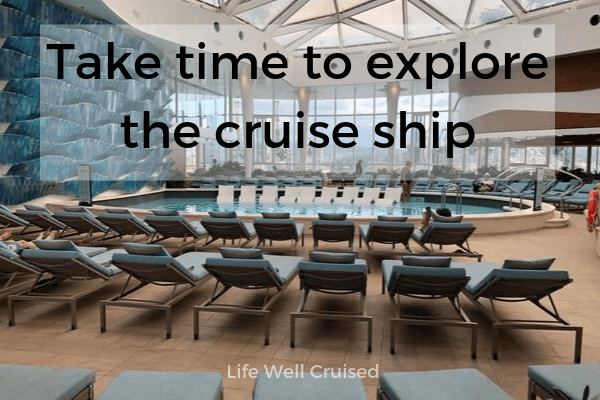 Several years ago, my parents went on a cruise and enjoyed it. However, they said they found the main pools (there were 2) kind of loud and a bit crowded.
I asked them, "What about one of the adult pools? You didn't want to hang out there?"
Can you guess where this is going?
My parent's were on a 7 day Caribbean Cruise and had never walked fully from front to back. Adult only pool and quiet seating, sports court, movies, and more… they missed it.
To avoid missing out on some of the great stuff on the ship, take time to explore the ship and check it out.
It's actually something we try to do when we get on early on Embarkation Day.
Popular post: 15 Cruise Embarkation Day Tips Straight from the Pros
11. Eating too much
Lol, I won't preach on this one! I definitely eat more than at home – cruise food is good! As a friend of mine always says, at least cruise calories are worth it.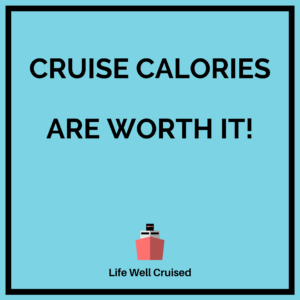 Here are some tips on how you can avoid going overboard (cruise pun intended). *** note for me – update gain weight on cruise post
*Eat meals in the dining room when possible, rather than the buffet. Portions will be ore reasonable and controlled.
*When in the buffet, look for the delicious array of fresh fruit and load up half your plate with berries and melon (or your favorites).
*Share a dessert, appetizer or even second main meal with your cruise mate.
Helpful related post: How NOT to Gain Weight on a Cruise – 7 tips that really work
12. Spending too much time waiting for elevators
Sometimes on a cruise, we walk by a few people waiting for the elevator who are a bit frustrated that it's taking a while.
Consider this: the cruise ship has 14-17 decks, 3000 plus people and about 10 elevators – this is bound to happen.
When possible, work off that cruise food one deck at a time. If you can do it, try taking the stairs up or down at least some of the time.
You'll save time, be less frustrated, and feel better.
13. Not watching your budget on a cruise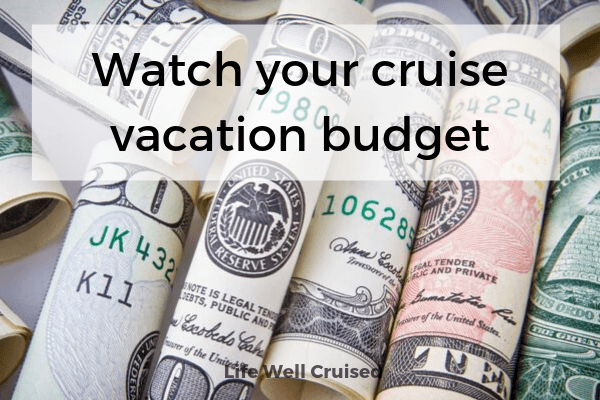 Be aware of expenses that can add up. One of these is alcoholic beverages.
On a cruise a few years ago, we met and a great, fun couple. We would hang out at the pool by day and they would have a few drinks. Then wine at dinner. Finally, after dinner there were martinis at the bar or cocktails at the disco.
There's no judgement – we're all on vacation.
We drank too, but somewhat less, as we were watching our vacation budget. We brought our own wine on board (allowed on some cruise lines), which saved some money.
We also have a habit of checking our onboard account daily, so we can keep an eye on our expenses, and curb things if we start to spend a bit more than we have in mind.
Well, on the last sea day of the cruise, they finally checked their cruise account, which was smart to do this before disembarking the next day. They told us how in shock they were. They spent WAY more on this and other vacation indulgences.
It's a lesson for new cruisers – watch your budget and plan for some extra expenses. If you do think that drinks may add up, consider buying a beverage package in advance.
14. Not buying travel insurance
Sadly, this big mistake is made by many cruisers, both new and "old". Even when we don't think something will happen or that we may have a reason to cancel, unfortunately sometimes it does.
Travel insurance can protect your vacation dollars, should you need to cancel your trip. It's also very important make sure that you are covered for any medical situations that can occur while traveling or on a cruise.
Do check with your travel professional or cruise line for your specific needs.
15. Doing the same old thing
Whether it's trying a new food or a new activity, there's probably no better place to live a little than on a cruise. If you're a bit shy, a cruise is perfect. No one knows you – so participate in a poolside contest or dance competition and have some fun!
If you don't have a lot of time to read at home, bring a good book with you and relax. Have you always wanted to try Pilates? Sign up for a class.
We've gone to see shows that maybe we wouldn't have gone to back home, and tried foods that were different. We've encouraged our kids to do this too – so this is good advice for new cruisers of any age!
16. Not registering the kids in the Kid's Club
Parents, please put this on the list of first day "must do's"!!
A #1 parent tip is to visit and register your children at the open house style visitation on embarkation day. When you visit with your children on the first day, they'll have a chance to get comfortable, with you closeby.
They may meet a friend during the open house and at the very least, they'll be familiar with the counselors and environment. Waiting for the next day makes it harder and most parents tell us things just don't start off on the right foot.
17. Not booking their next cruise on board
If you love your cruise and think you want to do another one, set up at appointment with the future cruise consultant on board. Cruise lines have some awesome incentives for booking your next cruise onboard, usually in the form of extra OBCs (on board credits)
Sometimes, you can make an open booking, and do your cruise shopping once you're back home.
This is one of the ways that veteran cruisers get such amazing deals, and cruise so often.
Recommended post: 27 Cruise Travel Hacks Repeat Cruisers Swear By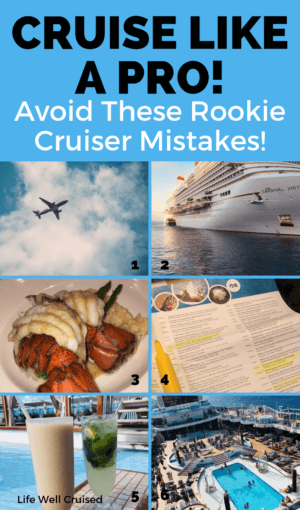 Recap: 17 New Cruiser Mistakes to avoid – Cruise Like a Pro!
In this post we've gone over 17 mistakes new cruisers often make on their first cruise, and how you can be prepared and not make them!
From starting your cruise off the best way possible, to enjoying the cruise experience, to keeping on a budget – I hope these tips will be helpful as you plan and embark on your first cruise.
Have you been on a cruise and make a first time cruiser mistake? Is there an extra tip we should add? Please let me know in the comments below.
Happy Cruising!!
Ilana xoxo
P.S. If you found this helpful, please don't keep it to yourself ;-). Please share on Facebook or PIN to your favorite Pinterest board (share buttons at the top). Thanks so much!
Read more:
11 Cruise Boarding Tips You Need to Know
20 Money-Saving Tips for First Time Cruisers
20 Cruise Packing Tips all Cruisers Need
21 Essential Things to Pack in Your Cruise Carry-On
Let's connect:
Follow me on Facebook at Life Well Cruised
Follow me onYouTube at Life Well Cruised (Vlogs and cruise tips)
Follow me on Pinterest at Life Well Cruised
Follow me on Instagram at Life Well Cruised