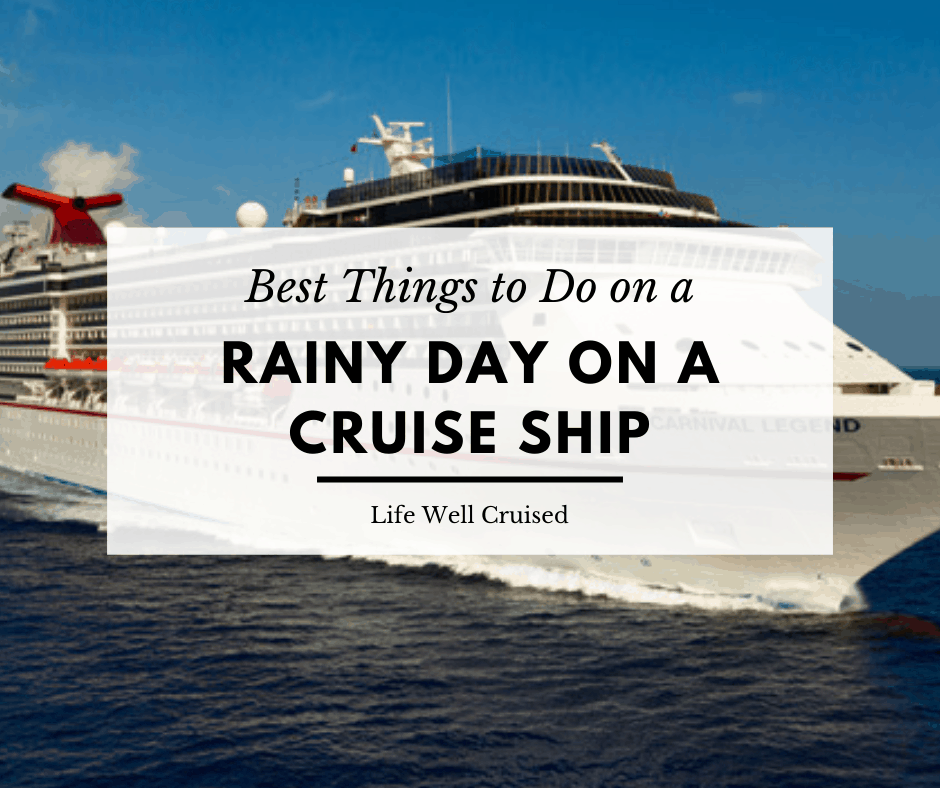 When we think of cruising, we often imagine sunny days spent hanging out by the pool and hot tub. Unfortunately, a rainy day can catch us by surprise, and mess with our plans.
You might be ready to hit the water-slides or join in a dance class on the lido deck, but mother nature may have other plans. So, what is there to do on a cruise ship if it rains?
Today's cruise ships really are resorts at sea, with a multitude of activities activities available. In addition to the outdoor options, there are many indoor activities that aren't dependent on weather at all.
If it does rain during your cruise, the cruise director and entertainment staff will try to adapt the schedule of activities when possible.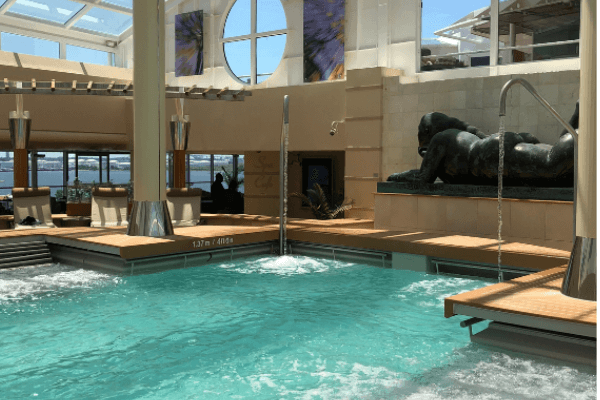 What to do on a Rainy Day on a Cruise
I will admit, I really don't like rainy days.
I live in Canada and often cruise to get away from the cold and snow in the winter. So, I love to be outdoors by the pool with a cocktail in hand!
Well, several years ago we were on a Caribbean cruise in January and it rained 3 days out of 7!! I won't lie – I wasn't the happiest cruiser.
However, there's no better way to find out what to do on a cruise ship when it rains, than experience it yourself.
I really had to shift my attitude and try some new things. In the end, we actually had an amazing time on our cruise and even made some new friends because of it!
Now, before you reschedule your January cruise, let me reassure you that this isn't typical. However, we can't control the weather and rain showers are definitely possible, so best be prepared.
In this post, I'll be sharing a huge array of the best things to do when it rains on a cruise. While each ship may offer slightly different activities and experiences, this will give you a good idea of what to expect and plan for.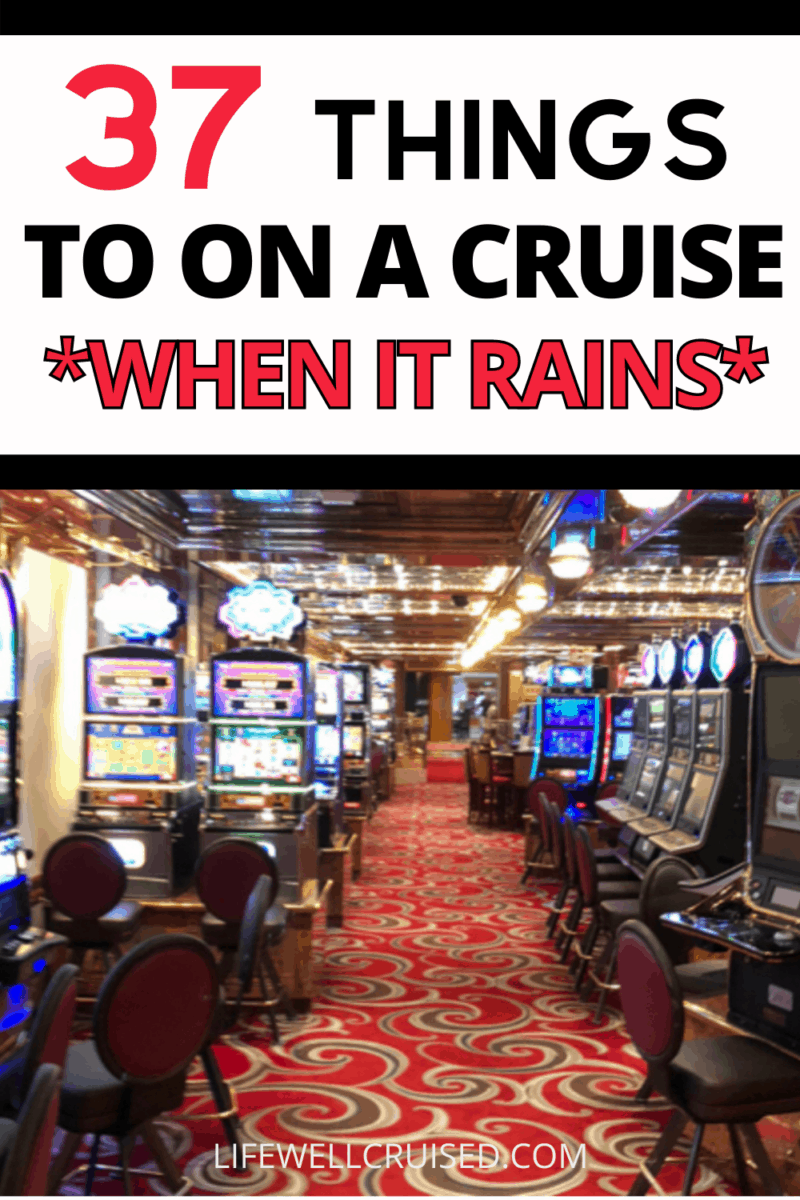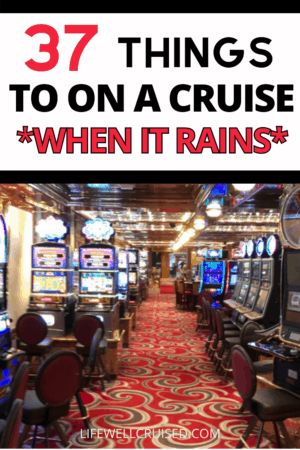 What to Do on a Cruise Ship When it Rains
If it rains, you're probably going to want to check out some of the indoor activities offered on your cruise ship. You can do this by looking at your daily planner or cruise line app.
1. Bingo
It might sound cliche, but one of the most popular activities on many cruise ships is BINGO. If you haven't played in a while and want to see why people enjoy it so much, let the rain be your good excuse.
2. Join a fitness class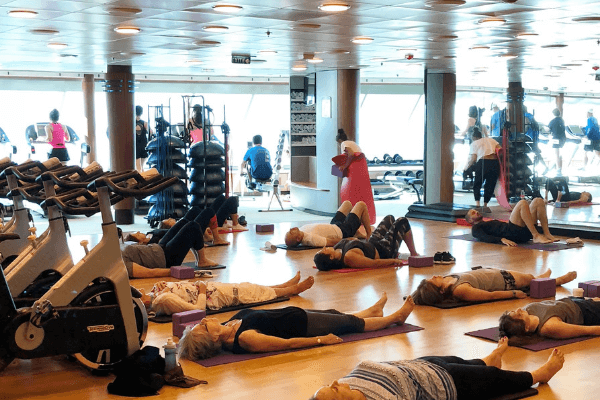 Cruise ships have awesome fitness classes available each day. If you've been wanting to try out a new fitness craze or something you can continue at home, definitely check out the gym.
Note – some fitness classes are included on a cruise and some have an extra charge. Sign up early for any classes that you really want to join.
3. Thermal Spa
Do you need to unwind and relax. There may be nothing better than taking a few hours for yourself at the thermal spa.
Check out the packages and promotions available on your cruise ship early on in your cruise for the best value.
4. Hit the Casino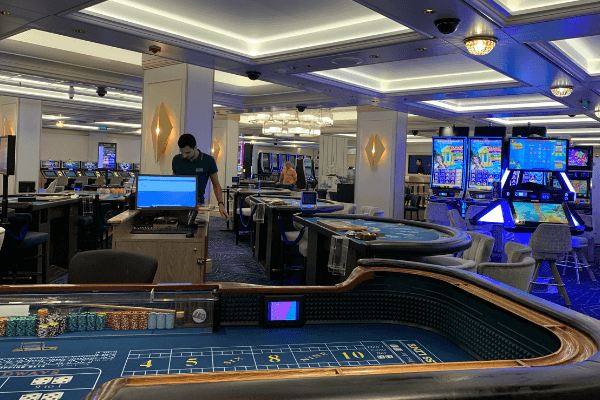 It never rains in the casino, right? While the casino won't be open if you're at a port of call, it will be open and very happening on a sea day.
5. Trivia
When I asked veteran cruisers about their favorite activities on a cruise ship, trivia was often mentioned. Trivia games are often hosted by the cruise director or the entertainment staff in one of the lounges onboard.
There really is something for everyone – and lots of fun to be had!
6. Galley tour
Did you know that an average cruise ship goes through more than 45,000 eggs each week? While that might seem like a random bit of cruise trivia, you'll see how the ship's galley prepares all the food on board as well as learn a lot of interesting facts.
7. Cooking demonstration
Join in a cooking class or demonstration. You can come home with a whole new skill set and new recipes to try!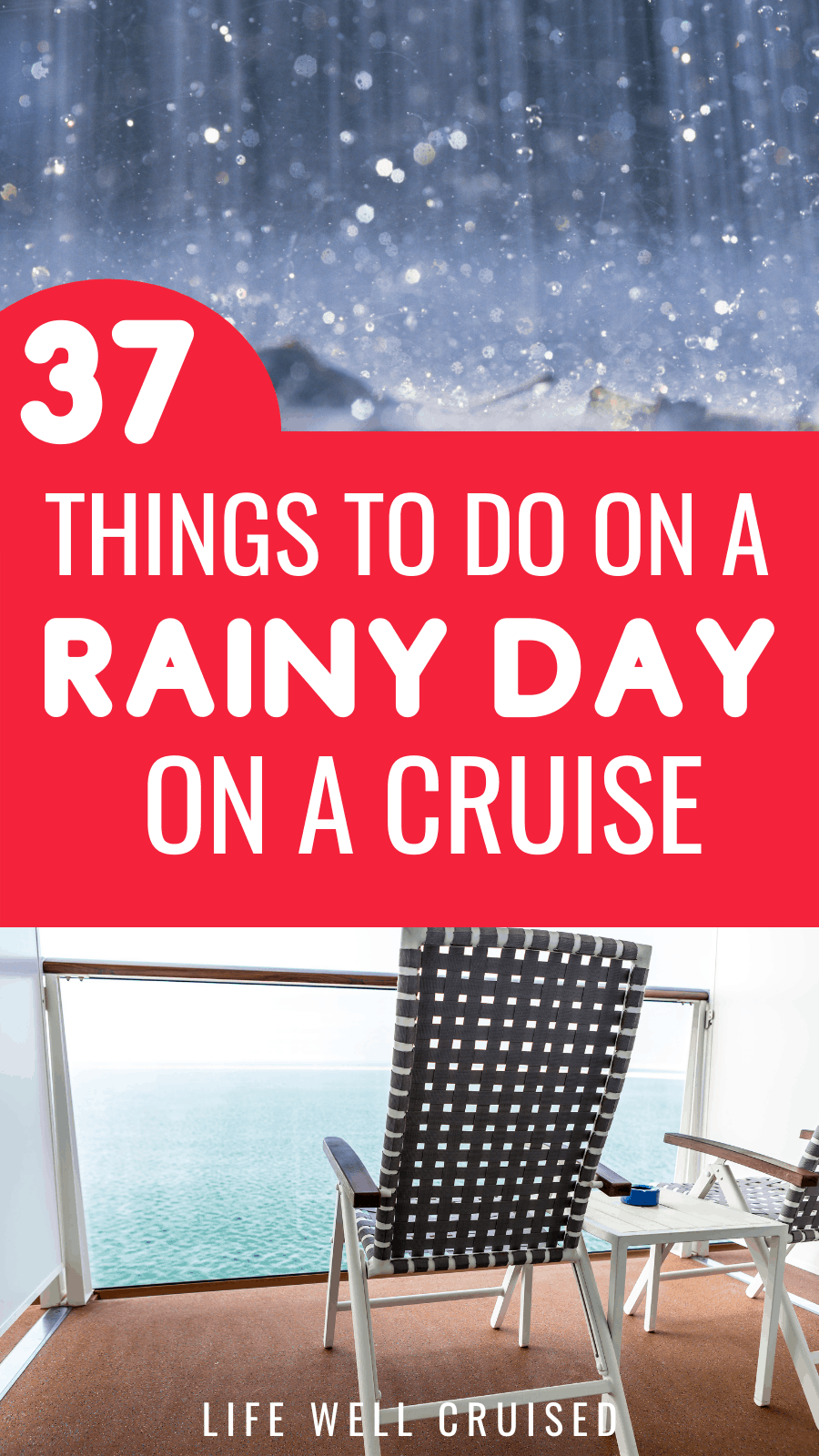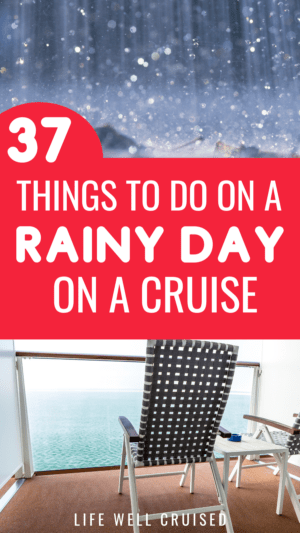 8. Wine tasting
While not offered every day, a couple of wine tasting events are offered on many cruise ships. For a reasonable price, you can try several wines and learn about the flavors and aromas from cruise ship sommeliers.
9. Get lost in a book
There are so many places to sit back and read a book. Enjoy your own balcony and read with the sound of the rain and sea. Perhaps find a plush chair in the ship's atrium and grab a coffee or tea while reading.
Where would you most like to read and get lost in your book?
10. Shop till you drop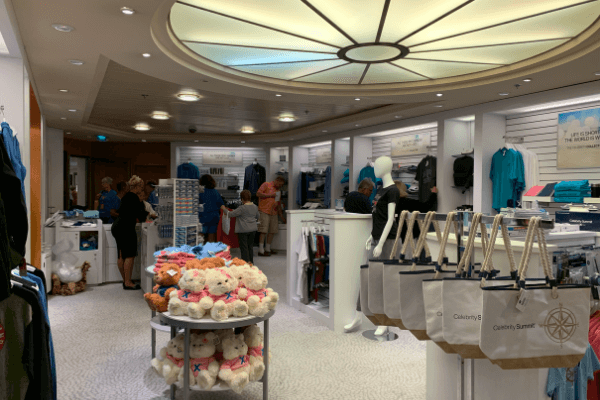 I love to do a bit of shopping on a cruise ship and rainy days are my perfect excuse! From the $10 sales, mid range luxury bags, to fine jewelry, the duty-free shopping on a cruise ship can be better than you might think!
11. Catch a movie
There are some great movies playing in the ship's theater, a lounge or even in your own cabin on your stateroom TV. Why not catch a movie on a rainy day on a cruise?
12. Go ice skating
Ice skating on a cruise ship? Yes!! On some Royal Caribbean cruise ships there is a fair size ice skating and you can actually rent skates (for free) and give it a go!
On a cruise with friends several years ago, we decided to ice skate on a sea day and it was so much fun!
13. Play laser tag
Feeling like being active while cruising? Make sure to check out the ship's activities before you go to see what's available. This can be especially helpful if you encounter bad weather on a cruise.
One activity that can a lot of fun is laser tag, available on some family friendly cruise lines.
14. Head to the solarium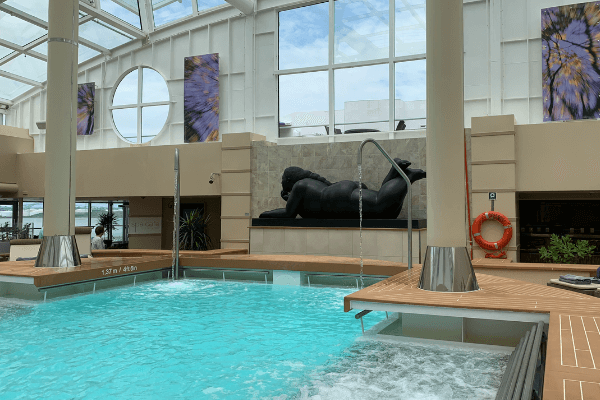 Some cruise ships have an indoor pool in a covered solarium. This is one of my favorite places to be.
On a recent cruise on the Celebrity Summit, we spent hours in the solarium pool (a thallostherapy pool) and the hot tub. Even though it was a rainy day, we had a relaxing and fun day on our cruise.
15. Go to the art auction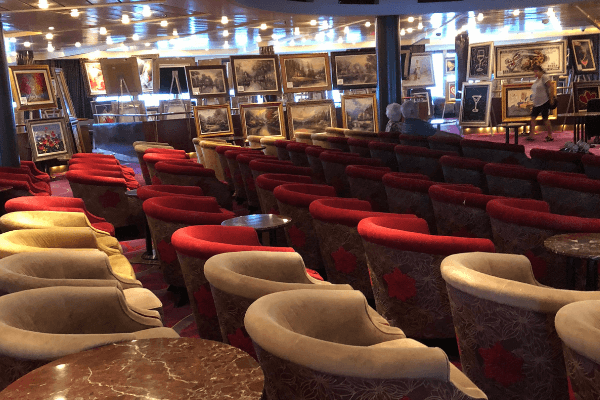 Art auctions get a bad rap, in my opinion. While not for everyone, art auctions are a change of pace on a cruise and can be a great activity on any sea day. You can learn about the artwork and artists, the value of the pieces, and meet people who collect the various pieces.
If you really like any of the artwork, there are often pieces that you can purchase at reasonable prices. Plus, if you check out a Champagne Art Auction, you will get a free glass of sparkling wine or two as well.
16. Stay in the hot tub or pool
Up until now, I've mostly listed things to do on a rainy day, that are indoors on a cruise ship. However, unless there's a storm, in which case the lido deck will likely be closed, you can still hang out in the pool or hot tub.
You're wet anyway, so why not?
17. Go to a lecture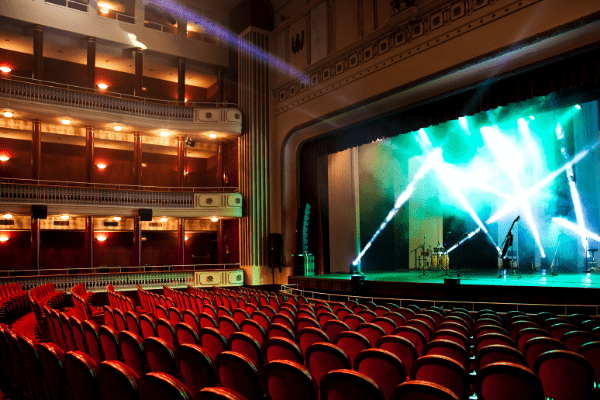 On a cruise ship, you'll often have some really interesting guest speakers like authors, actors and even race car drivers! If it's a rainy or bad weather day, make sure to show up to the lecture a bit early.
18. Trivia
Trivia is one of the most well attended activities on many cruise ships, that brings the same people back again and again. If you enjoy cruise trivia and other topics, make sure to check this out.
19. Karaoke time
Most of the time, I've seen karaoke being offered in the evenings, but occasionally it has been a daytime activity as well. This is a fun activity for those that like to sing, as well as those who like to watch!
20. Learn to dance
Have you always wanted to learn to salsa or chacha? Join one of the free dance classes available either inside or outside on sea days.
21. Afternoon tea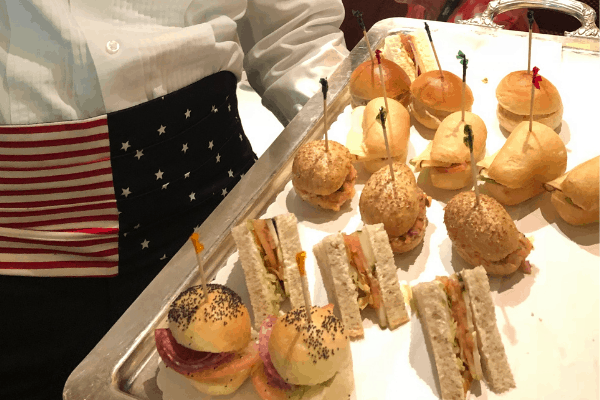 At about 3:00 in the afternoon, afternoon tea is often served on a cruise. Scones, petits fours (little cakes) and tea sandwiches are served in the main dining room, along with a traditional British style tea. If you get rained out during your cruise, you must give afternoon tea a try.
22. Have lunch at a specialty restaurant
Did you know that specialty restaurants often have reduced lunchtime prices? Consider treating yourself to one of the fancier restaurants for lunch or even an a la carte option, like sushi.
23. Play cards, sodoko or crosswords
This might be an oldie but it's still a goodie. Grab a table and play a few card games with your family and friends, or solo.
24. Join a painting class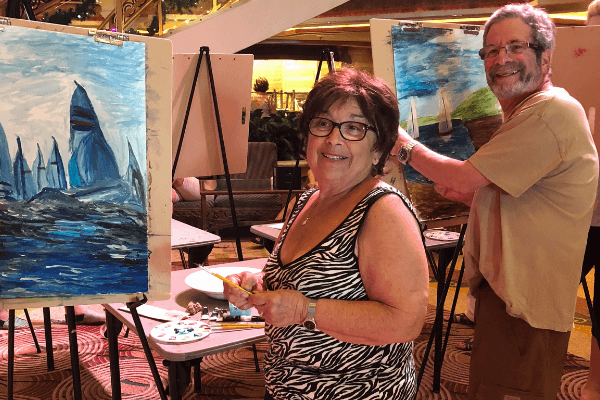 There are endless types of activities to do on a cruise, and rainy days are perfect for trying something new. On a past Princess cruise, may parents had a great time with watercolor painting in the Piazza.
25. Explore the ship
Don't feel like an organized activity or sitting in one place. Explore the cruise ship from top to bottom. Cruise ships have interesting artwork from paintings to sculptures displayed on most decks, and there may be some lounges or places you've missed so far.
26. Make use of your drink package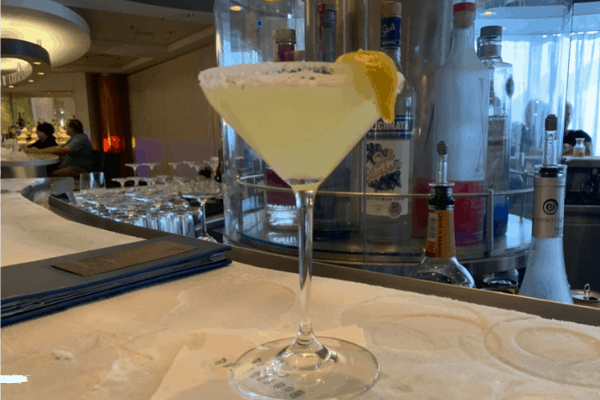 While you don't want to overdo it, if you have a cruise drink package, this is the time to make use of it and try out some new cocktails.
27. Join a drink making competition
Cruise ships have so many fun competitions and games that encourage guest participation. If you think you have the skills, join in on the drink making competition which is often held on sea days.
28. Learn a new skill
Check out the various classes that are offered on a cruise. It's a good idea to sign up early in the cruise if the topic peaks your interest.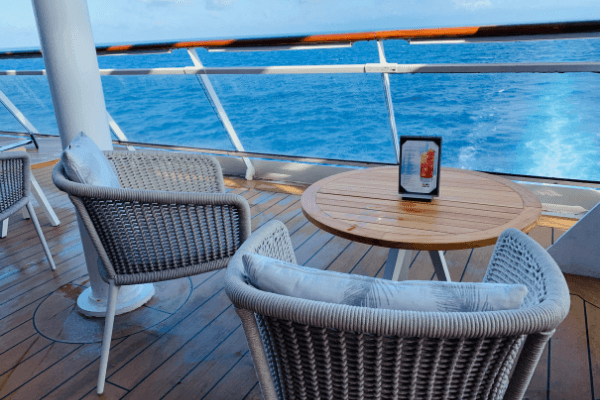 29. Play pool
Many cruise ships now have self leveling pool tables and a perfect activity for a rainy day on a cruise ship.
30. Hang out with new friends
Sometimes, you may not feel like doing anything at all. However, that doesn't mean that you can't enjoy conversation with new cruise friends.
We often meet some new people on our cruises, and love to hear about their travels and experiences.
31. Go to the Captain's talk
While not every cruise ship will have a Captain's Talk, if it's offered, it's well worth it. If you're at all interested in the technology of the cruise ship, how weather affects a cruise ship, or even how decisions are made by the cruise ship Captain, make sure to mark this on your schedule.
32. Netflix & chill
Why go out when you can stay in? As long as you have the wifi package, you can watch a favorite movie or series on Netflix.
Alternatively, you can also hang in your cabin and watch the stateroom TV or even the original programming offered by your cruise line.
33. Create your own food tour
This one sounds funny, but my husband and I did this on the Regal Princess a couple of years ago.
It was a cloudy and rainy day, so our plans for sitting by the pool were shot. We took our Princess Patter and saw that there was a British Pub Lunch (love it!). Well, we also realized that there was afternoon tea at 3 pm.
On top of that, it was the last full day of our cruise, so we decided to try out at least one thing from each food venue we hadn't yet tried!! We called it our Unofficial Cruise Food Tour 🙂
34. Take storm videos and pics
Are you fascinated by the sea and storms? Capture it by taking photos and videos.
35. Join contests
Head into the cruise ship stores and other venues and fill out the ballots for the various contests. There will be lots of things you can win from artwork to jewelry. Often, there's a fun atmosphere as the winning ballot is chosen.
36. Sit on your balcony and listen…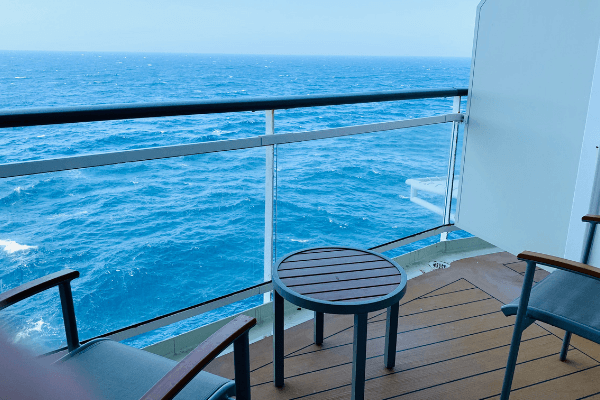 There's something strangely calming about the sound of the rain and the waves while cruising. If you have a balcony cabin, sit out and take in the peaceful sounds for even a little while.
37. Coffee shop time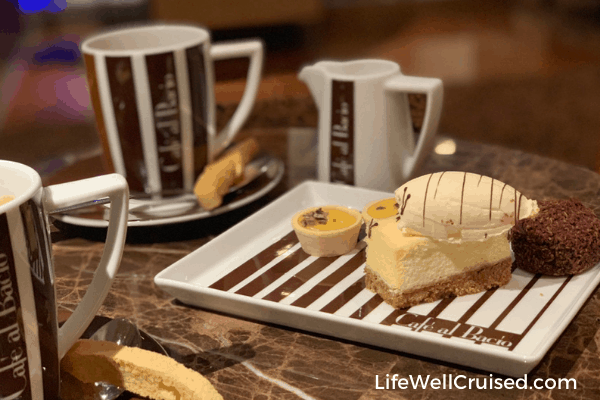 If you're looking for a place to relax indoors on a rainy cruise day, the ship's cafe will provide a perfect atmosphere. For example, Celebrity Cruises Cafe Al Bacio has amazing Italian specialty coffees, as well as delicious and tempting pastries.
*Bonus – Book your next cruise
While you don't need to do this on a rainy day, it can be a great time to take a look at future cruise itineraries and cruise ships, and put down a Future Cruise Deposit. There are quite a few benefits, and one of the ways you can save money on future cruises.
Other posts you might enjoy:
25 Most Recommended Amazon Items to Bring on a cruise
27 Cruise Travel Hacks Repeat Cruisers Swear By
The Best Things To Do on a Cruise Sea Day
20 Cruise Packing Tips all Cruisers Need
Final thoughts: Things to Do on a Cruise When it Rains
While we'd rather have warm and sunny weather, there are still plenty of things to do on a cruise ship when it rains. The fact is, a little rain won't stop the fun and enjoyment of a cruise vacation!
While I listed 37 things to do on a rainy day on a cruise, there are probably many more!
If you've had rainy days during your cruise, how have you passed your time? Please let me know in the comments below.
Happy cruising!
Ilana xoxo
P.S. If you found this helpful, please don't keep it to yourself ;-). Please share on Facebook or PIN to your favorite Pinterest board (share buttons at the top). Thanks so much!