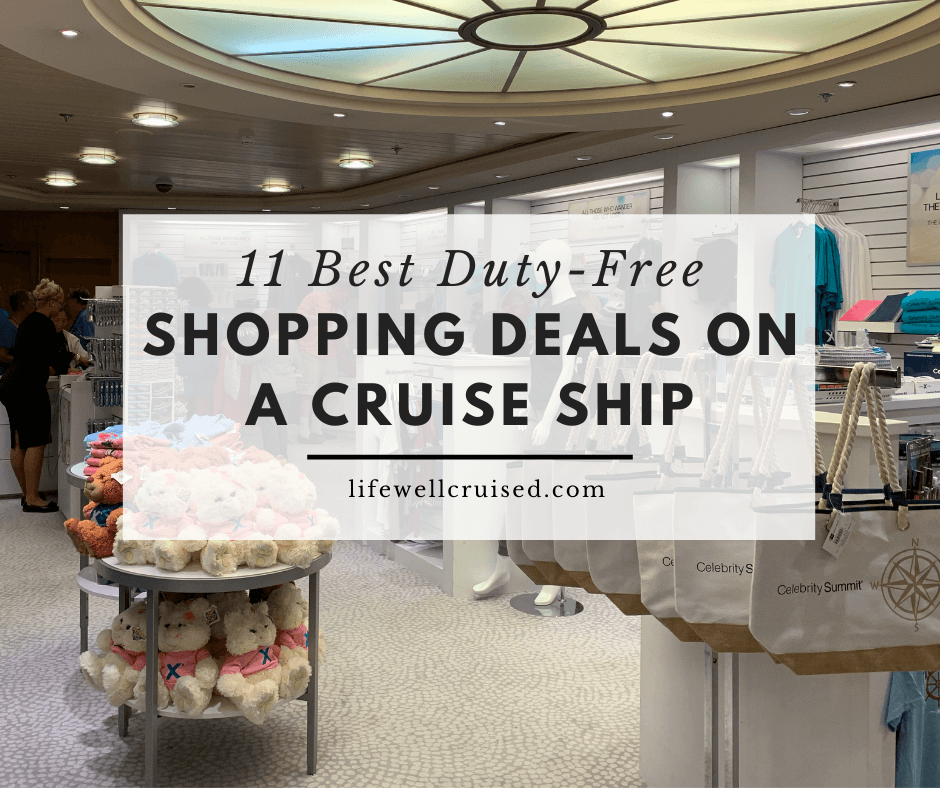 Amazing Duty-Free Shopping Deals on a Cruise Ship
If you love cruising, and LOVE shopping you can have some fun on a cruise ship!
Cruise ships today offer many shopping opportunities, and being honest, there are some great deals to be had!
To give you an idea of what to expect, there are usually several shops on board, plus some "side-walk style" pop up sales and larger shopping events happening on your cruise ship.
Whether you want to buy souvenirs for family and friends, or pick up something special just for you, you can find some great things on your cruise ship.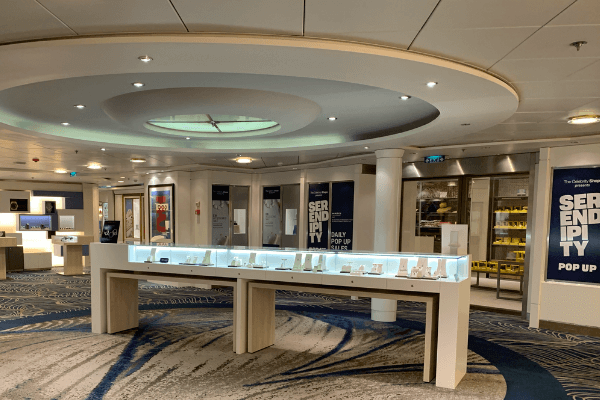 10 Duty-Free Shopping Deals on Board a Cruise Ship
1. Duty-Free Cruise Ship Boutiques
Cruise ship boutiques are duty free and tax free. This can be so advantageous.
There will often be a medium-high end jewelry store, watch boutique, handbags and purse shop, cruise clothing, cruise line logo items, liqueur stores and more!
Something to note – larger cruise ships may have a larger variety of stores. Also, on certain ships, specific brands may even have their own exclusive stores.
Remember to check on your duty-free allowance for your specific country.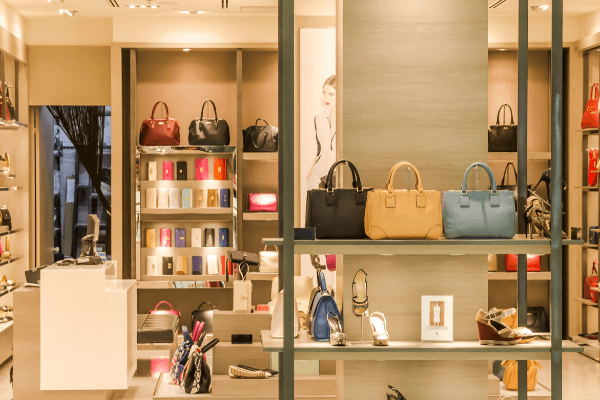 Shop till you drop!
Do you have a favorite perfume, make up, or skin cream? Check out the duty free cosmetics available on board.
Need souvenirs for the folks back home? No problem, you'll find something for everyone!
Would a new piece of jewelry make a great memento of a wonderful trip? Shop away…
2. Liquor purchases
We've found some amazing deals on alcohol in the liqueur shop on board. While the selection varies from ship to ship, we've almost always found the pricing to be significantly better than back home.
In some cases, as much as 40% less than in the island we were visiting (in the case of a local rum we wanted to bring back home).
If you love a good scotch or premium brand liqueur, do check out the selection and price. It could be a great souvenir you'll really enjoy once back home.
Tip: Check the daily planner for free liqueur tasting events where you can try several different featured brands.
3. Duty-Free Shopping for Luxury Items
Diamonds, tanzanite and other gems, and luxury watches can all be a great duty-free deal on a cruise ship. Often you'll pay 50% or less of the average retail price on land.
Keep an eye out for extra coupons that come in your cruise cabin "mail" and special events where extra discounts are offered.
A word of caution, when making a luxury purchase. Even though the pricing is duty-free and tax free, always compare pricing on big ticket items such as watches and jewelry to make sure you're getting the best deal possible.
It's a good idea to research before you go, if you already have an idea of what you want. You might also want to compare pricing in an island or do some quick checking online, even while on your cruise.
Tip: If you're a past passenger, in some cases a perk is an additional discount in ship boutiques. Saving an additional %5-10 can make a good shopping deal even better.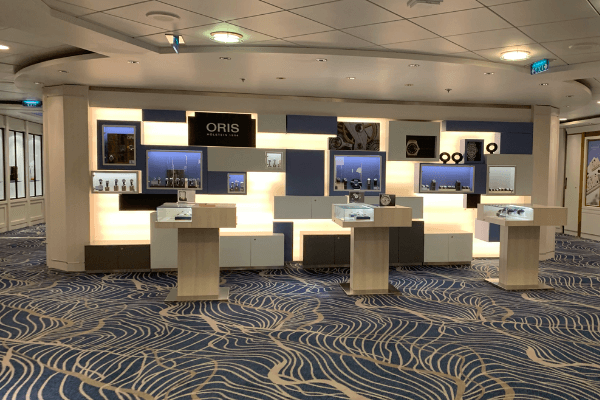 4. $10 Items Sales
Every cruise ship I've ever been on has these 10$ items, which not only can make great inexpensive purchases to take back home, but can be so useful while on a cruise.
Plus, there are often events announced in the daily planner, where you may get 6 items for $50, if you want an even better shopping deal on board.
What kind of items are there to buy?
Scarves, sunhats, "fashion" watches, bathing suit cover ups, shawls, and evening bags, and probably more.
Tip: Pick up a sunhat on the first sea day, to use later in the islands. You may also want to pick up a pretty shawl, to cover your shoulders if the dining room is cool at night.
5. Costume Jewelry (that looks gorgeous)
For those that love a sparkly new ring to wear on an evening during the cruise, or any other time, without spending thousands of dollars, there is gorgeous costume jewelry on board.
For between $20-$100 (it does depend on the brand and item), you'll find items that only you would know aren't real.
Tip: Consider leaving your valuable jewelry at home while traveling, and wear this instead. You'll still look and feel like a million bucks!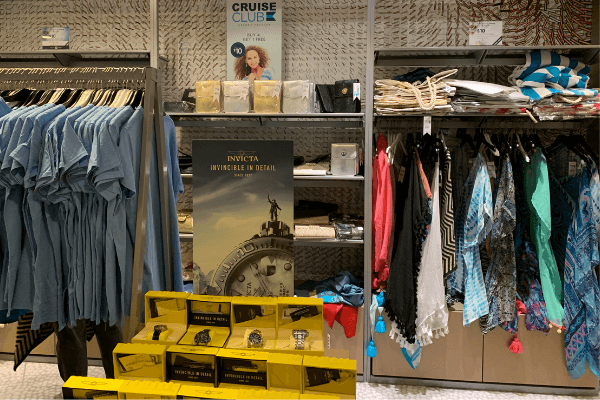 6. Art Auctions
Some love art auctions, and some don't. However, if you enjoy learning about art along with a pretty fun atmosphere, I'd say don't knock it until you try it.
It's a great sea day activity when you want to get out of the sun.
Want to get the best deal on a piece of art to bring back home?
There are often some super amazing deals announced early in the art auction, to get things rolling. Plus, if you like something in particular, have a chat with one of the art auction staff.
They'll give you some tips on what's coming up and will often negotiate with you if you want to make a purchase.
Recommended: 27 Awesome Sea Day Activities
7. Pop-up Sales (daily)
Check your cruise line app or daily planner to find out what shopping events are going on around the cruise ship.
Often, cruise ships will make sort of "side-walk sales" in the large public areas outside the shops or even in other areas. These little and big events can change daily, so keep an eye out.
Sometimes it's totally new merchandise, while other times it may be items from the stores, and the cruise line will offer an additional 10-20% off or more.
Tip: Your daily planner will be delivered to your cabin each night. Check quickly through the next day's activities and events, and highlight your favorites.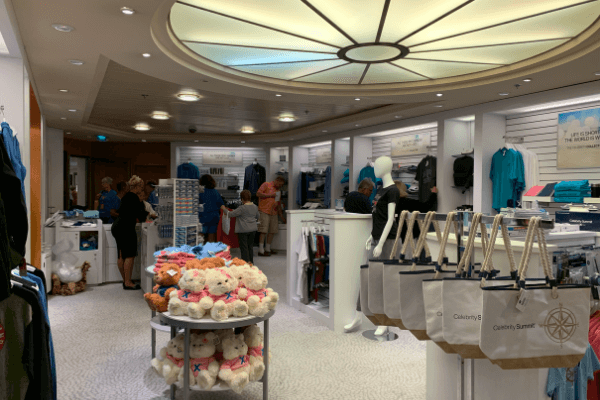 8. Liquidations and Close-outs
You never know when there will be a close out of a brand or collection. Cruise ships will want to liquidate their inventory to make room for new items that are coming in, and although they are unpredictable sales and bargains, the deals are potentially amazing!
How can you find these amazing shopping deals on a cruise ship?
Ask at the jewelry or watch store if they are liquidating any items or collections. They often have one glass showcase with these items, as there may only be a few left.
You can also check for camera equipment and sunglasses, and brand name costume jewelry in the various shops on board.
If you see an item you love, always check the pricing to make sure it really is the best price you can find. You can also ask the cruise ship shop staff if the item might be on sale (and less expensive) even later in the cruise.
My son's best deal ever!
I had to share this little story, to illustrate what I mean. Although we like to shop on board, and have gotten some good deals – this one was a "START THE CAR!!!!!" moment.
My son, Ethan, was interested in purchasing a "luxury" watch. He's liked watches for years, and often would ask for one for his birthday.
Knowing this, I suggested he wait until we were on board, as we were doing a Caribbean Cruise for Christmas and New Years.
I told him to check the cruise line watch store (it's tax and duty free) and also check in the Caribbean islands to see what "deal" he could find.
He had a couple of ideas of watch brands and styles he wanted, and had saved his money for a watch that would be a keeper.
Well, upon talking with a lovely store clerk in the cruise ship watch store, she let us know that they were liquidating the 3, yes, just 3 remaining Gucci watches – at 50% off the already discounted price.
Luckily, he loved one! A nice gold watch that's both modern and classic.
They were actually ending their contract with the brand, at least for the moment, and making room for other inventory to come in the new year.
It got better!
You see, this was a Christmas Cruise, and the cruise ship was having an extra "sale" and offering another 10% off.
On top of this, there was an additional 10% as a past passenger perk.
This watch, a Gucci watch ended up being $325!!!
Best duty-free cruise shopping deal ever!
Seriously, start the car!! Right?
Read our Cruise Review: Regal Princess Cruise Review; A Back to Back Holiday Sailing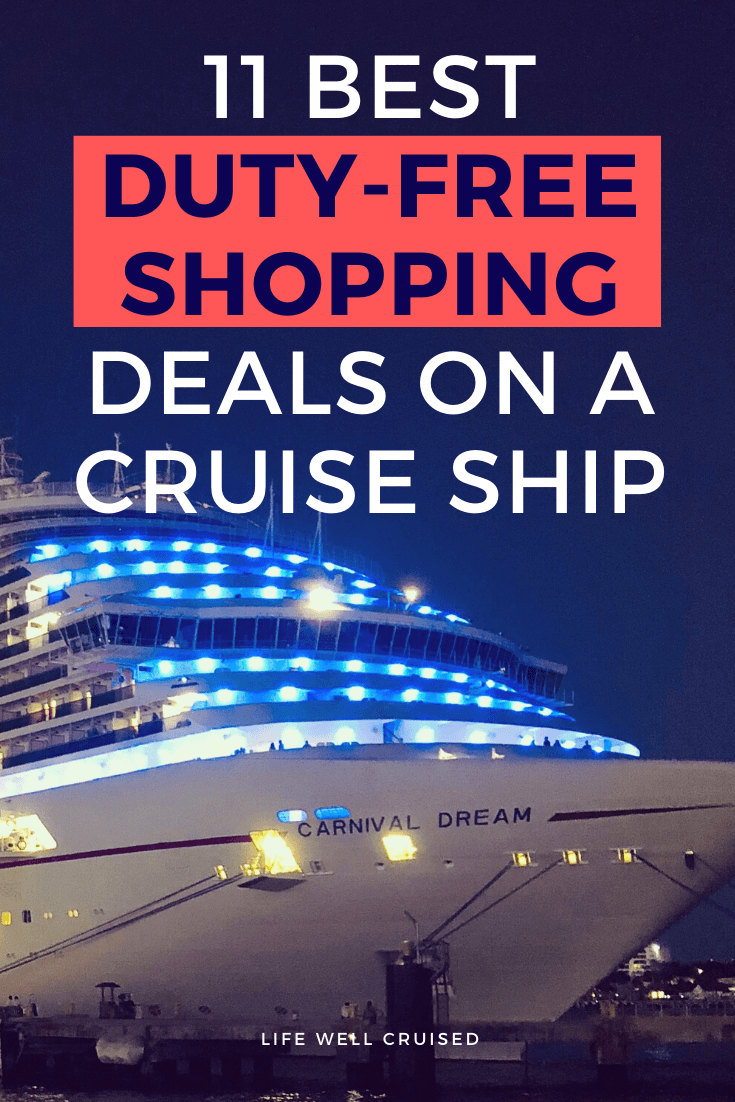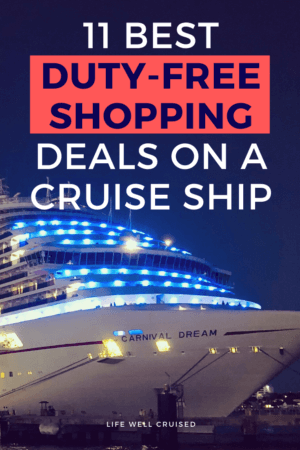 9. Cruise line Duty-Free Shops: Logo Wear and Souvenirs
Though not always the least expensive things you can find to purchase on a cruise, bringing home a cruise logo sweatshirt or basecall cap is an awesome souvenir.
There are cruise ship logo coffee mugs, cruise line Christmas ornaments, inflatable cruise ships (my own kid's favorites when they were young), there are tons of great things to buy.
You can still get a great deal though. Often these items will go on sale with a buy 2 for $40 special, or a 15% off or more sale.
Tip: Ask the cruise ship boutique staff if they can tell you when the sale will be, approximately.
10. Carry-on Bags and Duffel Bags
Cruise ships know how much extra stuff we accumulate by the end of our cruise. So, they often will sell a good size carry-on bag either as a duffel style or one with wheels.
We've bought these before, so we didn't have to fight trying to cram all this extra stuff into our already full suitcases.
While not necessarily a sale item, we've found these bags to be a very good quality for the price ($25-35)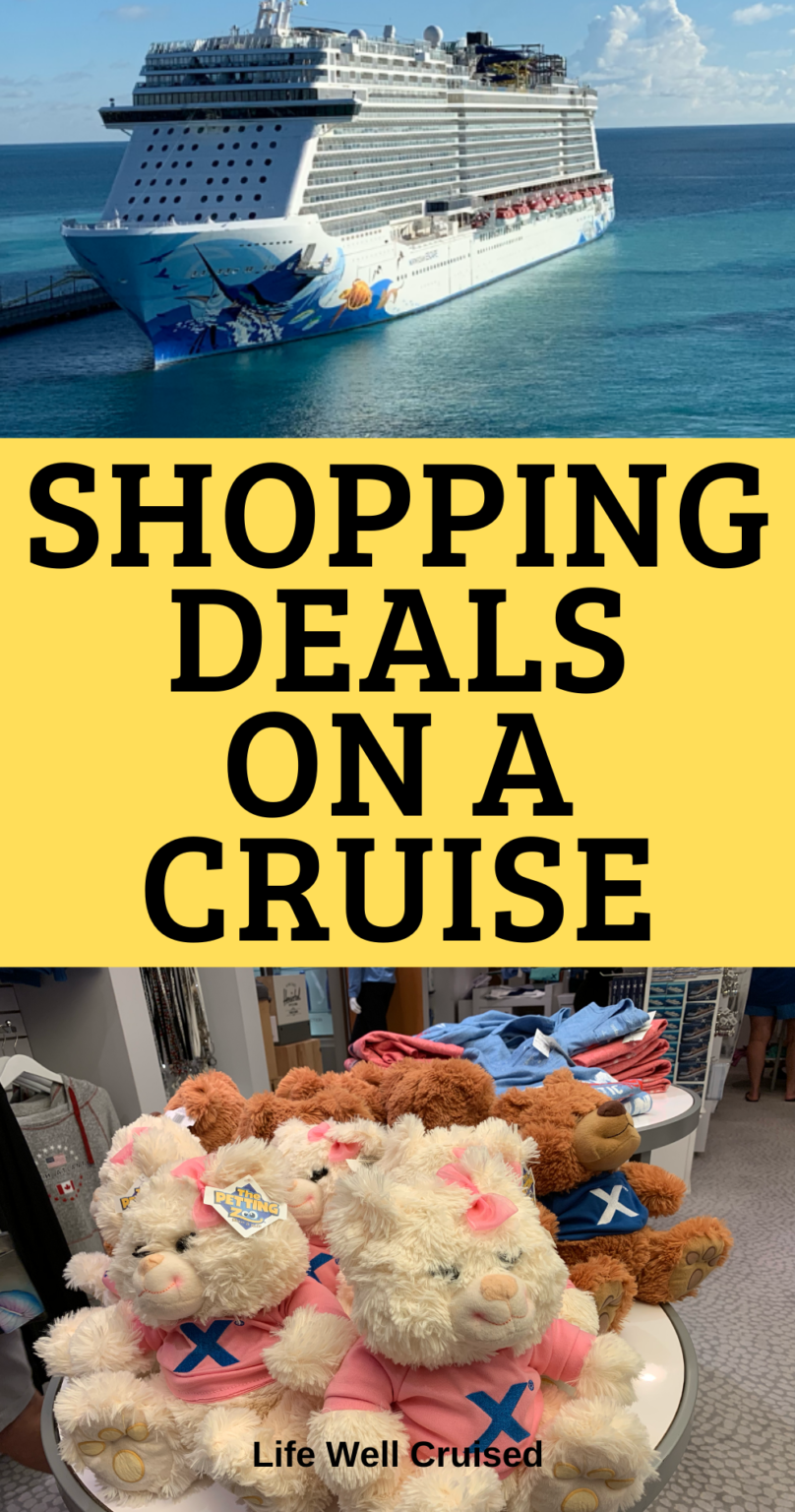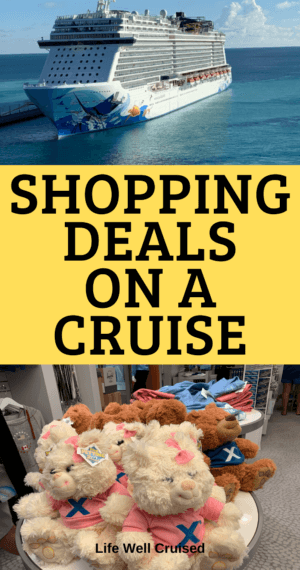 11. "Famous" Last Day Sale
Have you ever heard to wait to the last day of your cruise to buy all your souvenirs and other items?
This is actually only half the story. While true there is a often a big "sale" on the last day of your cruise, it's not usually to liquidate the items in the store that you may have been thinking about all during your cruise.
What can you find at the last day cruise sale event?
Most of the time, the cruise ship will set up a massive sale in the main dining room on the last sea day of your cruise. These items are often new merchandise that is priced cheaply and meant to go.
Some things include scarves, t-shirts, very inexpensive fashion jewelry, and souvenirs of all different sorts.
You can also find t-shirt sales in the cruise shopping area and even sometimes set out on a table by the pool. T-shirts can be cruise line related, or often will be of the ports you may have visited on your cruise.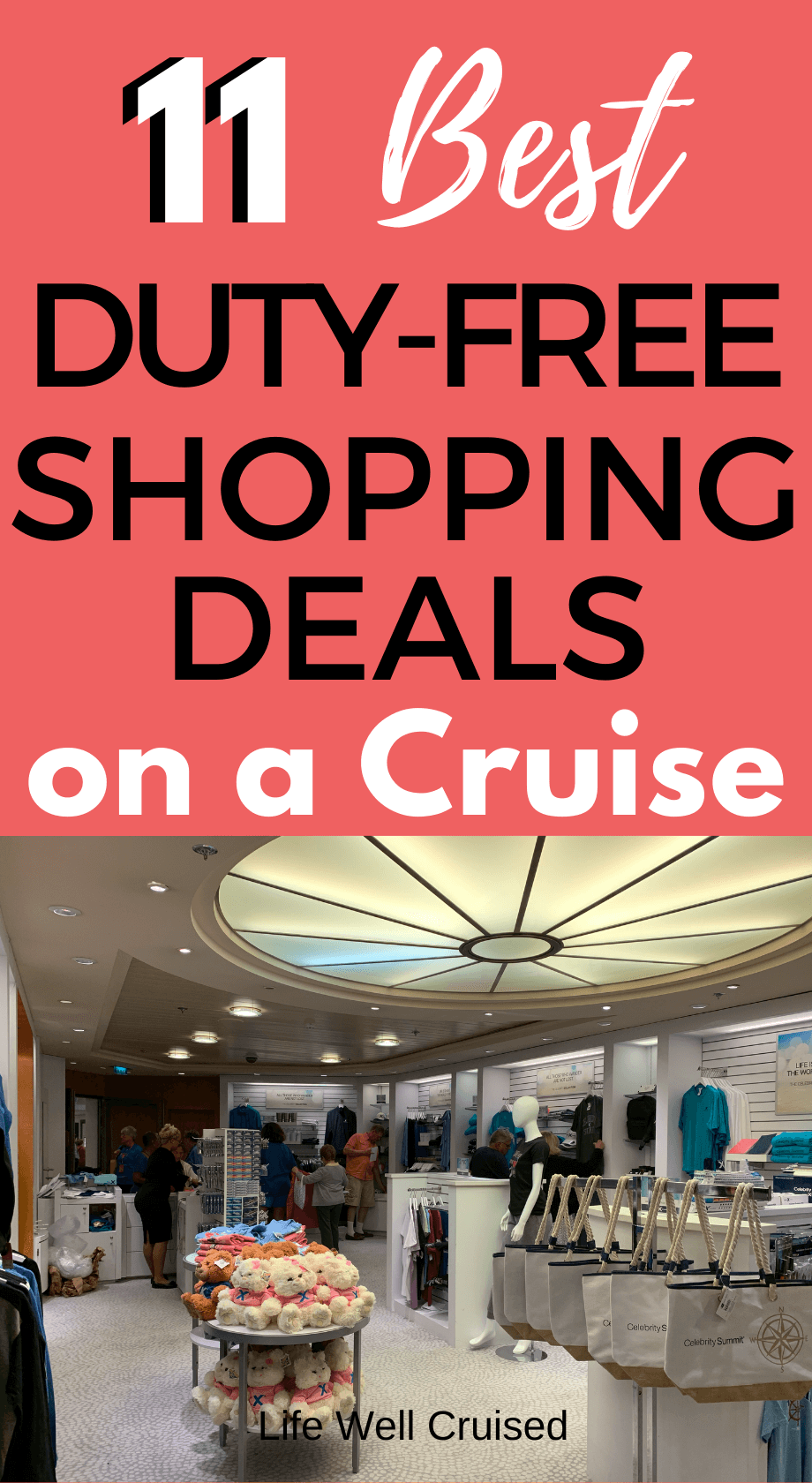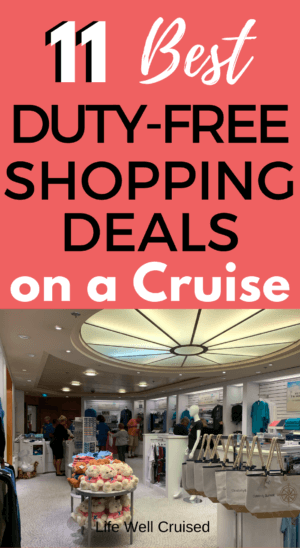 Things That Are Not a Good Deal to Buy on a Cruise Ship
While there are great shopping deals on a cruise, there are some things that are really overly expensive and not a good deal at all.
The best thing you can do, is make sure you prepare and bring these items from home.
Convenience items
Sunscreen, lip balm and other convenience items are limited, and will be pricey. Make sure you prepare by packing these items and bringing them with you.
Packing list: 20 Cruise Packing Tips all Cruisers Need
Over the counter medication
Make sure to bring your own over the counter medication. Not everything is available in the "general store", so it could mean a trip to the medical center (and there's a cost to that).
Crusing with kids? Bring any potentials medications as this will be most limited.
Here's a list of basic first-aid type items that might be helpful to get prepared for what you need: 31 Cruise First Aid Kit Essentials You Need to Have
Recap: 11 Best Duty-Free Shopping Deals on a Cruise Ship
Cruise ships can be a great place to find amazing duty-free shopping deals, as well as to buy some souvenirs and even some useful items that will remind you of your cruise vacation once back home.
Remember to do some due diligence, especially when making larger purchases on board.
Do you like to shop on a cruise? What are the best deals you've seen and look for?
Happy Cruising!
Ilana xoxo
P.S. If you found this helpful, please don't keep it to yourself ;-). Please share on Facebook or PIN to your favorite Pinterest board (share buttons at the top). Thanks so much!
Read more:
25 most recommended Amazon Items to Bring on a cruise
Holiday Gift Guide for Cruise Travelers 2019
30 Cruise Cabin Hacks Every Cruiser Needs to Know
Let's connect:
Follow me on Facebook at Life Well Cruised
Follow me onYouTube at Life Well Cruised (Vlogs and cruise tips)
Follow me on Pinterest at Life Well Cruised
Follow me on Instagram at Life Well Cruised