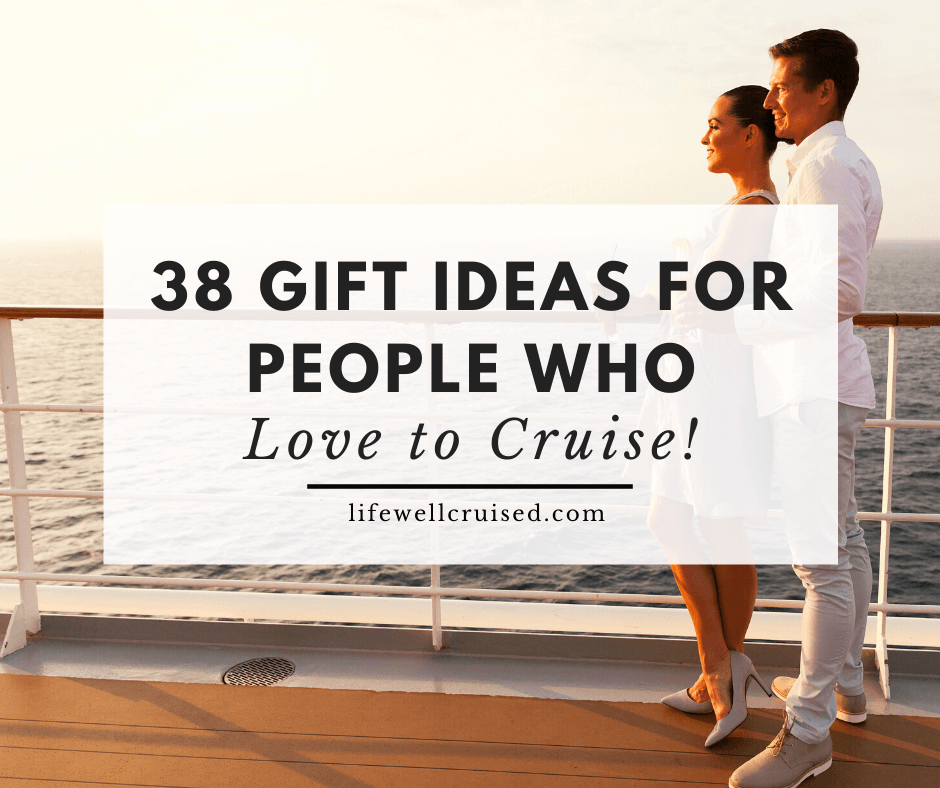 Gift Guide for Cruise Travelers 2020
Let's be honest, for cruise travelers, there's no better gift than a cruise. However, second best is everything and anything that's cruise related.
This gift guide, is full of practical and useful items that cruisers love!
Whether you need a need a birthday gift, Christmas or even Easter gift (lol), list of 38 cruise essentials has something for every traveler.
This post contains affiliate links which means if you click and buy that I may make a commission, at no cost to you. Please see my disclosure policy for details.
Favorite Travel Items for Cruisers
1. Packing Cubes
Packing cubes are a favorite for many travelers, but cruisers find them so convenient. They really help to stay organized, especially when cruise staterooms are pretty compact.
Packing cubes are available in different sizes, so do choose the package that's right for you. If you've got a couple in mind, consider a his and hers set or a different color for everyone in the family.
Recommended: Packing Cubes (Amazon link – check the 5 * reviews)
2. Yeti mug
A great stainless steel thermal mug for both hot and cold liquids is PERFECT to take on a cruise! Icy drinks even stay cold for hours!
Is it just me? I love all the color choices.
Recommended: Yeti Thermal Mug (Amazon link – different colors available)
3. Cruise Approved Power Bar
Most cruise cabins often come with only 1 or 2 electric outlets. Consider bringing a power bar (non-surge protected) with USB outlets as well.
This cruise passenger favorite and makes a great holiday gift.
Recommended: Cruise Approved Power Bar (non-surge protected)
4. Carry-On Duffle Bag with Wheels
A rolling duffle bag makes a perfect carry on bag for cruise embarkation day. Plus, it can double as a great shore excursion bag for later on in the cruise. I love that this bag is available in different colors.
Recommended: Carry-on duffle with wheels (over 5000 reviews on Amazon)
5. Travel Binoculars
Travel binoculars are great for cruisers. Imagine watching for flying fish, dolphins and whales, or other wildlife or stargaze on the open sea.
These lightweight binoculars are especially loved by those cruising to Alaska, where the views are breathtaking.
Recommended: Travel binoculars for cruising
6. Lounge Chair Towel Clips
Cruise ships get windy, and cute towel clips help differentiate one cruise lounger from another. Flamingos are a fun one, however these type of towel clips are available in any different choices.
Recommended: Cute Cruise Towel Clips (click Amazon link for other choices)
7. Towel Bandits (to hold your beach towel in place)
For those that want something different, these towel bands are nice and compact and easy to bring on a cruise. Plus, they're available in different colors.
Recommended: Towel Bandits (see review on Amazon)
8. Keens water sandals
Water shoes are great for shore excursions and beach days. Keens are well loved as a quality brand closed toe water sandal that cruise travelers recommend again and again.
They're available for both women and men. Do take note that reviews claim that the sizing runs a little big.
Recommended: Keens water sandals (check Amazon link for size details)
9. Waterproof phone case
This universal waterproof phone case is great for beach excursions, kayaking etc. makes a handy gift or stocking stuffer.
Recommended: Waterproof phone case (verify price on Amazon)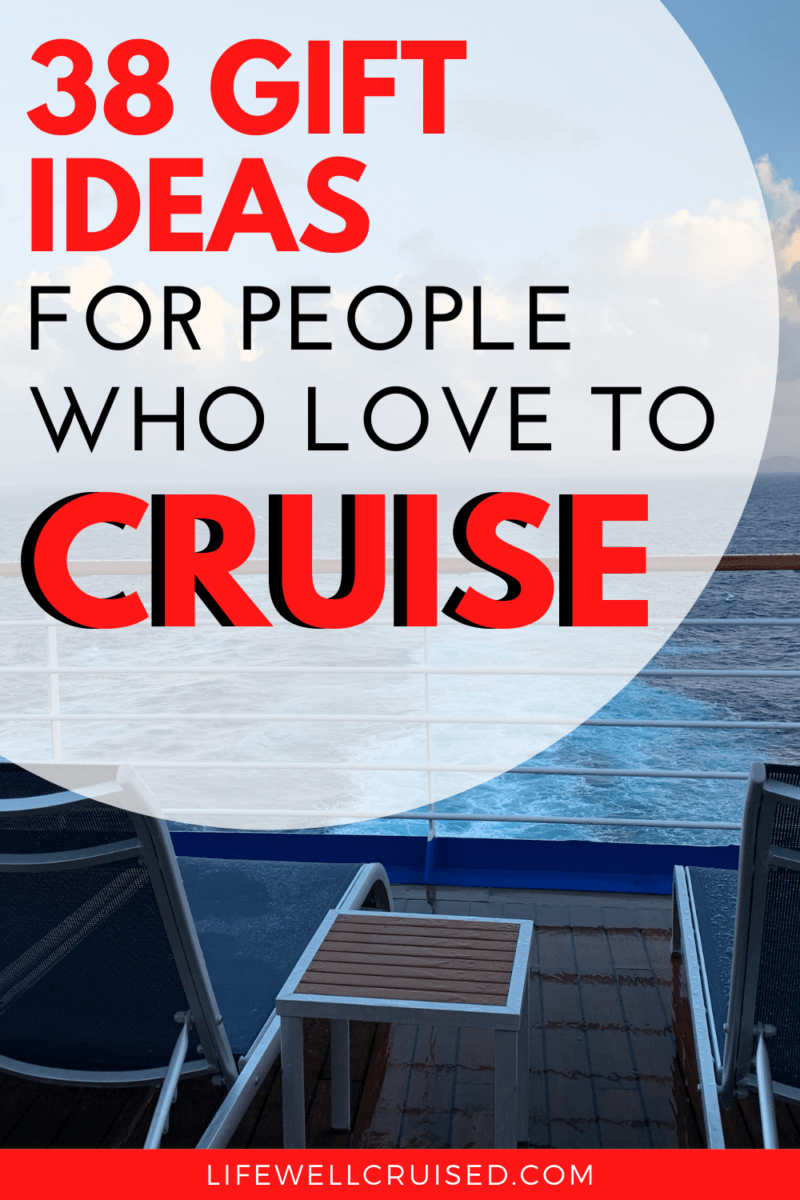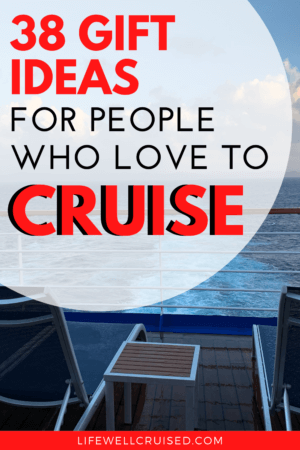 10. Portable charger
Mobile phones are so important to us as cruise travelers. Many cruise ships now have apps to access the daily schedule and communicate with other passengers, not to mention internet.
However, with cell phones now capturing amazing memories in photos and videos, we use our phones more than ever! Sadly, mobile phones don't last as long as they used to it seems, so keeping a portable charger, especially on excursion days is very handy.
Recommended: INUI portable cell phone charger
11. Cruise luggage tags
Cruise luggage tags are great to keep printed paper cruise luggage tags safely attached to your luggage
This set, sold on Amazon has 2 different sizes, to work with different cruise lines.
Recommended: Plastic cruise luggage tag holders (check link on Amazon to see that it's the best option for you)
12. Portable Lock box safe
More and more cruisers are raving about this lock box that they can bring to the beach and on excursions, to keep cash and valuables safe during port days.
If you have a cruise friend that has almost everything, they may not have this… yet.
Recommended: Portable lock box safe with key
13. Personalized Beach Tote Bag
I love this monogrammed tote bag for cruise beach day excursions!
If you know someone who's cruising after the holidays, ust imagine filling this personalized tote with some cruise essentials. Ho!Ho!Ho!
Recommended: Monogram Beach Tote Bag (every letter)
14. Full face snorkel mask
An amazing gift, a full face snorkel mask is the most comfortable, recommended and reasonable snorkel gear available for cruisers. For hygiene reasons, having your own snorkel equipment is a great idea.
Recommended: Full Face Snorkel Mask (check amazing reviews on Amazon)
15. Waterproof Dry Bag
These wet-dry bags are great for river rafting excursions, kayaking and even for beach days, and they float!
Recommended: Floating waterproof dry bags
16. Waterproof Pouch with Waist Strap
This waterproof waist pouch that can hold your phone, passport and other valuables is quickly becoming a popular must-have for cruisers. Just imagine going on a kayaking excursion and how handy this would be!
Recommended: Waterproof pouch with waist strap (verify almost 1000 reviews on Amazon)
17. Portable fan (battery operated)
Recommended: Portable fan – battery operated
18. Digital Alarm Travel Clock
A simple, no frills digital alarm clock is a popular item for cruisers to keep in a compact cruise cabin.
Recommended: Digital Alarm Travel Clock
19. Cruise Cabin Nightlight
This nightlight came recommended by a reader. It's pretty awesome, especially for anyone in an inside cabin.
There's a motion sensor AND it has a magnetic base which can attach to the metal cabin wall.
Recommended: Cruise cabin nightlight with battery
Practical Travel Items Cruisers Need
20. Travel Umbrella
A good quality travel umbrella, reinforced for wind while still being compact is a must for any traveler.
Recommended: Portable travel umbrella (excellent reviews on Amazon)
21. Passport holder
This passport holder is amazing as it's hands free (worn around the neck), can hold credit cards and cash. Plus, it gets great reviews!
Recommended: Passport holder (best-selling Amazon item)
22. Family Passport Wallet Holder
This smart and beautifully designed passport wallet has space for several passports (the whole family!), plus room for cruise documents and other travel information.
Recommended: Family Passport Holder Wallet (see color options on Amazon)
23. Luggage scale
Having a hand-held digital scale while traveling is so convenient, especially when flying. Everyone wants to avoid overweight fees!
Recommended: Digital handheld luggage scale
24. Silicone travel bottles and containers
This set of 3 oz bottles and containers is perfect for traveling to the cruise ship, as well as packing light.
Recommended: Silicone travel containers and bottles – TSA approved
25. International power adapter
Perfect for international trips for hotel stays pre and post cruise – a must for avid and aspiring travelers.
Recommended: International power adaptor
Travel Related Gifts
26. Cell phone tripod and selfie stick with remote
This little tripod with remote makes it so no one is left out of photos again. Plus, it's so much easier to take video with the selfie stick (and walk with it).
Recommended: Selfie stick and tripod with remote
27. Hero GoPro Camera and Video Camera
The ultimate gift for anyone who wants to capture the amazing sea views and adventures on shore excursions! The water proof Hero GoPro takes high quality 4K photos and videos, includes a stabilizer feature to have the smoothest shots, and is really a dream gift for cruise travelers.
Guess what I got for my husband for the holidays, lol!!
Recommended: GoPro Hero 8 (check pricing and reviews on Amazon)
Cruise Essentials for Seasickness Management
28. Seabands
Considered by many to be an essential item (if you're worried about seasickness). Seabands are natural and reusable and offer a good motion sickness management.
Recommended: Seabands (2 in a pack)
Related post: 10 Ways to Prevent and Avoid Seasickness on a Cruise
Gift Items for Cruise Travelers
29. Fitbit Versa 2
While the Fitbit isn't officially a travel product, it's one of my favorites when cruising (and may be yours too).
Let's face it, when we cruise we tend to eat more and indulge in general. At least all the walking and climbing flights of stairs offsets it a bit, and makes it easier not to gain weight on a cruise.
It's so motivating to see those steps really add up, and encourages some healthier habits, even once off the cruise.
Recommended: Fitbit Versa 2 (Amazon)
30. Sterling Silver Nautical Necklace
This is so pretty for ether a small gift or a stocking stuffer. I love the simplicity of this pretty nautical anchor necklace, with a trendy sideways design.
For the price, the reviews are so good! Do check length before ordering as there are 2 sizes.
Recommended: Sterling Silver Nautical Necklace (check reviews on Amazon)
31. Electronics organizer
If you've got a few charger cables (bring extra), portable charger (see above), laptop cable, air pods and other electronics, it's great to have them all in one place.
Recommended: Electronics organizer (check color choices)
32. Scratch Off World Map
I'm loving this scratch off map and thinking about the travelers in my life that would love this!!
Recommended: Scratch Off World Map
33. Hanging Toiletry Bag (*Bonus Favorite)
This is a bit of a bonus "essential" item that happened onto this list by accident!!
I LOVE THIS!! Lol
I actually just bought this hanging toiletry bag in the bright purple color and it's beautiful and so practical!
The 4 clear pouches actually come apart, as they are attached with velcro. So handy for an overnight at a hotel before the cruise, as well as to hang as a spacesaver on the inside of the bathroom door, once on the cruise ship.
This hanging bag is available in purple, black and grey ((check details on Amazon here).
Recommended: Spacesaving hanging toiletry bag
Books that Make Great Gifts for Cruisers
34. The Joy of Cruising
The Joy of Cruising written by Paul C. Thornton would be right at home in any cruise traveler's collection. This cruise travel book features interesting stories about people who are passionate about cruising.
If you or someone you care about has made cruising a part of life, this book will be so appreciated.
Fun fact: Due to it's success, there will be a follow up book to be released for the holiday season 2020. I'm extremely honored to be featured in the next book, along with others I really admire!
Recommended: The Joy of Cruising, Paul C. Thornton (Amazon reviews/info here)
35. European Cruise Port Guide by Rick Steeves
The Rick Steeves cruise travel guides are some of the best I've ever seen. Author Rick Steeves and author Cameron Hewitt have spent expensive time in the regions, and their cruise port guides are written with cruisers in mind. They've taken into account the amount of hours in cruise ports, and the best places to see and visit within the time frame.
There are several guides available, so do check for the cruise itinerary that's needed (Amazon links below)
Inexpensive Gift Ideas for Cruisers
If you're looking for stocking stuffers, or even just something practical for your own cruise vacation, this idea came from some members of the Life Well Cruised Facebook page, and I love it!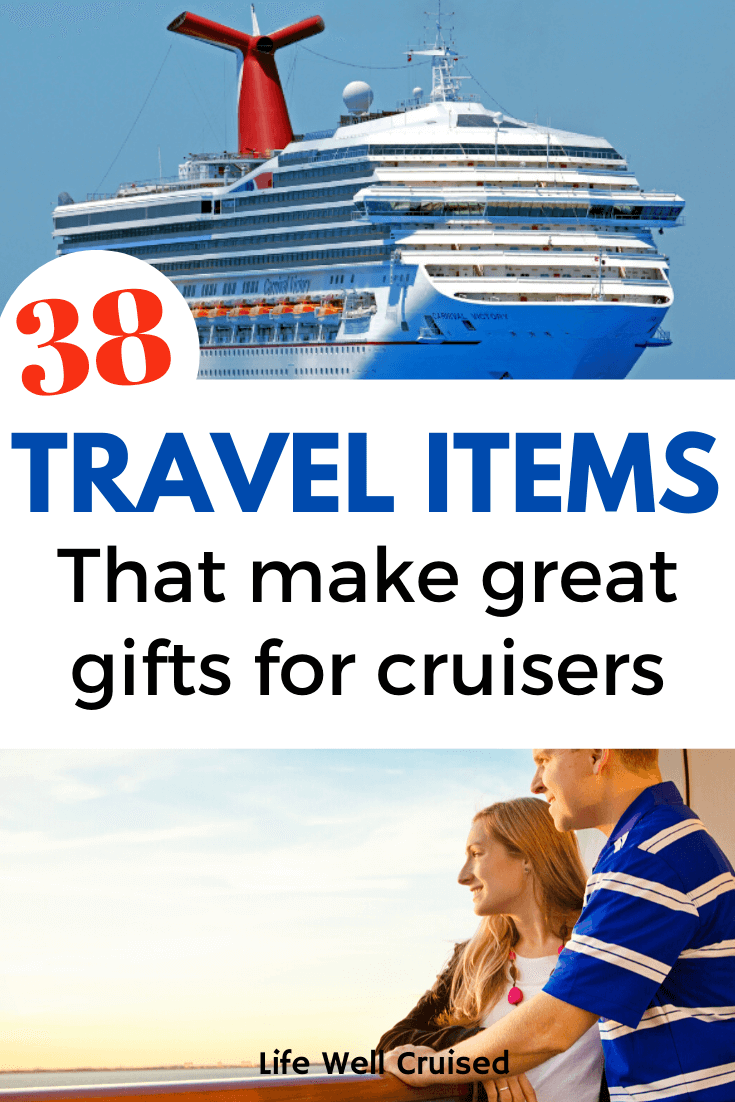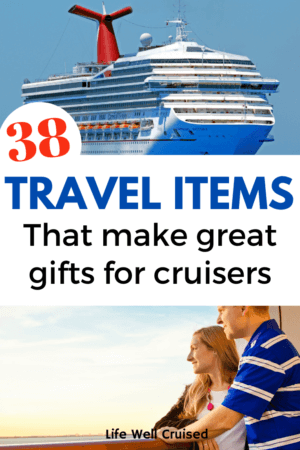 36. Stainless Steel Straws
You may have heard that many cruise lines are not using plastic straws any more, for environmental reasons. So, many cruisers are bringing their own silicone or stainless steel straws, which are washable and reusable.
Recommended: Stainless Steel Straws (check Amazon link for 1000 plus 5* reviews)
37. Silicone Straws
Some people prefer the silicone straws, which can also be brought onboard a cruise ship.
Recommended: Set of silicone straws (see details on Amazon here)
38. Glass Blown Cruise Ship Ornament
So many cruisers love to decorate their Christmas tree with cruise vacation thoughts and memories. This traditional glass blown cruise ship replica is so charming!
Recommended: Cruise Ship Christmas Tree Ornament (check price and options on Amazon)

Recap: Useful Gift Guide for Cruise Travelers 2020
In this gift guide, we've suggested 29 gifts (edited to 38 based on reader suggestions) related to cruising and travel, that are sure to be loved by the cruise addict in your life.
From cruise essentials, travel products, to unique cruise related gift ideas, you're sure to find something to please your cruisey friend or loved one.
If you found something you love, why not treat yourself? 🙂
Dis you find something you love on this Cruise Gift List? Please let me know if there's something special that should be added.
Happy Cruising,
Ilana xoxo
P.S. If you found this helpful, please don't keep it to yourself ;-). Please share on Facebook or PIN to your favorite Pinterest board (share buttons at the top). Thanks so much!
Read more:
How is Christmas Celebrated on a Cruise (what to expect)
25 most recommended Amazon Items to Bring on a cruise
20 Cruise Packing Tips all Cruisers Need
Let's connect:
Follow me on Facebook at Life Well Cruised
Follow me onYouTube at Life Well Cruised (Vlogs and cruise tips)
Follow me on Pinterest at Life Well Cruised
Follow me on Instagram at Life Well Cruised