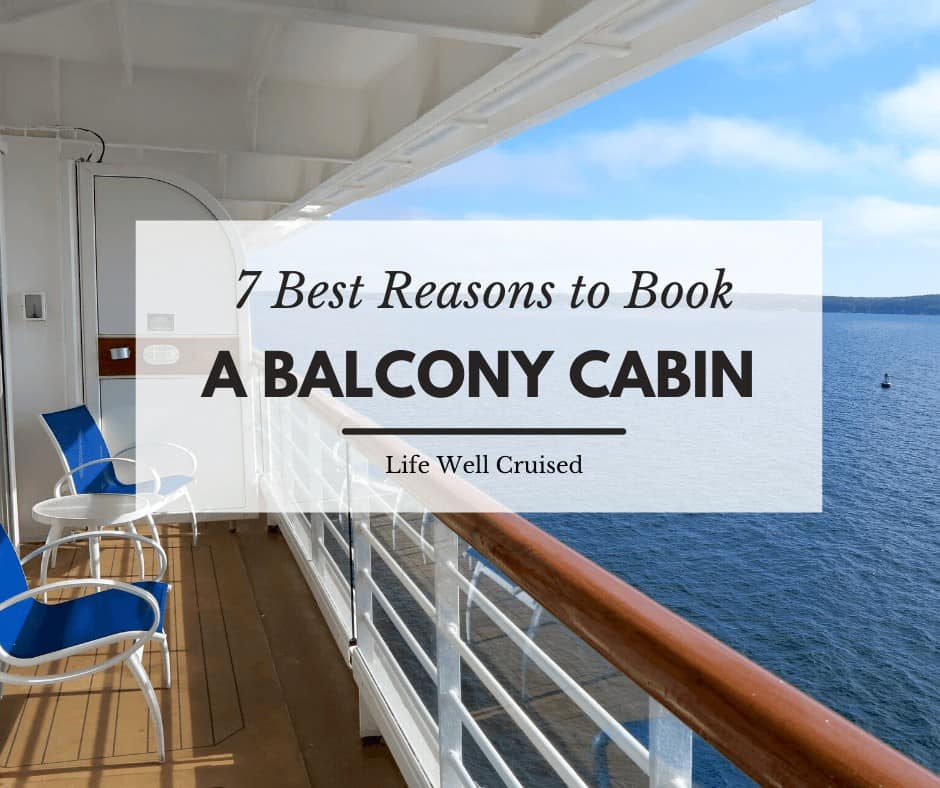 Top Benefits of Having a Balcony Cabin on a Cruise
One of the most important things you can do, when planning your cruise, is
choosing your cruise cabin
. Many cruisers really appreciate having a balcony cabin, and it's benefits.
In this post, I'll share the most important reasons to book a balcony or veranda stateroom. Some benefits are obvious, but others are less widely known.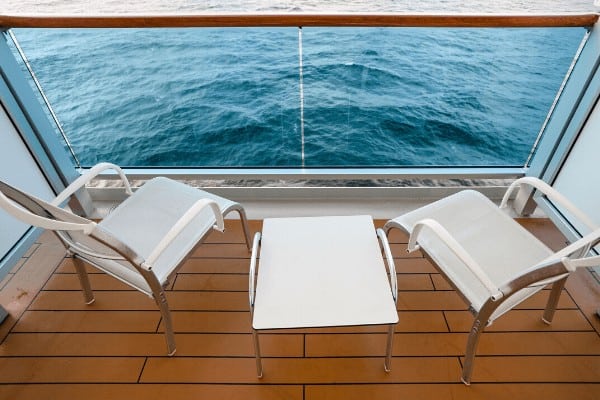 Types of Cruise Cabins; Balcony, Ocean View and Inside cabins
First let me briefly go over the basics you'll want to know about cruise ship cabins. After all, before you can make a decision on booking a balcony cabin, you do need to know your options.
Similar to a hotel, cruise ships have different types of rooms available. There are inside cabins, ocean view cabins, balcony cabins, mini suites, and various suites all available on most cruise ships.
Cruise cabins also go by different names, depending on your cruise line, but are basically the same. It's really a bit of
cruise lingo
, but here's a quick guide.
Cabin = stateroom
Inside cabin = interior cabin
Oceanview = outside cabin, picture window or sometimes a porthole
Mini suite = junior suite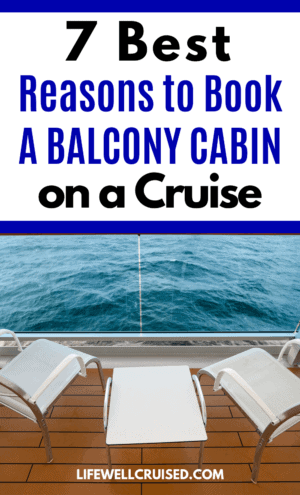 Is a balcony cabin "worth it"?
Some people ask if it's worth it to book a balcony cabin. Ultimately, there are no right or wrong answers when picking a cabin. It really is personal.
However, the cabin you choose, can greatly impact your enjoyment of your cruise vacation.
In another post, I went over the
benefits of inside cabins
– and full disclosure, we've stayed in both inside and balcony cabins and enjoy them both for different reasons. If you'd like to read it and compare, I'll leave the article at the bottom of this post.
Today, I'll be focusing on the best reasons to splurge for a balcony cabin.
"I didn't enjoy my balcony cabin." said no one ever 😉
Why You Should Book a Balcony Cabin on a Cruise
1. Incredible ocean views
There's no question that the very best thing about having a balcony cabin is having the most gorgeous ocean views.
Since you'll have your own private balcony you'll be able to enjoy the sea views from the moment you wake until the sun sets and beyond. You may even want to head out on your balcony late at night and look up at the moon. There's something so peaceful about the sea and the waves, especially when all is quiet.
Often times, I leave my curtains open at night so I could wake to see the large glass doors and the view of the sun peeking out from the horizon. It's so perfect to wake up to this view!
You may even get lucky and see some marine life, such as dolphins, whales or flying fish.
Tip: Order a pot of coffee from room service the night before, and have it delivered in the morning. When all is still, enjoy a cup of coffee and take in the quiet sound of the waves.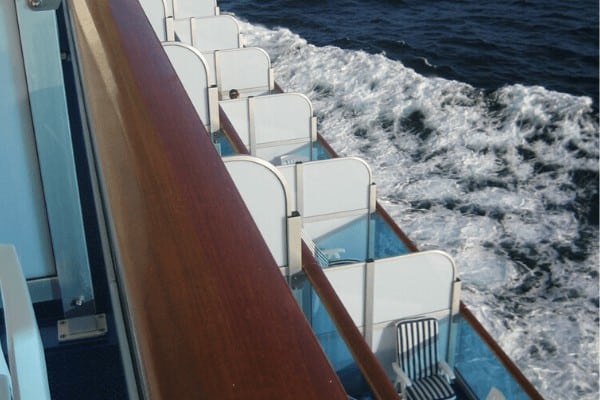 2. Extra space
It's no secret – cruise cabins are actually pretty small and compact. Balcony cabins do you have more space than inside or ocean view cabins.
As an example, an average interior cabin is about 140-160 square feet, and ocean view cabins are about the same. However an average balcony cabin is approximately 180-220 square feet.
Your veranda or balcony will add on an additional 40-50 square feet of outdoor space where you can sit and relax.
If you prefer to have more room and more space during your cruise vacation you'll appreciate having the extra room that balcony cabin provides.
A short anecdote – Why my husband likes a balcony cabin
It can take me about an hour or so to get ready in the evening before dinner on a cruise. I'm actually probably being conservative on the time frame…
Let's face it – picking a
cruise outfit
and getting dressed , doing my hair and putting on make up does take some time.
So, while I'm getting ready, my husband enjoys some time on the balcony, rather than waiting for me in a cramped room.
He may have a drink, read, or take a short nap 😉
Of course, this is only one example of how having the extra outdoor space on the balcony can feel less confining and really add to the overall cruise experience, but we've really enjoyed it.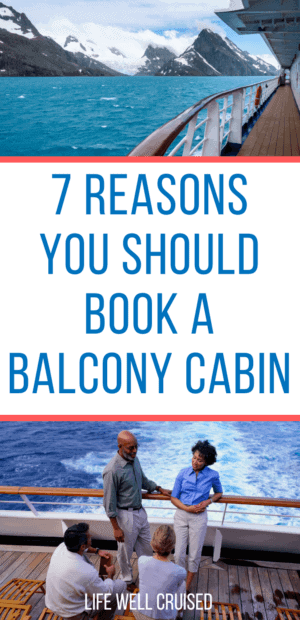 3. If you get seasick
So this might be surprising – but if you think you might get seasick it's a good idea to get a balcony cabin.
The reason is that you'll actually feel more ship movement when you're in an interior cabin, as well as in other small spaces on the cruise ship. The worst thing you can do is go and lie down in an inside cabin.
If you do feel some motion sickness, the fresh air on your balcony will help. While being out on the open deck is great when you're feeling some movement, there are times when being in your own space (and close to a washroom) is preferred.
Tip: Always be prepared for possible seasickness just in case. Having a preventative treatment like seabands and a non-drowsy seasickness medication is a good idea.
Read more: How to Prevent Seasickness on a Cruise
4. It's romantic
Cruising is romantic. However having your own private balcony is even more romantic!
You can order room service and have breakfast for two out on your balcony. Simply order room service in the morning, or even better, order before bed. Many cruise lines offer free room service or have a nominal fee.
Princess Cruises
even offers Ultimate Balcony Dining, with either Breakfast or Dinner being elegantly served to you on your balcony. This isn't cheap, and you do need to reserve. However, if it's a special occasion and you want some extra romance, it might be worth it.
Simple things like having a glass of wine before dinner, looking at the stars late at night, or even having champagne on your own balcony during sailaway are all great reasons to have a balcony!
Of course, that's the clean version. I won't get into the details of other "romantic" possibilities, but if you do, just be discreet, lol.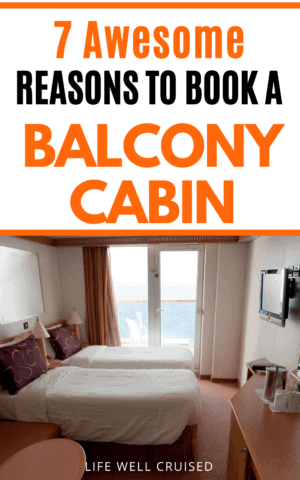 5. You're claustrophobic
If you're claustrophobic, having a balcony or even an ocean view cabin is probably a must. The fact is, inside cabins are dark and small. We can call them "cozy" to be nice, but let's be clear, there is NO natural light.
If you're worried about feeling confined on a cruise ship, you'll feel much better in a balcony or veranda cabin. You may even appreciate a larger mini suite or suite.
6. To escape the crowds
This may not seem obvious, but if you value some alone time, a balcony is awesome.
There's actually so much to do on a cruise, that you could probably never get bored. However, depending on the cruise ship, this could mean noise like loud music or entertainment. You might also be on a ship that feels crowded at some times during the day.
You own veranda is your refuge. It's where you can unwind and simply have the ocean to yourself. Your balcony is where you can enjoy privacy, especially on a large and active cruise ship.
When we were on Norwegian Breakway a few years ago, we loved the ship! It was magnificent and we were thoroughly entertained with things to do both day and night!
It was also a fun ship, with many people enjoying the drink package by the pool, if you know what I mean. So we were very thankful to have our own space to head back to our cabin in the afternoon and read on the balcony and have a glass of wine. Perfect!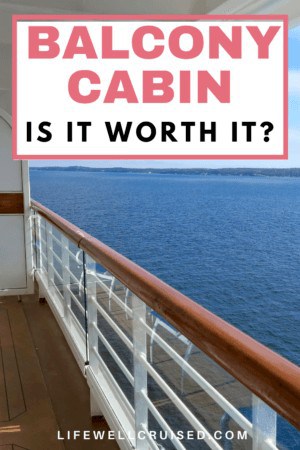 7. You're celebrating a special occasion
Many people cruise to celebrate a special birthday or anniversary. Perhaps it's even your honeymoon or you're renewing your vows.
Having a balcony cabin can just make your cruise even better!
Consider waking up for a sunrise together, or ordering chocolate covered strawberries and champagne, or sitting and watching the waves as the hours go by.
It may be worth the splurging on a balcony for your special occasion.
Read next: 7 Top Benefits of Booking an Interior Cabin
You may also enjoy: 9 Cruise Ship Cabins to Avoid
Final thoughts: 7 Best Reasons to Book a Balcony Cabin
There are a lot of great reasons to book a balcony cabin on a cruise – from having more privacy to experiencing incredible sea views, almost anytime you want, to so much more.
A word of warning though – once you get a balcony, it just might spoil you!
Have you had a balcony cabin on a cruise and would you recommend? What do you enjoy most about them? Please let me know in the comments below.
Happy cruising!
Ilana xoxo
P.S. If you found this helpful, please don't keep it to yourself ;-). Please share on Facebook or PIN to your favorite Pinterest board (share buttons at the top). Thanks so much!
Suggested posts:
25 Cruise Essentials Most Popular on Amazon
30 Cruise Cabin Hacks Every Cruiser Needs to Know
Let's connect:
Follow me on Facebook at Life Well Cruised
Follow me onYouTube at Life Well Cruised (Vlogs and cruise tips)
Follow me on Pinterest at Life Well Cruised
Follow me on Instagram at Life Well Cruised