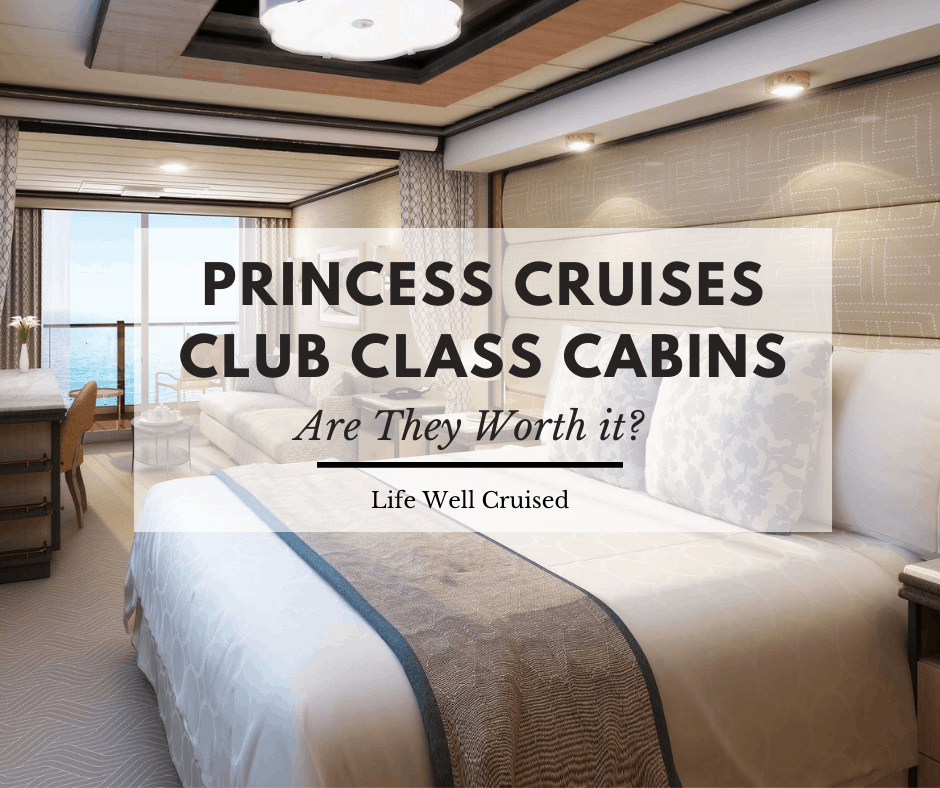 One of the newest additions to cruising with Princess Cruises is their Club Class cabins. These are available on every ship in the fleet, and come with several benefits that add extra conveniences and luxuries that may enhance your cruise vacation.
However, since the cost of a club class mini suite is higher than a standard mini-suite, you may be wondering if Princess Cruises club class cabins are worth the extra cost.
After hearing positive feedback from cruisers who have tried Club Class, I wanted to look a little more closely and compare options.
In this post, we'll go through the benefits of club class mini suites, and the additional amenities included so you can decide if Club Class is worth the extra cost for your next Princess cruise.
This post contains affiliate links which means if you click and buy that I may make a commission, at no cost to you. Please see my disclosure policy for details.
As an Amazon Associate I earn from qualifying purchases.
Are Club Class Cabins Worth it on a Princess Cruise?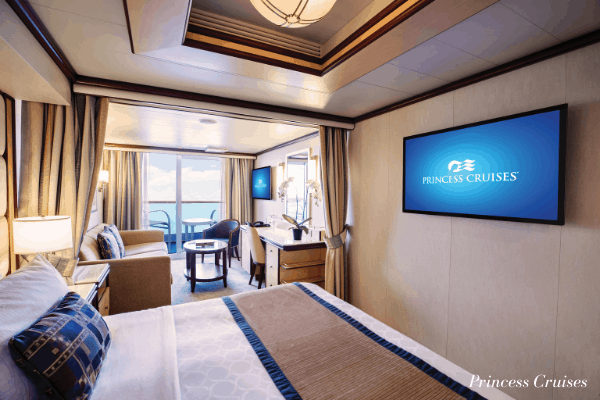 The Standard Princess Cruises Mini-Suite Experience
First, let's take a look at the standard amenities included in a Princess Cruises mini-suite stateroom.
Princess Cruises mini suite cabins are lovely, spacious, and comfortable at approximately 323 square feet. In your state room, you'll have the standard furnishings including a Princess Luxury Bed (it really is that comfortable!), 2 night tables, a T.V., a mini fridge, a desk and chair. You'll also have a separate living area with a sofa bed, coffee table and T.V.
Sliding glass patio doors lead to a private balcony with a table and 2 patio chairs.
One of the nicest things about a mini-suite, is the larger bathroom with a bathtub, which isn't available in standard inside, ocean view and balcony cabins on a Princess cruise ships. An upgrade over other Princess cabins are the plush 100% Egyptian cotton terry cloth towels. Standard bathroom amenities (shampoo, shower gel and body lotion) are provided.
Finally, you'll be greeted with a glass of bubbly at embarkation, a nice way to start off your cruise!
Going on a cruise and looking for a list of cruise essentials and travel accessories? You'll find best-selling and popular cruise items in this post.
Princess Club Class Mini Suites Benefits
Princess Club Class Cabins include all the features of standard mini suites, but include a several extra benefits that you may enjoy. Let's take a look.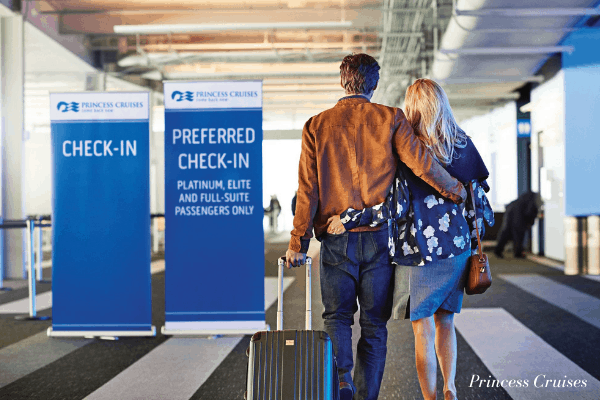 Premium Cabin Locations
Club Class mini suites are located in the best locations on each Princess cruise ship, usually mid ship and middle decks where cabins are both above and below. These cabin locations are preferred by many cruisers as you have close access by elevator or stairs to the various venues on the ship, while not being in high traffic or noisy areas.
Mid ship cabin locations are also great for anyone concerned about potential seasickness when cruising.
Related: Are Balcony Cabins Worth it on a Cruise? 10 Pros & 4 Cons
Aft Balcony Cruise Ship Cabins Pros & Cons
Club Class Dining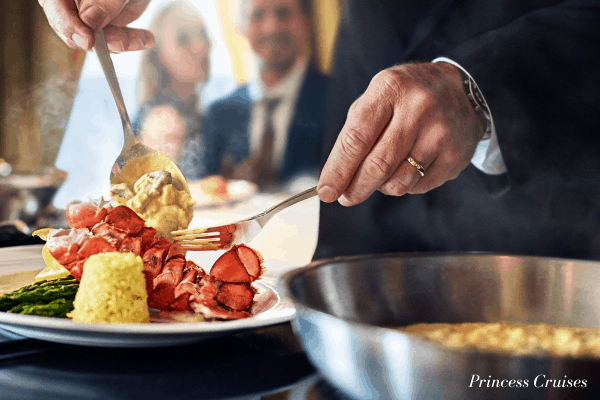 Many passengers love the exclusive club class dining experience. You'll have a dedicated part of the dining room, with a separate entrance and host, that's reserved for club class and suite passengers. It's open for breakfast, lunch on sea days and dinner.
You'll have priority seating, so there's no need to make reservations in advance through Dine My Way on the Princess Medallion App. The dedicated wait staff and additional daily chef's specials add to the dining experience.
Priority Embarkation and Disembarkation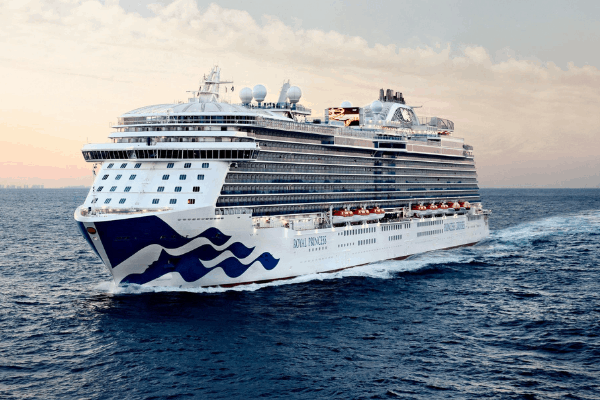 Club Class staterooms offer priority boarding and debarkation, helping to alleviate some stress as you start and end your cruise vacation. If you've cruised before, you know that disembarkation day is hectic, to say the least. Mini class suites come with a private disembarkation lounge where you can relax up until departure.
Related: 15 First Things to Do on a Cruise Immediately After Boarding
Complimentary Wine Set-up on Embarkation Day
As part of the club class amenities, you'll have 2 half bottles of wine provided in your stateroom on embarkation day – 1 white and one red.
Something to note is that if you have Princess Plus, a premium beverage package is included so you can have wine at dinner as well as other drinks at any time.
Related: Princess Plus – What's Included and Is it Worth it?
Priority Specialty Dining Reservations
If you plan to book specialty dining, you'll get assistance and have access to priority dining reservations.
Related: Princess Cruises: What Food is Included and What's Extra?
Pre-dinner Canapes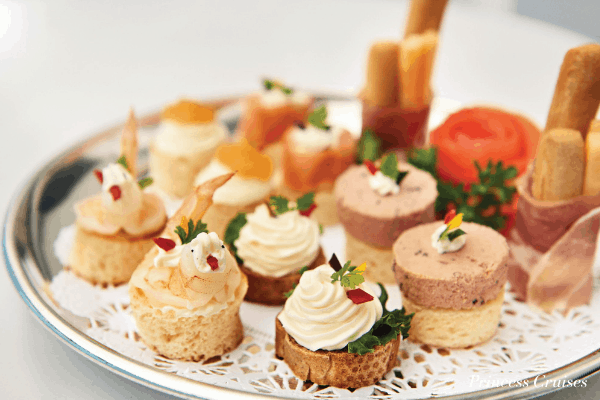 Each evening you'll have evening canapes delivered, upon request, to your cabin. There's a nightly selection of small bites including cured meats and seafood, and you can choose what you like best.
The reviews about the evening canapes are mixed. Some passengers enjoy them while others choose to opt out and noted they would have liked different choices, but substitutions aren't made.
Premium Bathrobes
The upgraded premium terry bathrobes are a nice touch of comfort you'll receive in a club class stateroom.
Get The Ultimate Cruise Planner
Regular price: $27 Now just $17!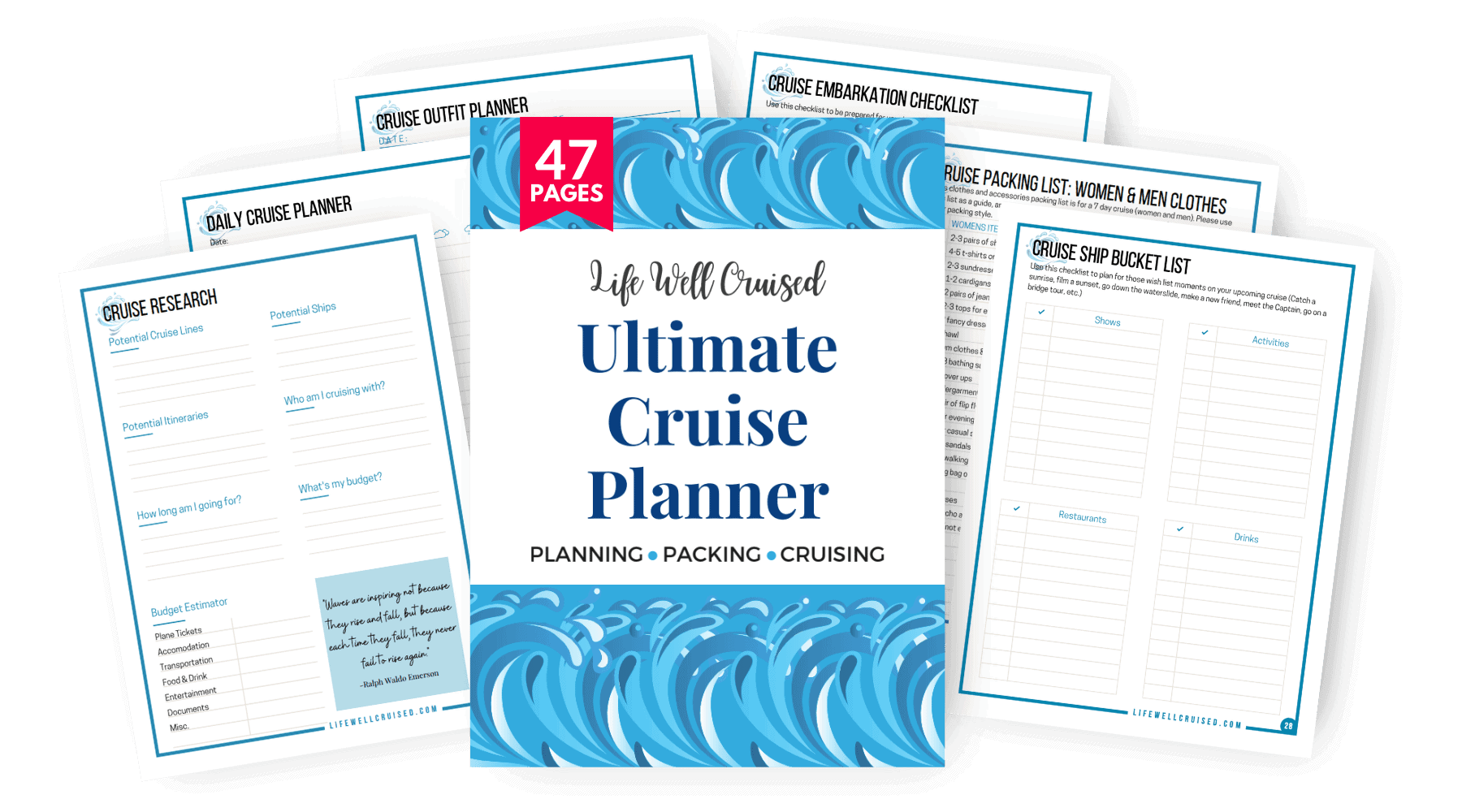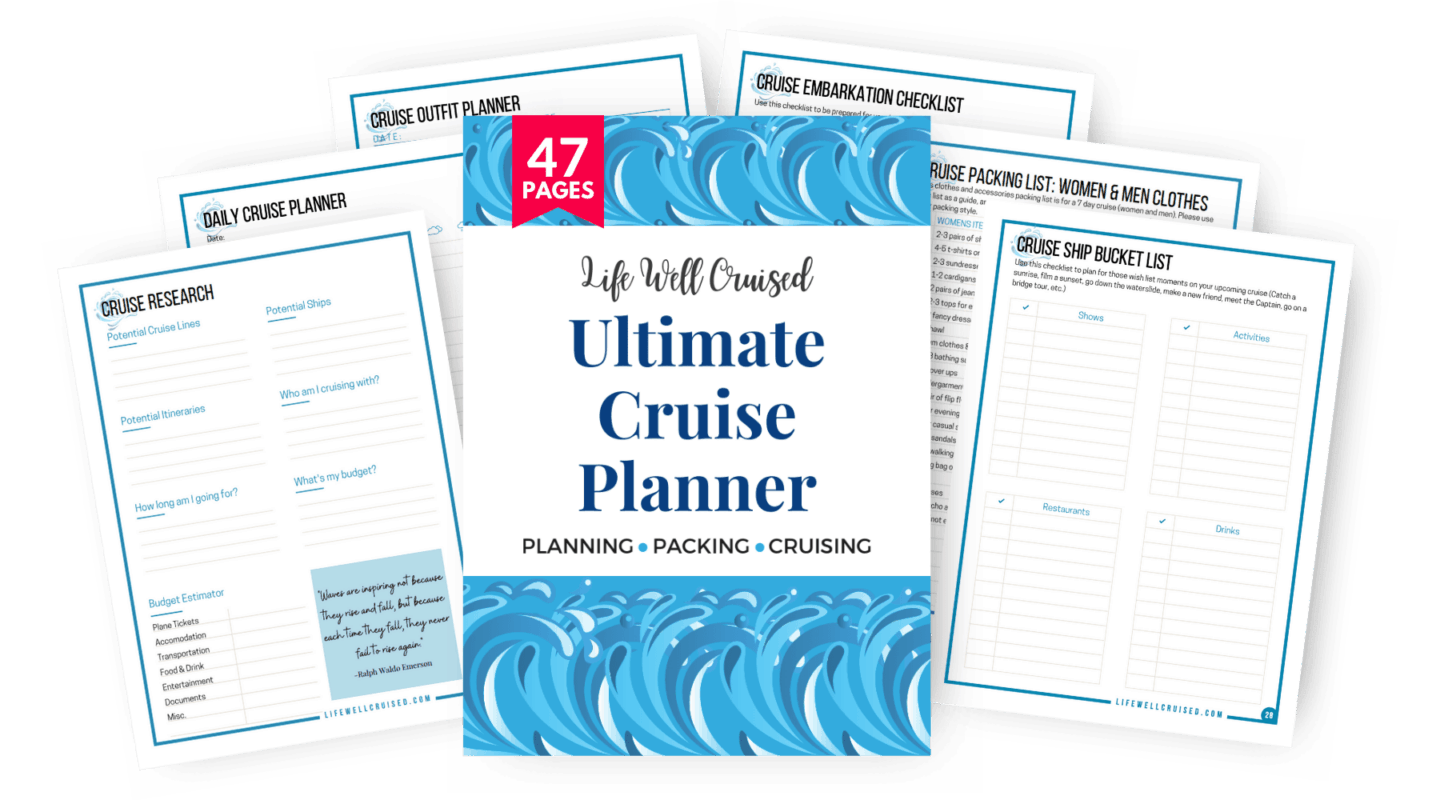 Princess Club Class Mini Suites vs Mini Suites – Cost Difference
The difference in price between a standard mini suite and a club class mini suite varies. As I researched several cruises and itineraries, I saw that on average it was about $60-70 US per person, per day, higher for club class than a mini suite.
It's possible for the price to be a bit more or less depending on the ship and sail date.
When booking on the Princess cruises website, you must first choose a mini-suite as a cabin choice, then you'll be able to see and book club class. When going through a travel agent, they'll be able to manage your booking and cabin choice.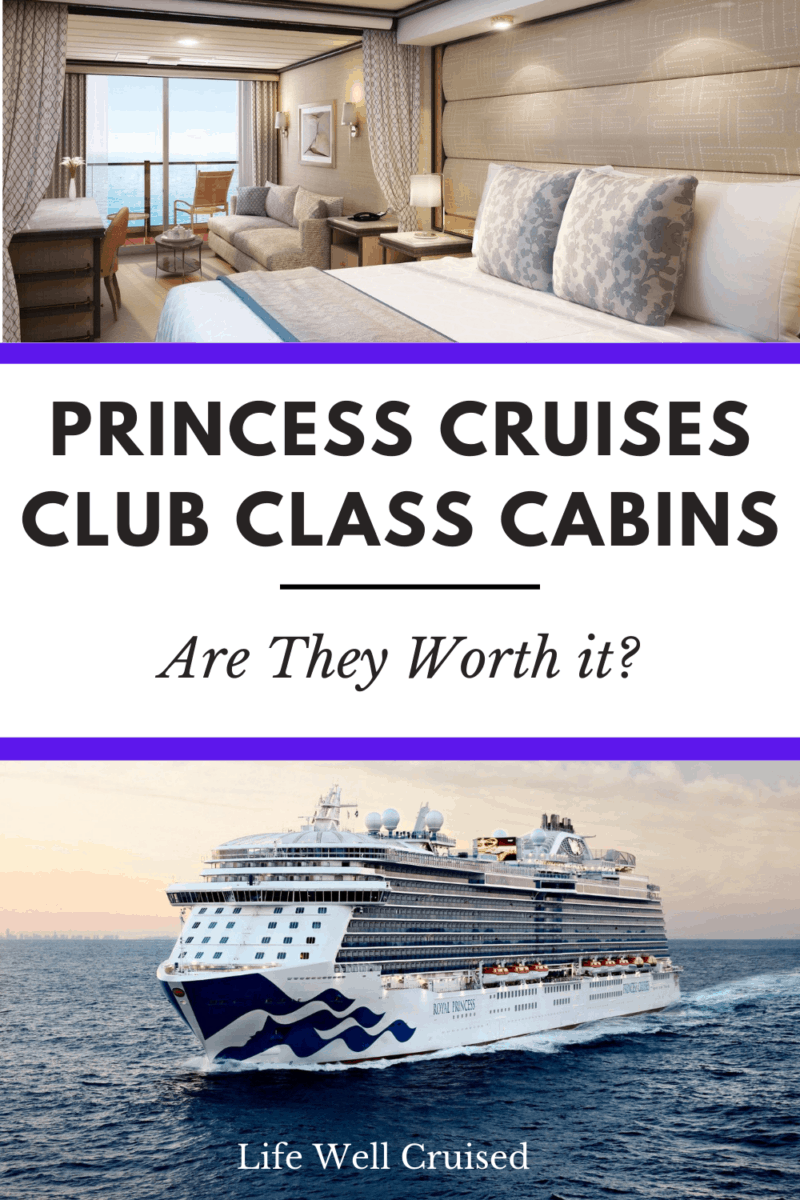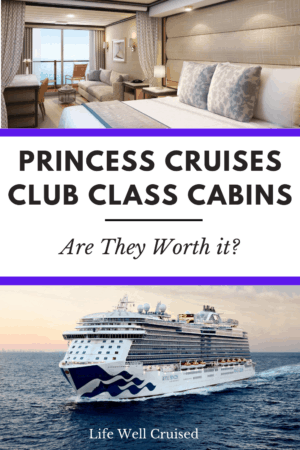 Popular & Related Posts:
Princess Cruises Drink Packages (with bar menus and drink photos)
50 Cruise Essentials Most Popular on Amazon
30 Cruise Cabin Hacks Every Cruiser Needs to Know
25 Cruise Embarkation Day Tips Straight from the Pros
What to Pack for a Caribbean Cruise
How to Prevent Seasickness on a Cruise
How to Prevent Swollen Legs and Ankles on a Cruise
Final thoughts: Is Princess Cruises Club Class Worth the Cost?
For cruise passengers who want a little more luxury and pampering, without booking a full suite, club class mini suite cabins are a great option. The extra amenities and upgrades will add to your cruise experience. However, whether Princess Cruises club class mini suites are worth it, is a personal decision based on your preferences.
Have you cruised in a club class mini suite stateroom or are you considering it? Please let me know what you think and if these cabins are worth the cost.
Happy cruising!
Ilana
P.S. If you found this helpful, please don't keep it to yourself ;-). Please share on Facebook or PIN to your favorite Pinterest board (share buttons at the top). Thanks so much!
Let's connect:
Follow me on Facebook at Life Well Cruised
Follow me onYouTube at Life Well Cruised (Vlogs and cruise tips)
Follow me on Pinterest at Life Well Cruised
Follow me on Instagram at Life Well Cruised
Featured photo & other photos in this post courtesy of Princess Cruises