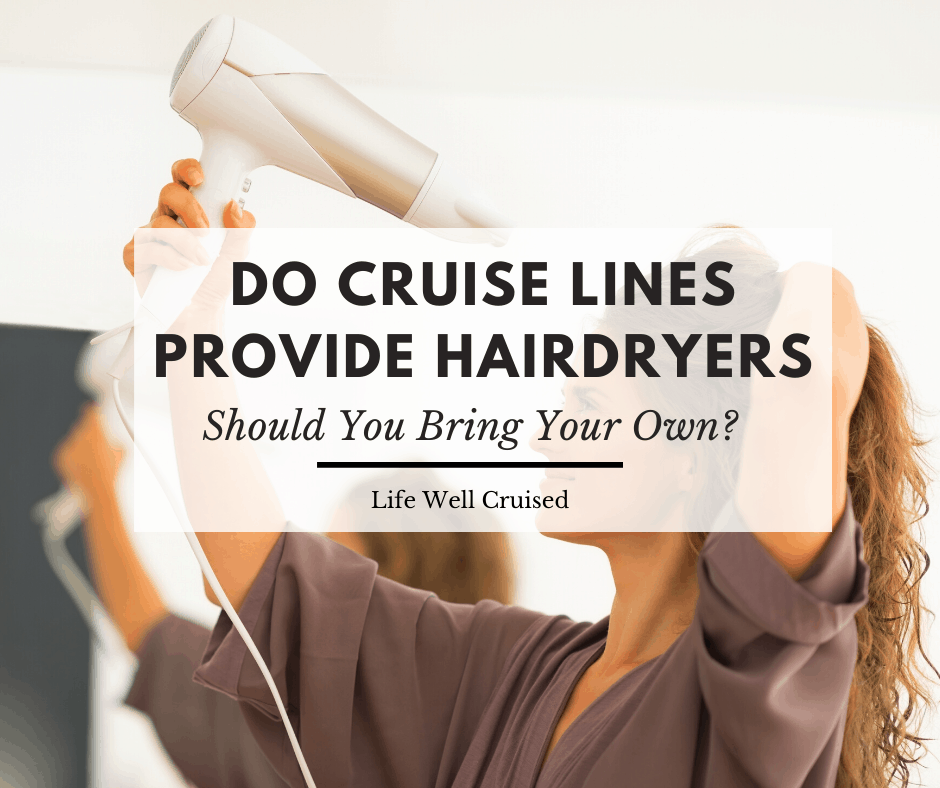 If you're going on a cruise, you might be wondering if cruise ships have hairdryers or if you'll need to bring your own. Since cruise ships do have rules about what you can and cannot bring on a cruise, this is an important question.
I have a particular interest in this topic, since I like to brow dry and style my hair for the evenings on a cruise.
In this blog post, I share the information you need to know about hairdryers on cruise ships. As well, we'll look at the rules for bringing your own hair dryer and hot styling tools on your cruise.
This post contains affiliate links which means if you click and buy that I may make a commission, at no cost to you. Please see my disclosure policy for details.
Life Well Cruised is a participant in the Amazon Services in the Amazon Services LLC Associates Program, an affiliate program designed to provide a means for sites to earn advertising fees by advertising and linking to Amazon.com.
Are There Hairdryers on Cruise Ships?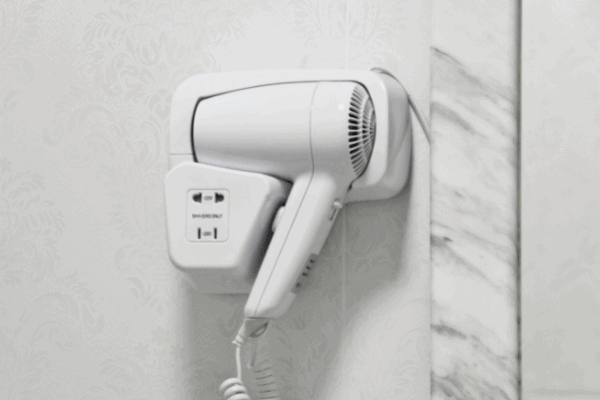 Almost all cruise ships provide small hair dryers as part of your stateroom amenities. Older ships may not have blow dryers in all cabins, so you may need to request one from your cabin steward, but this is rare. The hairdryer will be in the vanity area or desk drawer in your cruise cabin, or wall mounted near a mirror.
In terms of quality, the hairdryers are similar to those found in standard hotel rooms. Expect a short spiral cord, low to medium heat, and the possibility that you may need to hold down a button for it to work.
If you just need a quick blow dry or have shorter or straighter hair, these will work just fine. However, if you have long or thick hair, and need a better quality blow dryer with stronger heat to style your hair, consider bringing your own.
Can You Bring a Hair Dryer on a Cruise Ship?
You can definitely bring your own hairdryer on your cruise ship. Even though cruise lines have restrictions on items like irons and clothes steamers, a hair dryer is just fine.
For years, I brought my Elchin blowdryer that I use at home, however it's a heavy one and I always worried it would break while traveling. I now bring this small travel hairdryer that my hairdresser recommended a few years ago. It's such a good quality for the price!
Many online reviews describe this small hairdryer as the smallest, lightest and most powerful travel blowdryer they've ever found & I absolutely agree!
Recommended: BaByLiss Pro Travel Hair Dryer (verify price on Amazon here)
Get The Ultimate Cruise Planner
Regular price: $27 Now just $17!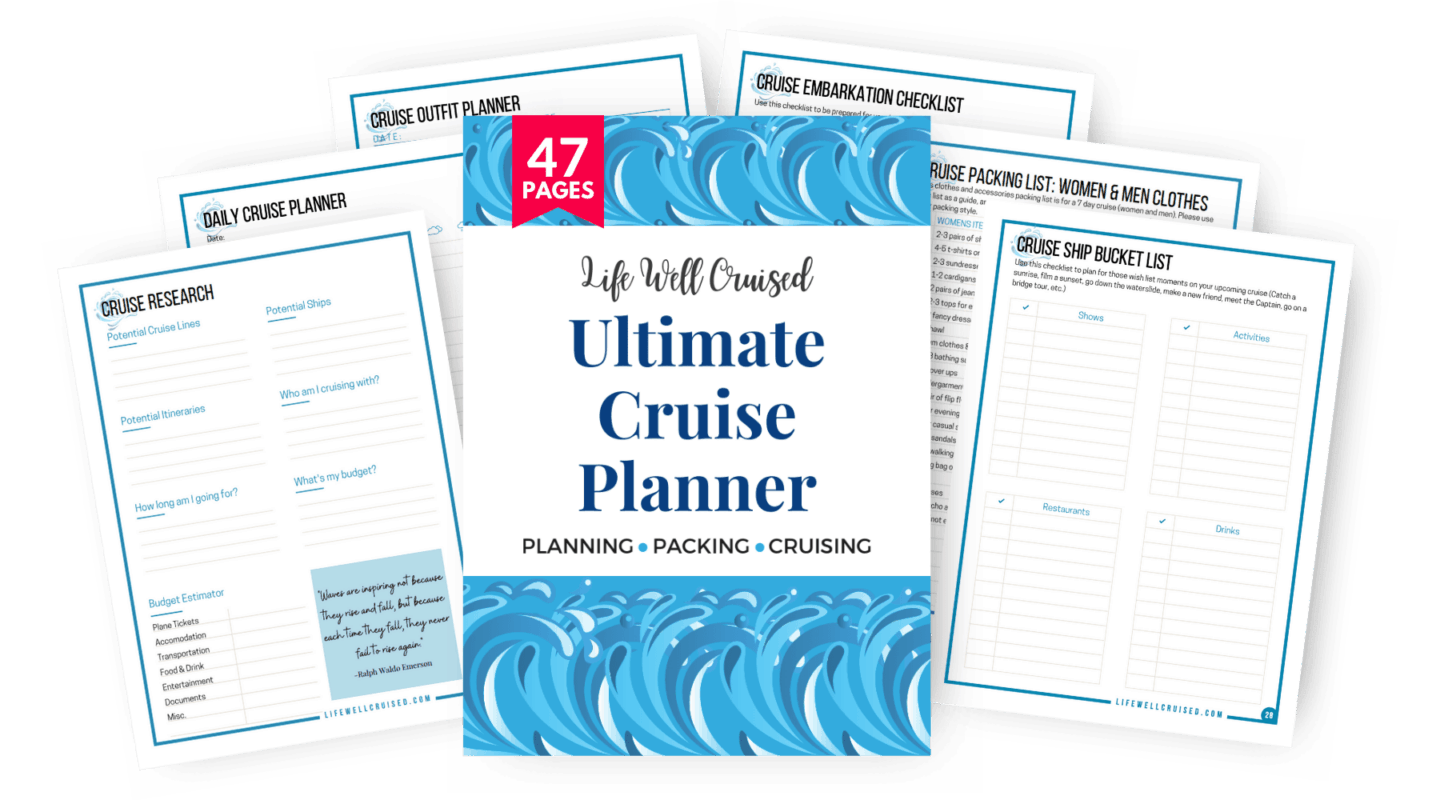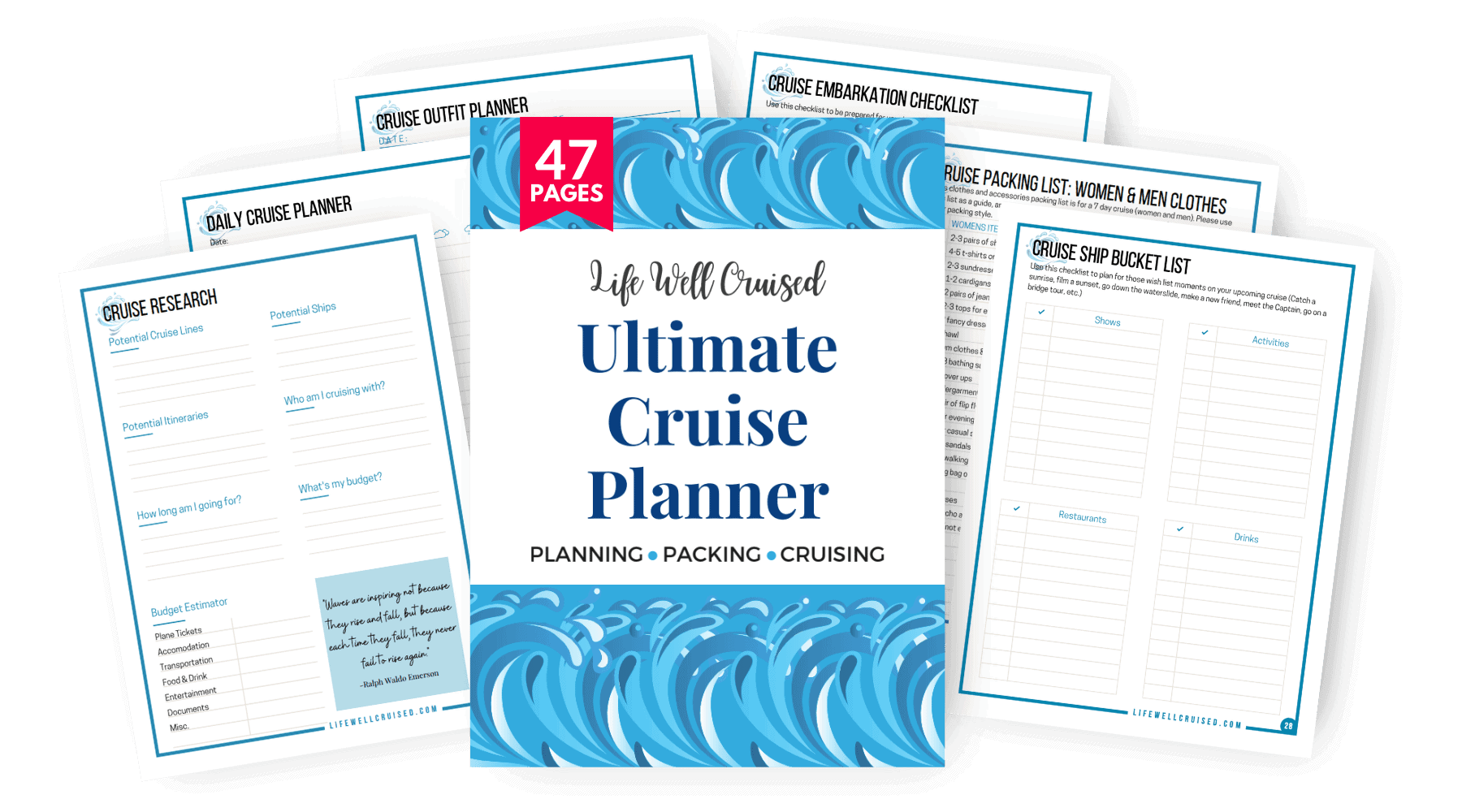 Can You Bring Curling Irons and Hair Straighteners on a Cruise?
Many people wonder if hot hair styling tools are allowed on a cruise. Thankfully for us ladies, the answer is yes.
You can add your curling wands or irons, hair straighteners and hot rollers to your cruise packing list.
It's a good idea to bring a non-surge protected "cruise approved" power bar, as cruise cabins are notorious for having no more than 1 or 2 electric outlets. I bring one with extra electric outlets and USBs, so I can also charge my phone and other electronics.
Please note that regular surge protected power strips are not allowed on a cruise ship and will be confiscated. It's important that the power bar is "non-surge" protected. Many cruise lines prohibit extension cords as well, so this power bar is a good choice.
Recommended: Cruise Power Strip with USB outlets (see 5000+ 5* Amazon reviews)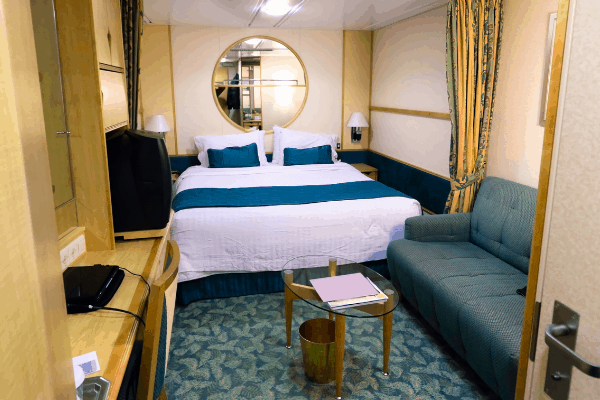 Things Not to Bring on a Cruise
While you can bring hairdryers, hair straighteners and curling irons on a cruise, there are a few things to leave at home.
Clothing irons and clothes steamers are not permitted as they're considered to be a fire hazard – a huge danger on a cruise!
You can read more about what other items to leave at home as well in this post: 10 Things NOT to Pack for a Cruise
*Ultimate Cruise Travel Planner*
Over the last year, I put together a 47 page cruise travel planner that has everything you need as you plan and get ready for your cruise.
If you could use cruise packing lists, to-do checklists, shore excursion forms and more, you'll love the Life Well Cruised Ultimate Cruise Planner.
Plus, for a limited time, it's $10 off. Hope you enjoy!
See details here: Ultimate Cruise Planner -What's Included
Get The Ultimate Cruise Planner
Regular price: $27 Now just $17!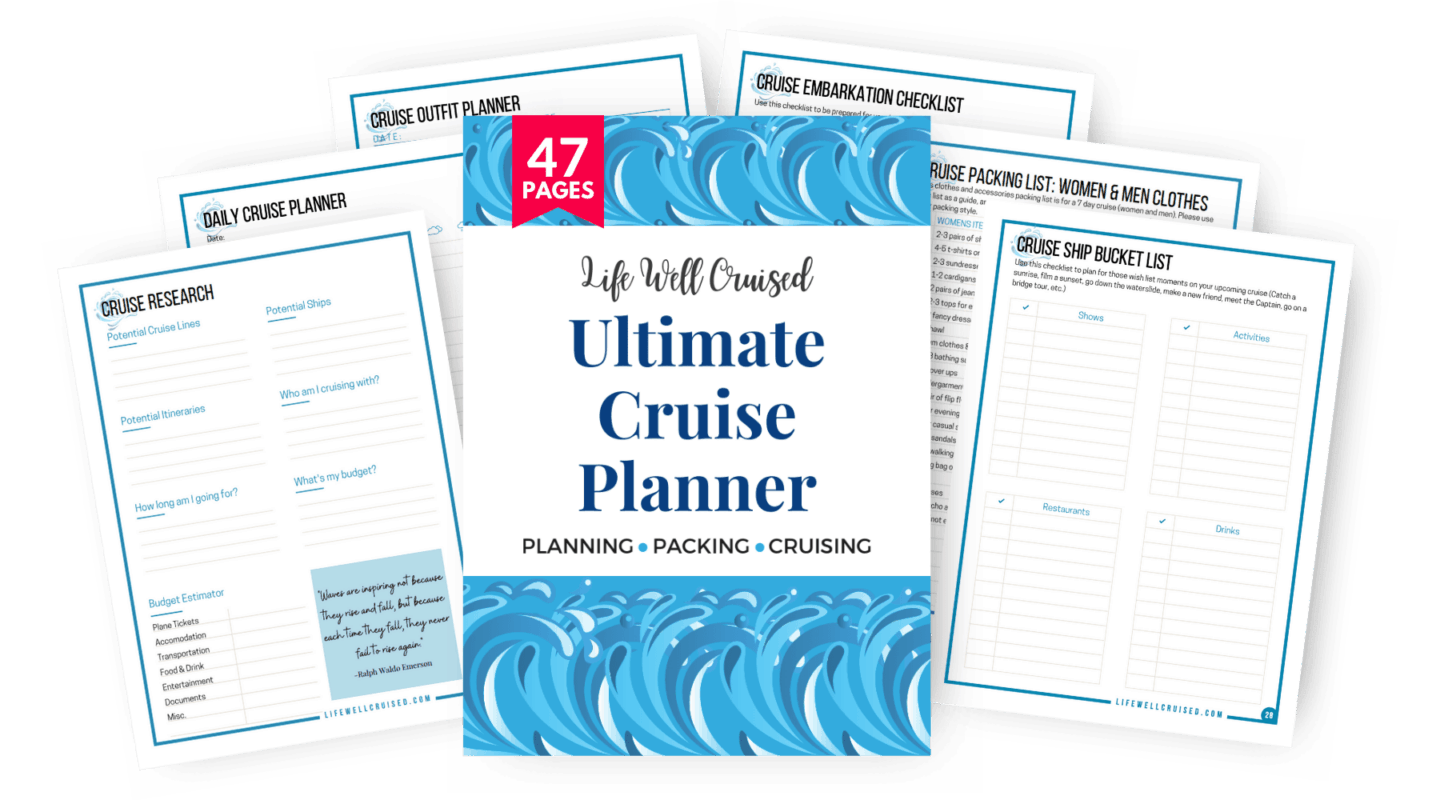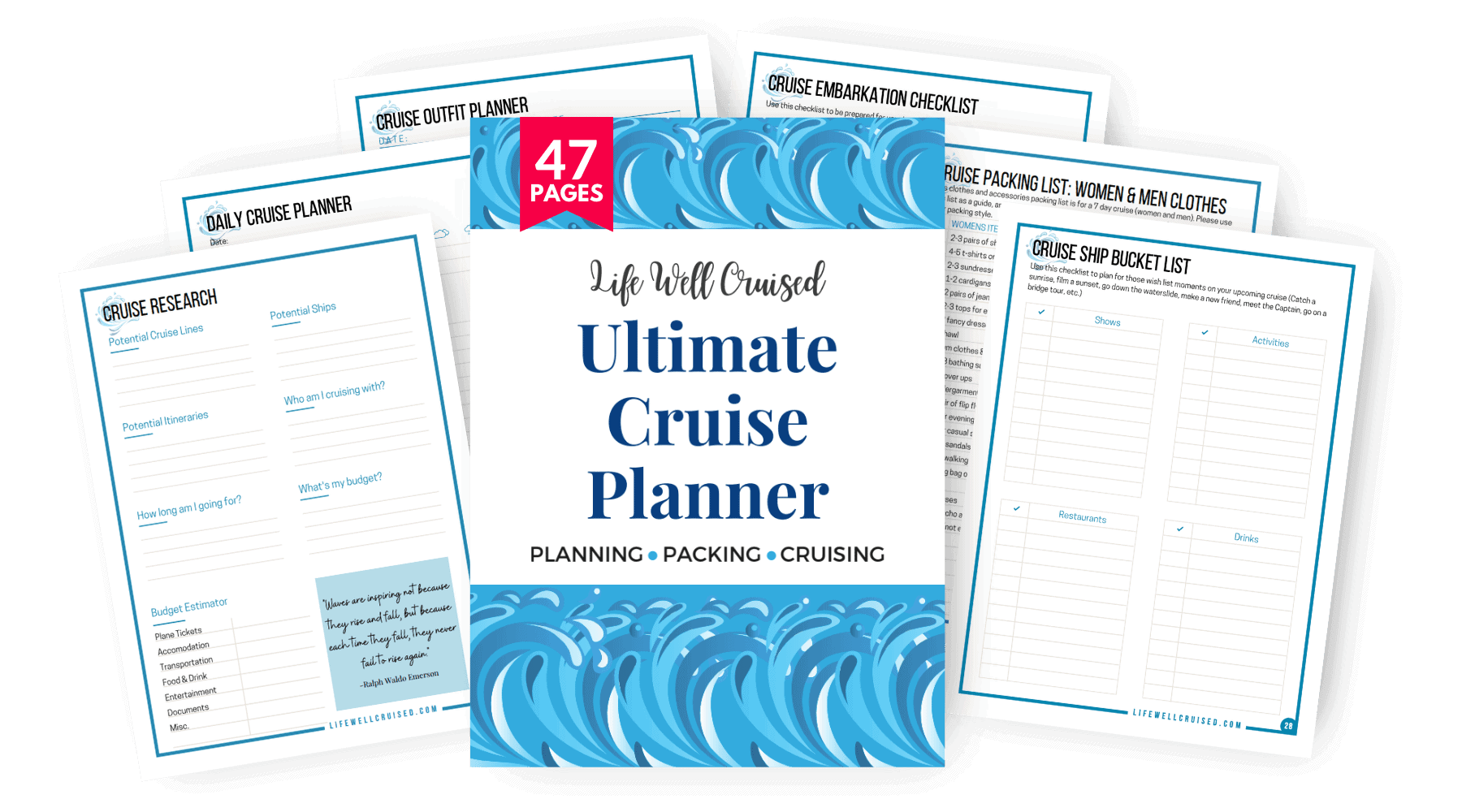 Popular & Related Posts:
15 Best Beauty Essentials to Pack for a Cruise
15 Best Beach & Tote Bags for a Cruise
How to Pack Light for a Cruise
27 Things People Forget to Pack for a Cruise (and regret)
What to Pack for a Caribbean Cruise
Cruise Cabin Door Decorations: The Ultimate Guide for Cruisers
Are Balcony Cabins Worth it on a Cruise? 10 Pros & 4 Cons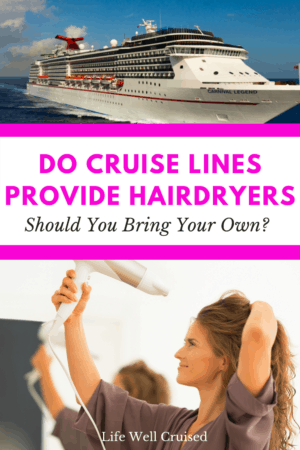 Final Thoughts: Do Cruise Ships Provide Hairdryers?
The easy answer to this question is yes, you'll almost always have a hair dryer in your cruise cabin. However, since it's a standard hotel quality at best, if you need a more powerful and hot blowdryer, you'll probably want to bring your own.
Do you use the blowdryer provided by the cruise line or do you pack your own? Please feel free to ask any questions and leave your comments below.
Happy cruising!
Ilana
P.S. If you found this helpful, please don't keep it to yourself ;-). Please share on Facebook or PIN to your favorite Pinterest board (share buttons at the top). Thanks so much!
Let's connect:
Follow me on Facebook at Life Well Cruised
Follow me onYouTube at Life Well Cruised (Vlogs and cruise tips)
Follow me on Pinterest at Life Well Cruised
Follow me on Instagram at Life Well Cruised