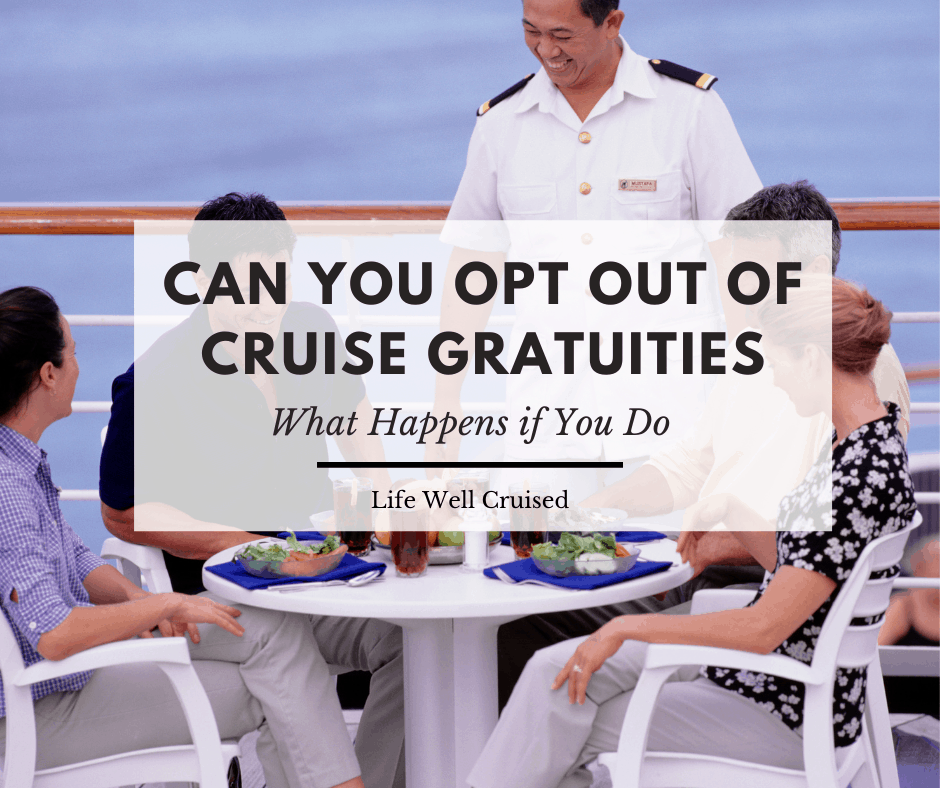 Are you going on a cruise and wondering if you can opt out of paying the gratuities, or at least the ones that are automatically charged to your on board account?
I've been cruising for over 15 years, and the controversial subject of cruise ship gratuities, including if automatic gratuities can be removed, comes up frequently.
Why you ask?
There are those that say they prefer to tip the crew members that have served them directly, and want to opt out of a pooled system. Others disagree with the practice of cruise ship gratuities entirely. They believe that cruise lines should pay their employees more and not rely on cruise passengers to supplement their wages.
On a personal note, we've always been very impressed with the service on cruise ships. We're also aware that for the crew, the tips from guests are an important part of how they make a living while working on a cruise ship.
In this post, I share how you can adjust or remove automatic gratuities on a cruise, if you have a reason to do so.
This post contains affiliate links which means if you click and buy that I may make a commission, at no cost to you. Please see my disclosure policy for details.
As an Amazon Associate I earn from qualifying purchases.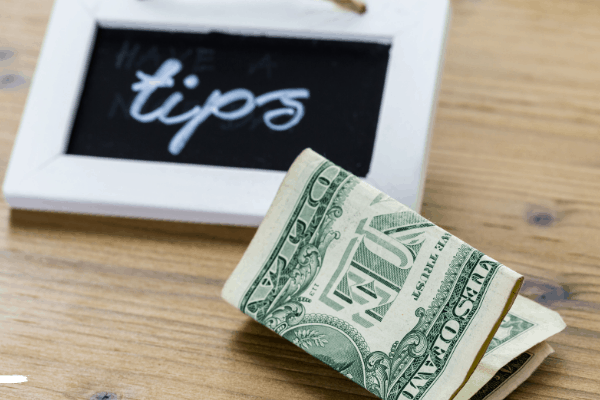 Can You Remove Gratuities on a Cruise?
Most popular cruise lines automatically charge a daily gratuity fee or crew incentive to your onboard account. In many cases, you can request to have it adjusted up or down, or even removed, at your discretion by going to the guest services desk.
An exception to this is Norwegian Cruise Line, which charges a daily service fee that's shared among the various crew members who provide a service, including behind the scenes. Norwegian Cruise Line asks guests to report any service issues while on board, so that they can make it right. Should passengers still not be satisfied, there is a reimbursement request form that you can fill out.
Avoid waiting until disembarkation day, as the line at guest services will be extremely long. Your onboard account is closed when you disembark, so don't attempt to have gratuities removed after your cruise is finished.
Related: Should You Prepay Gratuities on a Cruise or Pay Onboard?
Are Gratuities Mandatory on a Cruise?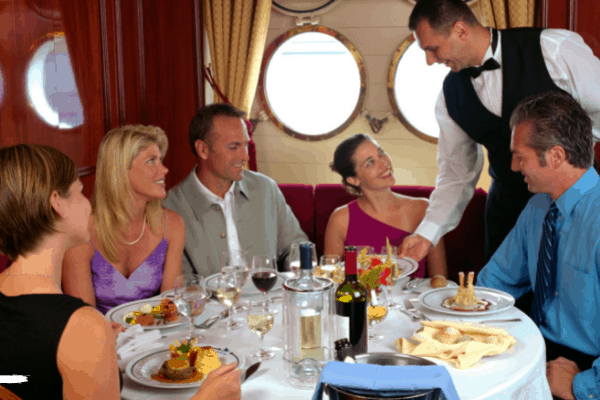 Gratuities aren't mandatory on cruises, however they are widely expected and built into the price structure on most major cruise lines. It's a bit like when you go to a restaurant and you are expected to give a tip to your servers. Restaurant workers typically get paid less per hour than other workers, but they rely on tips to earn them a better wage.
Gratuities or a crew incentive will be automatically charged to your onboard account "for your convenience". You can pay in cash at the end of your cruise or have it billed to your credit card. You can also prepay gratuities when you book your cruise.
Gratuities, Tipping and Crew Incentives
Depending on the cruise line, gratuities may be referred to as daily service charges, gratuities or crew incentives which are automatically charged to your onboard account or can be prepaid when you book your cruise.
Cruise lines tell us that automatic gratuities or crew incentives are paid to your waiters, cabin attendant, as well crew members who work in various departments on your cruise ship.
Only a few years ago, cruise passengers would receive tipping guidelines from the cruise line along with envelopes where you could place cash for various crew members. However, cruising has changed a lot over the last several years, including being served by the same dining staff each evening.
The automatic gratuities are shared among a variety of crew members that you may not notice, but really do contribute to the service you're receiving. Of course, you can always tip extra to any particular crew members.
Get The Ultimate Cruise Planner
Regular price: $27 Now just $17!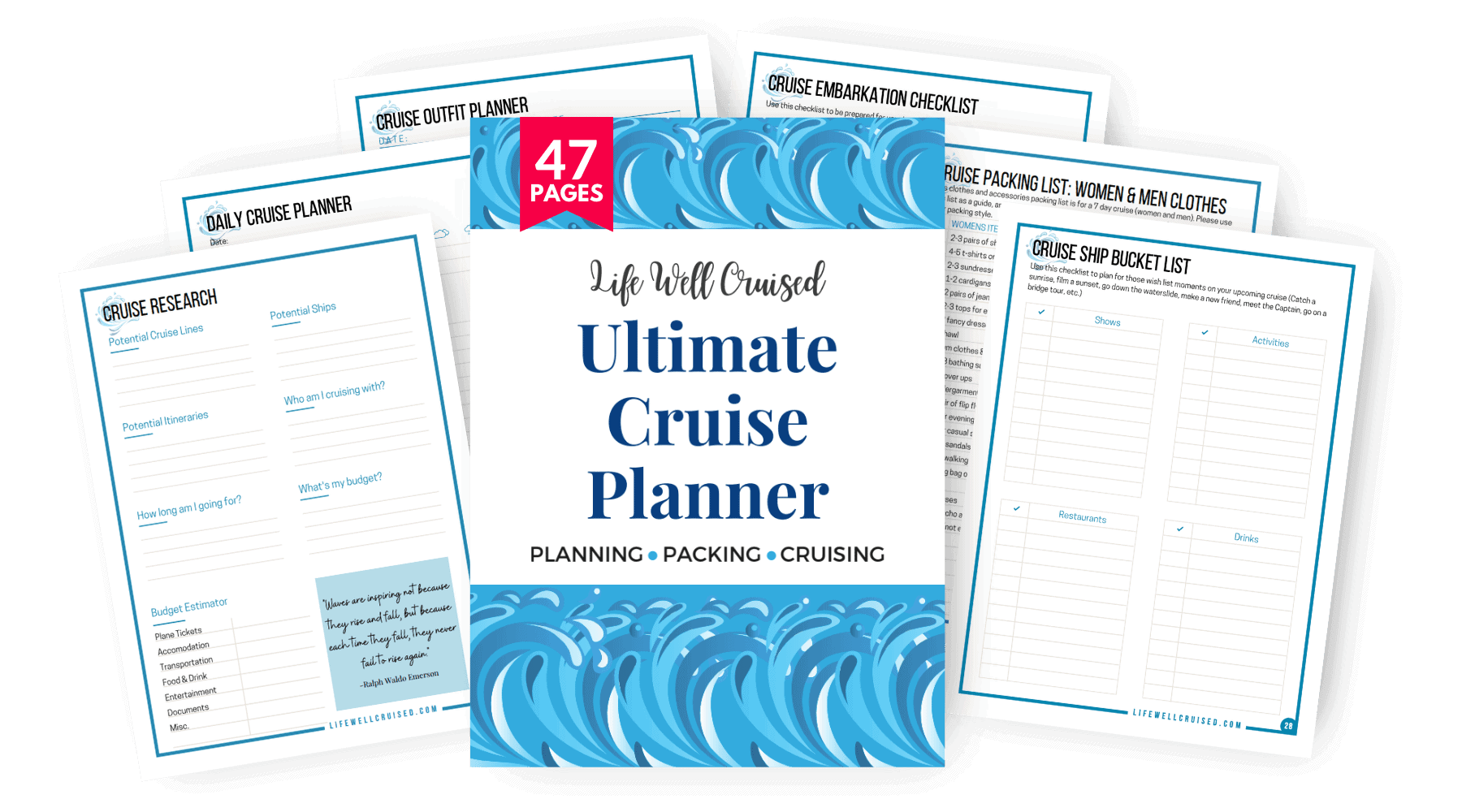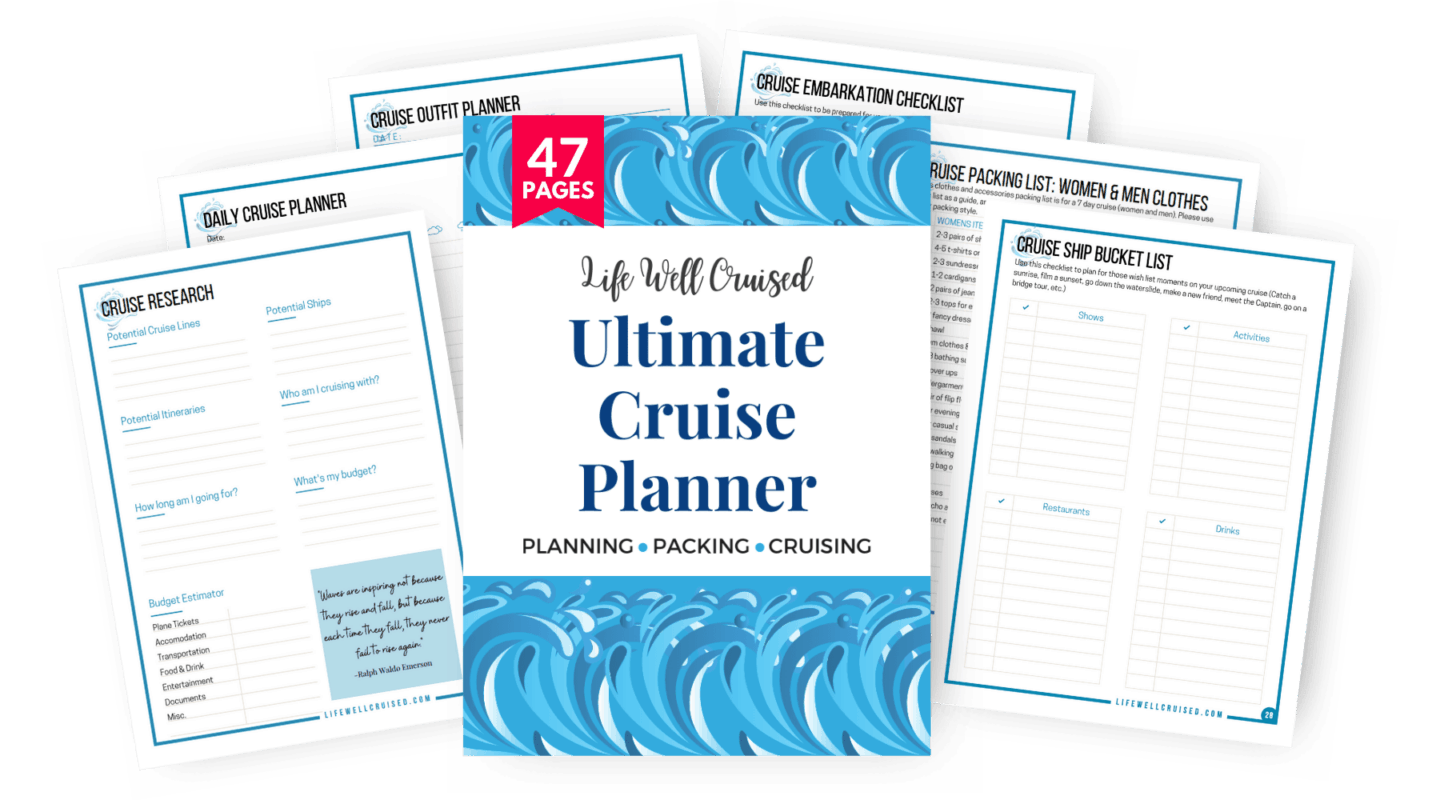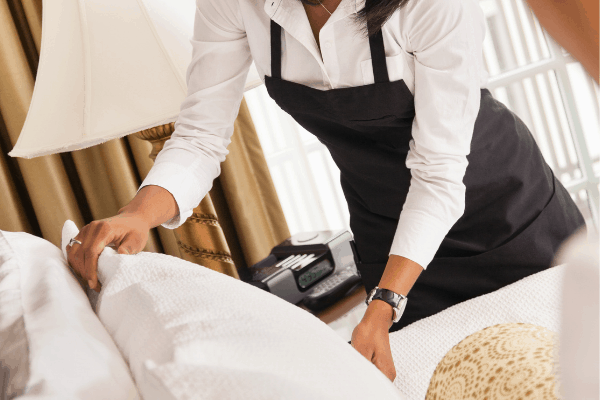 When Cruise Ship Gratuities Are Not Charged
While paying daily gratuities is customary in the cruise industry, there are times when they aren't charged.
Many Australia based cruise ships don't charge an automatic daily gratuity charge, however, this can vary by cruise line. Many, but not all, luxury cruise lines include gratuities in the price of your cruise, as do some river cruises. This can be confusing, but it's best to check before you book so you know what is included on your cruise, and what is not.
Of the mainstream cruise lines, Celebrity Cruises includes gratuities, wifi and a beverage package in what they call "Always Included". Princess Cruises has the optional Princess Plus, which includes the crew incentive, medallion net wifi and a drink package.
You may also book with a cruise line perk or promotion, where gratuities are "free" or prepaid for you.
Read more: Princess Plus – What's Included and Is it Worth it?
Read more: Celebrity Cruises "Always Included" – What's Included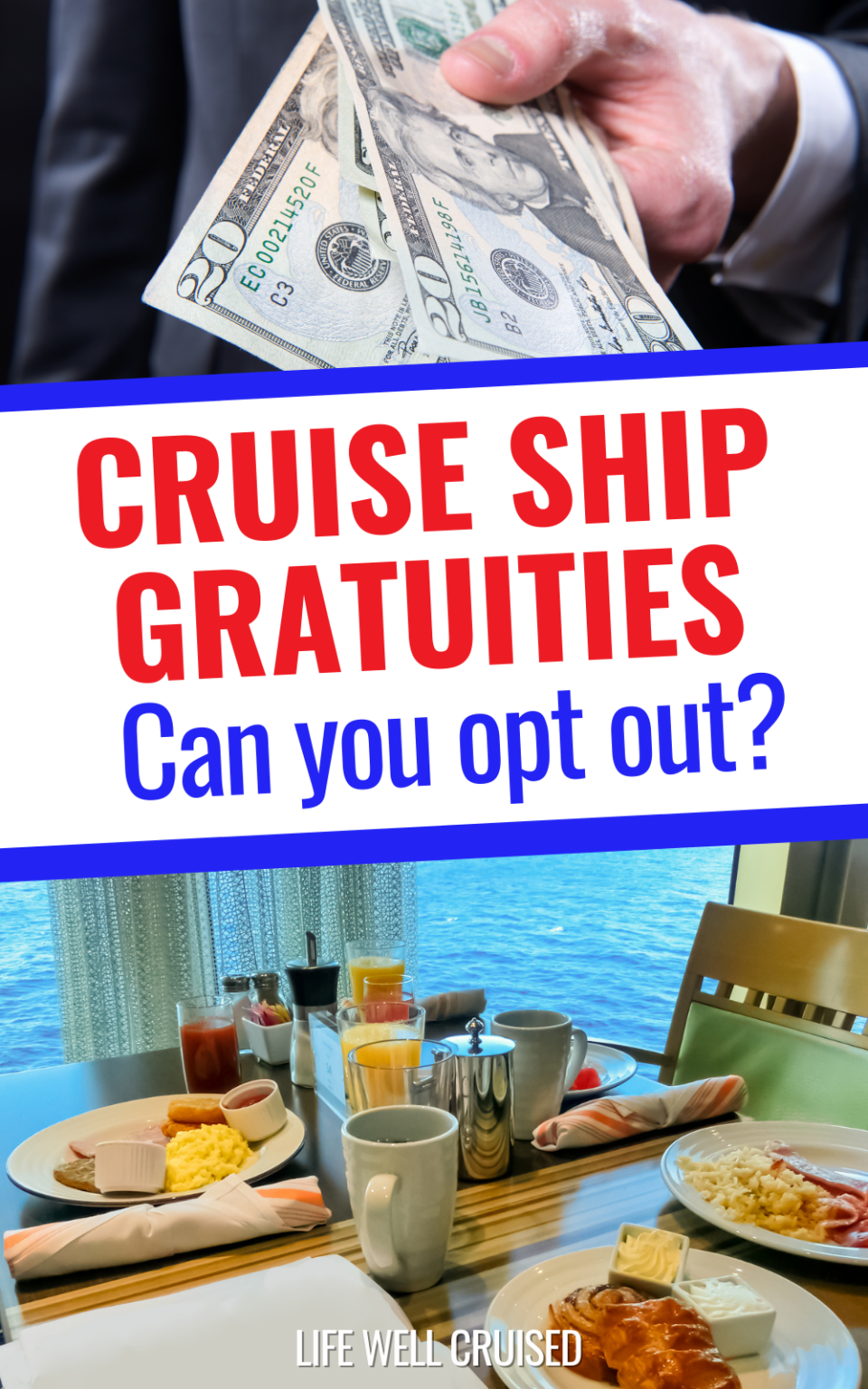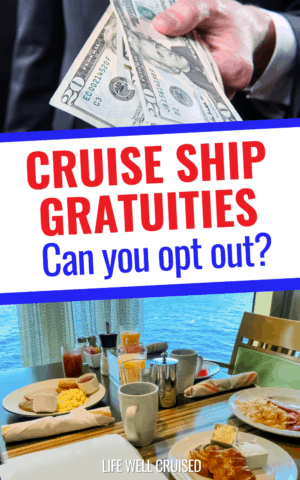 What Happens When You Don't Tip on a Cruise
When you don't tip on a cruise this affects the crew who work really hard to ensure that you have the best cruise vacation possible. Crew count on the gratuities to supplement the income they receive from the cruise line, and often send this money home to their families.
While some people may remove the automatic gratuities and tip generously, others do not. Even if you're against the concept of automatic tipping on a cruise, it's important to note that this affects the cruise lines much less than the hard working crew who are serving you directly or indirectly.
If you aren't happy with the service or have a complaint during your cruise, so bring this to the attention of guest services. Most of the time this can be handled and any problems can be rectified during your cruise.
Are you wondering if you should prepay your gratuities before your cruise?
Read this post next: Should You Prepay Gratuities on a Cruise or Pay Onboard?
Get The Ultimate Cruise Planner
Regular price: $27 Now just $17!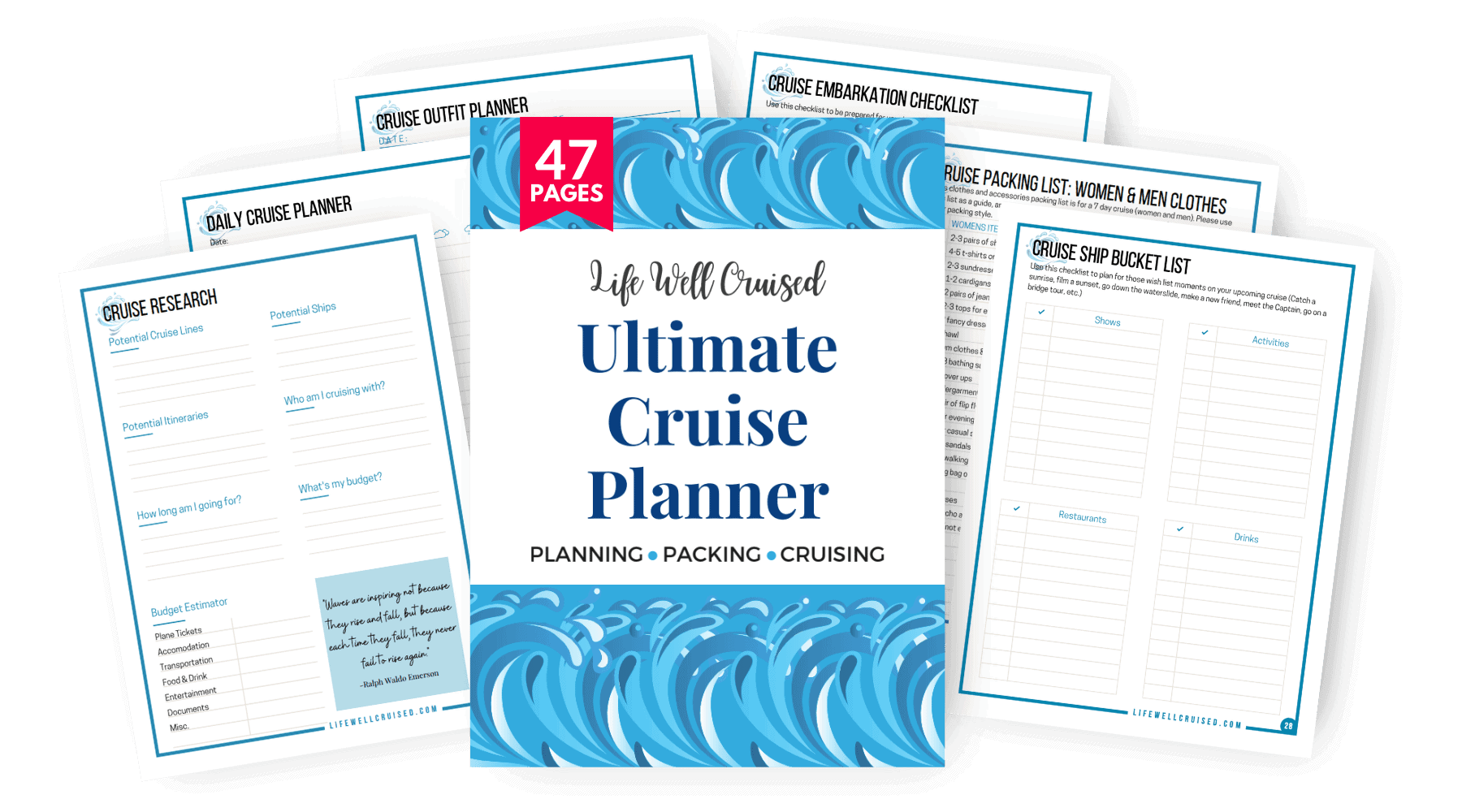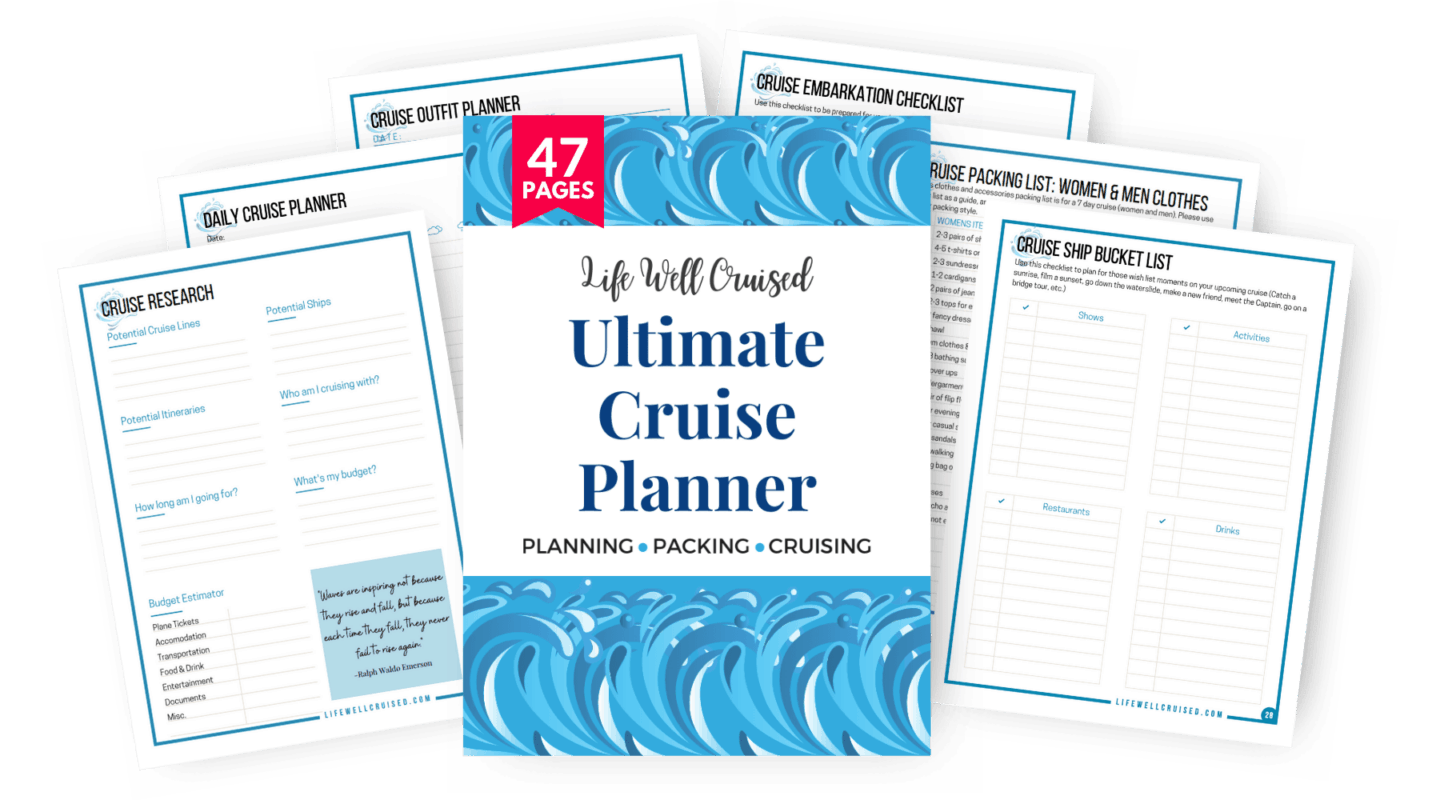 Popular & Related Posts:
50 Must-have Cruise Essentials (Amazon list)
What to Wear on a Cruise (day, evening, formal night)
Worst Cruise Ship Cabins to Avoid
Essentials to Pack in Your Cruise Carry-On Bag
What to Pack for a Caribbean Cruise (with packing list)
25 Affordable Cruise Outfits for Ladies
Best Travel Gadgets to Bring on a Cruise (tech items & electronics)
Final Thoughts: Can You Refuse to Pay Gratuities on a Cruise?
On most cruise lines, you can refuse to pay or opt out of the automatically charged gratuities. You can also adjust the gratuities to make them higher or lower. However, keep in mind that this does negatively affect the crew members, who rely on tips from guests as a substantial part of their income.
Have you opted out of cruise ship gratuities? Do you like or dislike automatic cruise gratuities and "crew incentives". Please ket me know your thoughts in the comments below.
Happy Cruising!
Ilana
P.S. If you found this helpful, please don't keep it to yourself ;-). Please share on Facebook or PIN to your favorite Pinterest board (share buttons at the top). Thanks so much!
Let's connect:
Join me on Facebook at Life Well Cruised
Join me on YouTube at Life Well Cruised
Join me on Pinterest at Life Well Cruised
Join me on Instagram at Life Well Cruised