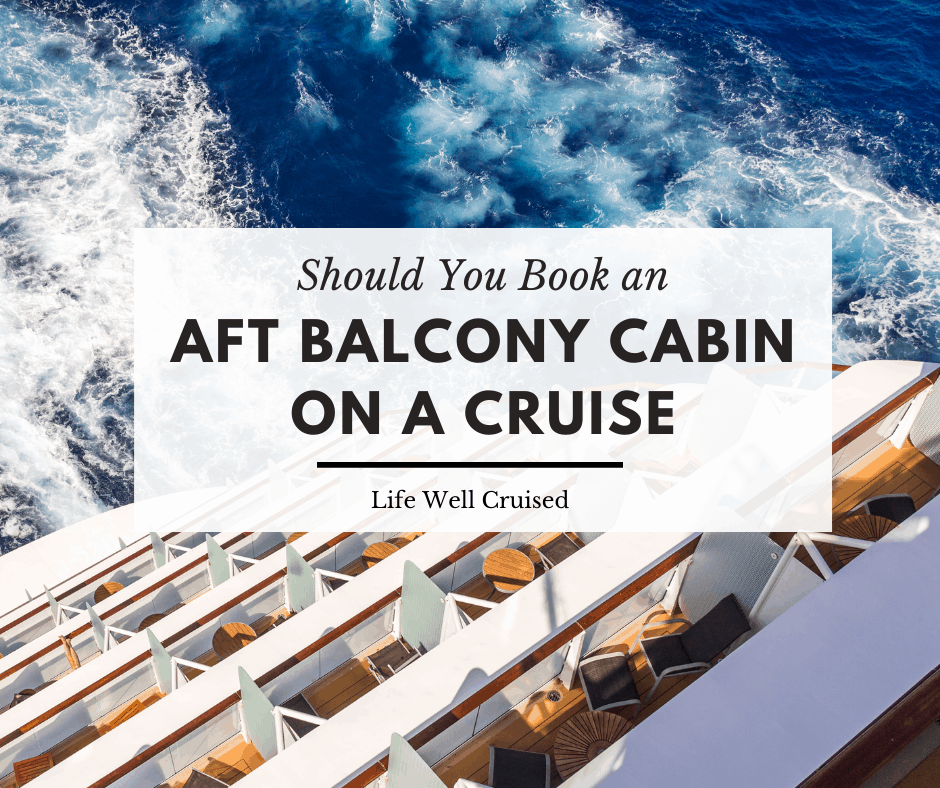 Choosing a cabin is a big decision when booking a cruise. The reality is some cruise ship state rooms are in better locations than others and may offer a more enjoyable cruise experience.
Aft balcony cabins on a cruise ship are some of the most sought-after cabin types. In fact, many seasoned cruisers book these again and again, in good part for a view that just can't be beat!
When you have an aft-facing balcony cabin it's located at the stern of the ship. You'll not only have a view of the sea, but also over the wake created by the ship itself.
This post contains affiliate links which means if you click and buy that I may make a commission, at no cost to you. Please see my disclosure policy for details.
As an Amazon Associate I earn from qualifying purchases.
Should You Book an Aft Balcony Cabin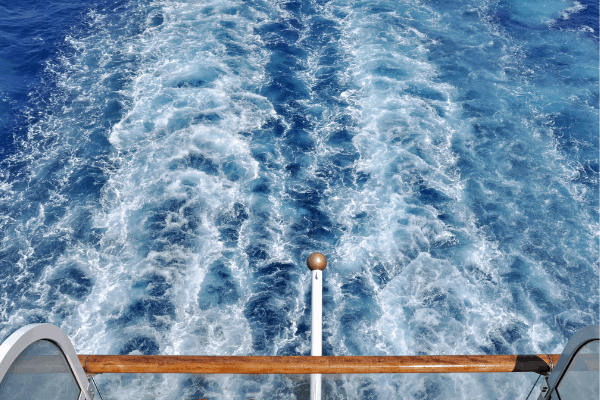 As much as many people love aft balcony cabins, there are others that prefer mid-ship or another location. In this post I'll share some pros and cons of aft facing balconies, which I hope will help you pick the best cabin for you and avoid the worst.
What is an aft balcony cabin on a cruise?
Aft cabins are a cabin type which is situated at the back or "aft" part of a cruise ship. Aft facing balcony cabins tend to have larger extended balconies and offer an amazing view of the ship's wake. Since they are located along the ship's stern (cruise lingo), there are only a few of these cabins on each deck and they do book up quickly.
Aft Balcony Pros – Why you'll love an aft cabin!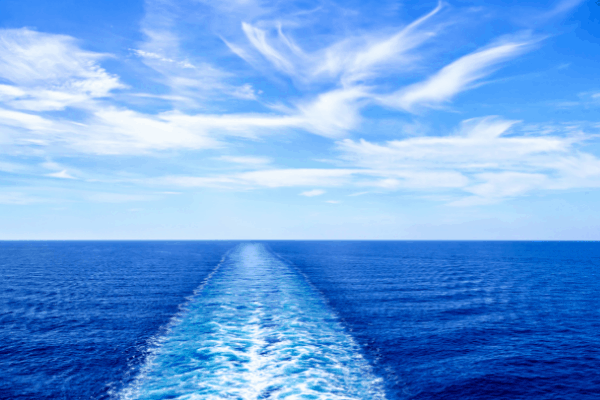 The views
Is anything better than a wake view? I don't think so. The incredible view of the ship's wake and the open ocean can be hypnotizing and even therapeutic. As well, when coming in or leaving a cruise port of call, you'll get a wide view, rather than seeing just one side if you have a starboard or port side cabin.
Larger balconies
Aft facing balconies tend to be larger and more expansive. In many cases you'll have a balcony that's double the size of a standard balcony along the port or starboard sides of the ship. Often, since your balcony is larger, you'll also get more patio furniture which may include long lounge chairs. A definite bonus!
Get The Ultimate Cruise Planner
Regular price: $27 Now just $17!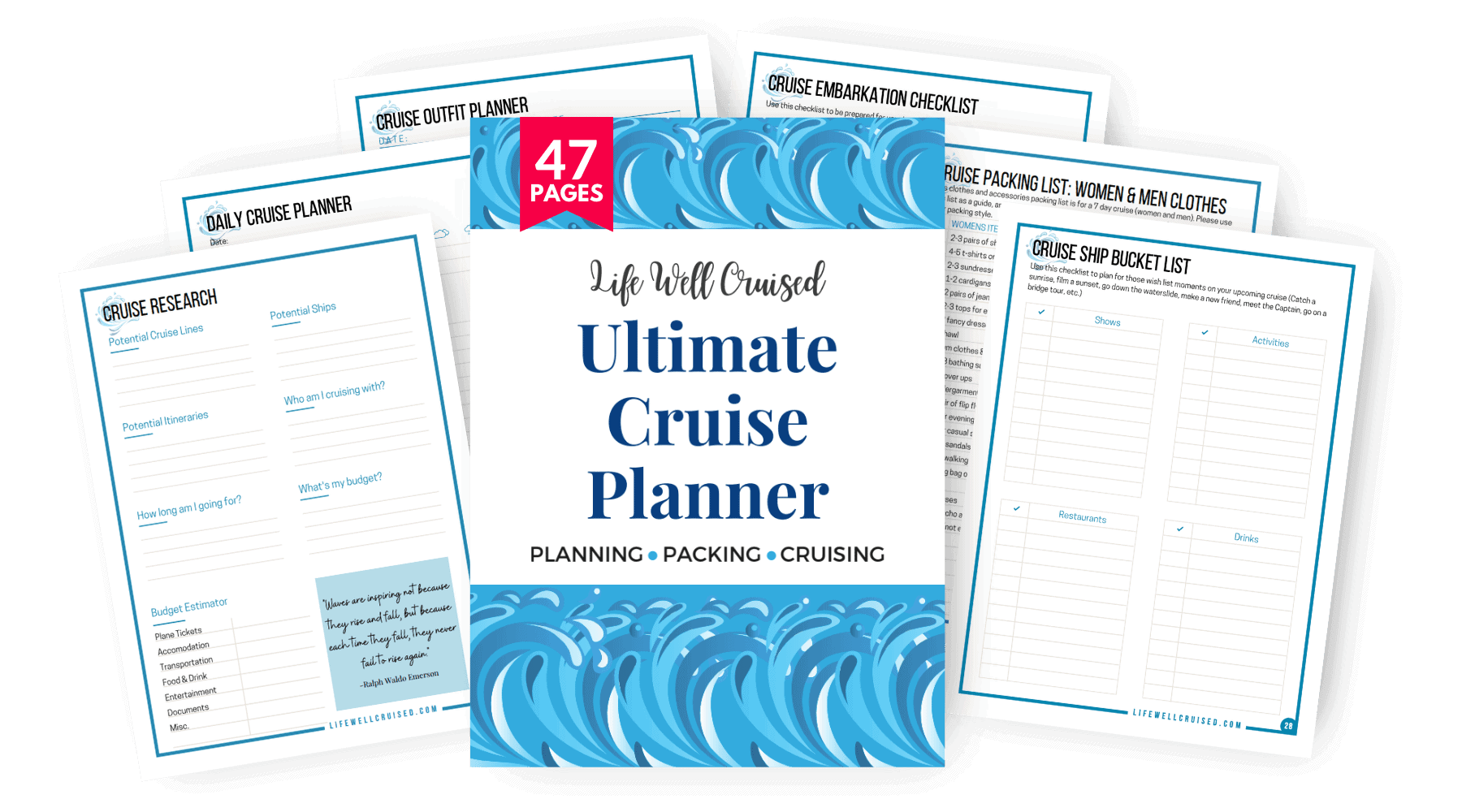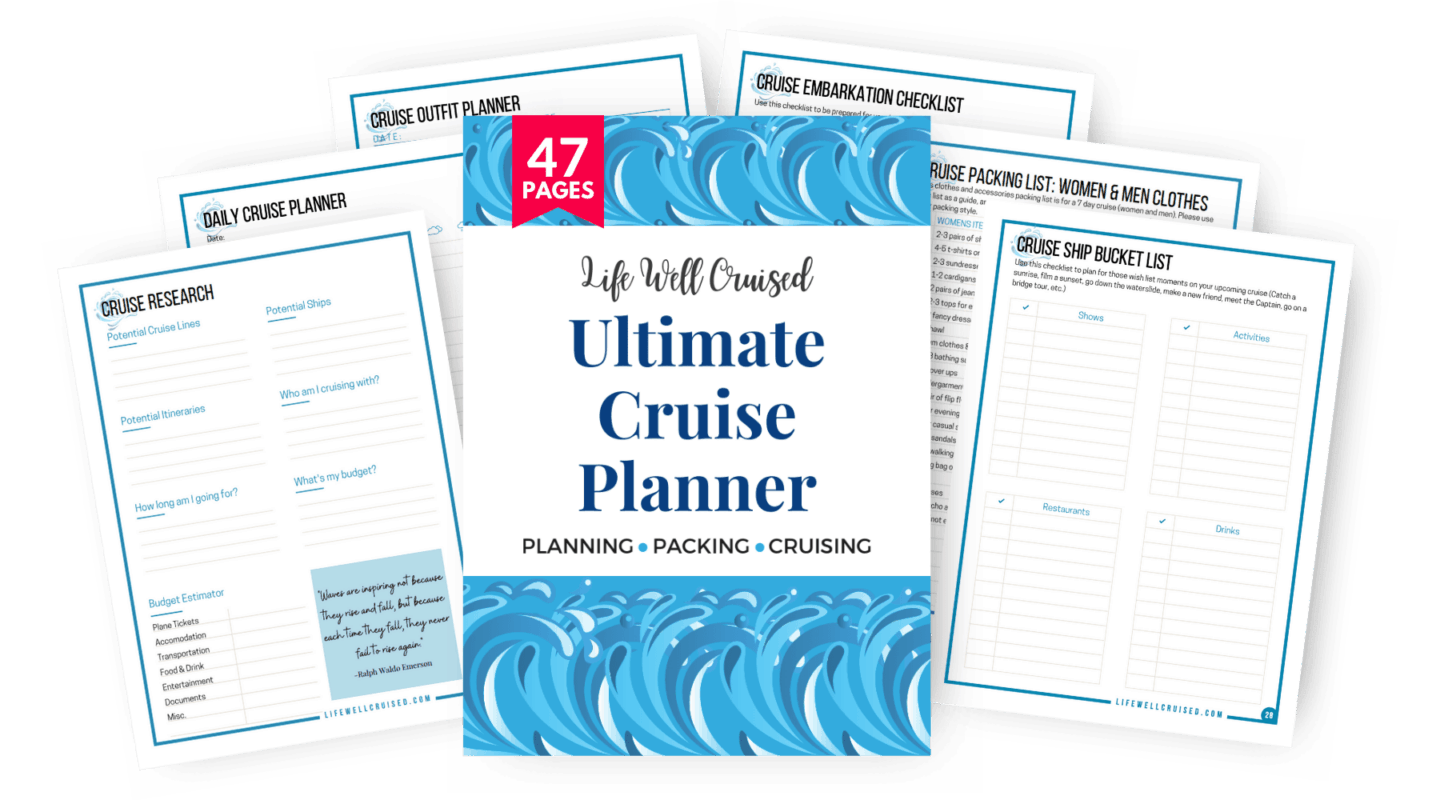 More privacy
Although this can depend on the design of the ship's stern, in most cases you'll find aft balcony cabins tend to be more private. They provide more privacy than mid ship cabins because you're less likely to be overlooked by other guests on the upper decks.
Quieter location
You'll also find the aft cabins quieter than other staterooms. Since these cabins are located at the back of the ship, they aren't near elevators and other places where people tend to gather and get little foot traffic.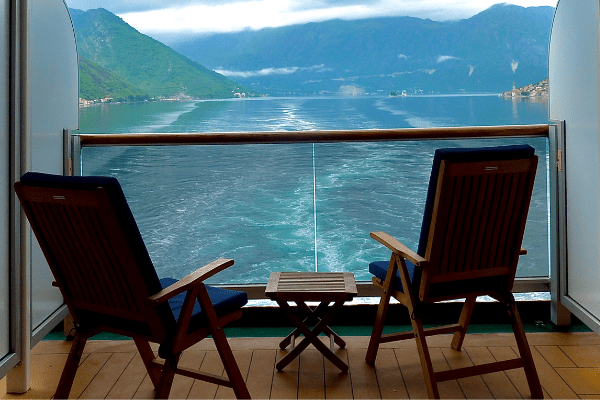 Sun and shade
Since the balconies are so deep, aft balcony cabins often benefit from both sun and shade during the day, especially if they have partial covering. On some ships which have more open balconies, you may get more sun due to the location at the back of the ship, so it's best to research your specific ship.
The sound of the wake
The sound of the ocean is amazing, but in particular the ship's wake is particularly special. Many cruisers describe the sound of the ship's wake as being very peaceful. Whether you sit out with a coffee in the morning and take it all in, or late at night when the sound of the ocean is complimented by the dark starry sky – you may really enjoy it!
Related: 7 Best Reasons to Book a Balcony Cabin
Aft Balcony Cons – What you might not like about an aft balcony cabin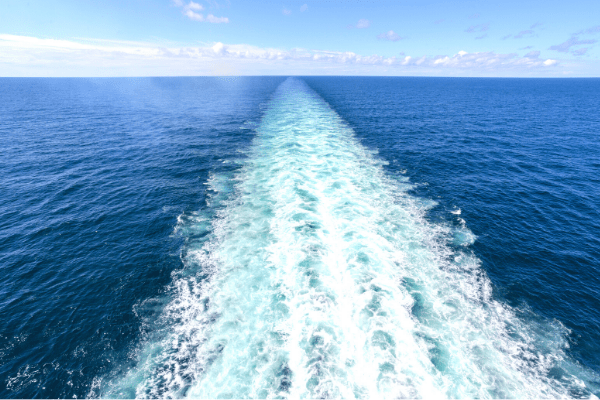 There are so many great things about aft balcony cabins, however there are some negatives and things to be aware of.
Vibration sounds and feels
When in the aft, you may hear and feel the vibration of the cruise ship. This is usually most apparent when the ship is docking due to the ship's thrusters. When the ship reverses the sound is particularly loud and the ship may feel a bit bumpy.
The cruise ship's propellers will also have a sound and vibration, that bothers some people more than others. Some enjoy the "white noise" sound it provides, while others don't.
On a past cruise, we visited with friends who had an aft balcony room. While the view was truly amazing, I could feel the continuous vibration and found the sound a bit abrasive. I may be in the minority, but if you're sensitive to noise this may be good to know.
Far from elevators
Cabins located in the aft of the cruise ship are at the end of the hallway, and therefore it will be a longer walk to elevators and stairways than cabins located more mid-ship. If you have difficulty walking, this is not the best location for you.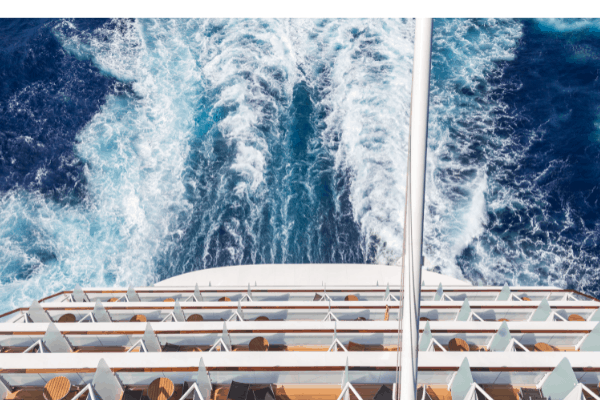 Soot
This seems to be less of an issue than in the past, however many cruisers who've sailed in aft balcony cabins have mentioned waking up to a layer of soot on their balconies in the morning. This can be cleaned off, however it's good to be aware in case this might bother you.
Potential obstructions
While aft balcony cabins are often touted for their expansive view of the ocean, there are some who warn of poles and other structural elements that may obstruct the view. A bit of research into the cabins on your specific ship should alleviate your concerns.
Higher cruise fare
Since aft balcony cabins are rare and sought after, they tend to sell out early. This means the price of these state rooms are often just a bit higher than standard balcony rooms.
Popular post: 50 Best Gifts for Cruise Lovers
Which is better – Aft cabin or mid-ship balcony cabin?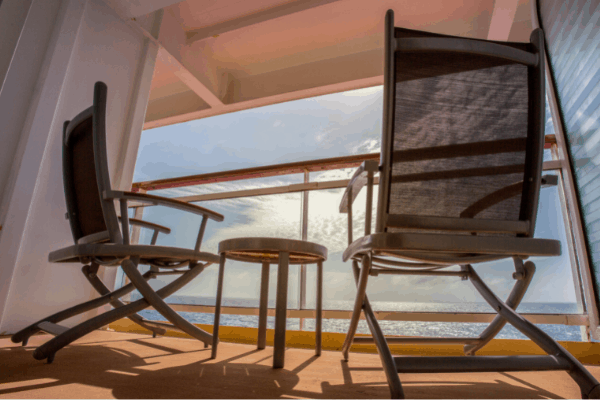 Many people ask is aft balcony cabins are better than mid-ship cabins on a cruise. The benefit of mid-ship cabins is their location.
While aft facing balcony rooms have an amazing wake view, they tend to be a far distance from many venues on the cruise ship. However, mid ship cabins are perfectly situated for easy access to the dining rooms and restaurants, atrium, lounges and bars, pools and buffet areas. Mid-ship balcony cabins are also great for anyone who has concerns about seasickness on a cruise.
Aft balconies are usually larger than mid-ship balconies, and often come with lounge chairs due to their size. Mid-ship balconies are smaller and usually have 2 smaller patio style chairs and a small table.
Video: 10 Honest Pros & Cons of an Aft Balcony Cabin
In this video I share our experience in an aft facing veranda cabin and the pros and cons of this type of cabin. We go into the benefits as well as some of the drawbacks and questions people have regarding noise, vibration and soot.
Popular & Related Posts:
Cruise Lingo Glossary: 85 Cruise Ship Terms You Need to Know
10 Things NOT to Pack for a Cruise
50 Best Items to Bring on a Cruise
27 Cruise Packing Mistakes You Might be Making
23 Items to Pack in Your Cruise Carry-On Bag
What to Pack for a Caribbean Cruise (with packing list)
Best Travel Gadgets to Bring on a Cruise (tech items & electronics)
Get The Ultimate Cruise Planner
Regular price: $27 Now just $17!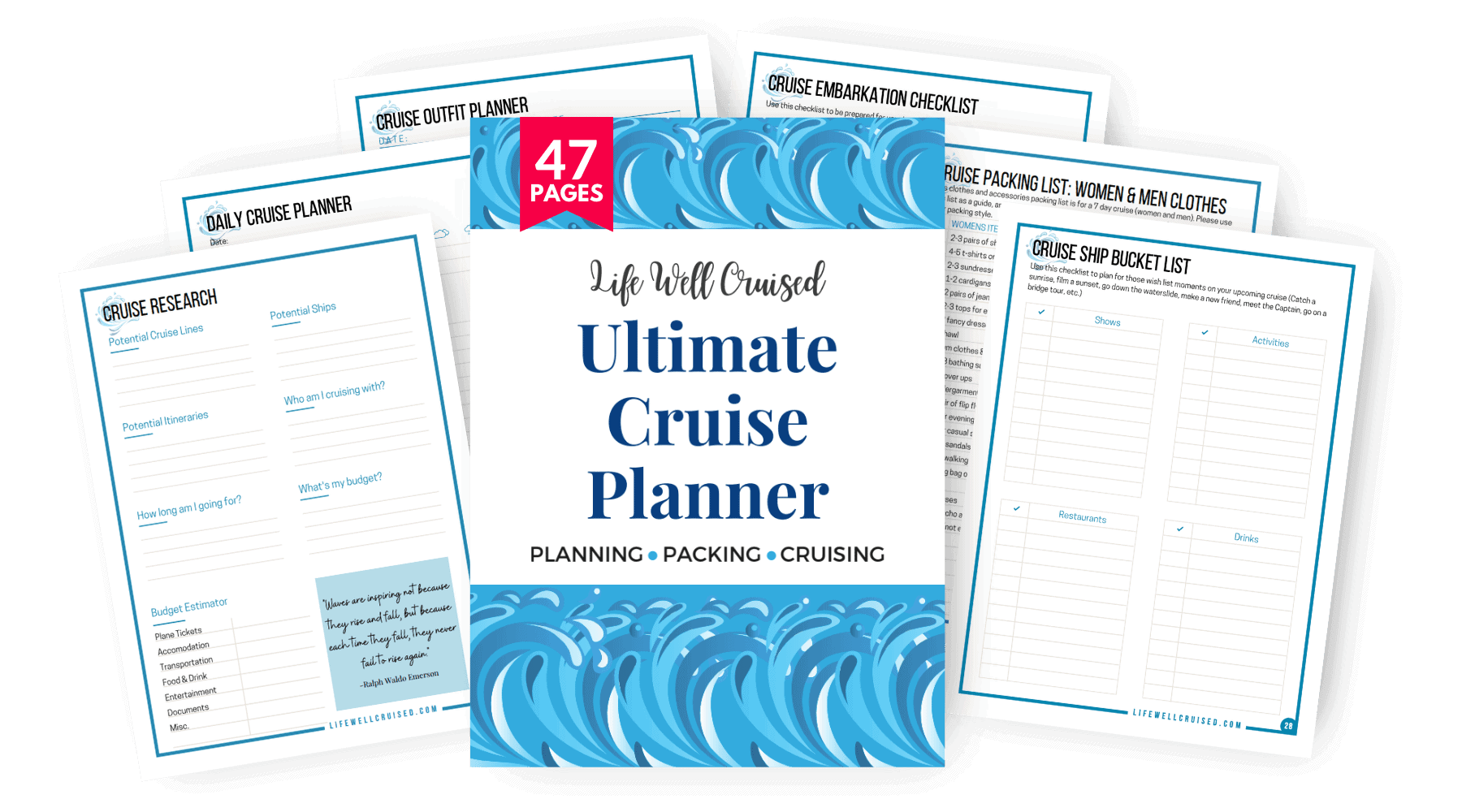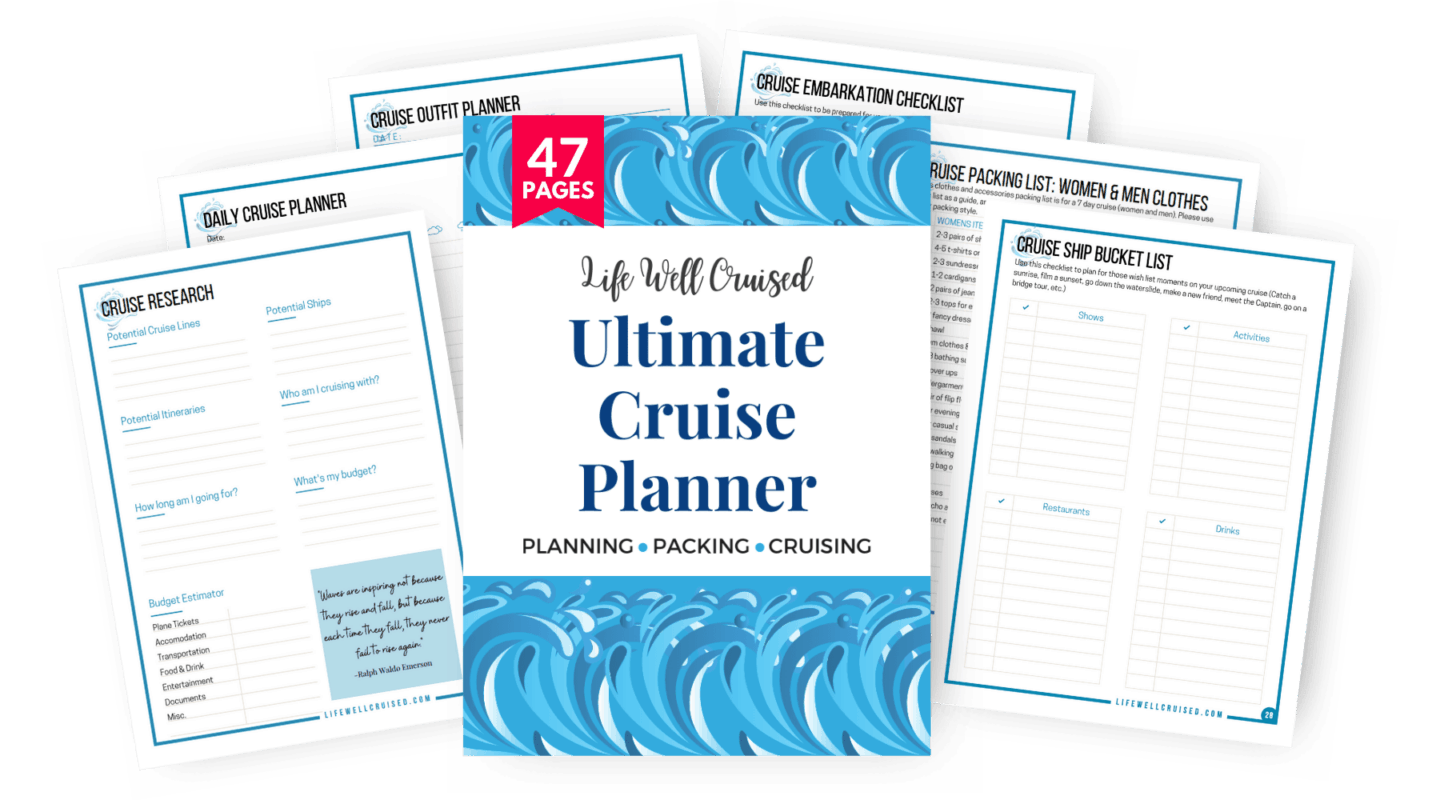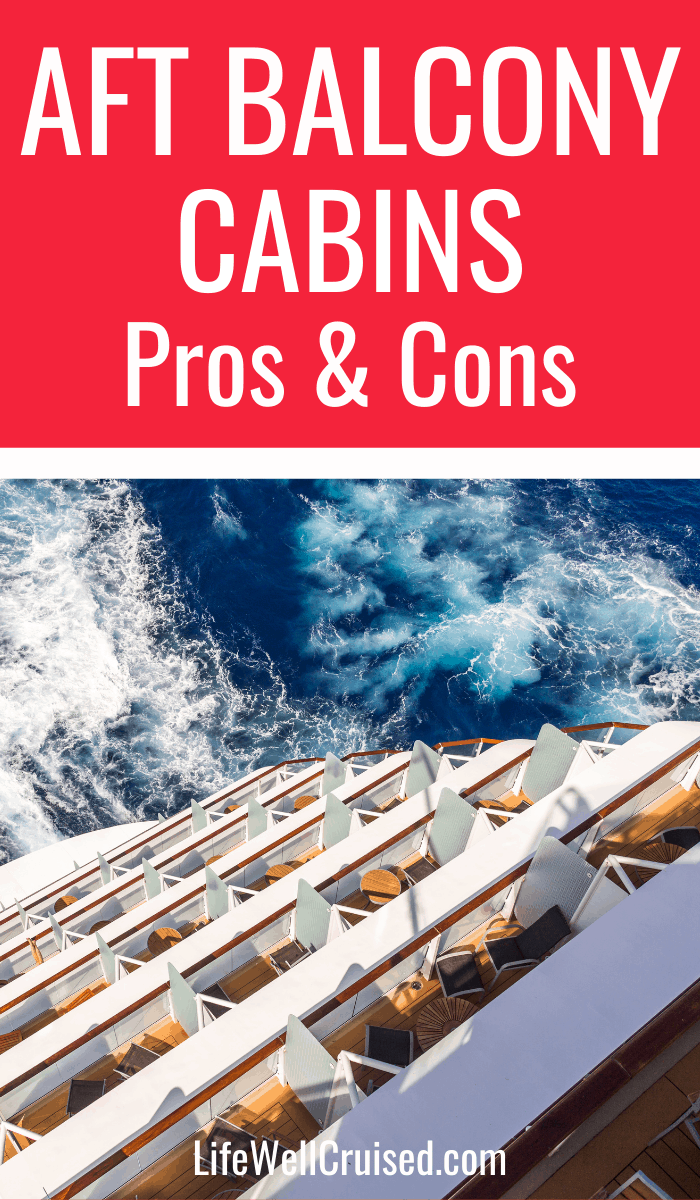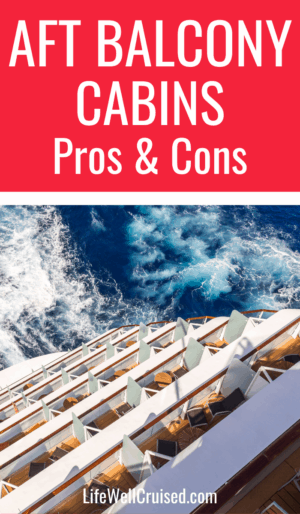 Final Thoughts: Aft Balcony Cruise Ship Cabins Pros & Cons
Like so many other decisions when choosing a cruise, picking the best cruise cabin is a personal one. There are so many great benefits to having an aft facing balcony cabin, as well as some negative points.
I hope that this post about the pros and cons of aft balcony cabins has been helpful in giving you a good idea of what to expect. If an aft cabin seems like something you'd like, make sure to reserve it as early as possible, so you don't miss out.
What are your thoughts about aft balcony cabins on ships? Which is your favorite stateroom type – mid ship balcony or aft? Please let me know in the comments below.
Ilana
P.S. If you found this helpful, please don't keep it to yourself ;-). Please share on Facebook or PIN to your favorite Pinterest board (share buttons at the top). Thanks so much!
Let's connect:
Join me on Facebook at Life Well Cruised
Join me on YouTube at Life Well Cruised
Join me on Pinterest at Life Well Cruised
Join me on Instagram at Life Well Cruised