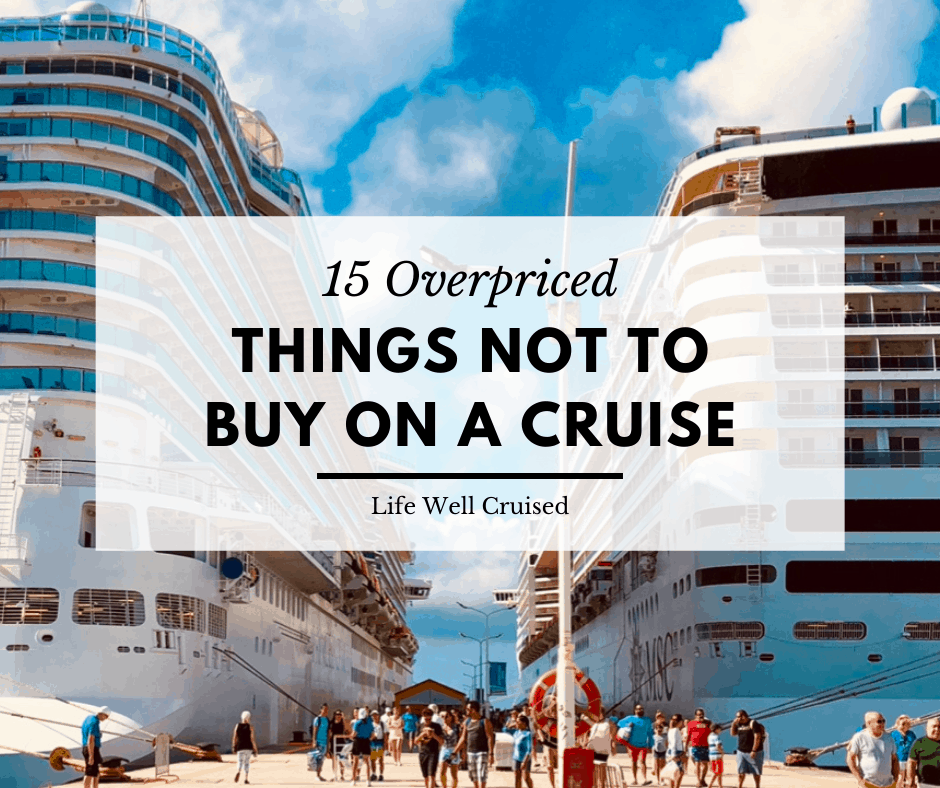 Are you planning a cruise and wondering what extras to plan for, and even what things might be a waste of money on a cruise? Good thinking – as there are some things that will be overpriced and that you may not want to buy on a cruise ship.
Now, I love cruising and think they're a great value. There is actually quite a lot that's included in a cruise vacation!
However, cruise lines make most of their profit from onboard purchases, rather than the ticket price. So, you can expect anything over and above the price of the cruise itself, not to be a bargain.
In this post, I'll share some of the things you should avoid buying or paying extra for on a cruise. If you're cruising for the first time, you'll want to be prepared through planning, and bringing what you can from home, if possible.
Of course, this list is subjective. In some cases, what might be a waste of money to me, might have great value to you, and vice versa. I'd love to hear from you in the comments if you agree, disagree, or even have other things to add.
Things Not to Buy on a Cruise Ship (waste of money)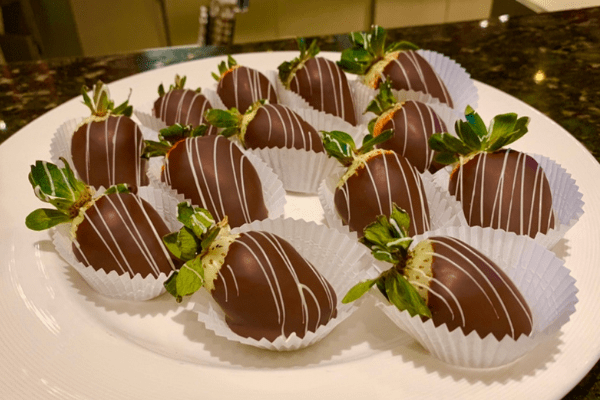 1. Convenience Items
Cruise ships have shops on board and duty free shopping. While you can get some good deals on jewelry, make up and perfume, and even liquor, all convenience items will cost much more than on land.
Make sure to bring your own sunscreen, lip balm, paperback books etc. Just like convenience stores in hotels, these shops tend to be overpriced on cruise ships as well.
2.Water Bottles
Unless you have a beverage package, water bottles won't be included on your cruise. Even then, they aren't always free (each cruise line's drink package is different).
The drinking water is safe on a cruise ship, so that's not an issue. However, if you'd like to bring a bottle of water with you as you get off the cruise ship at a cruise port of call, it will cost you $3-4 per bottle.
It's a good idea to bring a refillable water bottle with you, and refill it as needed. Otherwise, you could easily spend a lot of money on water bottles alone.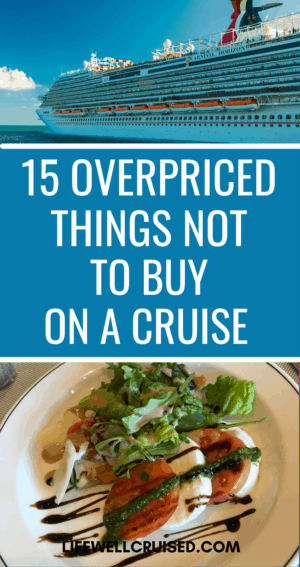 3. Manicures
Services at the nail and hair salon on cruise ships might be double what you'd pay at a salon or spa at home. If you want to treat yourself, it may be worth it to have an up do or blowout for formal night. However, you're best off getting a mani & pedi before you go on your cruise, and save your money.
4. Spa Treatments
Similar to salon services, spa treatments like massages are pricey on a cruise. When I compared the price of masseuses at home, the cost of a massage and other spa treatments was, in my view, overpriced.
That said, my husband says that his massage that he got on a Celebrity cruise, was the best one he ever had. So, even though the cost is almost double what we'd pay at home, clearly my hubby thinks this is one cruise expense that's worth the splurge.
5. Photo Packages
Are photos and photo packages really overpriced? At $20-30 per photo and $200-300 per package, they aren't cheap. These days, you can also take your own good quality photos with your cell phone and a bluetooth tripod/selfie stick.
6. Pre and Post Cruise Hotels
It's always a good idea to head into the cruise port a day before your cruise. However, if you want to save money, it's best to book your own hotel and skip the cruise line's pre and post hotel options.
Generally, pre and post hotels will be about %30 or more than if you'd book a hotel on your own. While they often come with a transfer to the cruise ship port, it's often not worth the extra expense.
7. Cruise Ship Transfers
Cruise ship transfers may be convenient, but there are a couple of reasons you may not want to buy them. Firstly, if you're 2 or more people, an Uber, taxi or even renting a car will likely be cheaper.
Secondly, if you take the ship's transfers, you'll have to wait for the transfer bus to fill up before you head to the airport. This can take a while and might not be the best use of your time before or after your cruise.
8. Shore Excursions
One of the biggest extra expenses you'll find on a cruise are shore excursions. If you book cruise line excursions, they'll almost certainly be more expensive than private tours and excursions, and exploring on your own.
9. Room Service
Several years ago, most major cruise lines included room service in the price of a cruise. However, now many cruise lines now charge a fee for room service and delivery. At about $8 per order, room service is an extra expense that is best avoided.
There's so much food included on a cruise. It's worth leaving your cabin and heading to the buffet, cafe or pub restaurant and eating there instead.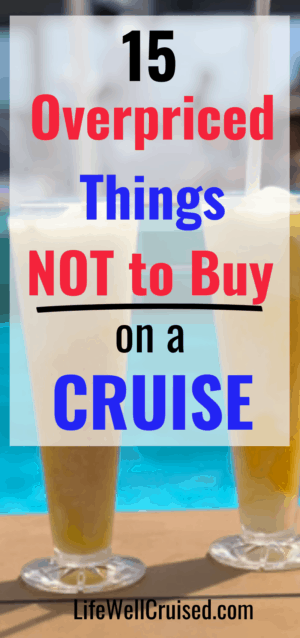 10. Drinks
There's little more "overpriced" on a cruise than drinks. Soda and alcoholic beverages can add up quickly. One way to reduce costs is to purchase a beverage package or book a cruise with perks, such as Norwegian's Free at Sea or Princess Cruises' Princess Plus.
A good way to save money on a cruise, is to bring bottles of wine on embarkation day. Many cruise line's allow you to bring 1 bottle of wine per person on a cruise.
11. Tech or Electronic Items
Cruise ships may sell apple products or other tech items. Unless you absolutely need any items (wires or chargers), don't buy tech items on a cruise. Since these items tend to be expensive on ships and at airports, make sure to pack these and bring from home.
Get The Ultimate Cruise Planner
Regular price: $27 Now just $17!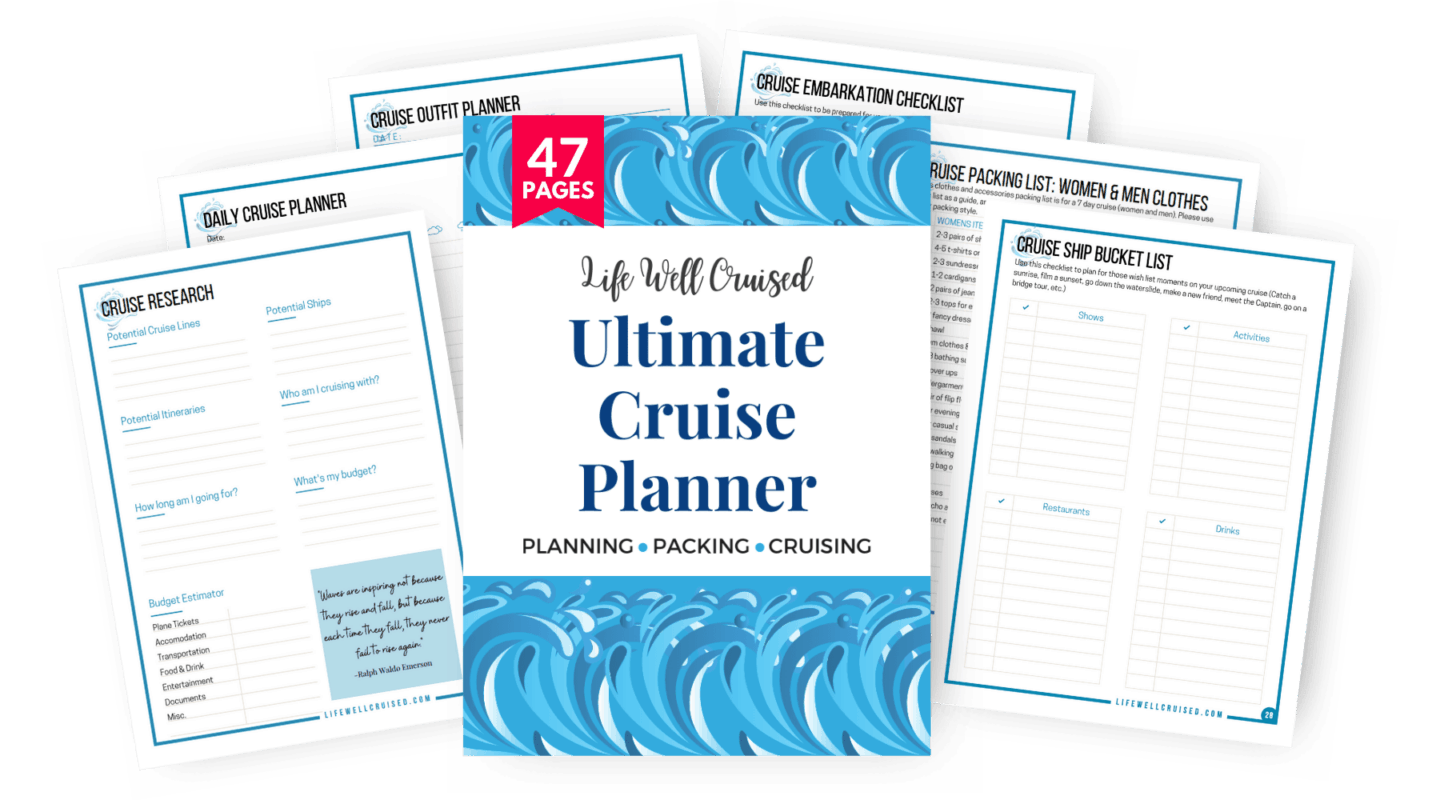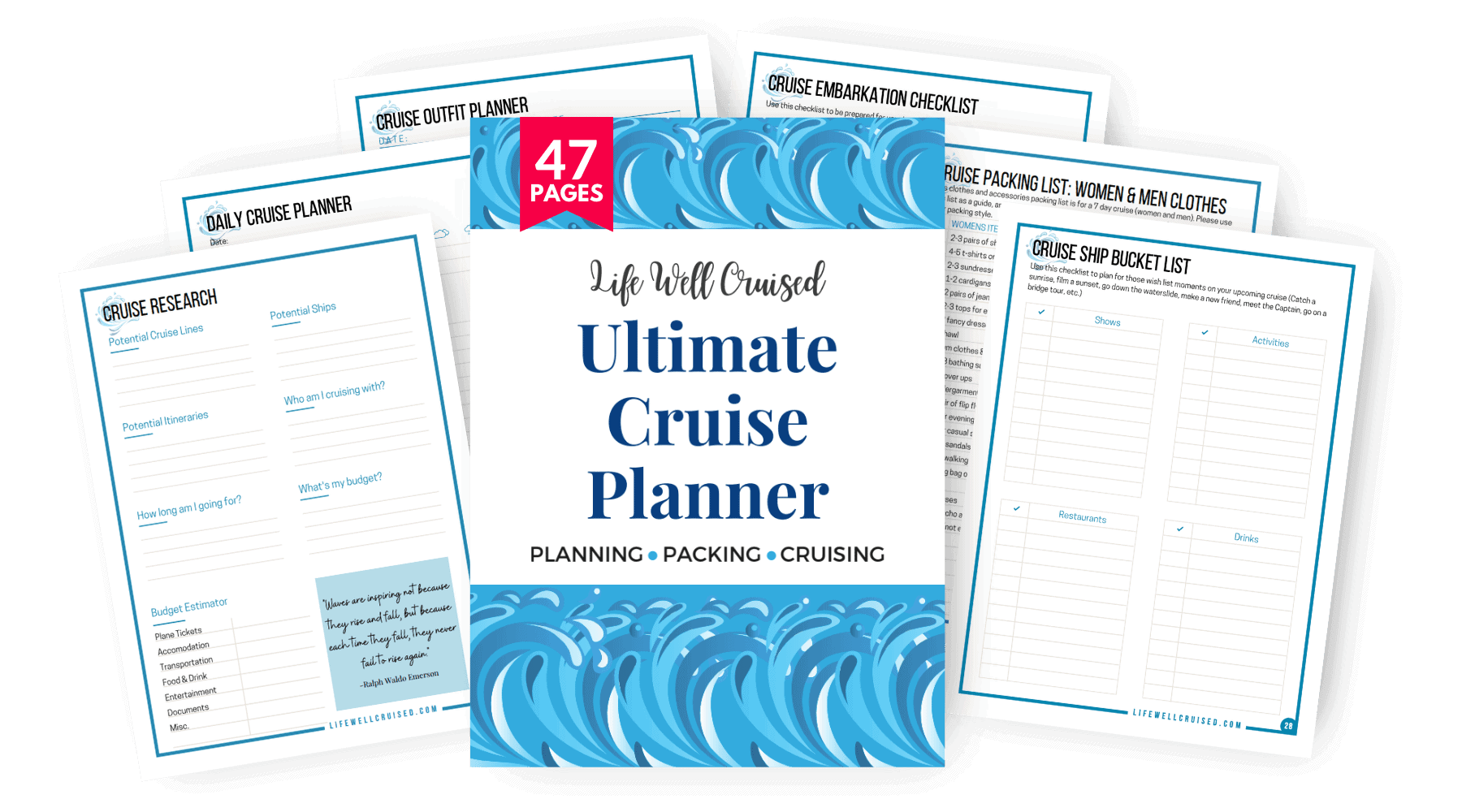 12. Camera Gear
If you're interested in a Go Pro or other camera gear and equipment, you'll find it on a cruise. However, it will be more expensive than buying it from Amazon or a big box store. For this reason, don't buy cameras and Go Pros on a cruise ship.
13. Medication
Make sure to pack first aid items and medicines from home. Cruise ships will sell small quantities of pain reliever, band-aids and other pharmaceutical items, however it will be both overpriced and the selection will be small.
Visits to the ship's doctor and medical facilities will be pricey as well. So make sure to have travel insurance in case you do need to seek medical attention.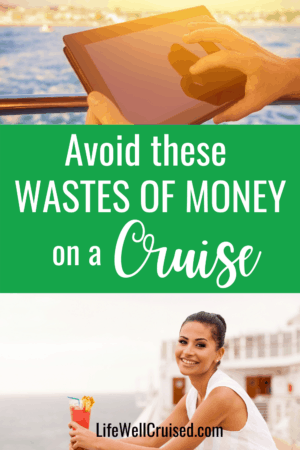 14. Art Auction
Art is in the eye of the beholder, and so is the price that you may pay for a print, lithograph or other work of art on a cruise. Some people will say that an art auction is the biggest waste of money (and time) on a cruise. Still others, are proud to be collectors.
If you do go to the art auction, make sure to find out the cost of the artwork that you'll be purchasing, as well as any extra expenses like shipping or duties.
15. Cruise Ship Internet
If you're going on your first cruise, you just might be shocked at how expensive cruise ship internet can be. Even an internet package can be $100-300 per person on a cruise.
If you can do without internet during your cruise, you can save money by simply waiting to go online in a cruise port. As well, some cruise lines, like Princess Cruises, do have more reasonably priced internet plans.
Wastes of Money on a Cruise Video
In this video I share more things that may be overpriced and even a waste of money on a cruise. If you enjoy cruise tips, cruise vlogs and cruise related content, check out my YouTube channel and subscribe 🙂
**Looking for a printable cruise travel planner to keep organized? See what's included in the 47 page Ultimate Cruise Planner
Related posts:
What to Pack for a Caribbean Cruise
50 Cruise Essentials Most Popular on Amazon
21 Things People Forget to Pack for a Cruise (and regret)
30 Cruise Cabin Hacks Every Cruiser Needs to Know
63 Things NOT to Do on a Cruise Ship
Final Thoughts: 15 Overpriced Things NOT to Buy on a Cruise
In this post, we went over 15 things that tend to be pricey and even overpriced on a cruise. Of course, everyone's budget and idea of what's "worth it" is different. You may want to splurge on some of these things, and that's ok. After all, it's your vacation.
That said, by planning in advance and packing well for your cruise, you can avoid some unnecessary and wasteful spending during your cruise vacation.
What things do you think are a waste of money on a cruise? Do you have any items to add or do you disagree with any of the things on this list? Please let me know in the comments below.
Happy cruising!
Ilana
P.S. If you enjoyed this post and found it helpful, please don't keep it to yourself ;-). Please share on Facebook or PIN to your favorite Pinterest board (share buttons at the top). Thanks so much!
Let's connect:
Follow me on Facebook at Life Well Cruised
Follow me onYouTube at Life Well Cruised (Vlogs and cruise tips)
Follow me on Pinterest at Life Well Cruised
Follow me on Instagram at Life Well Cruised