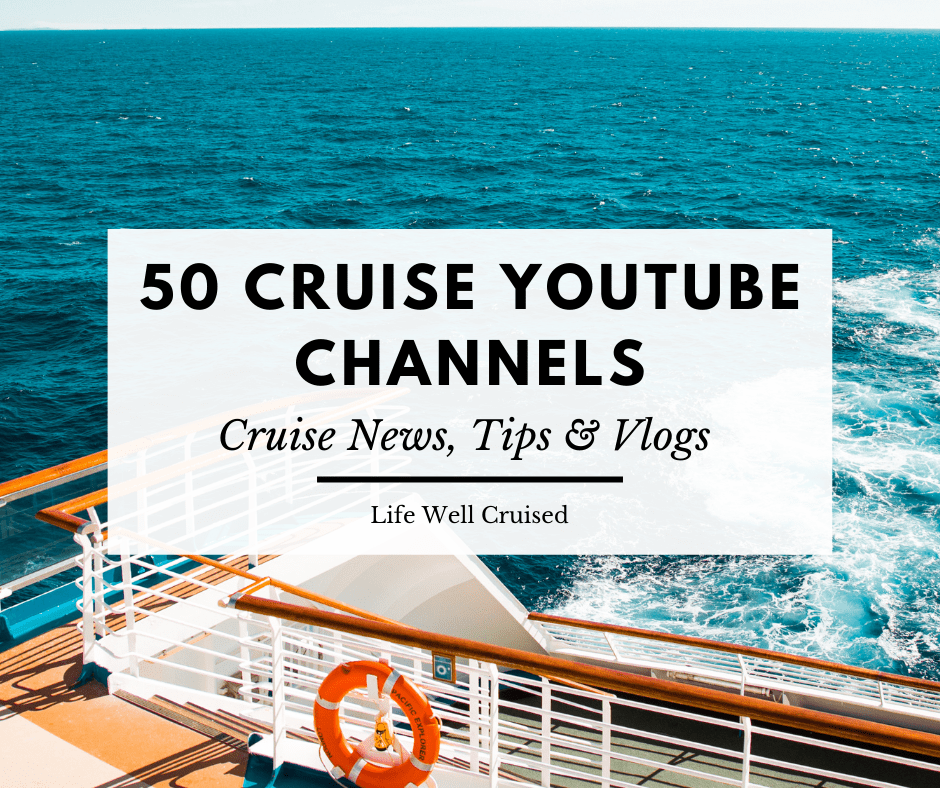 Have you been searching for the best cruise YouTube channels to watch right now? As each of us gets closer to cruising again, you'll want to check out these cruise YouTubers for cruise news, cruise tips, cruise ship tours, cruise vlogs, and more!
I put together this list of 50 top cruise YouTube channels to inspire you, as well as help you plan your future cruise. While some of these cruise YouTubers and vloggers will be familiar favorites, other channels will be a new discovery.
Top 50 Cruise YouTube Channels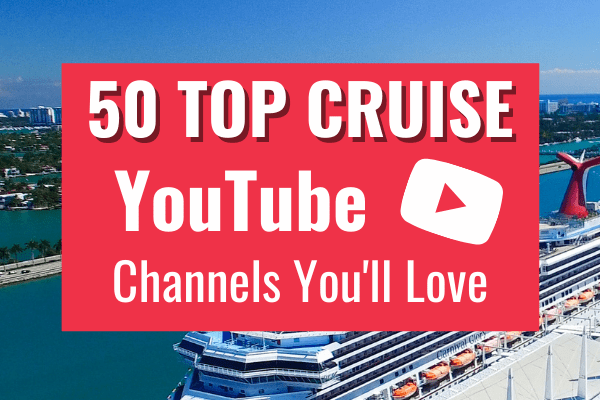 About this Top 50 list:
One thing you'll notice about this list of top 50 cruise YouTube channels – it's in no particular order. Each channel is different and each cruise content creator brings something special to the table.
So how did I choose? When creating this list, I looked at a few factors.
Firstly, I asked cruisers in my
Life Well Cruised Facebook
and
YouTube community
to share their favorite cruise YouTube channels. I also searched YouTube to find both the most popular cruise YouTube channels, as well as unique creators that are consistently sharing interesting cruise related content.
I'll be honest, I also thought of some of the channels that my husband and I personally watch and enjoy, not only today, but also in the past as we prepared for our cruises.
On the most part, these cruise YouTube channels are run by individuals, and not big brands. If you enjoy the content they create, please let them now by liking their videos and subscribing to their channels.
If you have a favorite cruise channel that I missed, and that you think should be on this list, please let me know in the comments below.
50 Favorite Cruise YouTube Channels and YouTubers
1. Cruise Tips TV
Cruise Tips TV
brings you cruise vlogs, interviews, high quality ship, stateroom, packing and culinary videos and common-sense cruise-travel tips to maximize your cruising adventures. Sheri and her family are a great resource for first time cruisers and experienced travelers alike. Cruise Tips TV has been my go-to channel for years!
2. Don's Family Vacations
Don Terris of
Don's Family Vacations
shares cruise tips and cruise news in a unique and informative way. Creating daily videos, he doesn't hold back on what he thinks of the latest cruise updates. Dons shares, "No matter if you're a first time cruiser or looking for information on ships, cruise lines, or destinations. you'll find something here to help you in your journey."
3. Tips for Travellers
Gary Bembridge from
Tips for Travellers
offers solid cruise advice on a wide variety of cruise lines. You'll appreciate his cruise tips, information and breakdown of the cruise news. In Gary's words, "I learnt that enjoyable and memorable cruise vacations don't happen by chance. They are made and crafted through being well-informed, and then making intelligent choices at every single stage.'
4. La Lido Loca Cruise and Travel
Tony and Jenny are the fun and informative couple that make up the
La Lido Loca YouTube channel
. In addition to their cruise vlogs and cruise tips videos, you can catch Tony on the daily cruise news show, where he shares the latest cruise updates.
5. Sharon at Sea Travel
The Sharon at Sea Travel YouTube channel features Sharon, Jamie, & Matthew, a family that loves to travel. They share relatable information about cruising and traveling through our videos, reviews, tips, and more.
6. The Shiplife
The Shiplife YouTube channel features J. Alexander, a former cruise ship crew member. J shares his unique perspective on recent cruise news and offers cruise advice for future cruise travelers
7. Royal Caribbean Blog YouTube Channel
If you're a Royal Caribbean fan, this is THE YouTube channel to watch! Seriously, Matt Hochberg from
Royal Caribbean Blog
shares great cruise tips and Royal Caribbean cruise news and is a must-watch.
8. Eat Sleep Cruise
If you're looking for detailed cruise news, cruise tips and informative cruise ship tours, you'll appreciate the videos on the Eat Sleep Cruise YouTube channel. DB and Princess, as the duo is known, also have some awesome cruise vlogs.
9. Emma Cruises
Emma from Emma Cruises shares ship reviews, cabin tours, cruise vlogs, and cruise booking tips and tricks. If you're considering taking your first cruise, or are interested in learning more about a certain cruise line or ship, you're in the right place!
10. Morgan's Very Unofficial Travel Guides
If you want honest cruise reviews and fun, yet informative cruise and travel vlogs, Morgan's
Very Unofficial Travel Guides
is for you. Morgan is an American living in Germany and he's actually been on several cruises during in 2020 & 2021 where he has documented what cruising is really like.
11. Cruise with Ben and David
Cruise with Ben and David are a married couple who share cruise tips, news, ship tours and vlogs. They pride themselves on honest reviews and opinions. As a viewer, you'll be hooked on this fun and energetic cruise channel!
12. Sean & Stef
Sean and Stef are professional filmmakers that have shared incredible cruise ship tours and travel vlogs with cruisers and the cruise community. Sadly, Sean passed on in 2021, however Sean & Stef's channel remains and is full of inspirational and helpful cruise content.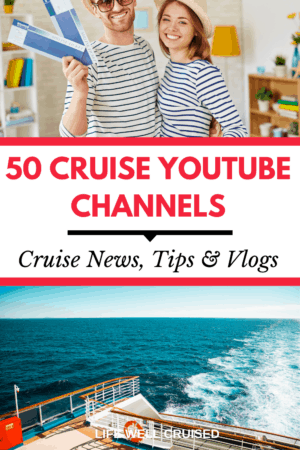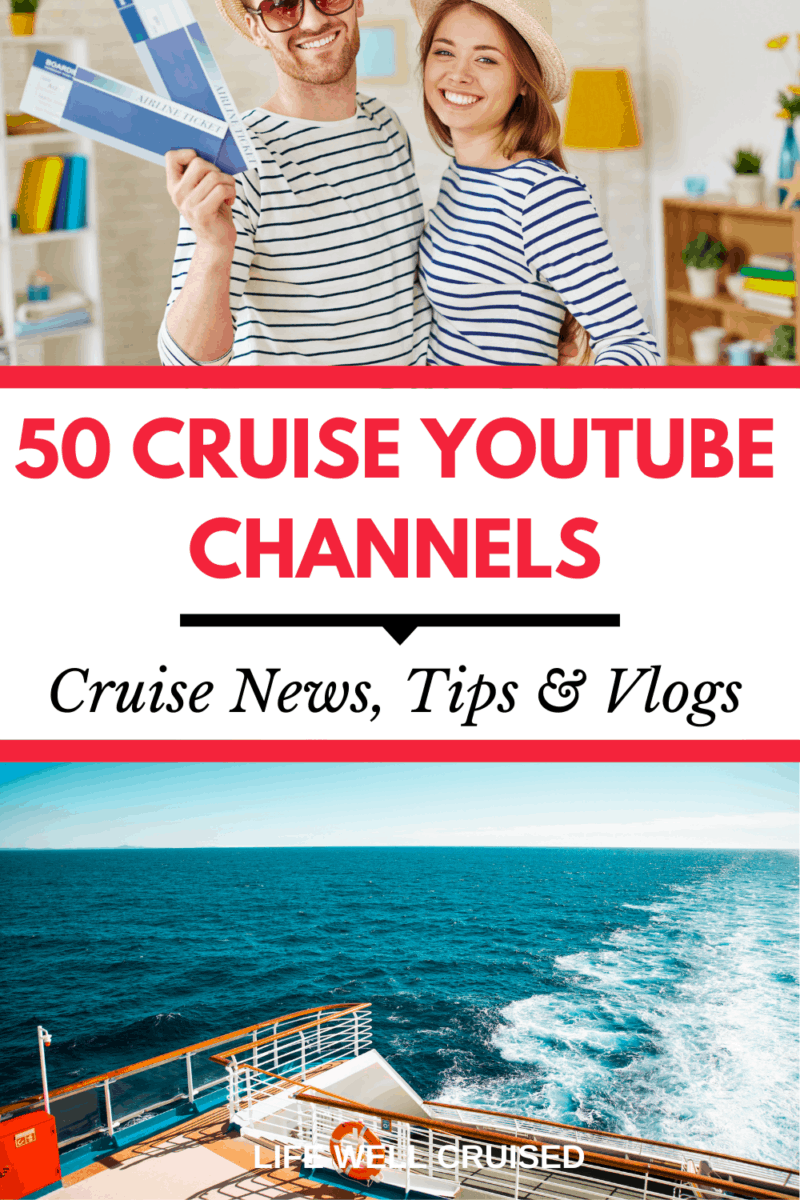 13. EECC Travels
Alisa and Jason from EECC Travels, along with their sons, offer great cruise travel tips and family cruise vlogs. Check out their cruising and travel adventures.
14. Life Well Cruised
Ilana (yes, that's me) from Life Well Cruised shares cruise tips and advice for both new and veteran cruisers. Find cruise packing tips and hacks, cruise news, and cruise vlogs of both cruise ships and cruise port destinations to help you plan your next cruise.
15. Chad Cruisers
Chad Cruisers is made up of two travel, cruise and lifestyle vloggers Brad and Chris from Toronto, Canada. They love to travel by cruise ship as well as exciting and unique destinations from around the world and our their own backyard. If you're a Princess Cruiser, you'll enjoy their Princess cruises videos and ship tours.
16. Alanna Zingano
Alanna Zingano's YouTube channel has some great cruise tips and travel advice for both first time and repeat cruisers. Check out the channel for ship tours, cruise vlogs, awesome interviews and more.
17. Cruzely
The Cruzely YouTube channel has videos full of valuable tips and advice about planning your next cruise. The content is great for anyone taking a cruise, whether you are a first-time passenger or have sailed time and again.
18. Porthole Cruise
Porthole Cruise and Travel,
hosted by Bill Pannoff, features informative and interesting cruise industry interviews, cruise ship tours and cruise updates.
19. Captain Kate McCue
Did you know that Celebrity Cruises' Captain Kate McCue has an awesome, informative cruise YouTube channel? If you're a cruise fan (from any cruise line), you have to check it out.
As she explains in her channel description, "This is not your Love Boat or Captain Stubing… This is a real glimpse at the Captain's life on a mega cruise ship!". You'll get insight on a "Captain's career, her ship, crew, & trusty sidekick (a hairless cat named Bug Naked) & of course the adventures that only a life at sea can bring."
20. Cruise Fever
On the Cruise Fever YouTube channel, you'll find great cruise ship tours, plus cruise tips and advice for first timers and seasoned cruisers. This channel is run by 2 brothers who are passionate cruise travelers.
21. Cruise Radio
On the Cruise Radio YouTube channel, you'll find short daily cruise news updates plus a variety of cruise ship tours from Carnival Cruise Line, Royal Caribbean Norwegian Cruise Line, Holland America, Celebrity Cruises and others. Cruise Radio was launched in 2009 as a resource for cruisers that were looking for ship reviews, port tips, and money saving advice.
Doug shares a daily dose of cruise news, in just a few minutes, a great way to keep up with all the latest updates!
22. Griff & Alyssa
Griff and Alyssa are cruise vloggers, and recently moved into a renovated Fifth-Wheel RV to travel. If you're interested in their cruise videos, you'll find awesome cruise vlogs, ship tours and cruise port vlogs as well as cruise tips.
23. Paul and Carol Love to Travel
Paul and Carol are a fun couple who share their honest travel experiences and hope to inspire and help viewers make an informed choice when booking their next trip. You'll find useful cruise ship information and tours, hotel reviews, and destination guides.
24. Talking Cruise
Talking Cruise presents the latest news, cruise ship tours and topics from around the world of cruising in a fun and unique format. The host of Talking Cruise, Chris Cardona, is passionate about all things related to cruising.
25. Scott Singer Cruises
Scott Singer Cruises videos are always fun and informative! You'll find ship tour videos, cruise vlogs, cruise planning, and everything else cruise related!
26. Cruise Hive
Cruise Hive features videos about major cruise lines and cruise news. If you enjoy cruise tips and information, this cruise YouTube channel is worth the watch.
27. Visit with Us
Rich and Helen from the Visit with Us YouTube channel share videos about luxury cruising. You'll find cruise tips and cruise ship tours, all beautifully filmed!
28. Mr. & Mrs. Traveler
Mr. & Mrs. Traveler are a fun couple that believes "Life's short… Have fun!". On their YouTube channel, they share cruise tips, reviews and cruise news and chats.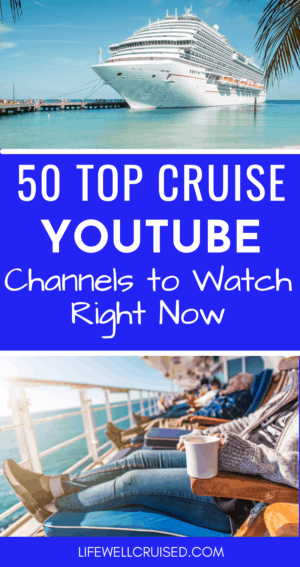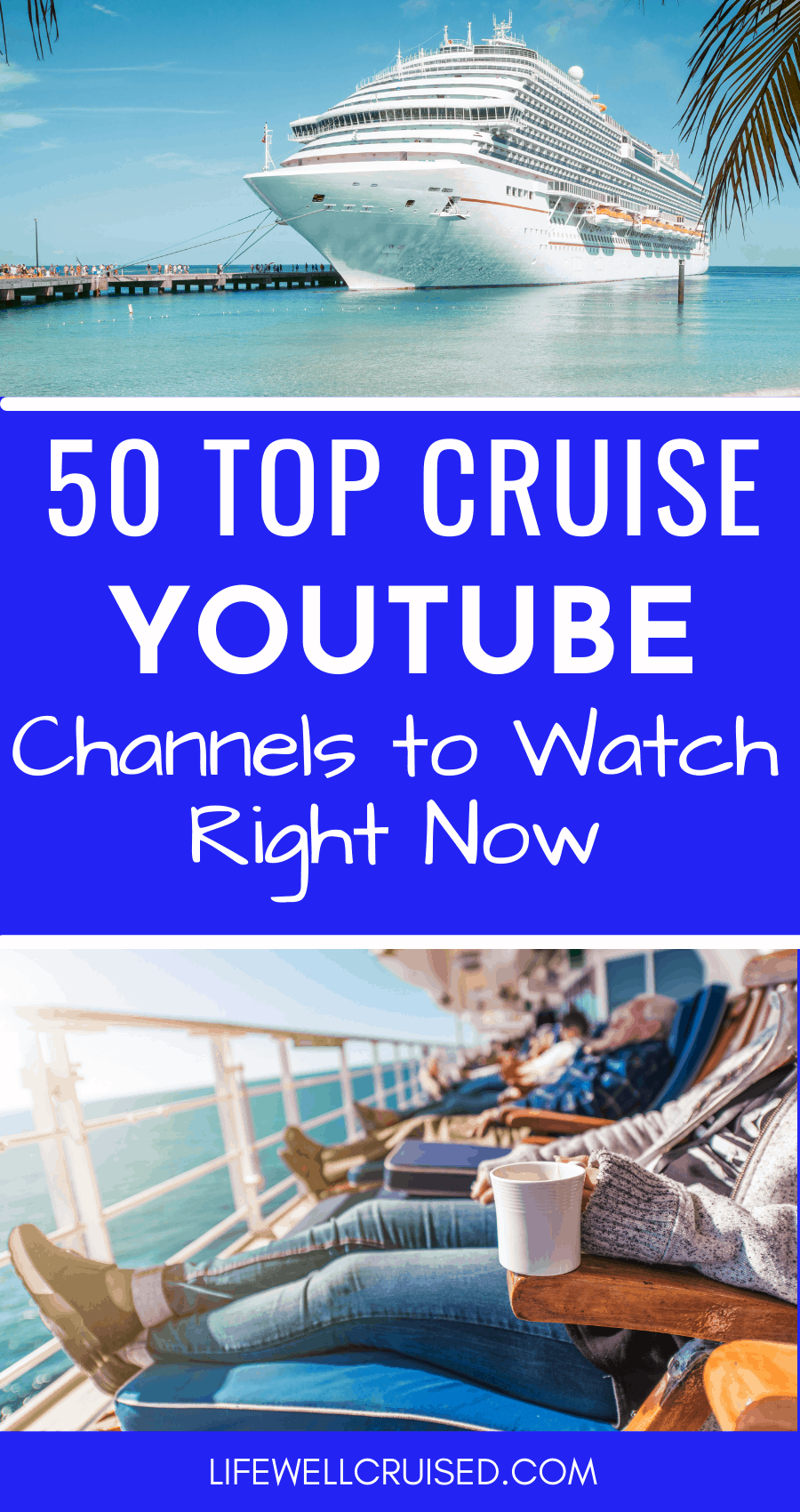 29. Travelling with Bruce
Bruce Frommert of Travelling with Bruce, is a resource of information for all things cruise news, cruise trends and travel updates. In his videos, Bruce shares detailed explanations and his take on the current state of cruising.
30. Sal Pitera
Sal Pitera has a popular cruise and travel YouTube channel with cruise cruise information, how to's and "amazing photography from the crazy mind of Sal Pitera".
31. Harr Travel
Harr Travel specializes in cruise ship tours (cruise cabins and full ship tours), as well as other types of land vacations. On this channel you'll find helpful cruise news and information, and cruise ship tours you'll enjoy.
32. Chris Wong Vlogs
Chris Wong is a member of the Royal Caribbean crew. On the Chris Wong Vlogs YouTube channel, Chris shares his experiences about cruise ship life, as well as some awesome Royal Caribbean cruise ship tours.
33. Same Ship Different Day
Alfie Smith, from Same Ship Different Day is an officer working on a cruise ship. He has shared videos about being on Coral Princess as cruising was paused. You'll learn information about cruise ships and cruising from a ship's officer's perspective.
34. The Curious Lens of Martina from Argentina
Martina, from The Curious Lens of Martina from Argentina, is a crew member onboard a Royal Caribbean cruise ship. Martina shares information and her experiences as a cruise ship crew member and a travel lifestyle. If you're a crew member or cruise passenger, I think you'll enjoy this channel.
35. Cruising with Wheels
The YouTubers at Cruising with Wheels are a married couple, one who is in a wheelchair. Since they find cruising to be the best option for their vacations, their YouTube channel focuses on everything about cruising and primarily handicap accessibility. You'll see ship accessibility, cabin tours, ship tours, shore excursions and cruise vlogs.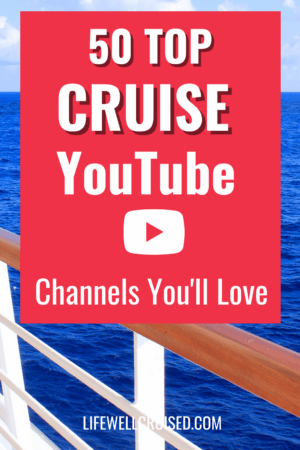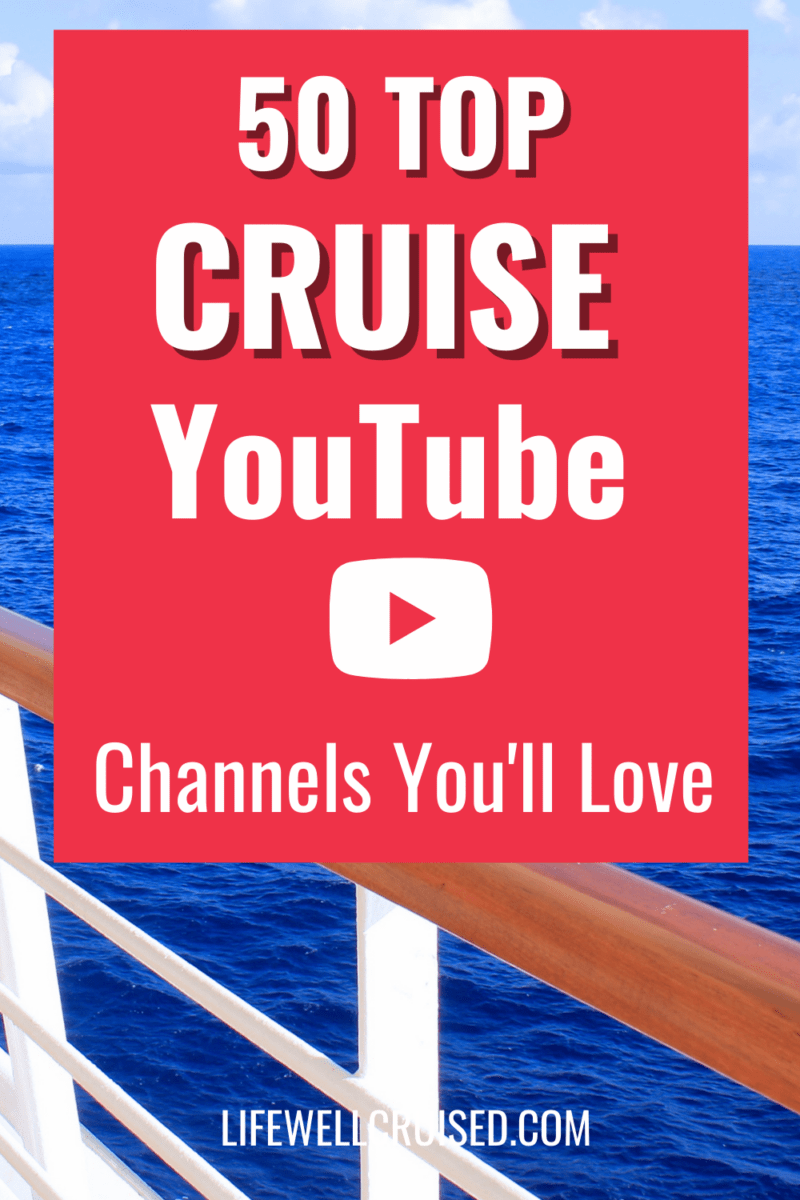 36. Sea Cruisers
Amy from Sea Cruisers shares cruise vlogs, cruise ship and cabin tours as well as interesting destination videos. You'll enjoy bring brought along with the Sea Cruisers crew, as they cruise on several different cruise lines.
37. Jim Zim
The Jim Zim YouTube channel is a hybrid of Jim Zimmerlin's three passions: cruise ships, model trains, and puppies. As Jim says, "if you're in to Caribbean cruises, G-scale model railroads, or cute little pups… you'll love these videos!"
38. Chris Frame
The Chris Frame YouTube channel features videos about the history of cruise ships, ocean liners and maritime history. You'll also find cruise interest stories, cruise news and lots of Cunard content.
39. Cruise Passion
Victoria is the YouTuber behind Cruise Passion. She says, "I produce cruise ship videos, from cruise ship tours to cruise ship events. I bring you along on all of my cruise adventures from all around the world."
40. Solo Cruisers
The Solo Cruisers YouTube channel presents videos, that are according to the creator "honest and real as you can get and will give you a vision of what it really is like cruising on various line, the good the bad and the ugly." If you're a solo cruiser, you'll find some helpful solo cruise tips.
41. Cruise with Josh
Josh Hocum is the Cruise YouTuber and Vlogger behind Cruise with Josh. You'll find room tours, ship tours, resort stays, food reviews, best excursions to do on each island, ship reviews, and full recaps along with a fun and outgoing take on cruising!
42. Popular Cruising
On the Popular Cruising YouTube channel, you'll find cruise reviews and tour videos; featuring the newest ships, covering every cruise style (ocean cruising, river cruising and expedition cruising), previewing upcoming ships, reviewing onboard experiences and sharing shoreside excursions (in 4K Ultra HD).
43. DCL Fan
Are you a Disney Cruise Line fan? Keep up with the latest news and Disney Cruise info and tips on the DCL Fan YouTube channel.
44. ParoDeeJay
ParoDeeJay is a fan favorite combo channel of cruising videos, travel and parody and musical entertainment from Dee & Jay. They say they love to create challenge videos, cruise vlogs, couples gaming, cooking videos, and anything else that makes them laugh.
45. Cruise Nostalgia
Cruise Nostalgia is a very different type of cruise YouTube channel. If you love a bit of old school cruising, you'll find videos about cruise ships from the past, including nostalgic cruise line commercials and promotional videos.
Personally, I get a kick out of the kitschy cruise advertisements from the 1970's and 80's in particular!
Where's 46-50?
There are so many really good and interesting cruise content creators, that it was hard for me to narrow the list down. There may be smaller and larger channels that I've overlooked – even some up & comers!
So, I thought that it would be a good idea to add to this list in the coming months. If you have a favorite cruise YouTube channel that everyone should check out, please let me know. This post will be updated with your suggestions.
Planning a cruise? You may enjoy these related posts next:
50 Must-have Cruise Essentials from Amazon
25 Cruise Packing Tips All Cruisers Need to Know
10 Cruise Ship Cabins to Avoid
What To Wear on a Cruise (when dress codes are changing)
21 Essential Things to Pack in Your Cruise Carry-On
Final Thoughts:
I hope that you enjoyed this list of fabulous cruise YouTubers. Whether you're interested in cruise news, cruise tips, cruise ship tours, cruise crew life, or cruise destinations – you're bound to find many Cruise YouTube Channels to love!
Which cruise YouTube channels do you most enjoy? Are there some up and coming YouTubers we should check out? Please leave your favorites and suggestions in the comments below.
Happy Cruising!!
Ilana
If you found this post helpful, please don't keep it to yourself ;-). Share it on Facebook or Save for later Pinterest (share buttons at the top). Thanks so much!
Let's connect:
Follow me on Facebook at Life Well Cruised
Follow me on Pinterest at Life Well Cruised
Follow me on Instagram at Life Well Cruised
Follow Life Well Cruised on YouTube