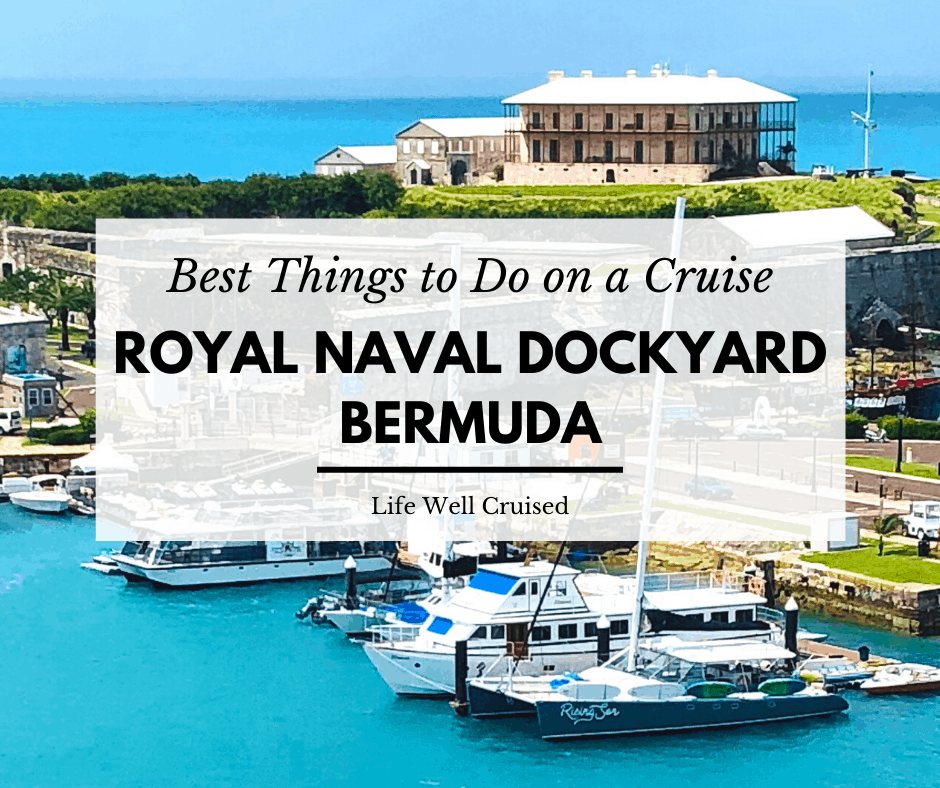 If you're going to Bermuda on a cruise, you might be wondering about the best things to do in the Royal Naval Dockyard, where your cruise ship is likely to dock. Located in the West End of Bermuda, Dockyard as it is often simply called, has a lot to offer for cruisers all within walking distance of the cruise ship.
While I wouldn't suggest going to Bermuda without visiting some of the key attractions such as Horseshoe Bay Beach, Crystal Caves or the capital city of Hamilton, planning a day or more to visit Dockyard is worth it. The Royal Naval Dockyard showcases Bermuda's history and culture well.
In this post, I'll share the best things to do and see in Dockyard, Bermuda, as well as some tips that cruisers will want to know. You'll also find a video below, where we include a walking tour of the Dockyard area, from the ship to the Clocktower Mall and everything in between.
This post contains affiliate links which means if you click and buy that I may make a commission, at no cost to you. Please see my disclosure policy for details.
As an Amazon Associate I earn from qualifying purchases.
What to Do and See in Bermuda's Royal Naval Dockyard
When you arrive in Bermuda, your cruise ship will likely dock at King's Wharf or Heritage Wharf, in Dockyard. From there, you can simply walk off the ship and visit the many attractions in Bermuda. While you can take a ferry, bus, taxi or shuttle to get around the island, this post will focus on what there is to do in Dockyard, close by to the cruise ship.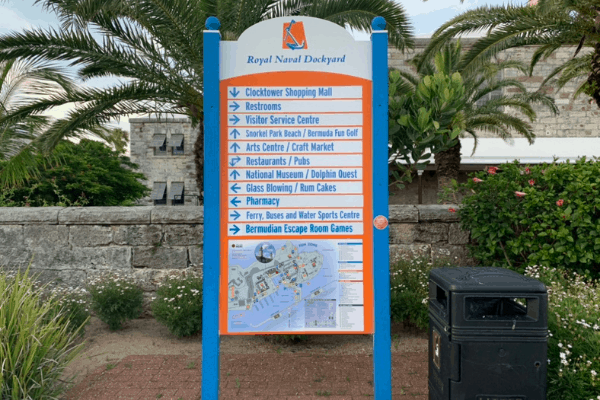 About Dockyard, Bermuda
Military and maritime history buffs will love exploring the Royal Naval Dockyard. The Dockyard was used as a strategic base during the the 1st and 2nd World Wars. It served the Royal Navy until 1951 and there are many historic buildings and artifacts throughout Dockyard still present.
The beautiful stone buildings and fortifications now house craft markets, shopping plazas, restaurants and museums. It also continues to be a working Dockyard, and life bustles outside the ship with a mix of tourists, shopkeepers and local workers.
Currency in Bermuda
The currency in Bermuda is the Bermudian dollar. However, it is on par with the United States dollar (1:1) and US dollars are taken happily.
Best Attractions in Dockyard, Bermuda
Snorkel Park Beach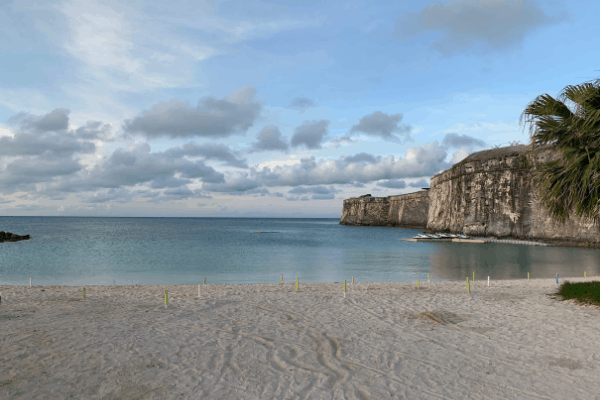 If you've been wondering if there's a beach closeby to the cruise ship in Dockyard, you're in luck. Snorkel Park Beach is a 10 minute walk from the cruise ship, and open during the day for swim, sun and water sports. As well, it's open during the evening on occasion with a bonfire and other beach parties.
This man-made beach still has the gorgeous Bermuda waters, however it is not a pink sand beach. If you're visiting Bermuda for a 2 or 3 day itinerary, consider Snorkel Beach for your last day, when you will want to stay closer to the cruise ship.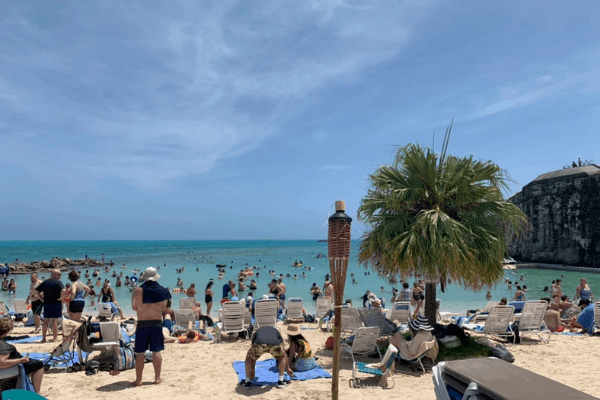 Fun Golf
Located close by to Snorkel Park Beach, Fun Golf is an 18 Hole Mini Golf Course featuring 'mini golf sized' versions of the most challenging and exciting holes from courses in Bermuda, Scotland and the USA. How fun is that!?
You can also eat, drink and enjoy the gorgeous 180 degree ocean views.
Dolphin Quest
Located in the sheltered lagoons of the National Museum of Bermuda, Dolphin Quest is about a 10-15 minute walk from the cruise ship. Dolphin Quest offers both observations as well as small group interactions with the dolphins, led by a marine mammal specialist. A popular attraction in Bermuda, it's a good idea to make reservations in advance.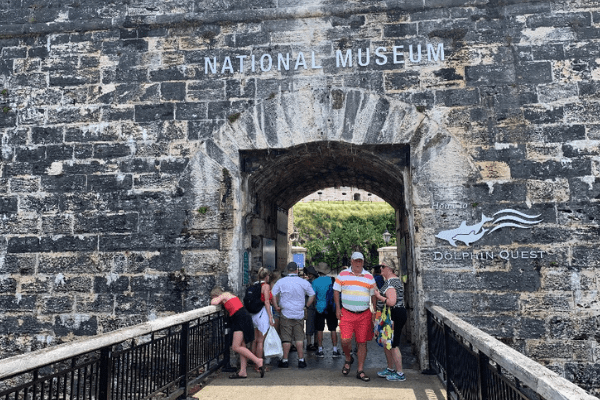 National Museum of Bermuda
Located inside Bermuda's largest fort, the National Museum of Bermuda showcases 500 years of Bermuda's culture and history. There are several exhibits for people of all ages.
The museum collection includes 75000 objects and artifacts including archaeological finds – even from shipwrecks! The location and buildings themselves are both historic and beautiful.
If you're visiting the National Museum of Bermuda with kids, there is a playground and playhouse that they'll surely enjoy.
Bermuda Transport Museum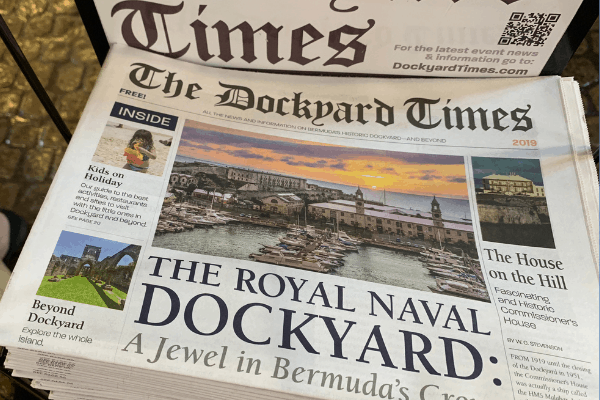 You'll be amazed at the vintage collection of classic motorcycles, boats, carriages and cars from Bermuda's past. Sailing enthusiasts will be thrilled to see a Foiling Wing raced by Oracle Team USA in the America's Cup 2017.
This museum is found as you walk from the cruise ship towards the Clock Tower mall.
Historical Reenactments from the Victualing Yard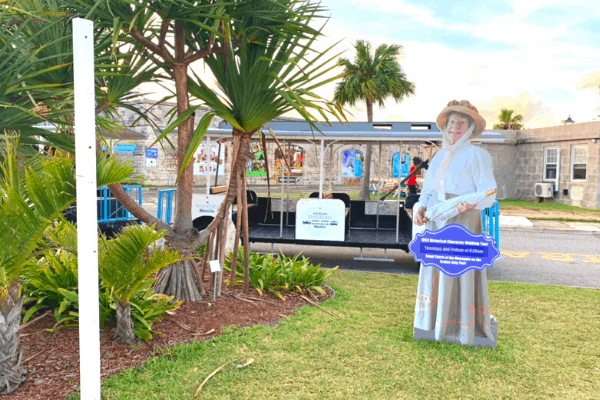 Historical reenactments are something to experience in Bermuda. Make sure to check the calendar of activities in Dockyard so that you can catch an interactive reenactment of life in the Royal Naval Dockyard in the early 1800's. Walk through the beautiful Victorian victualing yard, lined with palmetto palms, along with the fortifications, storehouses, barracks and workshops and learn about the history and life of past days in Bermuda.
Moongate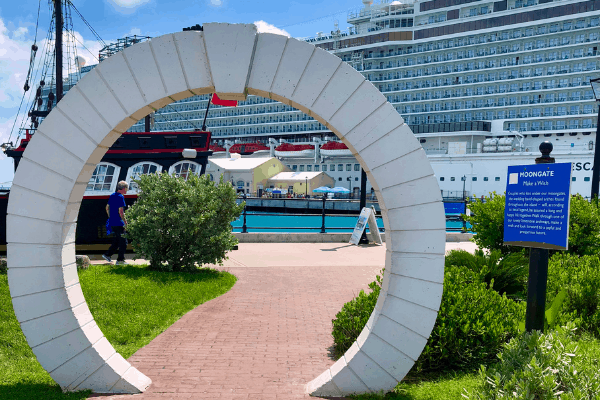 I've never seen visiting the Royal Naval Dockyard's Moongate on any lists of "what to do in Bermuda", but it should be! It's one of about 40 Moongates on the island, which hold a special significance in Bermuda.
The Moongate is said to be a symbol of good fortune and love. Legend says that couples who walk through the Moongate holding hands, will be blessed with eternal love and happiness.
You'll find the Moongate closeby your cruise ship, in front of the Calico Jack's Floating Bar. It makes a perfect spot for a photo, especially if you're celebrating an anniversary or feeling romantic in any way.
Suggested: Celebrity Summit Bermuda Cruise Review (with photos)
The Media Lounge Cinema
Grab some popcorn and catch a matinee or evening show at Bermuda's local cinema. It's located about 5-10 minutes walking distance from the cruise ship.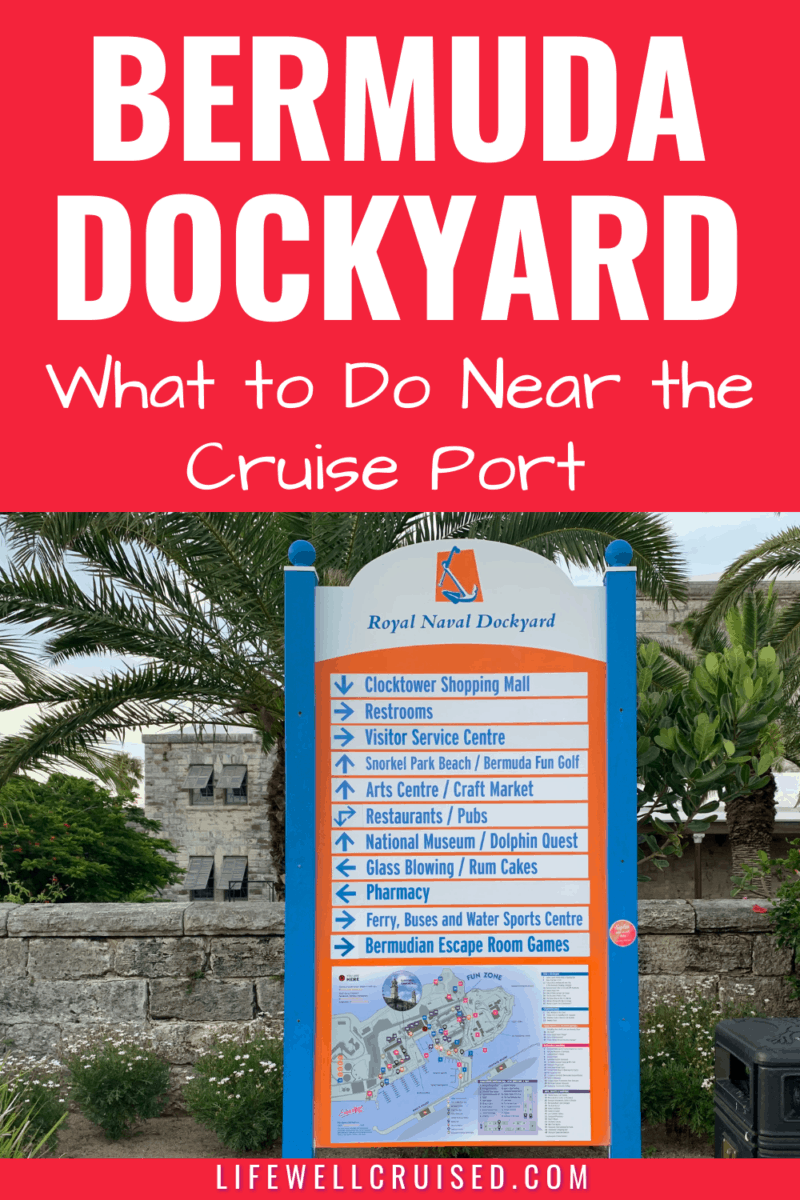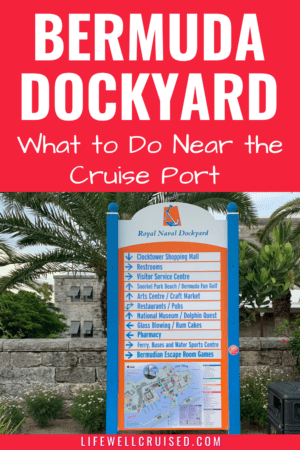 Island Tour Center
If you'd like to book a watersport activity, whether it be catamaran snorkeling, jetskis or a sunset cruise, you'll likely find it at the Island Tour Center. Booking in advance is probably better, however you can also head into the small tourist booth and check out what activities are available. It's located right outside the cruise ships, before you reach the ferries.
Calico Jack's Floating Bar
Grab a beer, Rum Swizzle or Dark & Stormy (Bermuda's 2 "National" drinks) or any other cocktail at Bermudas only Pirate Ship Floating Bar. You can even say that you've walked the plank, as you jump into the surrounding water. Calico Jack's is located right outside Heritage Wharf in Dockyard.
Port Bermuda Webcam
Heading to Bermuda on a cruise? You may want to get prepared before you go and build up excitement by watching the Bermuda WebCam.
Shopping in Dockyard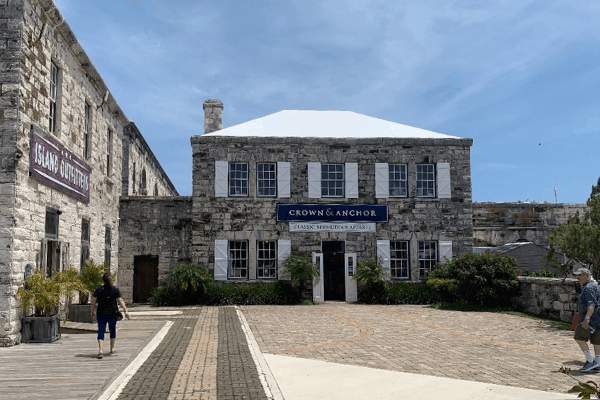 There are a lot of opportunities for shopping in Dockyard. Whether you're looking for crafts, artwork, jewelry or Bermuda souvenirs, you'll find items to buy all around Dockyard (many locally made).
Bermuda Craft Market
The Bermuda Craft Market is a great place to get locally made handicrafts and Bermuda souvenirs. From handmade jewelry that incorporates Bermuda's pink sand, to Bermuda Christmas ornaments, you'll find something to remind you of your Bermuda Cruise at this local market.
Clocktower Mall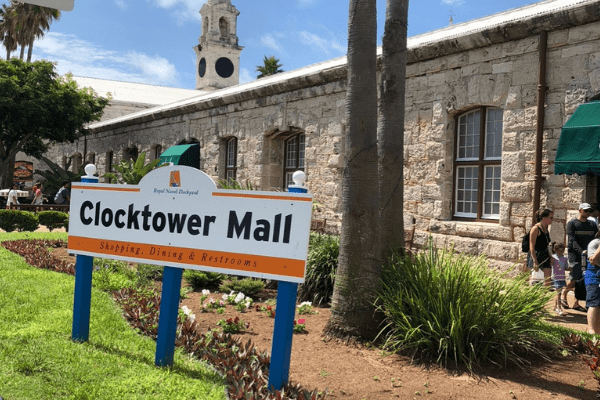 The Clocktower mall is an indoor plaza with many interesting stores. From practical shops selling t-shirts and bathing suits, to local items made by Bermuda artists, perfume shops, linen stores and more – if you enjoy a little retail therapy, you'll appreciate shopping at Bermuda's Clocktower mall.
In the video below, I have a walk through of the Clocktower Mall and some of the local shops you'll discover.
Dockyard Pharmacy
The Dockyard Pharmacy is the place for cruisers to get some of those practical basics you just might need. Things like sunscreen, after sun care cream and over the counter medication can all be found here.
However, the Dockyard Pharmacy sells some souvenir and other items as well. You'll find Bermuda t-shirts, sand toys, and on the day we were there, we even met a local children's author who was signing her books.
If you're looking for gifts for cruisers or to take home to friends and family, you just may find something interesting here.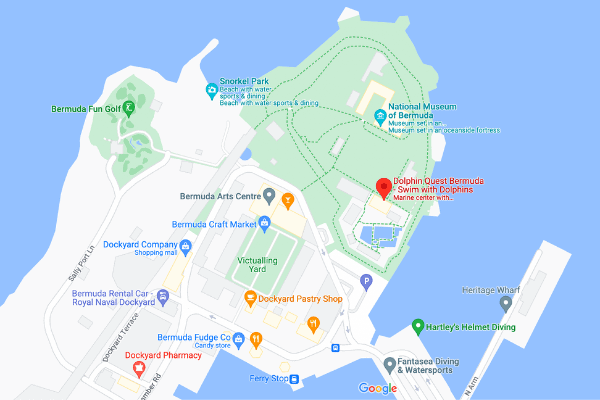 Other shops and stores you may like include:
The Bermuda Rum Cake Factory
Sample and buy delicious Bermuda Rum cakes. They make a great gift to take home.
*This location is now closed.
Bermuda Glassworks
Located in the same space as the Bermuda Rum Cake Factory, you can actually see how the glassworks are made, and purchase locally made items.
*This store is now closed.
Island Outfitters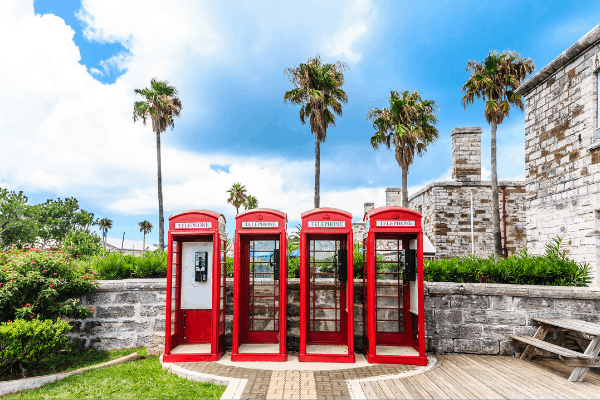 Nearby the cruise ships, at Island Outfitters, you'll find a variety of Bermuda souvenirs plus t-shirts and Bermuda caps, and pieces of simple but fun jewelry.
Crown & Anchor Classic Bermudian Apparel
You'll find good quality clothing to wear or bring home as a Bermuda souvenir from the Crown & Anchor shop. If you like nautical style clothing, you'll enjoy shopping here.
Diamonds International
While not a local Bermuda store, if you cruise and like to shop at Diamonds International, you'll find one as you walk towards the Clocktower Mall.
Exploring Bermuda's Dockyard: A Walking Tour (video)
In the summer of 2019, we had a great time visiting Bermuda on a cruise. Here is a walking tour of the Dockyard, so you can get a feel for what things really look like and how close things are to the cruise ships.
What to Eat in Dockyard
There are several restaurants to either eat a meal or grab a snack or drink in Dockyard. I have to admit that even with good intentions, we often got so busy while in Bermuda on a cruise, that we have not yet eaten at any of the restaurants in Dockyard.
Some favorites that are often recommended include The Frog & Onion Pub, Bone Fish bar & Grill, the Dockyard Pastry Shop and Woody's for a Bermuda fish sandwich (a 5 minute taxi ride).
You may also want to pick up some locally made Bermuda fudge at the Bermuda Fudge Factory to eat while visiting or bring home as a souvenir. You can't miss the cute pink building nearby the cruise ships.
Getting Around Dockyard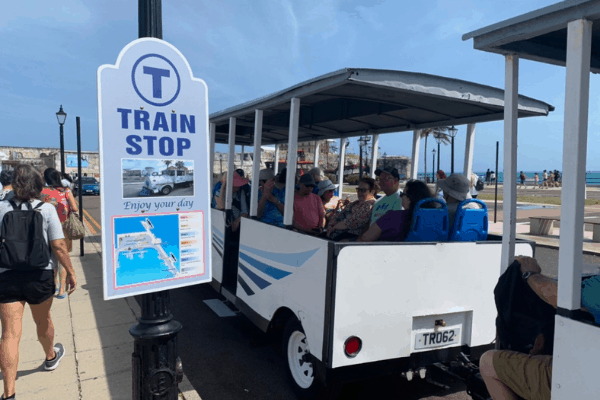 The easiest way to get around Dockyard is to walk. However there is a free trolley and even Segways to rent. If you'd like to leave the Dockyard area and head into Hamilton or St. George, you're best off taking the ferry.
You can purchase tickets when you arrive in Bermuda or in advance if you like. Do make sure to check the seasonal schedule. Local buses are also available, and Bermuda is safe and easy to explore on your own.
Read these posts next if you're going on a Bermuda cruise:
What to Pack for a Bermuda Cruise: The Ultimate Guide
How to get to Horseshoe Bay Beach from Dockyard – Full review & directions
How to get to Crystal Caves from Dockyard – Full review & directions
The Best of Bermuda – Top Excursions for Cruisers
Bermuda Rising Son Cruises Catamaran Snorkeling Review
25+ Most Recommended Amazon Cruise Essentials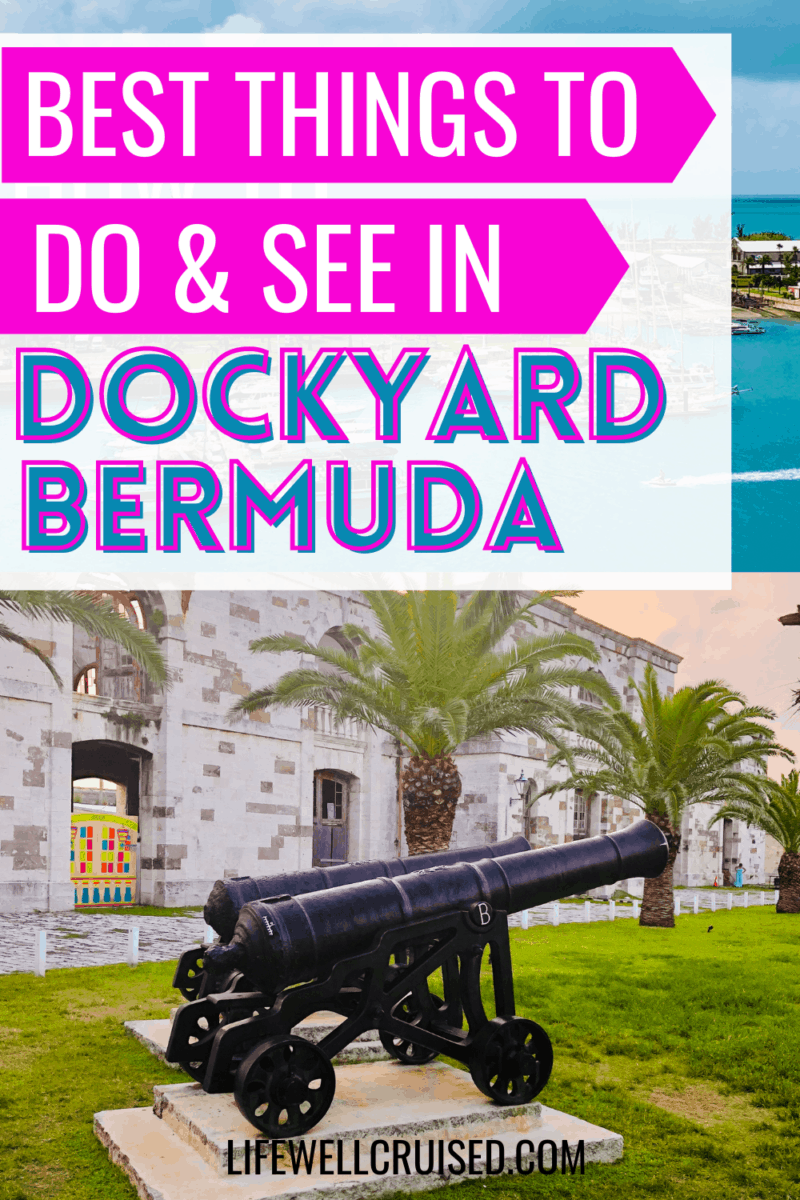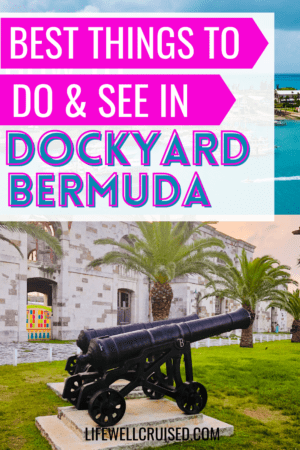 Recap: Royal Naval Dockyard Bermuda – Things to Do Near the Cruise Port
When cruising to Bermuda, you'll want to plan an itinerary which includes exploring interesting attractions around the island. However, also important is visiting many of the most interesting places to see in Royal Naval Dockyard. In this post, we shared the best things to see and do in Dockyard, closeby to the cruise port.
Have you been to Bermuda on a cruise? What are the things you've most enjoyed and recommend in the Royal Naval Dockyard? If you have any questions, please let me know in the comments below.
Happy cruising!
Ilana
If you found this article helpful, please pass it along. Please feel free to share on Facebook or PIN to your favorite Pinterest board (share buttons at the top). Thanks so much!
Let's connect:
Follow me on Facebook at Life Well Cruised
Follow me on YouTube at Life Well Cruised
Follow me on Pinterest at Life Well Cruised
Follow me on Instagram at Life Well Cruised