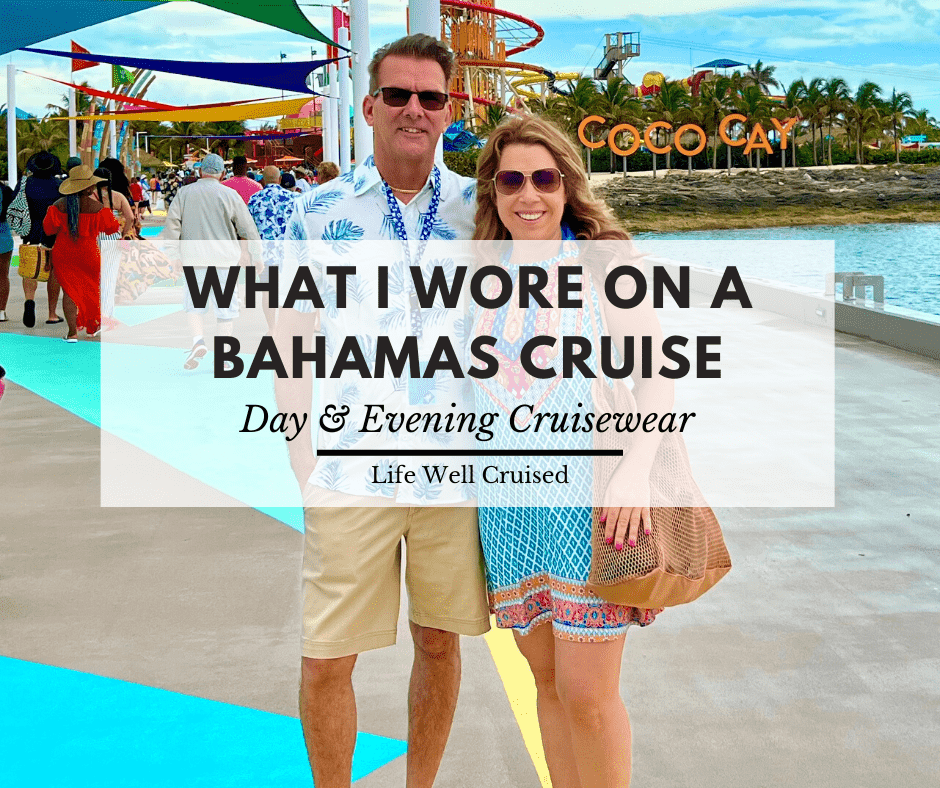 Are you going on a Bahamas or warm weather cruise and wondering what cruise outfits to wear? Personally, I love some good cruise outfit inspiration!
I recently returned from a 7 day Bahamas cruise on Oasis of the Seas and thought I'd share some of the clothes I wore to give you a few cruise outfit ideas.
Since this cruise left from Cape Liberty, New Jersey, I knew I needed some different clothing than what I wore on my last Caribbean cruise vacation.
I did wear some of the cruise outfits I has already, but also added a few new things. In particular, I got a couple of great one piece bathing suits and swimsuit cover ups.
In this post, I share photos of cruise wear I wore for embarkation, during the day on the ship and ports of call, and formal night. Where possible, I've included links to the items.
This post contains affiliate links which means if you click and buy that I may make a commission, at no cost to you. Please see my disclosure policy for details.
As an Amazon Associate I earn from qualifying purchases.
My Cruise Outfits for a 7 Day Cruise
Embarkation Day Outfit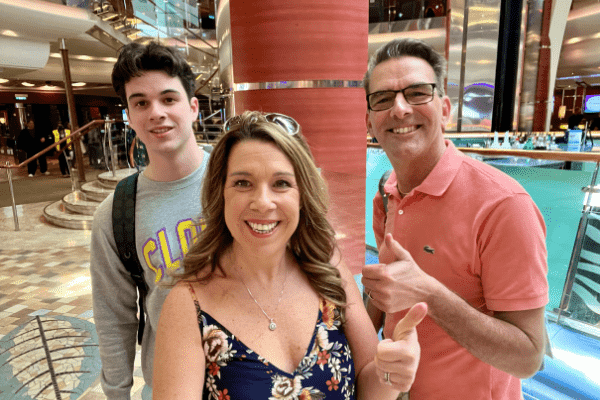 Since the weather was supposed to be cool on the day we boarded, I was prepared with some jeans and a light sweater for embarkation day.
However, happily the weather changed and I decided last minute to wear a casual short dress with a light sweater on top (that I could toss in my tote bag).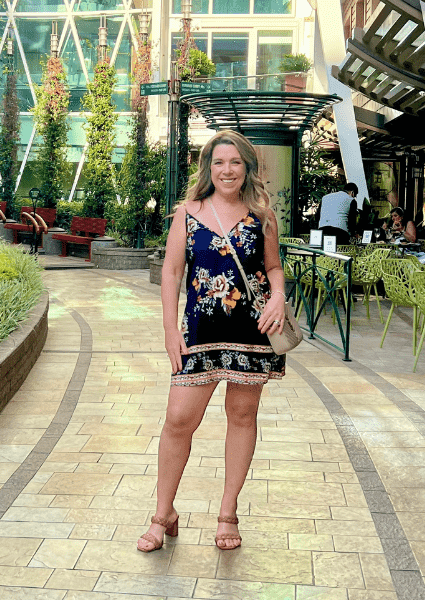 Recommended: Casual light sundress (similar to the one in the photo/amazon link)
I wore this dress one of the evenings on my cruise when we went to dinner at Chops Grille in Central park. Incidentally, this restaurant is so good and I highly recommend it!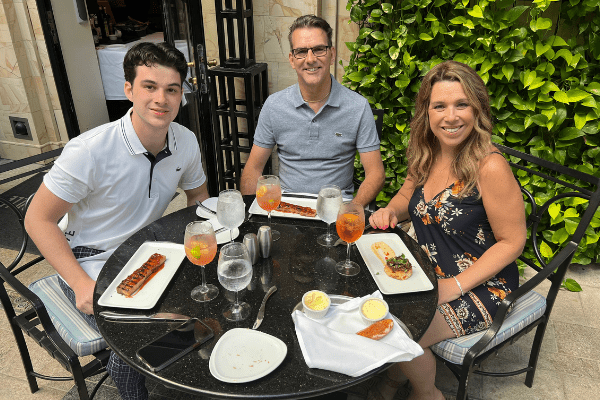 What I Wore During the Day on a Cruise
Here's a tip for what to pack for a Bahamas cruise – pack pants and a sweatshirt or two, even for during the day. The first and last days of the cruise may be as low as about 60 degrees, depending on the time of year.
Here are some of the outfits I wore during sea days on the cruise, and port days in Nassau and Perfect Day at CocoCay.
Sundress with Pockets
This comfortable sleeveless dress can be worn as a casual dress or even as a swimsuit cover up on a beach day. Yes, it has pockets! I'm wearing a size small and this dress is roomy.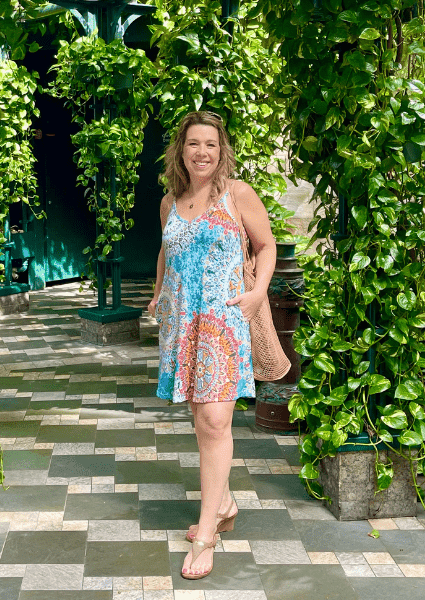 Recommended: Sleeveless dress with pockets (check price and see fabric options here)
Casual Sundress with Pockets
When I saw this dress on Amazon, I knew it would quickly become of of my favorite outfits to wear on a cruise. It's not only cute and very comfortable, but it has pockets!!
I bought this dress in size small and it was true to size. For reference, I'm 5'2 and about 130 pounds.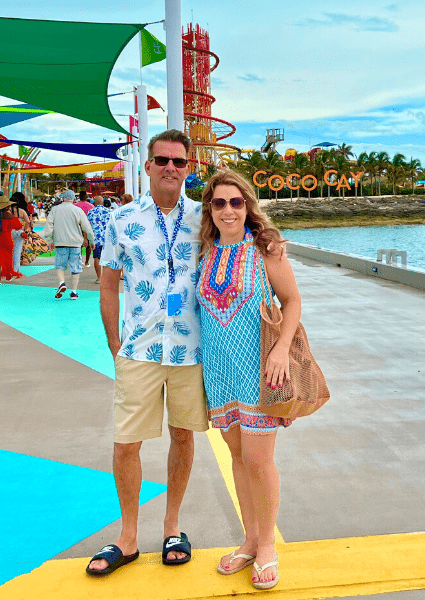 Recommended: Sleeveless summer dress with pockets (verify price & style options here)
Mesh Tote Bag
If you're looking for a cute tote bag to use both on the cruise and on beach days, I got this new mesh shoulder bag before this cruise (in above photo). The one I have is in the tan color, but it's available in many color options.
Recommended: Mesh tote bag (check price & 2000+ Amazon reviews here)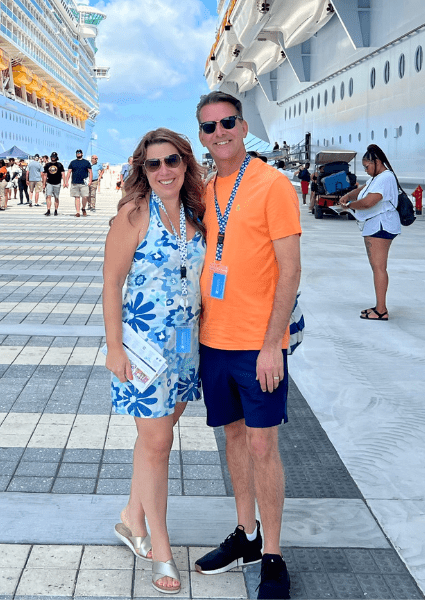 Recommended: Mesh beach tote bag (check price & over 4000 Amazon reviews here)
Stripe Shorts Romper
I wore this shorts romper during the sea days on my cruise, but I forgot to get a photo! Here's a photo of the casual cruise outfit from a recent Princess cruise.
It's super comfortable and I love the navy and white stripe.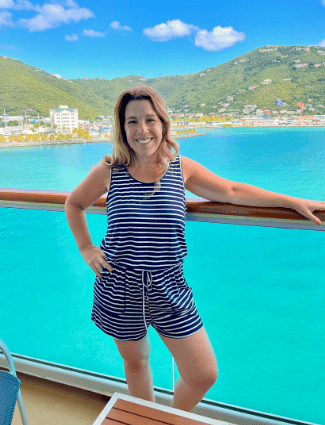 Recommended: Navy & white stripe shorts romper (check price & color options on Amazon here)
Related: 25 Fashionable Cruise Outfits for Ladies
Swimsuits and Cover Ups
Finding bathing suits that are flattering are always tough. However, I got a couple of cute one piece bathing suits and cover ups that I really like (from Amazon).
Cupshe Ladies Swimsuit One Piece
This one piece bathing suit fits really well, is comfortable and I think flattering on women of any age.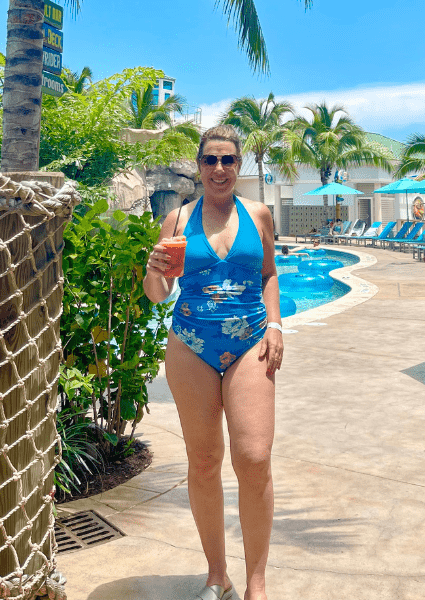 Recommended: Cupshe one piece halter top swimsuit (see other colors & reviews here)
Swimsuit Cover Ups
I added 2 new cover ups to my cruise outfits. I got this crochet style swimsuit cover up in 2 colors. It is very comfortable!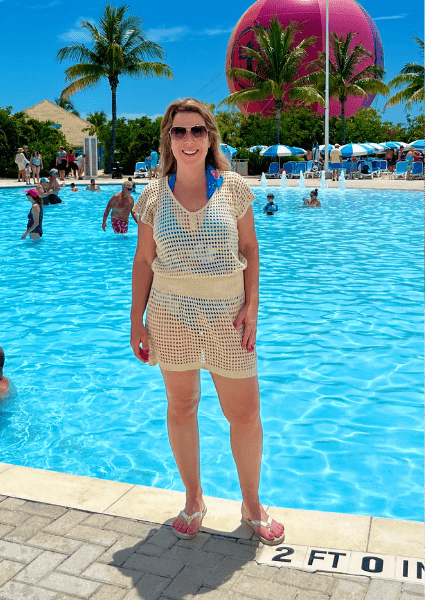 Recommended: Swimsuit cover up apricot color (see colors, reviews & price here)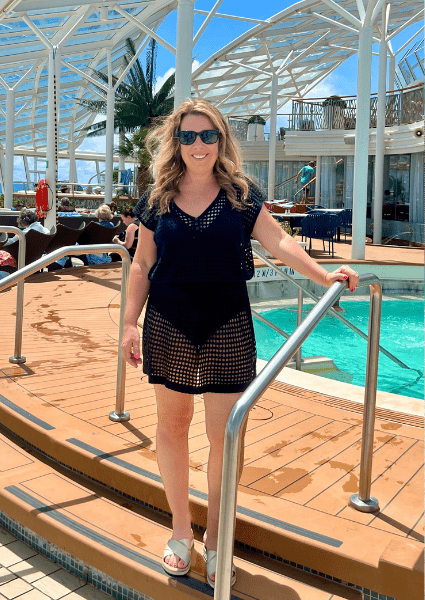 Recommended: Black crochet style swimsuit cover up (check price & colors here)
Related: 25 Gorgeous Swimsuit Cover Ups for a Cruise
Get The Ultimate Cruise Planner
Regular price: $27 Now just $17!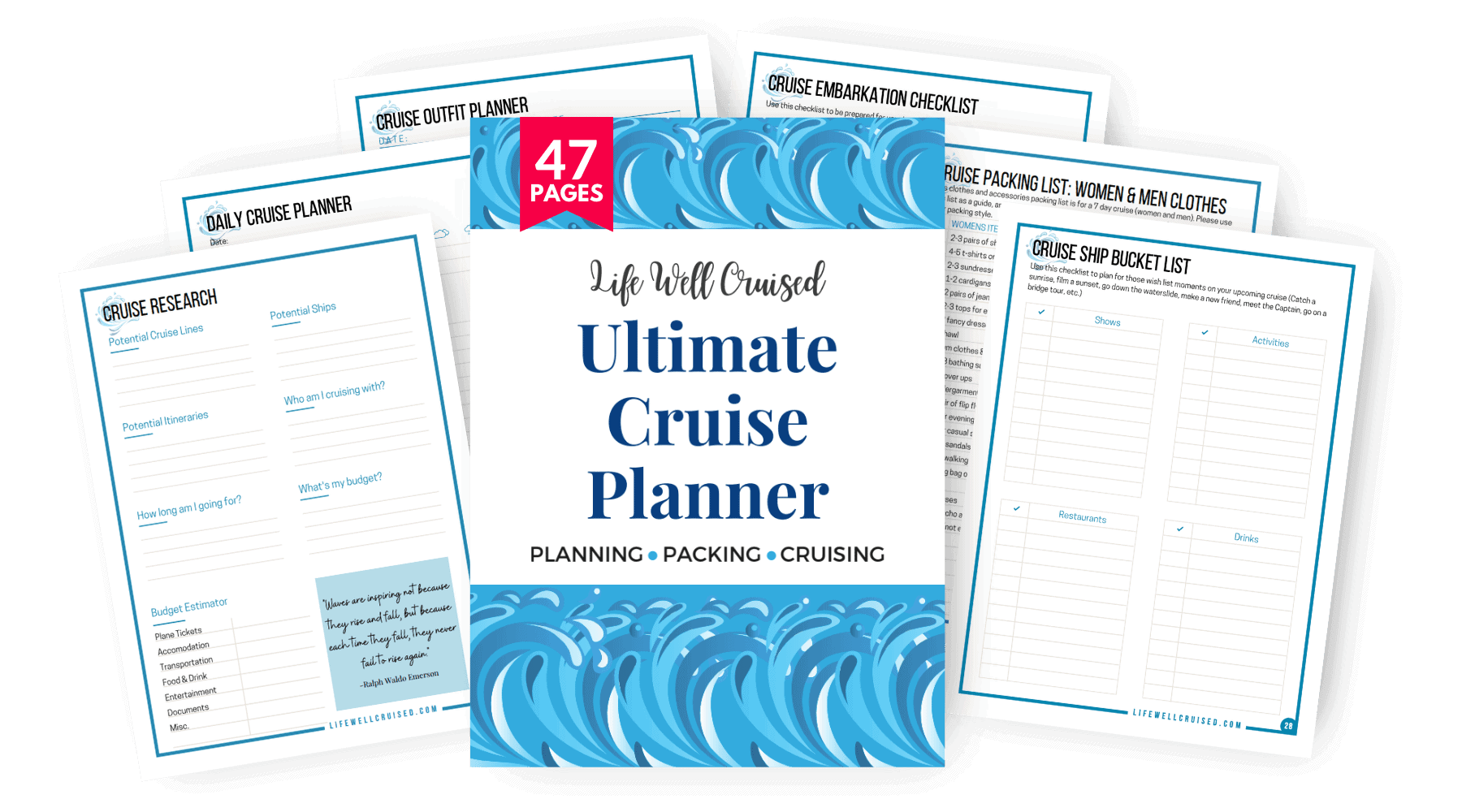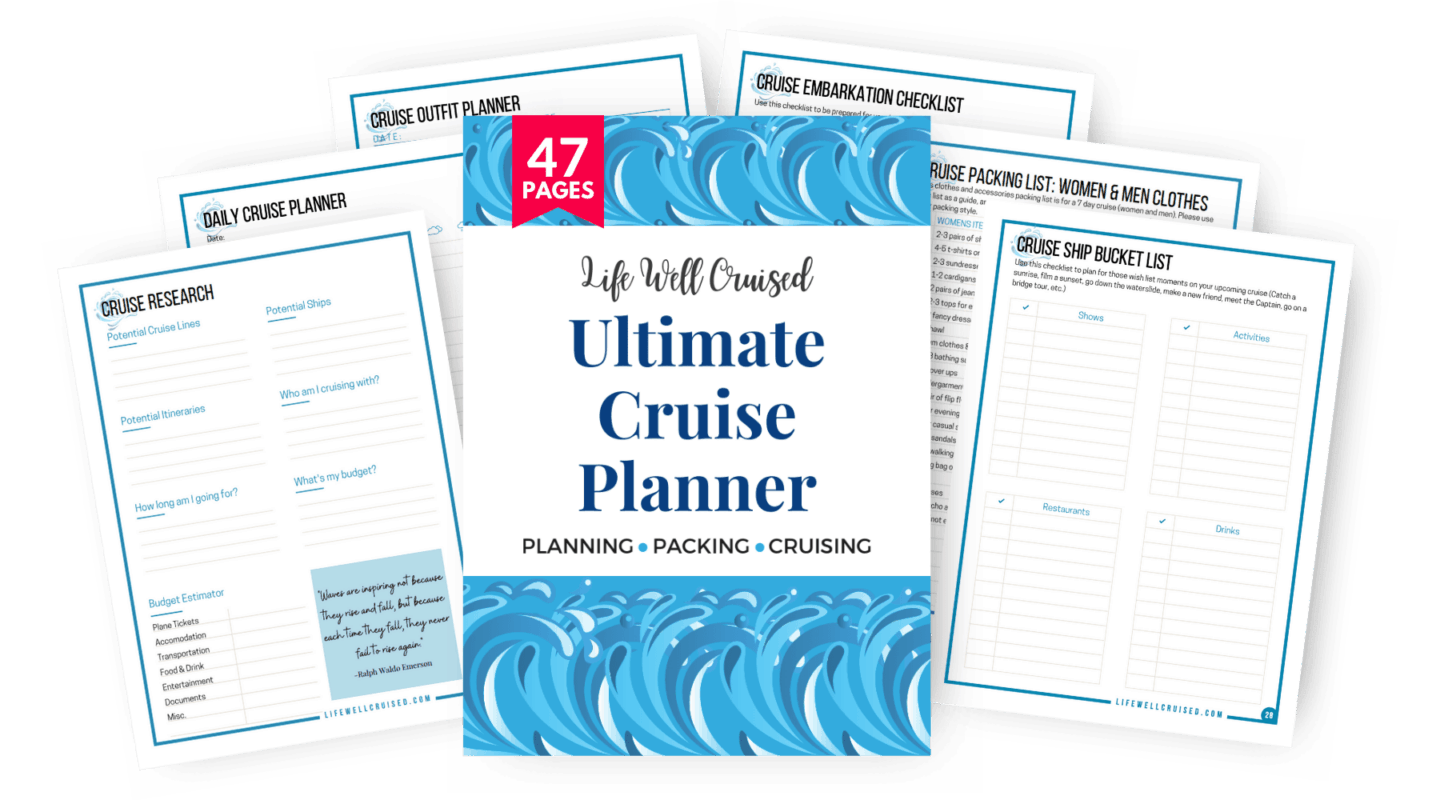 What I Wore During the Evening on a Cruise
Our cruise had a dress code of casual, smart casual and 2 formal nights. We cruised with Royal Caribbean and our experience is that people tend to dress more casually than this overall.
We planned our outfits accordingly.
Casual and Smart Casual Nights
I wore this loose sleeveless dress for a casual night on our cruise. However, I'd probably wear it during the day for walking around in port on a Mediterranean cruise.
I wore most of my outfits with a pair of tan braided sandals heels, that go with everything!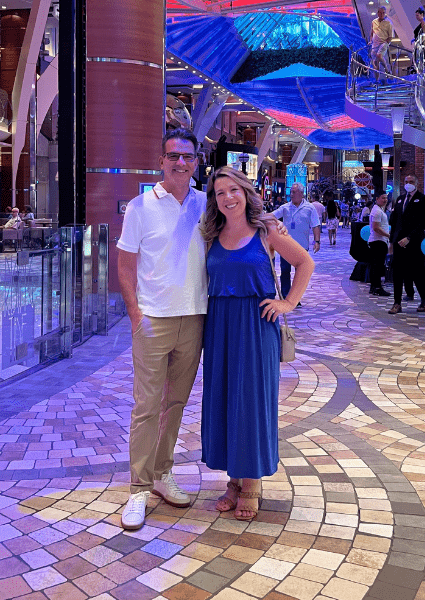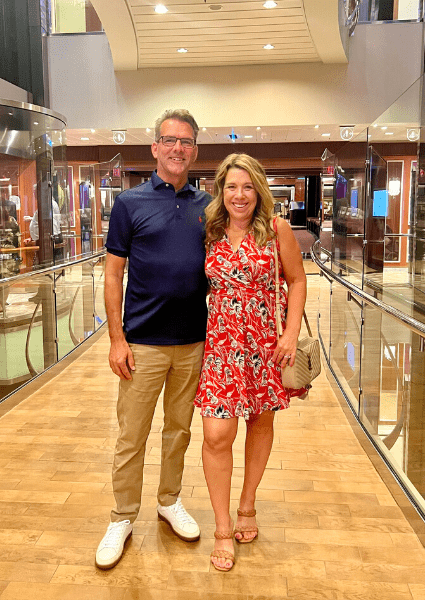 2 staples I got a lot of use out of one my Bahamas cruise were these tan braided sandals heels and a small beige crossbody camera bag for the evening.
Recommended: Stylish chevron camera bag (see 1500+ Amazon reviews & price here)
High Low Sundress
I wore this dress for either a non-formal night to eat in the main dining room. I paired them with these casual espadrille wedges that were super comfortable.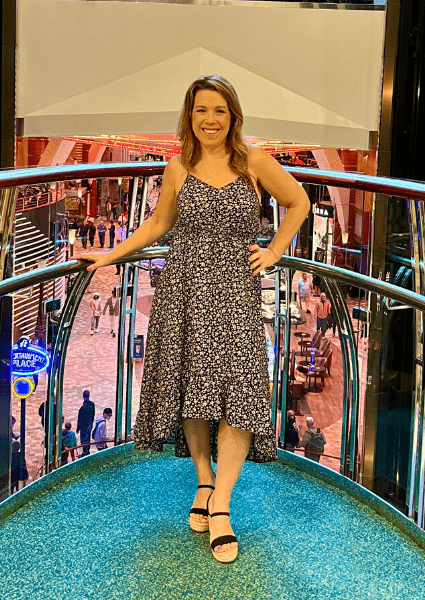 Recommended: Ankle strap wedge sandals (see color options including tan)
Formal Night Outfit (1)
We opted for a long, but comfortable dress for me, and suits with no ties for my husband and son for our first formal night on our Royal Caribbean cruise.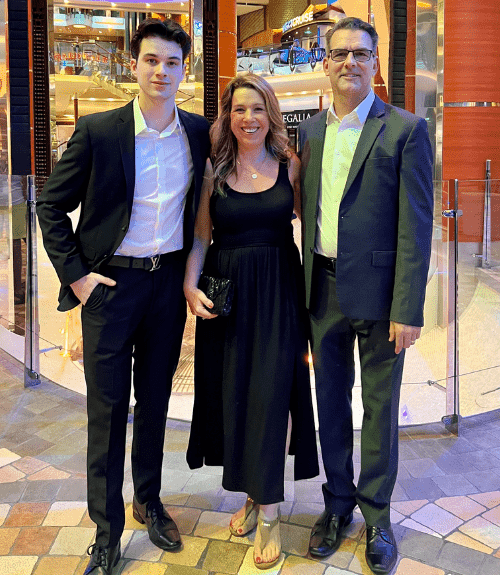 Formal Night (2)
I need to be honest – while I brought a second formal night dress, we opted to keep dress in "smart casual" instead for the second formal night due to a long day and how we felt.
On Oasis of the Seas, the dress code was more of a suggestion, and people were made to feel comfortable dressing how they felt most comfortable.
This is the long cocktail dressI was planning to wear, with a photo from a past cruise. I will likely wear it again as I do really like it. I recommend sizing up as it runs a bit tight.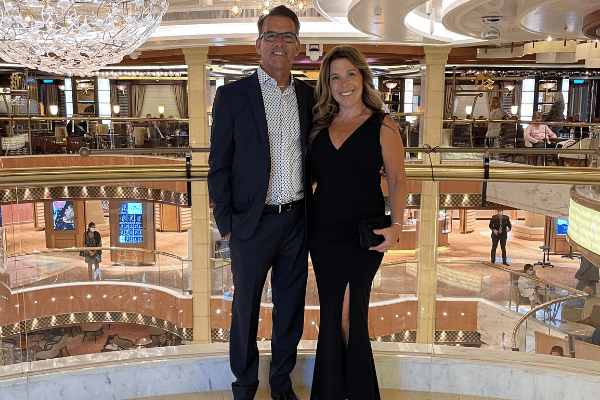 Recommended: Black long cocktail dress (see several color options & 5000+ Amazon reviews)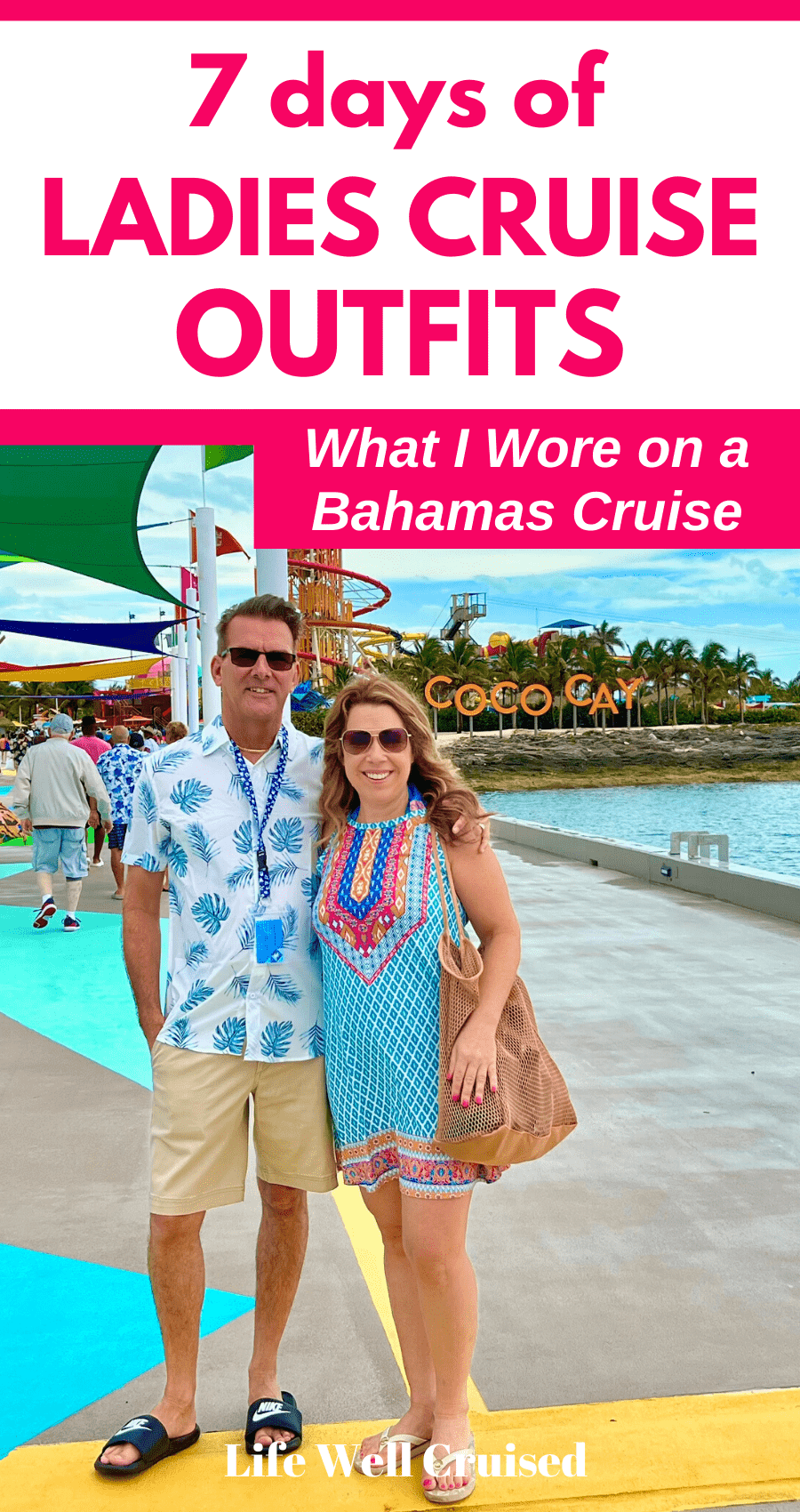 Clothes to Pack for a Bahamas Cruise
While these were the outfits I took photos of during our Bahamas cruise, there are a few other items I brought and wore, that you may want to pack.
Sweatshirt and yoga pants
Leaving from Cape Liberty and sailing to the Bahamas, there were some cooler days and evenings. We also went ice skating one day. What a fun, free activity available on Oasis of the Seas!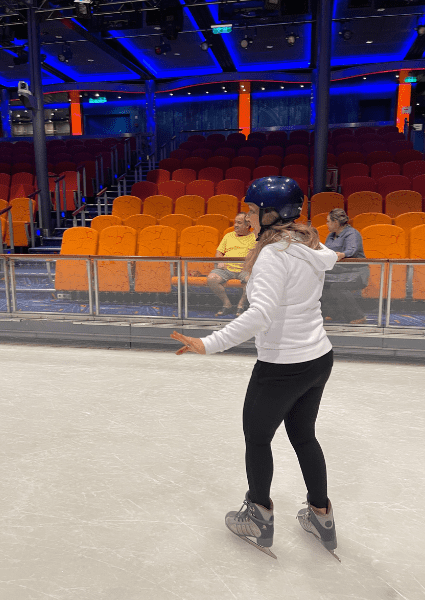 Light sweater or shawl
If you plan to wear sleeveless tops, make sure to pack a shawl, cardigan or light sweater to wear as needed.
Sneakers
There is a lot of walking on large cruise ships! Make sure to bring a pair of sneakers or walking shoes for the gym, cruise ship activities or to simply walk around comfortably.
Related & Popular Posts
Get The Ultimate Cruise Planner
Regular price: $27 Now just $17!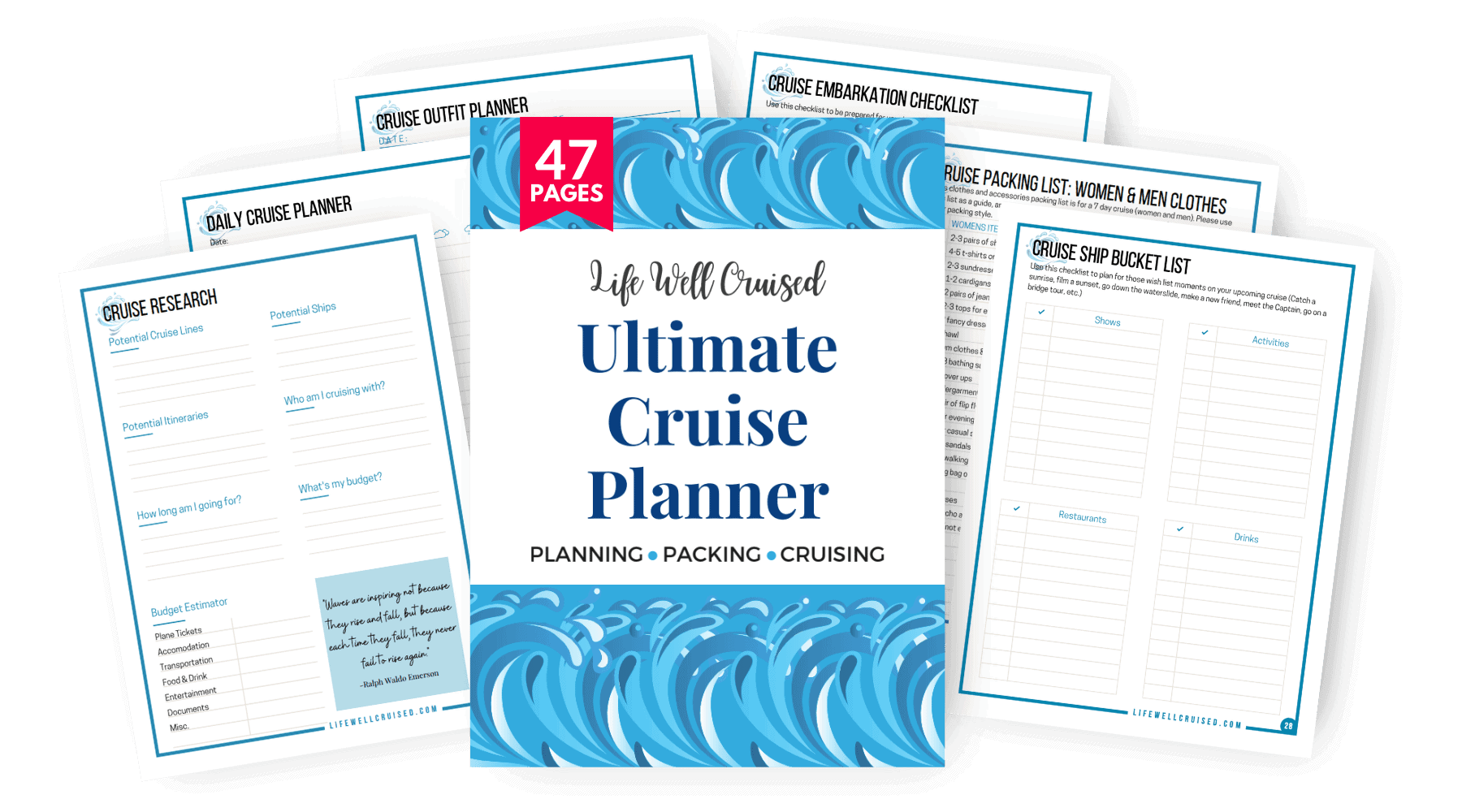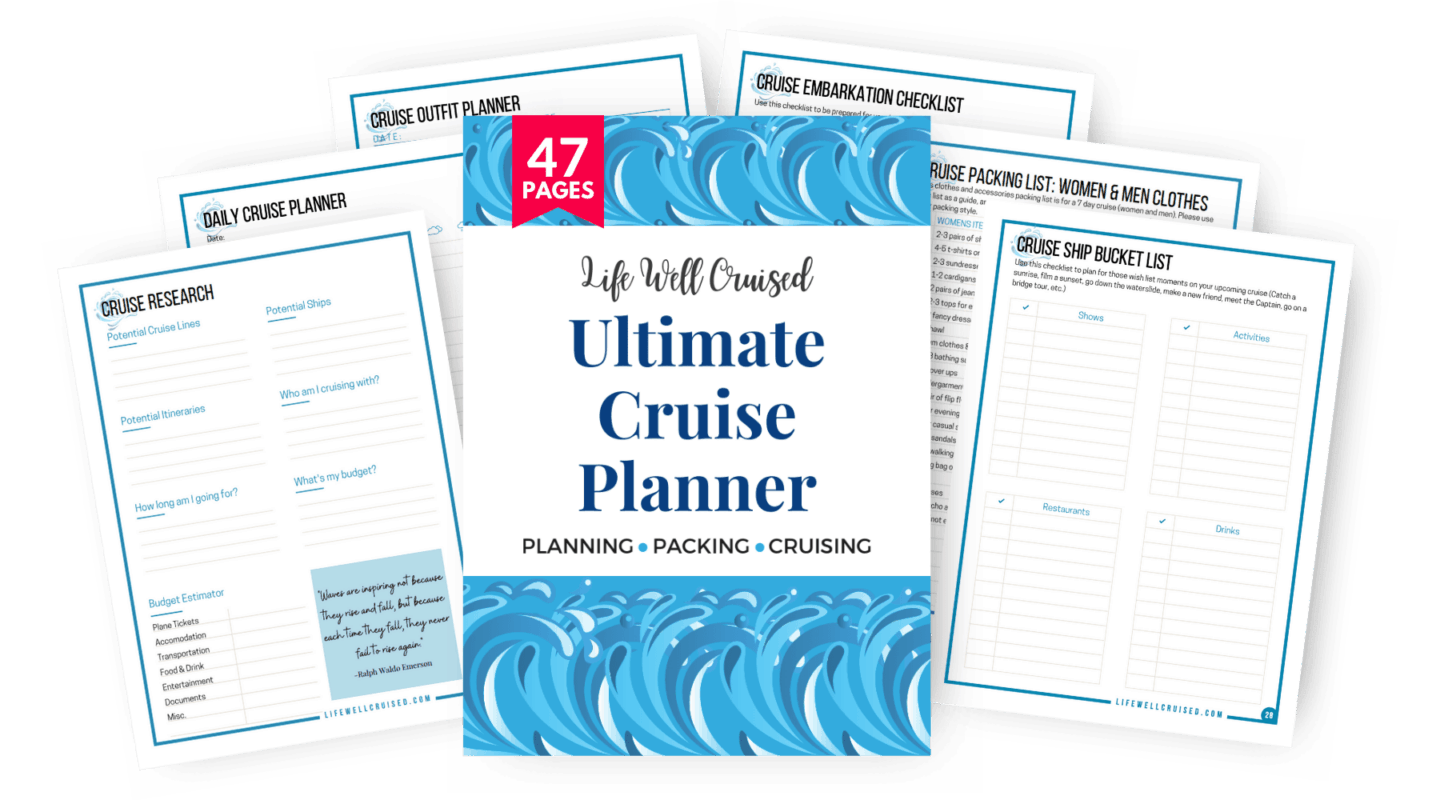 Final thoughts on What I Wore on a Bahamas Cruise
If you've been wondering what to wear on your Bahamas cruise, I hope this post gave you some cruise outfit ideas and inspiration. Of course, we're all different and everyone should wear what feels comfortable on a cruise vacation.
Along with your clothing, don't forget to pack accessories, like a cross-body bag, tote bag, a shawl, sunglasses and a sunhat.
Do you like to dress up or be casual on a cruise? I realize I like a bit of both!
Please let me know your thoughts and any cruise outfit recommendations in the comments below.
Happy Cruising!
Ilana
If you found this article helpful, please pass it along. Please feel free to share on Facebook or PIN to your favorite Pinterest board (share buttons at the top). Thanks so much!
Let's connect:
Follow me on Facebook at Life Well Cruised
Follow me on YouTube at Life Well Cruised
Follow me on Pinterest at Life Well Cruised
Follow me on Instagram at Life Well Cruised