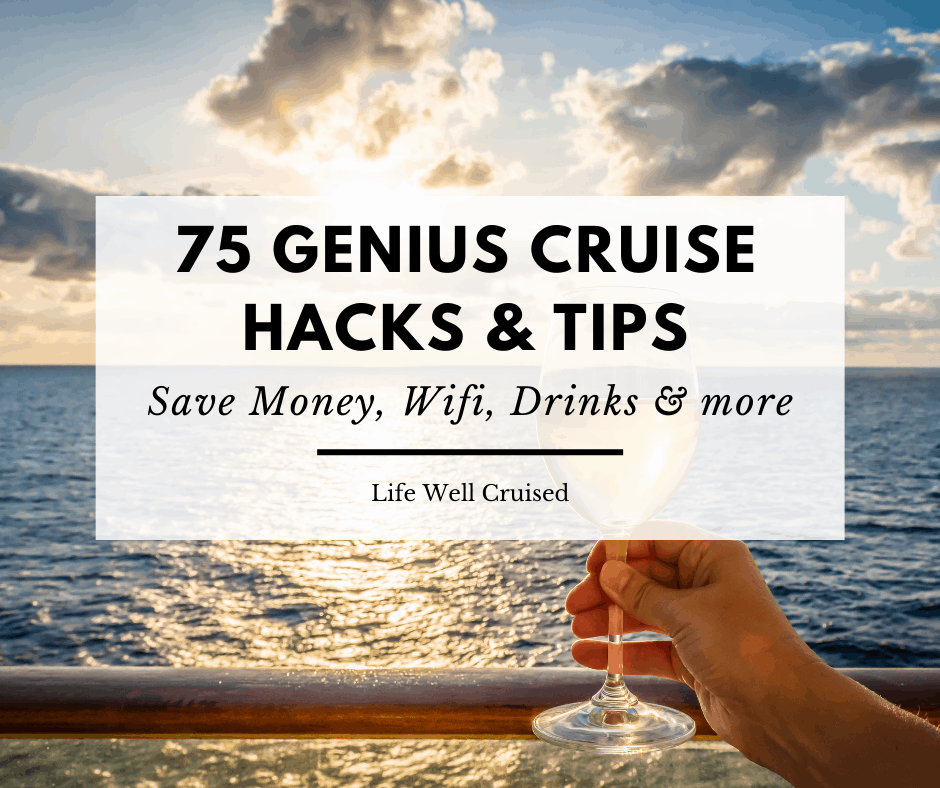 Going on a cruise and looking for the best cruise hacks, tips and tricks? Whether you're a first time cruiser or seasoned veteran, we can always use more cruise hacks to get organized, save money and have a better cruise vacation!
In fact, after more than 25 cruises, I'm always learning new things from other cruisers and I'm so happy to pass these tips along to you. Consider this post the Ultimate Cruise Hacks Guide!
In this post I share 75 awesome cruise hacks that cover everything from packing for your cruise, saving money, cruise food, managing seasickness and more!
75 Cruise Hacks, Tips and Tricks – The Ultimate Guide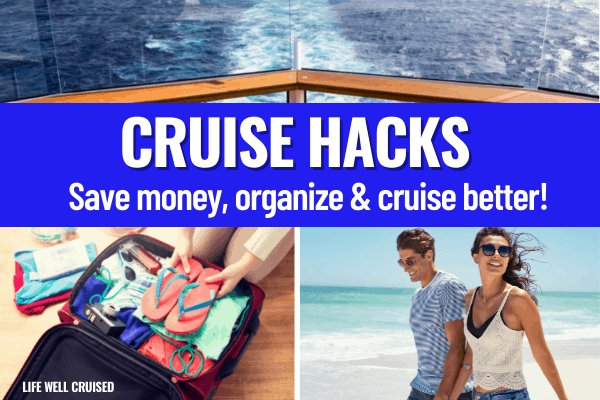 This post contains affiliate links which means if you click and buy that I may make a commission, at no cost to you. Please see my disclosure policy for details.
As an Amazon Associate I earn from qualifying purchases.
Cruise Packing Hacks
Here are some handy things to bring on your cruise to keep organized as well as some cruise packing tips.
1. Packing cubes
There are many ways to use packing cubes to be organized as you pack for your cruise.
Use different colored packing cubes for each member of the family
Use packing cubes to place outfits together, or organize by types of clothing (ie. t-shirts, shorts, bathing suits)
Don't unpack every packing cube. Some packing cubes can be unzipped and placed directly on a shelf or in a drawer in your cruise cabin
Recommended: Packing cubes (this set has over 9000 5* reviews on Amazon)
2. Travel luggage scale
If you're flying to and from your cruise ship, you'll want to make sure that you don't go over your luggage weight allowance. Typically, we buy a few souvenirs or extra t-shirts and your suitcase may weigh more than you think. An electronic travel luggage scale is a useful travel gadget to pack.
Recommended: Travel luggage scale (check price & 25000+ Amazon reviews)
3. Luggage tag holders
Save time and add convenience by printing your cruise luggage tags and placing them in these plastic luggage tag holders. They're reusable and inexpensive as well.
Recommended: Luggage tag holders (find your cruise line tags here)
4. Make your luggage stand out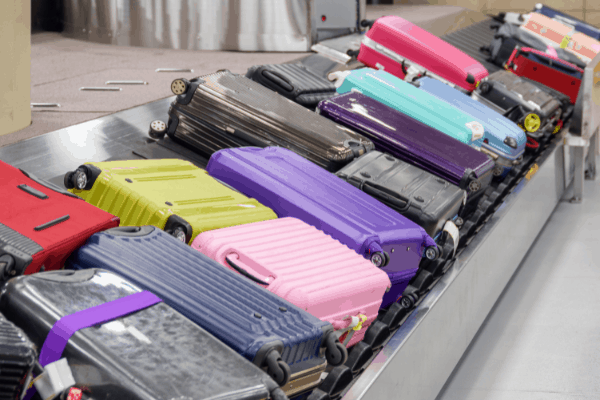 So many of us have black or navy luggage, and this can make it hard for your luggage to stand out and for you to find it at the cruise terminal or airport. There are a few simple things you can do, to recognize your luggage quickly
Add bright ribbon or yarn to the handles of your luggage
Cover your luggage with a decorative sleeve
5. Mix your suitcase items
Worried about lost luggage? Unfortunately losing a piece of luggage can happen when flying. Even though it likely will be found and sent to you in a day or two, you won't want to be stuck without clothing and your necessities.
To avoid this problem, make sure to pack a few items of clothing in your travel companion's bag, and vice versa. This way, at least you and your spouse still have at least a couple of things to wear and you won't be stuck.
6. Pack an embarkation day carry on bag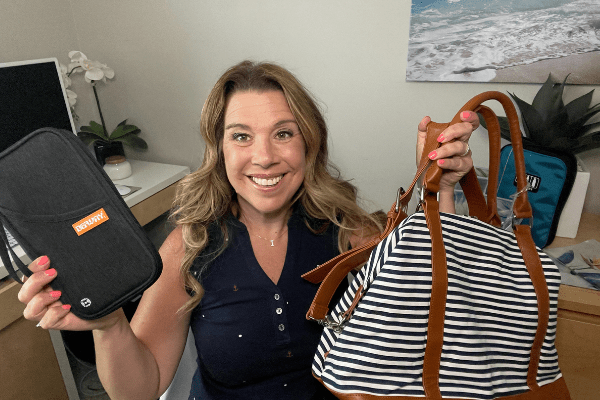 A very important tip for first time cruisers, make sure to pack a cruise carry on bag to bring on the ship on embarkation day. It will take a few hours for your luggage to be delivered to your cabin after boarding your cruise ship, and this way you'll have your first day essentials.
Don't forget to pack your bathing suit or even put it on under your clothes if you plan on hitting the pool as soon as possible!
Recommended: Carry on bag tote (see reviews & style options on Amazon here)
7. Bring extra reading glasses and sunglasses
Many cruisers report losing their reading glasses or even their sunglasses. It's a good idea to bring an inexpensive pair of each of these just in case.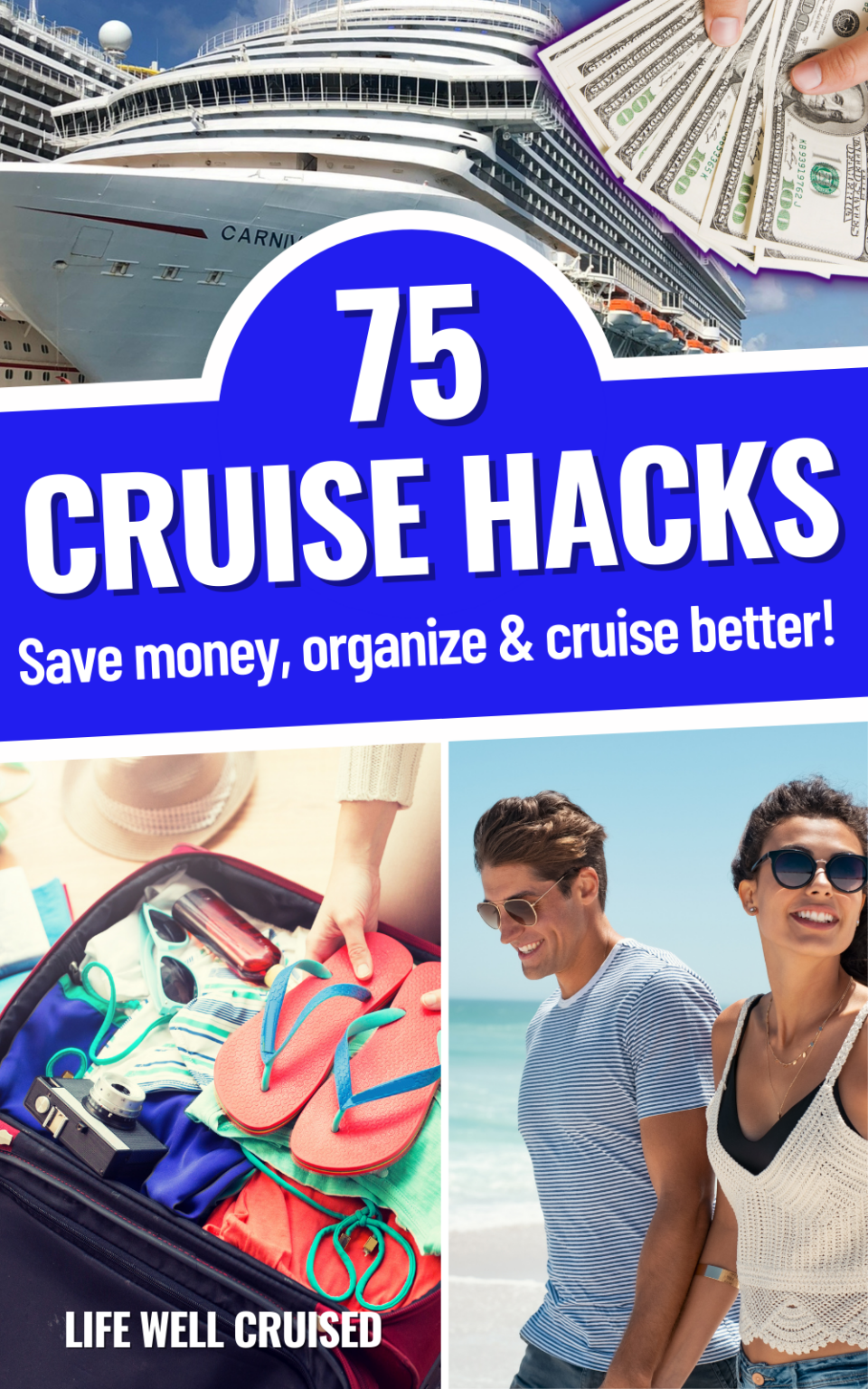 Cruise Cabin Storage Hacks
8. Bring magnets
An awesome cruise hack you should know is that most cruise cabin walls are actually metal (covered of course). So, if you bring magnet hooks then you can actually add extra storage space to your cruise cabin. You can hang backpacks, bathing suits to dry, and more.
Make sure that the magnets are "heady duty", as other ones won't be strong enough. Small magnet clips can also be very convenient to organize your papers, tickets and invitations.
Recommended: Magnet hooks (see details & Amazon reviews here)
9. Over the door organizer
Many cruisers like to use an over the door hanging organizer to place items such as sunscreen, bud spray, hair accessories, and more. This can be especially helpful if you're on a family cruise and looking for ways to keep as organized as possible.
Recommended: Hanging Over the door cabin organizer
10. Hanging toiletry bag
Keep your toiletries organized and out of the way by packing them in a hanging toiletry bag. Cruise bathroom space tends to be limited, so a hanging bag makes use of the vertical space on the bathroom door or cabin wall.
Recommended: Hanging toiletry bag (see 5 color options & Amazon 5* reviews here)
11. Request extra hangers
While you can put your clothes away on the shelves or in a drawer, you'll minimize wrinkles on your clothing if you can hang as much as possible. When meeting your cabin steward on after boarding on the first day, make it a point to request several extra hangers.
12. Poo-Pourri
Cruise stateroom bathrooms are small and so are the cabins, so bathroom smells might be more obvious than you'd like. Many cruisers bring Poo-Pourri bathroom spray as part of their cruise essentials packing list.
Recommended: Poo-pourri bathroom spray
13. Portable fan
The temperature can be hard to regulate in your cabin, so if you tend to get warm, especially at night, you can bring along a small portable fan. This one is battery operated as well as by USB for convenience.
Recommended: Portable travel fan (rechargeable battery & USB)
14. Motion sensor nightlight
If you're in an interior cabin or if you tend to sleep with the black out curtains at night, consider bringing a motion sensor nightlight or battery operated tea lights. This way, if you need to get up to go to the washroom during the night you won't disturb your partner, nor will you stub your toe.
Recommended: Motion activated nightlight
15. Laundry tip
Bring a pop up laundry hamper or mesh bag to keep your dirty clothes stored away in your stateroom.
An extra hack I recently learned from other cruisers, is to bring along a scented kitchen bag. You can use this when you pack your laundry in your luggage, to keep things smelling fresher.
Get The Ultimate Cruise Planner
Regular price: $27 Now just $17!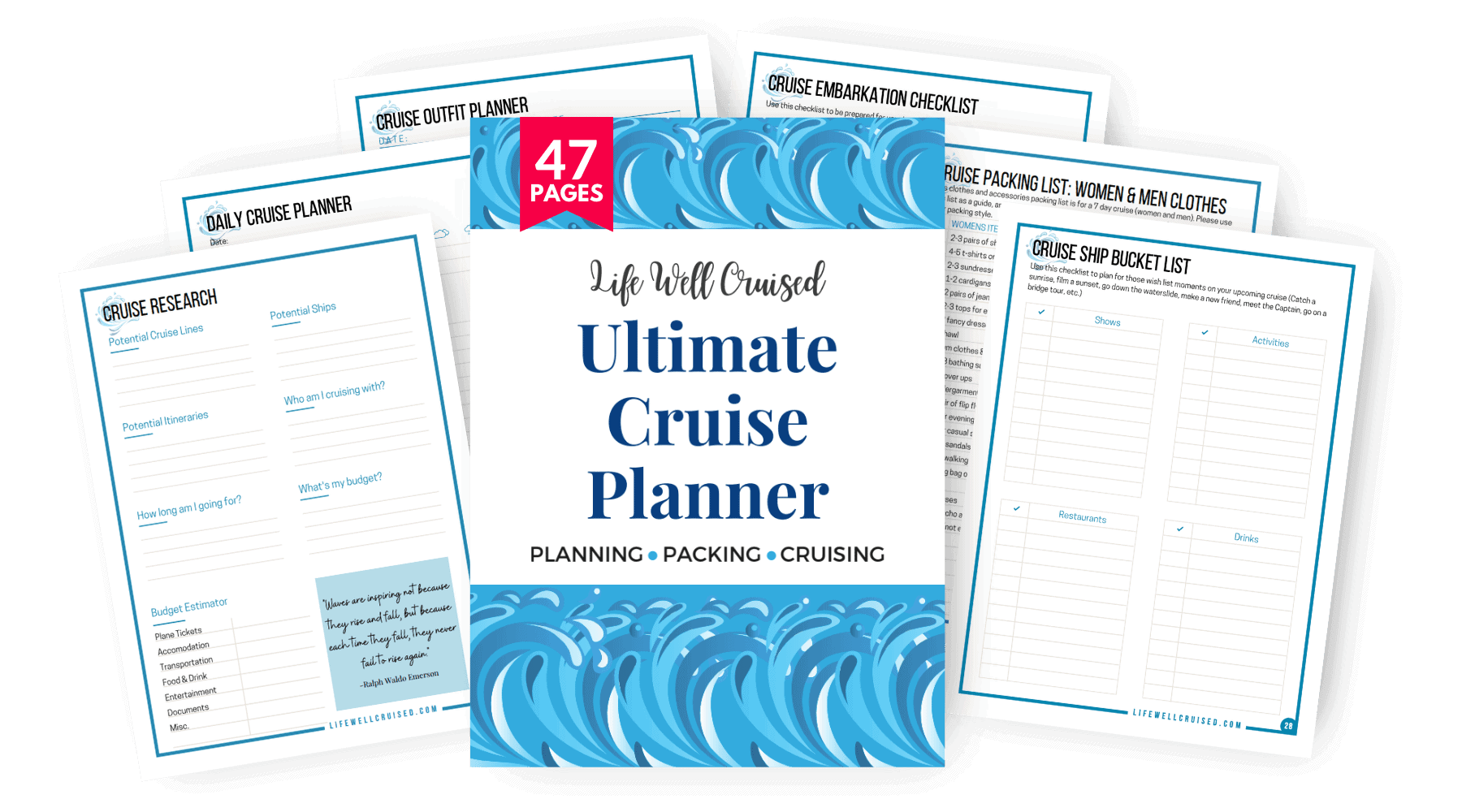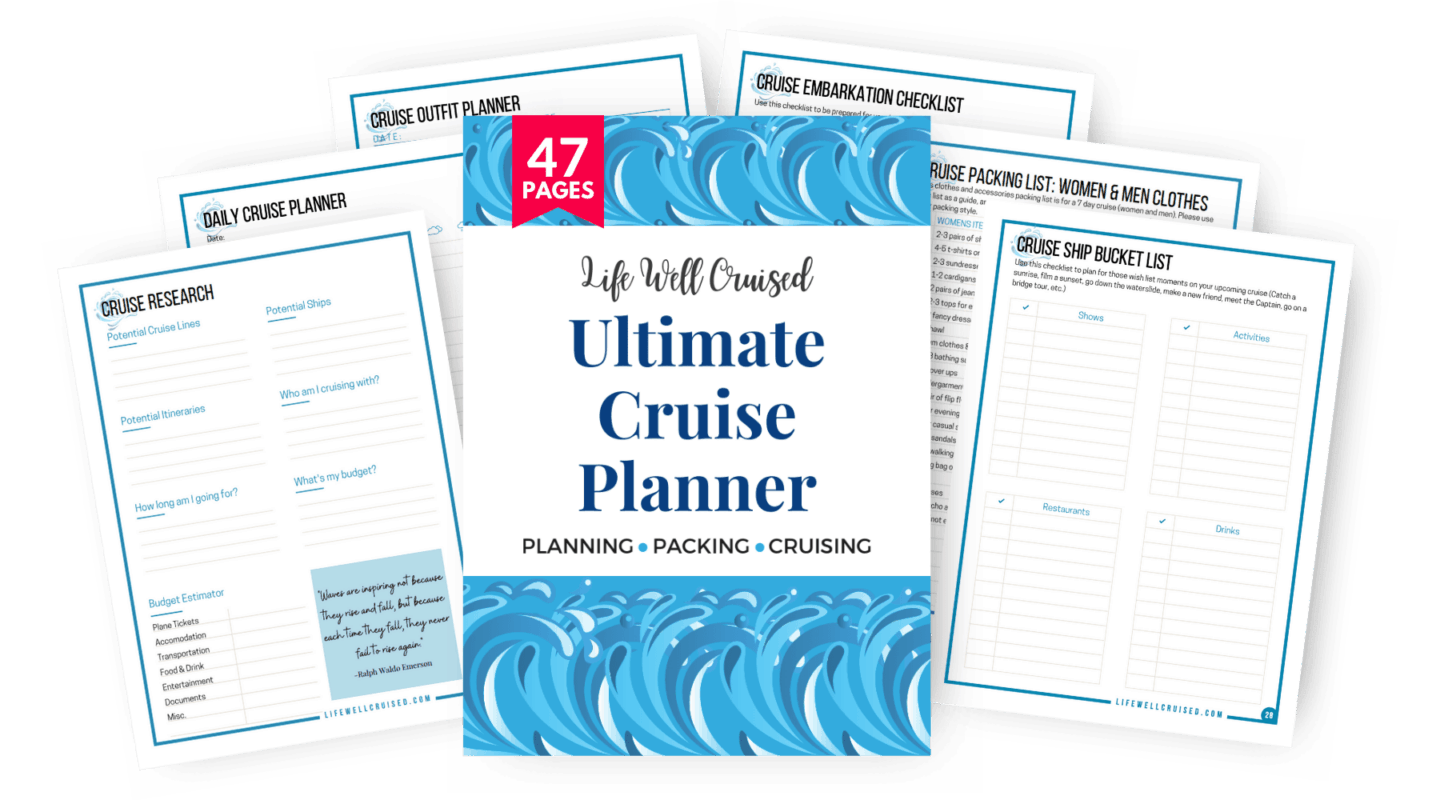 Money Saving Cruise Hacks
16. Book a guarantee cabin
Did you know that cruise lines will often charge you a $100 plus per person for the privilege of choosing a cabin. If you aren't too picky about your stateroom location, a great way to save hundreds per cruise is to opt for a guarantee cabin.
17. Cruise when it's less crowded
Now who wouldn't want to cruise when there are less people? Well, this is another way to say to cruise during the shoulder season for popular cruise itineraries like Alaska, the Mediterranean and Bermuda. You could save 50% or more!
18. Choose an interior cabin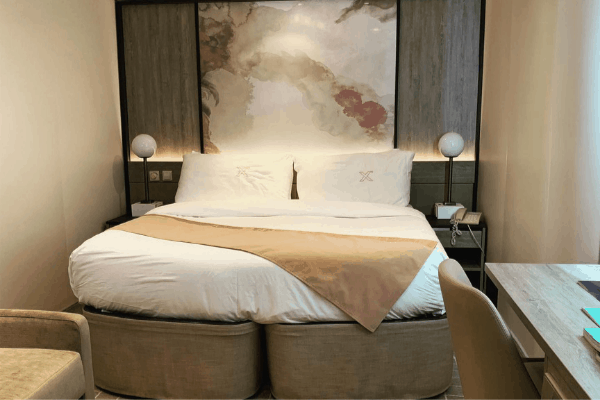 The least expensive cabin for all cruise ships will be interior staterooms. If you don't think you'll be in your room much, skip an oceanview or balcony stateroom and stay in a cozy inside room.
Related: 15 Best Tips for Cruising in an Inside Cabin: cabin organization and more
Related: 7 Reasons Why You Should Book an Inside Cabin
19. Book your own shore excursions
Save money in cruise ports of call by booking your own shore excursions or even by touring on your own. This can work well when you can take a taxi to a local beach or in a city where it's easy to do a Hop On Hop Off bus tour.
Cruise tip: Always be careful to make it back to the cruise ship on time. If you have any concerns then avoid potential mistakes by booking with the cruise line.
Related: 11 Cruise Shore Excursion Day Tips
20. Bring wine
Most cruise lines will allow you to bring a bottle of wine, per person, on a cruise. Unless you have a beverage package, bringing your own wine is an awesome money saving cruise hack.
21. Bring your own drinks
Many cruise lines allow you to bring on a case of water bottles or even a small case of soda on embarkation day.
Related: What Food and Drinks Can You Bring on a Cruise?
22. Level up your cruise knowledge
One of the best ways to save money on all aspects of cruising is through knowledge. Some people seem to find the best cruise deals and are cruising several times a year. However, they've learned a few things to make this possible.
Emma Cruises has an awesome course where she teaches this, and more. This is a great course for new and seasoned cruisers.
*Exclusive discount for our readers – use code LIFEWELLCRUISED for 10% off*
See details here: Emma Cruise Academy "How to Cruise for Less"
23. Monitor for price drops
While booking as early as possible is usually the best way to save money when booking a cruise, prices can actually come down after you book. To make sure you can take advantage of price drops, monitor the price of your cruise and cabin category. If the price has decreased before final payment, ask the cruise line or your travel agent for a price adjustment – in most cases they will do so.
Something to keep in mind, is that although a price may be lower, it may not include some of the extras or perks you had with your original price. Make sure you get the best deal by looking at the overall value.
Related: Best Way to Book a Cruise? Travel Agent, Direct or Online
24. Book a specialty restaurant the first night of your cruise
Cruisers have reported discounts and even a free bottle of wine given as a bonus if you book specialty dining the first night of your cruise. Readers have noted this on Carnival Cruises and Celebrity, but this may be possible on other cruise lines as well.
25. Book onboard
Plan on booking your next cruise while onboard. If you do need to sit down to go over options, make sure to make an appointment with the Future Cruise Desk early in the cruise.
The benefit is that you can get a nice on board credit to use on your next cruise, or sometimes on the cruise you're on. If you aren't sure of what cruise you want to take next, as if you can put a deposit on an open date instead so you can cruise shop when you get home.
Related: Cruise On Board Credits (OBC): How Can You Use Them?
Get The Ultimate Cruise Planner
Regular price: $27 Now just $17!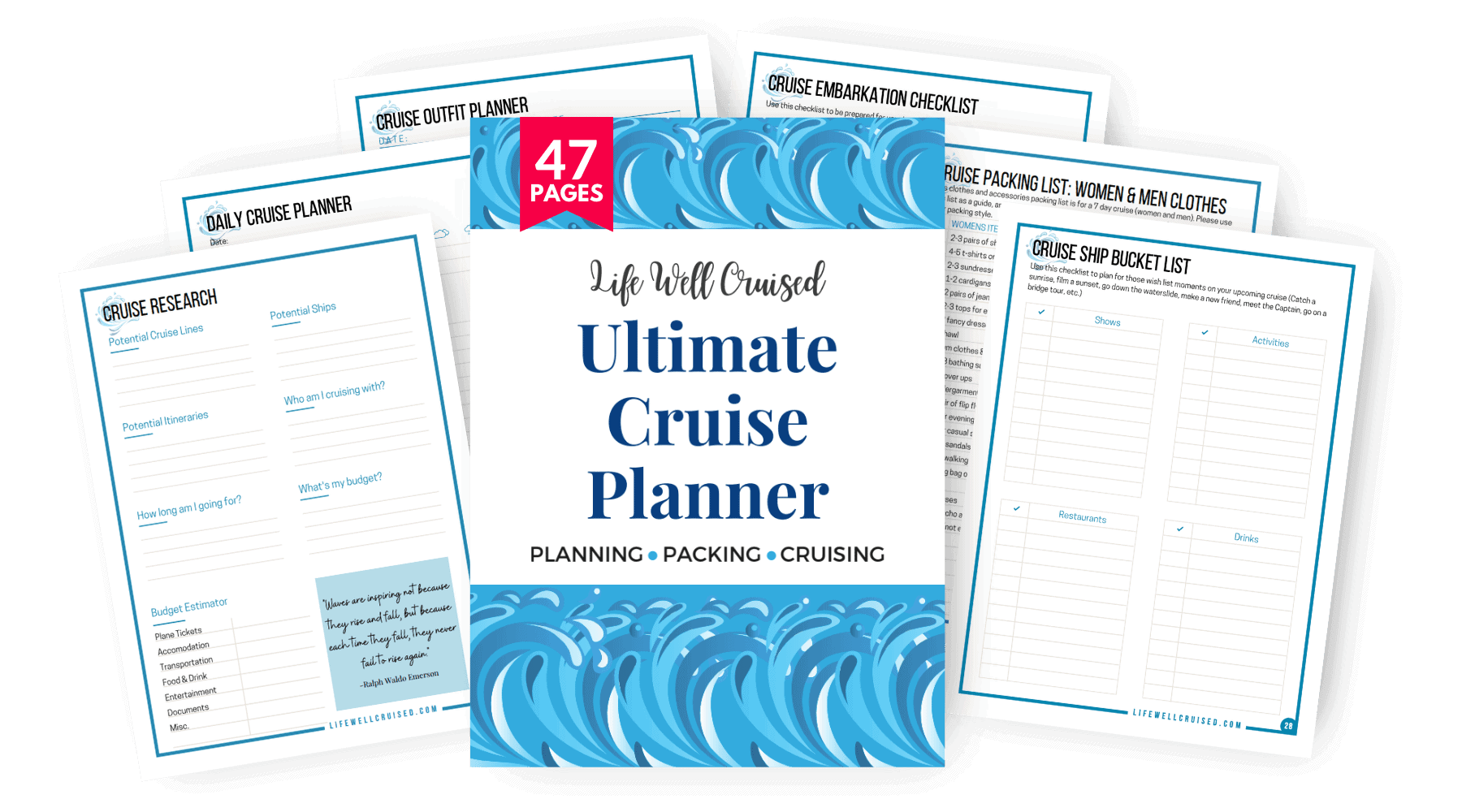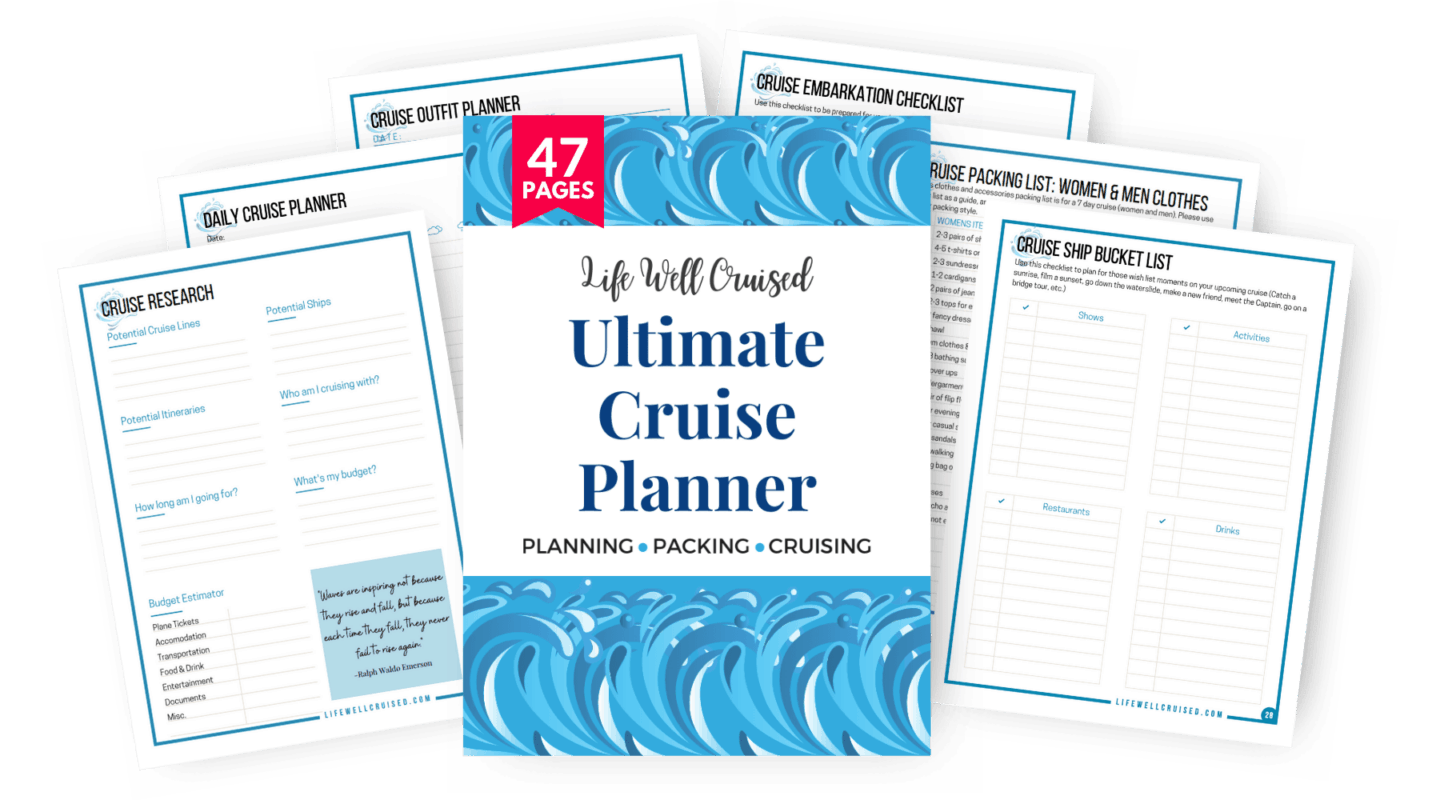 Cruise Food Tips and Hacks
26. Avoid the buffet on embarkation day
Cruise ship buffets are usually really good, but they get especially crowded on embarkation day. Head to the Main Dining Room instead for a quick sit down meal, or look for any of the amazing casual restaurants that might be open on boarding day.
If you're heading on a Princess cruise, try the International Cafe or Alfredos (you won't regret it).
Related: Princess Cruises Alfredo's Pizzeria Review (with photos)
27. Order 2 main dishes
Did you know that on most cruises, you can order as many dishes as you like? So, if you love steak and also love shrimp, ask your waiter for both and make it "surf & turf". On some cruise lines they'll combine the dishes on one plate, with only one serving of the sidedish.
28. Have appetizers on your balcony
If you're going for a late dinner, consider heading up to the buffet and making a plate of cheese and crackers or charcuterie and bringing it back to your cabin. Pour yourself a glass of wine and enjoy pre-dinner appetizers on your private balcony.
29. Ask for off menu items
While you can't do this each night, if you did really enjoy a dish, as your waiter if the chef may be able to prepare it another evening. There may be other items not on the menu that are easy to get. Ask for fresh fruit for dessert, gelato or even a cheese plate. You may even want to ask for an ice cream sundae, often available on the kid's menu.
30. Get free room service
Have an early shore excursion? Consider ordering a free room service continental breakfast. While not every cruise line includes free room service at all hours (we love the ones that do!), many will have free room service for a simple breakfast.
31. Get free gourmet ice cream or sorbet
Many cruise ships have a specialty ice cream shop onboard, which is not included. However, it might surprise you to know that most cruise lines actually make their own delicious ice cream, gelato and sorbet to use in the main dining room for desserts.
If you don't want to pay extra for name brand ice cream, go to the main dining room, even for lunch, and ask for the ice cream of the day. There may even be an included ice cream counter in the buffet area.
32. Get "free" candy
While you'd have to buy licorice and other candies in the convenience store or candy shop, you can actually get free candy, used as ice cream toppings, at the ice cream counter in the buffet.
Weight Management Tips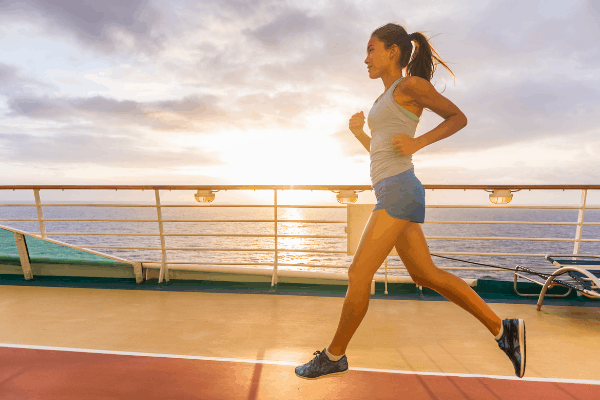 As much as we all love cruise food and tend to indulge, we all want to avoid too much weight gain on a cruise. Here are a few cruise hacks that can help.
33. Take the stairs
Cruise ships are big and have so many decks. By taking the stairs as much as possible, even part way, you'll get those steps in balance out some of the extra indulgences.
34. Use the jogging track
There is usually no better view than from the jogging and walking tracks. They're usually located at the top of the cruise ship and you can see the sea in every direction. Perhaps start the morning off with a 30 minute walk or head to the track later in the day.
35. Use the fitness centre
I love the gym on a cruise ship! It's usually located in the front of the ship and I like going there much more than I enjoy the gym at home 😉
You may want to use some of the equipment or even try out some of the classes. Please note that some classes will be included on your cruise, while others will have an extra charge.
36. Get a low calorie dessert
If you feel that you are eating a bit too much rich and high calorie foods, order a low calorie dessert. Cruise lines have delicious lower fat and healthier food options available for all cruise passengers.
37. Skip the frozen cocktails
One of the best things you can do to avoid gaining weight on a cruise is to skip high calorie frozen drinks like Pina Coladas and BBC's (Banana Baileys Colada). Instead, opt for refreshing drinks like a Mojito or even a diet soda and rum.
Related: How NOT to Gain Weight on a Cruise (and still eat)
Cruise Outfit Planning Hacks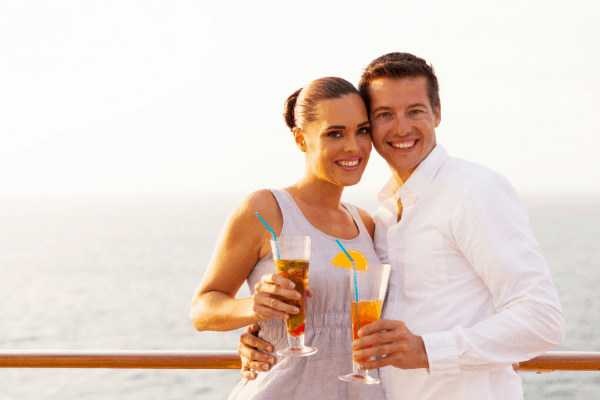 Some of these cruise hacks and genius tips that come from readers and viewers. Many of these are simple things hat you can do that will make cruise packing and outfit planning easier.
38. Pin jewelry to clothing
This recent tip is brilliant. If you have a necklace or earrings that you plan on wearing with an outfit, simply pin it to the fabric or put it in a plastic baggie. A simple trick for necklaces that tend to get tangled is to use a straw. Pass it through and this really works!
39. Plan your cruise outfits for each night
Many ladies avoid overpacking by planning out their outfits for each night of the cruise. If you plan on mixing and matching and re-wearing some items, you can even take a photo with your phone as a reminder.
40. Use a cruise travel planner
Born out of necessity, as I have forgotten items more than once, I created a printable cruise planner that you may find useful. It covers everything from cruise planning, checklists for embarkation to disembarkation tips, packing checklists, a cruise outfit planner and more.
See what's included and details here ($10 off for a limited time): Ultimate Cruise Planner
Cruise Wifi Hacks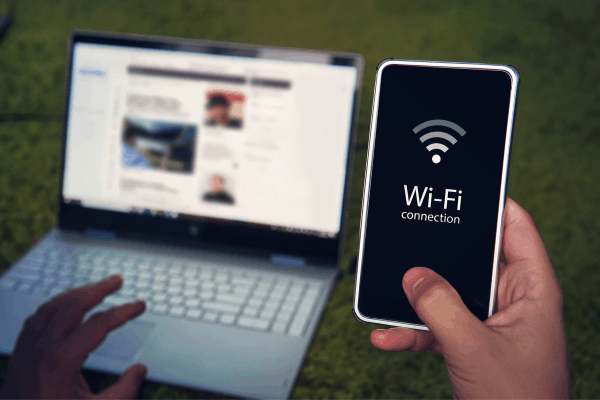 Cruise ship internet just isn't like on land, so you can expect it to be slower and more expensive on a cruise. However cruise lines have made great strides, and it's significantly better now than only a few years ago.
41. Book a Wifi package online
If you need to work on the cruise or even keep in touch with people, consider an internet package. The best price you'll get is by purchasing an internet package in your cruise planner online before your cruise.
We saved 35% on Voom , Royal Caribbean's wifi package, by making a pre-cruise purchase. Princess Cruises MedallionNet is also often priced at a 50% discount if you purchase it early.
42. Receive messages and notifications
If you don't plan to use the internet while on a cruise, but still want people to reach you just in case, let them know they can still send a message. Many people report receiving text messages, even when in airplane mode. However, make sure you don't respond until you have free wifi.
43. Download the cruise line app
Nowadays it's super important to download the cruise line app for online check in, emuster and more. However, there is often a messaging part of the app which is very useful to communicate with other people on the cruise.
44. Use Free Wifi in cruise ports of call
In most ports of call, there will be some free wifi in the cafes or even in an entire section of the cruise port. This is a good time to take a break and check your emails and social media if you haven't been doing so on the cruise.
Tip: Ask the crew or simply watch where the crew go for free wifi. They know all the tips and tricks since they return to the port regularly.
Related: 27 Cruise Packing Mistakes You Might be Making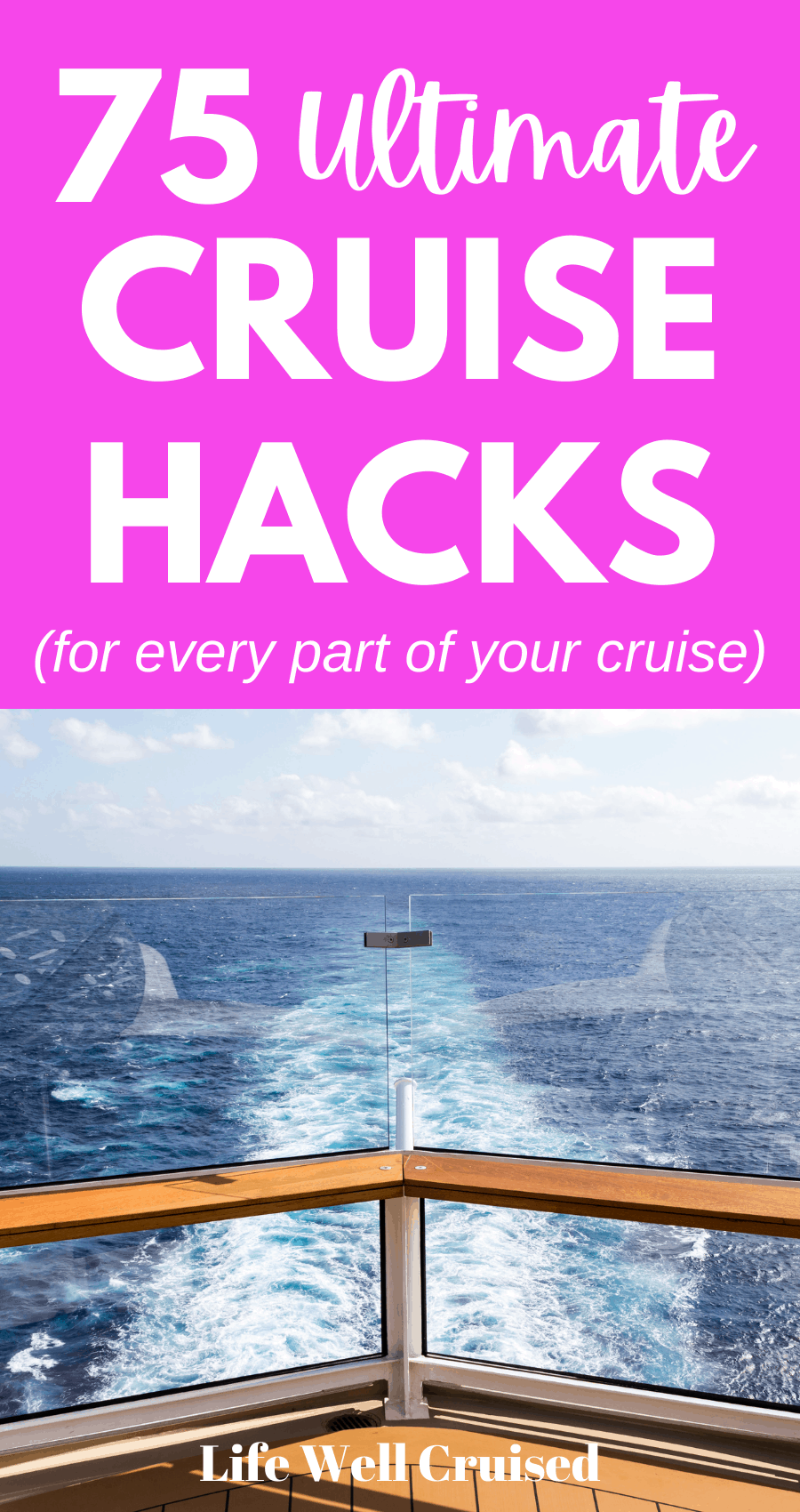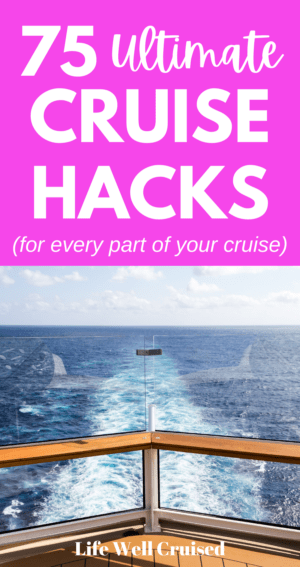 How to Get Free Stuff on a Cruise
45. Join contests
One of the best ways to get freebies on a cruise is to participate in different contests and raffles. Prizes for participating range from a keychain to a bottle of champagne. Every so often, you'll see some cruise contests or games where jewelry is the prize as well.
46. Free massage
After you board your cruise, go ahead and check out the spa. In order to promote their services, it's common for the spa staff to be doing mini massages. You'll often find embarkation day promotions if you book an appointment for later in the week.
47. Free On Board Credit (OBC)
Get additional on board credit by booking the cruise during a promotion. This may be with the cruise line, however a few times a year, travel agencies specializing in cruise travel will run additional sales and the value of the OBC can be double or more.
Related: 50 Must-Have Cruise Essentials to Bring on a Cruise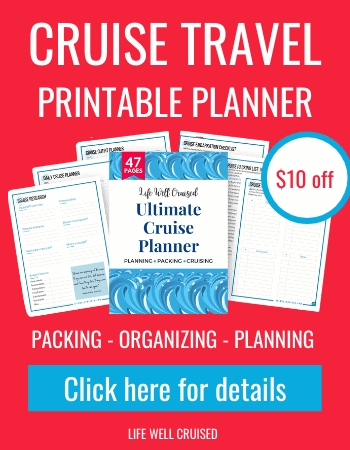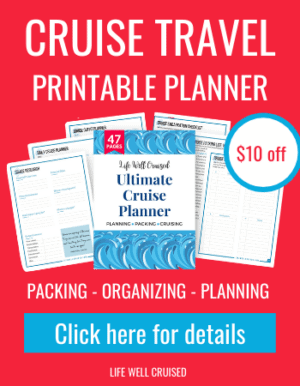 Get Free or Cheap Drinks
48. Go to the Champagne Art Auction
Most cruise ships will have 1 or 2 Champagne Art Auctions during a sailing. There's no purchase necessary and it can be a fun way to learn about some interesting established and up and coming artists.
49. Past passengers cocktail party
If you're a return passenger, you'll likely receive an invitation to a past passenger cocktail party or event. Most of the time, wine, cocktails and canapes are served.
Make sure to arrive early as the drinks do tend to stop being served after about 30 minutes.
50. Join a drink making contest
On some fun loving cruise lines, one of the activities will be a drink making competition of sorts. When you participate, you'll likely get a free drink.
51. Drink of the Day
Most cruise lines have a special drink of the day offered at a reduced price. While not free, it will likely be a few dollars less than other similar drinks on the menu. Look for happy hours and 2 for 1 specials as well.
52. Liquor tasting
Make sure to check the cruise activities daily schedule and watch out for the free liquor tasting. This is often done to promote some of the duty-free liquor sold on the cruise, where they'll be giving out samples you may enjoy.
Related: 20 Ways to Save on Your Family Cruise
Cabin Upgrade Tips
Book early for the best cabin choice. However, if you want to snag a cabin upgrade, there are a few tips to try.
53. Guarantee cabin
Although you won't choose a specific cabin, a guarantee cabin is usually the best priced cabin in the cabin type. Often the price will be discounted by $100 or more per person, and you're guaranteed that category or higher.
Most of the time, you'll get at least 1 category upgrade, and if you're lucky, you may get a much better cabin than you paid for.
54. Bid for an upgrade
Once you book your cruise and choose a cabin, if there's availability, the cruise line will send you an email offering you a chance to bid for an upgrade. While there's a minimum bid set, you can choose with category to bid on, including suites. You may just get a major upgrade for a minimum price.
55. Call and ask
If you've made your final payment on your cruise, but you see that cabins are still available on your sailing, call your cruise line or travel agent and ask if it's possible to get an upgrade. You just never know, however I've seen it happen from time to time.
Related: 10 Worst Cruise Ship Cabins to Avoid
Seasickness Tips
56. Green apples
Want a cruise hack that really works to ease motion sickness? Green apples actually help to ease queasiness and mild seasickness. In fact, we first learned about green apples from crew members who use green apples as a natural remedy for motion sickness.
Since green apples will usually be available in the buffet, take one or two back to your cabin ready to slice up and eat if you need them at any time.
57. Ginger candies
Another natural remedy for seasickness is ginger. While you can eat small pieces of ginger, and this may be given out on some cruise lines, it's easier to pack ginger candies and bring them onto your cruise. I love ginger candies and bring them on every cruise, just in case.
Recommended: Ginger Candies (check price & see Amazon reviews here)
58. Seabands and medication
Many veteran cruisers use seabands and swear by them. If you're sensitive to motion and may get seasick, make sure to pack seabands and even some Bonine motion sickness medication just in case.
Recommended: Seabands (see Amazon reviews) & Bonine (my favorite)
59. Plan for boats and tenders
One thing many people don't think about, is that even if they don't get seasick on a cruise, small boats and tenders to get off the ship may be a different story. I have a friend who did a whale watching excursion and instead of enjoying it, she was so sick. A good tip is to take Bonine or another non-drowsy seasickness medication, use seabands or even a motion sickness patch behind your ear.
Related: 10 effective Ways to Prevent & Deal with Seasickness on a Cruise
Cruise Booking Tips
60. Use a travel agent for extra perks
Travel agents often have extra perks that they can give you when you book with them. When using a travel agent, whether local or online, make sure that they have experience and specialize in selling cruises.
Related: Best Way to Book a Cruise: Travel Agent or Direct with the Cruise Line?
61. Book onboard
Booking a cruise while you're on a cruise is often a great way to save money and get extra on board credits. Sometimes, you can make an open booking, which is great of you aren't 100% sure which cruise you'd like to so next.
62. Arrive a day before your cruise
This tip is often repeated, but for good reason. Anything can happen, especially if you're flying into your cruise port. Always plan to arrive at least one day before your cruise for peace of mind, plus you can visit your embarkation port city and extend your vacation.
63. Book excursions online (pre-cruise)
Along with online check in, it's a good idea to pre-plan cruise excursions by booking them in advance. Often, the price will be less expensive than booking on the cruise ship and you'll avoid disappointment of an excursion selling out.
64. Research your cruise ports
While you can book cruise line shore excursions, in some cases it can be easy and give you more freedom to head to a beach or do a walking tour on your own. Of course, you always want to be safe and never miss the cruise ship so research is key.
Find out info on specific cruise ports by reading reviews on Cruise Critic and other review sites and consider joining facebook groups and roll calls for your sailing. You may even find some fellow cruise passengers who want to organize a private tour together, which is common on some cruise itineraries.
We did this on our Mediterranean cruise and it worked very well.
65. Get travel insurance
Make sure you have travel insurance for your cruise. Often, the cruise line's insurance has limitations on medical coverage, so it's a good idea to research and buy cruise travel insurance that will fit your needs.
Related: What to Pack for a Caribbean Cruise
Cruise Shore Excursion Tips
66. When to book excursions with the cruise line
While you might save money by doing excursions on your own or booking privately, there are times when booking with the cruise line is your best bet.
If the activity or excursion is a full day or very far away, booking with the cruise line is a safer option.
Why? When you book with the cruise line it comes with an assurance that the ship won't leave without you if your excursion is late. Unfortunately, anything can happen – there may be traffic or a taxi or bus may break down. It's not as rare as you'd think (just google the YouTube videos).
67. DIY your shore excursion
Research your cruise port and see if you can visit easily on your own. Many cruise ports have beaches or attractions that are close by and easily accessible by taxi or walking.
For example, when we visit the island of St. Thomas on a cruise, we love to go to Magens Bay Beach on our own. When in Bermuda we head over to Horseshoe Bay Beach by shuttle.
It's less expensive and we get more time at the beach.
68. Ask the crew for suggestions
This tip is not used nearly enough to get some great advice for visiting the cruise ports. The crew return to the ports almost every week, so they often know some of the best places to visit, as well as how to do it economically and safely. After all, they need to return to the ship even more than passengers!
I usually ask the people who work in the shops, because we've learned that they have more time off during the day than the waiters and cabin stewards. We've gotten great beach, restaurant and bar suggestions in the past. Of course the shore excursion desk staff are super helpful, and will often give you a map and some tips and recommendations.
69. Port lectures
Most cruise lines will have port lectures or port shopping talks. While in some destinations, the focus is on steering you to buy watches and jewelry or locally made items, which may or may not be your interest, we've found some talks to be very informative.
When in Europe, our experience was that the lectures were full of information about the sights and culture, as well as what to expect.
Important Cruise Tips & Reminders
70. Put your phone on airplane mode
When you sail in international waters, your mobile phone plan won't usually cover. It can be common for people who forget to put their phone in airplane mode to have huge, unexpected cell phone charges. Put your phone in airplane mode before Sailaway to avoid this rookie cruiser mistake.
71. Bring refillable water bottles
Water is safe to drink on the ship, however many people like to have refillable water bottles to keep hydrated throughout the day. This is especially important when leaving the ship on cruise port days and excursions.
Make sure to pack a refillable water bottle as part of your cruise essentials packing list.
72. Bring plastic bags
Perhaps bringing plastic ziploc style baggies aren't the most important thing in the world, but they sure are handy. You can use large ziplocks to place wet bathing suits after an excursion and smaller ziplocks to take snacks or a muffin from the buffet.
If you're cruising with kids, you'll see some pretty good tips in this post: 10 Cruise Experts Share Their Best Tips for Cruising with Kids
73. Check your passport
Friendly reminder – it's been a while that many of us have traveled out of our country. Check your passport for the expiry date and make sure to renew way in advance. This is taking much longer than usual, and passports need to be valid for at least 6 months before you travel in many countries.
74. Get organized
I've heard so many people say that they're finding it "harder" to travel these days, and this is true, but in most cases not as hard as it seems. Being organized and having everything in one place is more important than ever, and will be so helpful.
A) Proof of Vaccine
Keep your vaccine card and information in the same place as your passport. We're using a passport wallet for this and will bring it on our cruise.
Here's what we're using: passport wallet (RFID)
B) Group booking emails
Group your cruise booking or reservation, flights, hotels, excursions and other emails pertaining to your cruise in an email file folder. It will be much easier to look things up and reference when everything is in one place.
C) Use a printable cruise travel planner
I like to have everything in one place and really like to write things down. If you're the same, you'll love the Ultimate Cruise Planner.
This is a 47 page printable cruise travel planner with several packing checklists, cruise port planning forms, payment trackers and more. The nice thing is that you can print out as many pages as you need, helpful as plans sometimes change.
Here are the details & what's included: Ultimate Cruise Planner ($10 off for a limited time)
Get The Ultimate Cruise Planner
Regular price: $27 Now just $17!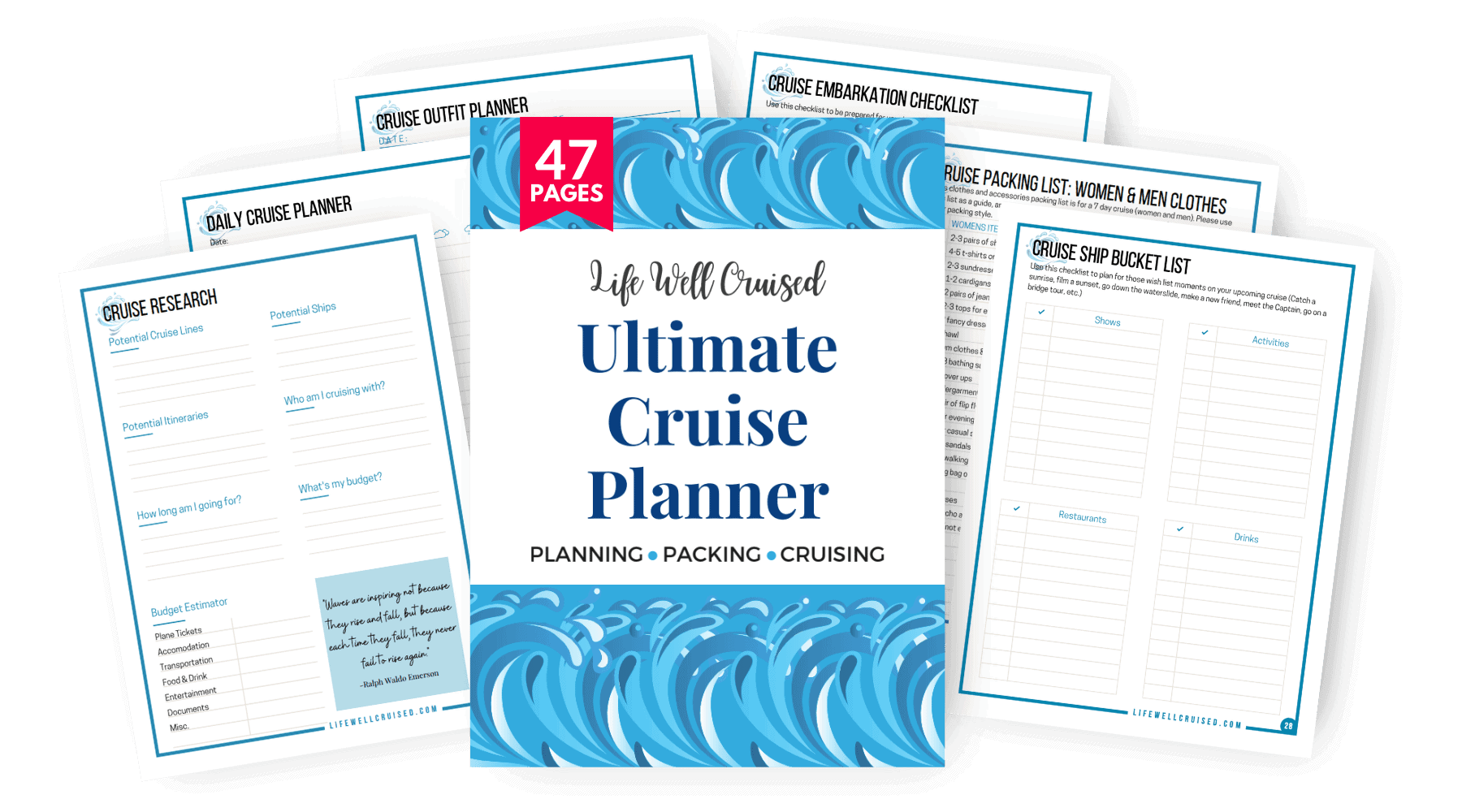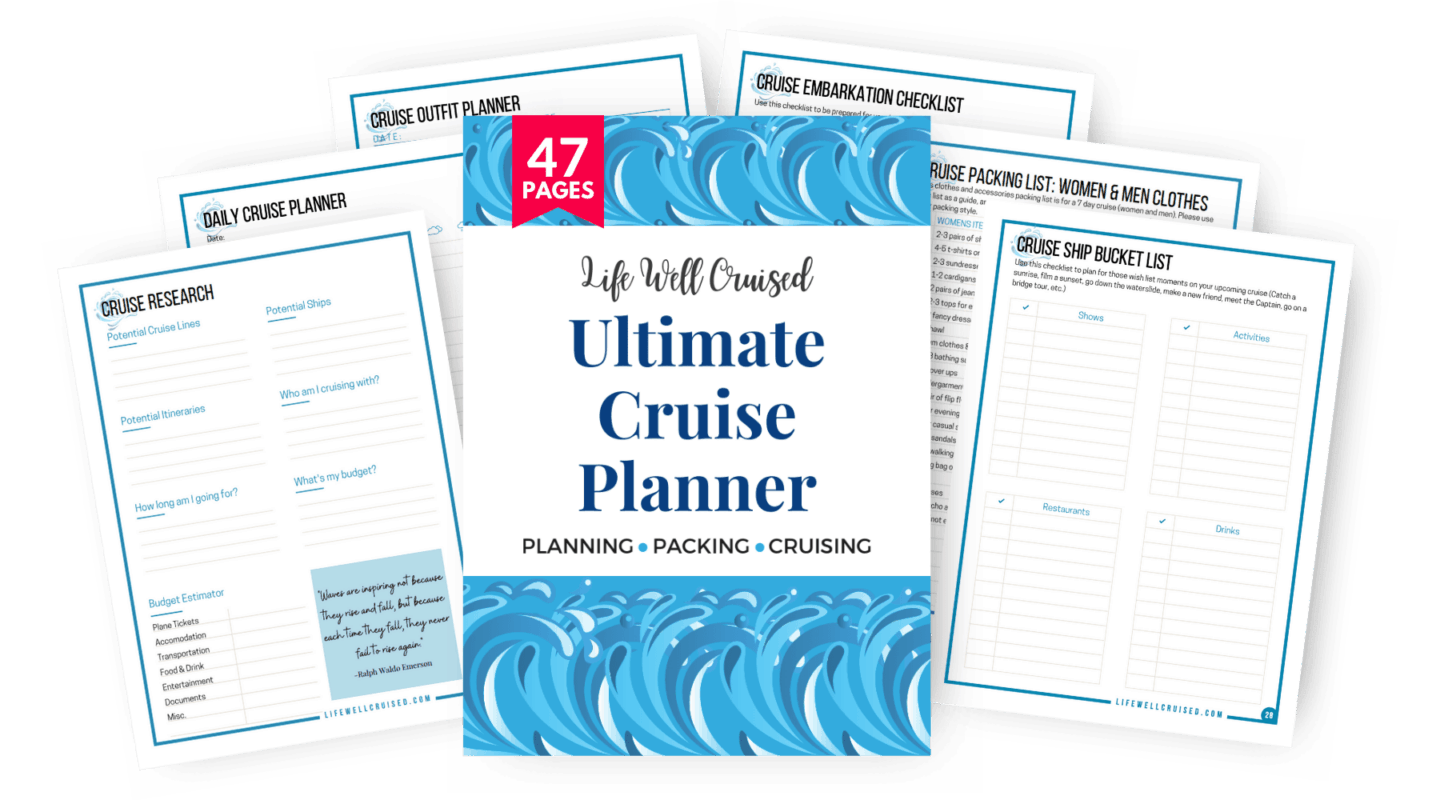 Things Not to Forget on Your Cruise
75. Make your cruise easier with these cruise travel accessories
"Cruise-approved" non -surge power bar with USB outlets
Portable electronic travel scale
Water-proof phone case lanyard
Vaccine card protector cruise lanyard
Over the door hanging organizer
For a full list of cruise accessories please read this post next: 50 Must-have Cruise Essentials from Amazon
Ultimate Cruise Hacks Video
Need more cruise hacks? In this video I go over 50 amazing cruise hacks, tips and information. It's a long one, but totally worth it if you're preparing for a cruise! It has over 170,000 views so far and I'm so grateful for your shares!
Popular posts to read next:
30 Cruise Cabin Hacks Every Cruiser Needs to Know
50 Most Recommended Amazon Items to Bring on a cruise
27 Cruise Packing Mistakes You Might Be Making
20 Cruise Packing Tips all Cruisers Need
21 Essential Things to Pack in Your Cruise Carry-On
25 Cruise Embarkation Tips and Secrets
Final Thoughts: 75 Genius Cruise Tips and Hacks
Planning for a cruise is different than other types of vacations. In this post we shared 75 smart cruise hacks from saving money, to cruise food and drinks, to getting organized and more!
I'm always learning new cruise tips and tricks from other cruisers, so please share your cruise hacks in the comments below.
Happy Cruising!!
Ilana xoxo
P.S. If you found this helpful, please don't keep it to yourself ;-). Please share on Facebook or PIN to your favorite Pinterest board (share buttons at the top). Thanks so much!
Let's connect:
Join me on Facebook at Life Well Cruised
Join me on YouTube at Life Well Cruised (Vlogs and cruise tips)
Join me on Pinterest at Life Well Cruised
Join me on Instagram at Life Well Cruised