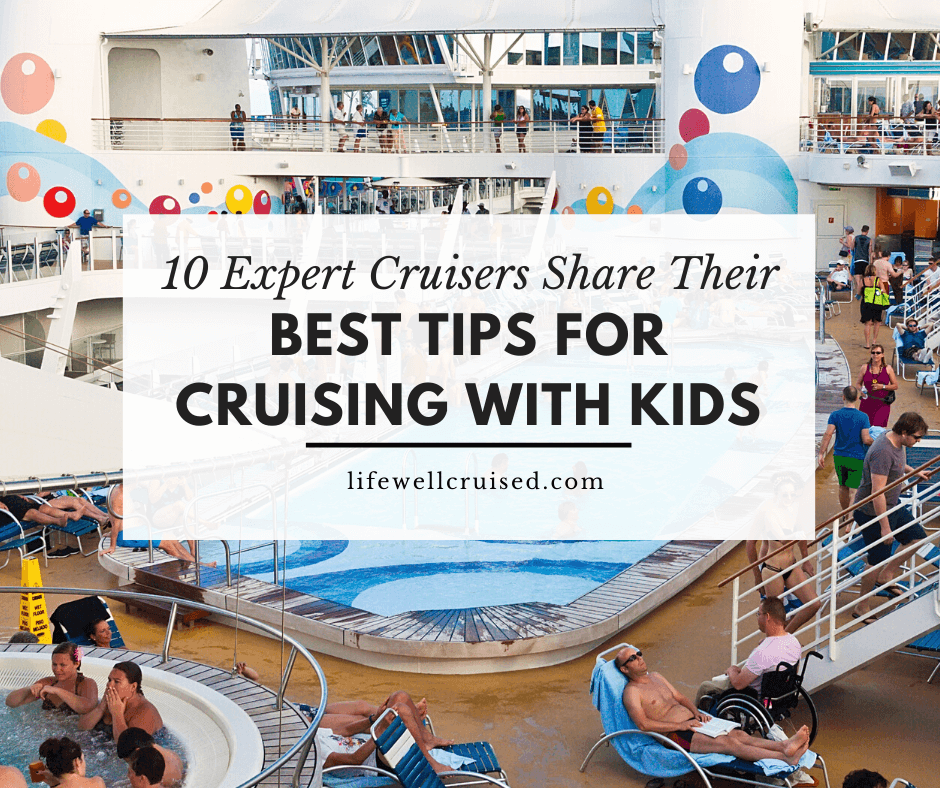 Practical Expert Tips for Cruising with Kids
Have you been wanting to take a vacation that everyone in the family will actually enjoy? Then planning a family cruise is the solution!
In this post, we'll go through the best tips for cruising with kids and planning a family cruise, as 10 expert cruisers share their secrets!
Why Cruising is an Awesome Family Vacation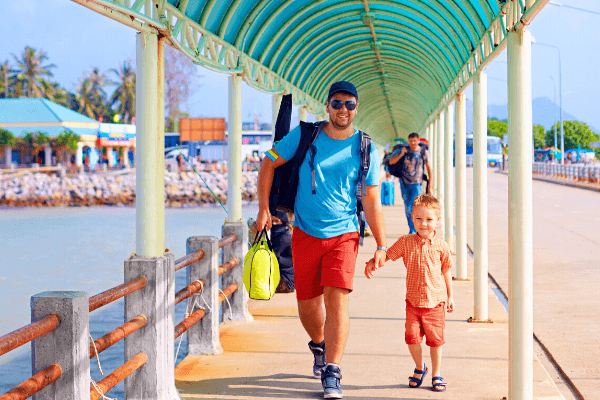 Before we get into some very practical tips about cruising with kids, I want to share with you the "why you should cruise with kids".
I asked some friends, cruise and travel bloggers, and members of the Life Well Cruised community on Facebook, what they loved most about taking a family cruise.
My friend Stacey pointed out this out so well, as she described why cruising is her preferred family vacation.
She asked me if I knew that meme going around on Facebook.
The meme goes something like this:
"Parents don't really go on a vacation. They just take care of their kids in a different city" – then she added, "EXCEPT… when they go on a cruise ;-)!"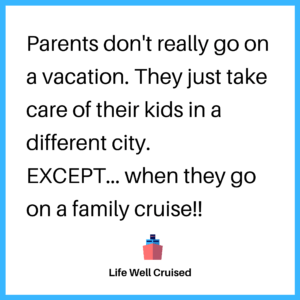 Having cruised with my kids from the time they were 4 and 9, I agree completely!
Before cruising, we tried camping and although it was a lot of fun, that was a LOT of work!
Then later went to Niagara Falls, Disney, and even rented a condo at a resort for a summer holiday… so I could still cook and wash and clean, right?
Do you know what happened when we found cruising?
It was like the pearly gates opened.
Can you hear Bryan Adams now? "I've found Heaven…"
You see, when on a cruise, everyone in the family is on vacation!
Mom can read, Dad can nap, and the kids can hang with you, or go to the kids club! The reality is the whole family can have the perfect combination of fun and relax time.
There are few "vacations" that those 2 things can actually go together!
Without further ado, here are some insights and helpful tips for cruising with kids, and having the very best family cruise possible!
This post contains affiliate links which means if you click and buy that I may make a commission, at no cost to you. Please see my disclosure policy for details.
Tips for Planning a Family Cruise – What You NEED to Know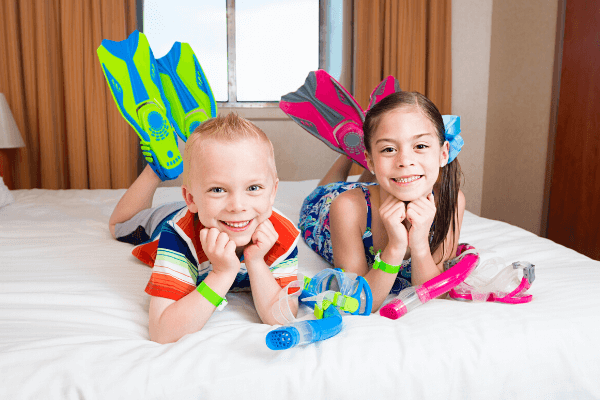 How to Choose a Family Cruise
One of the first things you should think of when you plan a cruise with kids, of all ages, is what is the best family cruise line or ship, for you.
This might seem obvious, but what you don't want is to be on a ship where you can hear the words "I'm bored".
Oh no you don't!
However, all kids are different, and so, what they like to do is different.
Family orientated cruise lines include Carnival, Royal Caribbean, and Norwegian Cruise Line. However, most cruise lines have really kids clubs as well as some great things to do on board, so don't feel you need to limit yourself to just a few options.
If you're cruising over the holidays or over a school break, there will often be several families cruising, almost no matter the cruise line.
We've had awesome family cruises on Royal Caribbean, Princess Cruises, Norwegian Cruise Line and Carnival. Recently, we started cruising on Celebrity with our teen son, and despite not having "water-slides" and a few other bells and whistles, the cruise ship has an awesoe teen lounge and great things to do.
Picking the Best Cruise Ship for Children and Family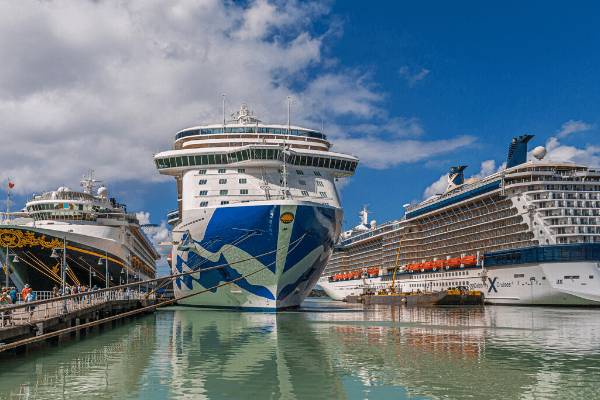 When choosing a family cruise ship, give some consideration to your kid's likes and personalities, as well as what you enjoy as a family.
If you know that you've got tweens or teens who love to be as active as possible, make sure the cruise ship that you choose has lots of cool activities they'll love – think laser tag, ropes course, water-slides or zip lines.
If you have younger children and need a nursery, make sure the cruise ship has this available.
If you have more introverted kids, consider a medium size cruise ship, where the kids club will have fewer kids and making friends may be easier.
As a general rule, newer ships tend to have the most "bells and whistles". However, cruise ships that are a few years older do also have great activities on board, and may have been refurbished with awesome new features.
For instance, many Royal Caribbean ships have recently been "amplified". How cool is that?
A word of caution – even "family-friendly" cruise lines have a variety of cruise ships, and some may be smaller and older and truthfully have less features than their larger counterparts.
Always check the cruise line website, with a travel agent, or even ask other parents about recent experiences in Facebook cruise groups.
One of the most helpful Facebook Groups for Moms and Dads is Moms at Sea (see tips from Jamie Ross, founder of the group, further down in this post)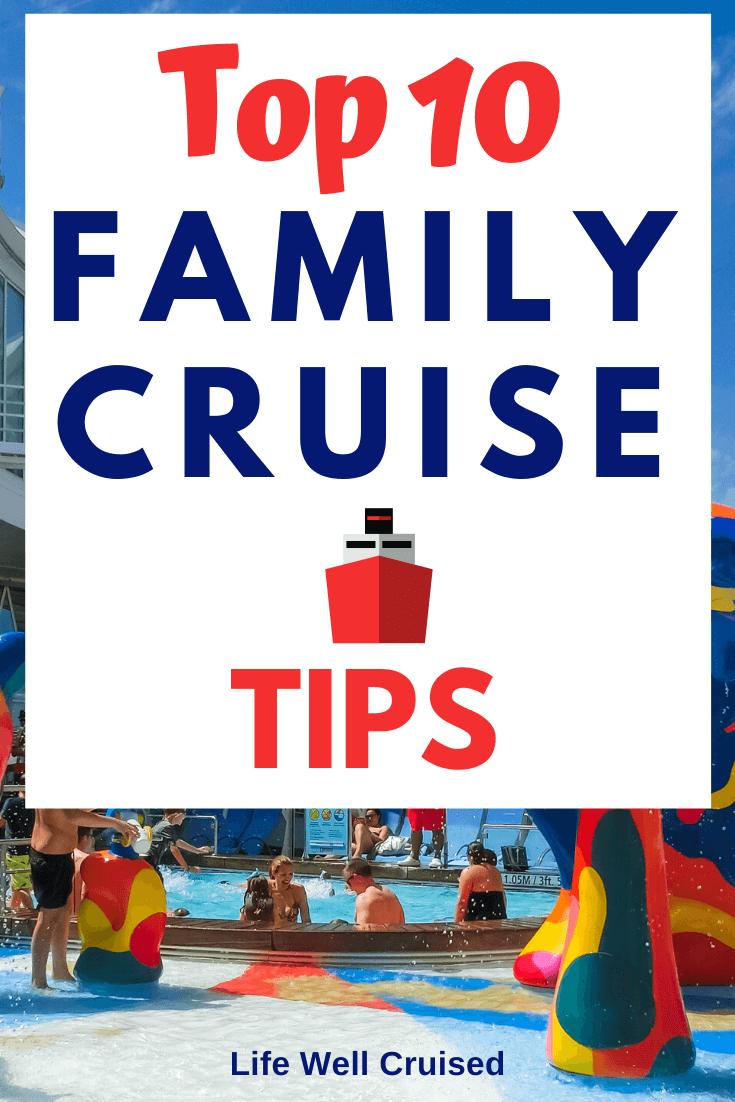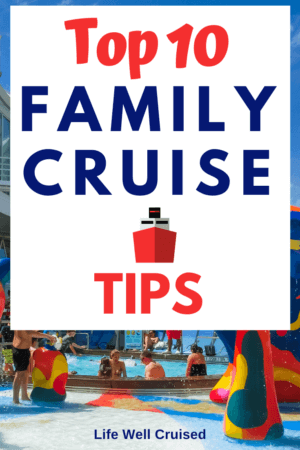 Tips for Cruising with Babies, Toddlers and Young children
Something to note is most cruise lines have a kid's club for children ages 3-17. Some cruise ships have nurseries or parent and tot play areas, while others don't.
If you're cruising with children under the age of 3, do check what experiences, such as water play areas, are available on the cruise ship for your child.
Cruising with Teens and Young Adults
Practical cruise planning tip for families: If your kids are more active and you know they'll just love waterslides, ropes courses or surfing pools, take a look at ships that have those activities.
If your children enjoy group activities or crafts and games, most cruise ships have an excellent kids club, so even if the ship doesn't have go karts or ziplines on board, the cruise ship can still be a great experience.
10 Expert Cruisers Share their Best Advice for Planning a Family Cruise
I asked some of my favorite cruise bloggers and vloggers, as well as some "experts" in the field (Parents doing the work of cruising with their kids) to share some of their very favorite tips for cruising with children.
I'm very grateful for all the amazing advice and helpful contributions to this post! Please check out their websites and follow them on social media for even more family cruising tips and tricks!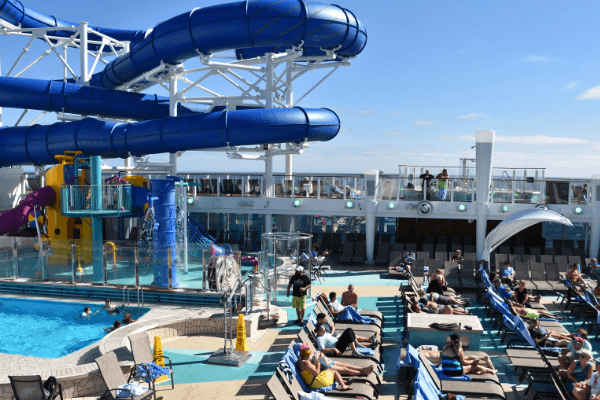 1. Planning Essentials for Cruising with Kids – by Sheri Griffiths from Cruise Tips TV (YouTube)
CruiseTipsTV brings you cruise vlogs, interviews, high quality ship, stateroom, packing and culinary videos and common-sense cruise-travel tips to maximize your cruising adventures. Sheri and the CCTV family are a great resource for first time cruisers and experienced travelers alike.
Please check out Cruise Tips TV's awesome videos on Youtube as well as on Facebook and other social media.
Carefully consider the itinerary
Some family friendly cruise itinerary examples are the Caribbean, Mexico and Alaska. You may want to wait until kids are older for Canada/New England, Europe and other more history focused destinations.
Kid's Club Tips
Register your kids for the children's program online, in advance of the cruise. Then,visit on Day 1. Often the cruise lines offer first-day orientations that give the kids a chance to meet their new friends and counselors and become comfortable right off the bat.
Pack a stroller
Parents with kids under 5 or 6 years of age will find that packing a small stroller is a MUST. We prefer the compact, foldable type stroller (Amazon – check reviews and pricing here).
Last, but perhaps most importantly, pack your own medication for children. Cruise Line's don't usually carry a full line of children's medication – and if they do, you'll pay a premium to access them. Basics like pain reliever and cold medicine are a good place to start.
2. Cruising with Kids Mom Hacks by – Melissa from Family on Time Out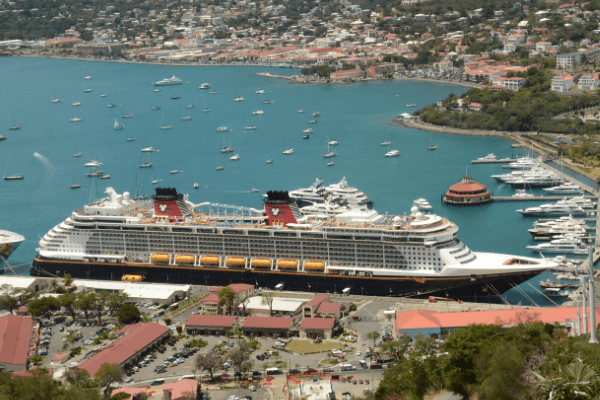 Melissa is an early childhood educator and mom to a pre-schooler and school aged child. She believes strongly in families having "time-outs", meaning vacations (like cruises) and other meaningful times enjoying life as a family.
Please check out Melissa's blog, Family on Time Out, and follow her journey on Instagram and other social media.
Bringing snacks from home?
While I was researching for our very first cruise, I saw many posts from parents asking if you're allowed to bring snacks on board. After reading reviews about the buffet, I figured we'd just wing it and packed a box of small ziplock bags and a small tupperware container for each child. This was much easier than bringing whole packages of snacks from home.
Our kids would walk into the buffet and pick their own snack at breakfast and lunch, which we would pack up at the table. Cheerios, apples, cheese, grapes, pretzels, muffins, cookies, nacho chips… Having ice cream cones in the afternoon as we headed to the pool was so easy too.
They GLADLY went without their favorite fish cracker snacks from home!
Note: Never take food off the ship unless you know the regulations for the cruise port of the country you are visiting. Generally taking off fruits, vegetables and meats are forbidden and can result in a fine.
Mom Hack – keep your kids busy at the MDR table
Crayola Wonder Markers and paper (check Amazon link for price and info) are mess free and worry free. That means kiddos can color to their hearts content while parents are able to finish their meals, without worrying about them marking up their clothes, skin, menus and those pristine white tablecloths in the Main Dining Room.
This is my favorite item for me and my kids for any type of travel – great on flights and car rides too!
OMG Best Mom Hack ever!
To Stroller or not to stroller
Both our kids rarely used one at home after they turned 2. However, we were so happy to have one on our cruise so they could take spontaneous naps – this meant we were still able to roam around the ship.
On our last cruise we brought our collapsible wagon. We were heading to Bermuda, with 3 days to explore, so we thought we would use it there. Well, we ended up using it on the ship and pulled our 3 and a half year old around as he napped. This way we weren't stuck in our cabin!
Recommended: Collapsible wagon for excursions (Amazon link – over 7000 reviews!!)
3. Advice for Cruising with Teens – by Alyson from My Virtual Vacations
My Virtual Vacations features cruises, destinations and hotels, all focusing on a combination of family and luxury travel. Check out My Virtual Vacations Facebook page for great travel tips and more.
Consider a family cruise in a suite
You might not think you can afford the suite life when cruising with a family but often you can and it's worth it. For our family of 4 (2 adults and 2 teenagers) we've outgrown sharing 1 stateroom.
When pricing 2 adjoining rooms, look at the sleeping capacity of a suite and it surprisingly might be around the same cost. Plus, it has benefits and perks!
It's often hard to find adjoining staterooms, or even find 2 near to each other. In a suite, you don't have to worry.
Stay in a large room with plenty of storage and space, enjoy upscale service to indulge the kids so you don't have to, and look out for amenities, such as private tours or dining experiences that may come your way.
By booking early and looking out for sales, upscale your cruise without breaking the bank.
Cruising with Teens
Cruising is one of the best vacations for families…and YES! Even with teenagers.
You don't have to pick ships with zip-lining, surfing, or a race track. Find the right ship for a relaxing experience for everyone in the family.
My boys are teenagers, but even when they were younger, we cruised on ships without extravagant activities and the kids always found their own fun.
Discover activities your kids may not appreciate on land. When at port, sign up for an adventure excursion (off-road tours are always a hit!) or swim with dolphins.
Back on the ship, participate in a basketball tournament, hit the arcade, or check out the modern exercise facility.
Remember: The activity listed in the program may not excite them, but once they see a group of kids having fun, you might just catch them finding out when it's happening again.
4. Kid's Club Tips/Adventure Ocean – By Matt Hochberg from Royal Caribbean Blog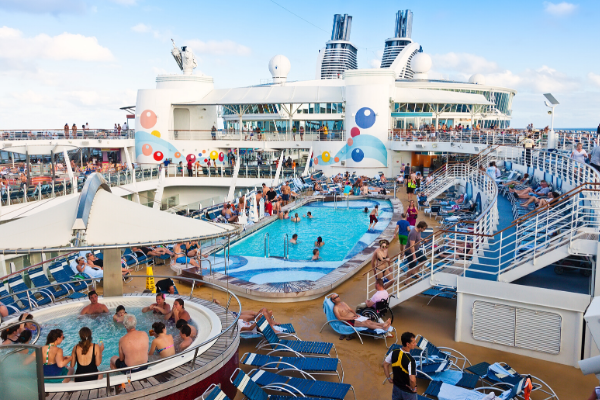 If you're cruising with Royal Caribbean, Royal Caribbean Blog should be your go-to for great, up to date info! Royal Caribbean blog is a fan blog written for other cruise fans, and not affiliated with Royal Caribbean International.
Please check out the blog as well as Royal Caribbean Blog on Facebook and other social media.
Adventure Ocean Kid's Club
On Royal Caribbean, be sure to take your kids on the first day to Adventure Ocean for an open house registration event.
This allows you to meet the counselors, and register your kids,and for you and your kids to explore the Adventure Ocean space. It's a great opportunity to not only get paperwork done,but get a good feel for Adventure Ocean and ask any questions you may have.
5. Cruising with Introverted or Shy Children – By Amanda, Cruising Parent from Life Well Cruised Facebook Community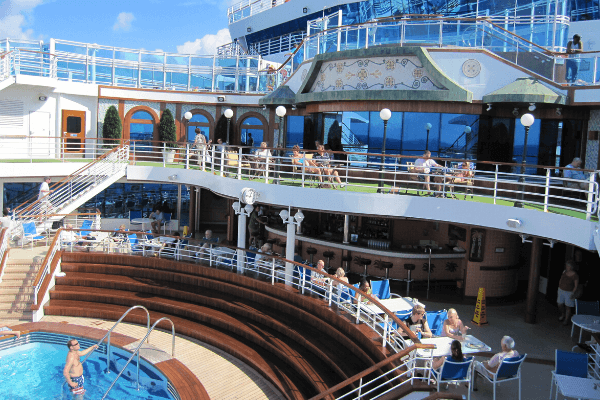 Amanda is a mom of 2 girls, ages 8 and 12. Their cruise line of choice is Princess Cruises.
Please visit Life Well Cruised on Facebook, to connect with other like minded cruisers.
Tips for cruising with introverted children
Something for parents to know, is that if you have an introverted child, it might be a little more difficult for them.
My number 1 tip is to enroll in the kid's club right away, and make sure your child goes the first day, as this is when cliques are formed. This is especially true for tweens and teens, as it's hard to play catch up, especially if you have a child that is shy or self-conscious.
Pack essential over-the-counter medication
Secondly, the convenience stores on board the ship rarely have children's medicine, so packing tylenol, cough medicine, pepto bismal, or whatever your family uses would be worthwhile bringing.
6. Family Cruise Cabin Tips – By: Jillian from Finding Jillian
FindingJillian.com is a cruise and beach travel blog full of tips, reviews and port guides. Please check out her blog as well as on Facebook and other social media.
Benefits of connecting staterooms
We've really enjoyed cruising with our kids throughout the years! Cruising provides an incredible opportunity to expose them to new cultures,experiences and foods. It's also a great way to teach them respect for hard working staff,to be grateful for their experiences and to meet new people.
Looking back on our years of cruising (our kids are nearly grown), one of my top tips is to book 2 adjoining staterooms. If your budget allows, this is a great way to give everyone a little bit of extra elbow room.
I'm a bit claustrophobic, and the 4 of us in a tiny room for a week, and sharing 1 bathroom didn't seem very relaxing to me. For those of you with little ones, you'll appreciate the second bathroom!
In my experience, booking adjoining rooms can be less expensive than booking a larger cabin for 4.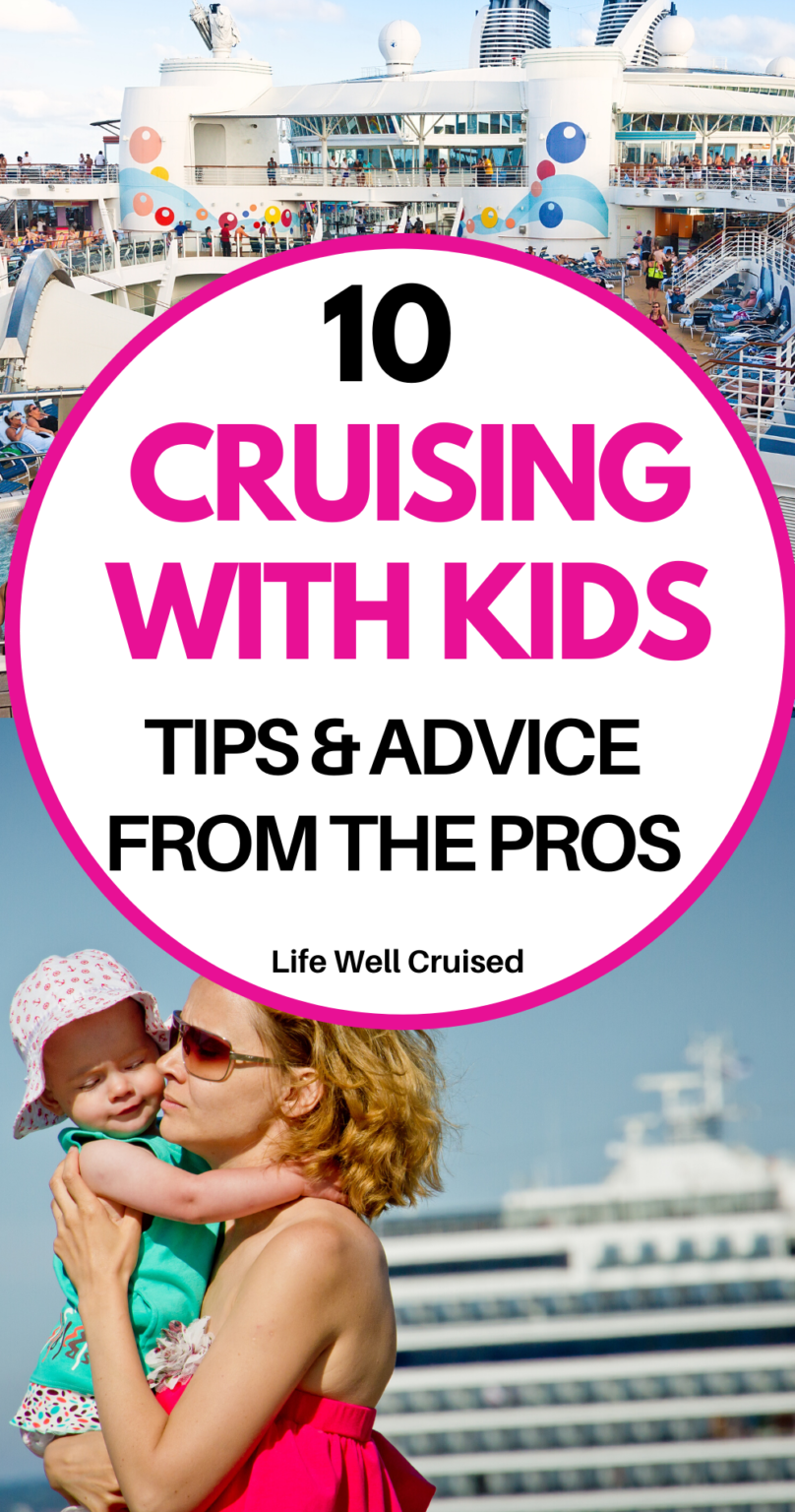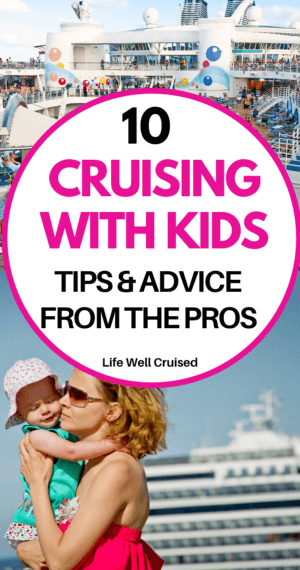 7. Cruising with Babies and Toddlers/Cruise Cabin Tip by: Kate from Tear Free Travel
Tear Free Travel is a blog about making traveling with children easier. Please check out the blog as well as Family Travel Ideas/Tear Free Travel on Facebook and other social media.
Get a Balcony cabin
If you're going to be cruising with young kids who are still napping, splurging on a balcony room is definitely worth it!
Having the balcony means that you can be outside enjoying the view and some fresh air while your little one is fast asleep. Add in a relaxing drink with your spouse and it is the perfect spot to enjoy cruising.
On our Disney Cruise, we spent a lot of time enjoying the balcony while our little ones were sleeping. Of course, we were always sure to keep the balcony door closed for safety during the day!
8. Smart Tips for Cruising in an Inside Cabin (with Kids) – By Stacey – Parent, avid cruiser and member of Life Well Cruised Facebook Community
Stacey Ansley is an avid cruiser and Mom, and host of the podcast Build.Change.Impact., also a business community, coaching and consultancy service.
Stacey shared 3 practical tips for cruising with her family in an inside cabin. Stacey explained that by cruising in an interior cabin, she and her family cruise more often.
1. Choose the highest deck possible, in an inside cabin surrounded by suites. In our experience, we get the best cabin steward.
2. Make the cabin more organized by bringing along foldable shelves (from Ikea or Amazon), foldable baskets and an over the door organizer (Amazon link).
3. Make the inside stateroom cozier with an essential oil diffuser and a portable sound machine (Amazon link), for ocean sounds at night.
9. Tips for Having an Easy Family Cruise Vacation – by: Ilana Schattauer from Life Well Cruised (this blog)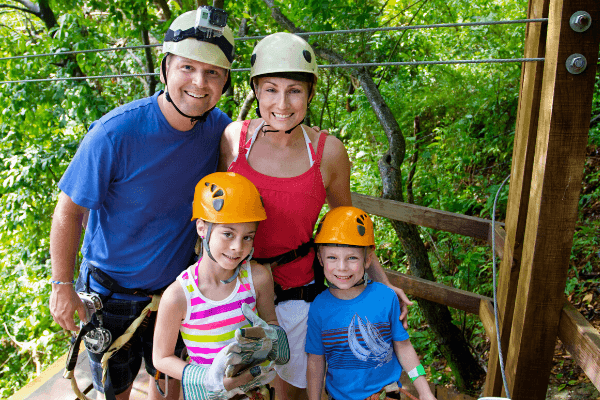 llana (that's me) is the founder and creator of Life Well Cruised, a website that helps new and avid cruisers with cruise travel tips, cruise ship and port reviews, and inspiration. Please join us on Facebook, Instagram and check out our videos on YouTube.
1. Don't always order off the kids menu
In the Main Dining Room, encourage your children to look at and order off the regular menu, rather than the children's menu. It's a great opportunity to try new foods without any pressure at all.
2. Get your kids excited about the kids club before your cruise
As your cruise gets closer, talk up the kids club. Chat about how nice the youth staff are, how much fun the kid's club is, and how you'll bring them on embarkation day to check it out and register.
During the "open house" period on the first day of your cruise, make time to visit the kid's club. Your children will have time to play and explore the camp area and even meet a few new friends. You'll meet the youth staff and feel more comfortable.
From then on, going to the kids club is likely to be a positive experience.
3. Do a cruise with grandparents while you can
I say this from personal experience – there's something special about the relationship your children have with their grandparents, and the reality is, there's a window of time when this can work.
Health concerns come up, kids get older and start to work over school breaks- our kids are only young once, and time goes quickly. Plus, in my opinion, a cruise is the best form of multi-generational travel.
If you've been wanting to do this kind of cruise, plan it this year. You won't regret it!
4. Plan shore excursions together as a family
If your kids are old enough, present a couple of activity options (that you've vetted), and make a family decision on what would be the best cruise shore excursion for everyone. Your kids will be so excited and it will make getting up early and off the cruise ship a much better experience.
10. Research, Plan and Organize for your Family Cruise – by Jamie Ross from Moms at Sea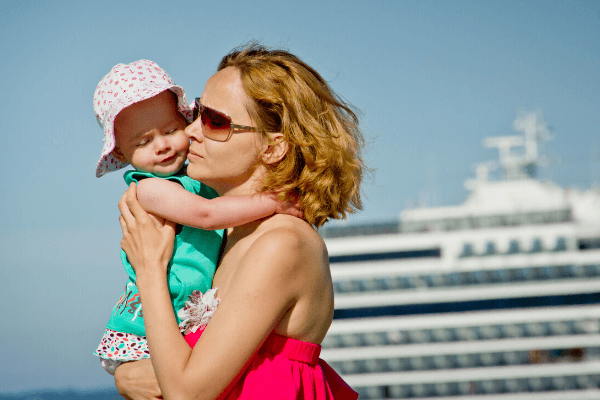 Moms at Sea is a place where moms, dads, and other family members can come to find tips and tricks that only experienced cruise moms have figured out. You'll find awesome tips for cruising with kids both on the blog, as well as in the Moms at Sea:The Family Cruising Guide Facebook group and other social media.
I started cruising with my first daughter when she was seven months old. As much as I'd like to tell you how wonderful it was, I cannot.
It wasn't.
It. Was. Awful.
Ok, I was on a cruise ship. It wasn't awful, but it was challenging.
On the flight home from that cruise I told my husband I needed another cruise to recoup from that cruise.
In hindsight, that could have been a much more enjoyable vacation if I had just been more familiar with what amenities were available to me and my family.
Tip #1 Research
Because of this, my number one tip for traveling with littles under three is RESEARCH RESEARCH RESEARCH.
Too many moms come back from their first cruise and report they did not know when they booked, that their ship did not have childcare services or water features for their diapered child to play in.
Not all ships have these features. Who knew!?
Whichever cruise line you choose to travel with, be sure to research the specific ship you plan to sail on prior to booking (some lines will have penalty fees should you decide to change ships after you are booked).
There are lots of wonderful Facebook groups and Youtube channels full of friendly cruisers to help you. I really support joining the Facebook groups because then you get feedback from real moms that have been on those ships and can give you all the details.
Unfortunately, sometimes even the sales representatives for the cruise lines have trouble keeping up with all the new features as ships are built and refurbished.
This was one challenge I ran into; information on cruise line websites was not always accurate. Having other moms that were either on the ship or has recently sailed was incredibly helpful.
We sail most often with Royal Caribbean and they have excellent resources for families with children under three.
The Royal Babies and Tots program (available on select ships) provides paid for childcare ($6-8/hour, hours of availability can vary from ship to ship) for children 6-36 months that families can sign up for when they board.
I highly suggest heading to the nursery when you board if you plan to use those services as it can fill up quickly. This is a great option for dates nights and making sure you catch your favorite shows!
If you're not sure you'll want to use the nursery, some ships offer open play areas and toy check out services as well.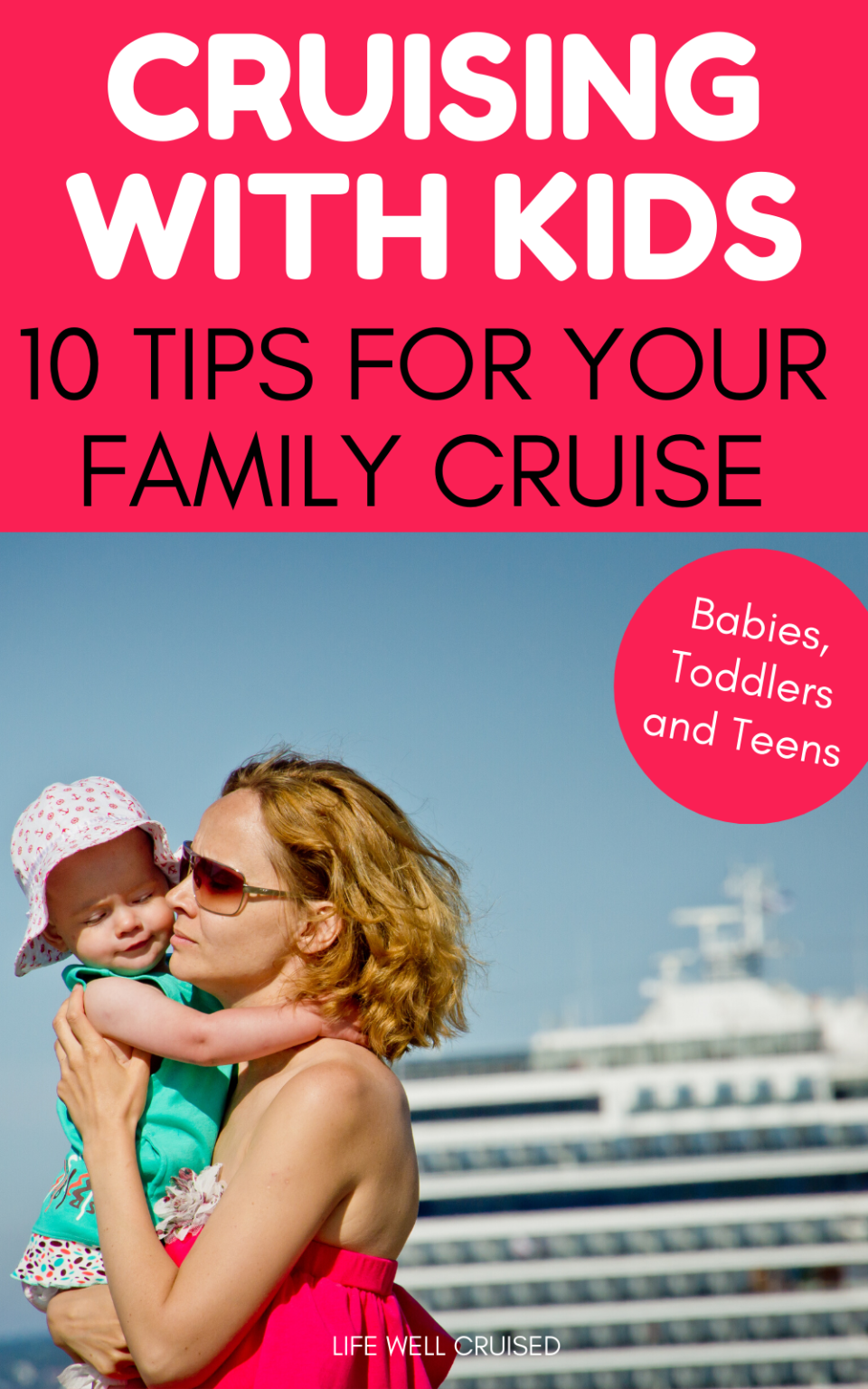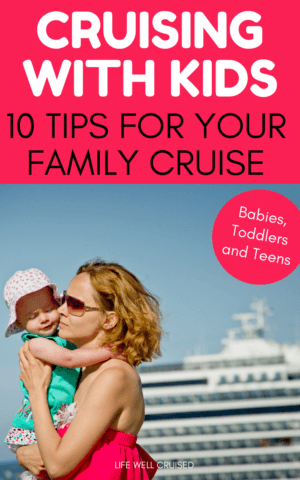 Tip #2 Prepare and Organize
My second tip is, PRE-MOMMING.
There are different schools of thought when it comes to preparing ahead for a vacation.
Some travelers prefer the, "Wing it. Enjoy. Throw structure and rules to the wind." While others prep so much the always prepared Eagle Scouts could learn a thing or two.
The right answer is different for every family; neither being right or wrong.
Personally, I like to be as organized and prepared as I can be before I leave for a cruise because then once I board the ship, I can go on autopilot. Everything is done. I pre-momm'ed.
Pre-momming is when I plan our entire vacation and have potential activities, restaurants, port activities all written down. The one rule, however, is that if we are having fun doing something and it conflicts with something on the schedule, the schedule goes out the window.
We have the options, we are prepared, but we don't have to do those things if we don't want to. Flexibility is key.
Another component of pre-momming is having things ready so people don't need my help.
One example, I have my daughters' outfits in individual bags and labeled.
Audrey Dinner Day 3, because remember, I knew before we boarded that we were having dinner at a specialty dinner on night three. This way, I can tell my husband, "While I'm in the shower would you help me out and put Audrey in Dinner Day 3?"
He doesn't have to look for clothes, match tops to bottoms or pick out a bow (or ask me questions about how I want all of that). It's all ready for him.
It makes evenings much more pleasant and efficient so we can spend more time doing the things we want, like playing for that extra hour at the pool or enjoying an ice cream cone while watching the sail away.
Being over prepared ahead of time allows me to enjoy our time on the ship as a family and be present for all the magical moments. I just accept that the schedule could be abandoned for family fun, a nap, or another exciting adventure we discovered!
For more great tips and tricks from over 10,000 cruise moms, head over to Moms at Sea and join our groups!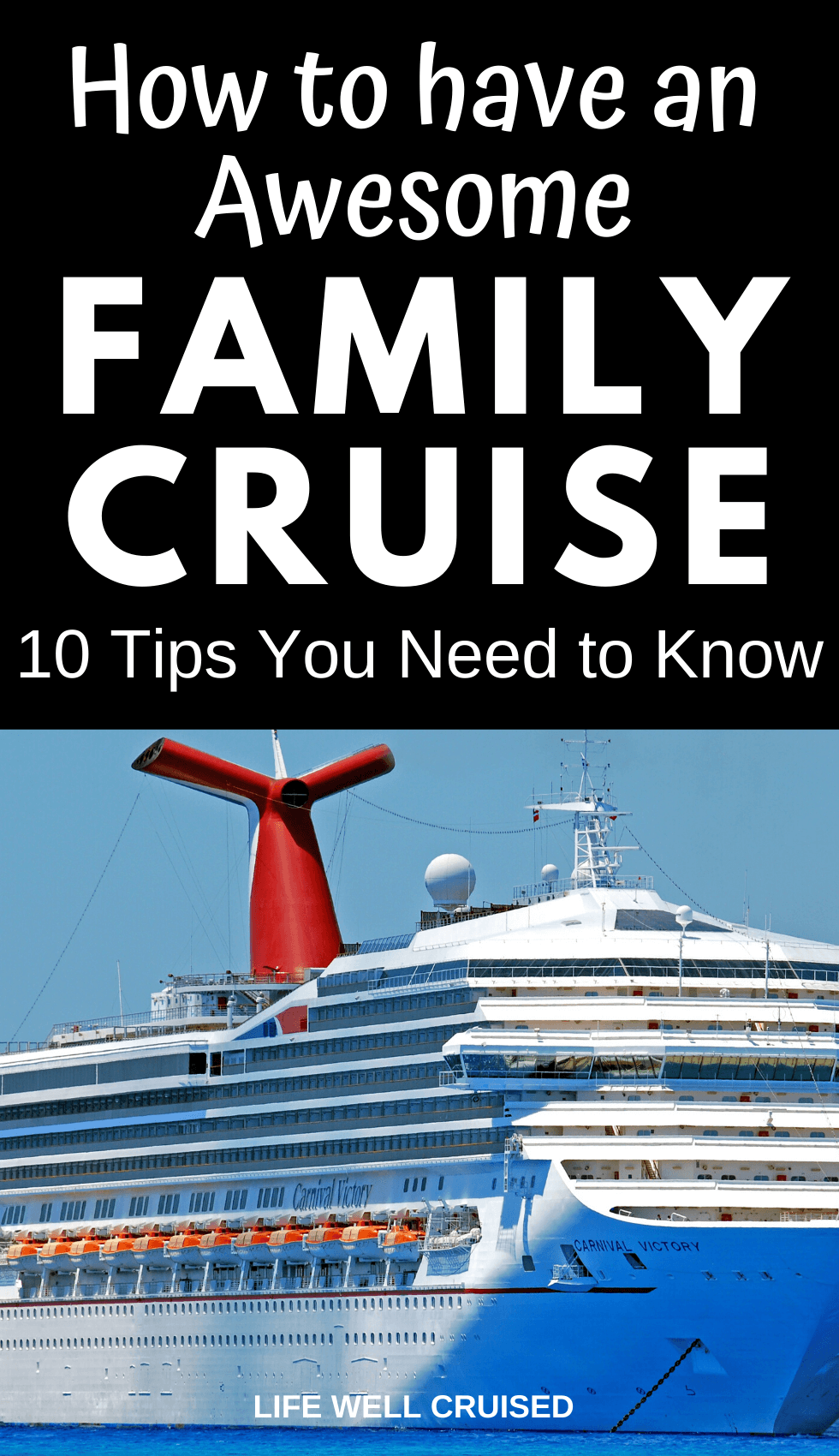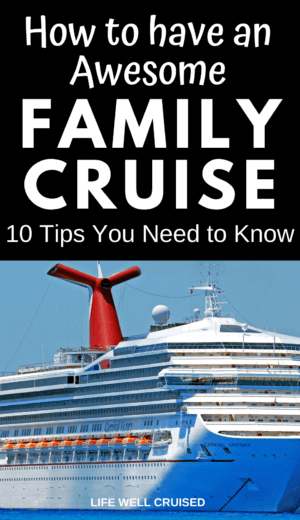 Cruising with Children Products Recommended in this Post
Here are a few items that may come in handy as you cruise with your young kids.
Please note, these are all Amazon products and links, which you can click on for more information.
2. Collapsible wagon for excursions
3. Crayola Wonder Markers and paper set (no mess)
Love this idea for no mess coloring in cruise ship restaurants, airplance travel and more!
4. Packing cubes (check amazon link for variety of colors/sizes)
Packing cubes can be a great way to keep everyone in the families clothes organized during your cruise.
Tip – consider different colors for each child.
5. Over the door organizer (check Amazon reviews/price here)
Tip: Consider packing your over the door organizer with your toiletries and items at home, so it's ready to hang when you get into your cruise cabin.
6. Ocean sound white noise machine
A white noise machine can help your babies and toddlers to sleep, plus, the ocean sounds are soothing for everyone.
7. Mesh Beach Bag for beach shore excursions
Read more – 30 Cruise Cabin Hacks Every Cruiser Needs to Know
20 Ways to Actually Save Money on Your Family Cruise
15 Cruise Embarkation Day Tips Straight from the Pros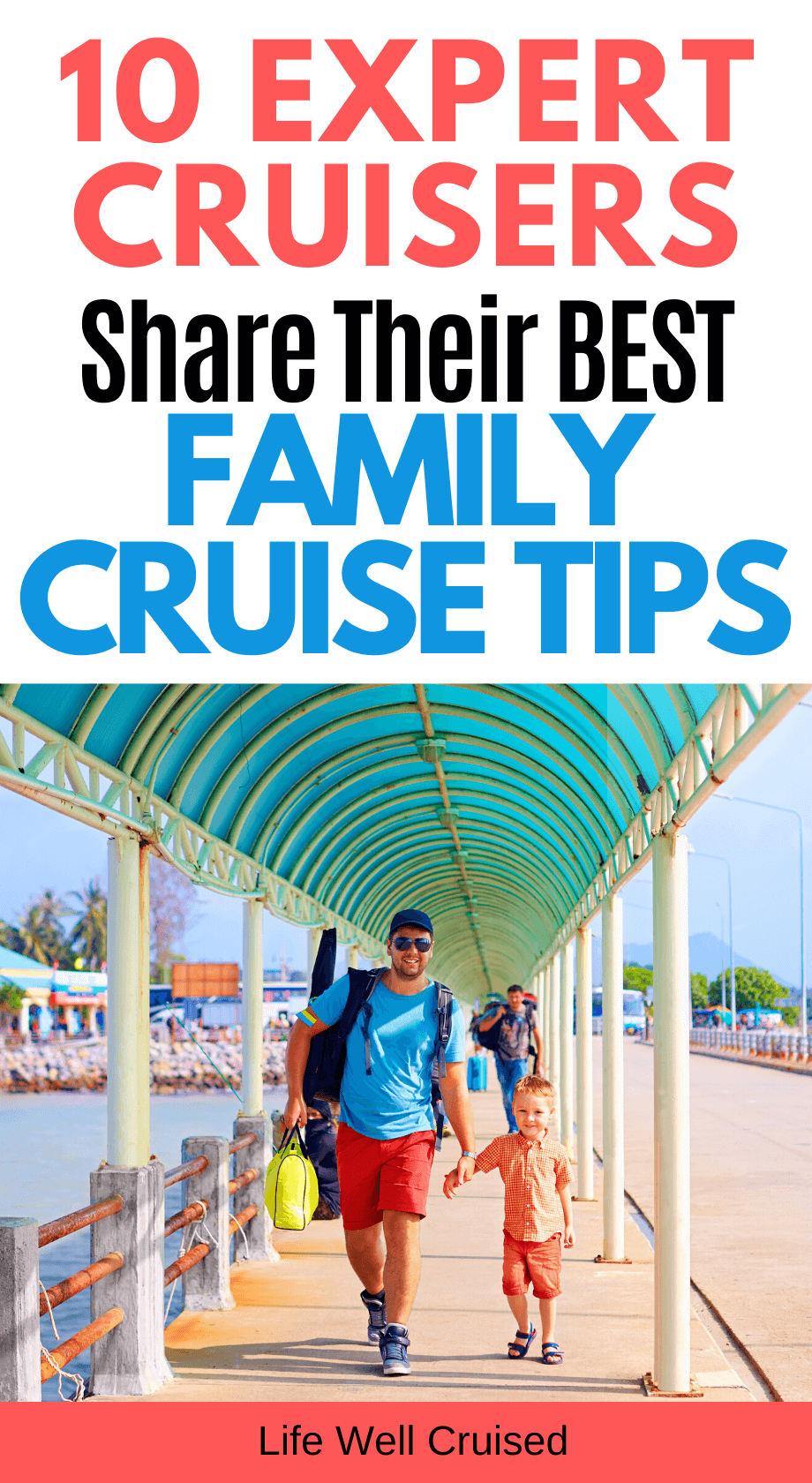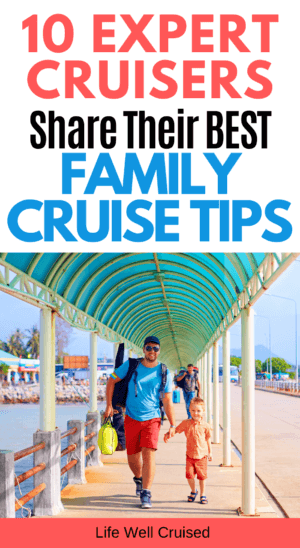 Recap: 10 Cruise Experts Share Their Best Tips for Cruising with Kids
In this post, experienced cruise experts and parents have shared their tips and tricks for cruising with kids and planning an amazing family cruise vacation. Thank you to everyone who contributed and shared your stories!
The tips shared offer different cruise travel experiences. which I hope will allow you to choose the advice you most resonate with and that fits your parenting style and vacation preferences.
Have you taken a family cruise or are you planning one shortly? What tips for cruising with children (babies through teens) can you share? Please let me know in the comments below.
Happy Cruising!!
Ilana xoxo
P.S. If you found this helpful, please don't keep it to yourself ;-). Please share on Facebook or PIN to your favorite Pinterest board (share buttons at the top). Thanks so much!
Let's connect:
Follow me on Facebook at Life Well Cruised
Follow me onYouTube at Life Well Cruised (Vlogs and cruise tips)
Follow me on Pinterest at Life Well Cruised
Follow me on Instagram at Life Well Cruised