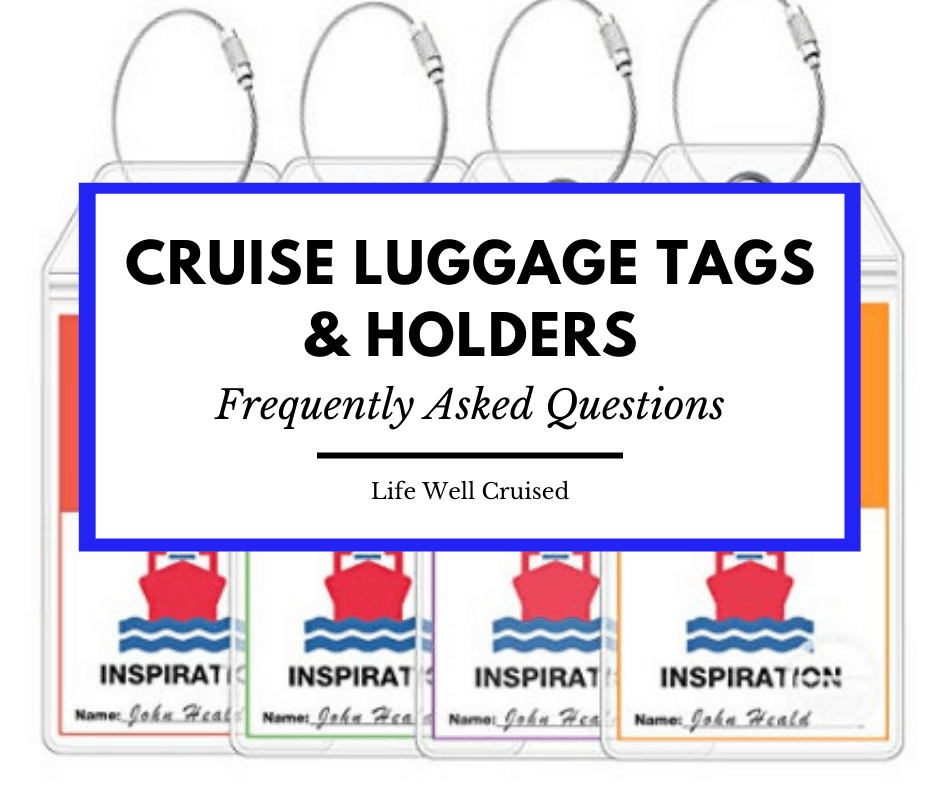 Can we talk about cruise luggage tags? If you're going on a cruise, you might be wondering how you'll get your luggage tags from the cruise line, what to do with them, and if you should buy cruise luggage tag holders.
In this post, I'll be answering the frequently asked questions about cruise luggage tags, and also sharing the information you need to know about which cruise luggage tags holders are best.
This post contains affiliate links which means if you click and buy that I may make a commission, at no cost to you. Please see my disclosure policy for details.
As an Amazon Associate I earn from qualifying purchases.
Cruise Luggage Tags F.A.Q.'s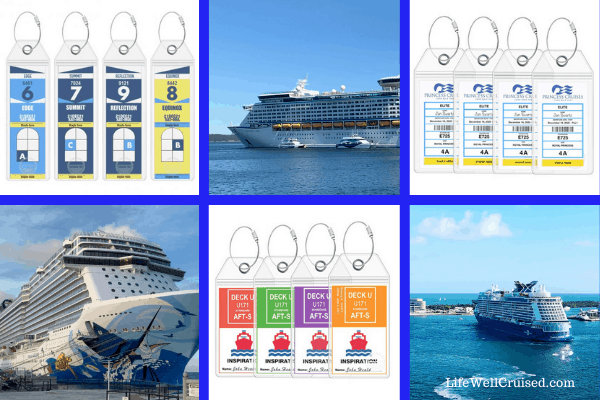 How will you get luggage tags for your cruise?
Once you complete your online check in on your cruise line's website, you'll be instructed to print out your cruise documents, which will include a boarding pass and luggage tags. The luggage tags will often be printed with your name, cruise ship, sailing date and cabin number.
If you're in a guarantee cabin, your stateroom may not have been assigned, and the cabin number may be left blank. If this is the case, it's just fine.
It's a good idea to print out at least 2 luggage tags for each member of your family or travel party. A little extra cruise tip is to keep one "extra" with you and your cruise documents.
Can you order luggage tags through your cruise line?
In some cases, you can request adhesive printed luggage tags from your cruise line. This should be done after you receive a notification that your cruise documents or edocs are ready, however leave about 2 weeks before your cruise sailing date. This may not be available in every country, and may vary by cruise line.
You can check with your cruise line or travel agent for information specific to your booking.
Printing, folding and attaching cruise line luggage tags
It's very simple to print your cruise ship luggage tags. I like to make several copies, so I have enough to label my cruise carry on bag, garment bag, as well as my regular size suitcases.
Instructions for how to fold the luggage tags will be on each paper (usually in 3). When folded, you can staple each luggage tag onto the handles of your luggage. Make sure to bring a mini stapler with you, especially if you go to a hotel a night before your cruise.
You may want to bring some scotch tape to reinforce the paper luggage tags as well.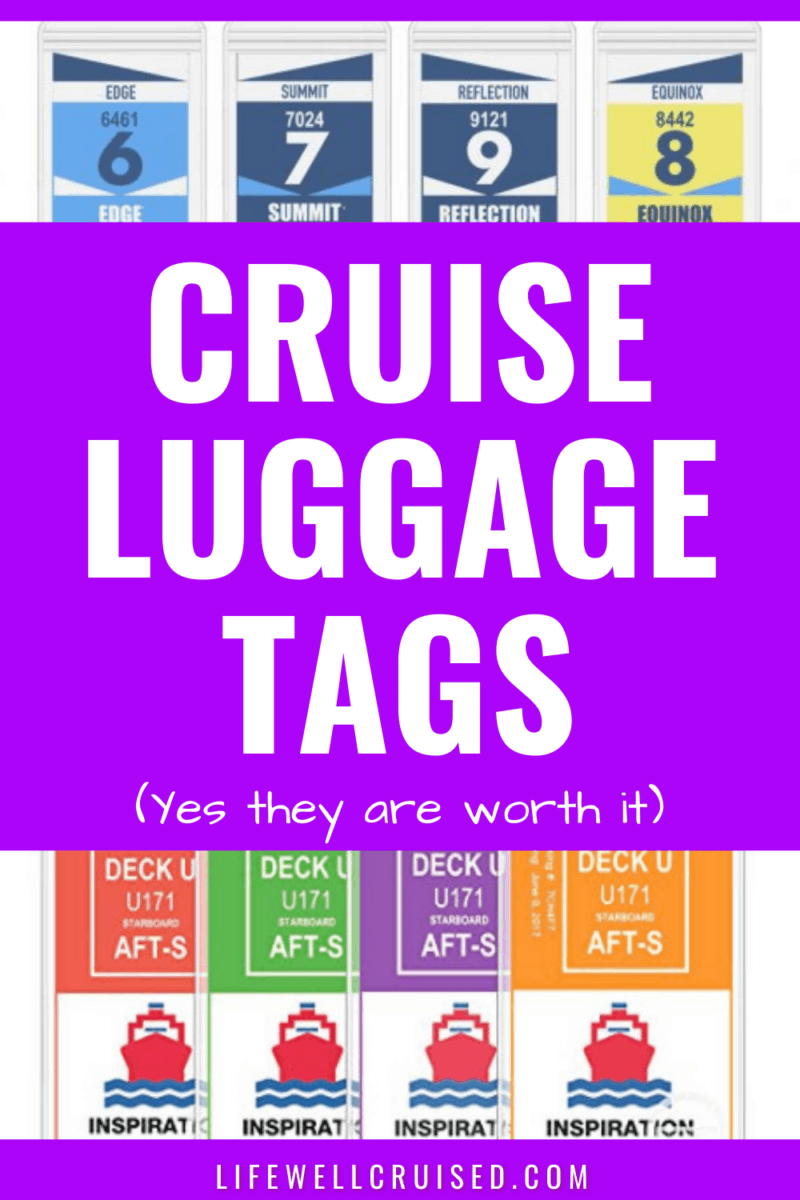 Should You Purchase Cruise Luggage Tag Holders?
Cruise luggage tags aren't a necessity for cruising, however they do make things much easier. By using the plastic luggage tag holders, you eliminate the need for stapling and using tape, and won't worry that paper luggage tags may fall off.
Cruise luggage tag holders are durable and reusable, and truly may be one of the best purchases you ever make for cruising.
Something to note is that some cruise lines use longer luggage tags, while others use shorter tags. Make sure to check to see which luggage tag holders are right for your cruise line. I've listed them below in this post for your convenience.
What if you forget your luggage tags at home?
In a worst case scenario, if you forget your luggage tags at home, you can ask the porters at the cruise terminal on boarding day for assistance. They will usually be able to provide you generic tags before embarkation.
Cruise Luggage Tags for Major Cruise Lines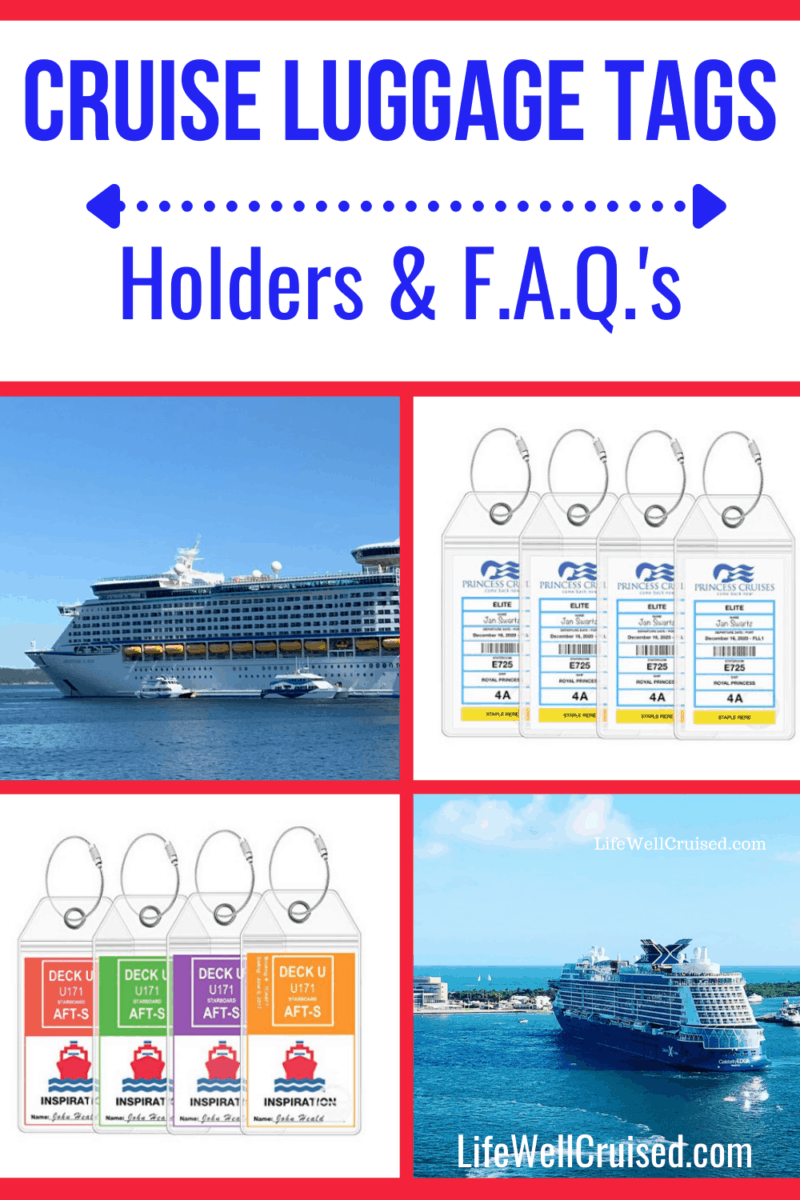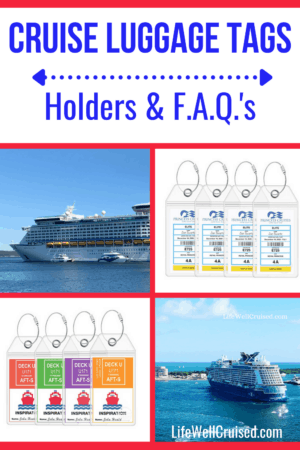 Here are the cruise ship luggage tag holders needed for each cruise line. Click on the link or the photos for pricing information, reviews and details (on Amazon).
All cruise luggage tag holders are made of clear plastic and are in waterproof pouch will keep your luggage tags dry in all weather conditions. The stainless steel metal rings are durable and rust-proof when exposed to water.
Get The Ultimate Cruise Planner
Regular price: $27 Now just $17!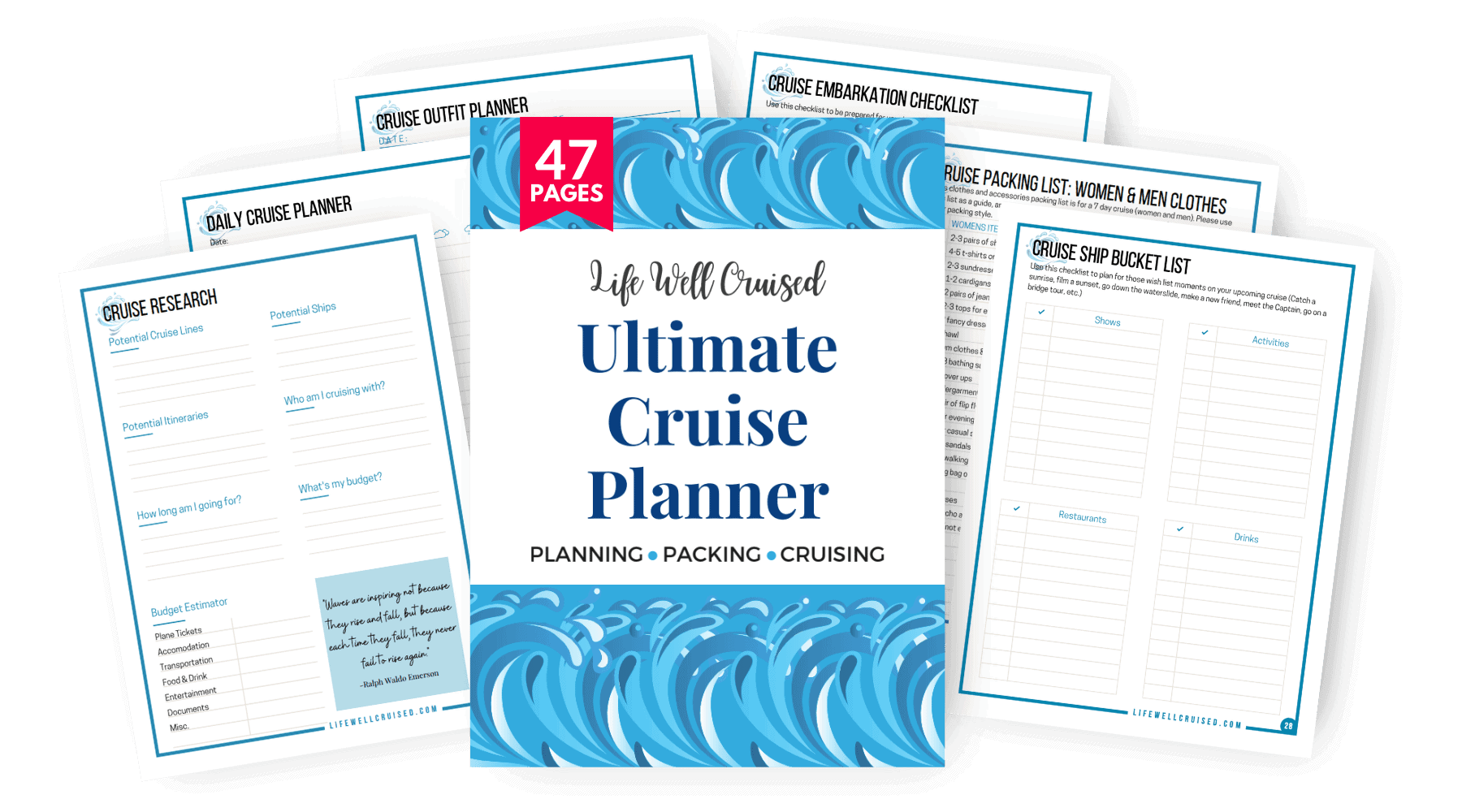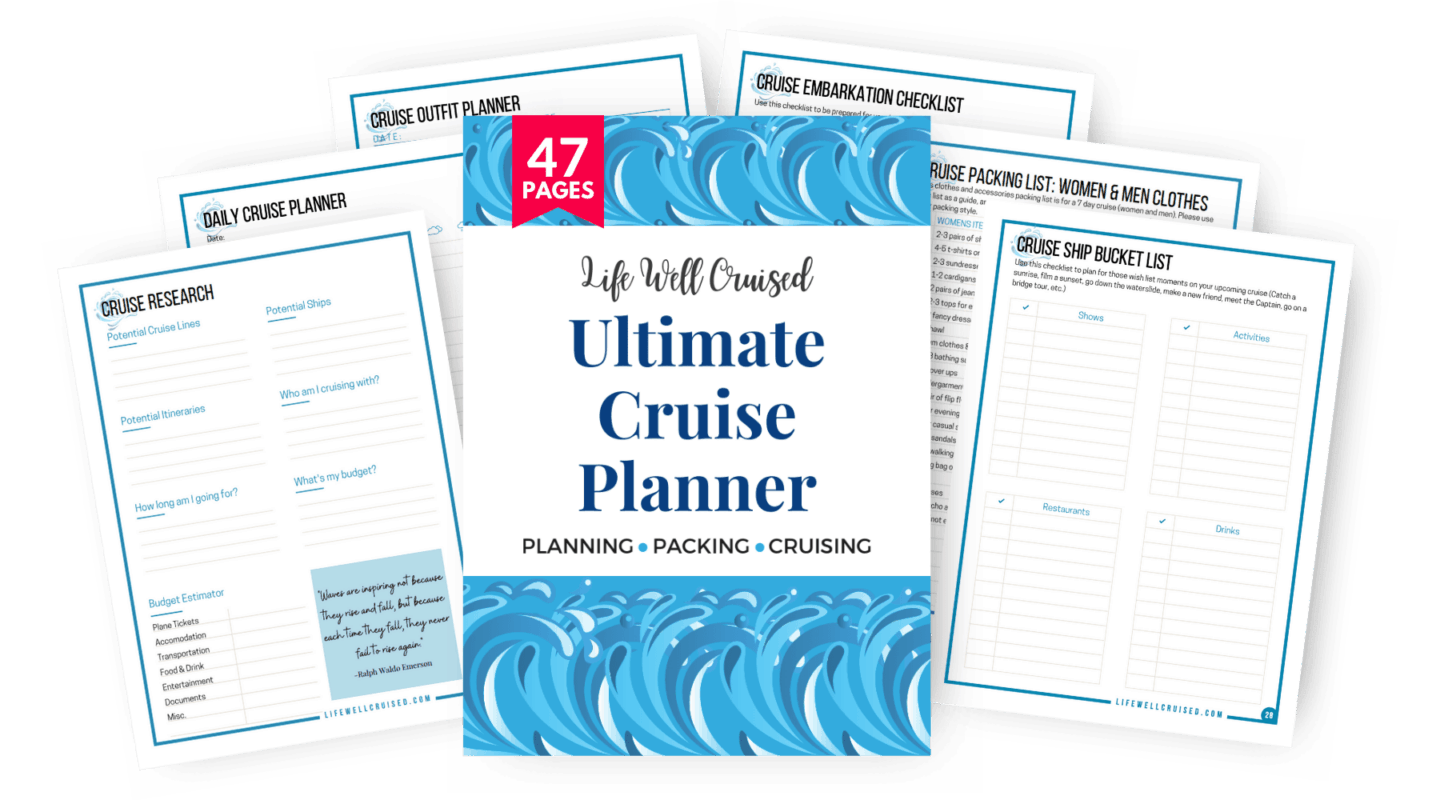 Planning a cruise? Here are some related posts that might be helpful
21 Best Luggage and Packing Accessories for a Cruise
What Toiletries to Pack for a Cruise
What to Pack for a Caribbean Cruise (packing list included)
25+ Most Recommended Amazon Items to Bring on a Cruise
23 Essentials to Pack in Your Cruise Carry-On Bag
Packing Cubes for Cruise Vacations
Have you used luggage tag holders for past cruises or do you print and staple? Please share your tips and experiences in the comments below.
Happy cruising!
Ilana
If you found this article helpful, please pass it along. Please feel free to share on Facebook or PIN to your favorite Pinterest board (share buttons at the top). Thanks so much!
Let's connect:
Follow me on Facebook at Life Well Cruised
Follow me on YouTube at Life Well Cruised
Follow me on Pinterest at Life Well Cruised
Follow me on Instagram at Life Well Cruised