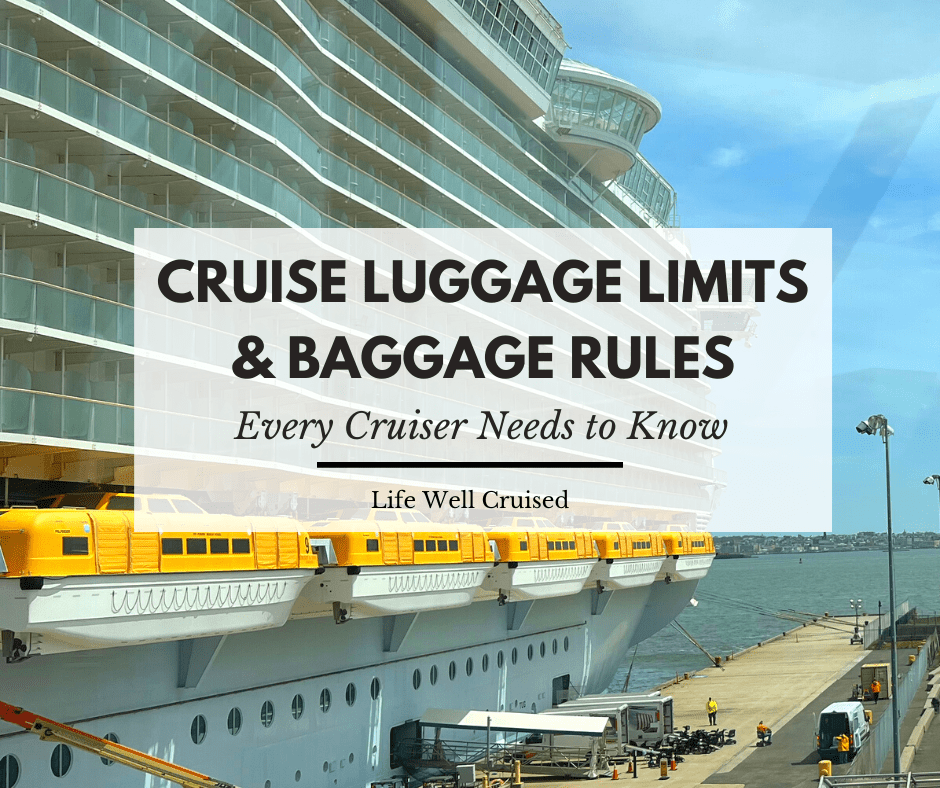 Are you going on a cruise and wondering about the cruise luggage restrictions, guidelines and baggage rules? Cruises are very different than going on a plane, and what you can and cannot bring when boarding a cruise is different too.
In this post, I go over the cruise luggage limits, guidelines for baggage weight and size, and go through some frequently asked questions that cruise passengers may have.
This post contains affiliate links which means if you click and buy that I may make a commission, at no cost to you. Please see my disclosure policy for details.
As an Amazon Associate I earn from qualifying purchases.
Cruise Line Luggage Policies, Baggage Size & Weight Limits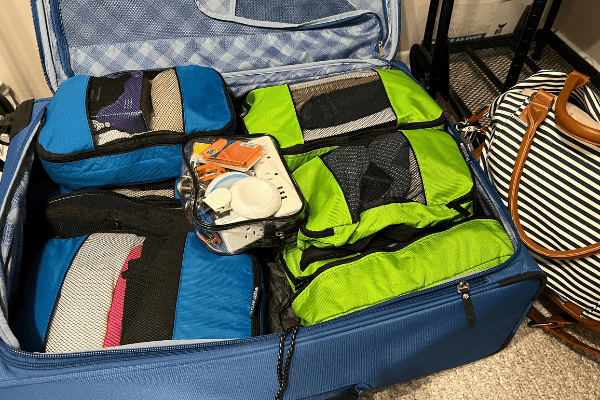 How Much Luggage Can I Bring on a Cruise?
Cruise lines aren't very strict about how much luggage you can bring, however they do have some suggestions and guidelines. A good rule of thumb is to pack 1-2 pieces of luggage per person, with a maximum weight of 50 lbs or 22.5 kg.
A carry-on bag for embarkation day is recommended. Remember to your carry-on bag or backpack with your cruise essentials for the day, medications, valuables and travel documents.
Something to note is that it can be tempting to overpack for a cruise, especially if you enjoy dressing up for dinners and formal nights. However, many cruise ships have a self serve laundrette or laundry services at an additional charge that you can use, if needed.
If you're trying to pack light for your cruise, you can rewear and repurpose some clothing as well, and no one will notice!
Some cruise lines have specific luggage limits posted on their website:
Norwegian Cruise Line
The luggage allowance for Norwegian Cruise Line is two pieces of checked luggage with a 50-pound maximum each, per passenger. Luggage should be clearly labelled with your name, address and contact number.
NCL suggests bringing a small carry-on bag or backpack when boarding, as can take a few hours after embarkation for your luggage to be delivered to your stateroom. This bag should also be used for the last night of your cruise, when luggage is collected before disembarkation.
Related: Norwegian Cruise Line Dress Code: What to Wear on a Freestyle Cruise
Carnival Cruise Line
Carnival Cruise Line suggests the following:
3-5 day cruises: maximum one bag per passenger
6 days and longer: maximum 2 suitcases per passenger
According to the Carnival website, "each checked suit case and carry-on suit case should not weigh more than 50 pounds, and when lying flat, bags must not exceed 16 inches high by 24 inches wide (the length of the bag is not a factor). For security screening purposes, all luggage should be unlocked. Oversized luggage and locked luggage may cause delivery delays."
Large coolers are not permitted onboard Carnival cruise ships. However, you can bring small quantities of soda in small, personal-sized cooler bags, no larger than 12 inches x 12 inches x 12 inches.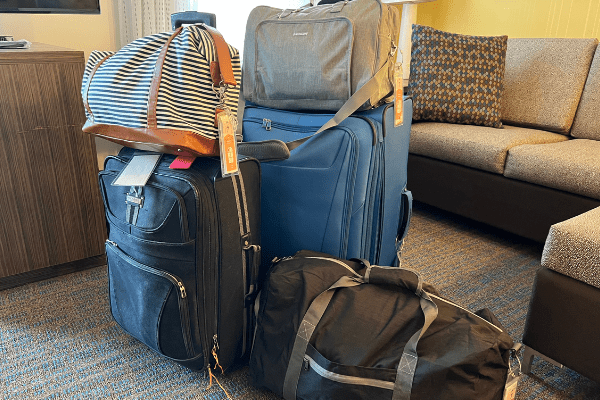 Princess Cruises
Princess Cruises does not impose luggage or weight limit. However they do point out that "many domestic airline carriers now impose excess baggage fees for one or more bags and bags weighing over 50 lbs." and advise cruise passengers to check with your carrier regarding weight restrictions.
Related: What to Pack for a Princess Cruise
Royal Caribbean
Royal Caribbean advises that each passenger "is permitted to carry a reasonable amount of personal property (including luggage) aboard the vessel; however, for your comfort and convenience, it is recommended that you limit the number of pieces you take. Each guest has the option to carry their luggage on board or check-in luggage prior to boarding. Luggage may include suitcases, trunks, valises, satchels, bags, hangers containing clothing, toiletries and similar items."
Related: What to Pack for a Royal Caribbean Cruise: The Ultimate Guide
MSC Cruises
If you're cruising with MSC, the cruise line posts the following luggage allowance per person:
two suitcases per person (maximum size 90x75x43 cm and 23 kg in weight per piece of luggage)
two pieces of hand luggage per person (maximum size 56x45x25 cm in size and 23 kg in weight per bag).
No matter which cruise line you are sailing with, it's a good idea to keep the number of bags you bring with to 1-2 suitcases a person, 1 piece of carry on luggage (a backpack or tote bag is fine), and a personal bag (ie. purse). Always check the airline restrictions.
Prohibited Items on a Cruise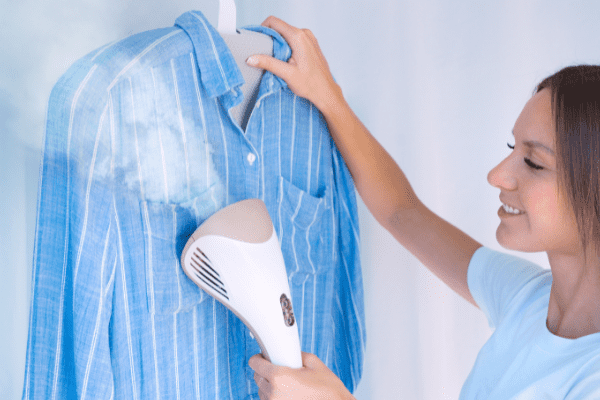 There are some items that guests are not permitted to bring onto a cruise ship. While each cruise line has their own list of prohibited items, there are some things that you are not allowed to bring on any cruise ship.
These include anything that is dangerous, can start a fire, or that may be illegal in some countries and ports of call.
Prohibited items on cruise ships include:
weapons and sharp objects (including knives)
candles (or items with open flames)
surge protected power bars
drugs (including cannibus products)
Liquor (most cruise lines)
Please note that most cruise lines do not allow you to bring liquor onboard, however a bottle of wine per person is often permitted on a cruise.
Hair dryers, straighteners and curling irons are allowed. You may also bring a non-surge protected power bar.
Related: 33 Prohibited Items You Can't Bring on a Cruise
Get The Ultimate Cruise Planner
Regular price: $27 Now just $17!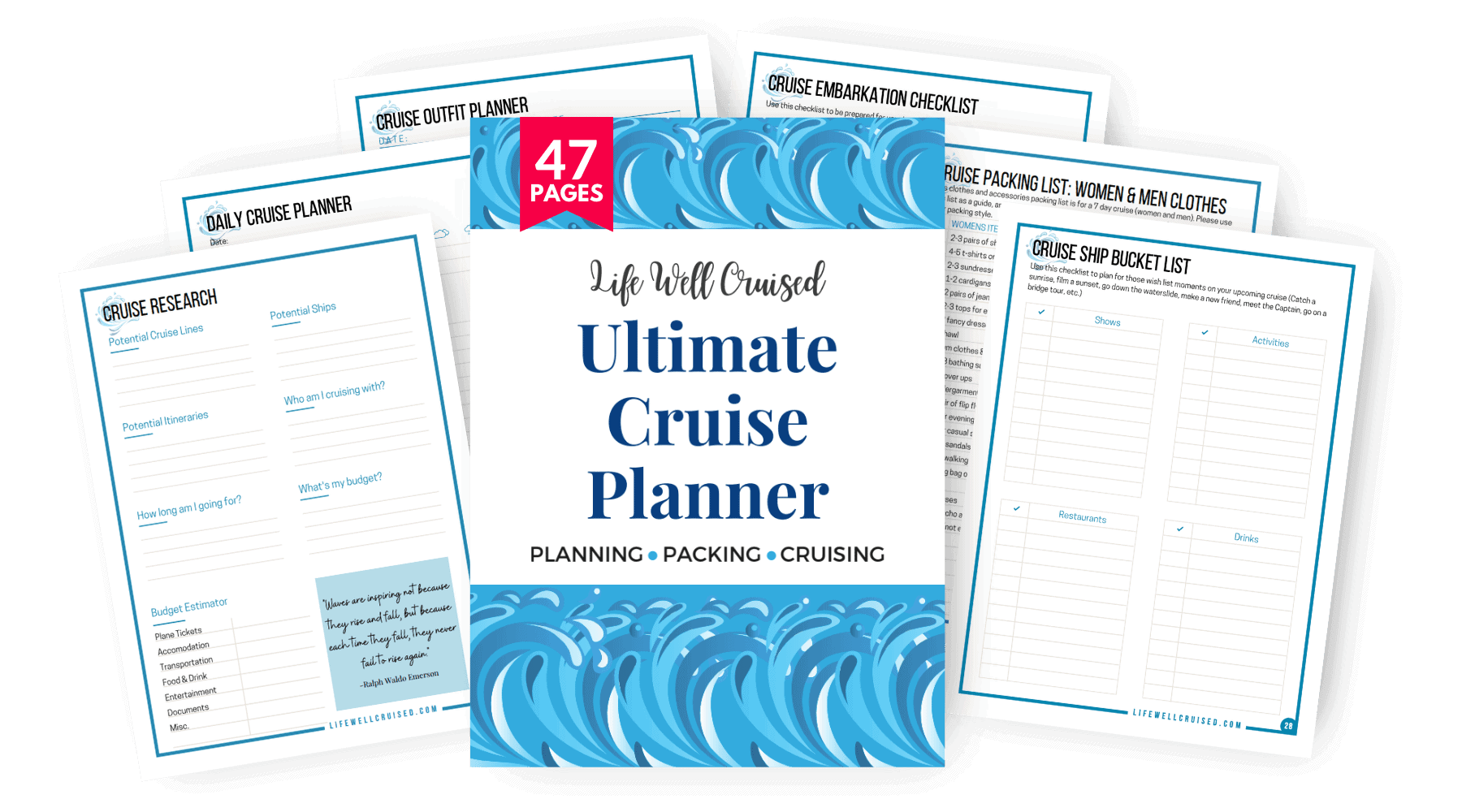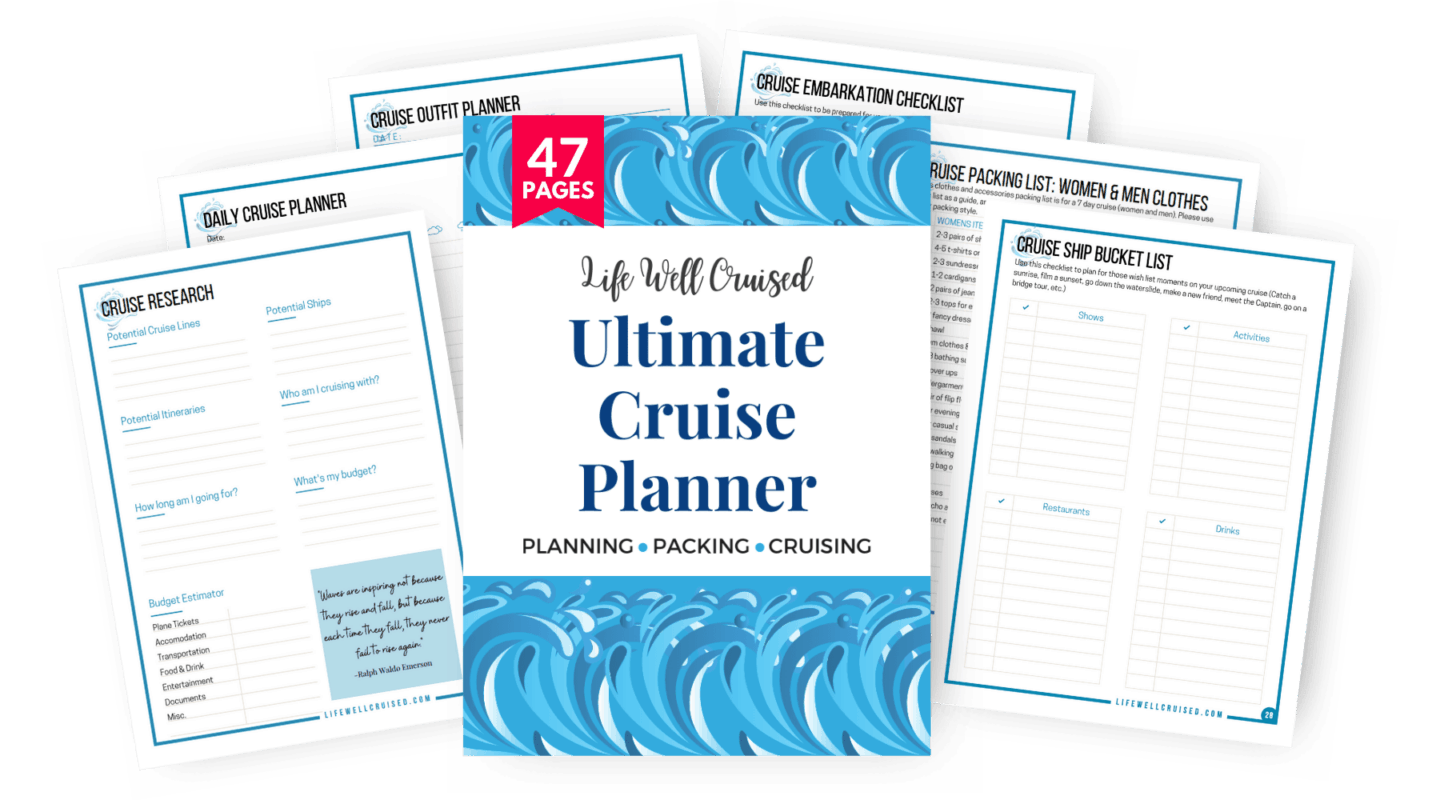 Cruise Luggage Tags
Once you complete your online check in for your cruise, you'll be able to print your luggage tags. You can print as many as you need and follow instructions to fold and staple the tags to your suitcases.
Many cruisers prefer to purchase reusable luggage tag holders, which can be securely attached to each piece of luggage.
Cruise luggage tag holders (by cruise line)
Here are the luggage tag holders by cruise line (Amazon links):
Please note that Disney Cruise Line does not have printed luggage tags.
Frequently Asked Questions:
Can You Carry Your Own Luggage on a Cruise?
You can carry on your luggage onto a cruise ship, however you'll only want to do so if you are packing relatively light.
The size of your carry on luggage must be able to fit through x-ray screening machines, as there are security checks as your enter the cruise terminal before boarding your cruise ship. The size of the x-ray screening machines are similar to the ones you'll find at airports.
Depending on the time you board your cruise ship on embarkation day, you may not be able to go to your cabin to drop off your luggage right away. Having a small carry-on bag and/or personal bag will be manageable, but having many pieces of luggage would be difficult.
Are There Baggage Fees on a Cruise?
Thankfully there are no baggage fees or additional charges on cruises at this time. Most cruise lines have suggestions for how much luggage to bring for a cruise, however we have never seen these allowances being monitored or enforced.
That being said, you do want to be careful when flying to and from your cruise port. Most airline carriers have strict luggage allowances and will change for excess baggage and weight or luggage.
Tip: Pack an electronic luggage scale for your cruise, to ensure your luggage is not overweight.
How Much Should I Tip Porters at the Cruise Terminal?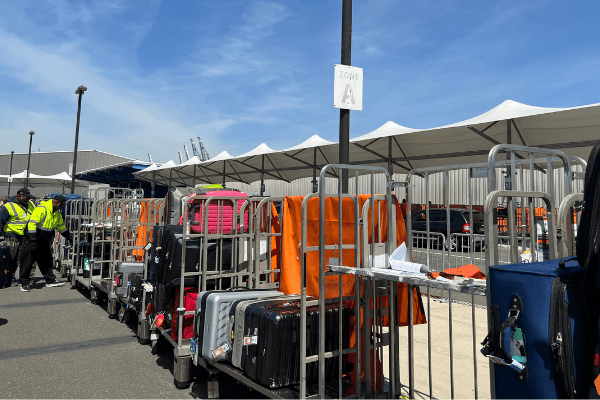 Tipping luggage porters at the cruise terminal is not mandatory. However it is customary to give a small tip per bag.
The amount will vary based on your discretion, however many cruise passengers say they tip between $1-5 per bag. It's a good idea to have some small bills ready as you approach the cruise terminal luggage drop-off zone.
Something to note is that luggage porters work for the cruise port terminal, and not the cruise line.
Related: The Ultimate Guide to Cruise Gratuities
What Should I Pack in my Carry-on Bag?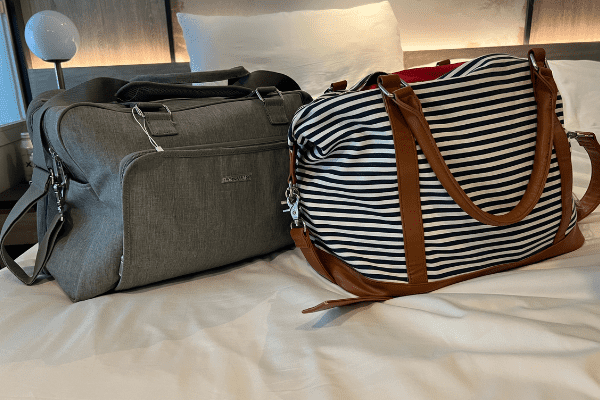 It's important to pack a few essentials in a small carry-on bag for your embarkation day, as it can take several hours to get your luggage delivered to your cabin.
Some items you may want to pack in your hand luggage include:
a change of clothes
swimsuit and cover up for the pool deck
personal items and/or make up to freshen up
medications
any valuables and electronic items
travel documents
You can find a comprehensive list of items to bring in your embarkation day bag here.
Video: Cruise Luggage Rules, Limits and Tips
In this video, I share more detailed information about cruise luggage allowances, rules and limits, as well as some cruise tips that you can use.
Related & Popular Posts
Get The Ultimate Cruise Planner
Regular price: $27 Now just $17!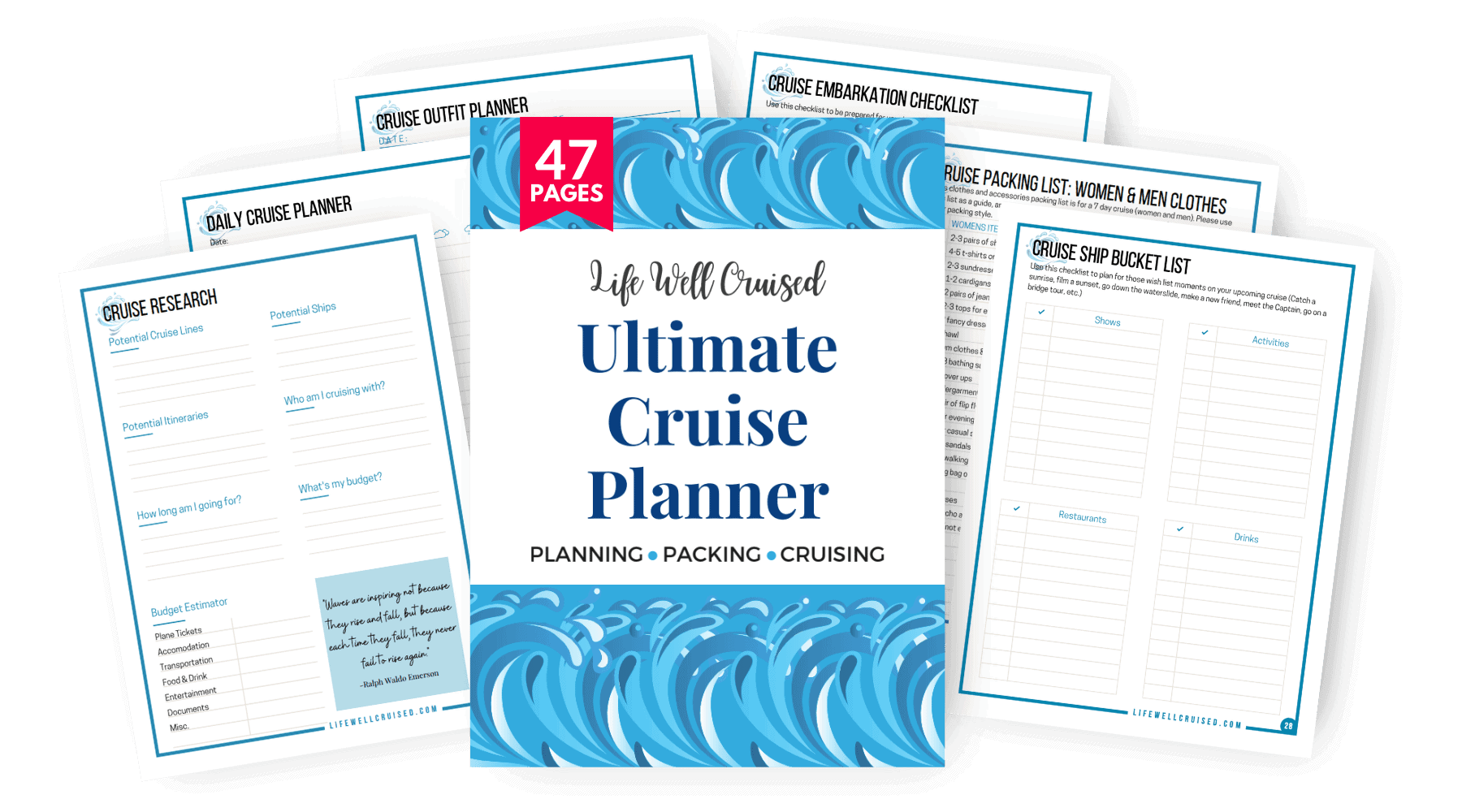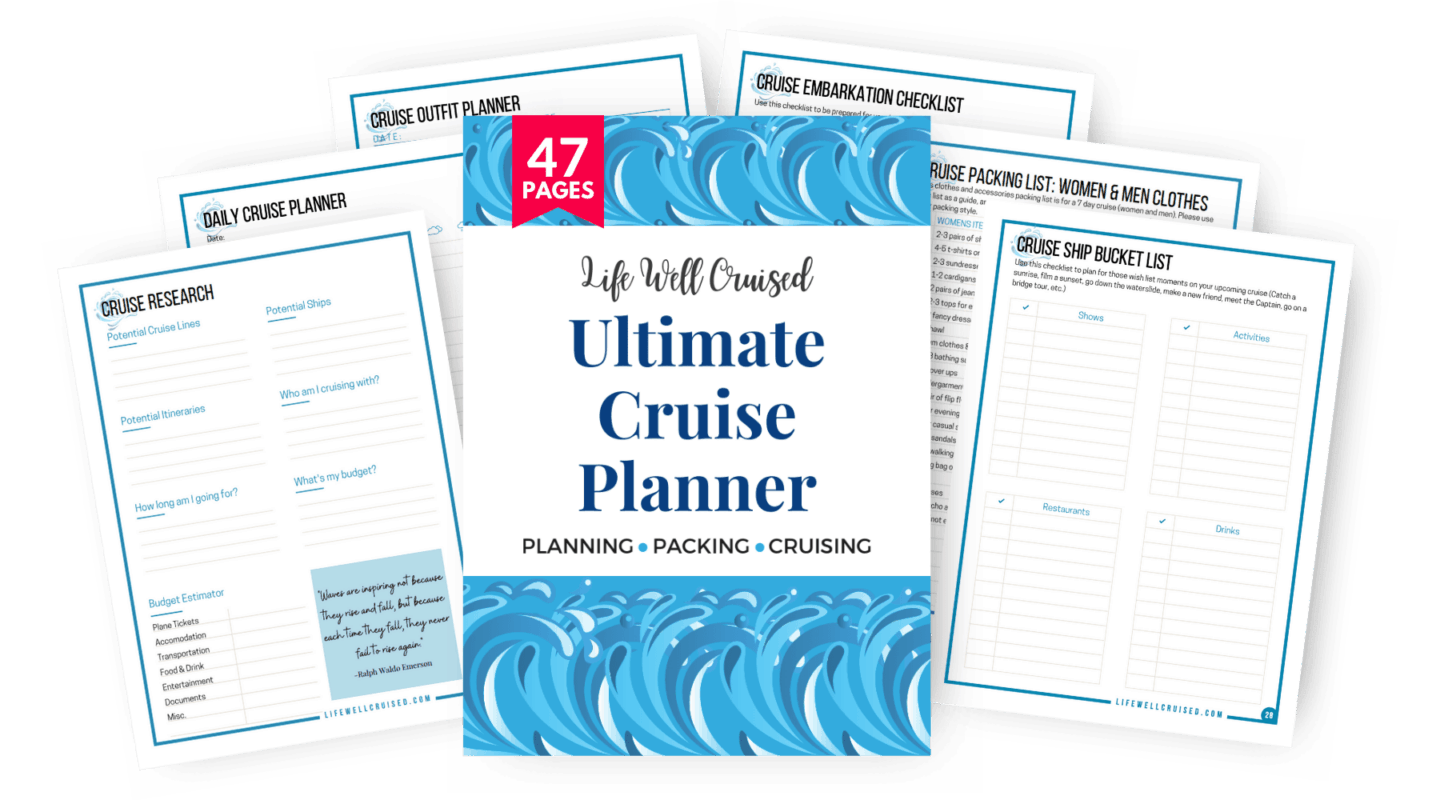 Final Thoughts on Cruise Luggage Restrictions and Baggage Rules
One of the great things about cruising, is that luggage restrictions, limits and rules are less strict than airlines. This makes it easier for cruise passengers to bring what they need, without worrying about weight limits and baggage fees.
Most cruise lines suggest bringing no more than 2 pieces of luggage per person, with a maximum of 50 lbs each. Even for those of us who tend to overpack, these cruise luggage guidelines seem quite reasonable.
Of course, it's important to check your air carrier's luggage policies if you are flying to or from your cruise embarkation port.
Do you have any questions about bringing cruise luggage rules and restrictions? Please let me know in the comments below.
Happy Cruising!
Ilana
P.S. If you found this helpful, please don't keep it to yourself ;-). Please share on Facebook or PIN to your favorite Pinterest board (share buttons at the top). Thanks so much!
Let's connect:
Join me on Facebook at Life Well Cruised
Join me on YouTube at Life Well Cruised
Join me on Pinterest at Life Well Cruised
Join me on Instagram at Life Well Cruised