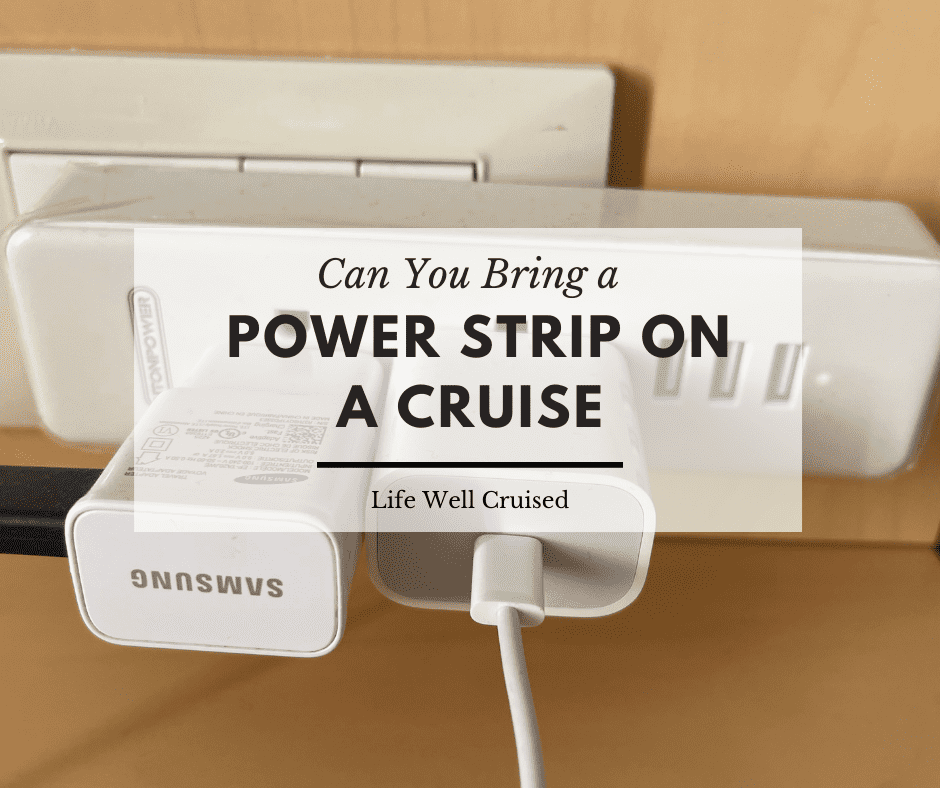 If you're going on a cruise, you might have heard that cruise ship cabins are notorious for not having enough electric and USB outlets (less than an average hotel room). Since many cruisers have cell phones, laptops, curling irons and other appliances, this is genuinely a bit of a problem.
I've been on over 25 cruises across several cruise lines, and even newer cruise ships seem to have this issue. But, there is a solution.
In this post I'll go over what you need to know about the rules for power strips on cruise ships and which cruise approved power bars are best.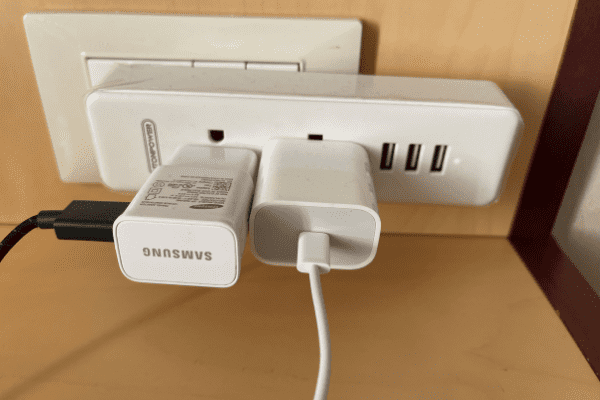 Can You Bring a Power Strip On a Cruise Ship?
Cruise lines prohibit bringing surge protected power strips and extension cords on cruise ships. This means the power bar that most people use at home won't be allowed on board, and will be confiscated if found.
While power bars with surge protection are not permitted on cruise ships, there are non-surge protected power bars and cubes that are accepted by cruise lines.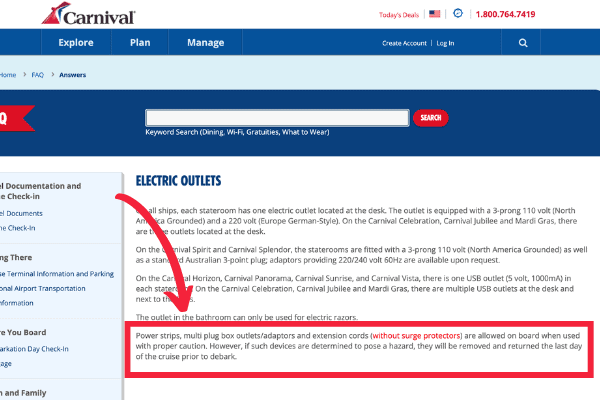 Extension Cords for CPAP Machines
If you need an extension cord for a CPAP machine, be sure to contact your cruise line or travel agent for guidance. Cruise ships may be able to provide you with a non surge protected extension cord onboard, or give you instructions for what to bring.
Which Power Bars Can You Take on a Cruise (non-surge protected)
This post contains affiliate links which means if you click and buy that I may make a commission, at no cost to you. Please see my disclosure policy for details.
As an Amazon Associate I earn from qualifying purchases.
One item that I cannot cruise without is a cruise approved power bar. Between charging our cell phones, iPad and laptop, I always seem to need the extra outlets. Add to that my travel hair dryer and curling iron – this is my most important cruise accessory!
When choosing your power strip, try to avoid any extension cords. Even short extension cords have been reported to have been flagged by cruise ship security when boarding on embarkation day.
Cruise Power Strip with No-Surge Protector with USB Outlets
This cruise power strip with USB's is one I highly recommend. It has 3 electric and 2 USB outlets, so it can be used for many devices. Since it is non-surge protected and doesn't have an extension cord, it is cruise compliant.
Recommended: Non surge protected power bar with USBs (see over 5000 5* Amazon reviews here)
Get The Ultimate Cruise Planner
Regular price: $27 Now just $17!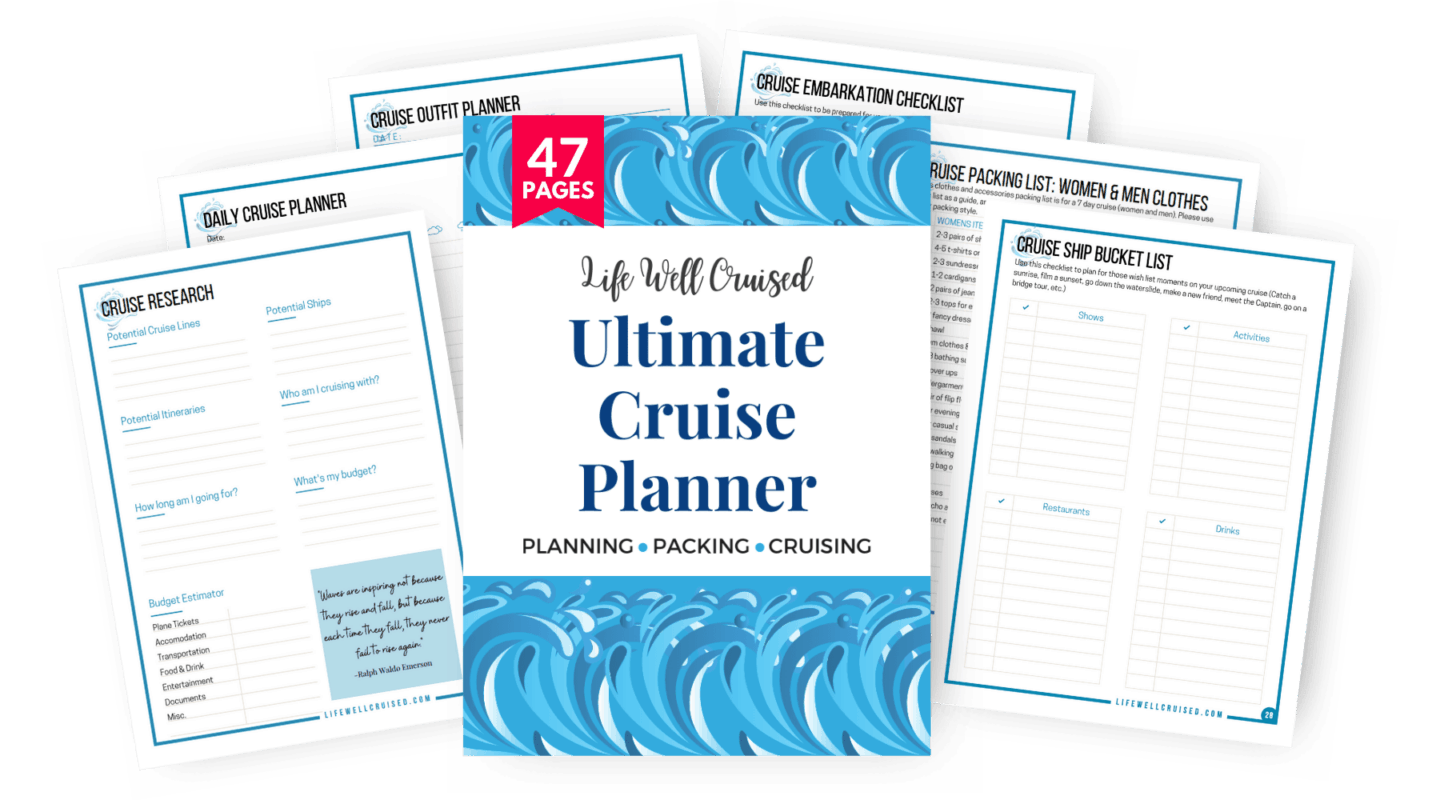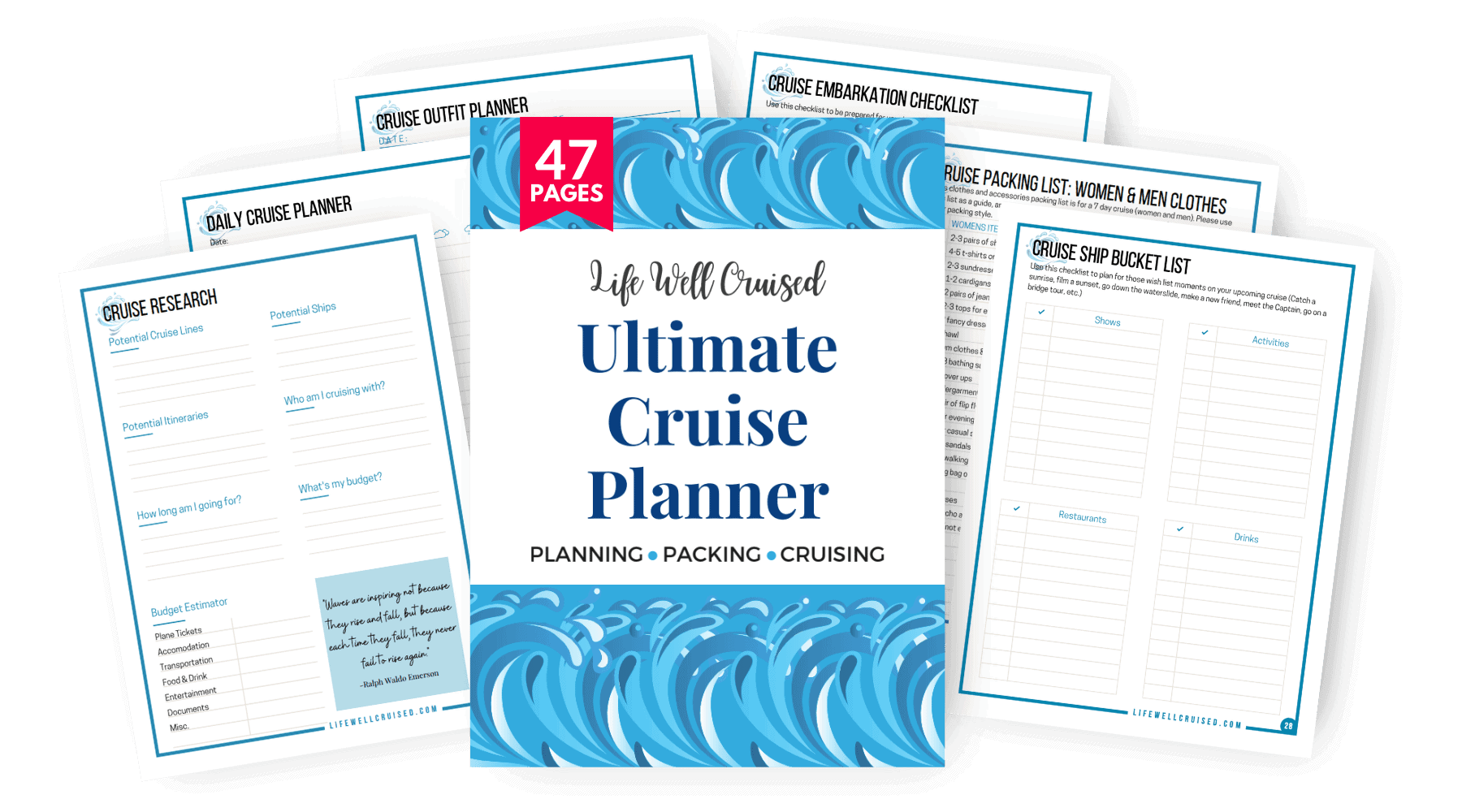 Why Are Power Strips Not Allowed on Cruise Ships
Surge protected power strips are not allowed on cruise ships, and will be confiscated if found. But why?
Cruise lines point to the fact that surge protected power strips and extension could pose a hazard. However, the specific answer to why power strips are prohibited on cruises is hard to find and back up on cruise line websites.
However, explanations across the internet include that surge protectors may interfere with the cruise ship's electrical system and even potentially cause a fire, since a cruise ship is wired differently from buildings on land.
Here's a document from the United States Coast Guard issuing a Marine Safety Alert about Surge Protective Devices Onboard Vessels. The document details 2 separate stateroom fires, which they attribute to the use of surge protected devices.
"A marine casualty investigation of two separate
stateroom fires onboard a U.S. Flag Container
ship revealed that the sources of the fires were
attributed to the use of SPDs plugged into a
lighting circuit. It was discovered that a ground
had developed on another circuit that was
connected to the same distribution panel
providing power to the staterooms. This ground
created an imbalance of voltage between the
two power conductors supplying the SPDs
which caused excessive currents, overheating,
and subsequently, a fire."
The Coast Guard document goes on to recommend "that vessel Owners, Operators, Class Society Surveyors, Insurers, and other inspection personnel examine the risks associated with the use of SPDs aboard their vessels, and if necessary ensure their organizations have policies and procedures relating to their use"
Power Strip & Items to Bring on a Cruise
In addition to a non surge protected power strip, here are some of the most useful travel essentials to pack for a cruise.
Looking for more cruise accessories? Here are more than useful cruise items in this post: 50 Popular Amazon Cruise Essentials Cruisers Love
Get The Ultimate Cruise Planner
Regular price: $27 Now just $17!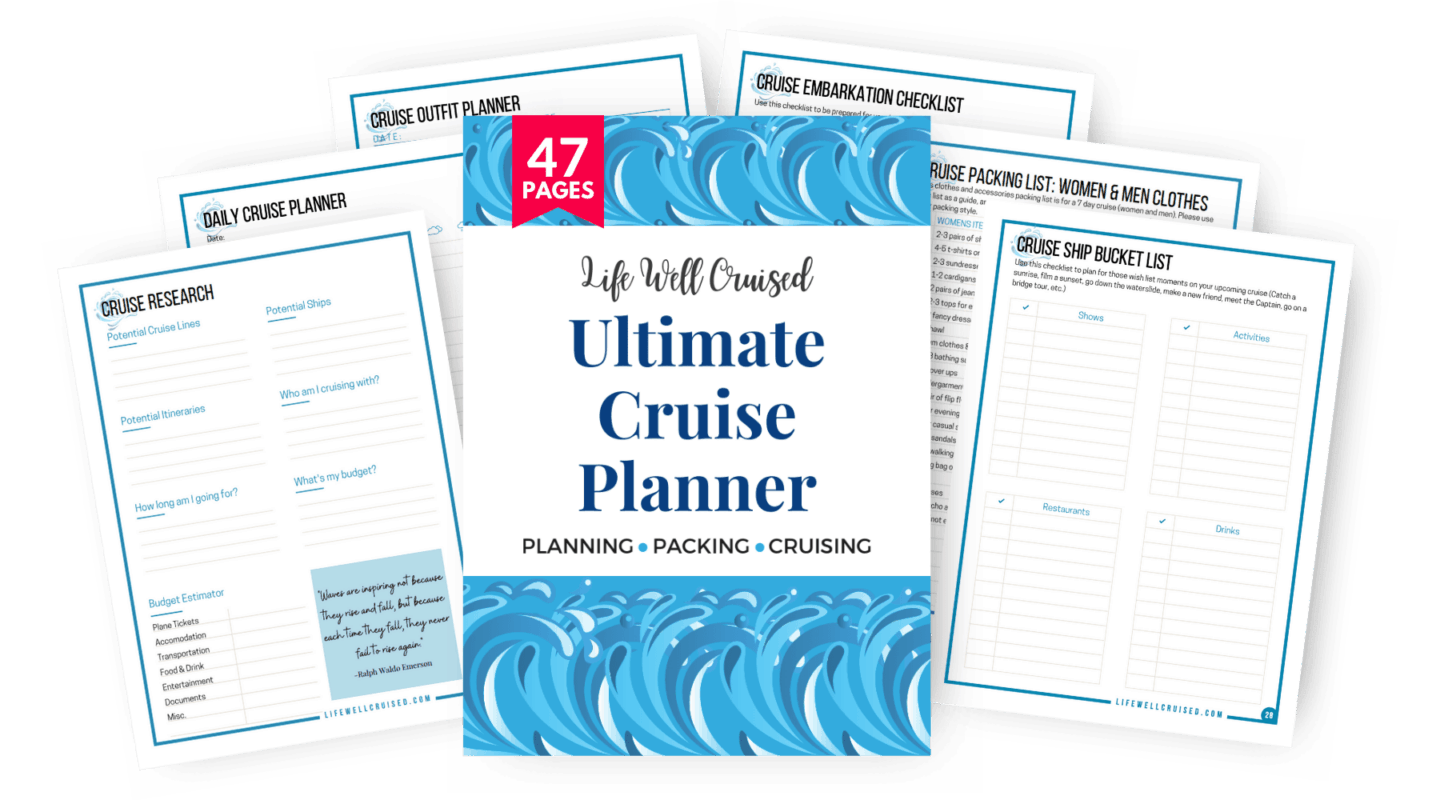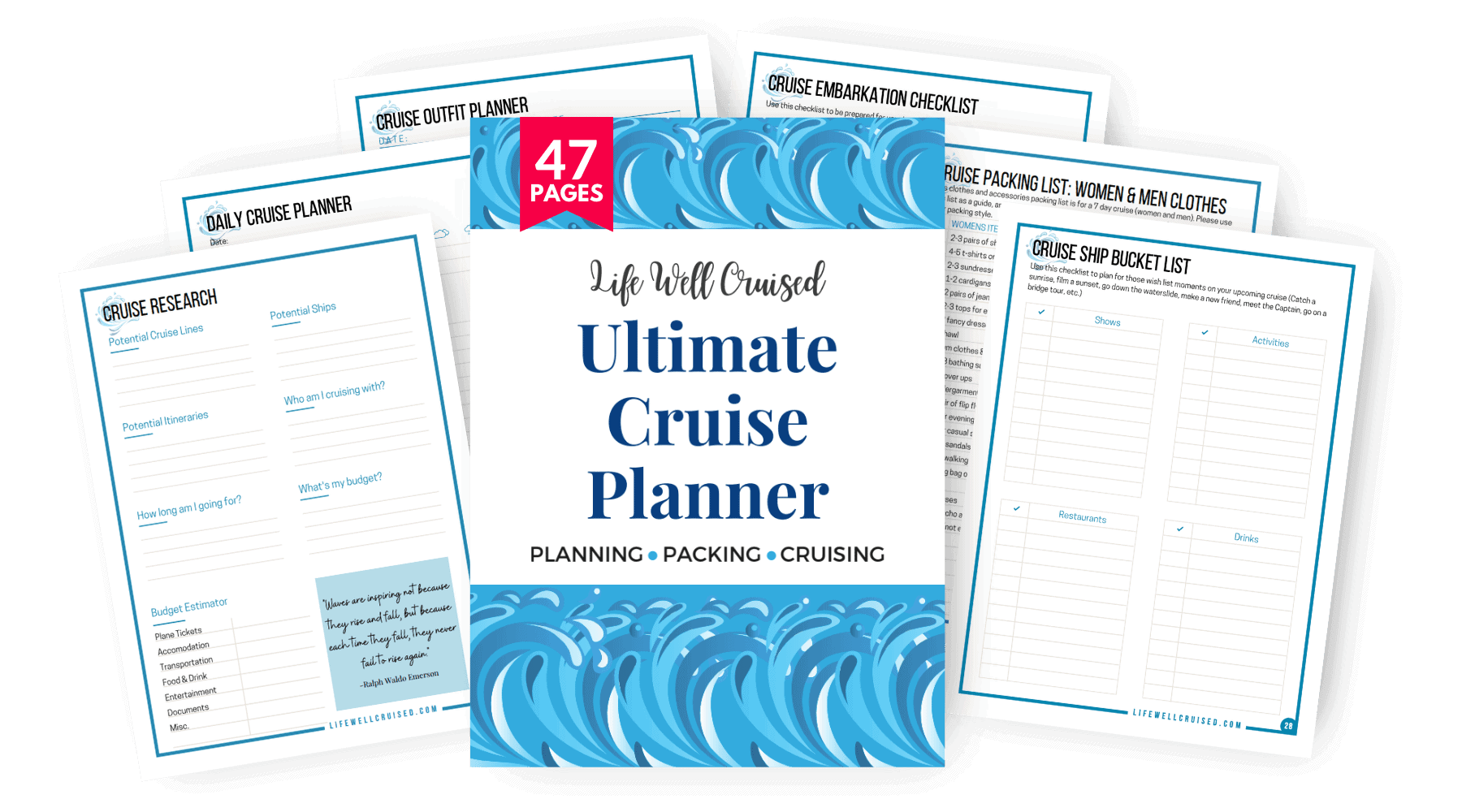 Related & Popular Posts:
Final thoughts on Bringing Power Strips on Cruise Ships
Bringing a non-surge protected power strip on a cruise is a pro cruiser "secret"!
Have you brought a cruise complaint power bar on a cruise? Please let me know in the comments below.
Ilana
P.S. If you found this helpful, please don't keep it to yourself ;-). Please share on Facebook or PIN to your favorite Pinterest board (share buttons at the top). Thanks so much!
Let's connect:
Follow me on Facebook at Life Well Cruised
Follow me on YouTube at Life Well Cruised (Vlogs and cruise tips)
Follow me on Pinterest at Life Well Cruised
Follow me on Instagram at Life Well Cruised