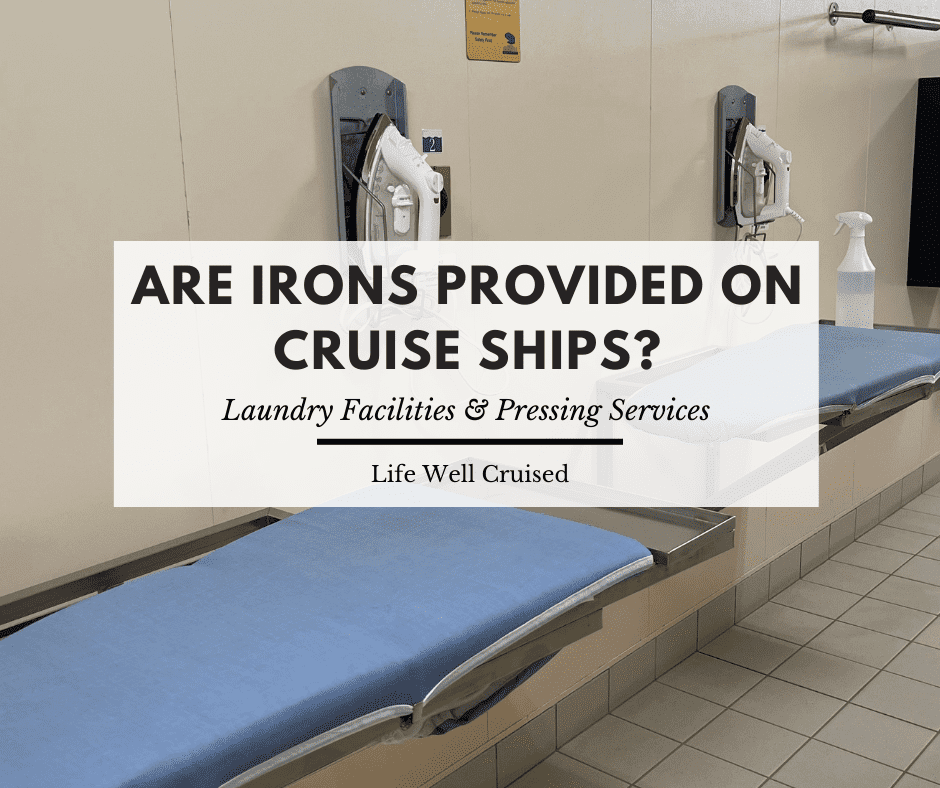 Cruises have some differences between resort or hotel vacations. A big one is that cruise ships will not have an iron or ironing board in your stateroom. In fact, because irons and steamers are fire hazards, they are on a list of prohibited items that you cannot bring onboard your cruise.
On my first cruise, I wondered how people kept there cruise outfits looking good and wrinkle free. In this post, I share which cruise lines and cruise ships have self-serve laundry options and irons for guests to use. As well, I've included alternatives to ironing, if your cruise ship doesn't have this option.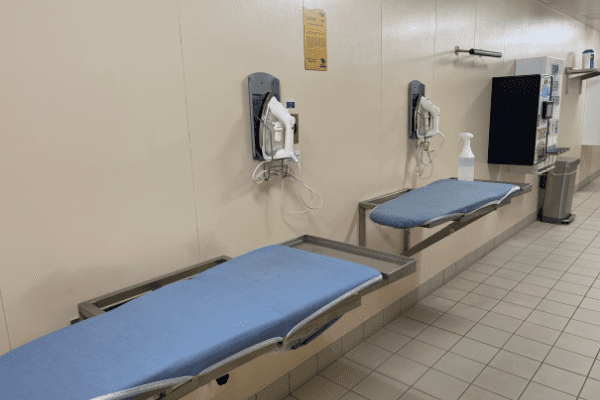 Are There Irons on Cruise Ships?
Since they are a fire hazard, cruise ships do not provide irons or ironing boards in passenger cabins. However, depending on the cruise line, you may have a small self serve laundromat available to use onboard or be able to request to borrow an iron and ironing board from housekeeping.
All cruise ships have laundry and pressing services available for a fee. If you're going on a longer cruise, keep an eye out for laundry specials offered during the second half of your cruise.
This post contains affiliate links which means if you click and buy that I may make a commission, at no cost to you. Please see my disclosure policy for details.
As an Amazon Associate I earn from qualifying purchases.
Cruise Lines with Self Serve Laundry Facilities & Irons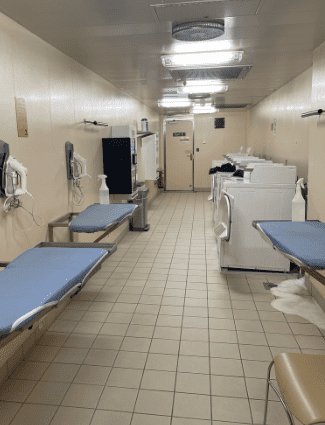 Some cruise ships have small laundromats on certain decks where you can use washing and drying machines, as well as an iron and ironing board. Unfortunately, not all major cruise lines have self serve laundry options available.
Here's a list of cruise lines that currently offer self serve laundry facilities to guests.
Azamara
A self service landromat is available on Azamara, with machines and detergent offered free of charge.
Carnival Cruise Line
Carnival cruise ships have self service laundry machines available for a small fee. You can purchase laundry detergent as well. For those that need it, irons and ironing boards are available free of charge.
Cunard
Cunard cruise ships have small laundromats on board where guests can use the washing machines, dryers as well as irons and ironing boards free of charge. Laundry detergent is complimentary as well.
Disney Cruise Line
Self serve laundromats are available on Disney cruise ships. There is a small fee to use the machines and purchase laundry detergent.
Holland America Line
Holland America has self service laundry facilities available on certain ships (mostly older). There is a small fee to use machines, however irons and ironing boards are complimentary.
You may want to take a look at the laundry packages available with HAL, as they are a pretty good value.
Princess Cruises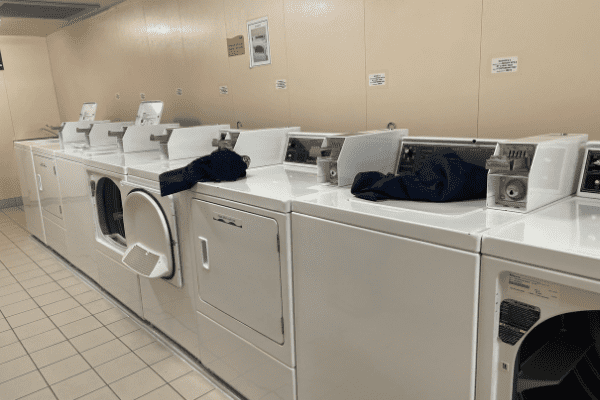 Princess Cruises have self serve laundrettes available on their cruise ships. Washers, dryers and laundry detergent have a small fee. Irons and ironing boards are free to use within the laundry rooms, available on several passenger decks.
Oceania Cruises
Laundry facilities are provided on Oceania cruise ships. There is a nominal fee to use washers and dryers. Irons and ironing boards are complementary.
Viking Cruises
Self serve laundry facilities are available free of charge on Viking ocean cruises, including the use of irons and ironing boards.
Get The Ultimate Cruise Planner
Regular price: $27 Now just $17!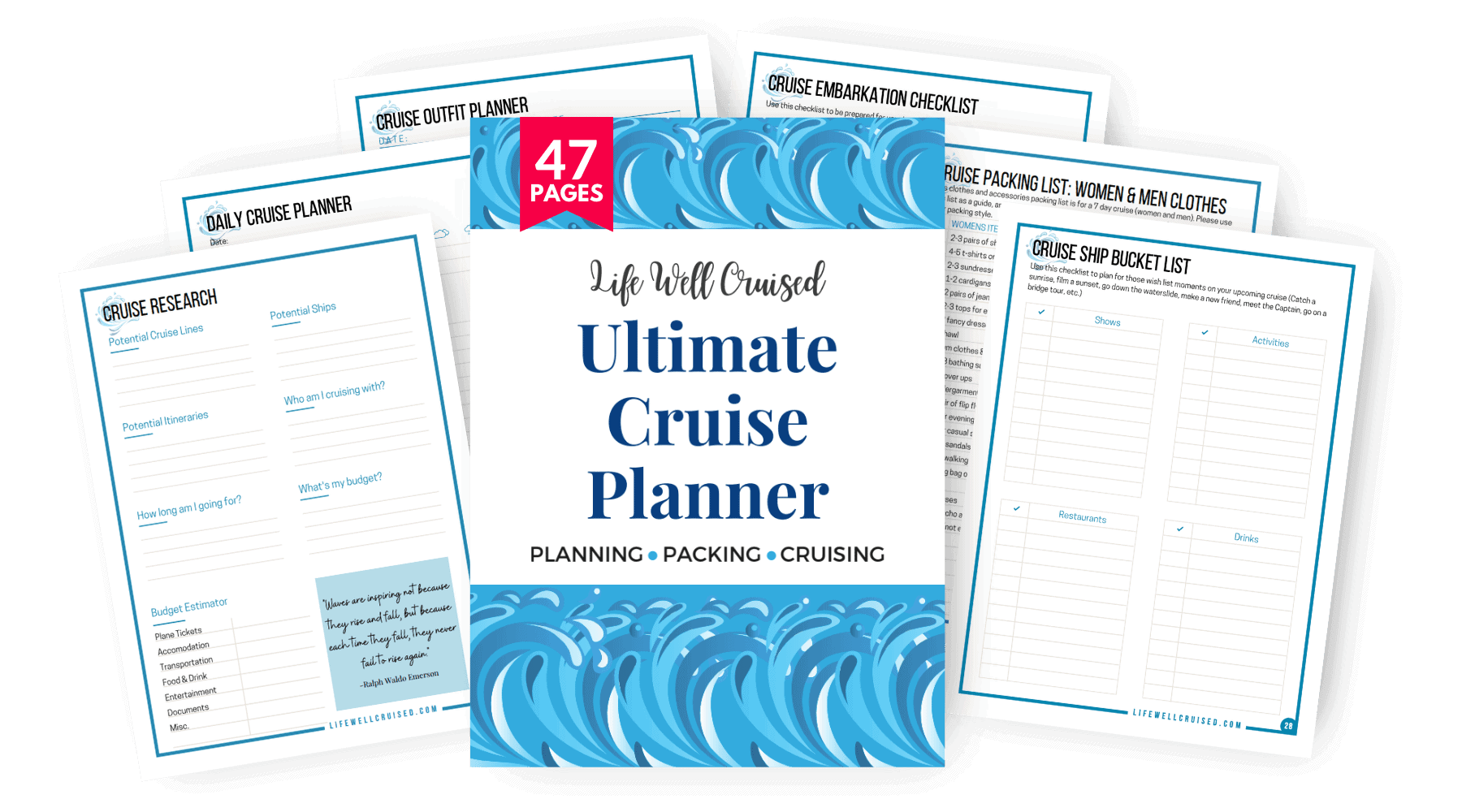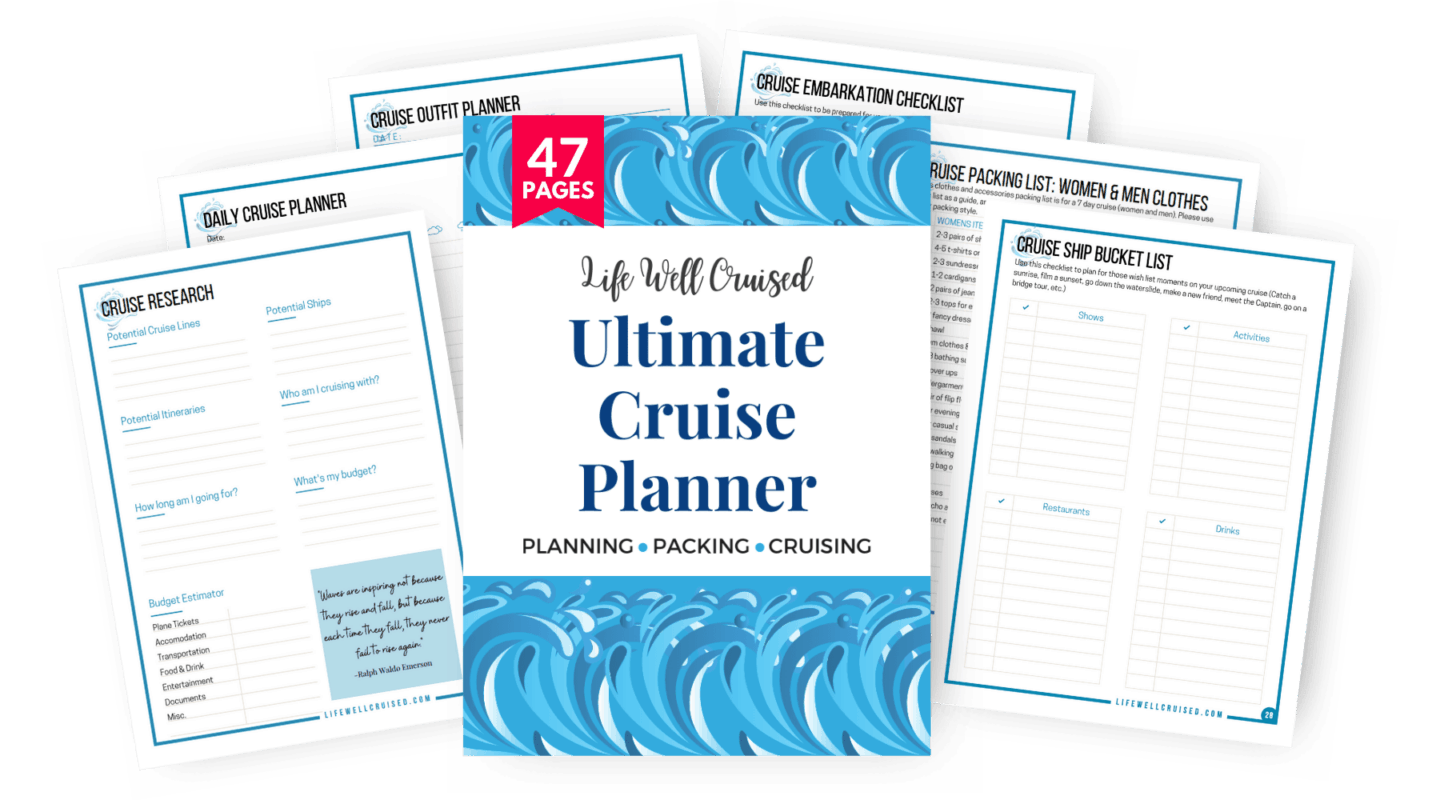 Can You Borrow an Iron from Housekeeping on a Cruise?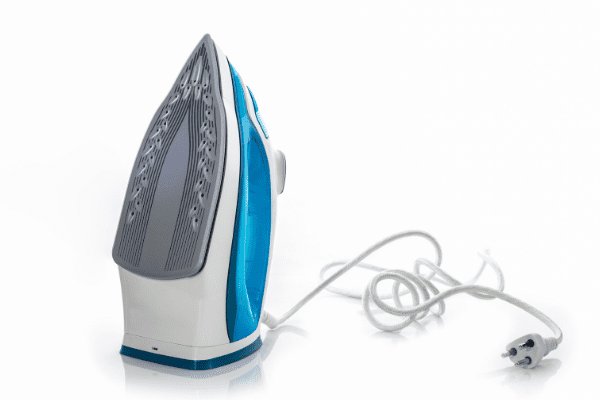 Going on a Norwegian cruise? According to their website, Norwegian Cruise Line has a limited number of irons and ironing boards available on their cruise ships which can be loaned to guests to use in their cruise cabin.
More about Norwegian Cruise Line:
What to Wear on a Norwegian Cruise (day & evening)
Norwegian Cruise Line Beverage Packages: What's Included
Norwegian Cruise Line's Free at Sea Perks Explained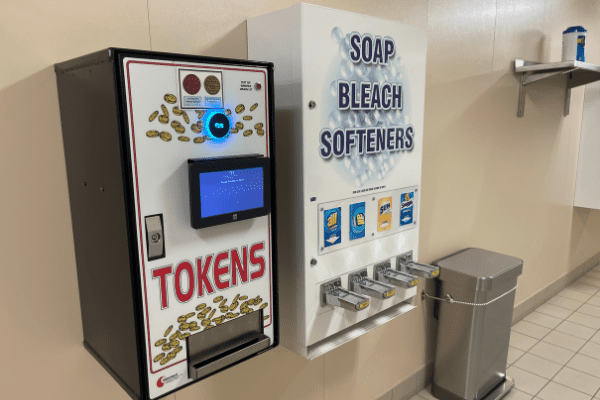 Cruise Laundry and Pressing Service
Most cruise lines offer a laundry and pressing service for a fee. Items are usually priced individually, ranging from about 2$-10$ per clothing item. Some cruise lines offer a laundry special where items are not priced individually (ie. $30 a filled bag).
For formal nights, I often use the service and have suits, dress shirts and cocktail dresses pressed. Since formal or chic evenings are often the second night of the cruise, make sure you send your items to press as soon as possible on embarkation day, to get them back on time.
Free or Discounted Laundry Services (Loyalty Programs)
If you are part of the cruise line's loyalty program, you may have free or discounted laundry services. For example, Princess Cruises has free laundry services (including laundry and pressing) for Elite Captain Circle members. Celebrity Captain's Club members get a discount depending on their loyalty level, with top tiers receiving free laundry and pressing throughout the cruise.
Frequently Asked Questions – Irons & Steamers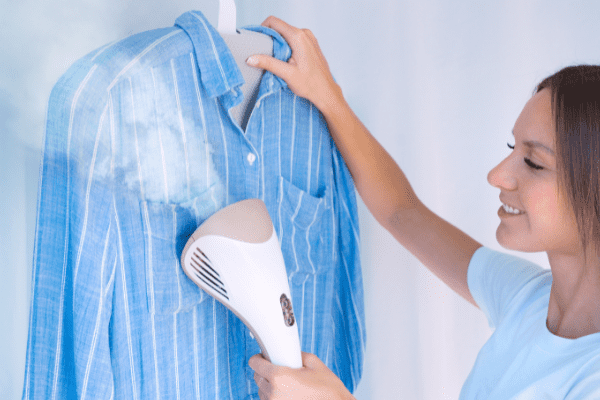 Can You Bring a Clothes Steamer on a Cruise?
Clothes steamers, like irons, are usually prohibited and should not be taken onboard your cruise ship.
Wondering what else isn't allowed or necessary to bring? Here's a list of things not to pack for a cruise.
Can You Sneak an Iron on a Cruise?
While you may be able to "sneak" anything onto a cruise ship, trying to bring an iron on board just isn't a good idea. There is very little that is more dangerous on a cruise ship than a fire, so cruise lines take this seriously. Please don't put others at risk by attempting this.
What Happens if You Bring an Iron or Steamer on a Cruise?
If you bring an iron or steamer on your cruise, it will be taken and confiscated until the end of the cruise. After disembarking your cruise ship, there will be a small table where you can pick up any confiscated items. It seems that although many people are aware that irons are not allowed on a cruise, clothing steamers might be a surprise.
Read next: 10 Things Not to Pack for a Cruise
Dealing with Wrinkles from Packing
Downy Wrinkle Release
One of the must-have cruise accessories that I always pack, is Downy Wrinkle Release. A small travel size bottle will do.
While it doesn't get clothes as crisp looking as pressing or ironing, if you've ironed your clothing before you pack, this should work to "release" the wrinkles.
My trick is to hang the item and use some shower steam after a spray of the wrinkle release spray. Holding the item and tugging gently after the spray is a crucial step as well.
Recommended: Downy Wrinkle Release (travel size)
Steam
Using the steam from your shower may just be enough to get wrinkles out of clothing. Some people use a hair dryer after to help decrease items.
Use a Hair Straightener
Did you know that although you cannot bring an iron on a cruise, hair straighteners are allowed? Although I haven't done it, I've heard of many ladies using a little hair straightener trick to iron out a stubborn wrinkle in a pinch.
Related: Do Cruise Ships Provide Hair Dryers? (should you bring your own)
Prevent Wrinkles in clothing with these tips: How to Pack Wrinkle Free for a Cruise
Hand Washing on a Cruise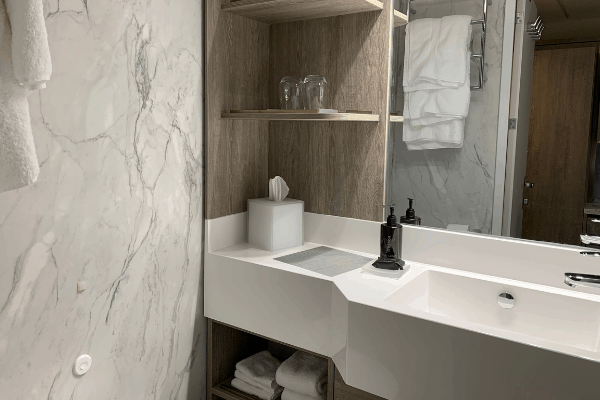 Even if a cruise ship doesn't have self serve laundry facilities, you can still wash some clothing items in your cabin. For intimates, bathing suits, items with stains, or even items you want to wear again, simply wash in your cruise stateroom bathroom sink.
There may not always be a clothesline in the bathroom shower, but using magnetic hooks to hang items on the cabin wall is a good solution.
Magnet hooks
Magnet hooks are an experienced cruiser's "secret". Most cruise cabin walls are metal, so heavy duty magnet hooks are a great way to organize your stateroom.
Recommended: Magnetic hooks (heavy duty ones that work)
Get The Ultimate Cruise Planner
Regular price: $27 Now just $17!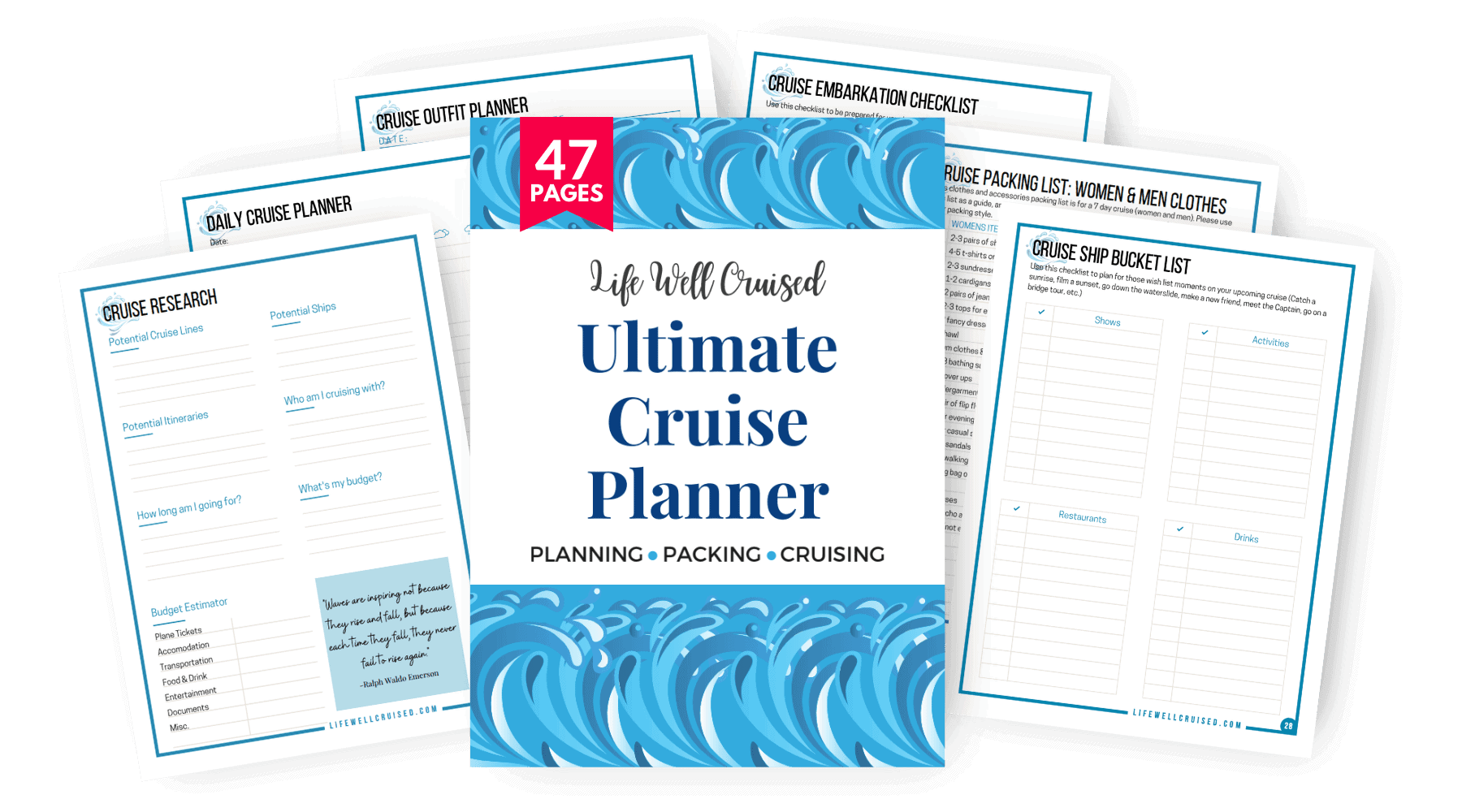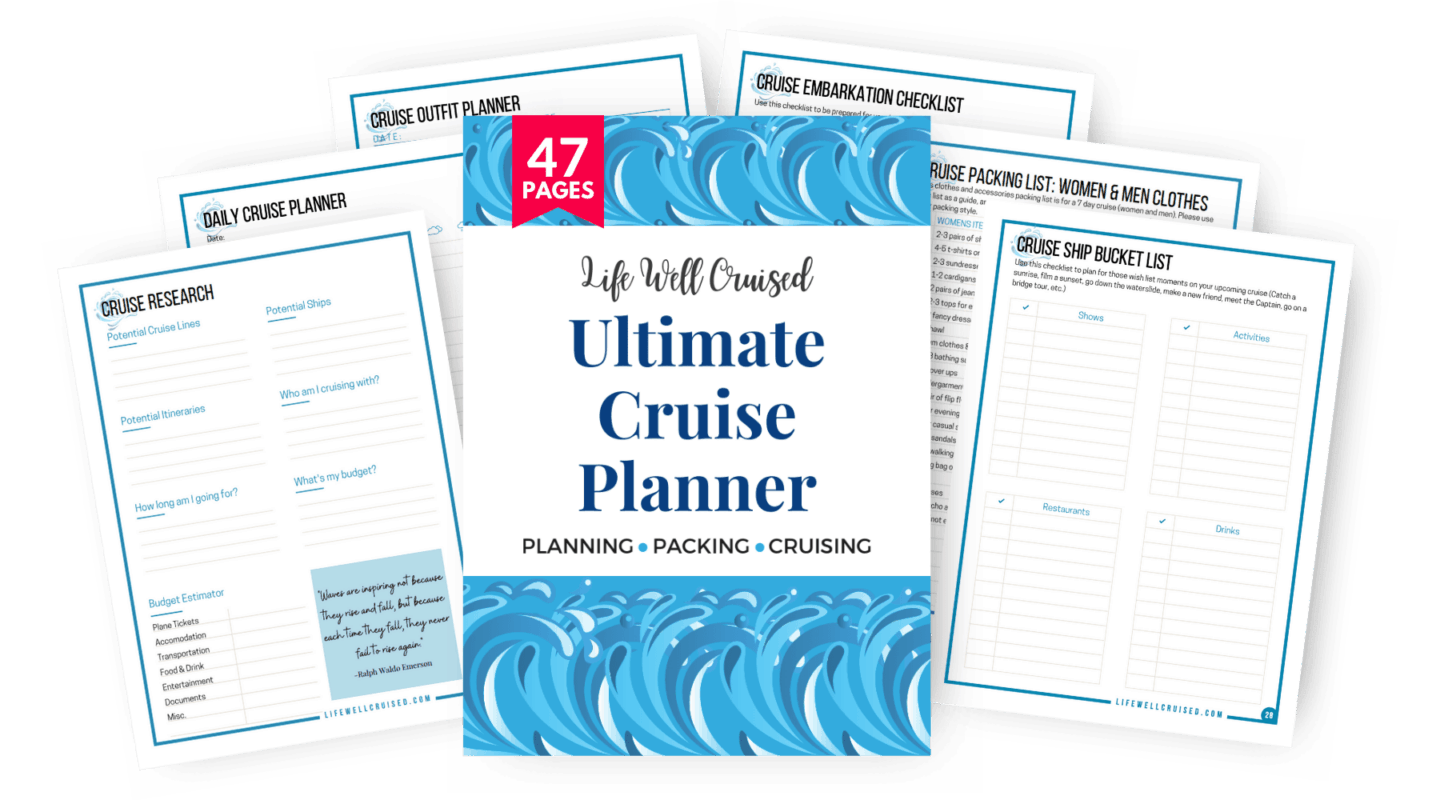 Read next:
30 Cruise Cabin Hacks Every Cruiser Needs to Know
What to Pack for a Caribbean Cruise (full packing list included)
How to Pack Light for a Cruise
40+ Dollar Store Items to Bring on a Cruise
13 Things to Bring on a Cruise that Will Save You Money
17 Cruise Ship Cabins to Avoid
The Ultimate Guide to Cruise Ship Gratuities
Final Thoughts
Since everyone is in the same boat (cruise pun intended), don't overstress if your clothes aren't as neatly ironed as they may be at home. However, you can often use an iron at the self serve laundry facilities on some cruise ships or send your items to the laundry and pressing service.
Many cruisers also use some handy cruise essentials (downy wrinkle release and magnet hooks) to loosen wrinkles that tend to occur from packing.
Have you used the laundromats or laundry services when cruising? Please share your tips and experiences in the comments below.
Happy Cruising!
Ilana
If you found this article helpful, please pass it along. Please feel free to share on Facebook or PIN to your favorite Pinterest board (share buttons at the top). Thanks so much!
Let's connect:
Follow me on Facebook at Life Well Cruised
Follow me on YouTube at Life Well Cruised
Follow me on Pinterest at Life Well Cruised
Follow me on Instagram at Life Well Cruised