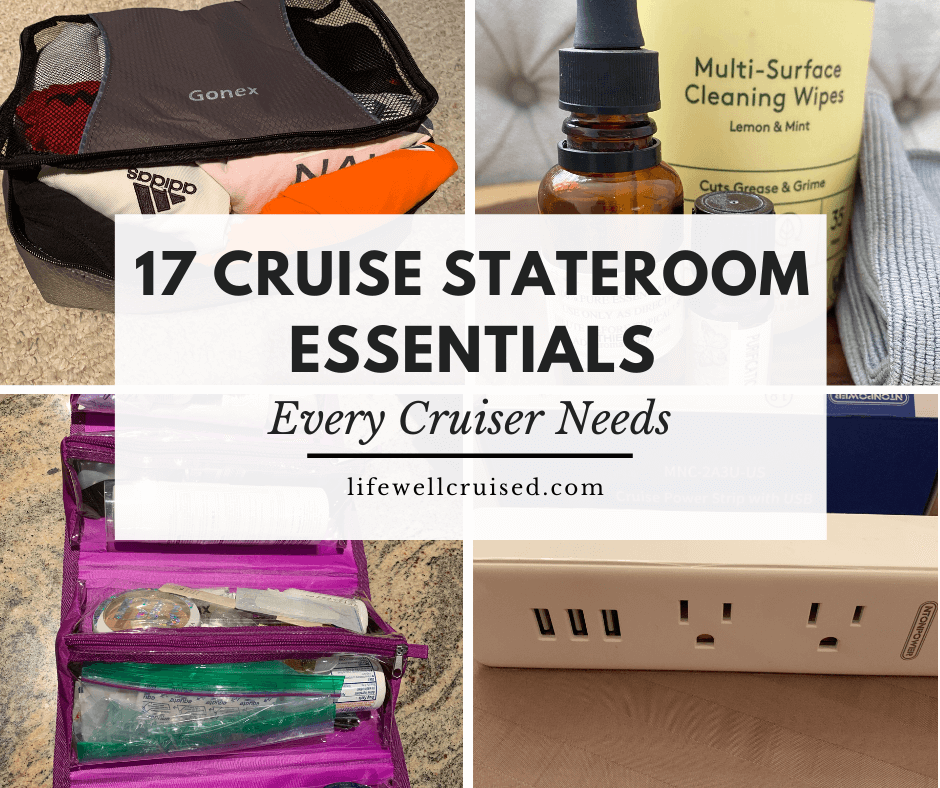 17 Cruise Essentials – to Keep Your Stateroom Organized and Disinfected
If you're going on a cruise, you've probably heard that most cruise cabins are pretty small and compact. In fact, they're usually much smaller than the average hotel room.
Packing a few useful cruise stateroom essentials can make a huge difference, often adding more space and storage to your cruise cabin.
In this post, I'll share some of the most popular items for a cruise holiday, that will really help to keep your cruise cabin both more organized and comfortable!
Plus, there's a few tips near the end that will help you keep your cruise cabin sanitized, so you can avoid being sick on your cruise!
17 Popular Cruise Cabin Must-have Items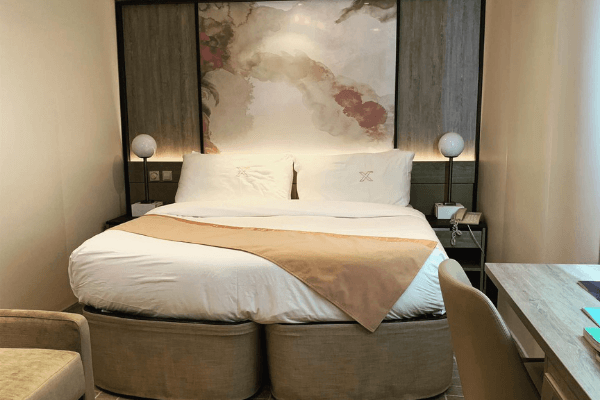 This post contains affiliate links which means if you click and buy that I may make a commission, at no cost to you. Please see my disclosure policy for details.
1. Heavy duty magnetic hooks
Do you know a funny thing about cruise staterooms?
Overall, the cabin space is made to be efficient and there are all kinds of nooks and crannies where you can find extra storage space, such as behind small mirrors.
Yet, they are really lacking in hooks, to hang things, on the wall.
Many times there are only 2 hooks for the whole cabin!
It's really handy to have hooks to hang up backpacks and beach bags, as well as sunhats or light sweaters.
However, up until now, I was placing sweaters over chairs and backpacks on the closet floor, and so on. Things were kind of in the way.
So I tried a favorite cruise cabin hack (recommended by many avid cruisers) and created more stateroom space by adding a few strong hooks to the cabin's metal walls.
They were amazing and so helpful!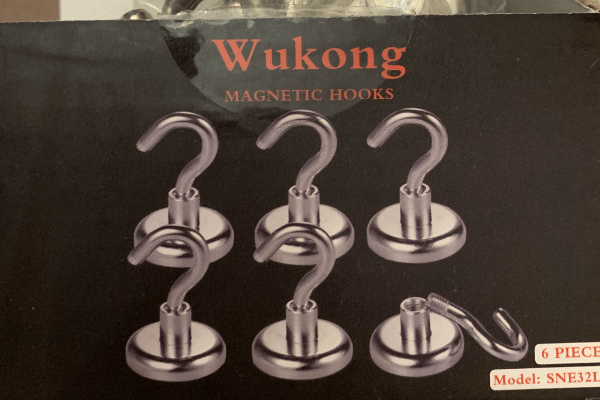 Recommended: Heavy Duty Magnetic Hooks (see options here on Amazon)
2. Cruise magnetic clips
Keep cruise cabin clutter off the desk or counter space by placing paper documents, tour tickets and other items onto magnetic hooks mounted on the metal cabin walls.
Simple magnet clips just make everything feel more organized and clutter free.
Recommended: Magnetic Clips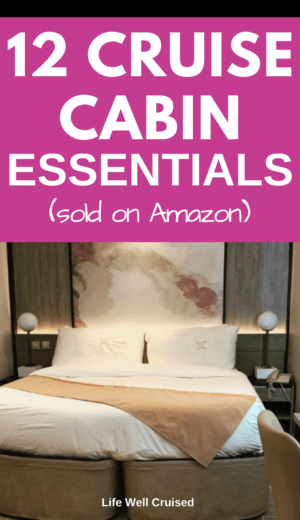 3. Over the door organizer
An over the door organizer is a handy cruise accessory to keep toiletries, sunscreen and other essentials and is truly a cruise passenger favorite!
While personally I haven't used this item, many cruisers love it and consider it to be a cruise stateroom must-have!
Are you cruising with your family? Then, I have an time-saving cruise packing tip for you (especially if you're cruising with young kids).
Consider packing your over the door organizer at home before your cruise, and have it ready to hang when you do your unpacking on embarkation day.
My good friend does this and loves how easy it is to set up and unpack once in her cruise cabin!
Recommended: Over the door organizer (Amazon favorite)
4. Hanging Toiletry Bag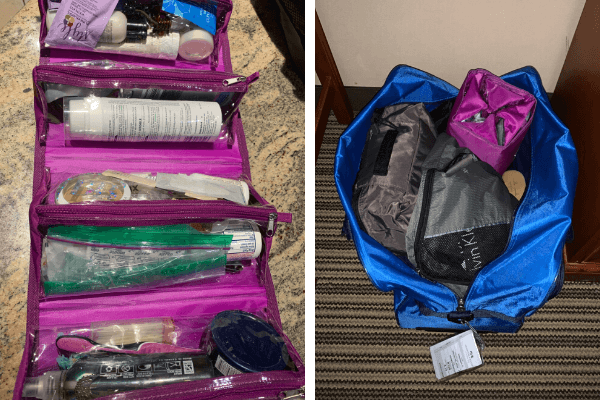 I cannot tell you how much I love this particular cruise packing accessory!
A hanging toiletry bag is not only a cabin space saver, but a great way to keep organized when traveling. I recently bought this for my upcoming cruise, and I seriously can't believe I waited so long!
I'll tell what I like best about this hanging toiletry bag – it's the 4 separate detachable pouches (with velcro), that are also clear plastic so totally see-through.
Plus, seriously Ladies, it's so darn cute!!
**I included a YouTube video with this and other cruise essentials lower in this post, if you'd like to see the items in "real life".
It was also so helpful to bring our overnight bag, as well as in our embarkation day carry-on bag.
Recommended: Space-saving hanging toiletry bag (available in pink, black and grey on Amazon)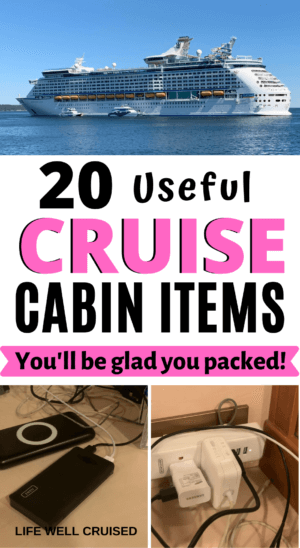 5. Pop up laundry hamper
This mesh laundry hamper helps keep dirty cruise clothes organized and out of the way. You may want 2 of these, so you can store one under the bed once it's full.
Recommended: Mesh pop up laundry hamper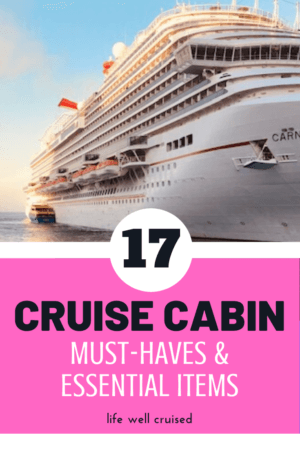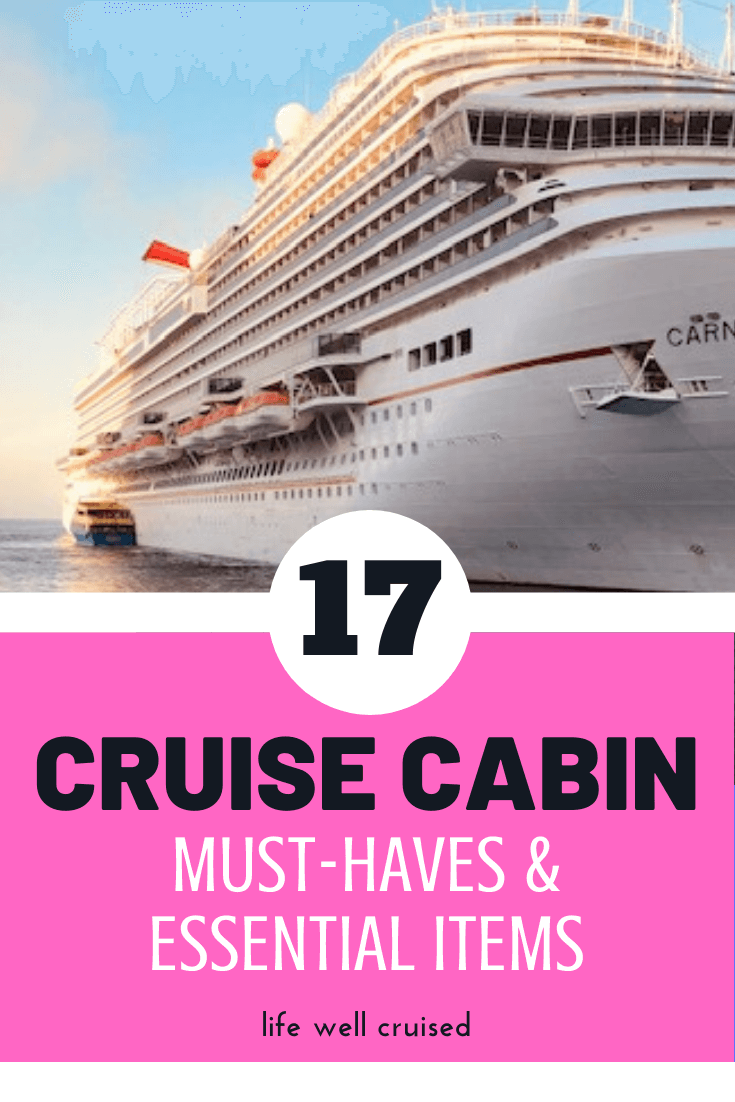 6. Cruise Approved Power Strip (non-surge protected)
Would you believe that most cruise cabins have only 1 or two electric outlets?
It's pretty crazy, especially since most of us have chargers for our phones, ipads, camera accessories and laptops, meaning we could use more outlets (including USB outlets).
Luckily, some cruise ships that have had major updates, like the "Revolutionized" Celebrity Summit, and have put a couple USB outlets in the cabin, but this just isn't common (for now).
IMPORTANT – You cannot just take any power bar, it must be a non-surge protected "cruise-approved" power strip like THIS ONE (Amazon link) . Others will be confiscated as they aren't permitted on cruise ship.
Recommended: Cruise Approved Power Strip (non-surge protected)
7. Portable charger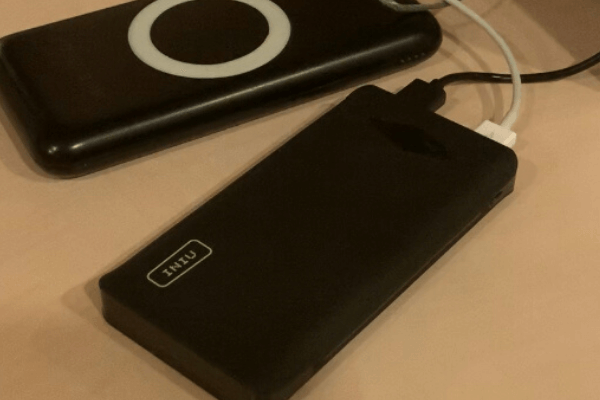 We couldn't do without our portable phone chargers on our last cruise. If you take photos and videos, or have an internet plan on the cruise ship, it's a good idea to have one at least.
This is the one I used and loved (Amazon) – it even charged 2 mobile phones at ones.
Recommended: Portable phone charger (check over 9000 reviews on Amazon)
Cruise cabin must-haves that make your cabin more cozy and comfortable
8. Pou-pourri room freshener spray
Cruise statooms are definitely tight quarters, with 2-5 people all sharing one bathroom and cabin space. A little Pou-pourri spray goes a long way to help keep your cruise cabin smelling fresh, if you know what I mean ;-).
Recommended: Pou-pourri spray
9. Portable fan (battery operated)
Cruise cabin temperatures can be hard to control and many cruisers find staterooms can get hot, especially at night.
If you like the air circulating a bit in your stateroom, this battery operated fan is great!
Recommended: Portable fan – battery operated (check reviews and pricing on Amazon)
These are some of my favorite Amazon Cruise Essentials (YouTube video)
10. Digital alarm travel clock
A simple, no frills digital alarm clock is a popular cruise item for many!
Having a dedicated clock in your cabin can be very useful, especially when cruise ships ask you to move the time forward or backward by an hour, as has happened on our recent cruises.
Recommended: Digital Alarm Travel Clock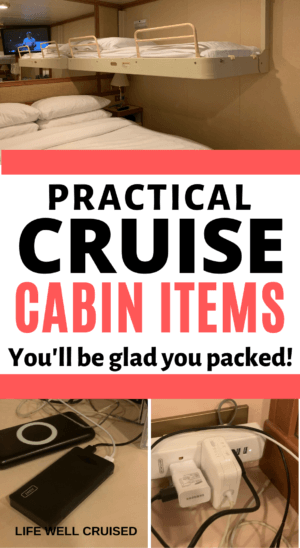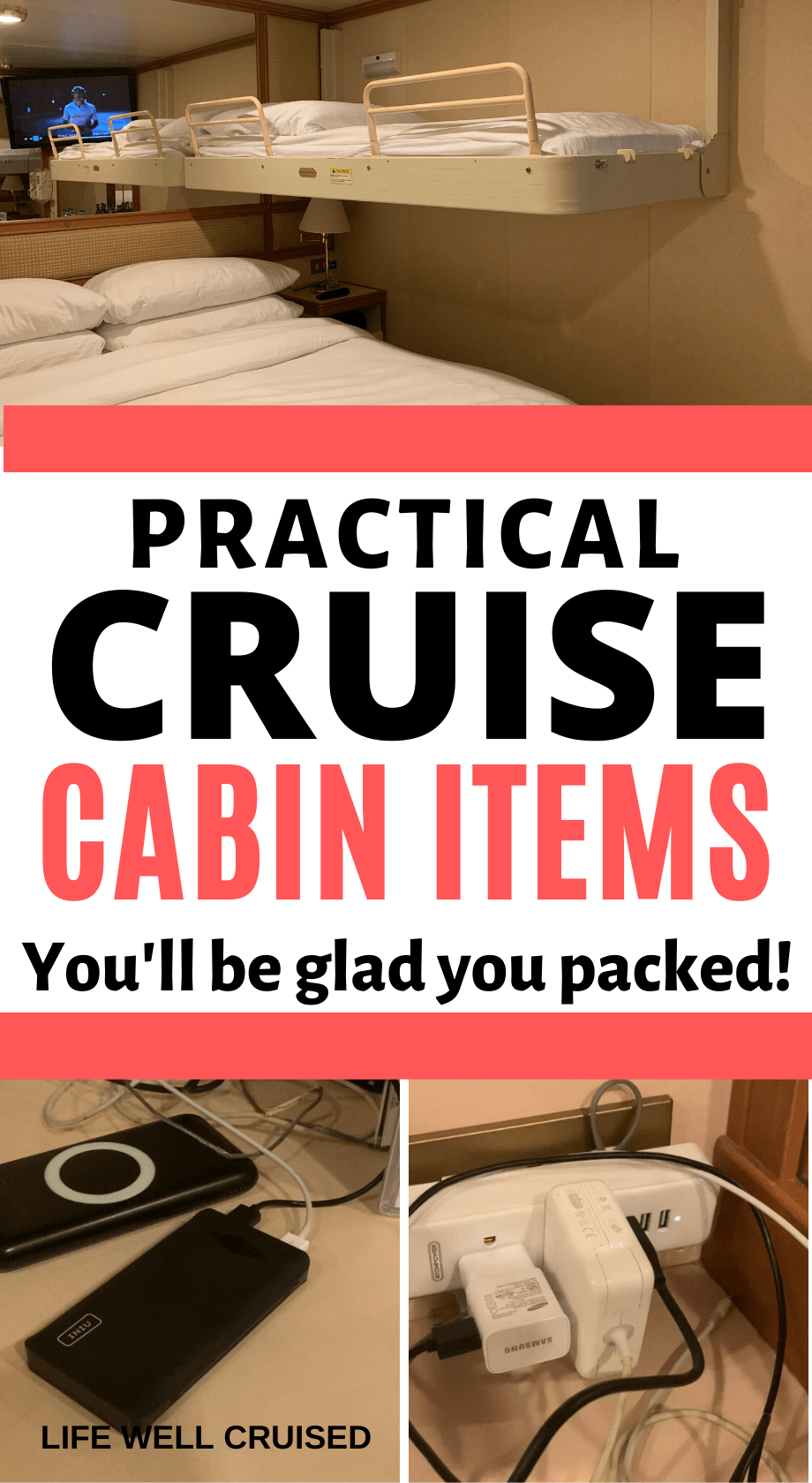 11. Cruise Cabin Nightlight
This nightlight came highly recommended by a reader. Reading reviews on Amazon, I can see why.
It's pretty awesome, especially for anyone in an inside cabin. There's a motion sensor AND it has a magnetic base which can attach to the metal cabin wall.
Recommended: Cruise cabin nightlight with battery
12. Packing Cubes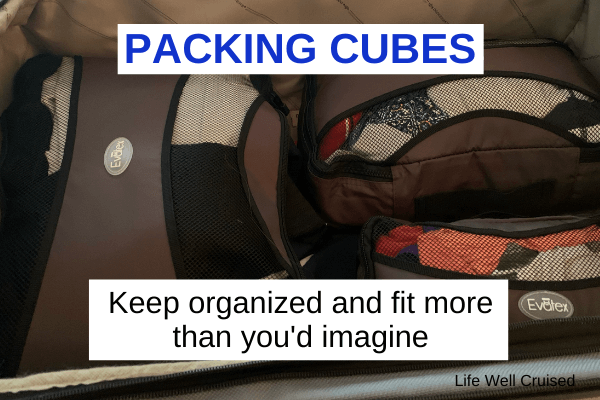 While packing cubes are more of a cruise packing hack than a cruise cabin accessory, I've recently discovered the true value of these must-have items!
Packing cubes are invaluable for cruise cabin organization!
I actually loved them so much, that I wrote a whole blog post about them: The Pros and Cons of Packing Cubes for Cruise Vacations
Spoiler alert – I originally wasn't a convert, but they won me over!
Bonus – Cruise Stateroom Essentials – sanitizing your cabin and keeping healthy on a cruise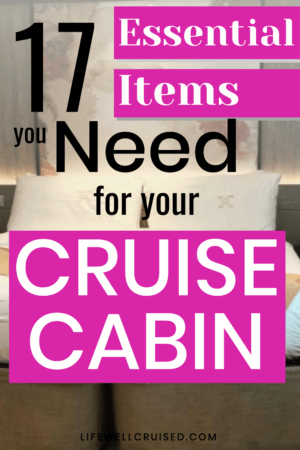 These days, we're all thinking about how to keep healthy on a cruise. Even though the risk of catching a virus is actually very low on a cruise, following a few precautions can minimize the risk even more.
We can even make sure our cabin is germ free!
Before I let you know what products can be helpful, here are some important tips you need, first and foremost.
Wash your hands often and avoid touching your face, especially after touching railings ect.
Use the hand sanitizer gel as you enter the Main Dining Room or buffet area
Avoid using public washrooms when possible, and instead use the washroom in your own cabin
Here are some recommended items you may want to have, to keep your cruise stateroom clean and sanitized, so you can avoid catching any sicknesses yourself.
13. Clorox Disinfecting Wipes
Personally, I love that these disinfecting wipes come in a scent that smells like vacation!
As a tip, use this to regularly wipe down surfaces in your cabin, including the tv remote, safe ect.
Recommended: Clorox disinfecting wipes (check reviews on Amazon)
14. Individual hand sanitizer wipes
Keep these on hand for shore excursions or when you won't be able to wash your hands with soap and water. We like to keep some already packed in our shore excursion bag.
Either the little bottles or the travel size purell wipes packages will do the job.
I like the wipes for convenience, especially since a pack can be kept in your carry on bag for the plane or car, then for the cabin and so on.
Recommended: Purell Hand Sanitizer wipes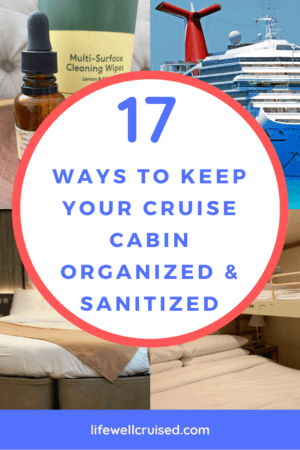 15. Sono Medical Grade Disinfectant Wipes (kills Norovirus)
These medical grade wipes kill more bacteria than any other product available. This is best used as a good cabin wipe down when you first enter your stateroom and on occasions when you think it's needed.
Recommended: Sono Medical Grade Wipes (a cruiser's favorite on Amazon)
16. Essential Oils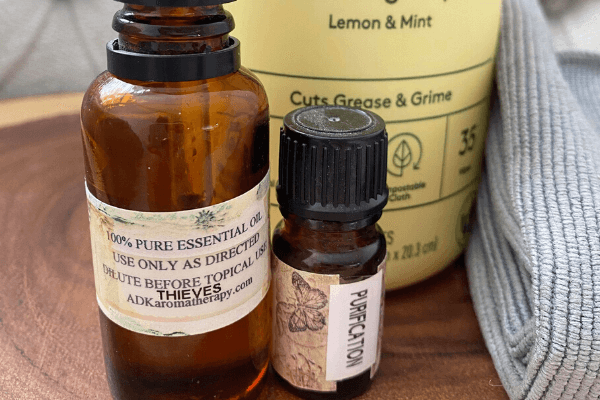 Essential oils have anti-bacterial properties and and many people swear by them. Not only will it make your cabin smell fantastic, but it will also put moisture in the air and kill off many bacteria.
Personally, I haven't used them, however these came up and were recommended by a few cruisers in my Life Well Cruised Facebook Community. If you're into Essential Oils, why not?
Recommended: Essential oil diffuser (verify price on Amazon)
17. Lysol disinfectant spray
Spraying your cabin with Lysol disinfectant spray on occasion can help to kill colds and viruses in the air. It can be handy to have, even if a family member gets a simple cold during your cruise.
Recommended: Lysol disinfectant spray (see variety of scents on Amazon)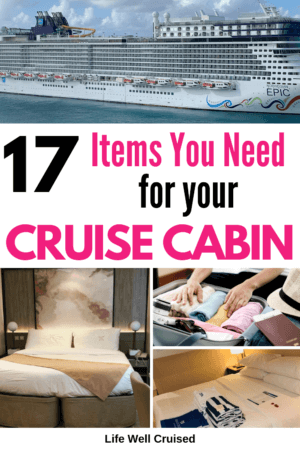 Recap: 17 Cruise Stateroom Essentials Every Cruiser Needs
If you use your cabin storage space well, and find ways keep organized with a few must-have cruise cabin accessories, I guarantee that you'll be a happier cruiser!
These are some of the most popular cruise gadgets and essential items of frequent cruisers, and ones that I personally really like as well.
For more cruise essentials, you may enjoy this post: 25 Most Recommended Cruise Items Sold on Amazon
What are some cruise travel items that you've found practical on a cruise? Please let me know in the comments below.
Happy cruising!!
Ilana xoxo
P.S. If you enjoyed this post and found it helpful, please don't keep it to yourself ;-). Feel free to share on Pinterest, Facebook or Twitter (share buttons at the top). Thanks so much!
Related posts:
30 Cruise Cabin Hacks Every Cruiser Needs to Know
25 most recommended Amazon Items to Bring on a cruise
The Pros and Cons of Packing Cubes for Cruise Vacations
21 Things People Forget to Pack for a Cruise (and regret)
Let's connect:
Follow me on Facebook at Life Well Cruised
Follow me onYouTube at Life Well Cruised (Vlogs and cruise tips)
Follow me on Pinterest at Life Well Cruised
Follow me on Instagram at Life Well Cruised