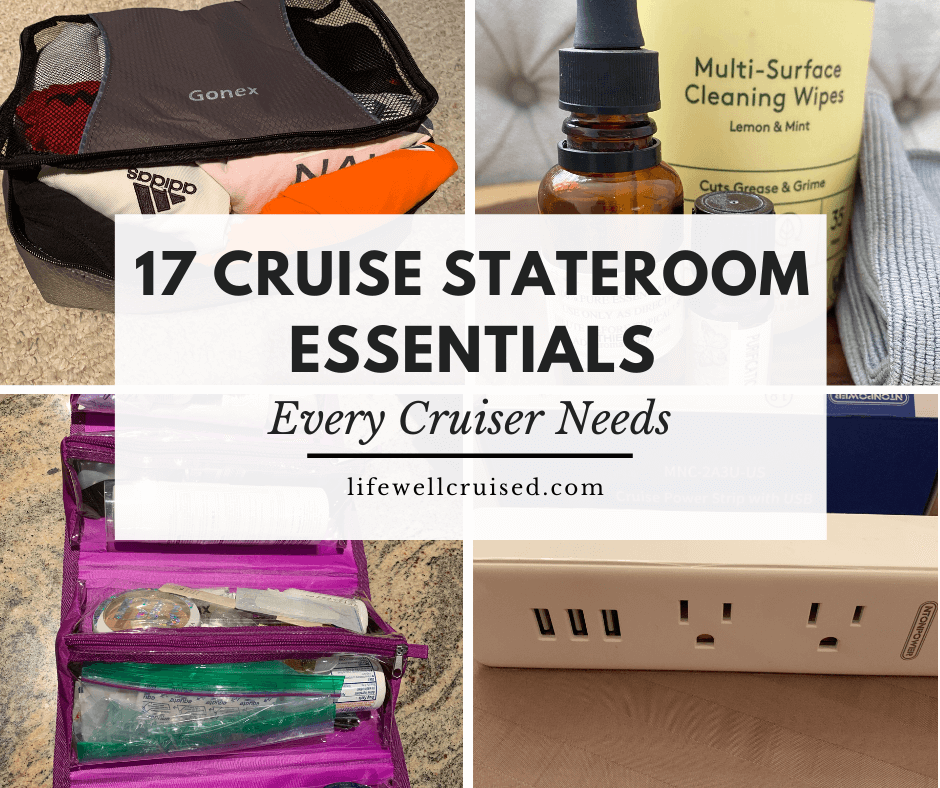 If you're going on a cruise, you probably know that most cruise ship cabins are pretty small and compact. Packing a few useful cruise cabin essentials can make a huge difference, often adding more space and storage to your stateroom.
In this post, I'll share some of the most popular items cruisers use to keep their stateroom more organized and comfortable! Plus, on a recent cruise, I tried out a few new items that were pretty game-changing!
17 Useful Cruise Essentials for Your Cabin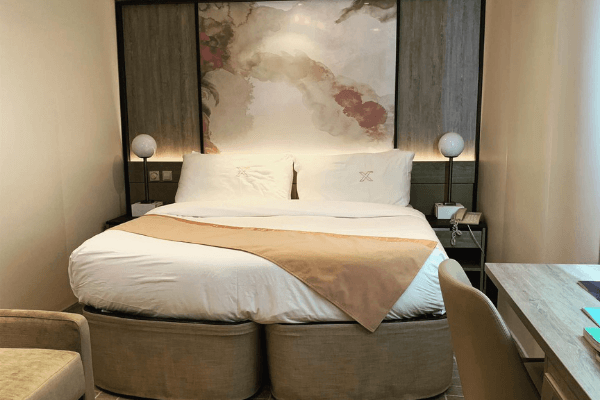 This post contains affiliate links which means if you click and buy that I may make a commission, at no cost to you. Please see my disclosure policy for details.
As an Amazon Associate I earn from qualifying purchases.
1. Magnetic Hooks
The best cruise cabin hack ever is to use magnet hooks to add extra storage to your stateroom. Most of the time, your cruise cabin will have only 1 or 2 hooks somewhere near the front door or the bathroom.
Since most of the time cruise cabin walls are metal, bringing your own magnet hooks on a cruise will allow you to add space to hang your sunhats, sweatshirts or jackets, and even a backpack on your wall. Whether you have an inside cabin or a balcony cabin, these magnet hooks are genius!
Make sure the magnetic hooks are heavy-duty, as they do need to be strong enough to hold your items.
Recommended: Heavy Duty Magnetic Hooks (see reviews & price on Amazon here)
2. Magnet Clips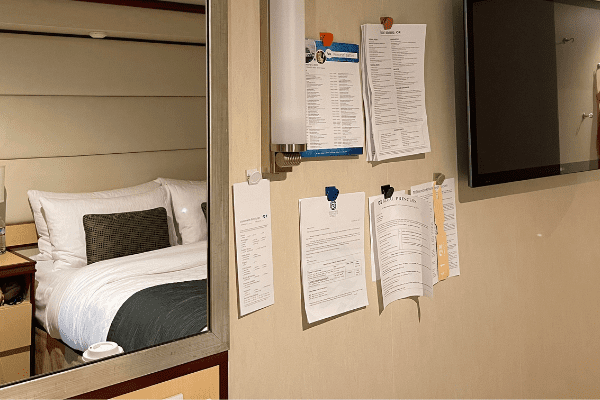 Keep cruise cabin clutter off the desk or counter space by placing paper documents, tour tickets and other items onto magnetic hooks mounted on the metal cabin walls. Simple magnet clips just make everything feel more organized and clutter free.
Recommended: Magnetic Clips (see price & reviews on Amazon)
3. Over the Door Organizer
An over the door organizer is a handy cruise accessory to keep toiletries, sunscreen and other essentials and is truly a cruise passenger favorite! While personally I haven't used this item, many cruisers love it and consider it to be a cruise stateroom must-have!
Are you cruising with your family? Then, I have a time-saving cruise packing tip for you (especially if you're cruising with young kids). Consider packing your over the door organizer at home before your cruise. Then have it ready to hang when you do your unpacking on embarkation day.
My good friend does this and loves how easy it is to set up and unpack once in her cruise cabin!
Recommended: Over the door organizer (Amazon favorite)
4. Cruise Compliant Power Strip (non-surge protected)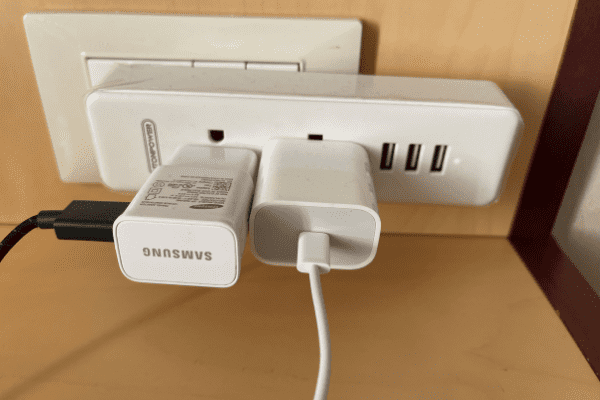 Would you believe that most cruise cabins have only 1 or two electric outlets? It's pretty crazy, especially since most of us have chargers for our phones, ipads, camera accessories and laptops, meaning we could use more outlets (including USB outlets).
IMPORTANT – You cannot just take any power bar, it must be a non-surge protected "cruise-approved" power strip like THIS ONE (Amazon link) . Others will be confiscated as they aren't permitted on cruise ship.
Recommended: Cruise Approved Power Strip (non-surge protected)
Related: Can You Bring a Power Strip on a Cruise? Which Power Bars Are Allowed
Get The Ultimate Cruise Planner
Regular price: $27 Now just $17!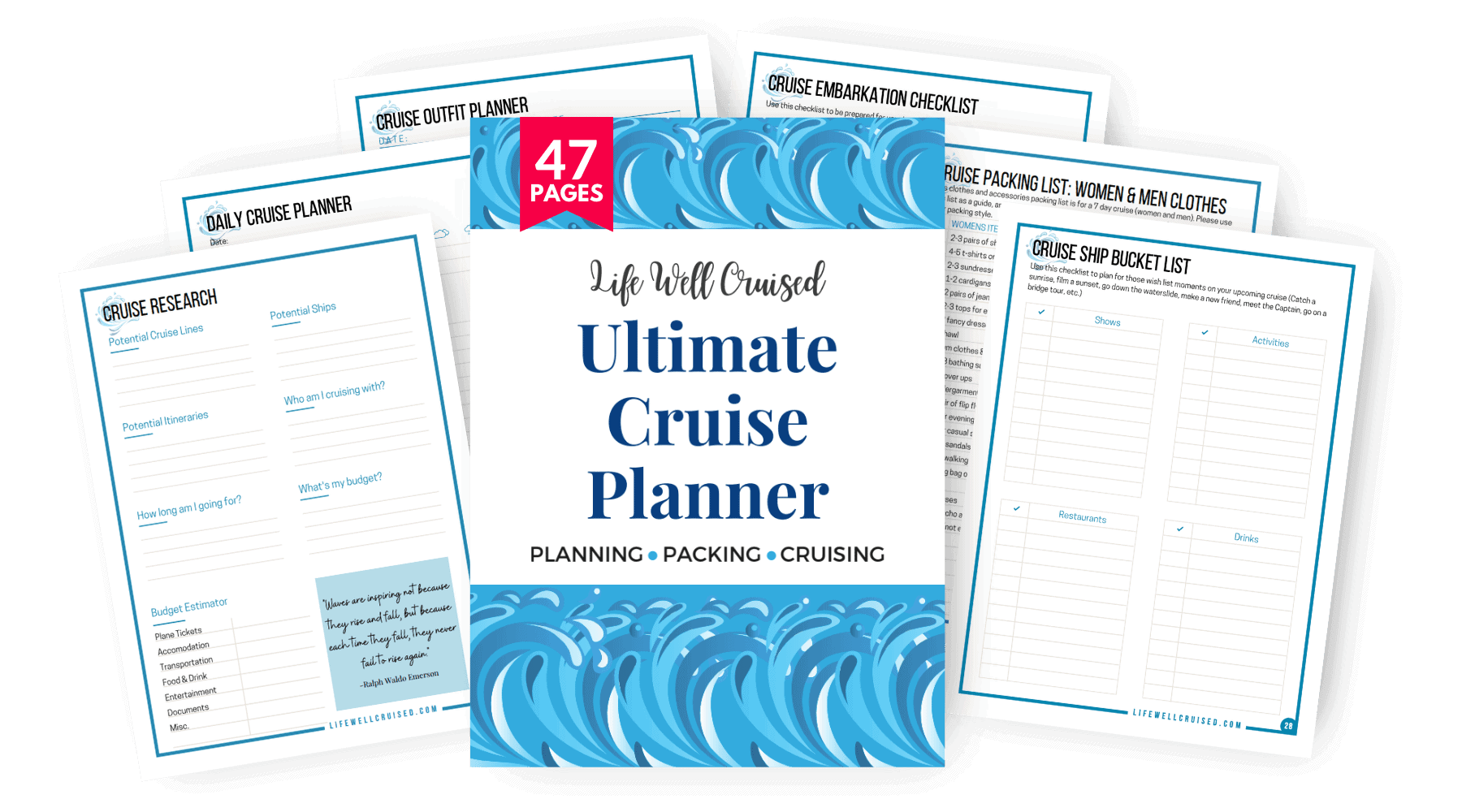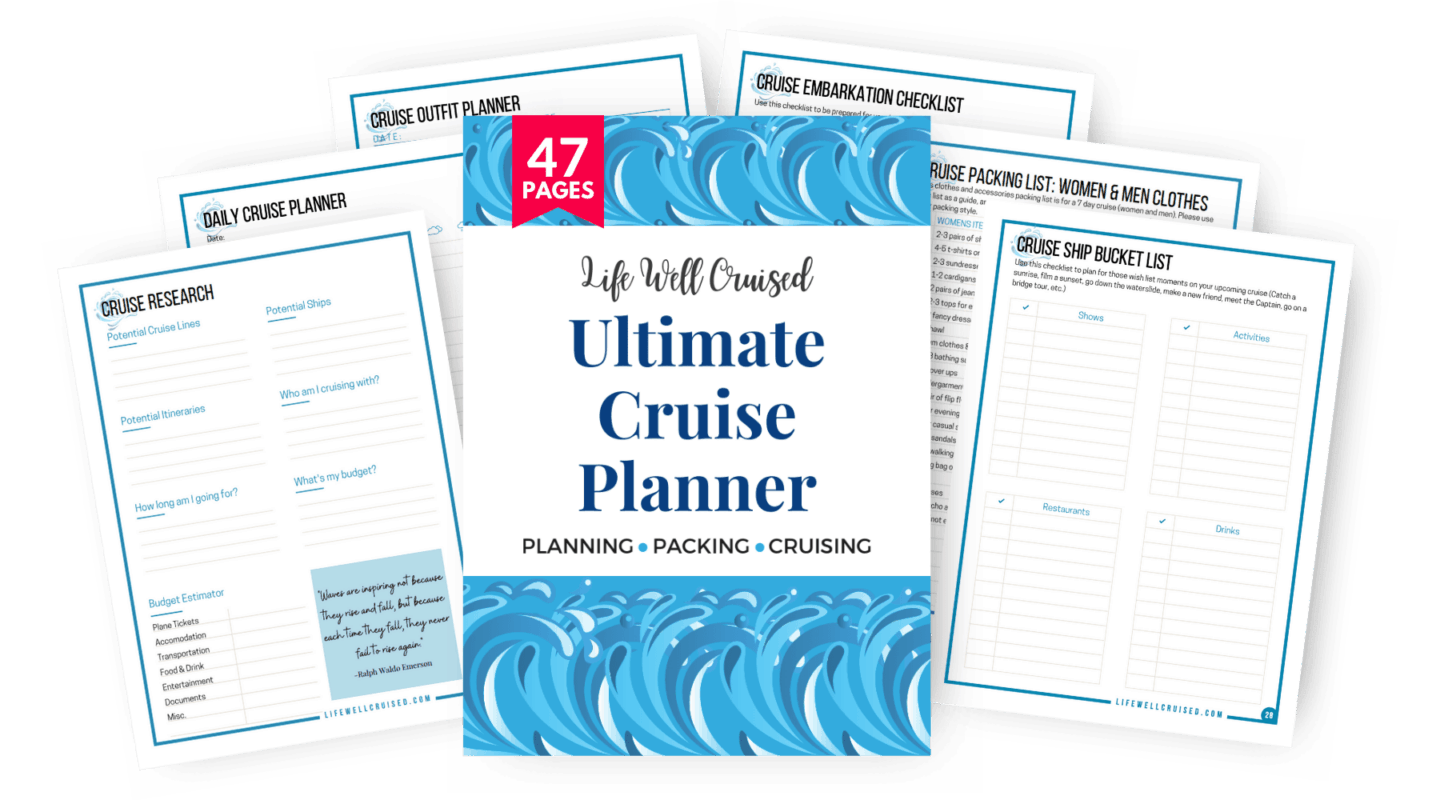 5. Hanging Toiletry Bag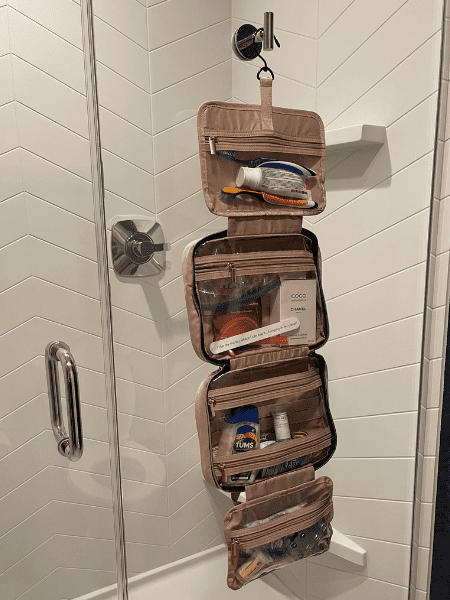 A hanging toiletry bag is not only a cabin space saver, but a great way to keep organized when traveling. When using a hanging toiletry bag in your stateroom or bathroom, it keeps all your toiletries off the counter and saves you time on unpacking and packing again.
Recommended: Space-saving hanging toiletry bag (available in different colors on Amazon)
6. Pou-pourri Room Freshener Spray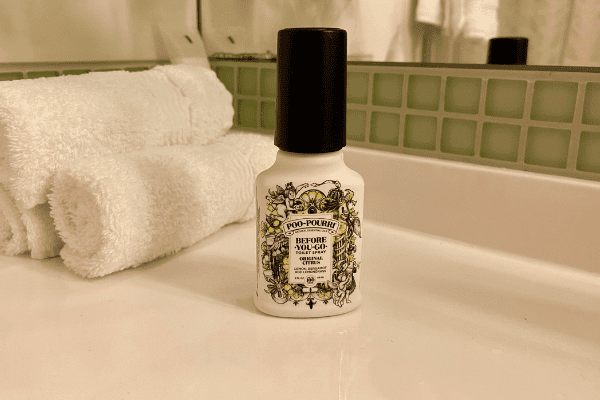 Cruise staterooms are definitely tight quarters, with 2 or more people all sharing one bathroom and cabin space. A little Pou-pourri bathroom spray goes a long way to help keep your cruise cabin smelling fresh and is a true cruise essential.
Recommended: Pou-pourri spray (check price & great Amazon reviews here)
7. Pop up laundry hamper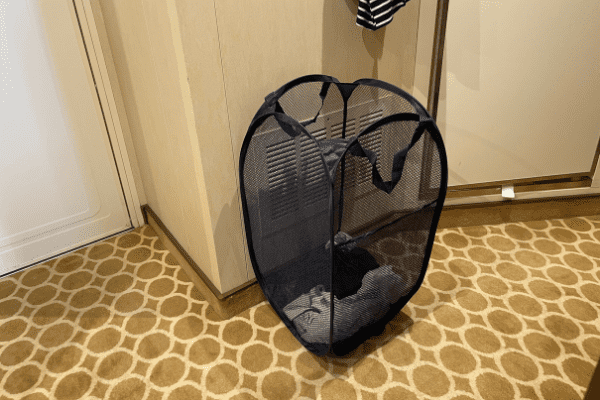 This foldable mesh laundry hamper keeps dirty clothes out of the way. You may want 2 of these, so you can store one under the bed once it's full. We used this on our last cruise and it was a huge help!
Recommended: Mesh pop up laundry hamper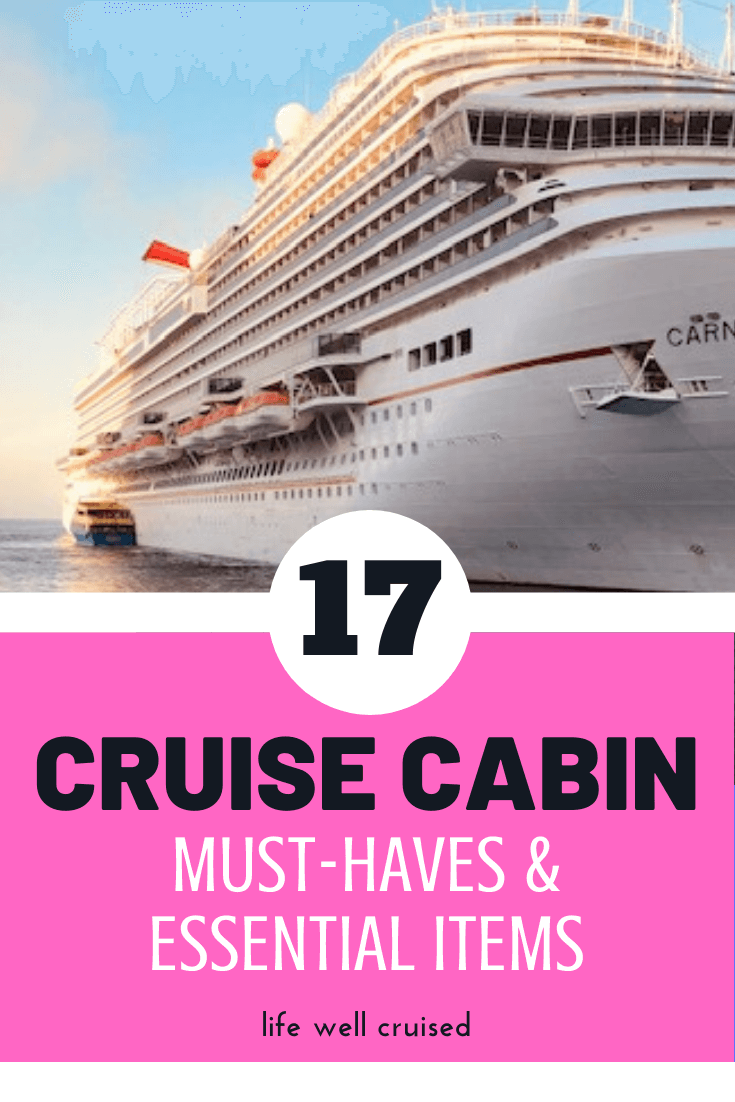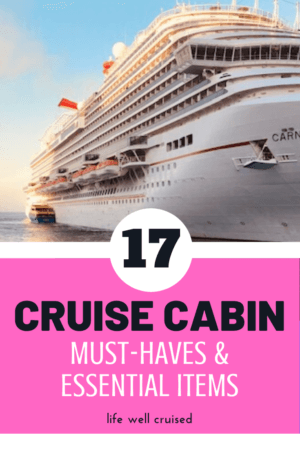 9. Portable Fan
Cruise cabin temperatures can be hard to control and many cruisers find staterooms can get hot and stuffy, especially at night. If you like the air circulating a bit in your stateroom, this battery operated mini-fan is a must-bring on your cruise!
Recommended: Portable fan – battery operated (check reviews and pricing on Amazon)
10. Digital alarm travel clock
A simple, no frills digital alarm clock is a popular cruise cabin essential for many cruisers. Having a dedicated clock in your cabin can be very useful, especially when cruise ships ask you to move the time forward or backward by an hour, as has happened on our recent cruises.
Recommended: Digital Alarm Travel Clock
11. Cruise Cabin Nightlight
Whether you cruise in an inside cabin, oceanview or balcony cabin, having a motion sensor nightlight is very practical.
Your room will be very dark at night, and leaving a bathroom light on may not be practical. This motion sensor nightlight is used by many cruisers. It has a rotating magnetic base, which can attach to the metal surfaces and cabin walls.
Recommended: Cruise cabin nightlight with battery
12. Electronic Organizer Bag for Chargers & Wires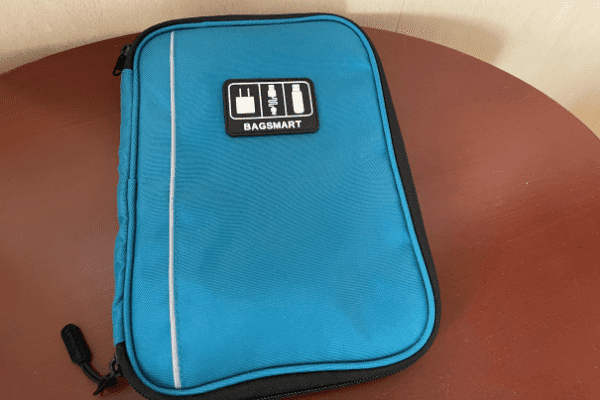 Cables, chargers and wires are best when organized, both in your cabin and when traveling to and from your cruise. This electronics organizer bag is perfect! We've used it and it gets great reviews as well.
Recommended: Electronics organizer bag (see different colors & price on Amazon here)
13. Portable Phone Charger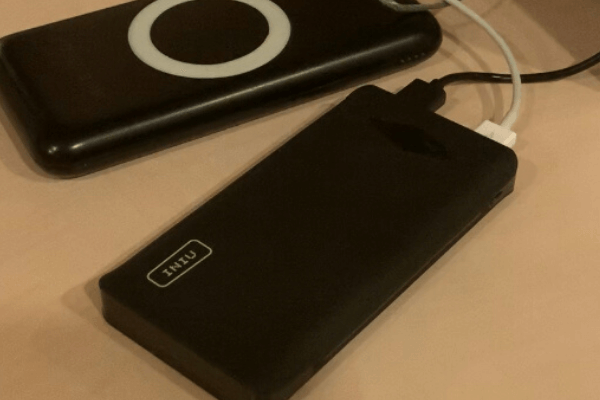 We couldn't do without our portable phone chargers on our last cruise. If you take photos and videos, or have an internet plan on the cruise ship, it's a good idea to have one at least. This is the one I used and loved (Amazon) – it even charged 2 mobile phones at ones.
Recommended: Portable phone charger (check over 9000 reviews on Amazon)
14. Packing Cubes
While packing cubes are more of a cruise packing hack than a cruise cabin essential, I've recently discovered the true value of these must-have items! Packing cubes are invaluable for cruise cabin organization! You can pack your packing cubes at home, and then unzip and place them directly into shelves and drawers on your cruise.
Recommended: Packing cubes set (these have over 14,000 5* Amazon reviews)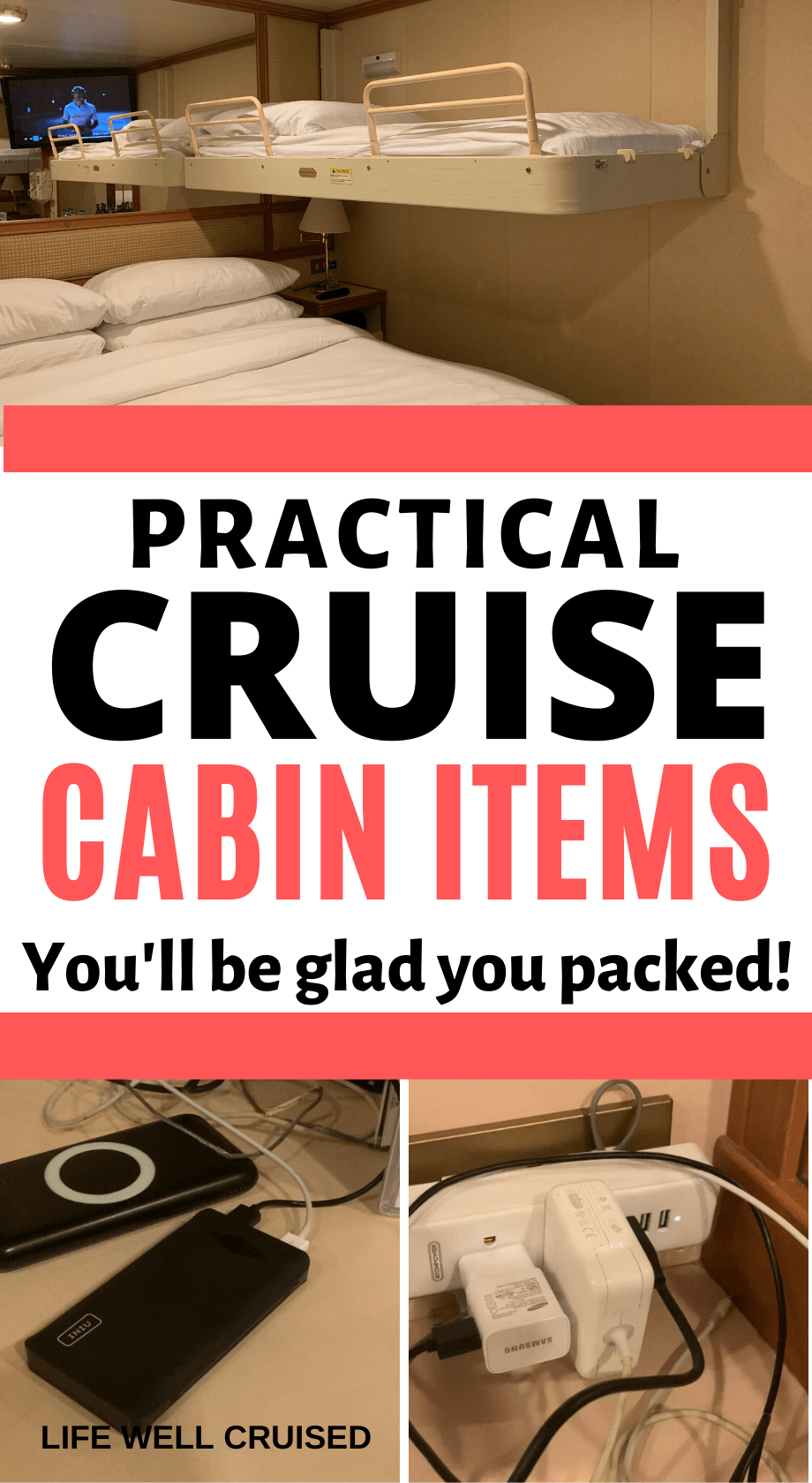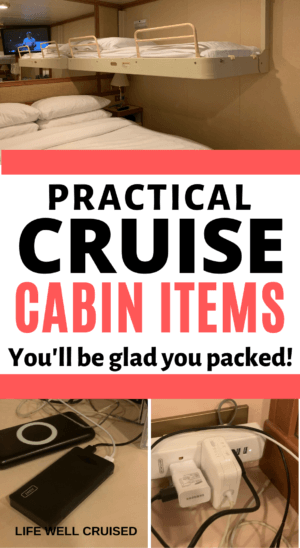 15. Cruise First-Aid Kit
Packing some basic first aid items and over the counter medications are essential. This cruise first aid kit is done for you!
Recommended: Cruise first aid kit (see what's included & read over 50,000 reviews on Amazon)
16. Clorox Disinfecting Wipes
Disinfecting wipes are important to bring to sanitize your cruise cabin surfaces. We also use them for shore excursions to disinfect surfaces on shuttles and travel to and from our cruise ship.
Recommended: Clorox disinfecting wipes
17. Sunrise Alarm Clock
For those cruising in windowless inside cabins, a sunrise alarm clock is a great way to wake up! Many cruisers swear by this natural light way to wake up. This one also has sounds for people who like to sleep or wake with the sound of birds and more.
Recommended: Sunrise alarm clock (see reviews on Amazon here)
Get The Ultimate Cruise Planner
Regular price: $27 Now just $17!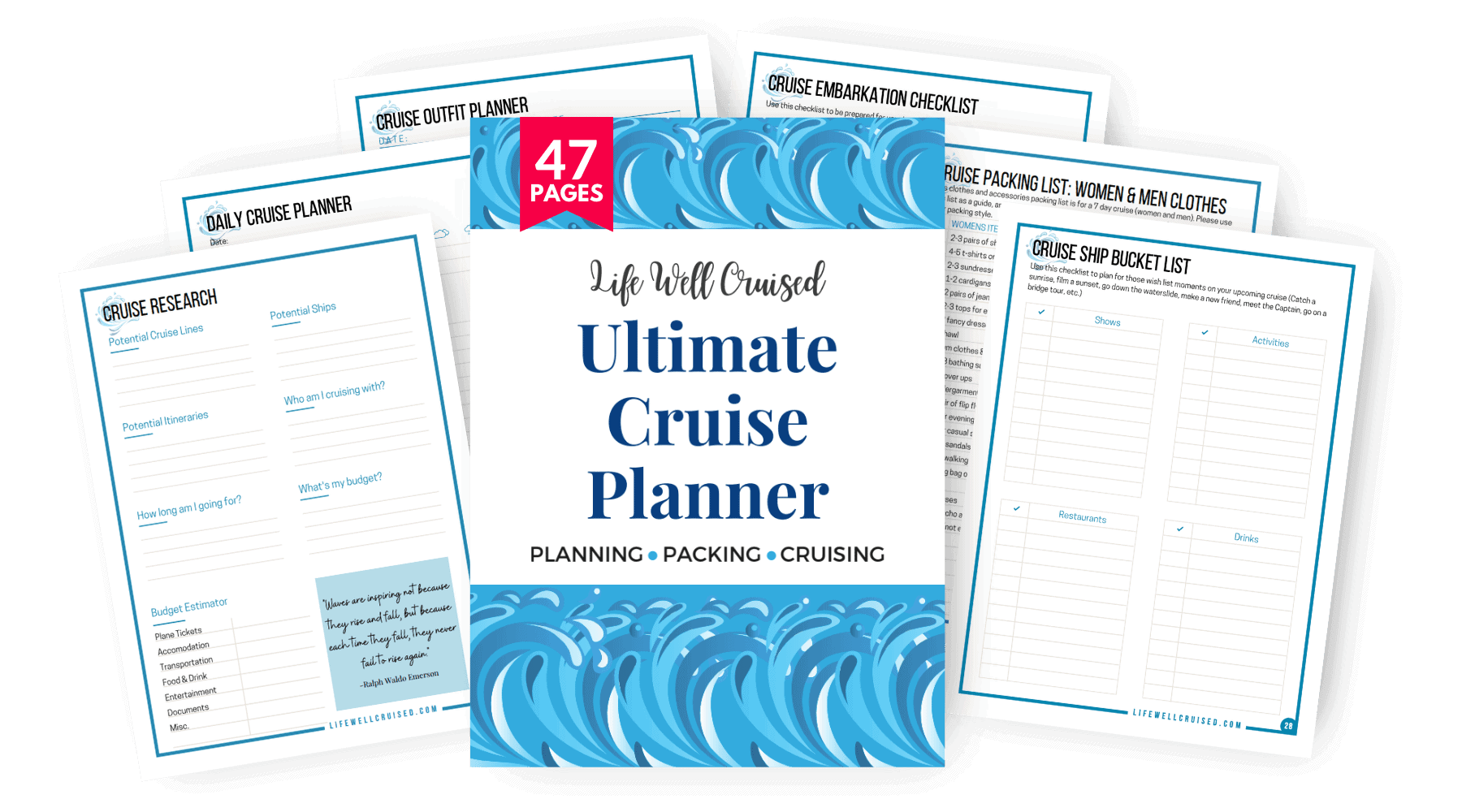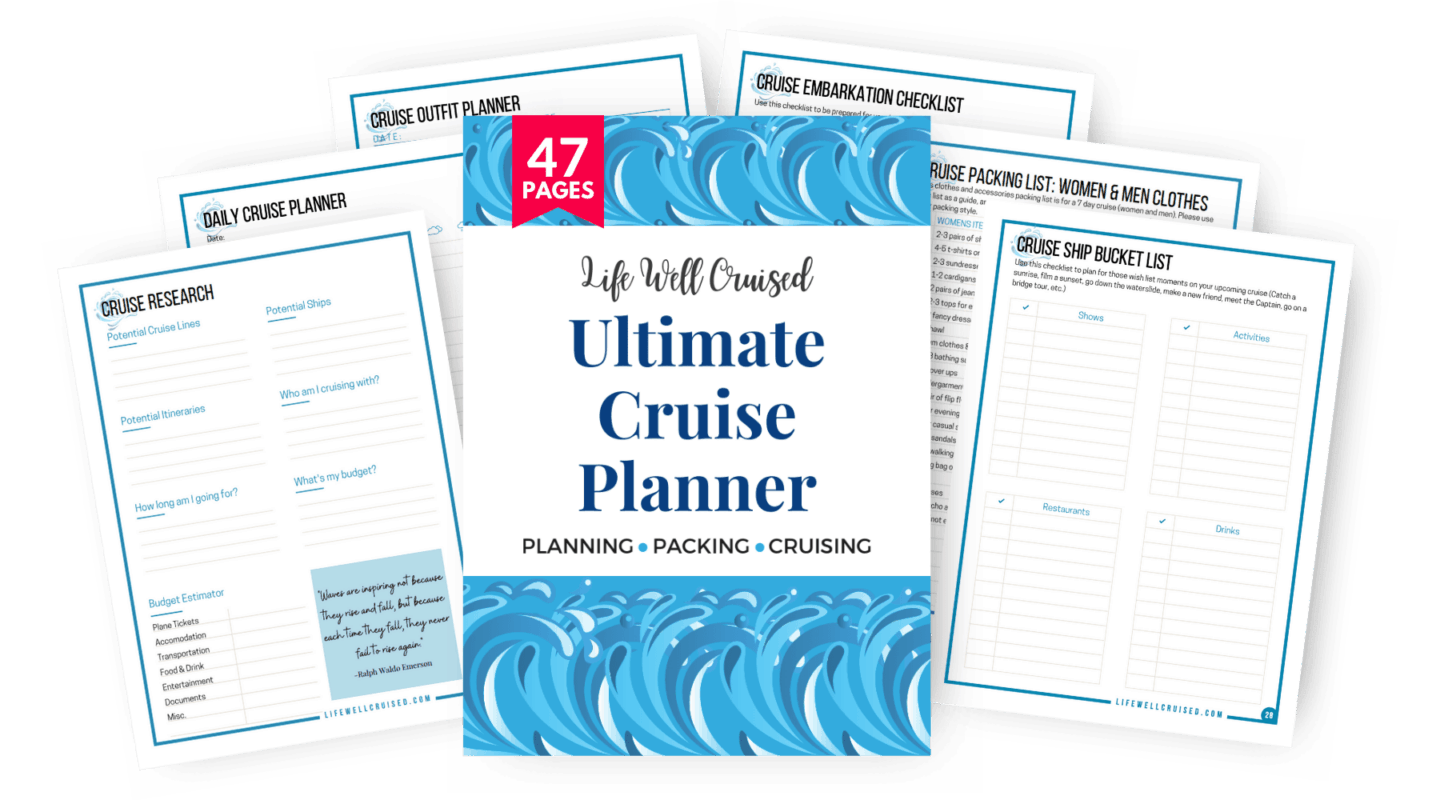 Video: How We Organized Our Cruise Cabin (must-have essentials)
Related & Popular Posts:
Final thoughts on Cruise Cabin Essentials Every Cruiser Needs
If you use your cabin storage space well and keep organized with a few must-have cruise cabin accessories, you'll be a happier cruiser! These are some of the most popular and useful cruise cabin essentials, that many experienced cruisers actually use.
What items do you use and like best for your cruise cabins? Please let me know in the comments below.
Happy cruising!
Ilana
P.S. If you enjoyed this post and found it helpful, please don't keep it to yourself ;-). Feel free to share on Pinterest, Facebook or Twitter (share buttons at the top). Thanks so much!